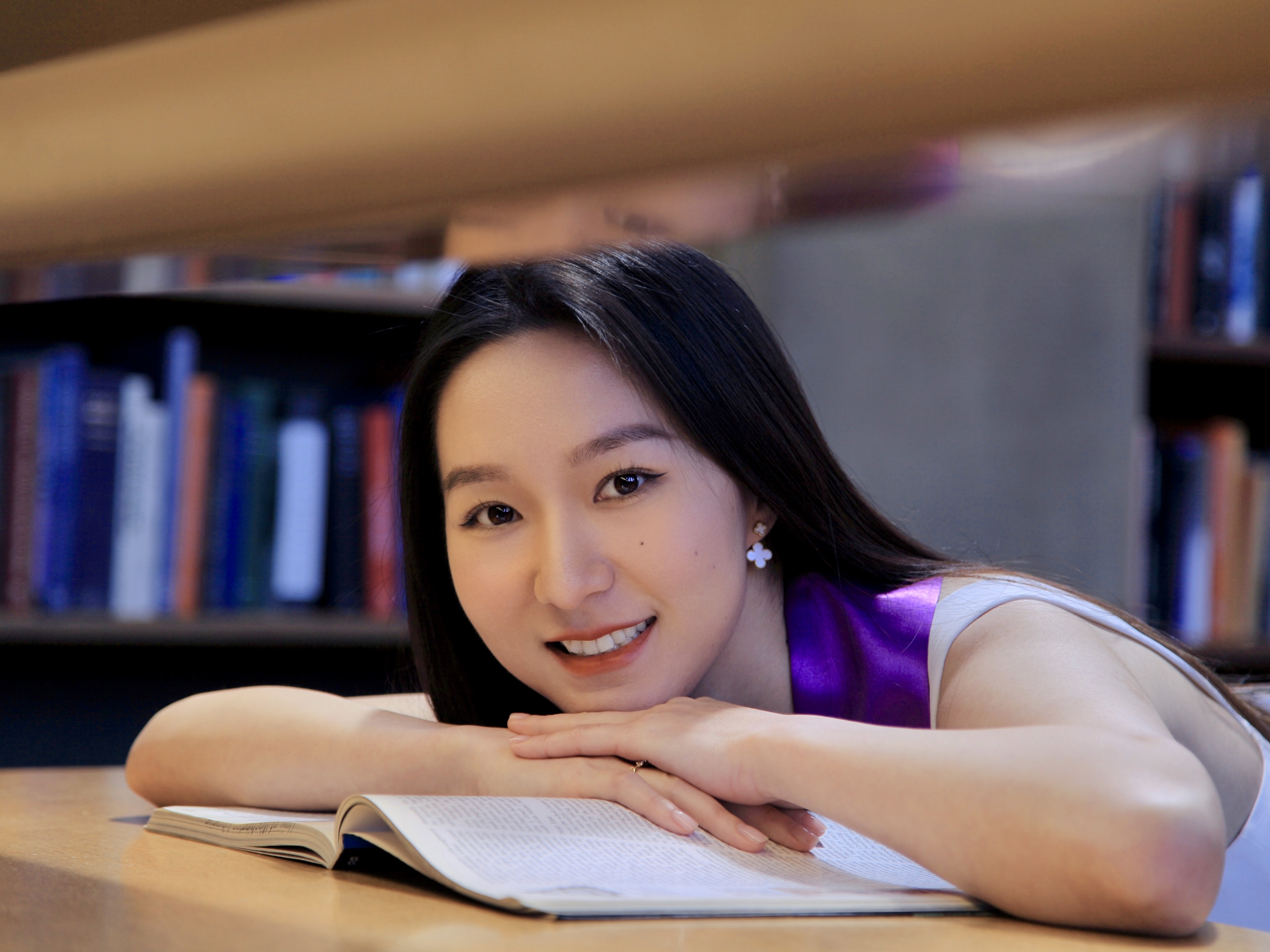 Exploring Virtual Brain-storming Sessions in Mixed Hearing Environments
Master's Capstone Project Sponsored by Microsoft Teams
My Role
UI/UX Designer
UX Researcher
Timeline
January 2023 - May 2023 (20 weeks)
Team
Xing He, Shaun Kalweit, and Joyce Yu (from University of Washington's HCDE program)
Project Overview
Hybrid work environments have brought new challenges to ideation processes. Microsoft Teams offers a solution by providing a shared workspace for virtual brainstorming, called the Whiteboard. However, D/deaf and hard of hearing (DHH) users face the challenge of multitasking when collaborating with others on this platform.
This project mitigate the challenge by implementing design improvements to the current platform to aid meeting facilitators to organize effective meetings, ensure participants remain informed throughout, and enhance the user-friendliness of captions.
Expert Interviews
We conducted three interviews with four subject matter experts in the field of DHH accessibility in videoconferencing platforms.
Qualitative Questionnaire
We deployed a qualitative survey to DHH individuals about their past experiences using virtual whiteboards, and collected 22 responses.
Dyad Simulation Sessions
We observed five pairs of DHH and hearing individuals complete an assigned brainstorming task in MS Whiteboard, and conducted exit interviews.
Primary Insight: Multitasking
We realized that DHH individuals face the daunting task of multitasking many visuals when attempting to collaborate using a whiteboard platform, as they must also pay attention to visual language (i.e., captions, interpreter, etc.)
For instance, if a DHH individual is working on a task on a whiteboard while someone is speaking, it can be challenging to keep up with the captions displayed at the bottom of the screen and/or their interpreter in another window. This often leads to DHH individuals falling behind in the conversation.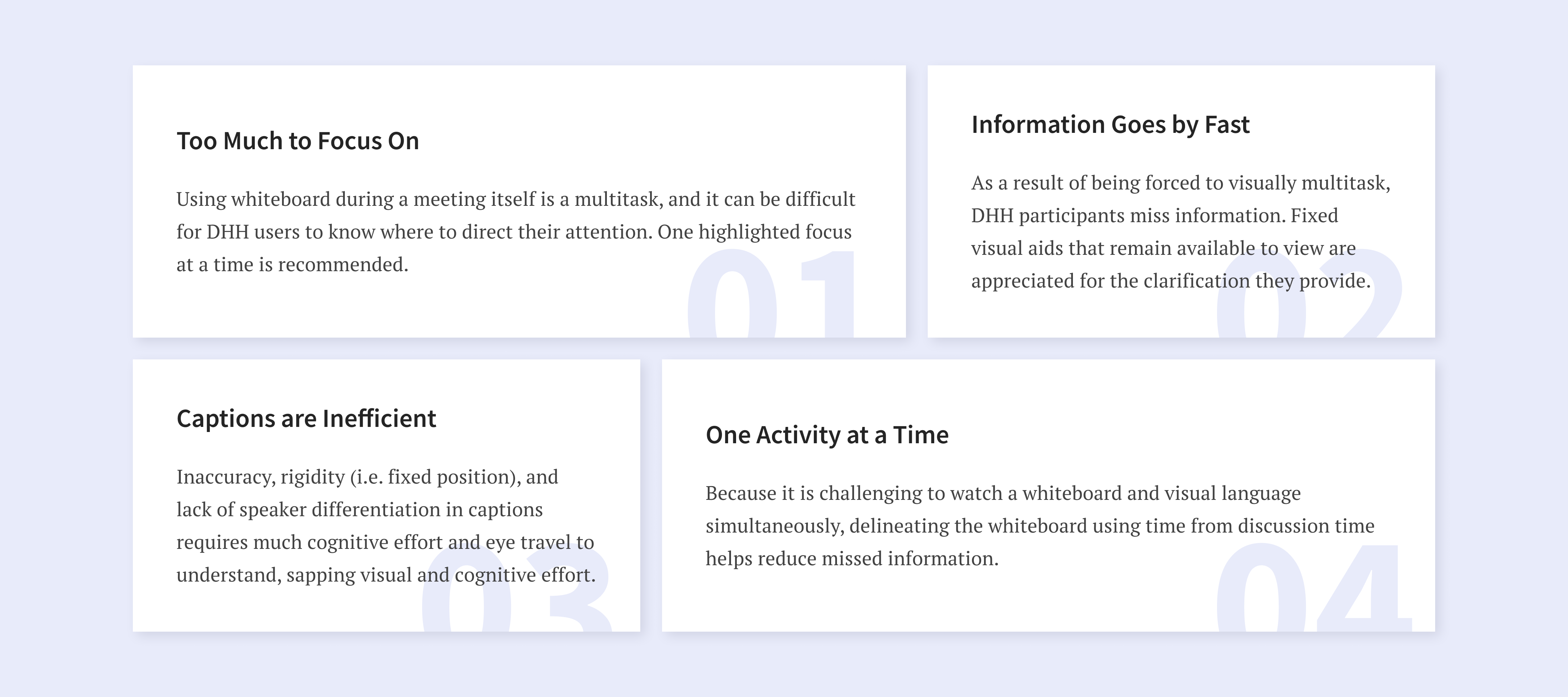 Co-Design Sessions
Utilizing research findings, we engaged in three co-design sessions with three DHH participants to collaboratively brainstorm ideas for enhancing the current Microsoft Teams and its Whiteboard feature. We ended up focusing on improving the meeting structure, live captioning, and alerts/notifications.
User Journey Mapping
We also drew up a comprehensive user journey map to better understand the entire work flow of a brainstorming meeting. We showed this map to our co-design session participants to confirm its accuracy.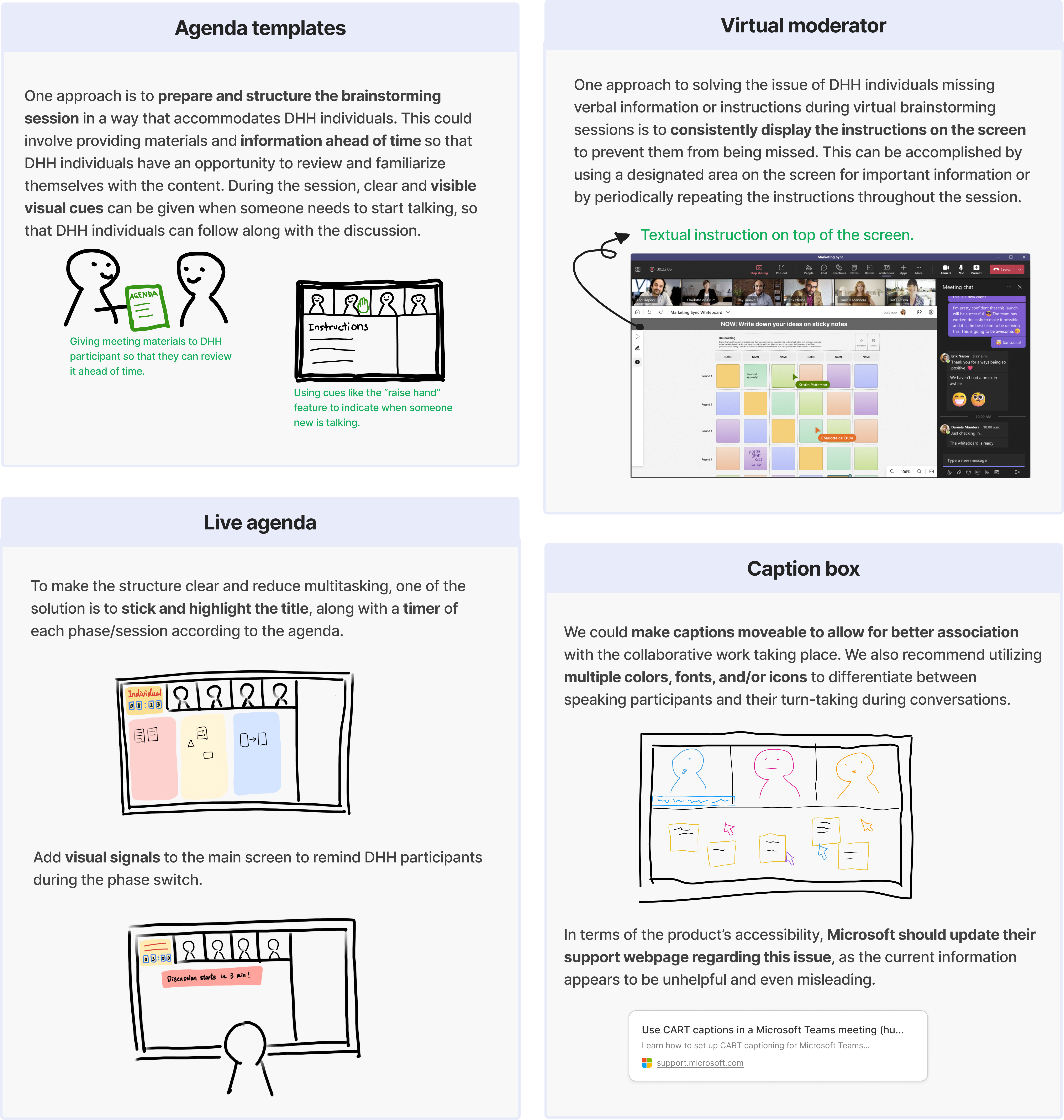 Design Concepts
Multitasking is the main pain point we conclude from our research. Based on the current framework of Microsoft Teams and whiteboard, we selected touch points before/during the meeting to solve this user problem and overall improve the flow and experience of using it, especially for DHH participants in a group meeting.
Agenda Templates
By providing a range of customizable templates, facilitators can structure the meeting session by session including details, duration, and speaking rules.
Live Agenda
Imported from templates, it aims to keep all participants on track with the overall flow of the meeting by providing real-time progress tracking.
Virtual Moderator
This feature utilizes advanced speech recognition technology to provide speakers with guidelines. It can also provide visual cues to draw attention to important meeting points.
Caption Box
Participants have flexible options to adjust the caption and caption box to optimize readability based on their preferences during the meeting and whiteboarding.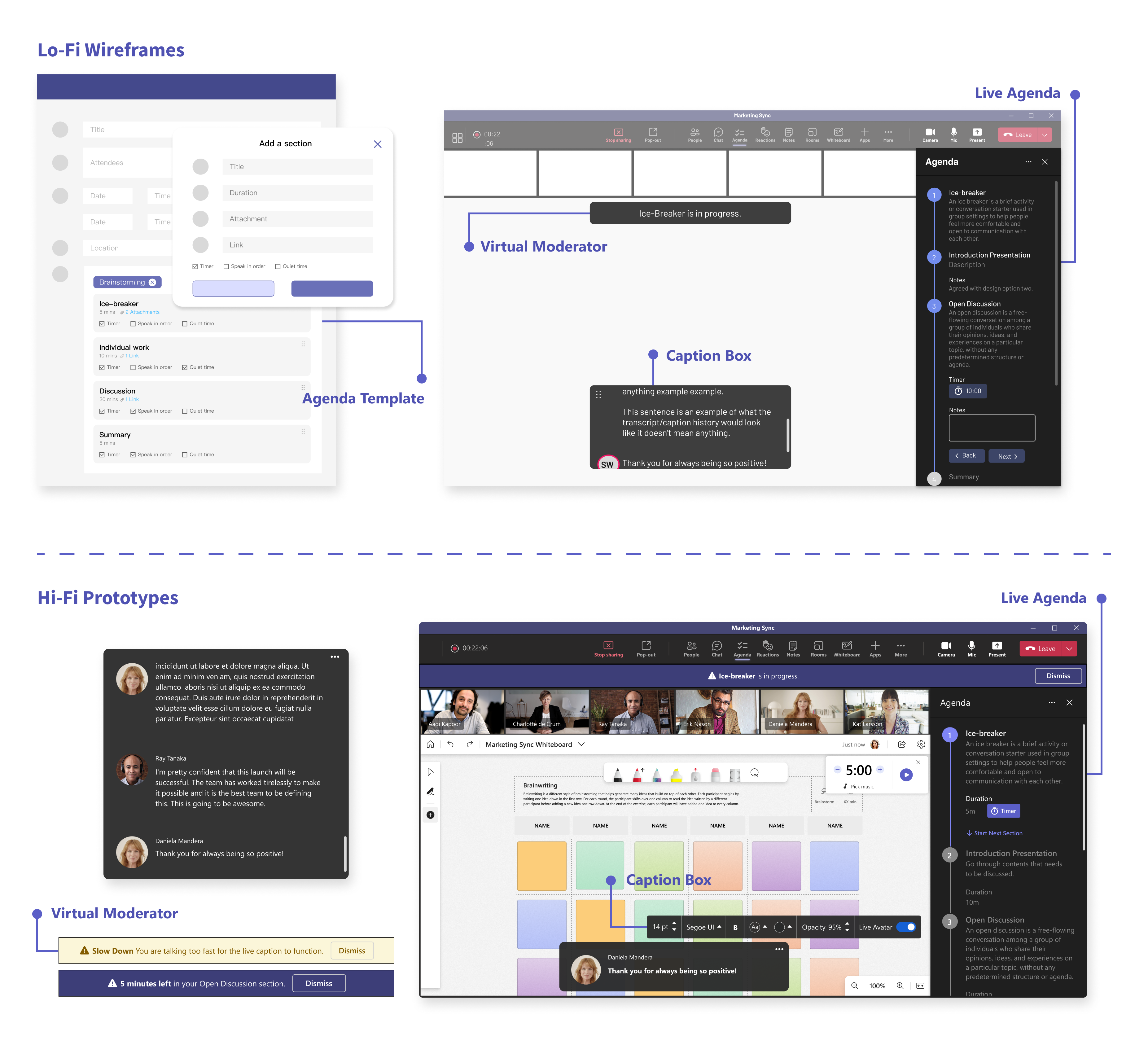 Wireframes and Prototypes
Using Figma, we translated our sketches into low-fidelity wireframes. Then, we enhanced our designs to high-fidelity prototypes by incorporating Microsoft Teams' current UI design patterns, aligning our user interface for a seamless experience. Additionally, we added in interactions and flows to ensure smooth usability testing.
Usability Testing
We conducted a total of nine usability tests, consisting four with participants who are D/deaf and hard of hearing (DHH), and the remaining sessions hearing participants. We found the following issues and improved them:
The visual layout and presentation lack clarity.

The presence of excessive customization options tends to result in distractions.

Some elements' placements are ineffective, lacking contextual relevance and/or hampering their visibility.

Some buttons and wording are unclear and ambiguous.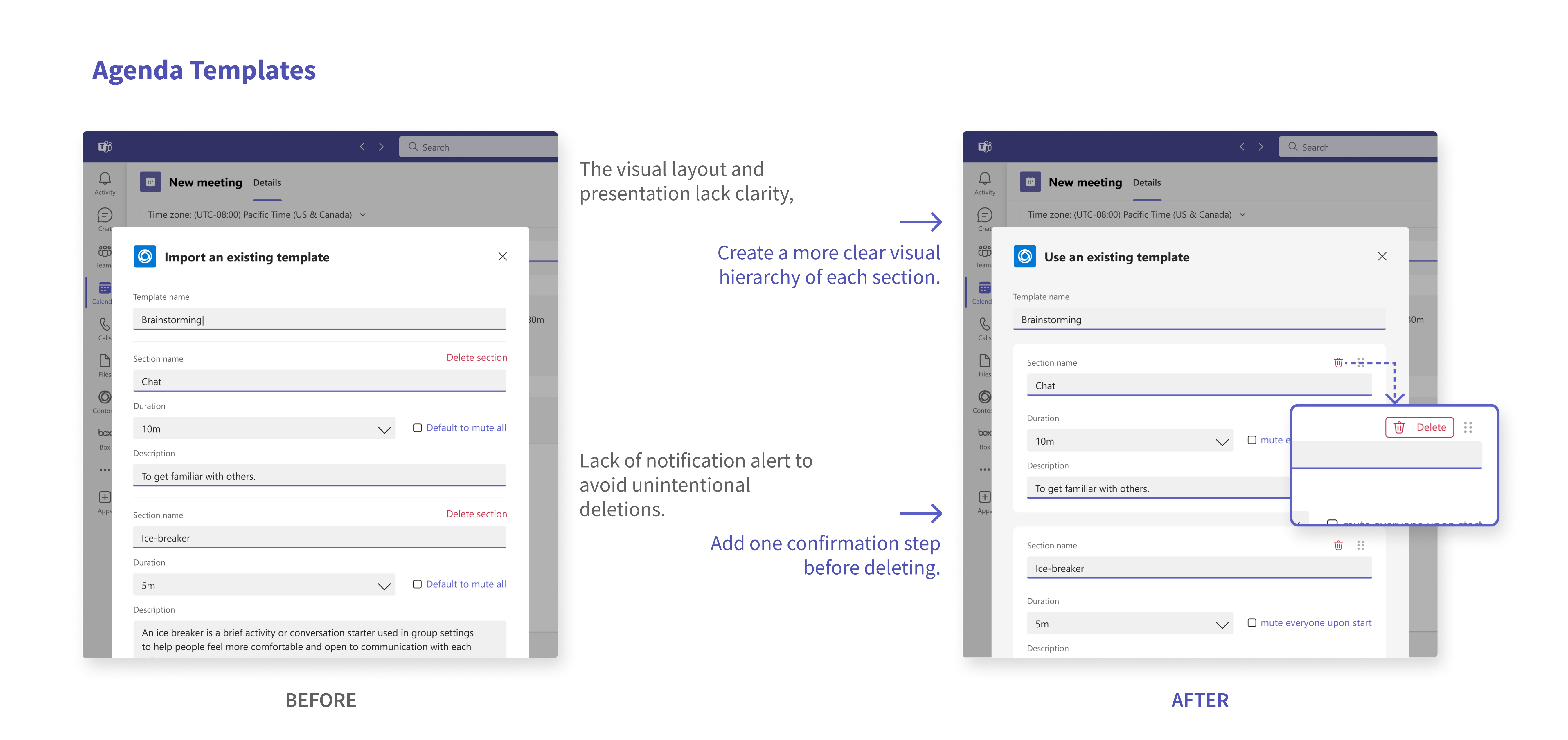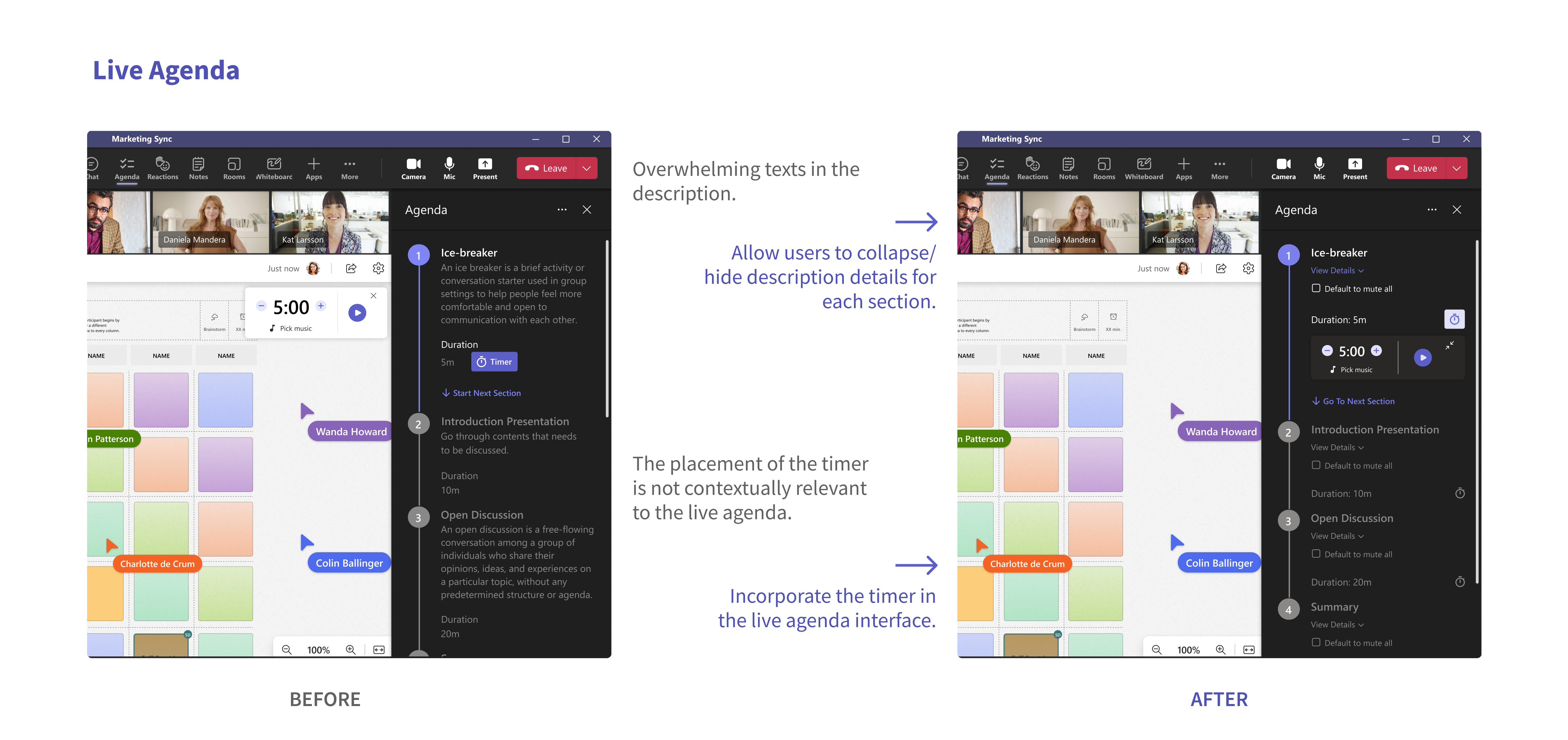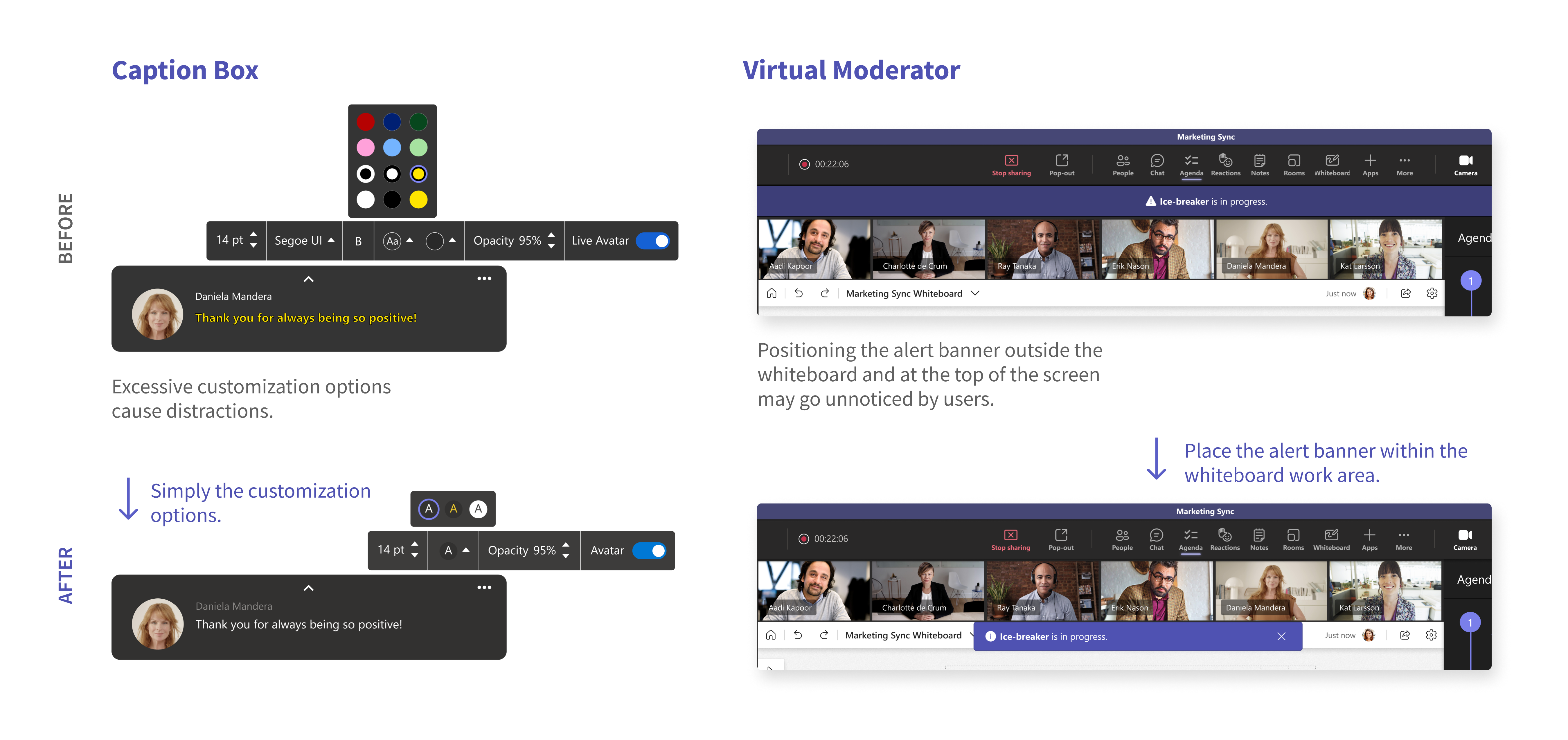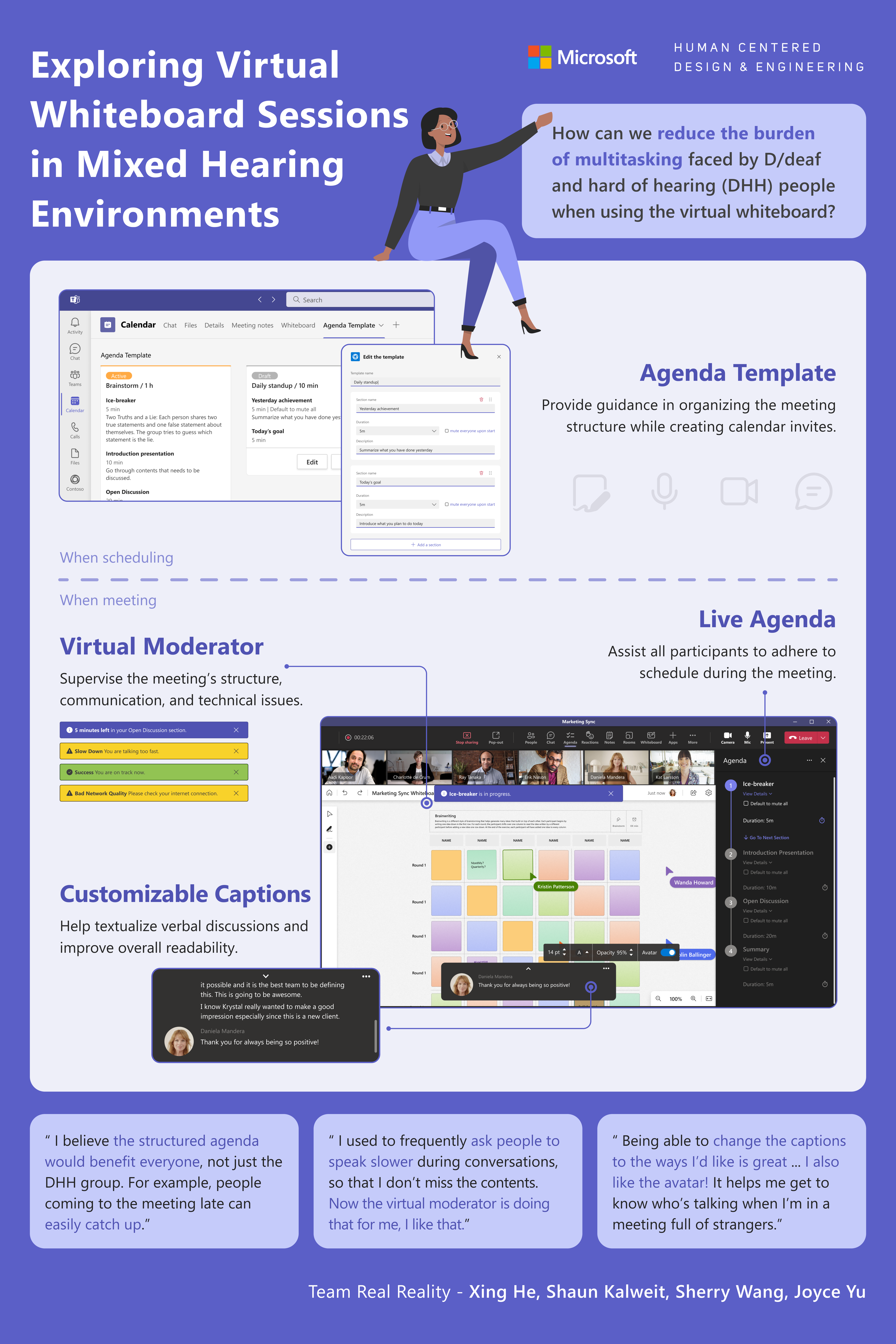 Showcase Poster
For our final showcase, which around 700 audiences showed up, I designed a poster displaying our main goal and all of our design solutions.
Interactive Prototype
We also delivered an interactive prototype and presentation deck to our sponsor Microsoft, explaining all our solutions in details.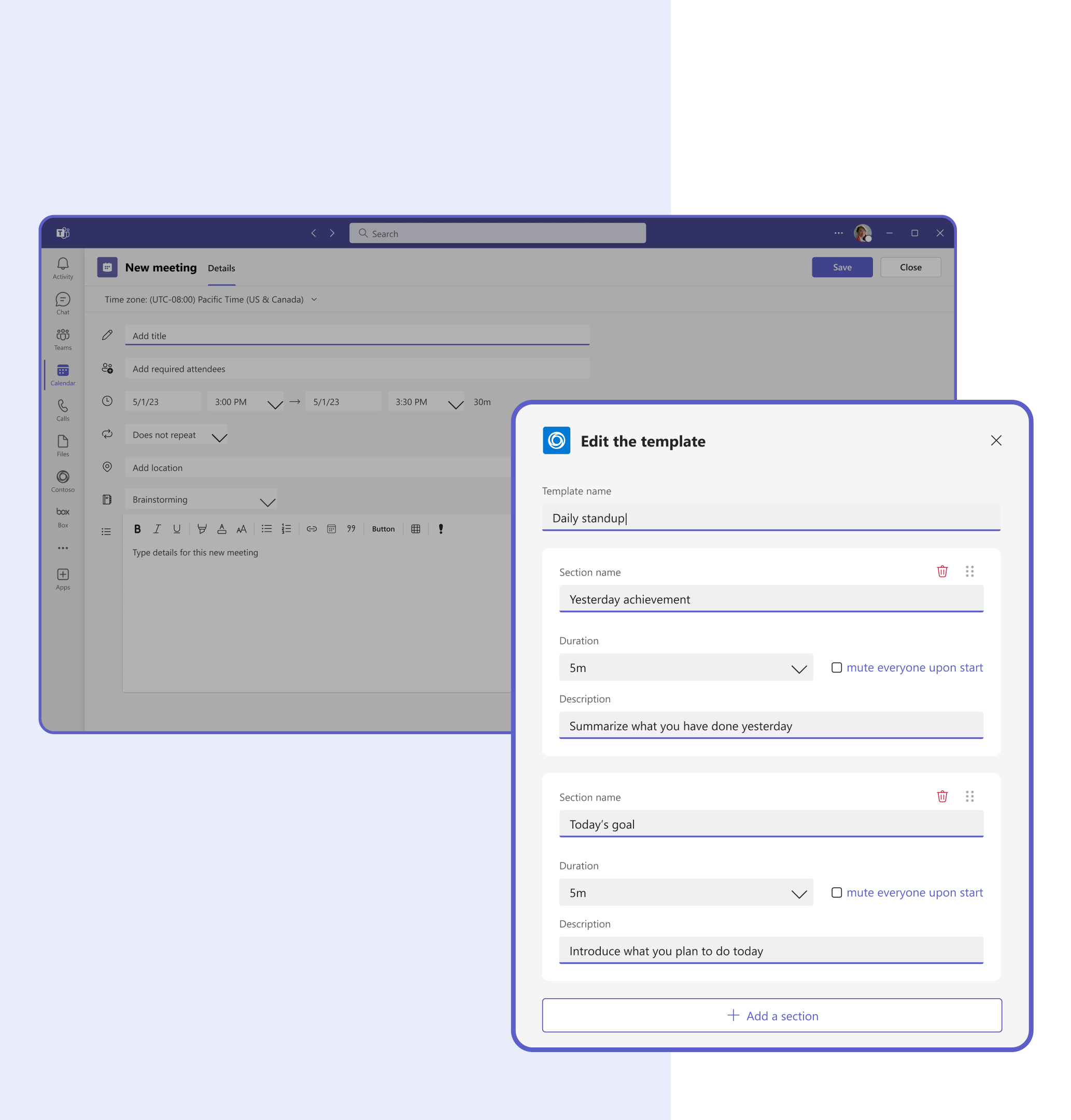 Agenda Templates
It aims to streamline the process of creating meetings and enhance participants' understanding of the session structure. It allows facilitators to easily structure and organize the content of their meetings, including the flow, discussion points, activities, and time allocations, which helps participants to have a clear understanding of what to expect during the meeting. Additionally, the feature includes the option to "mute everyone upon start", which reduces the need for participants to juggle visual language cues while trying to follow the discussion. It minimizes distractions, allowing participants to focus on the agenda and contribute their ideas and insights more seamlessly.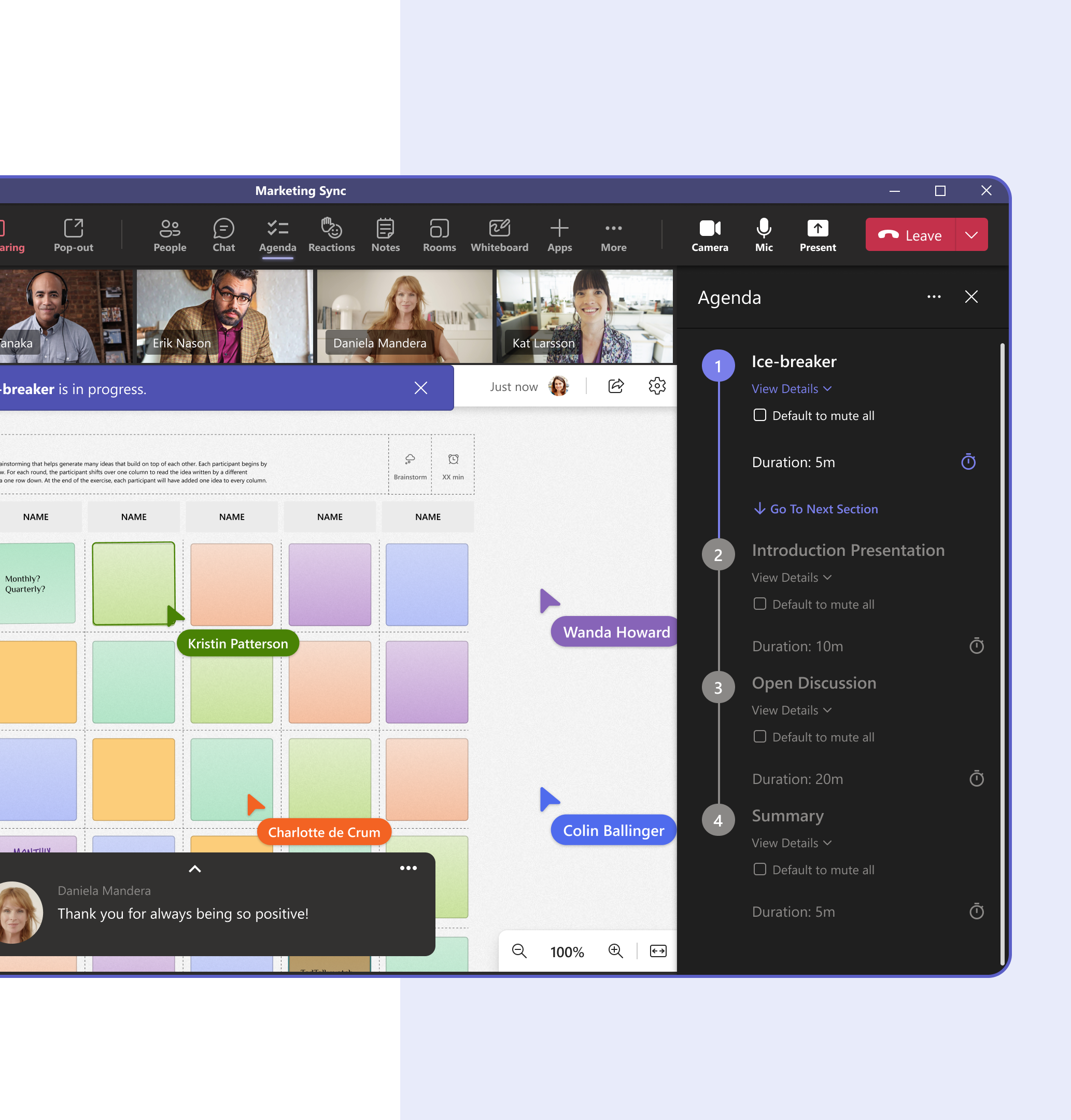 Live Agenda
Live Agenda keeps all participants aware and on track throughout the session. By providing a real-time display of the agenda, participants can easily refer to the current topic, upcoming discussion points, and allocated timeframes. The "quiet work time" reduces the need for participants to multitask visuals and allows them to focus on individual tasks or activities without distractions. It also serves as a valuable resource for latecomers or participants who may have missed the initial part of the session. By quickly glancing at the live agenda, they can gain an immediate understanding of the ongoing discussion, the topics covered thus far, and the upcoming agenda items.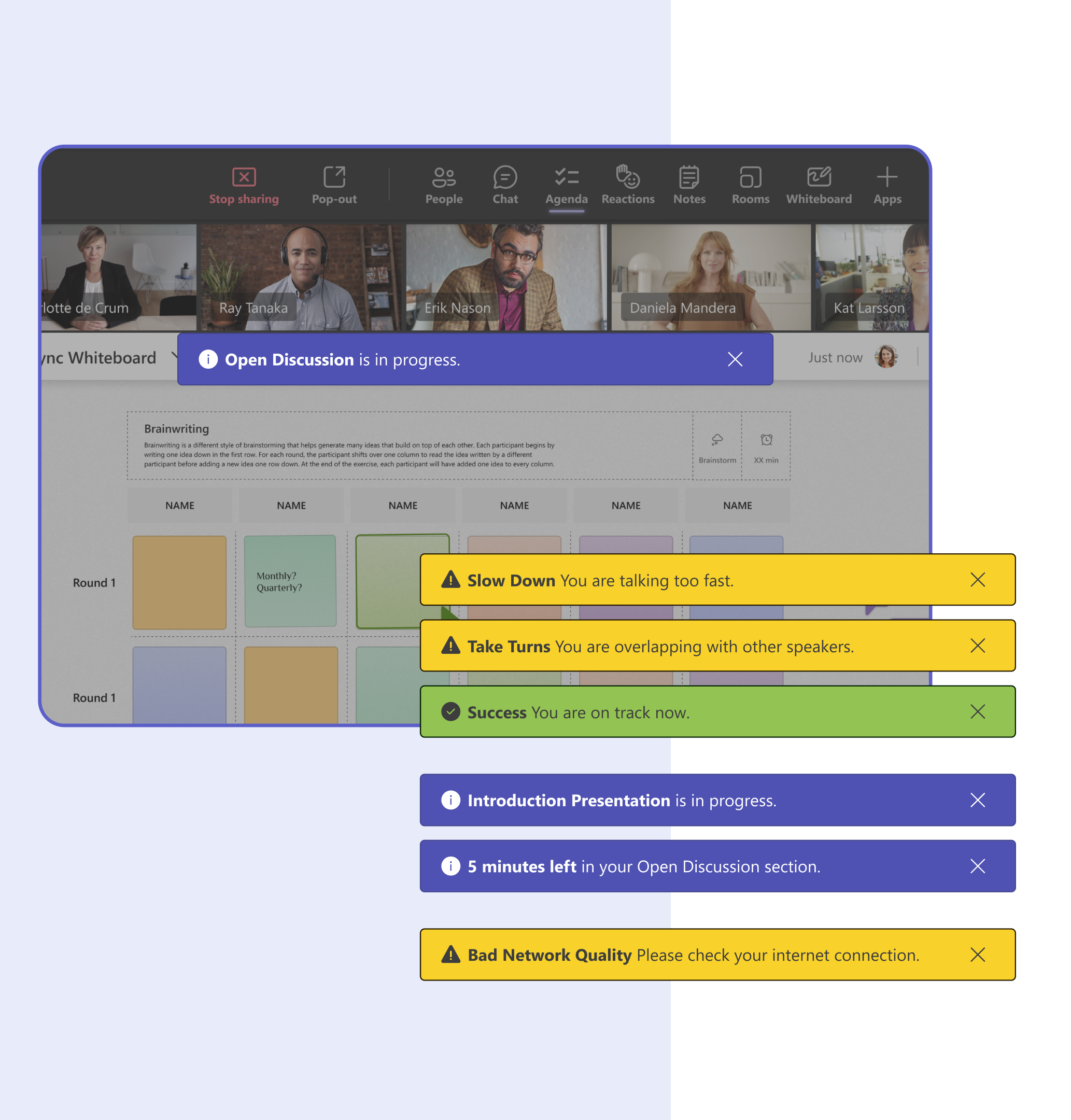 Virtual Moderator
This feature improves meeting efficiency by displaying speaker cues and guidelines, flagging technical issues, and helping participants stay on top of the agenda. By providing the current speaker with speech advice, it enhances the accuracy of captions for D/deaf and hard of hearing participants and improves the overall communication. It also alerts participants with technical issues that may affect visual cues, ensuring a smoother communication experience. Additionally, the Virtual Moderator assists in keeping participants aligned with the agenda through timely reminders and prompts.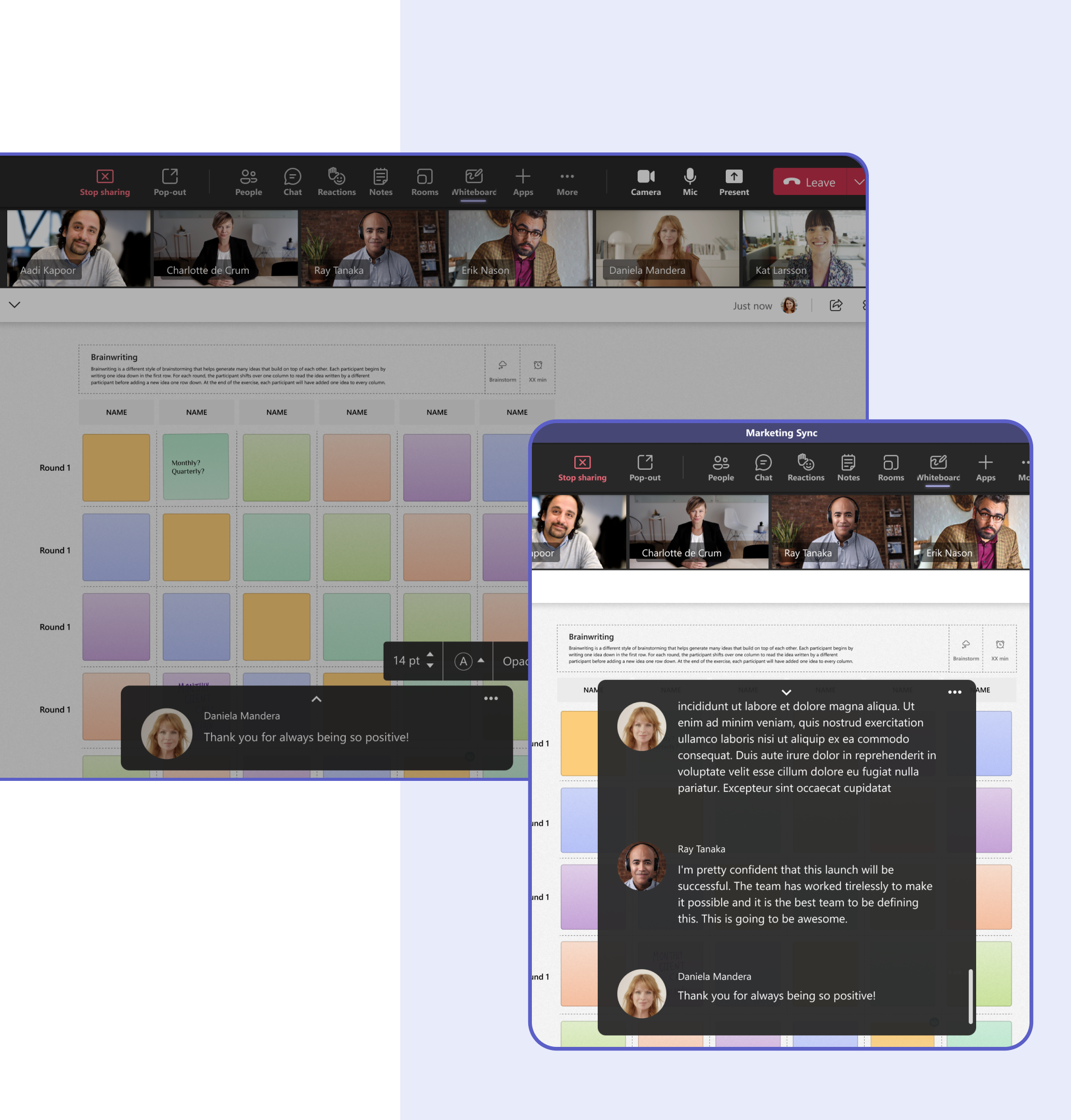 Caption Box
The caption box offers customizable options to meet the diverse needs of participants in different scenarios. Users can adjust the size, position, and appearance of the caption box according to their visual preferences and accessibility requirements. Additionally, participants can expand the box and read through the caption history to capture missing information. This feature empowers participants to personalize their captioning experience, further enhancing their engagement and participation in the brainstorming session.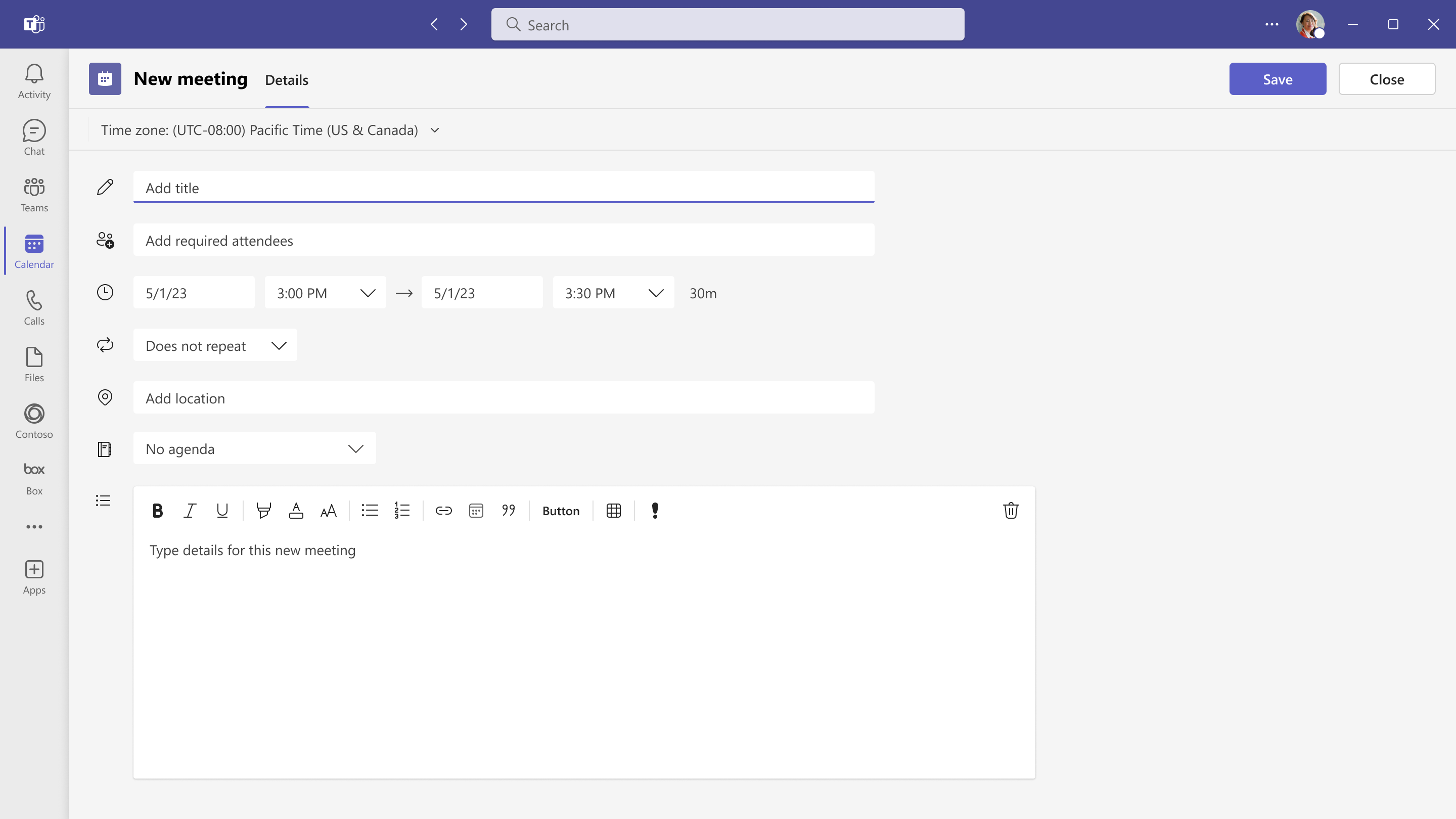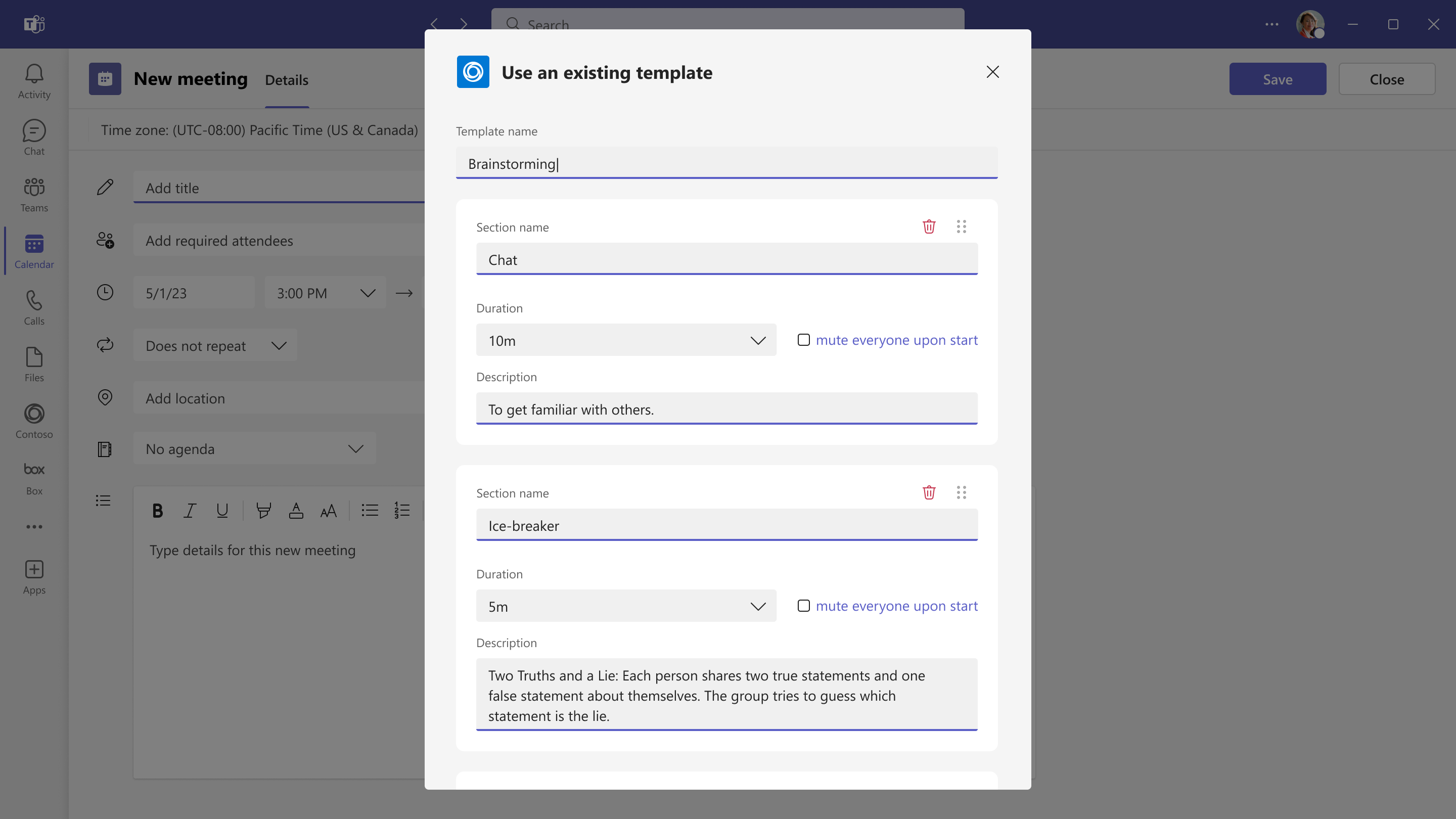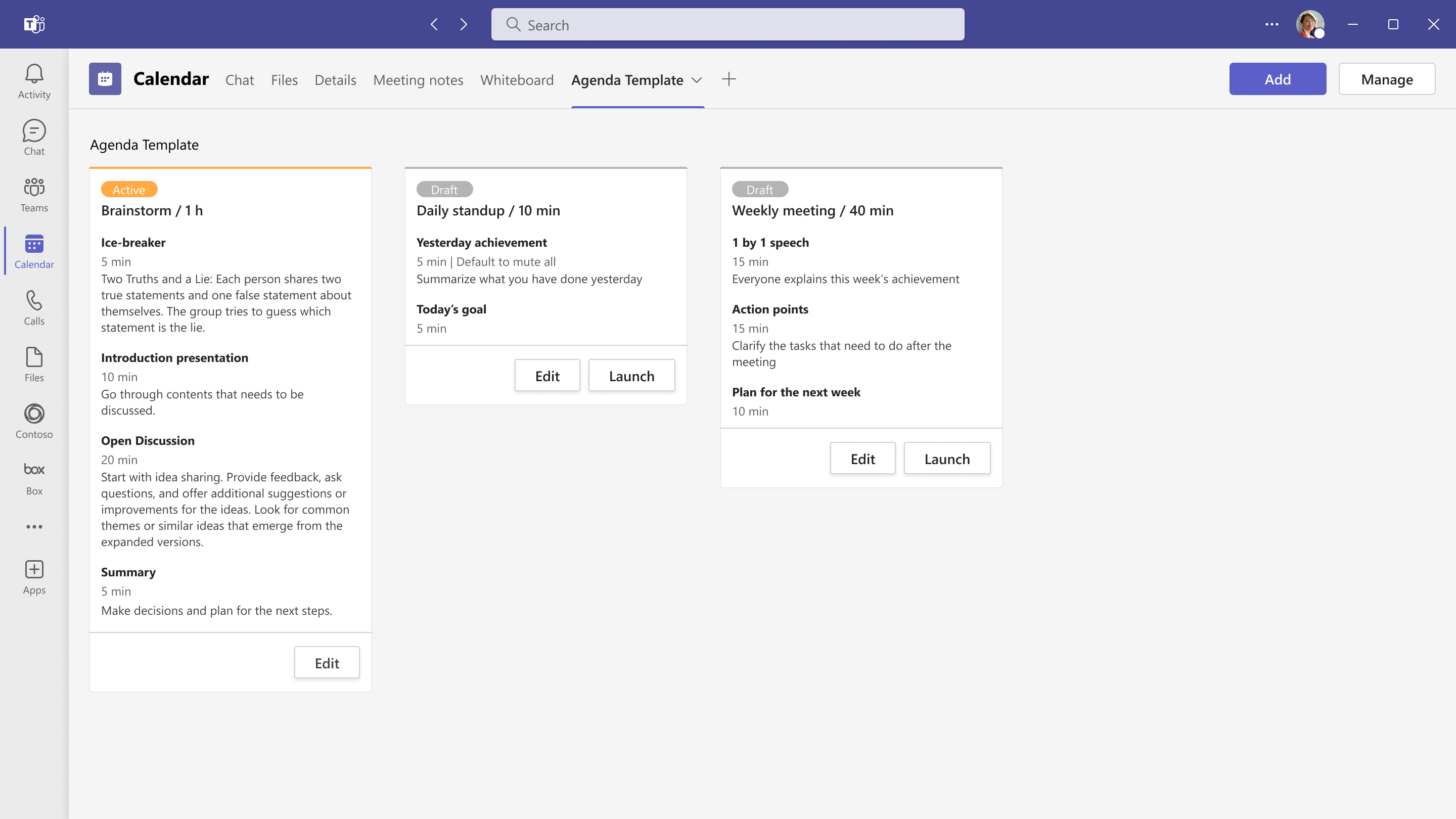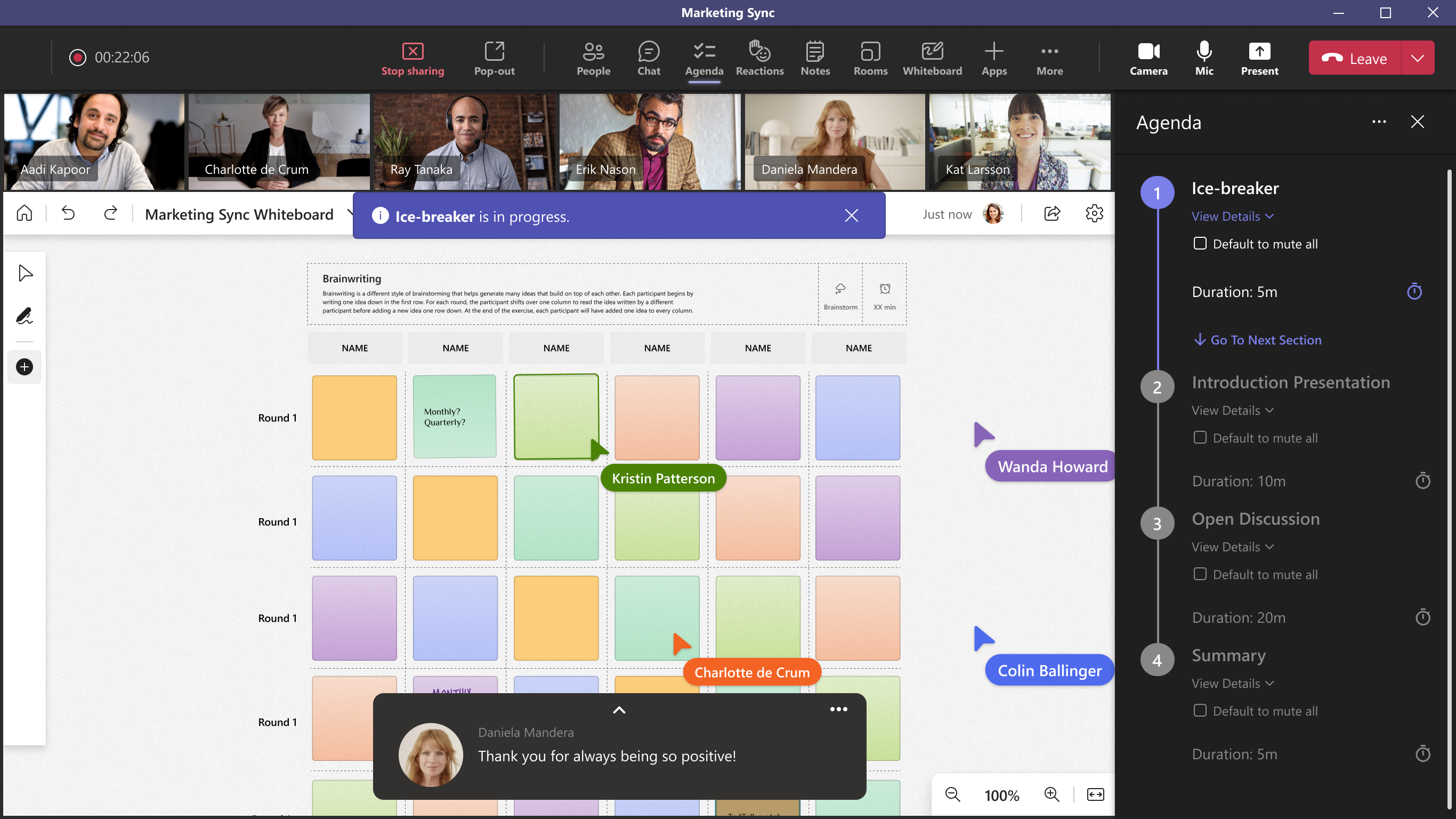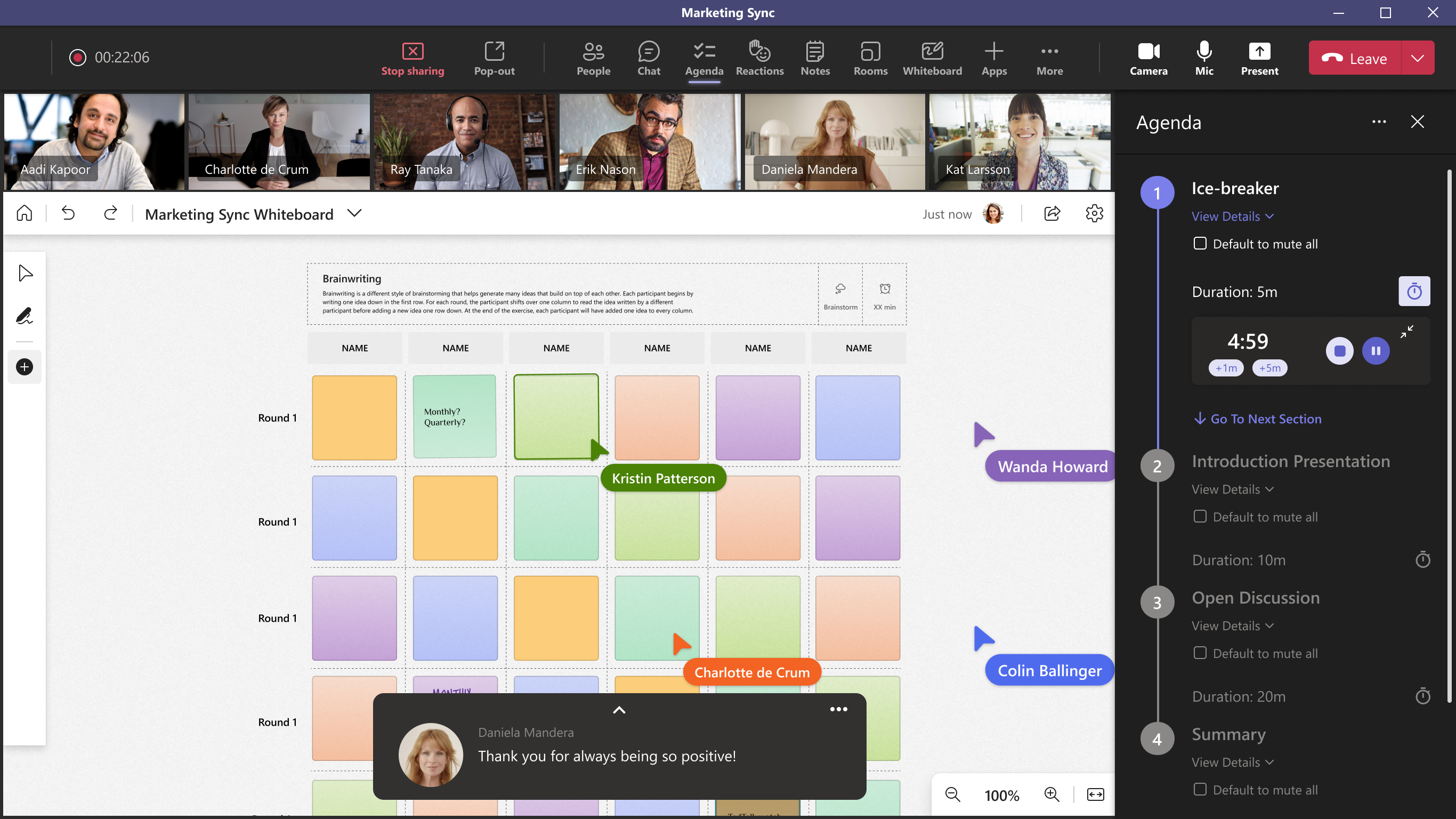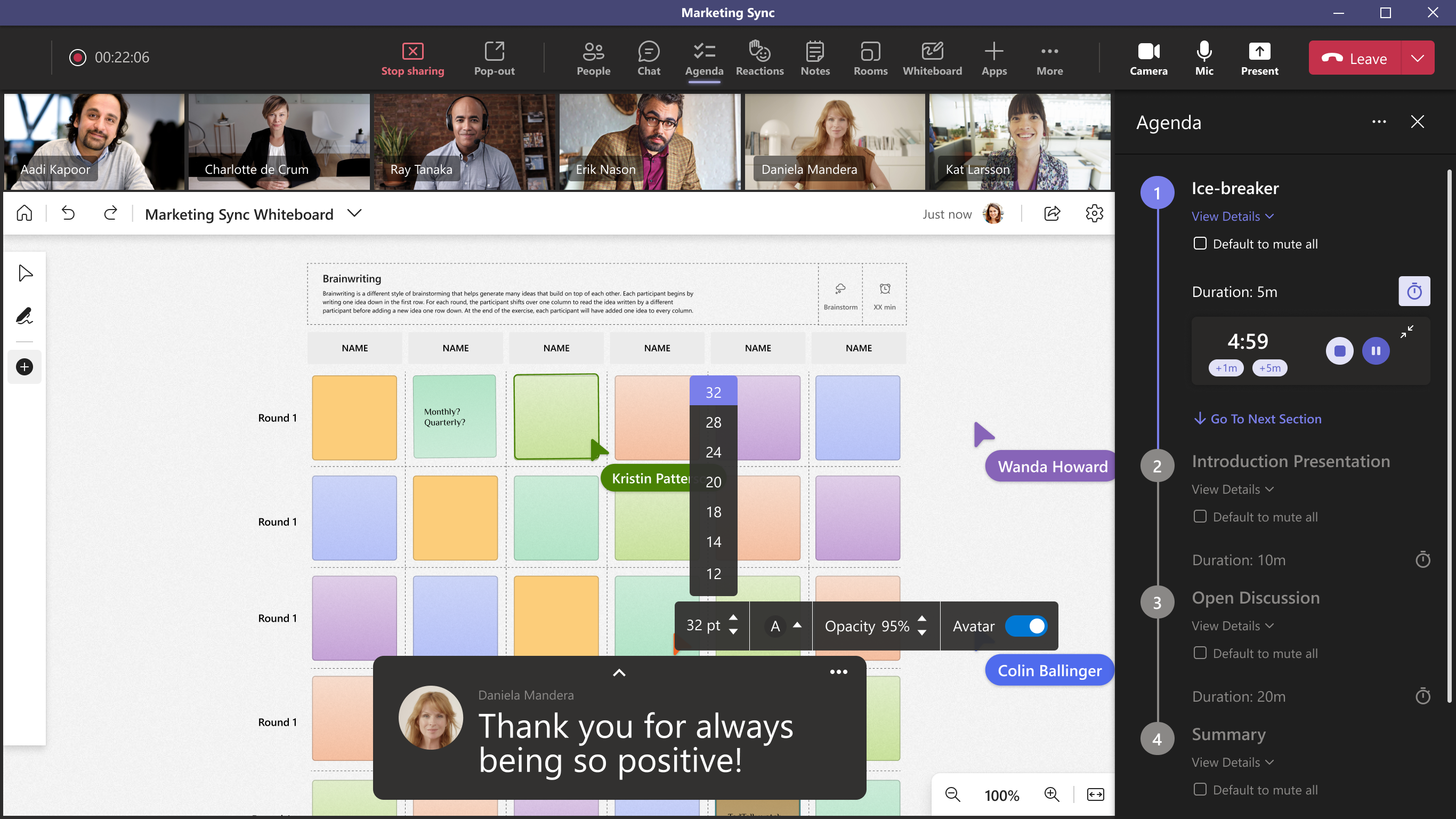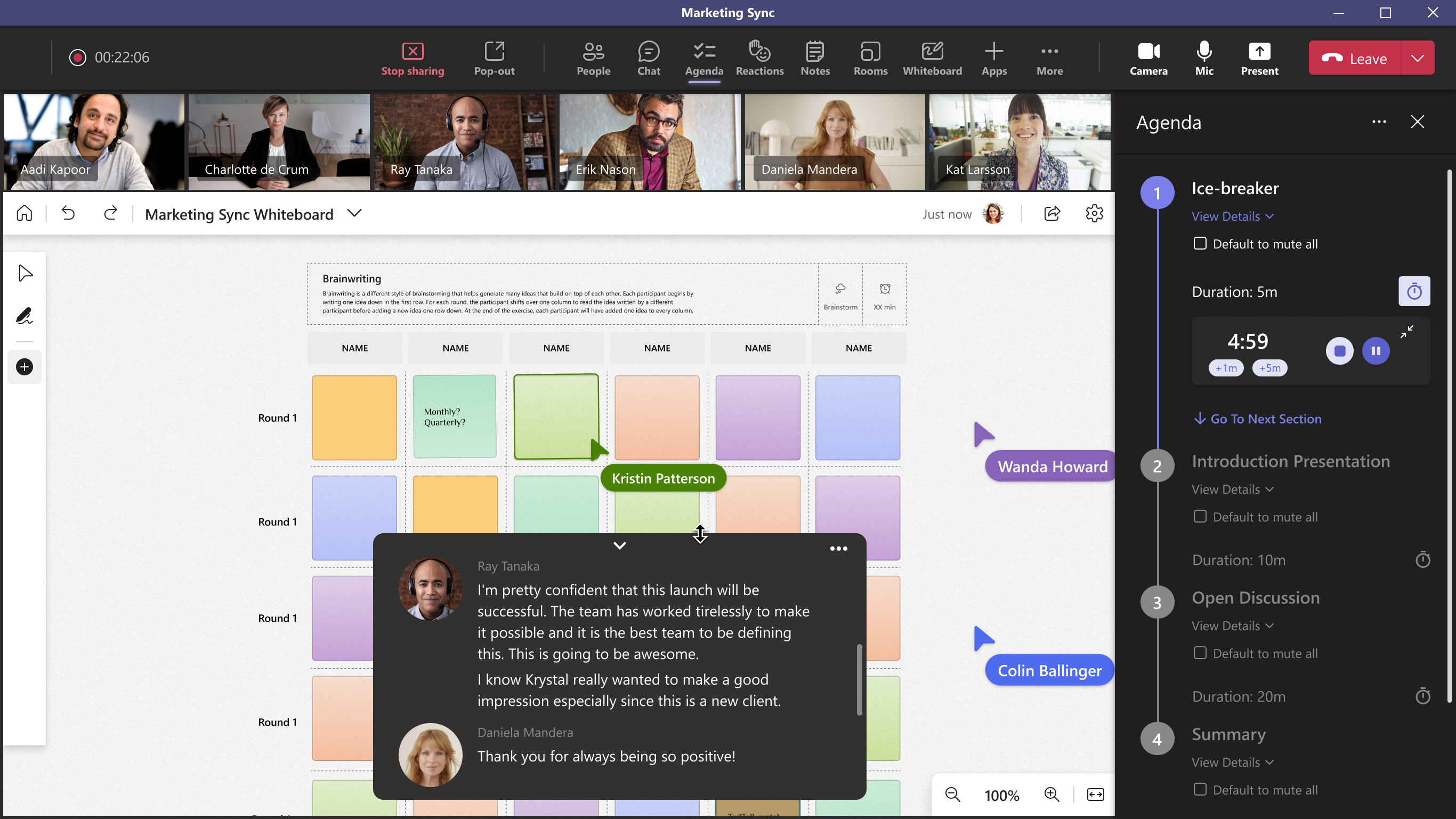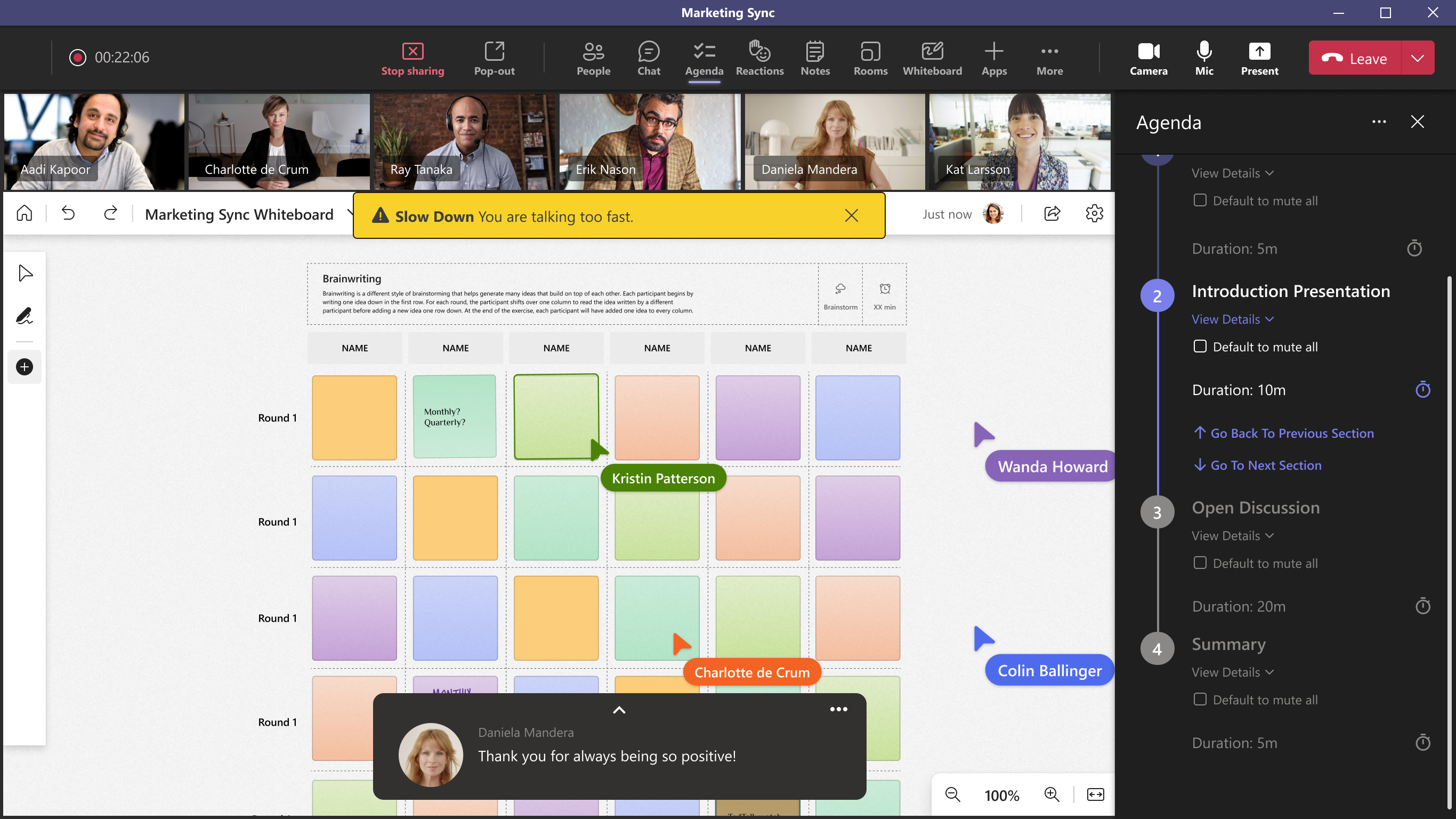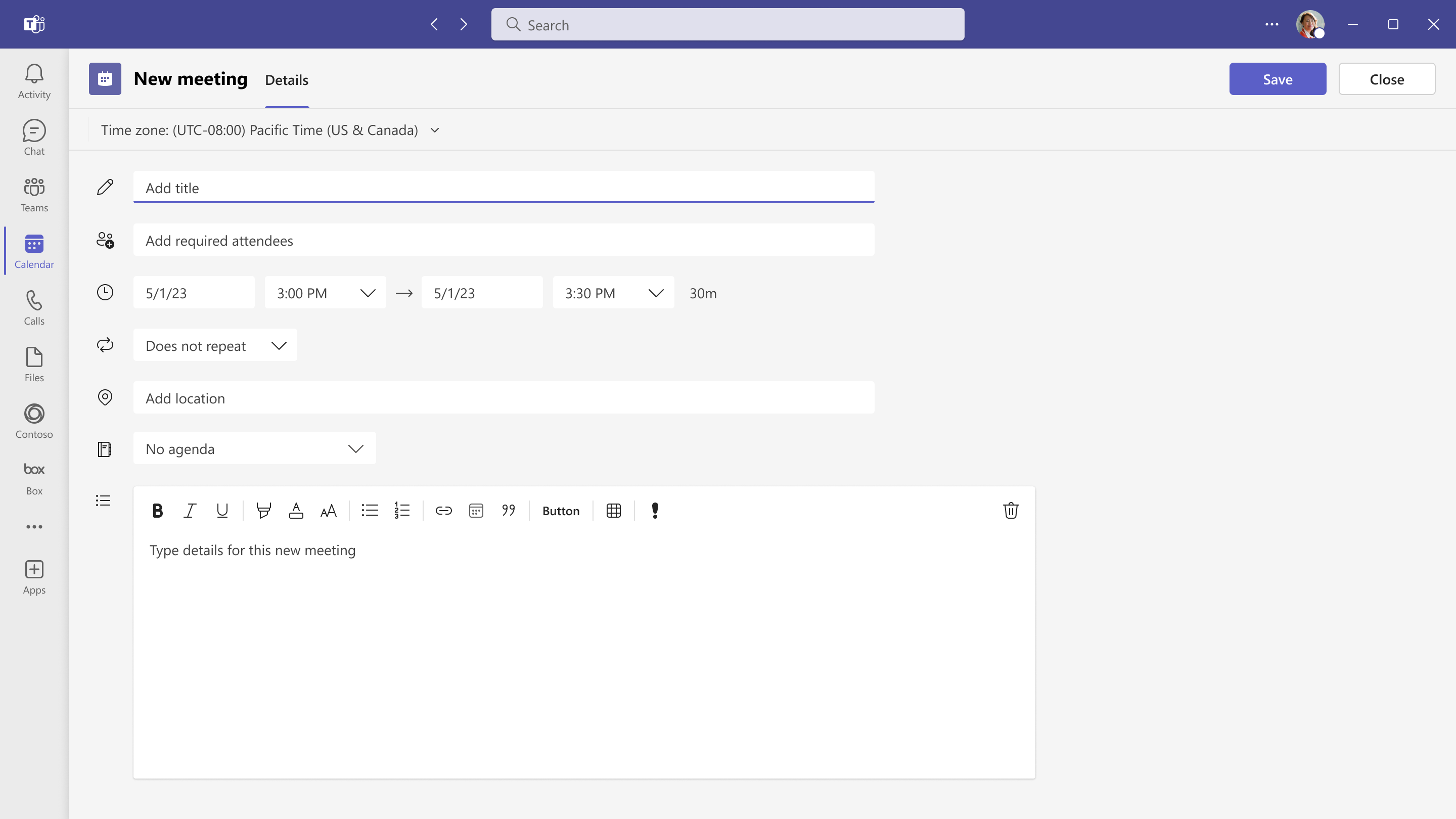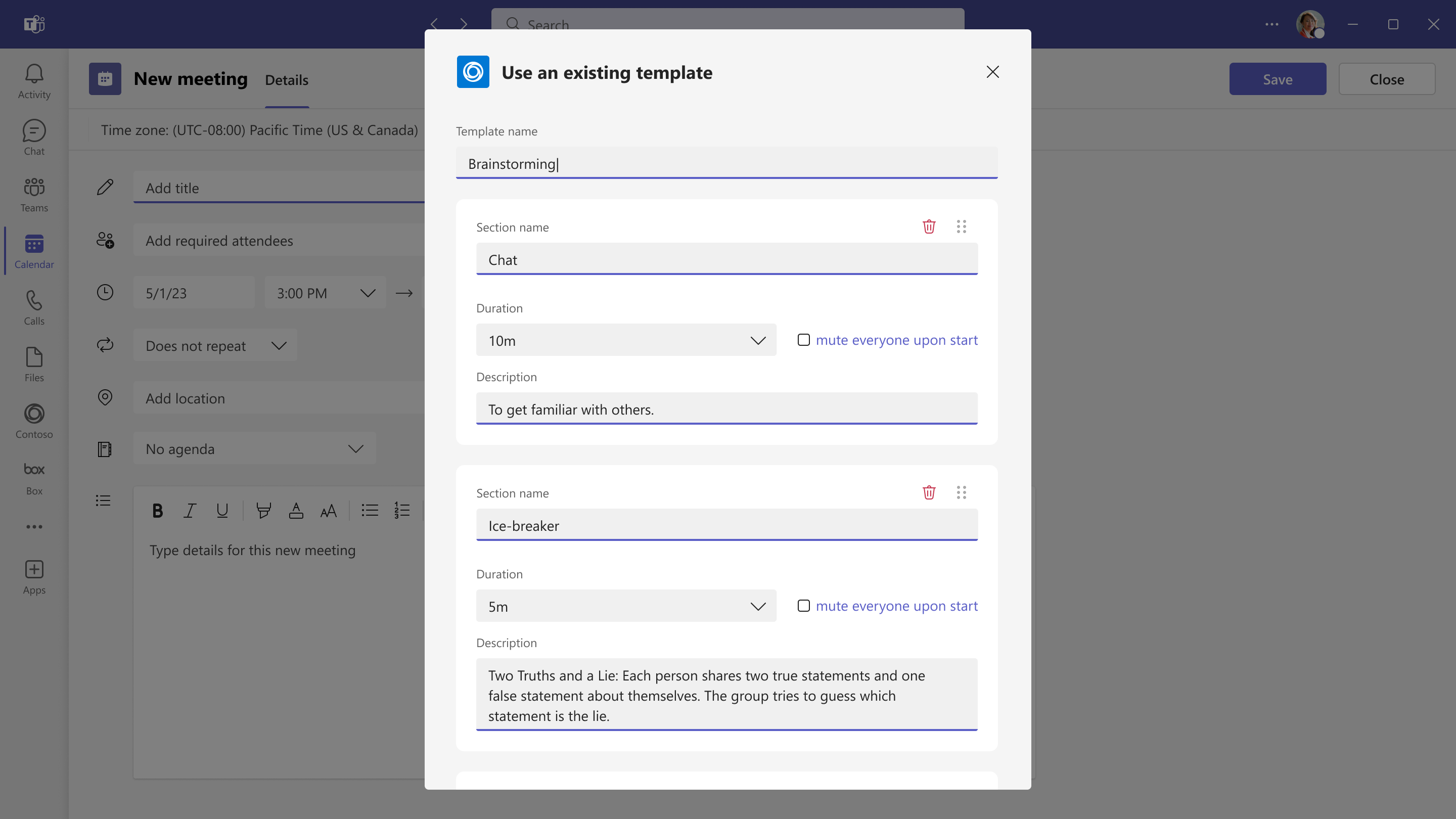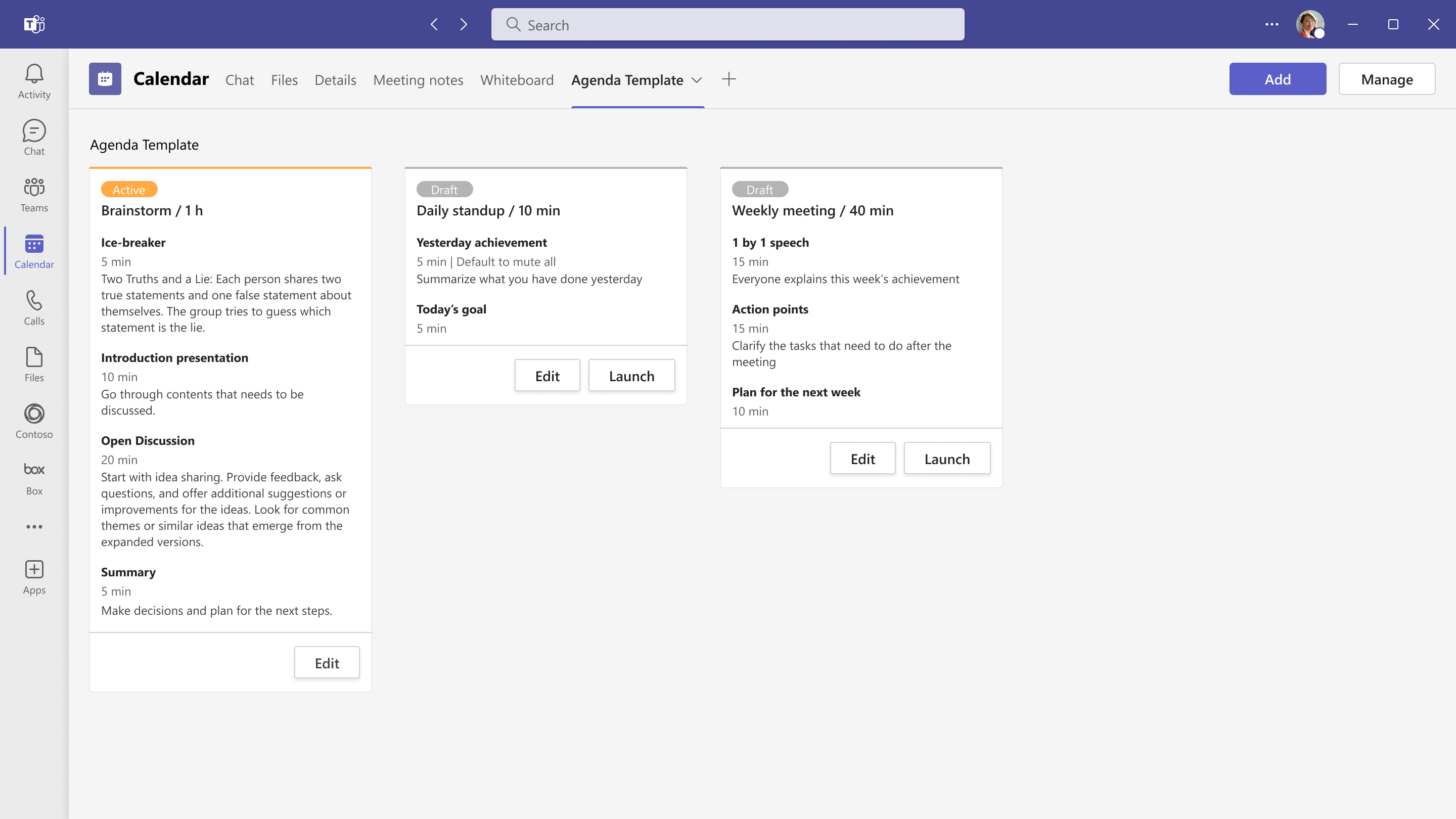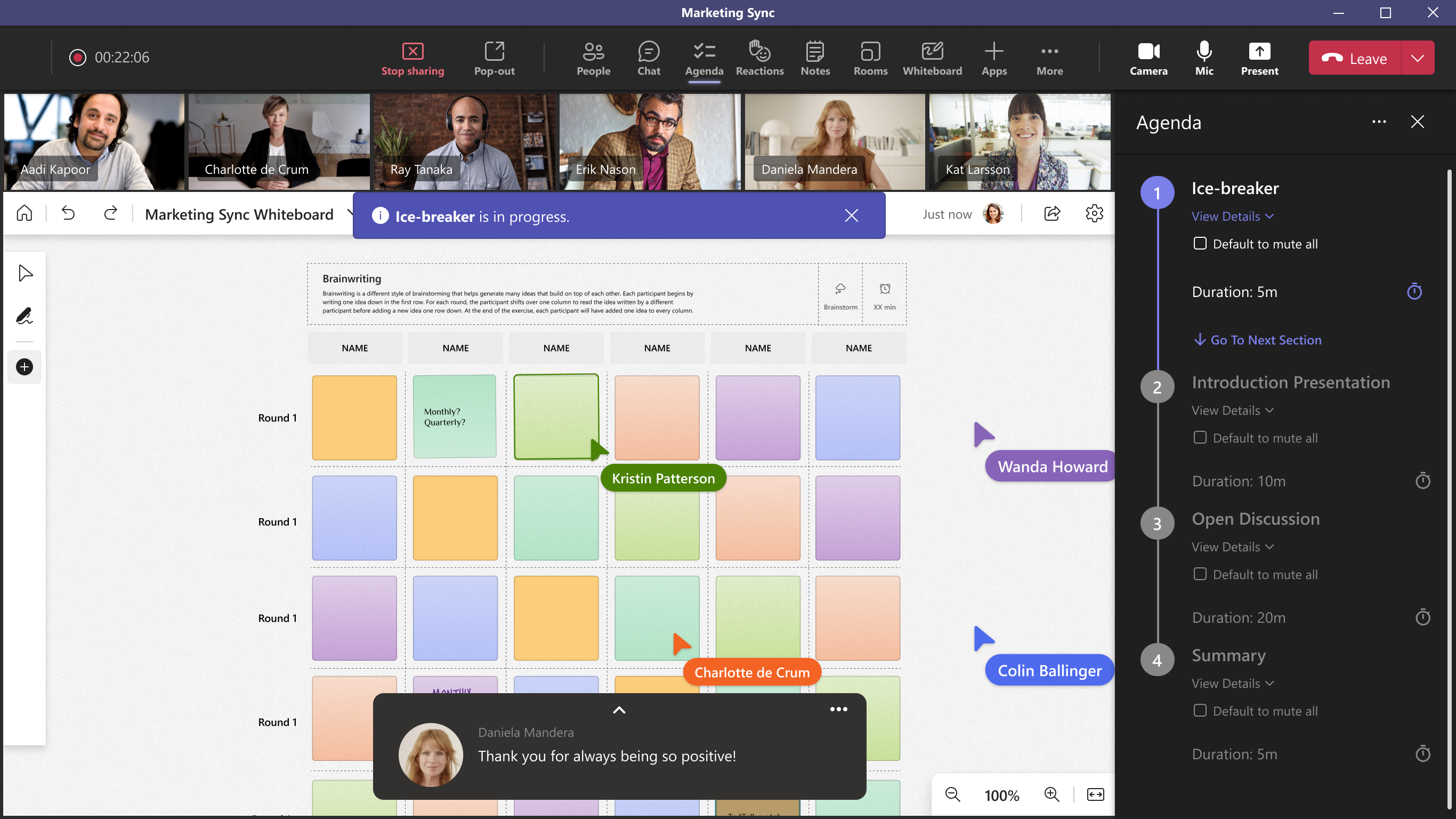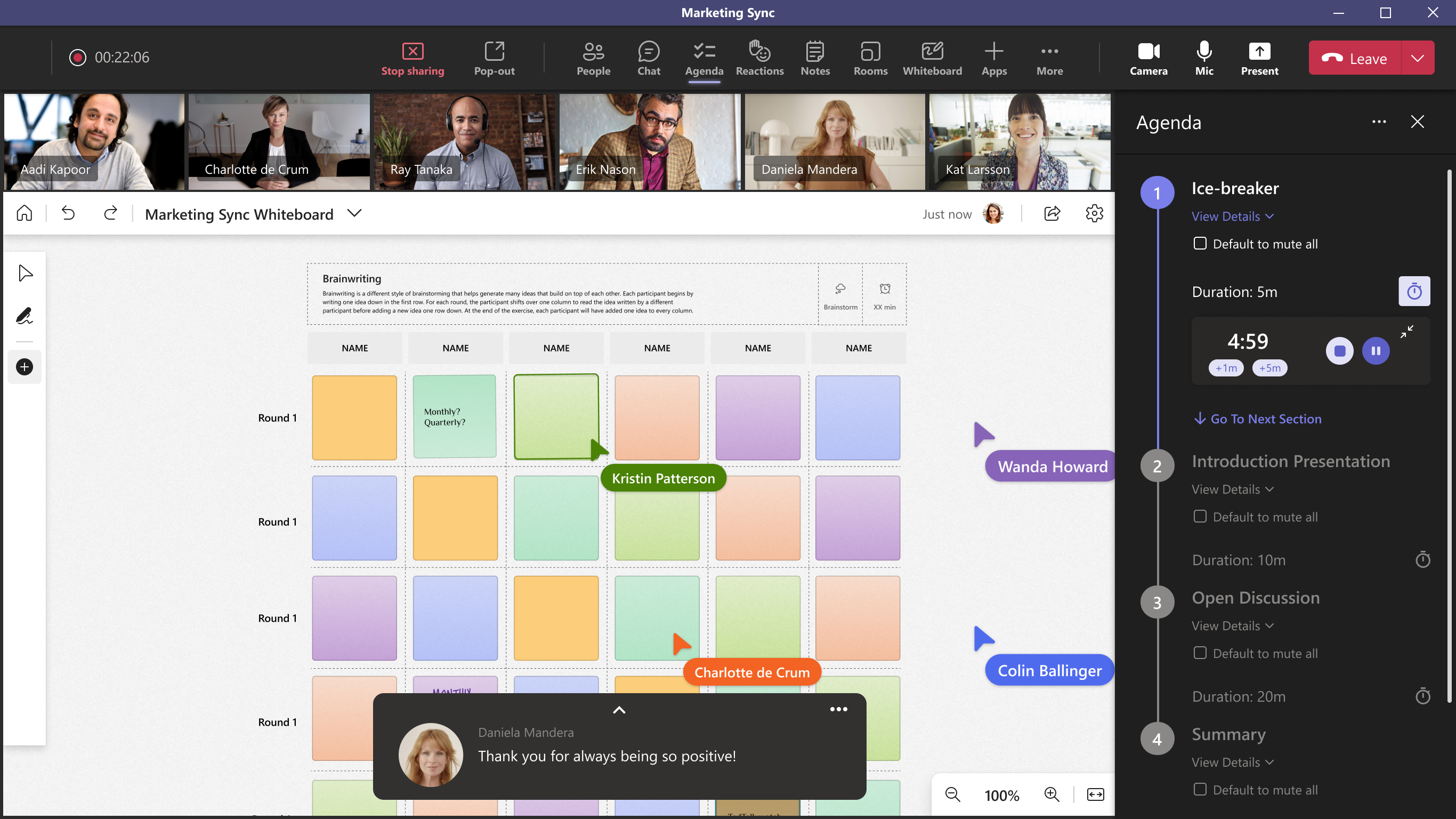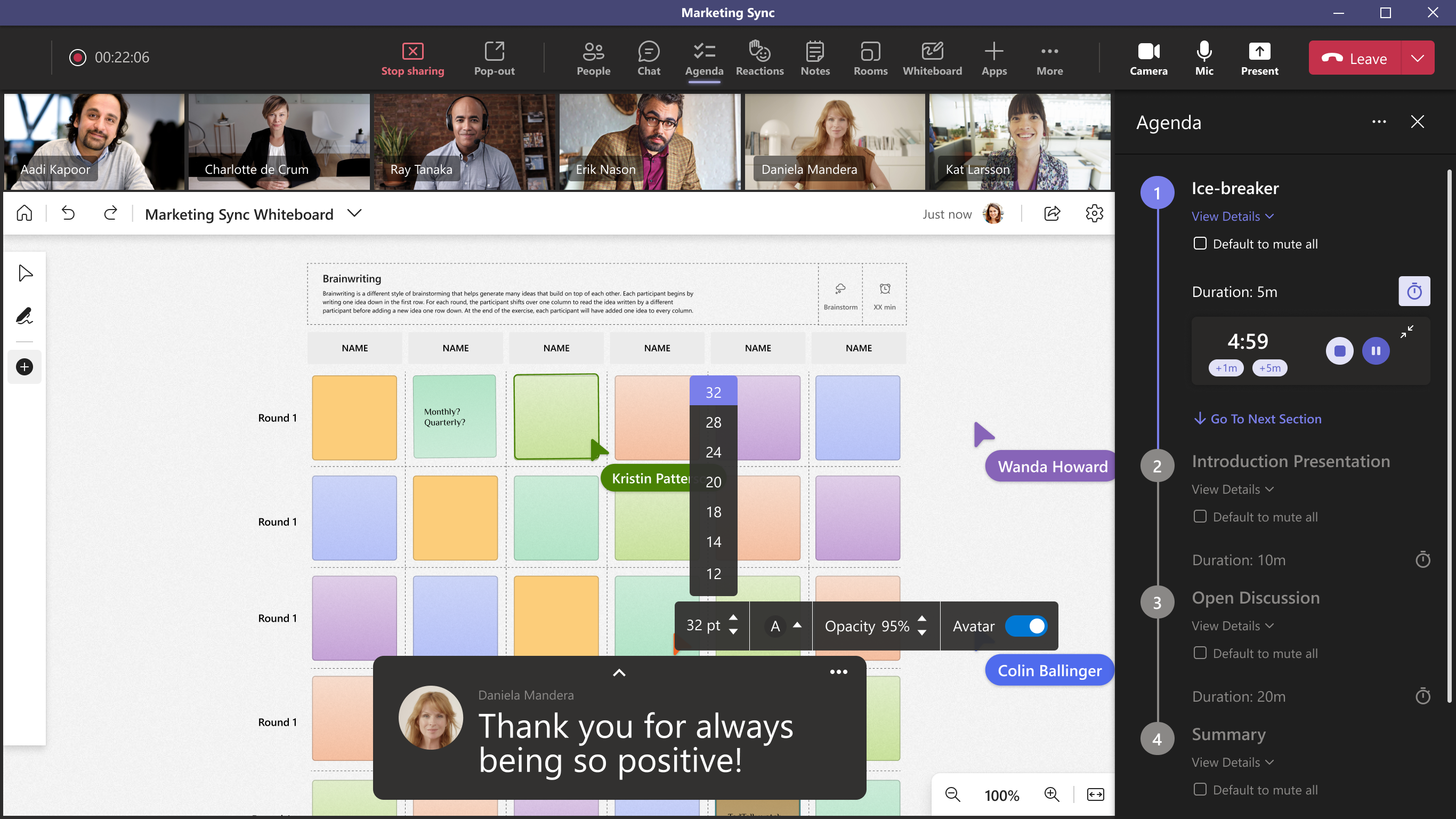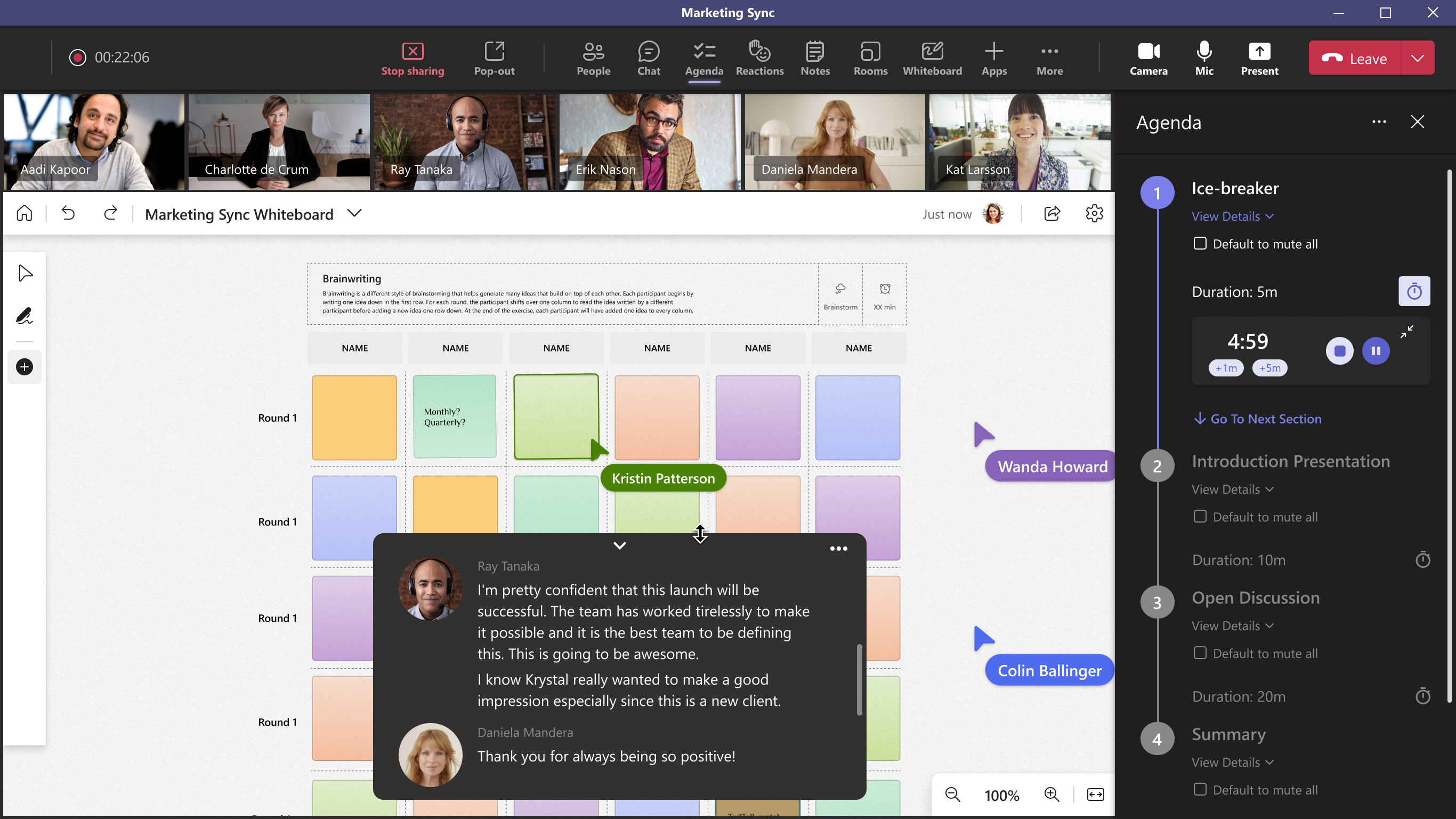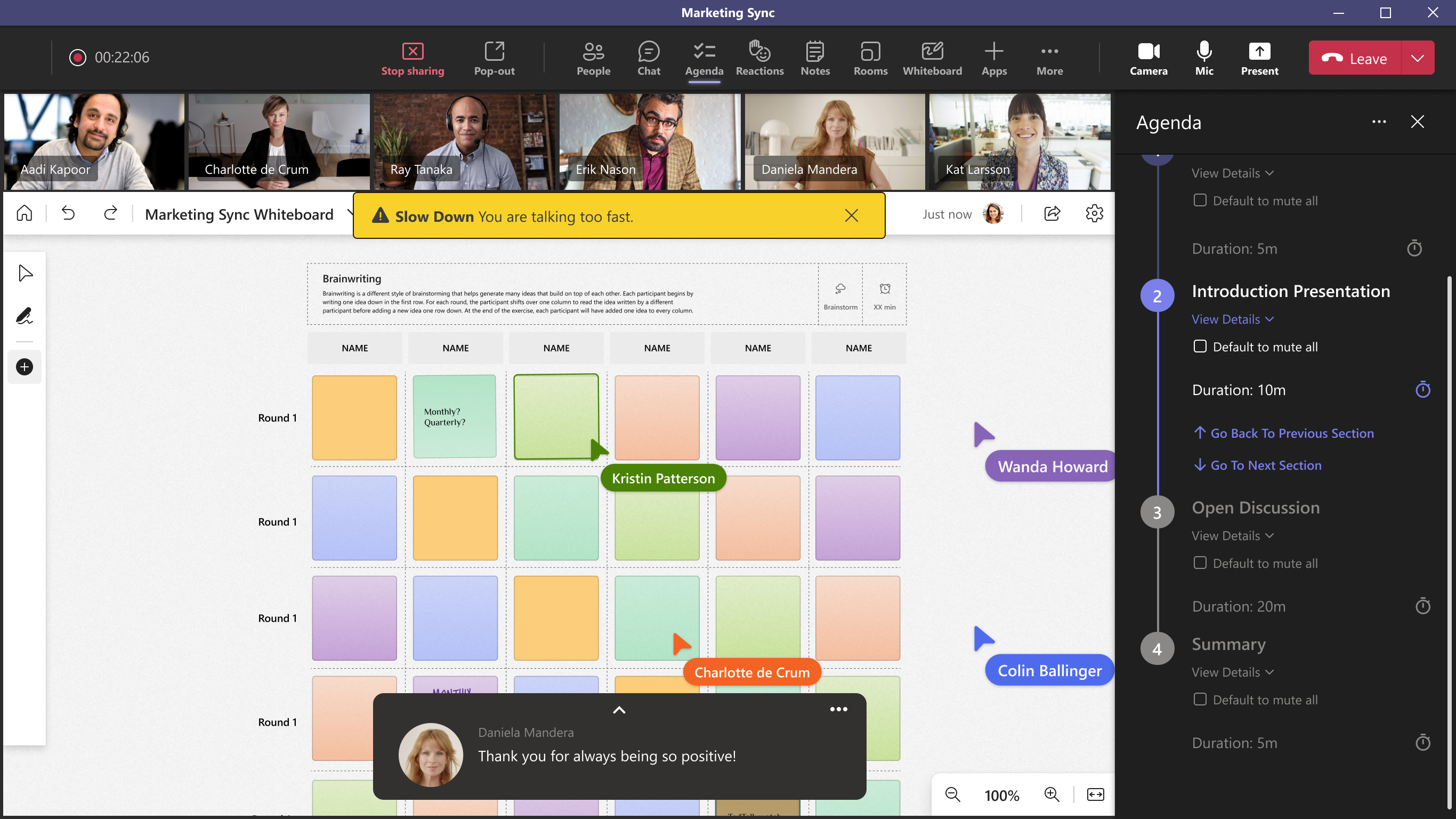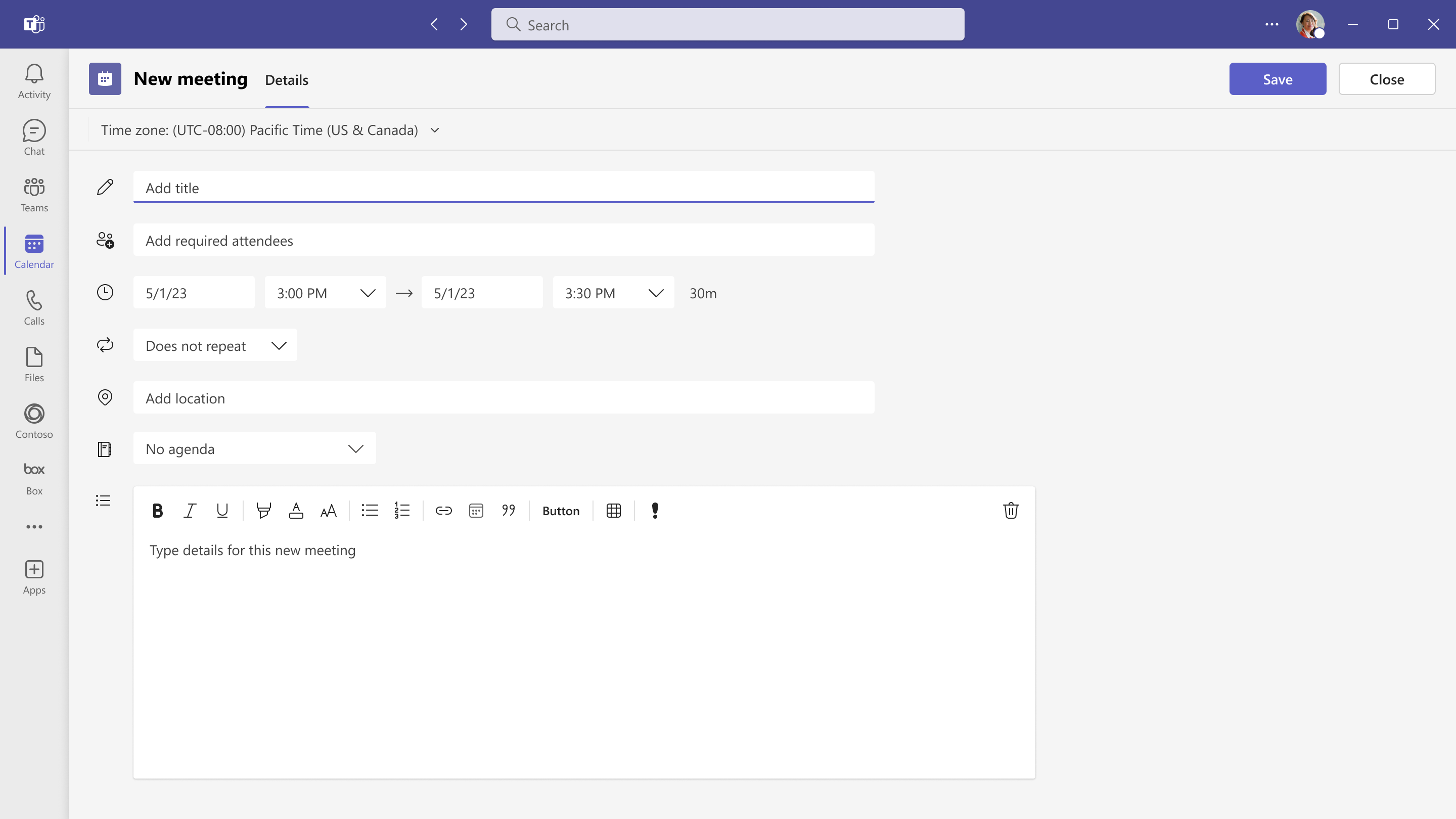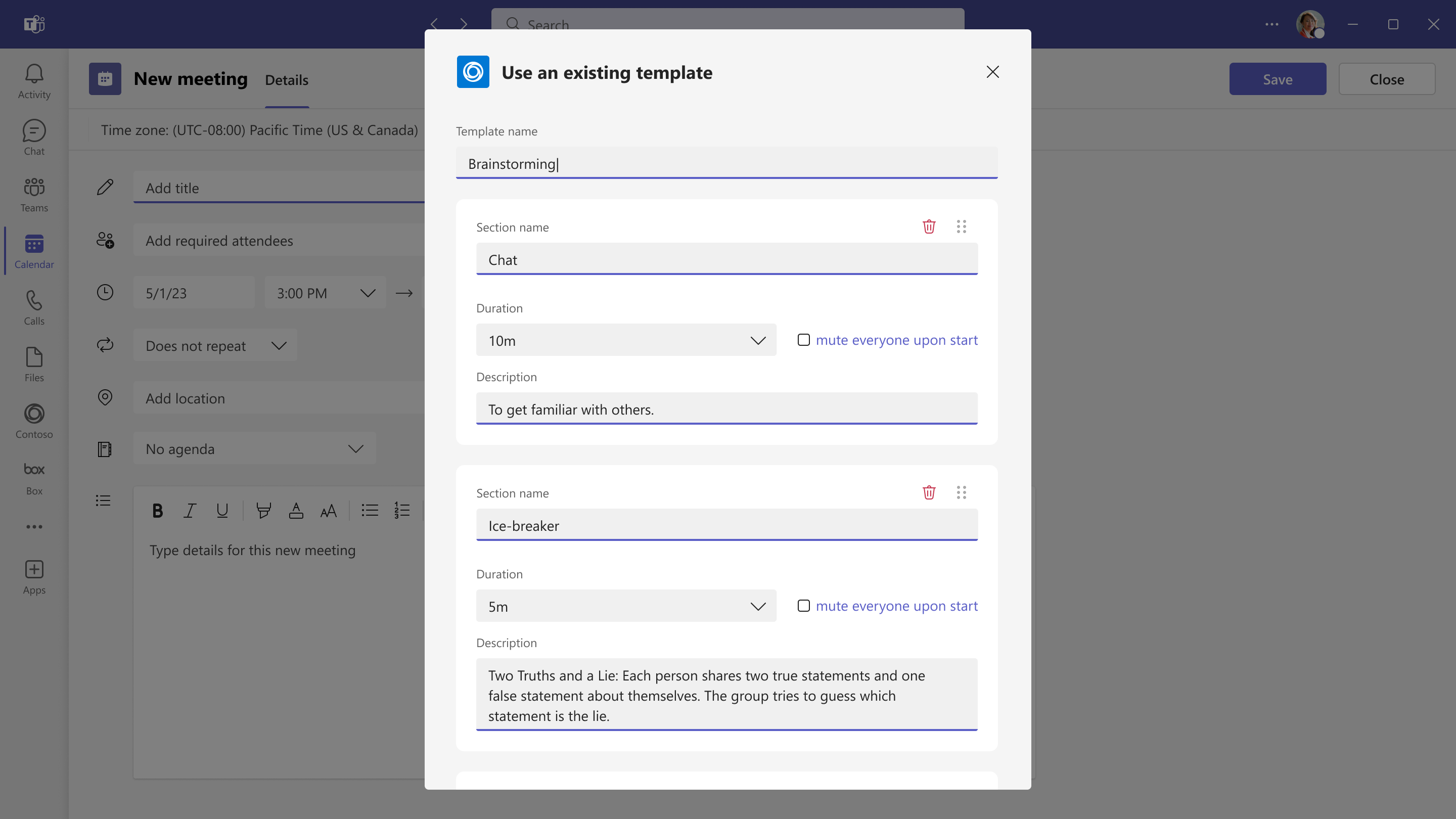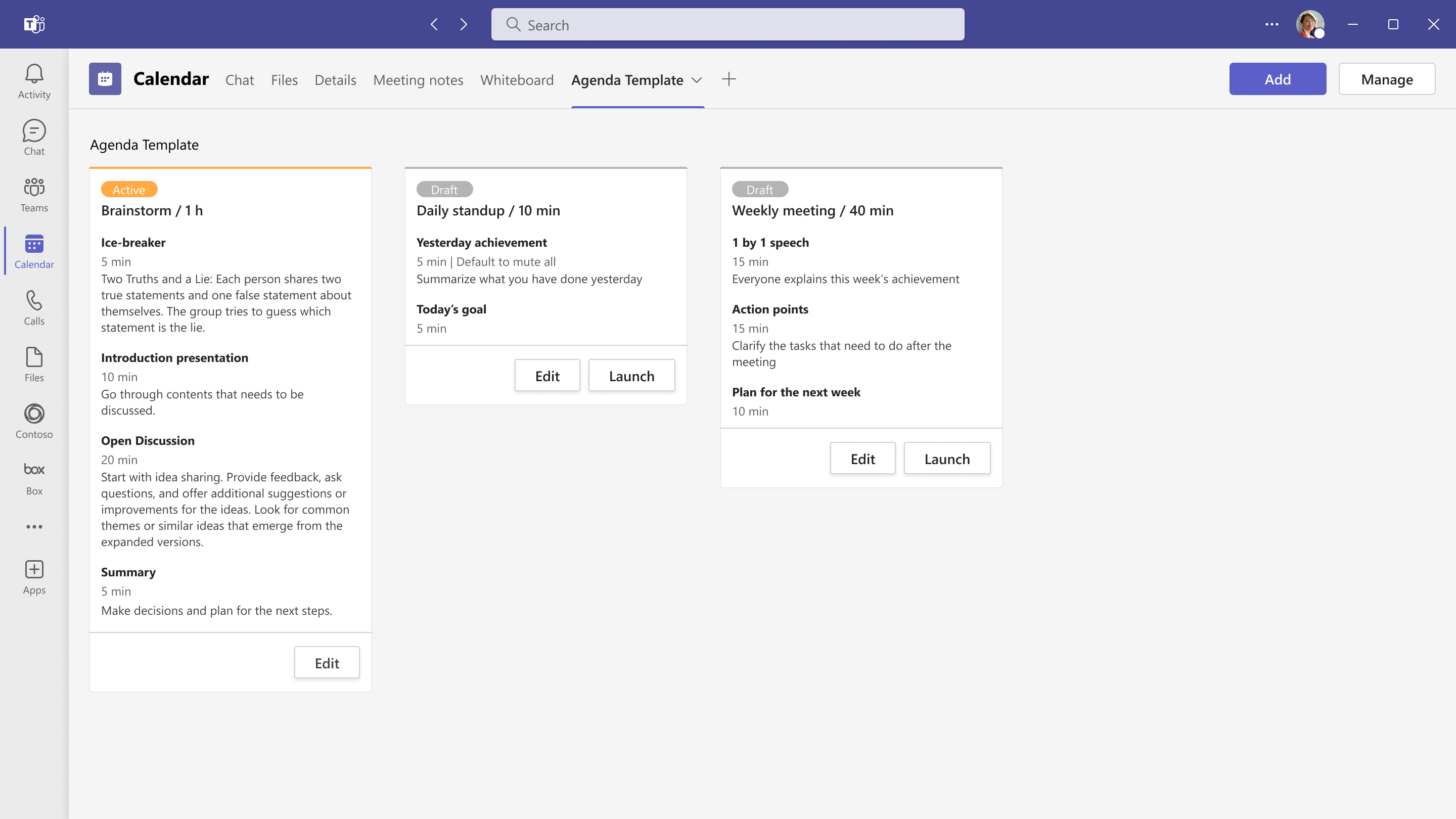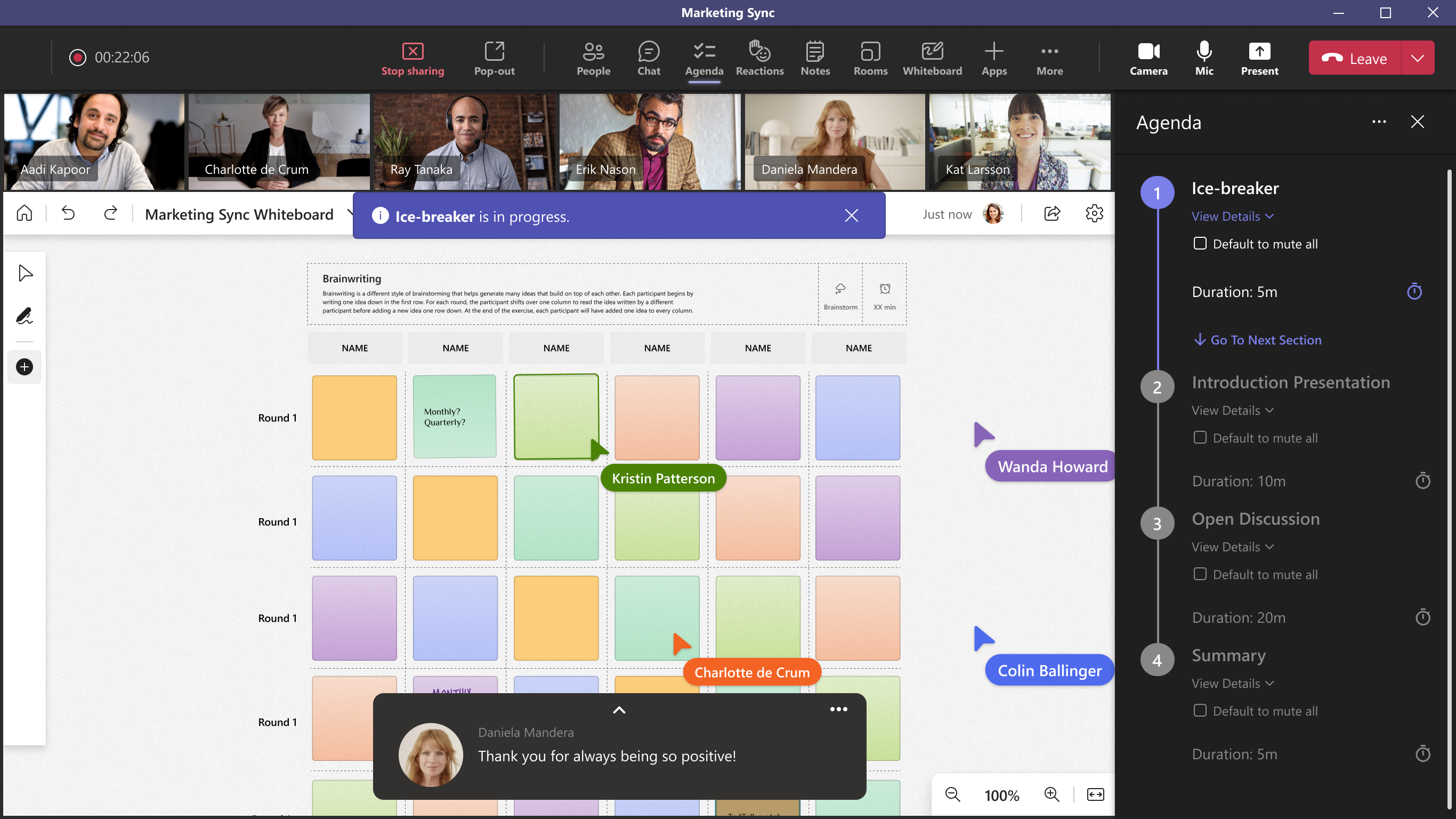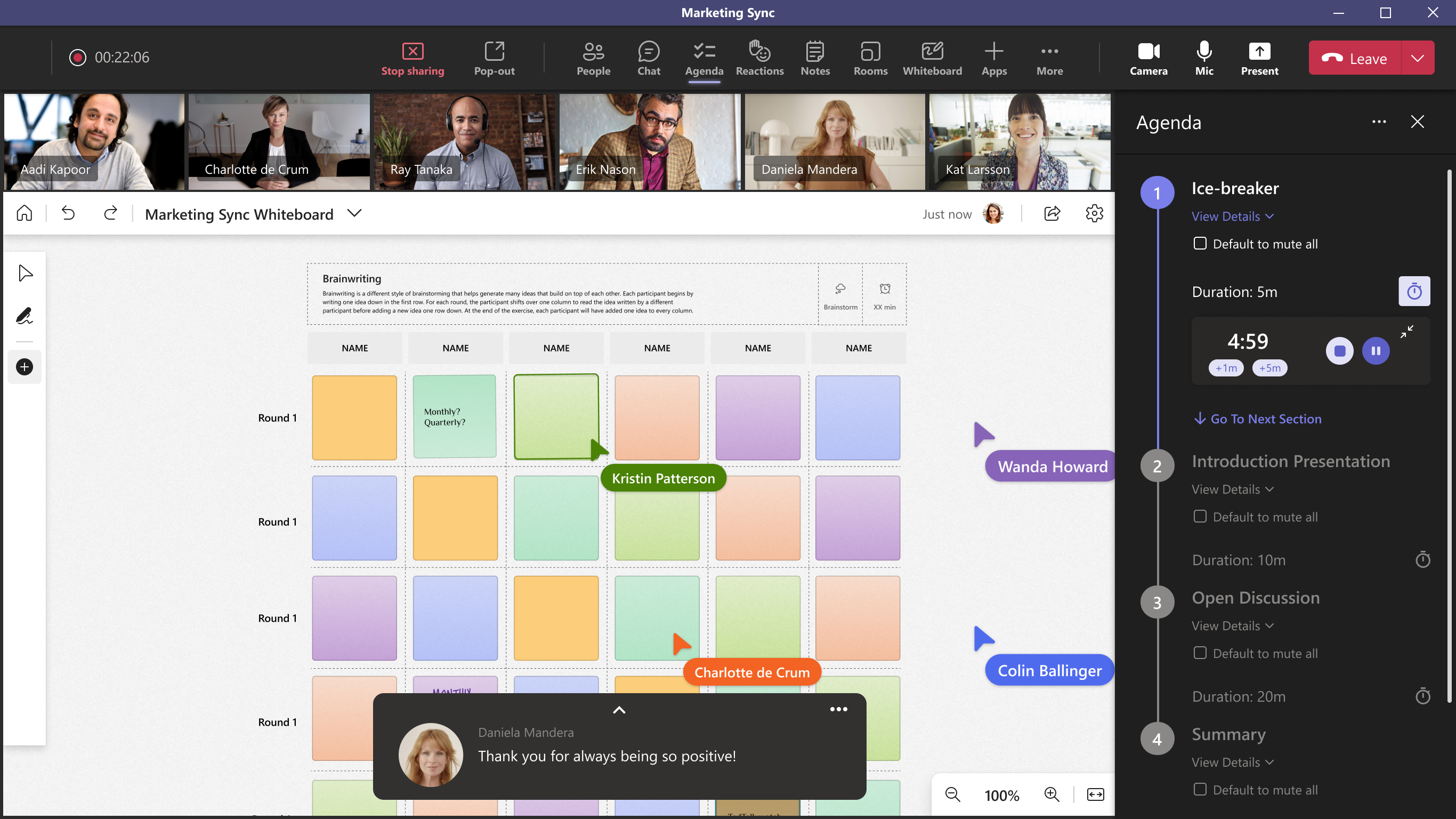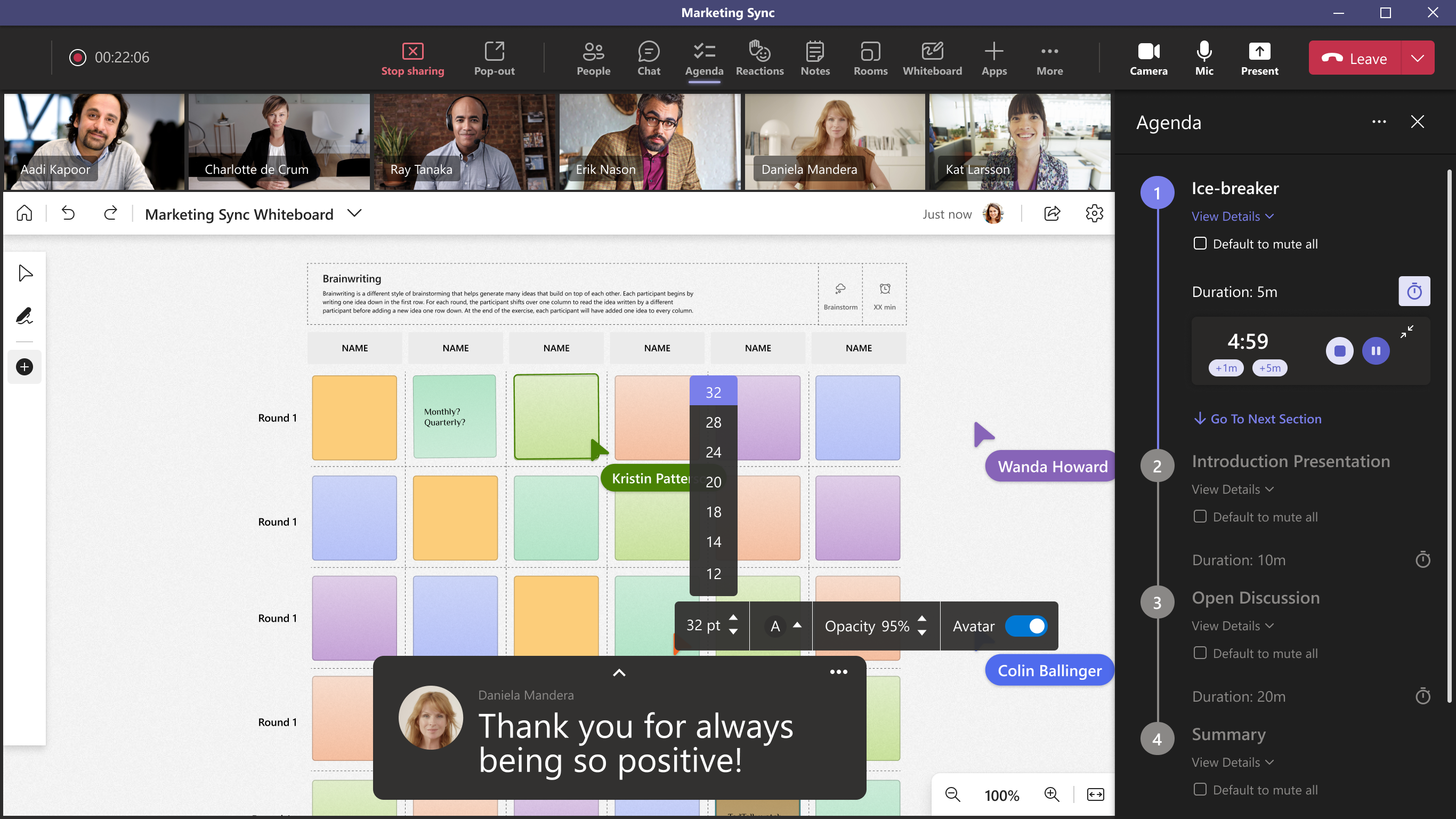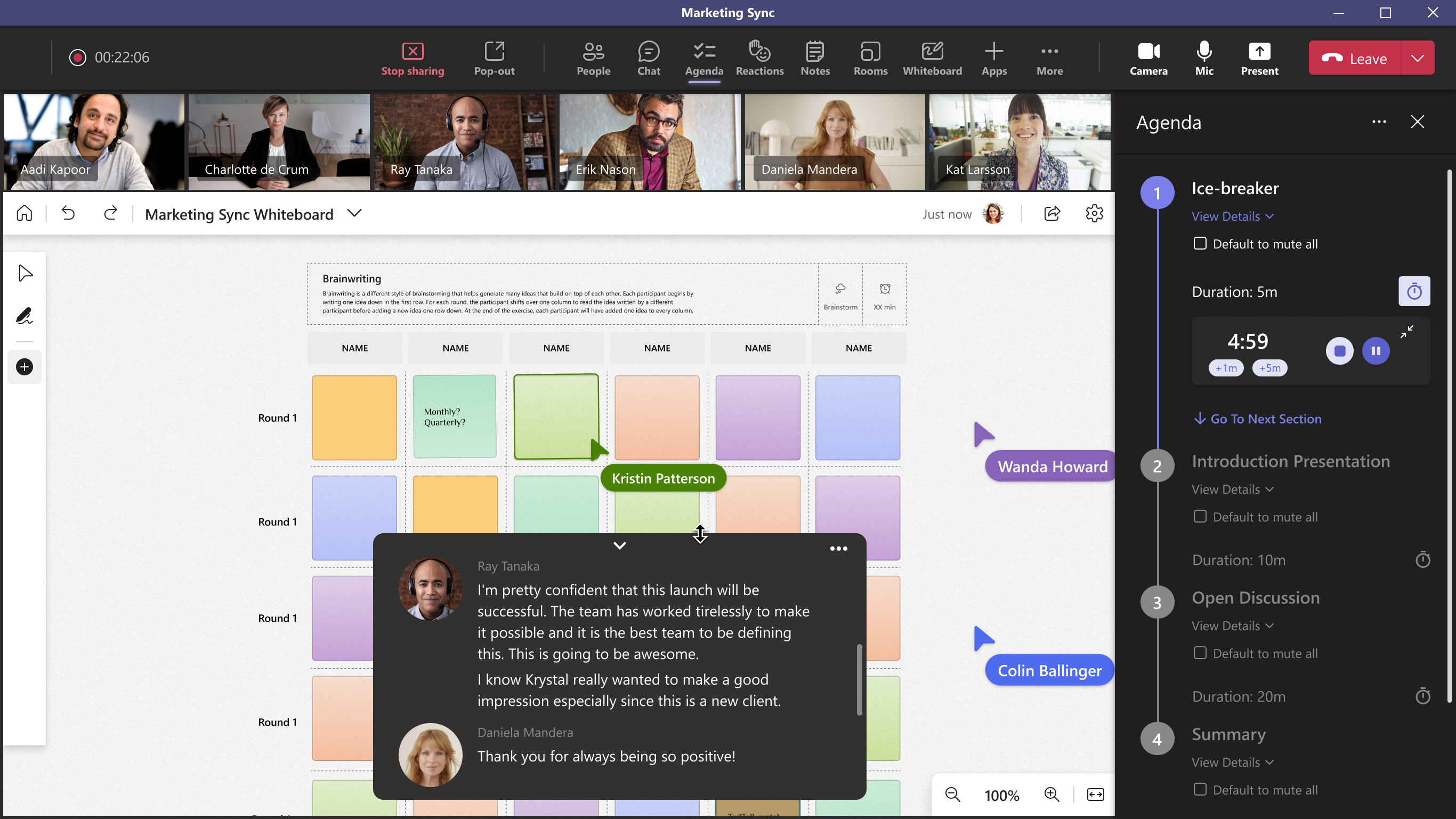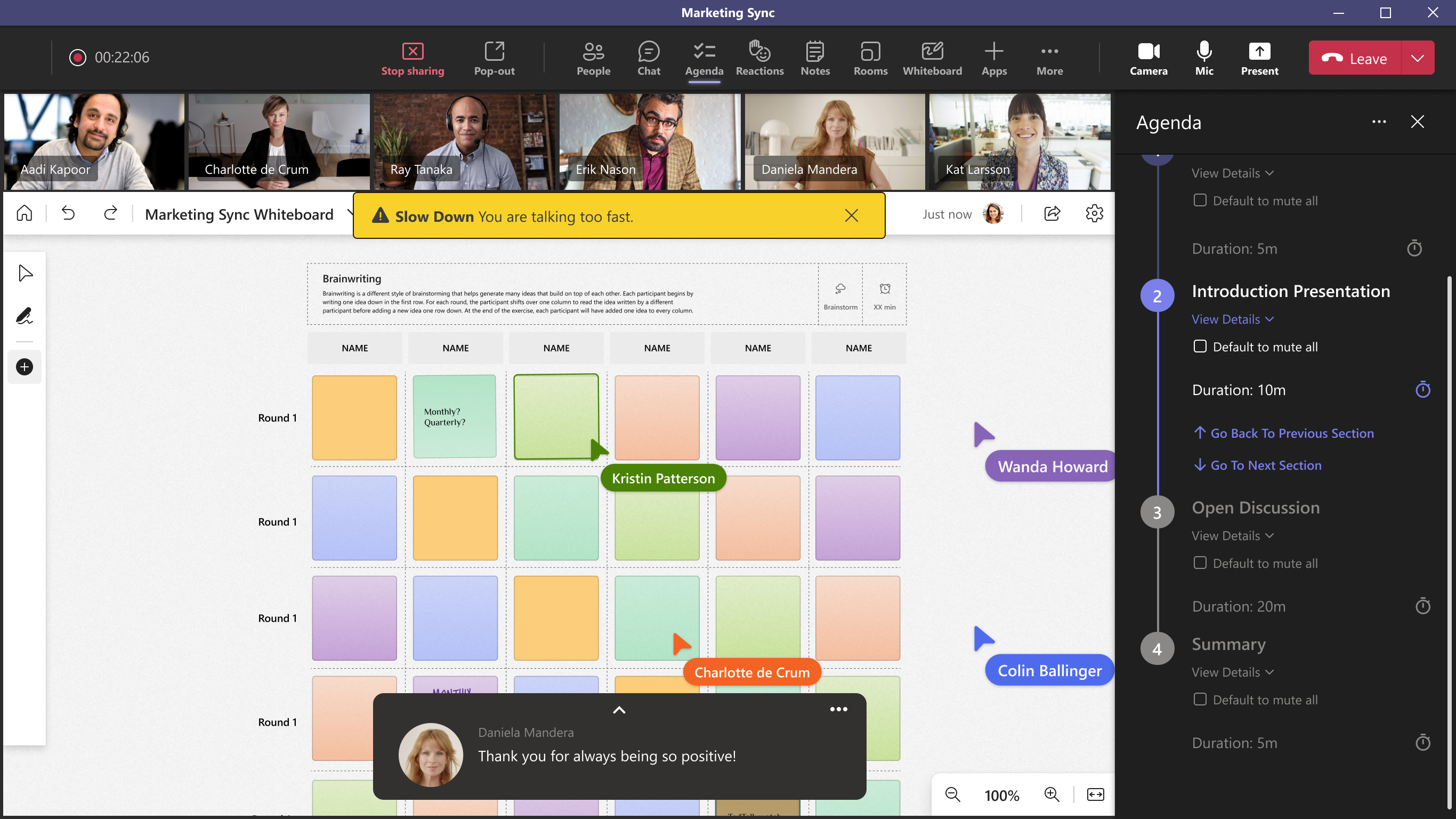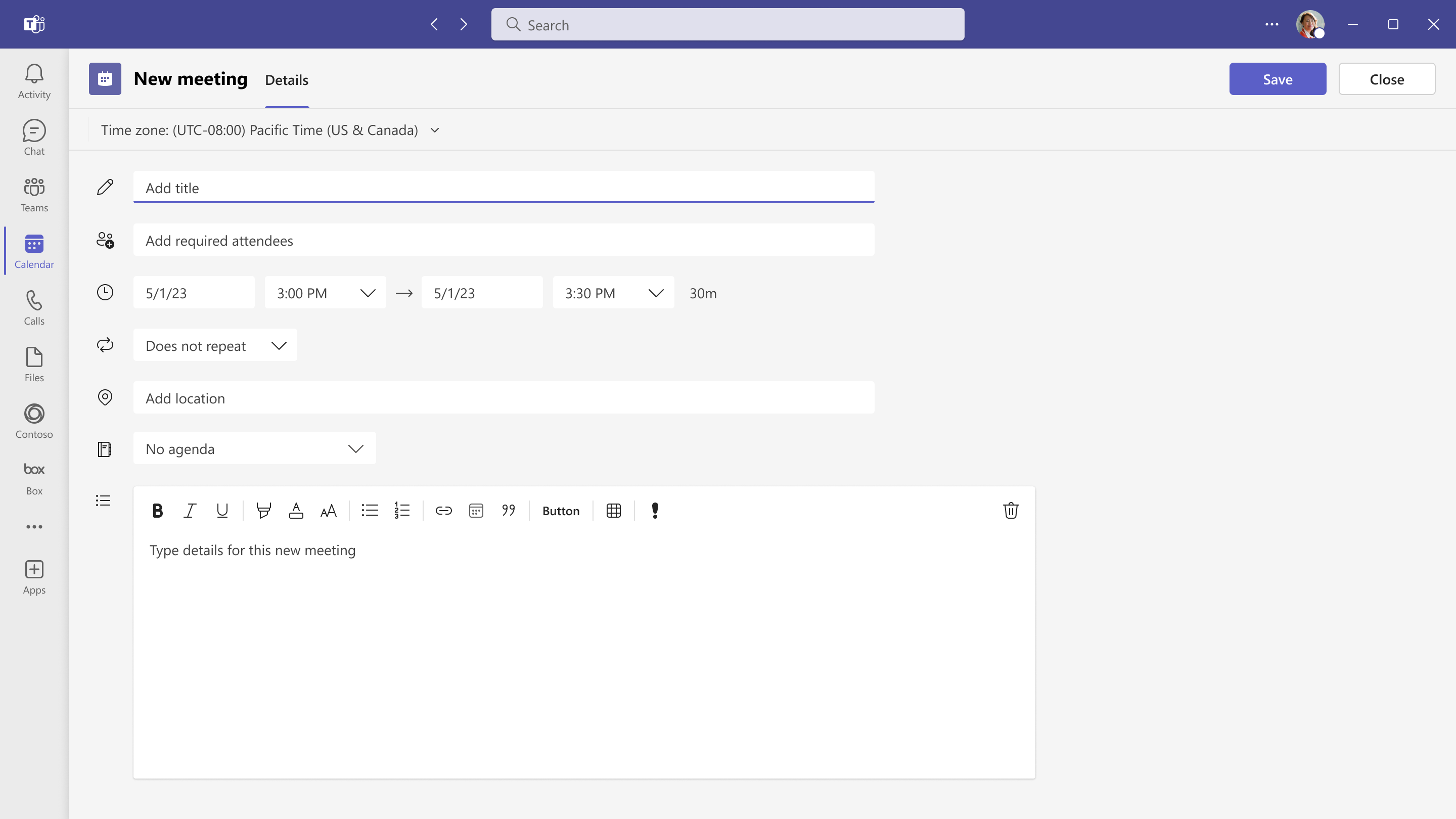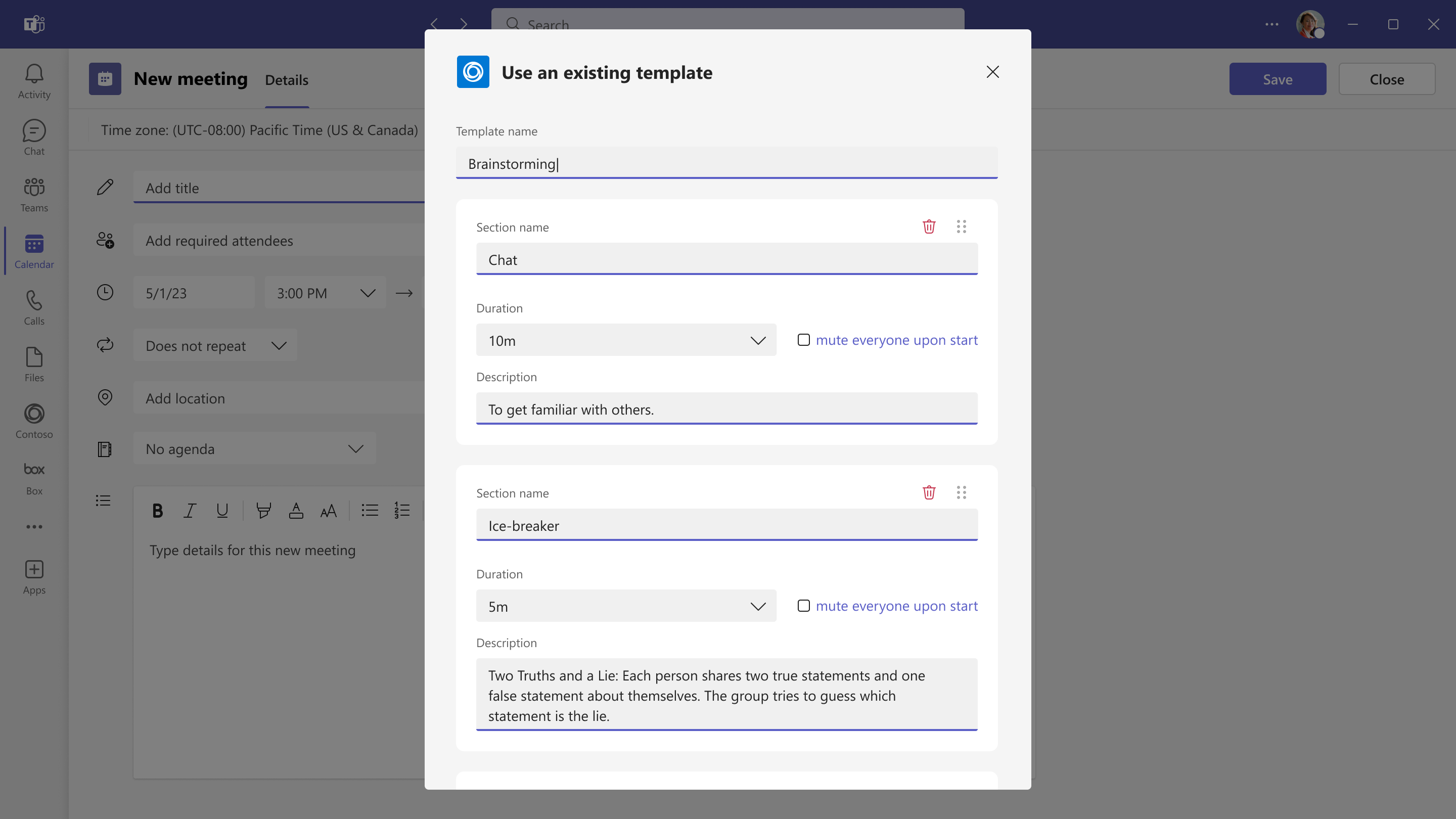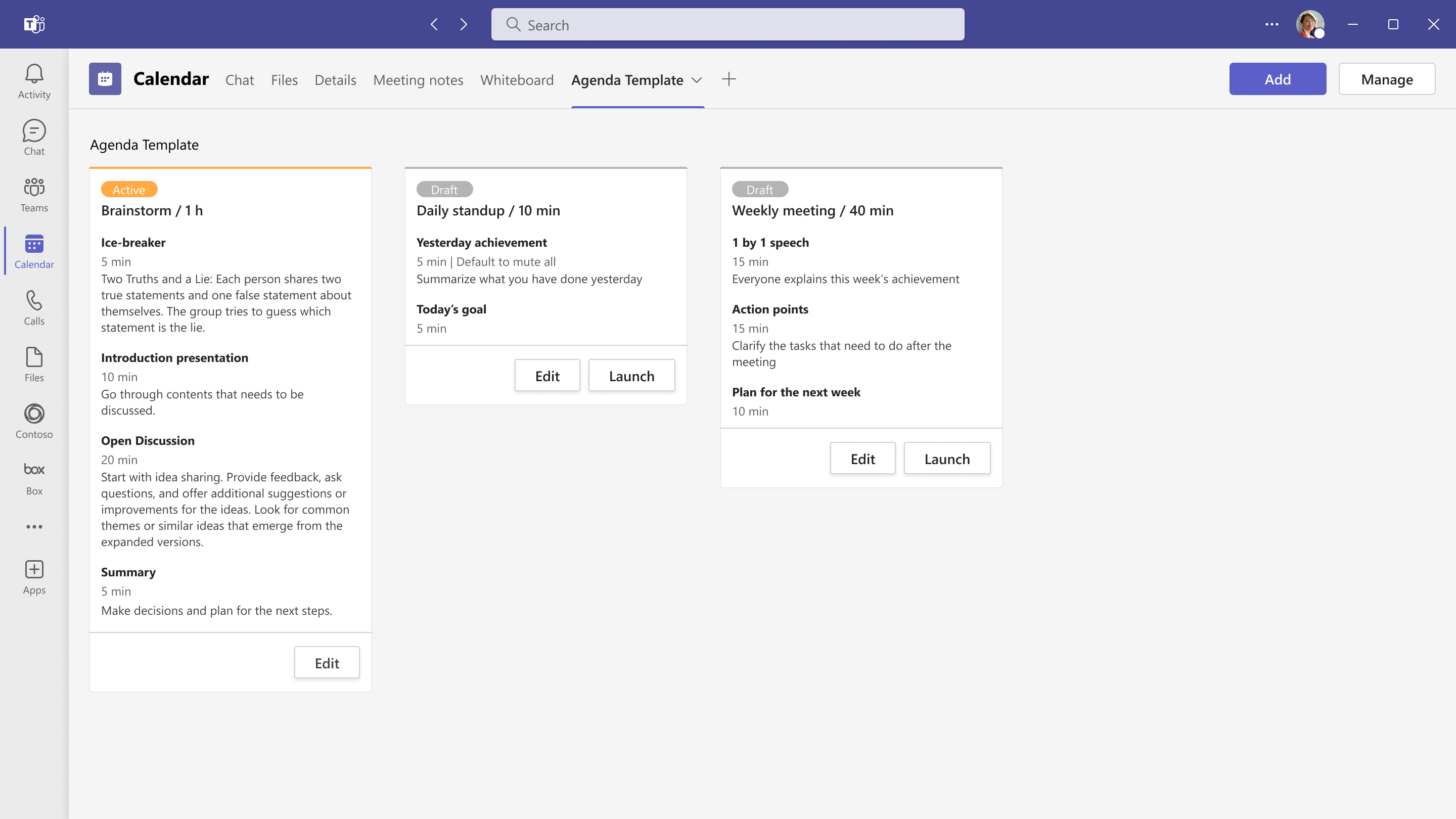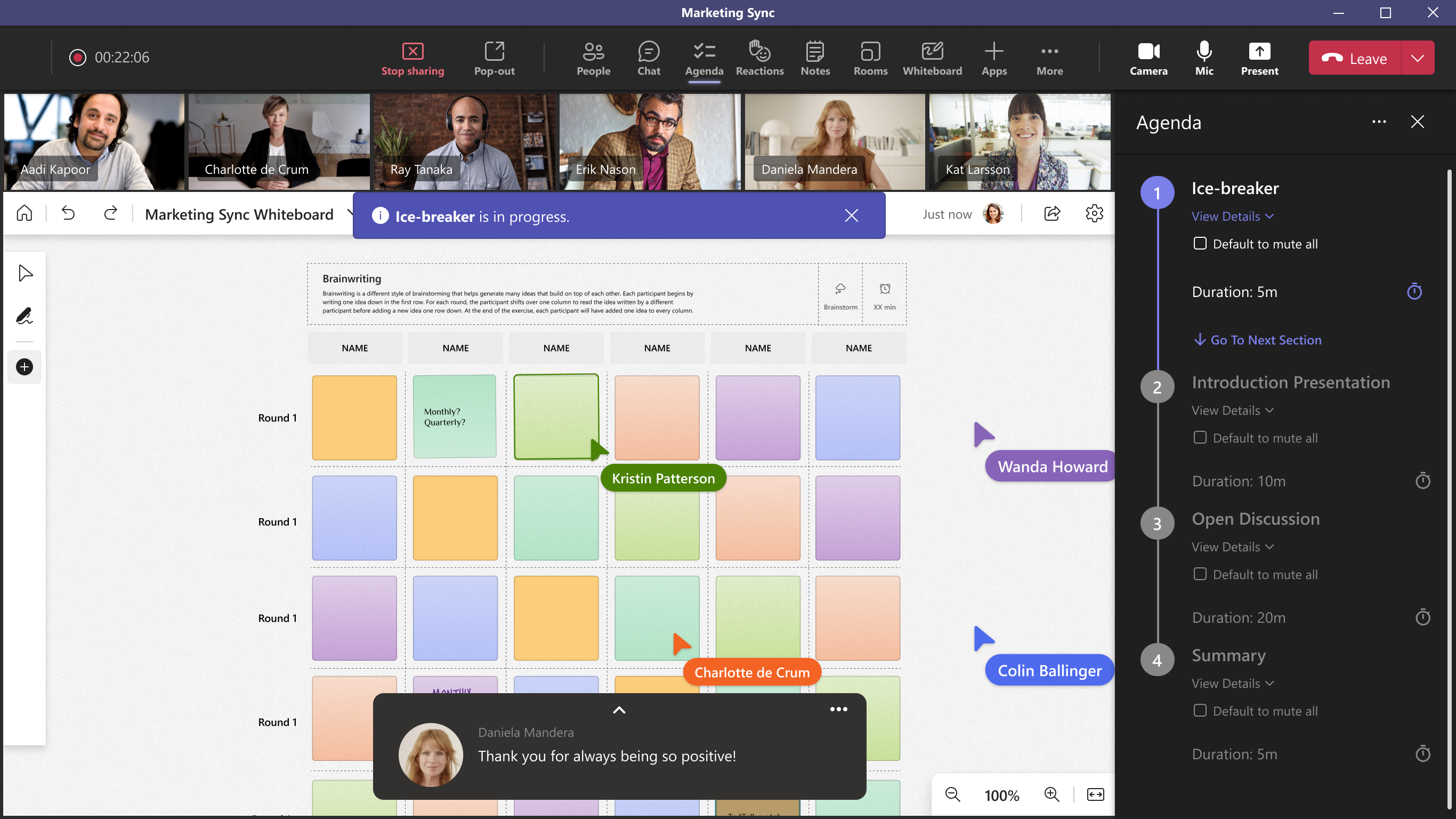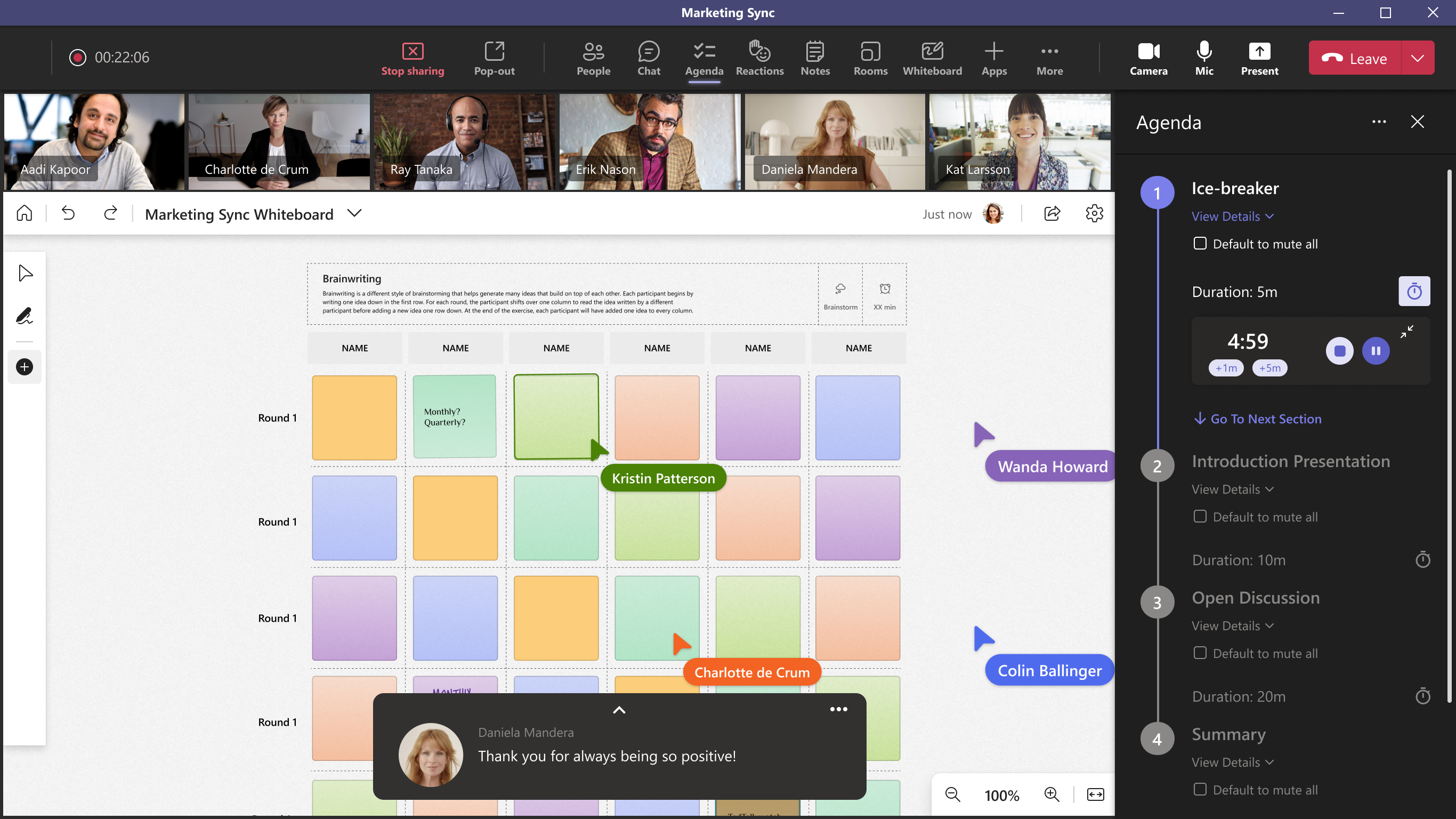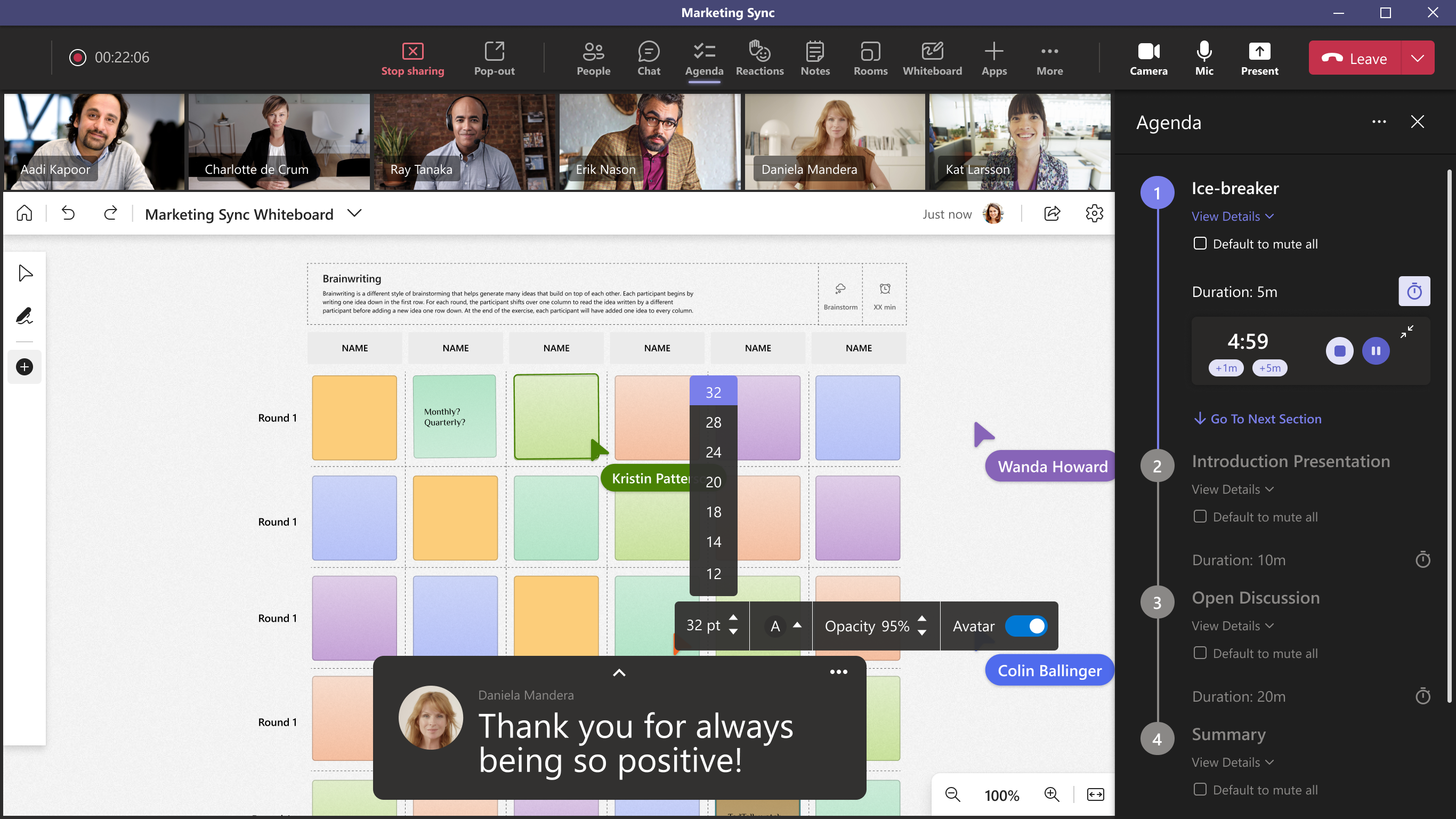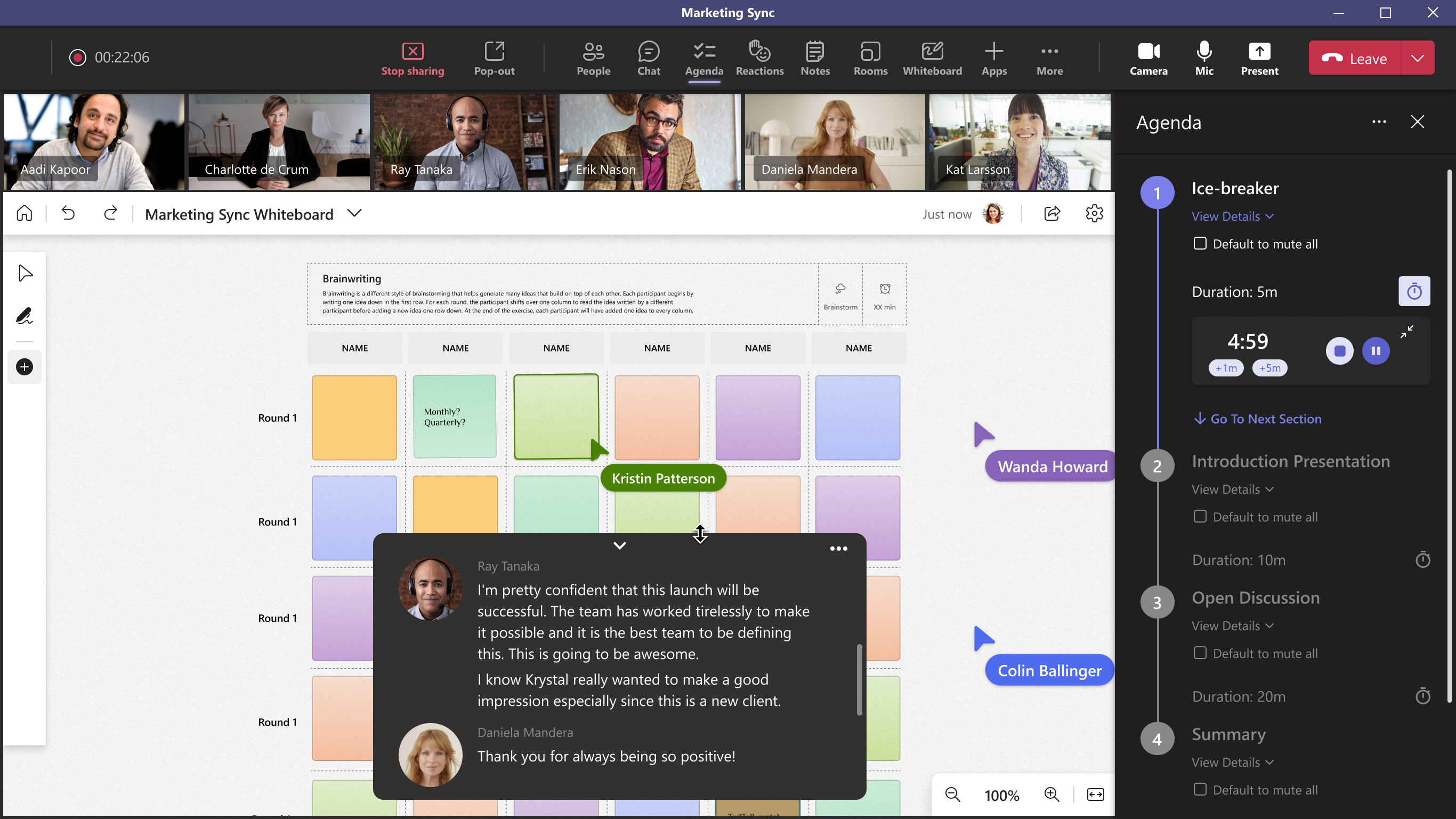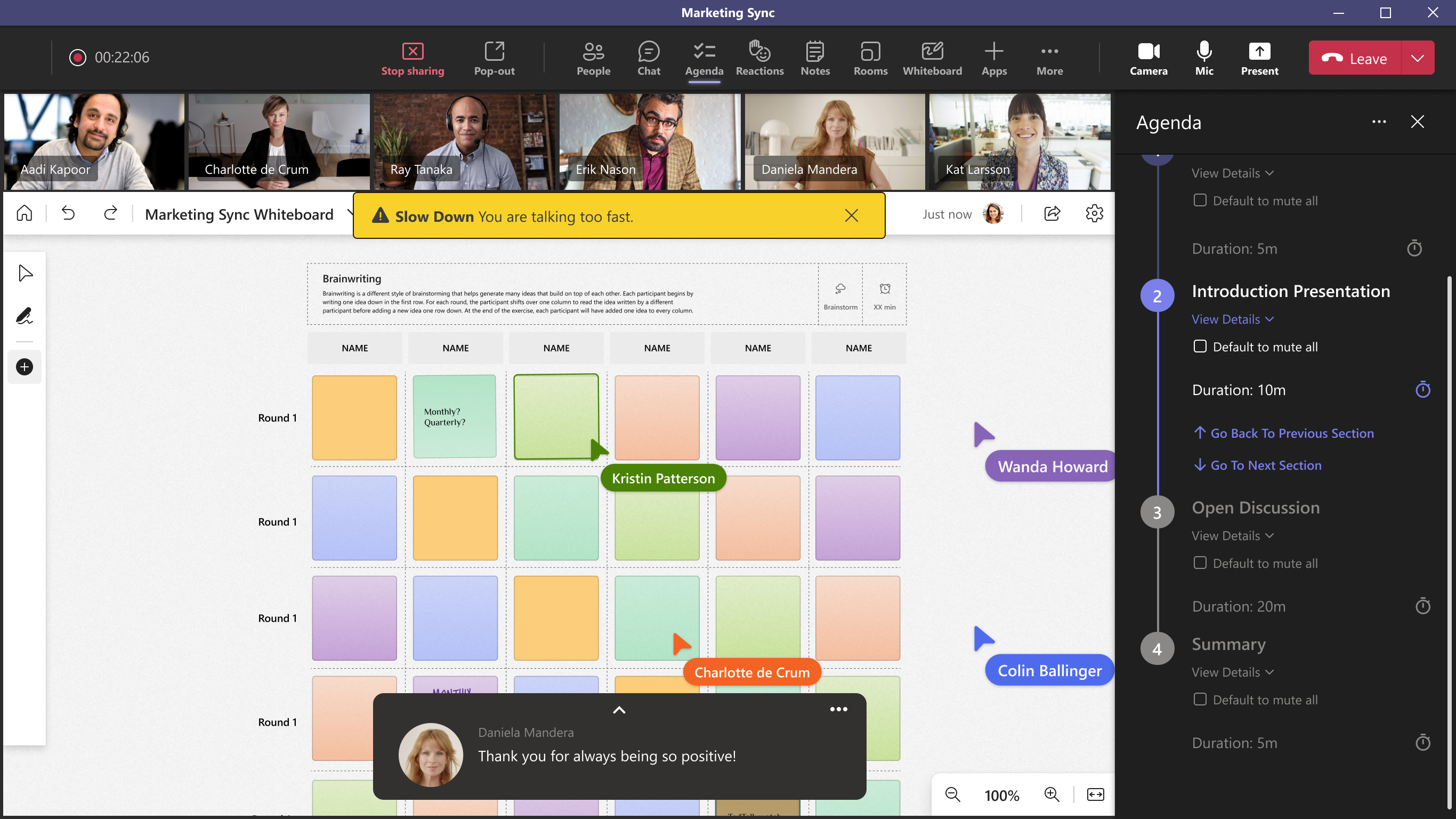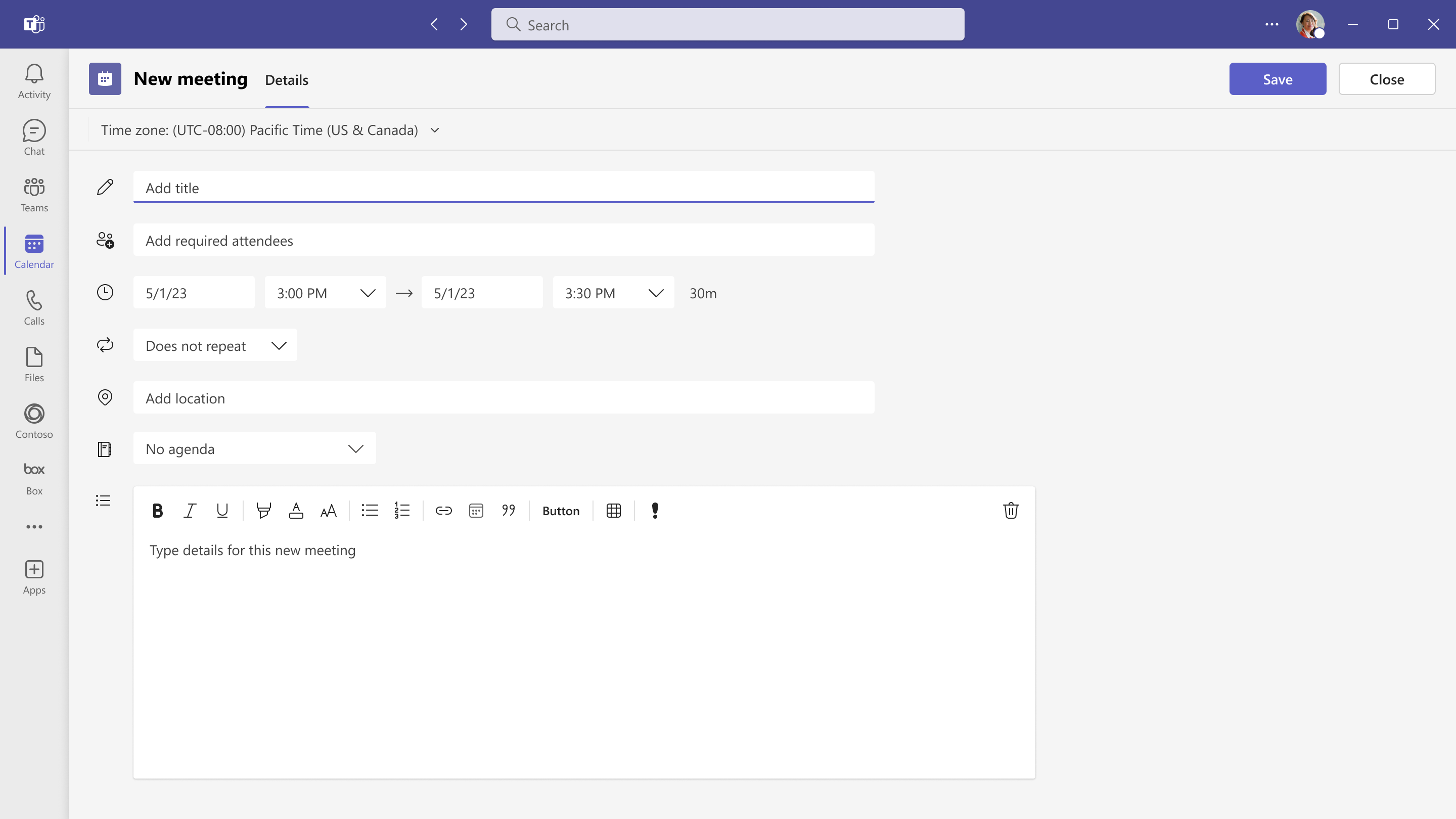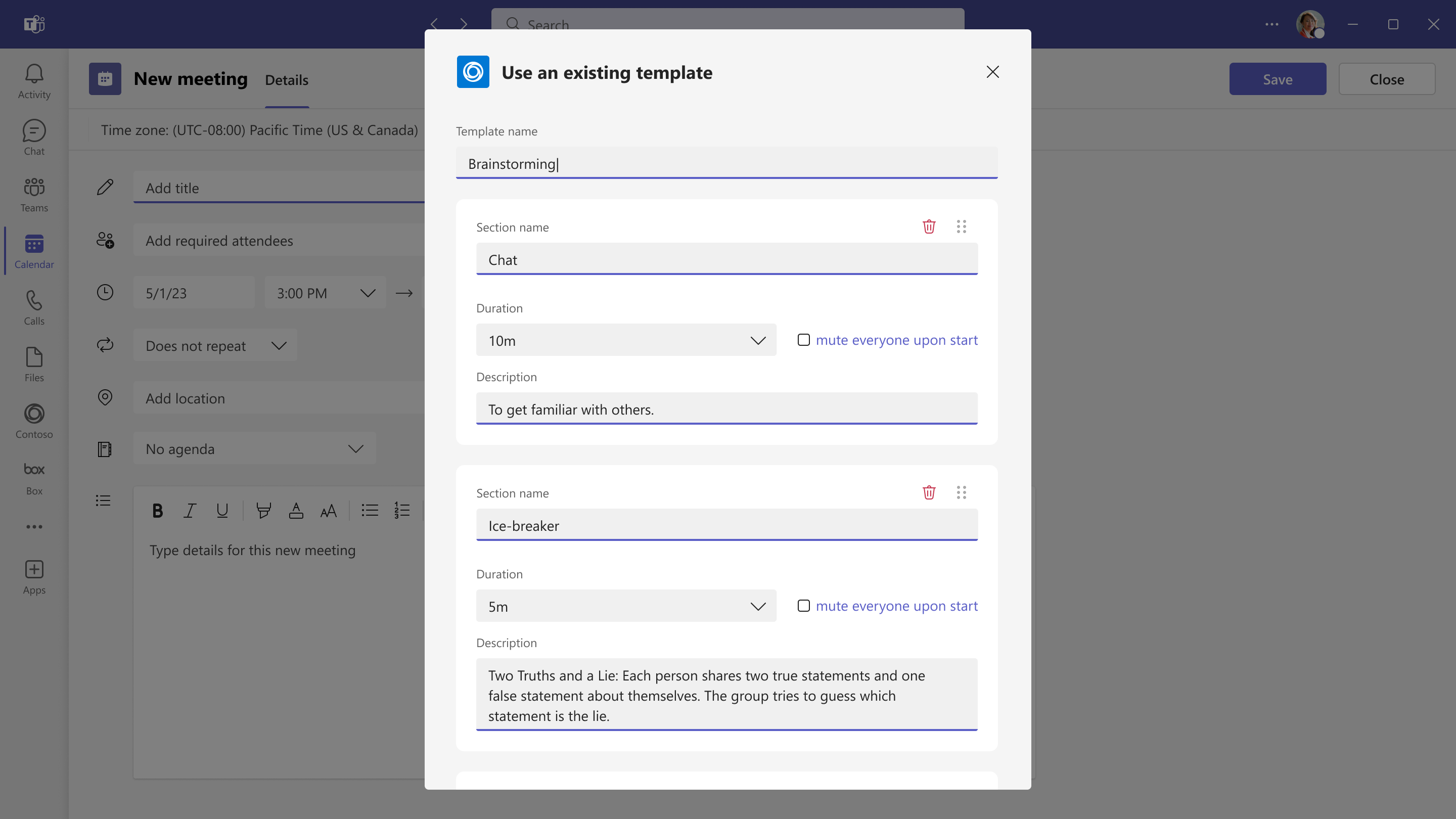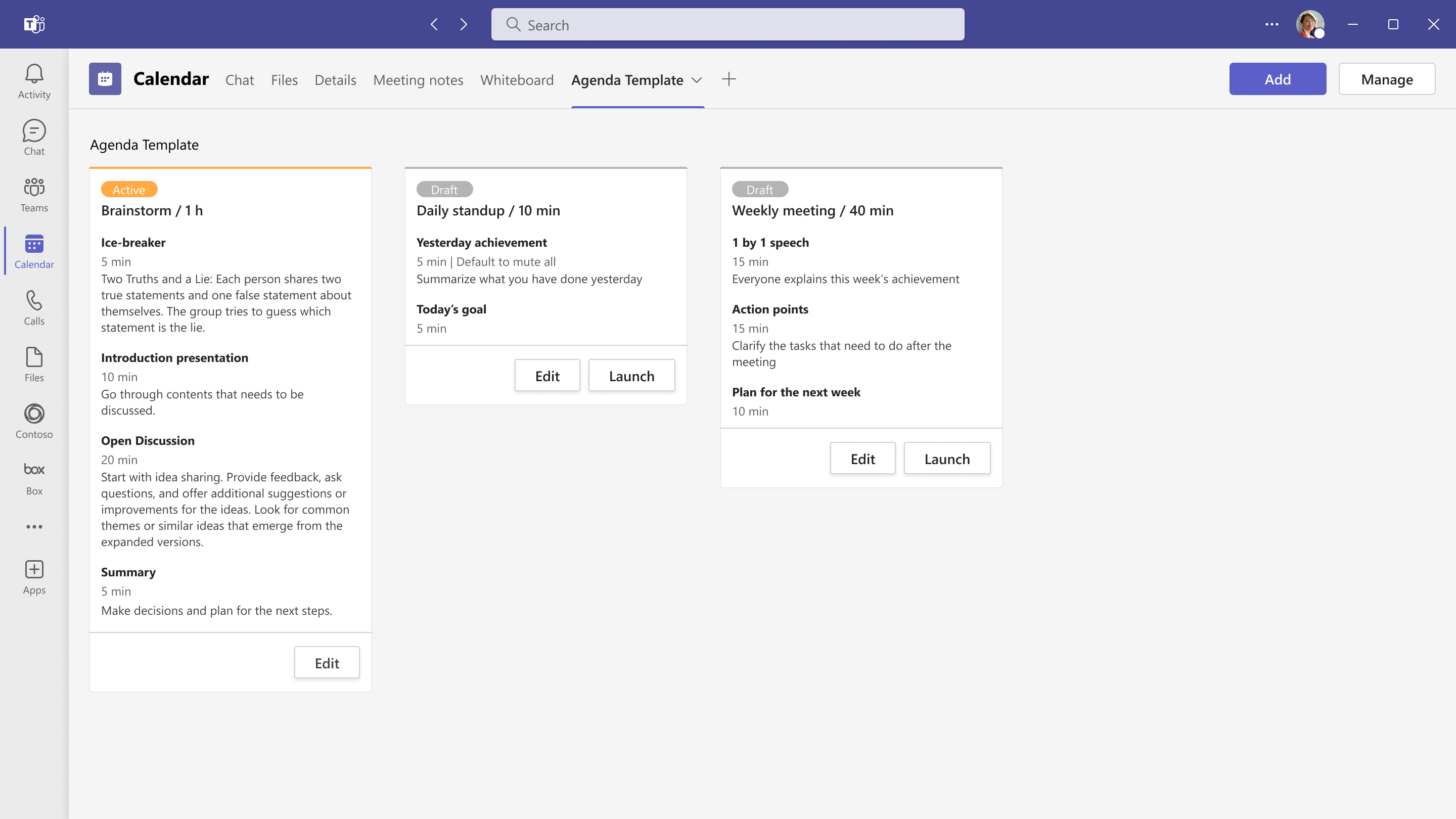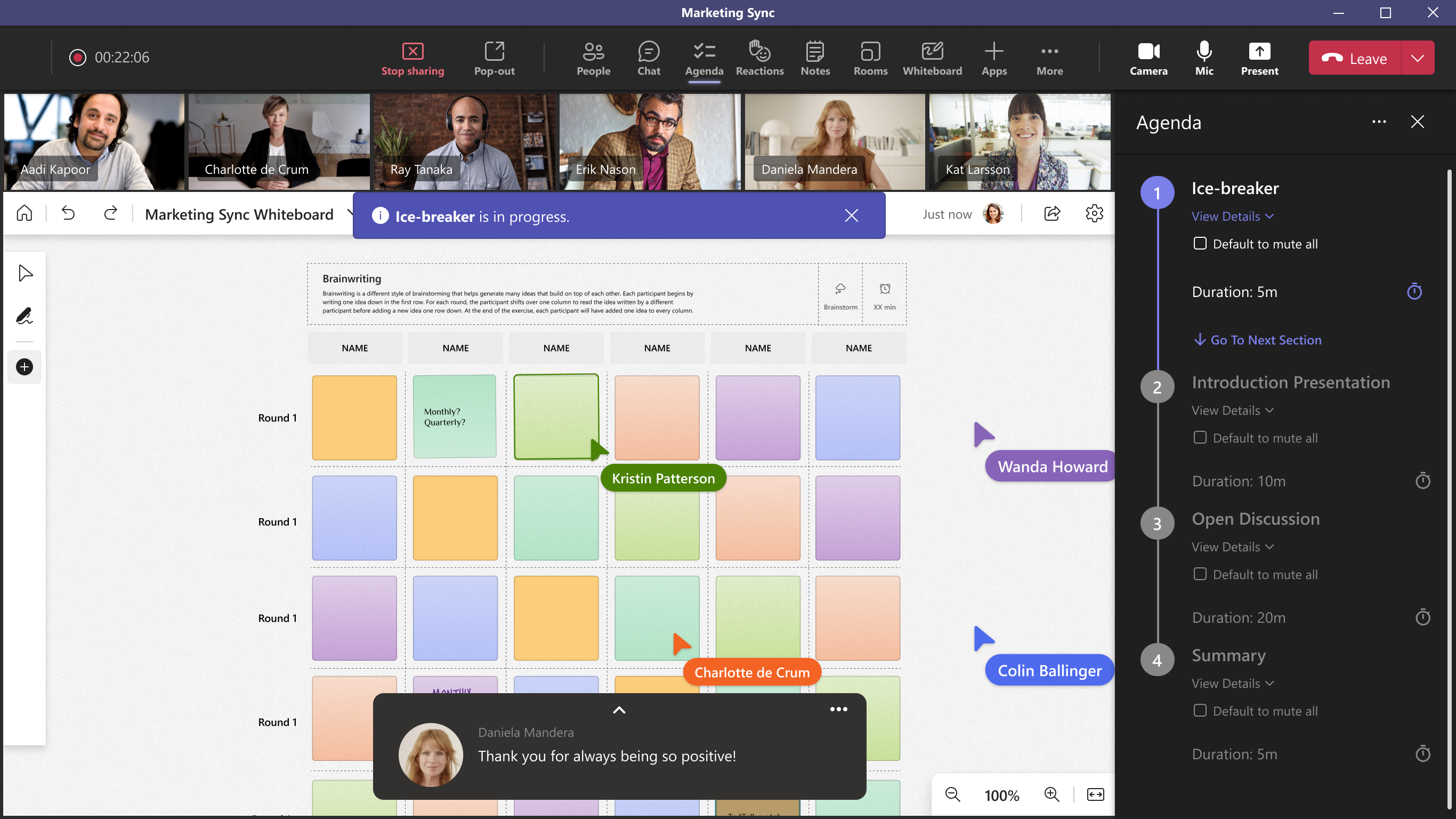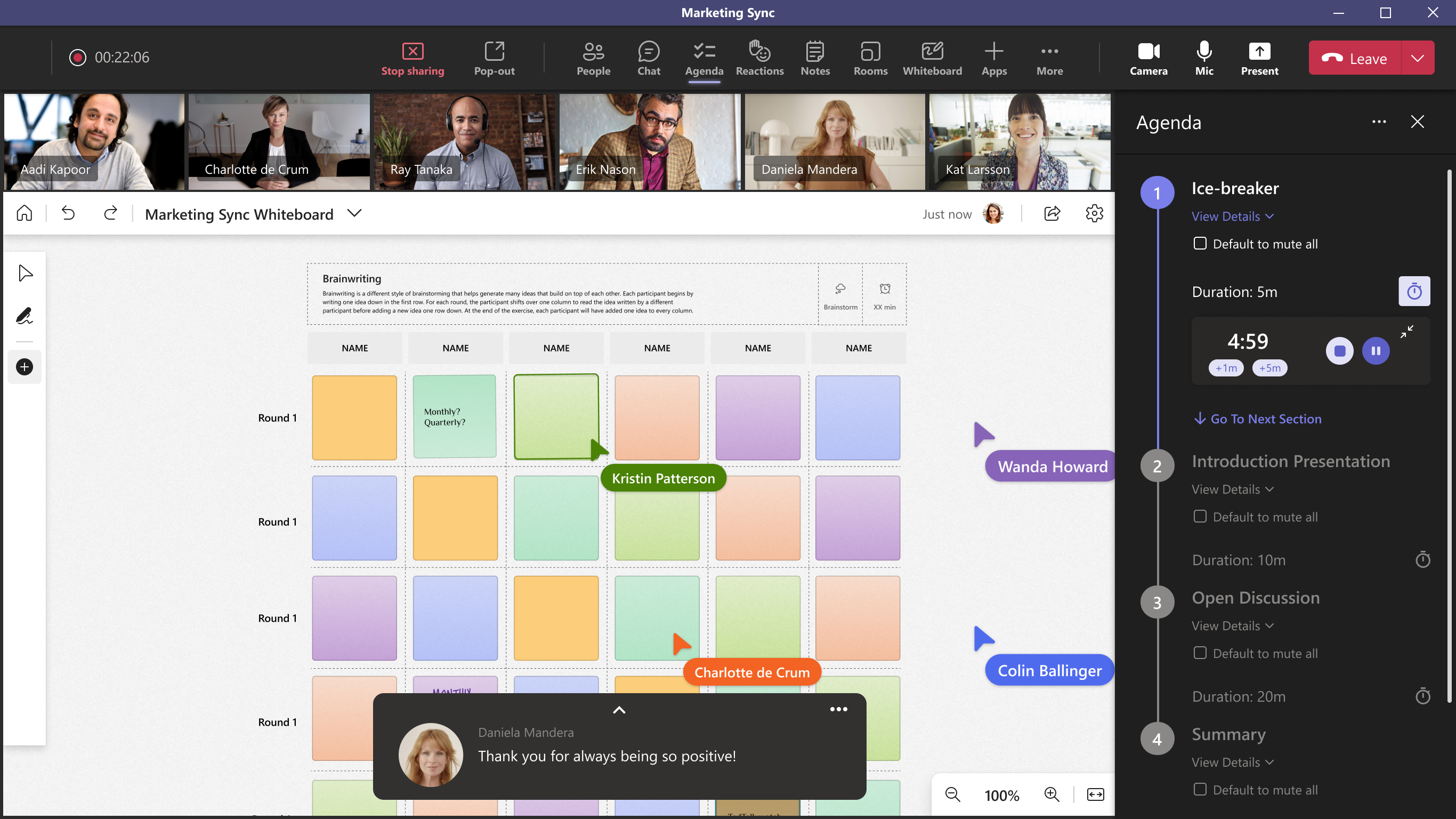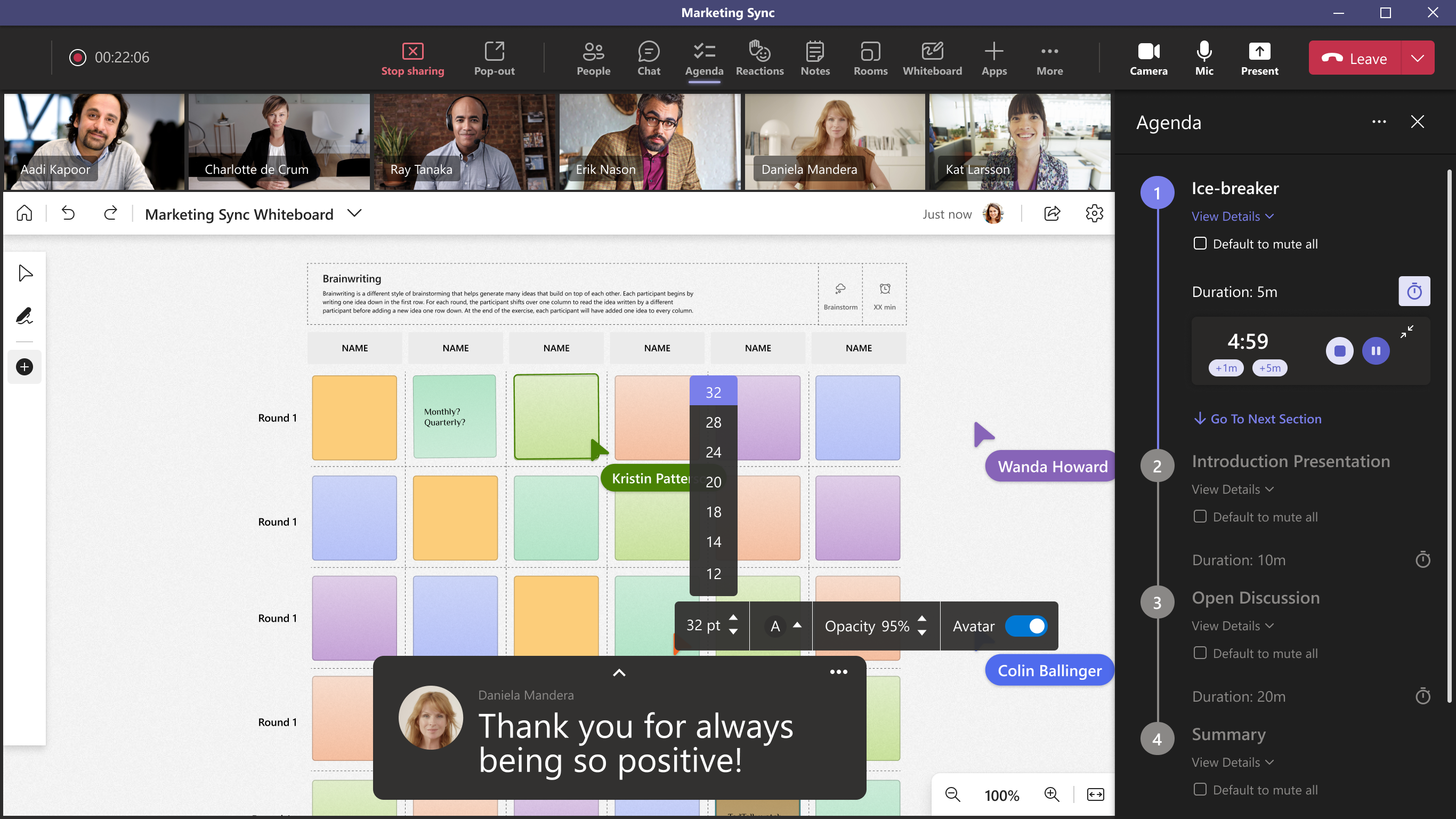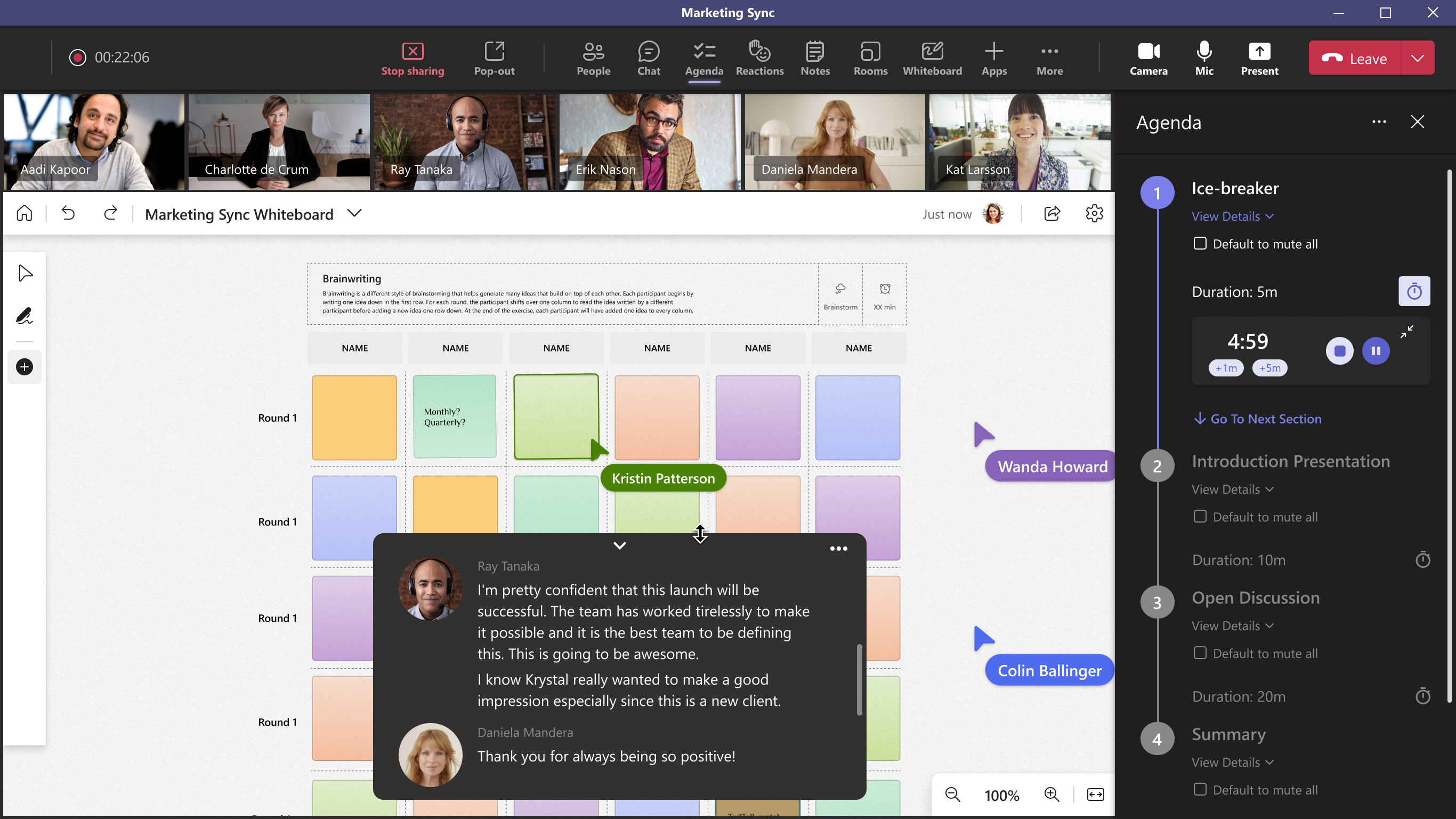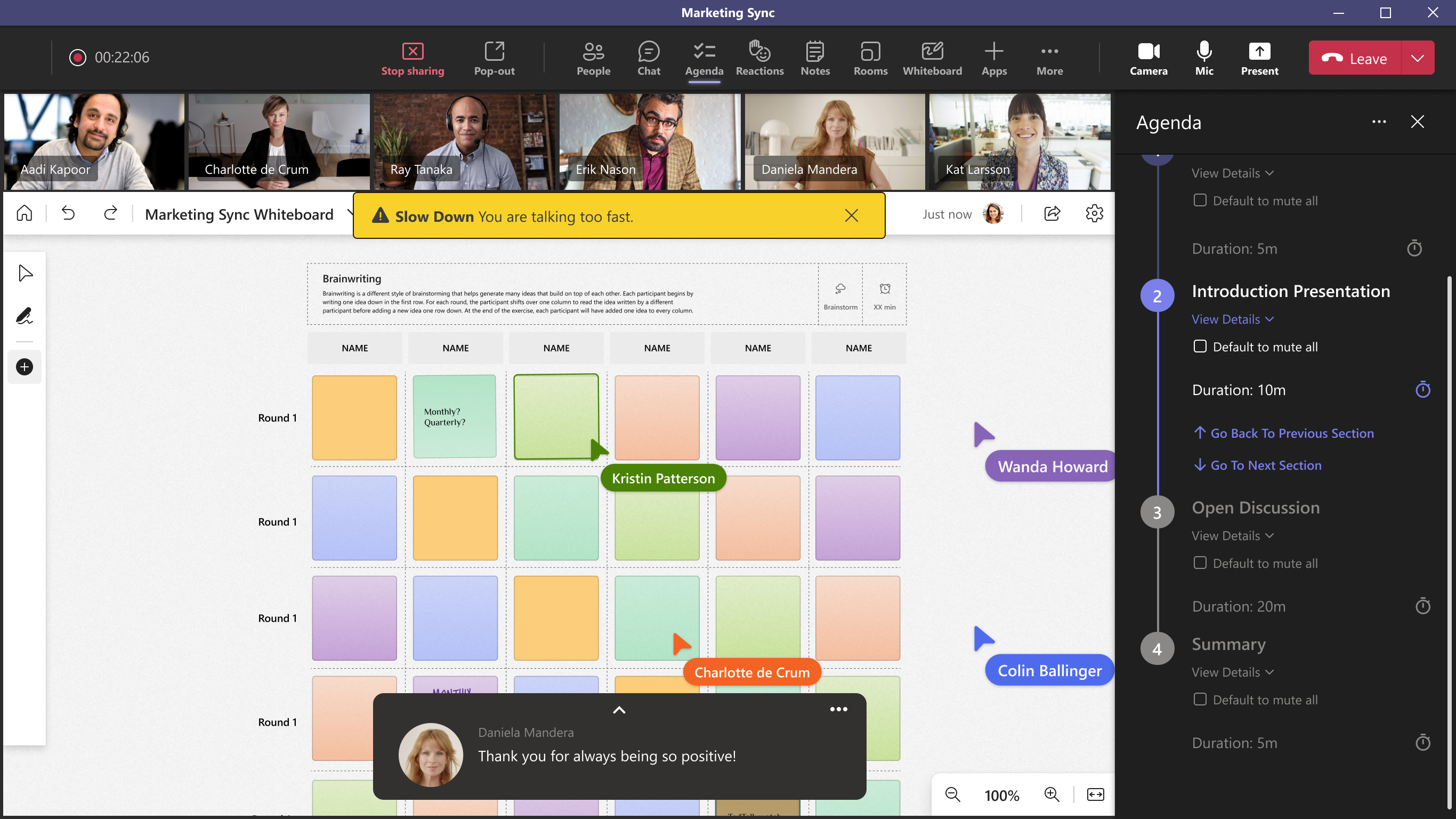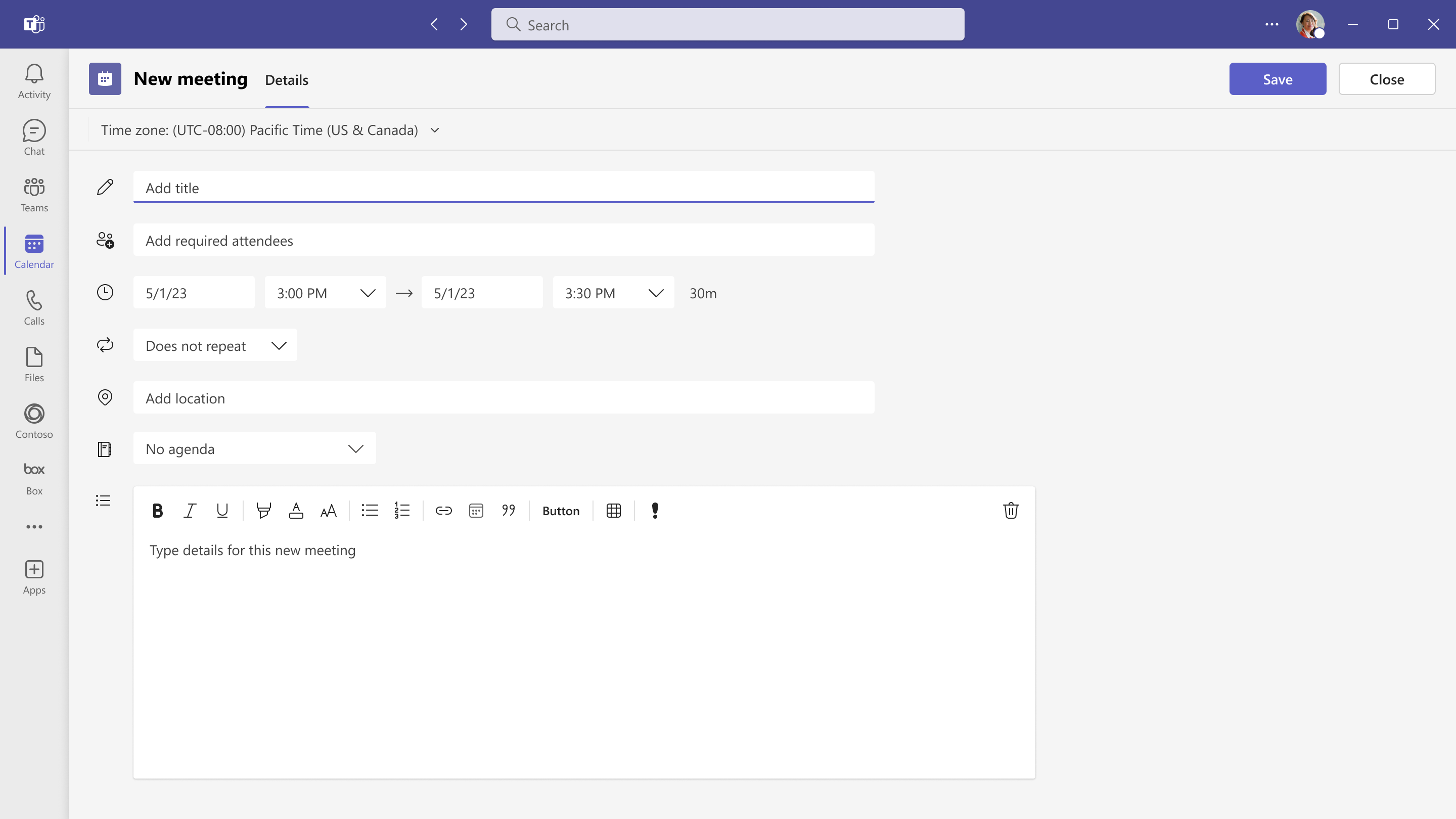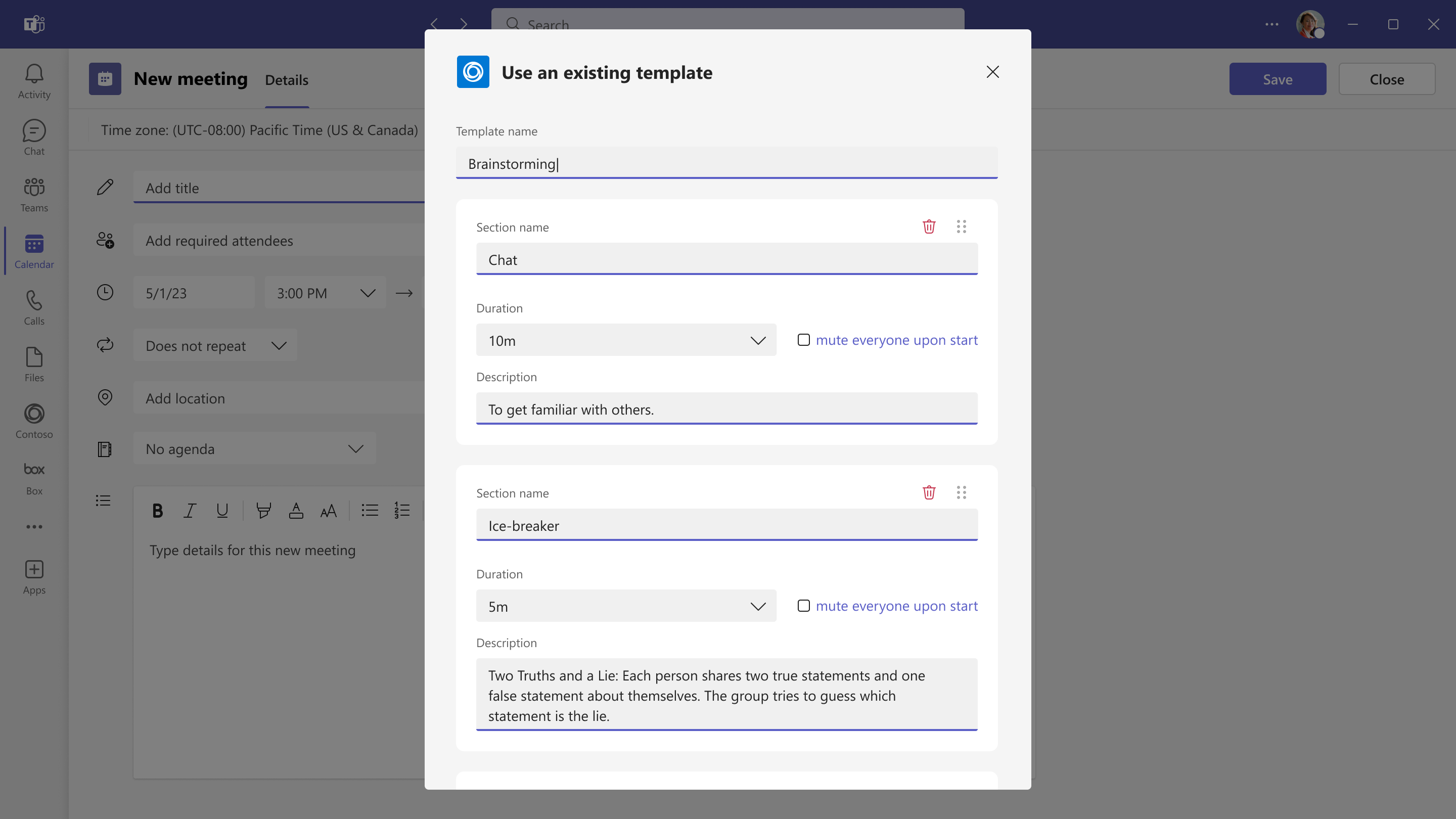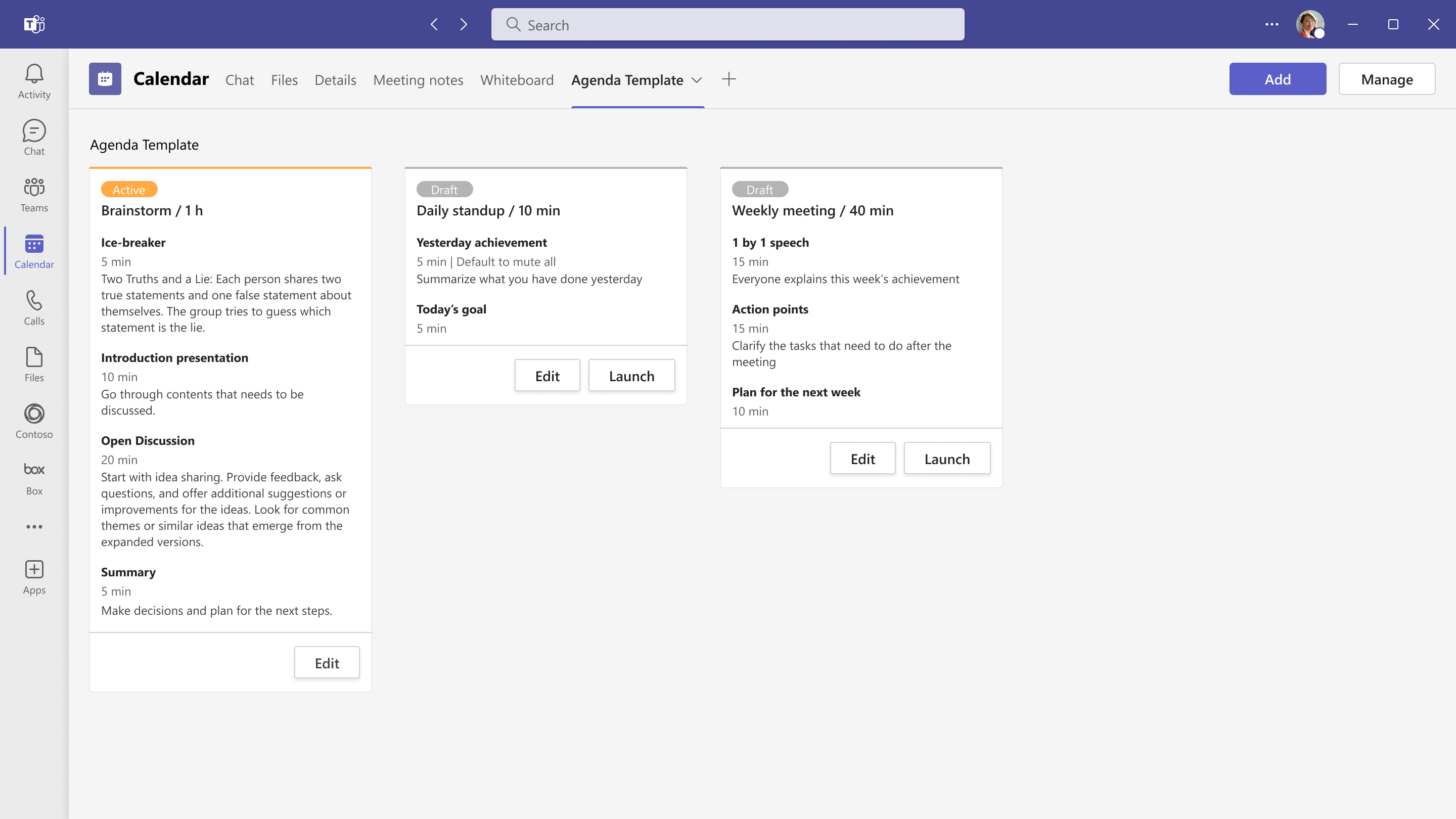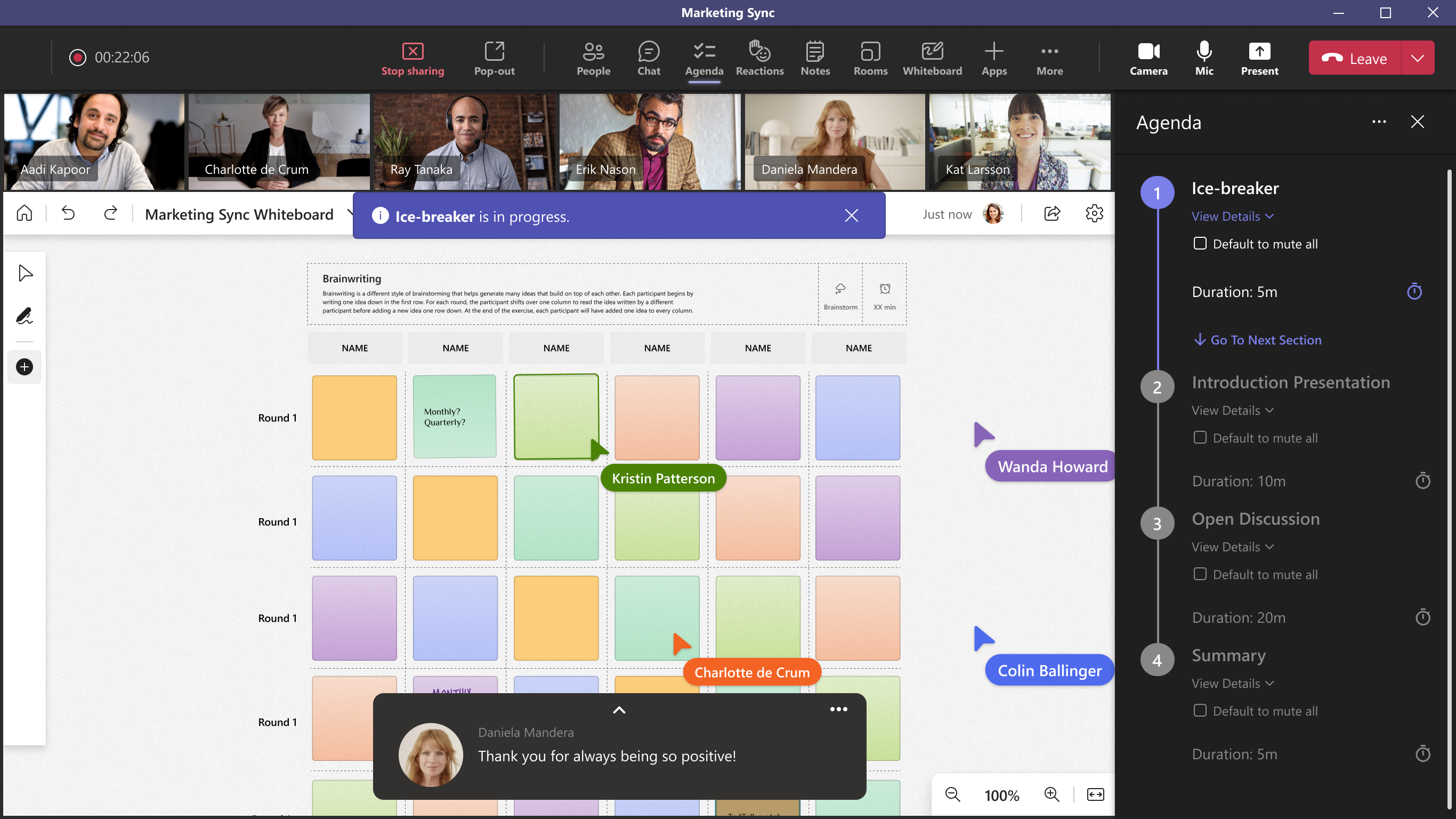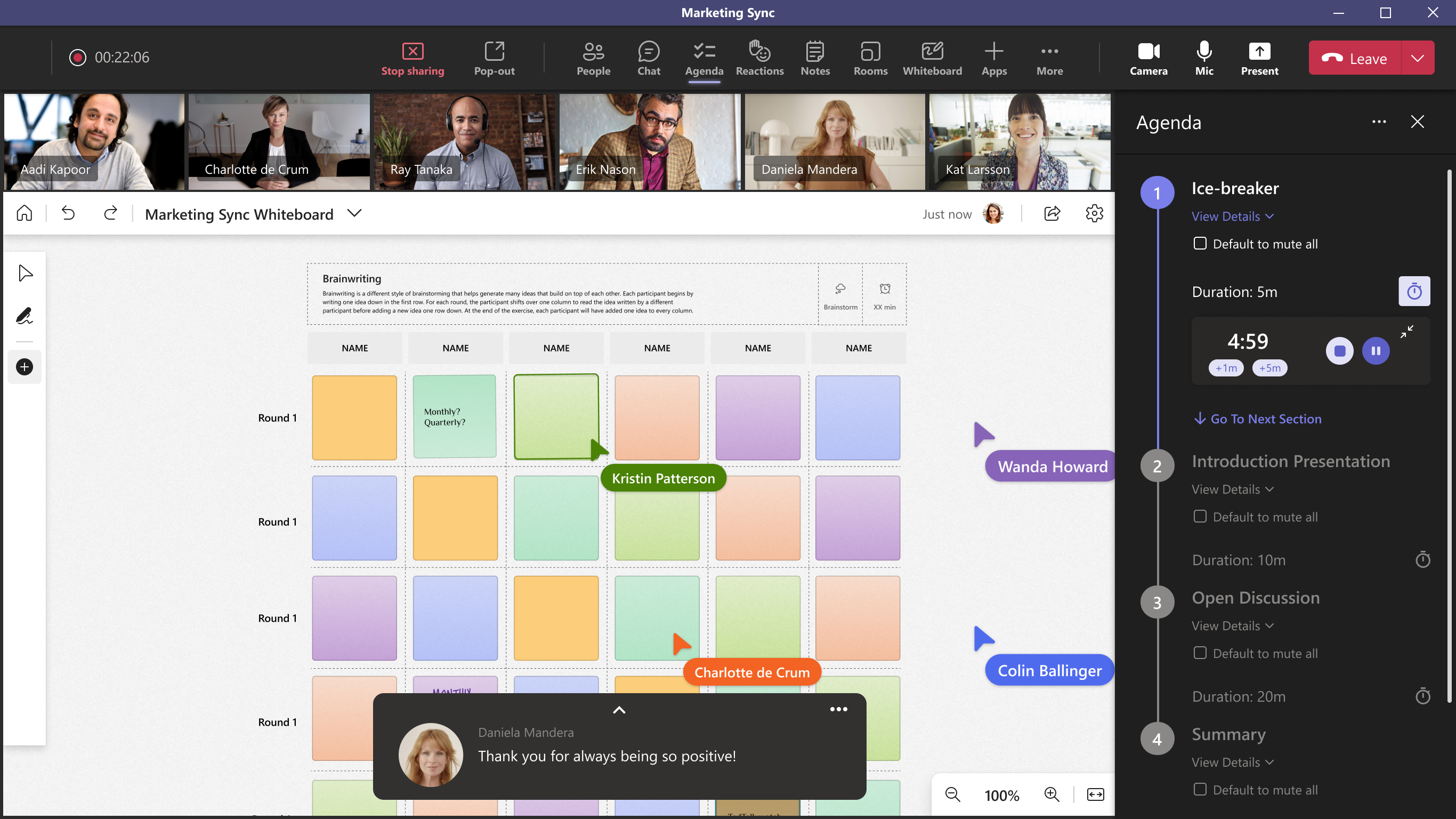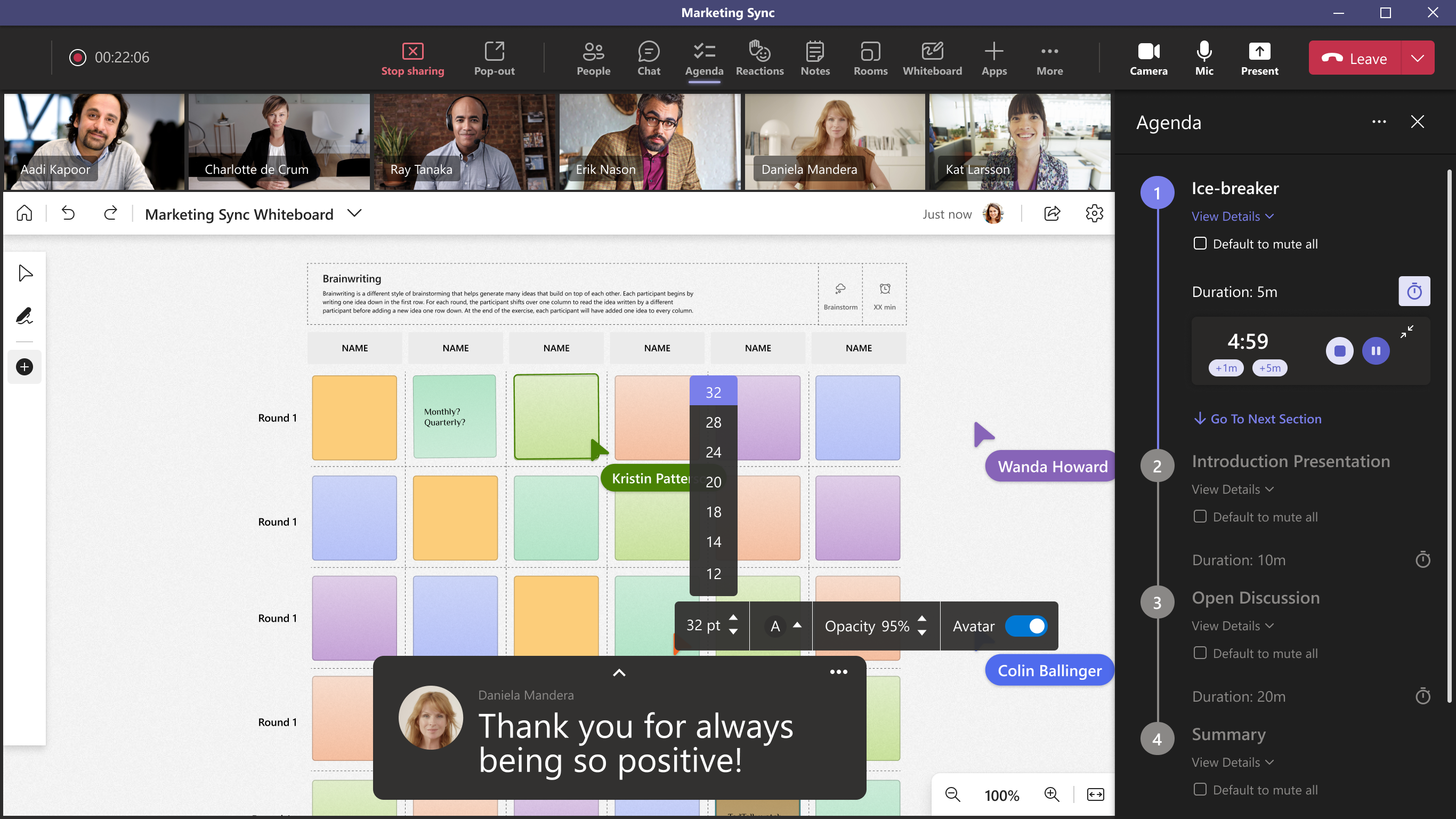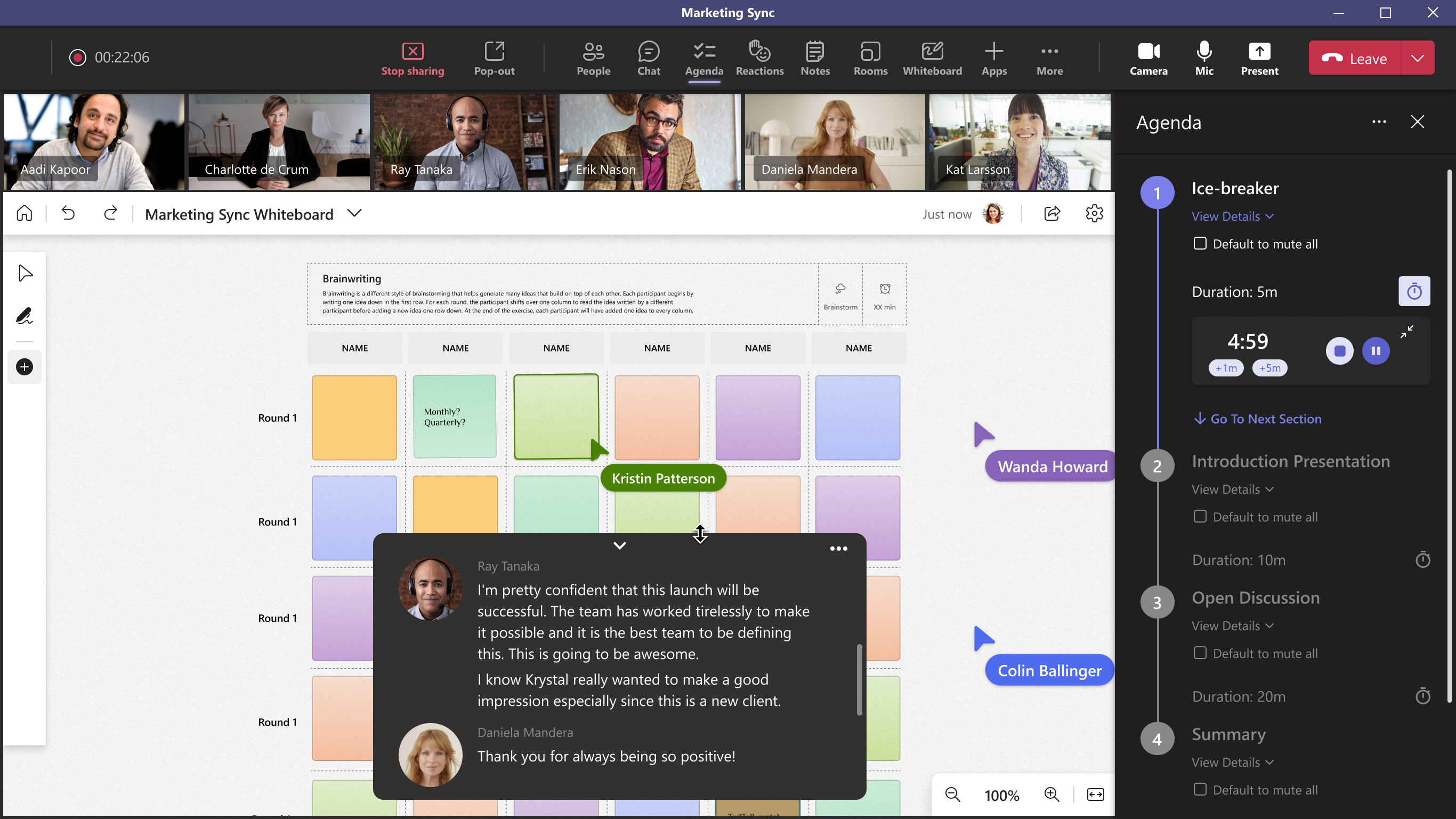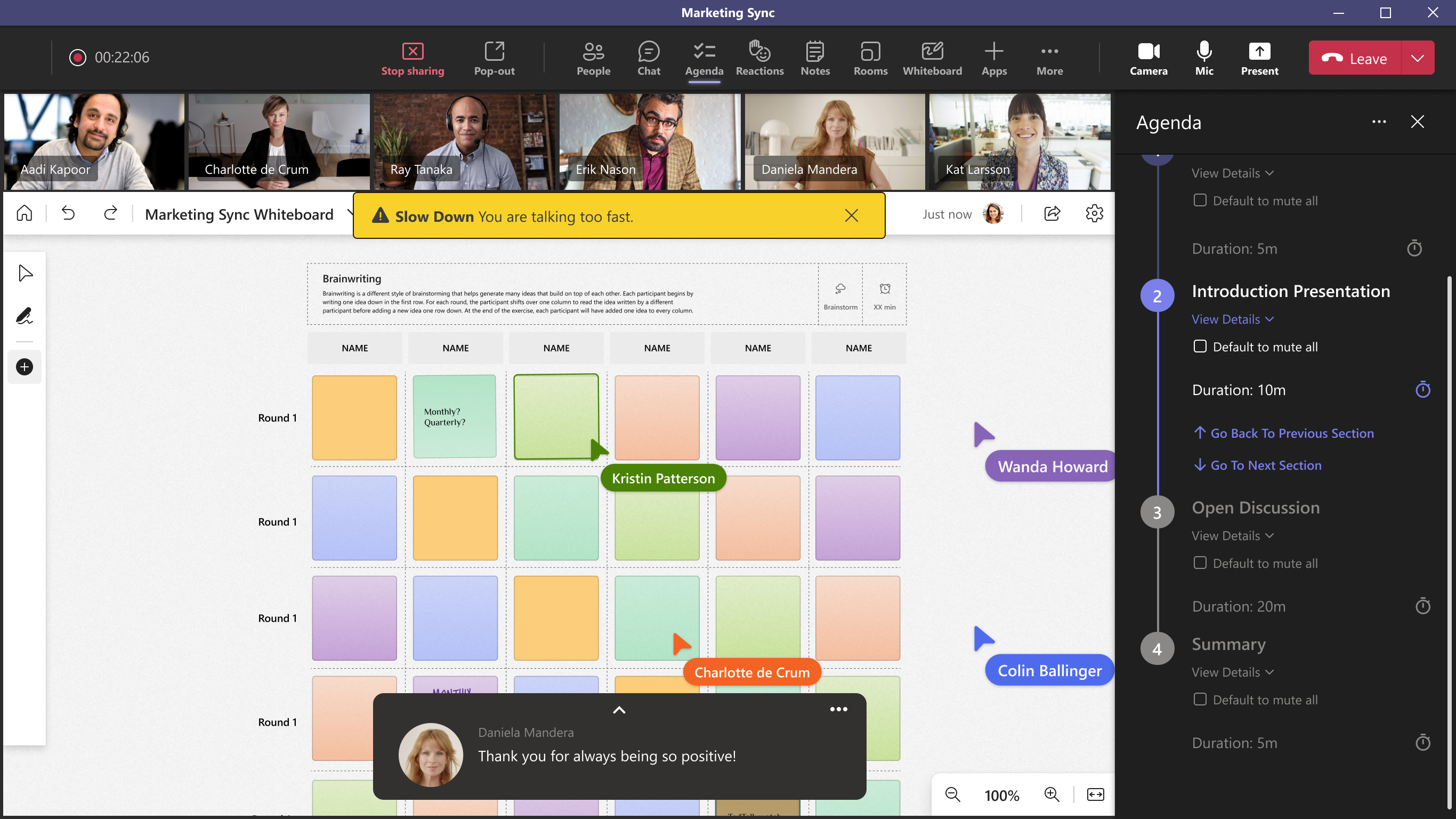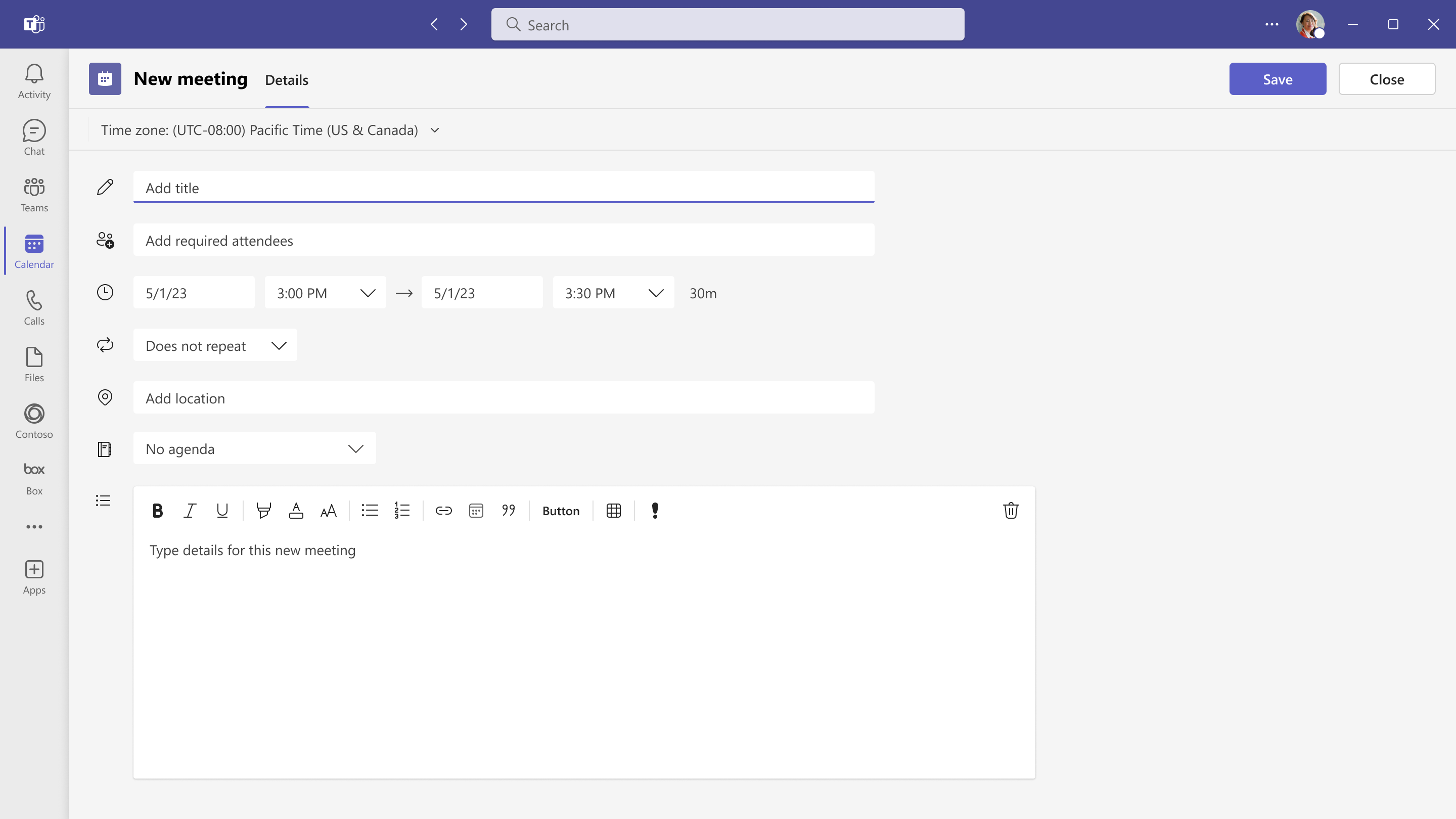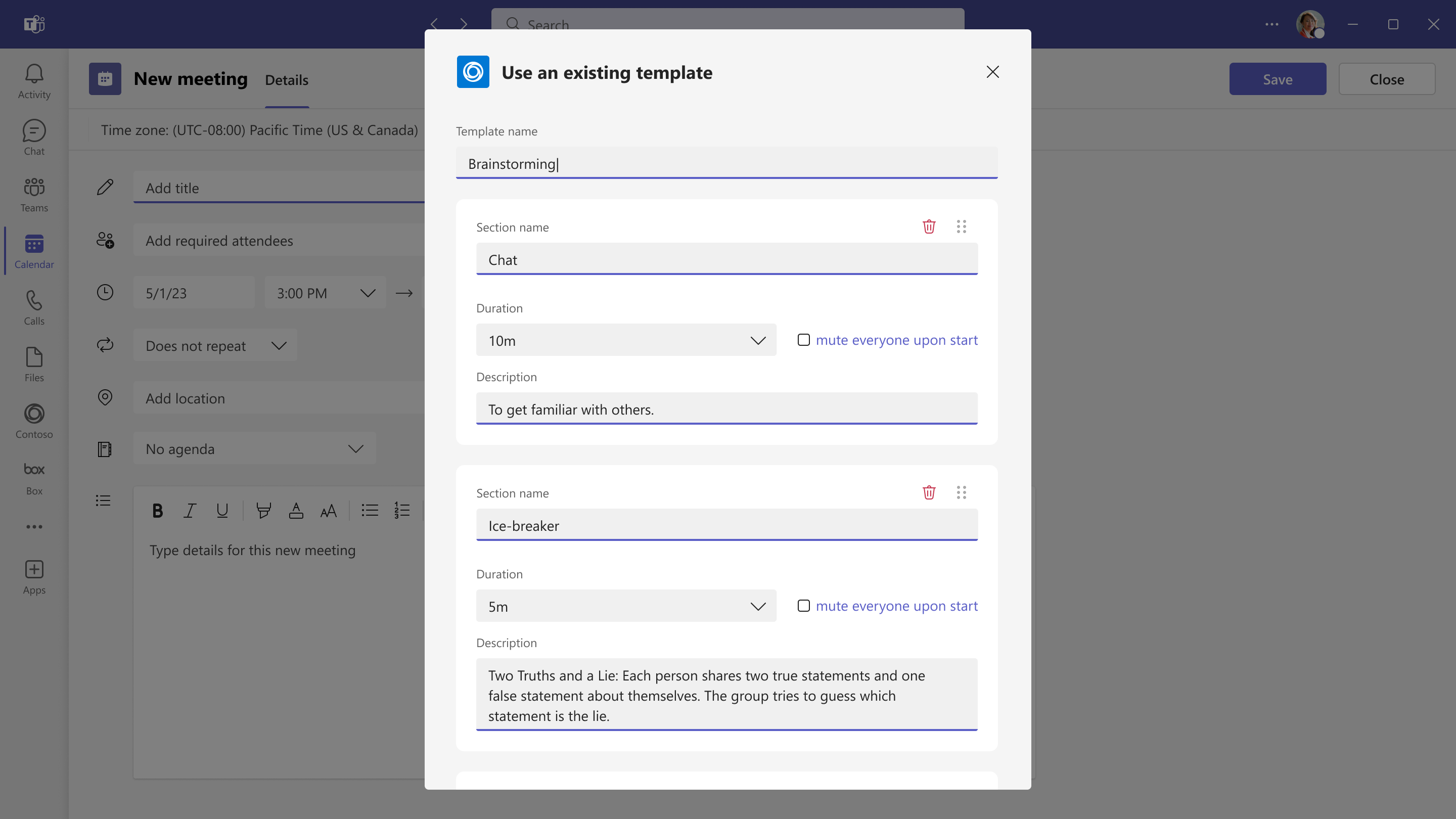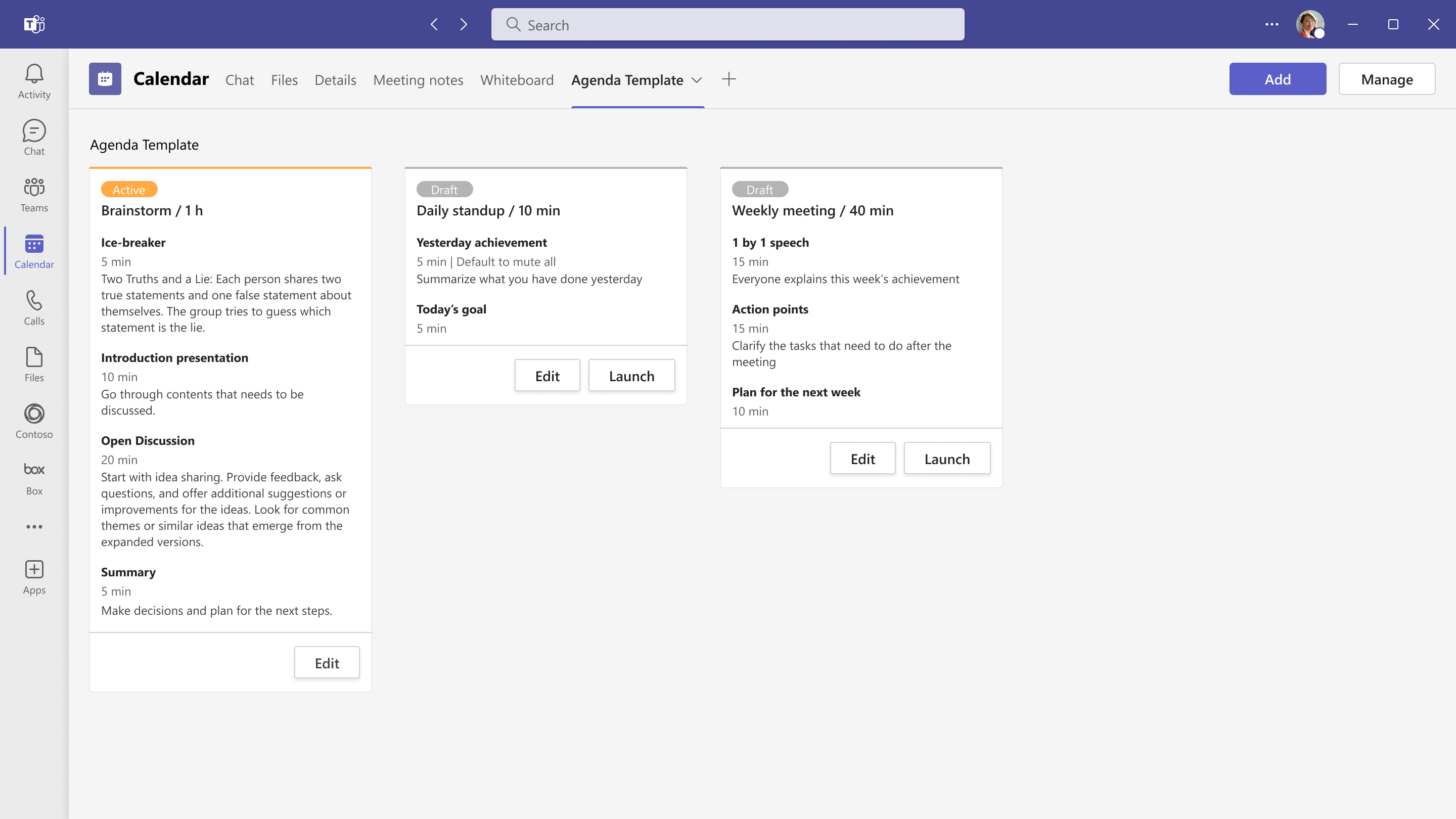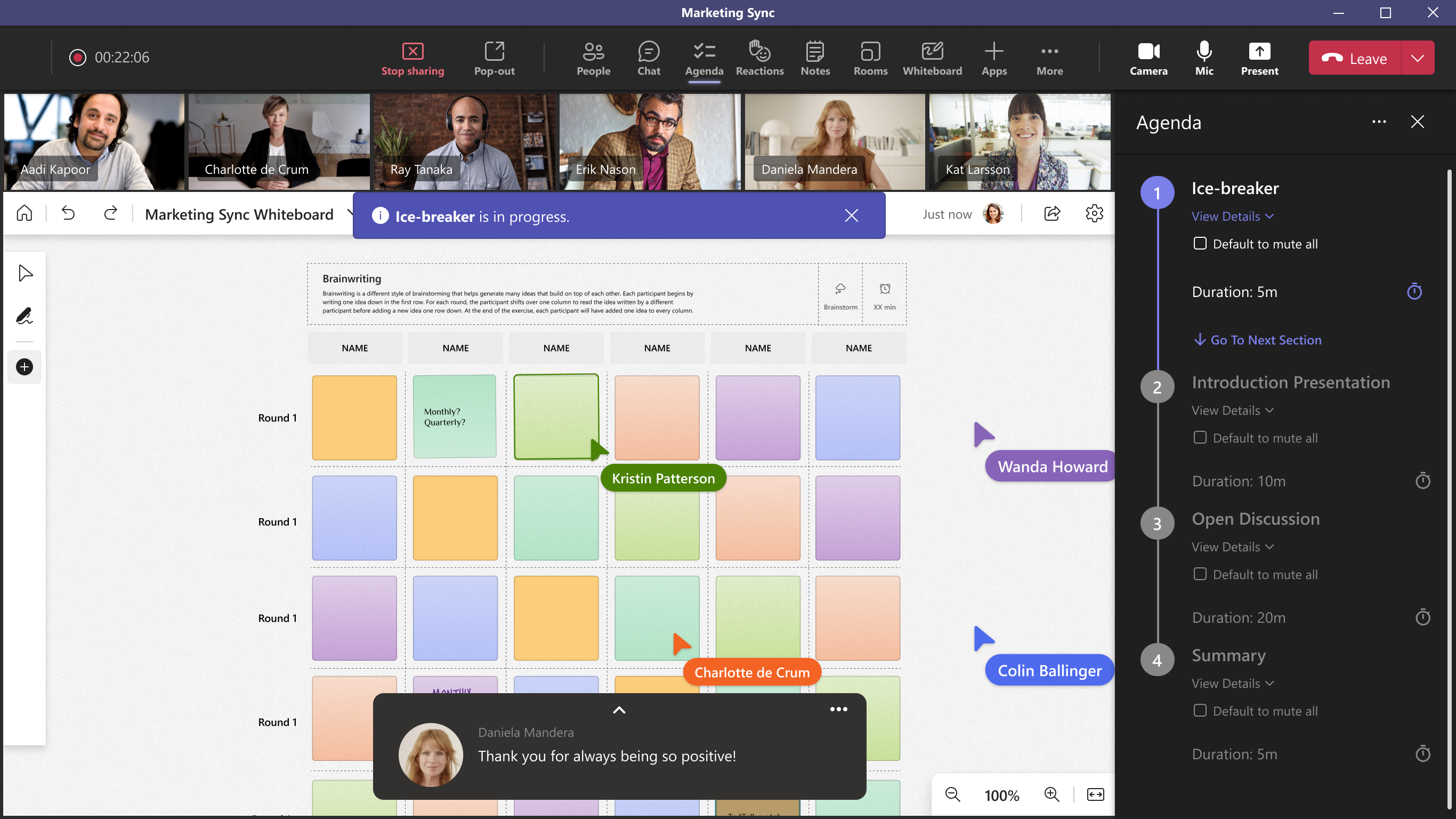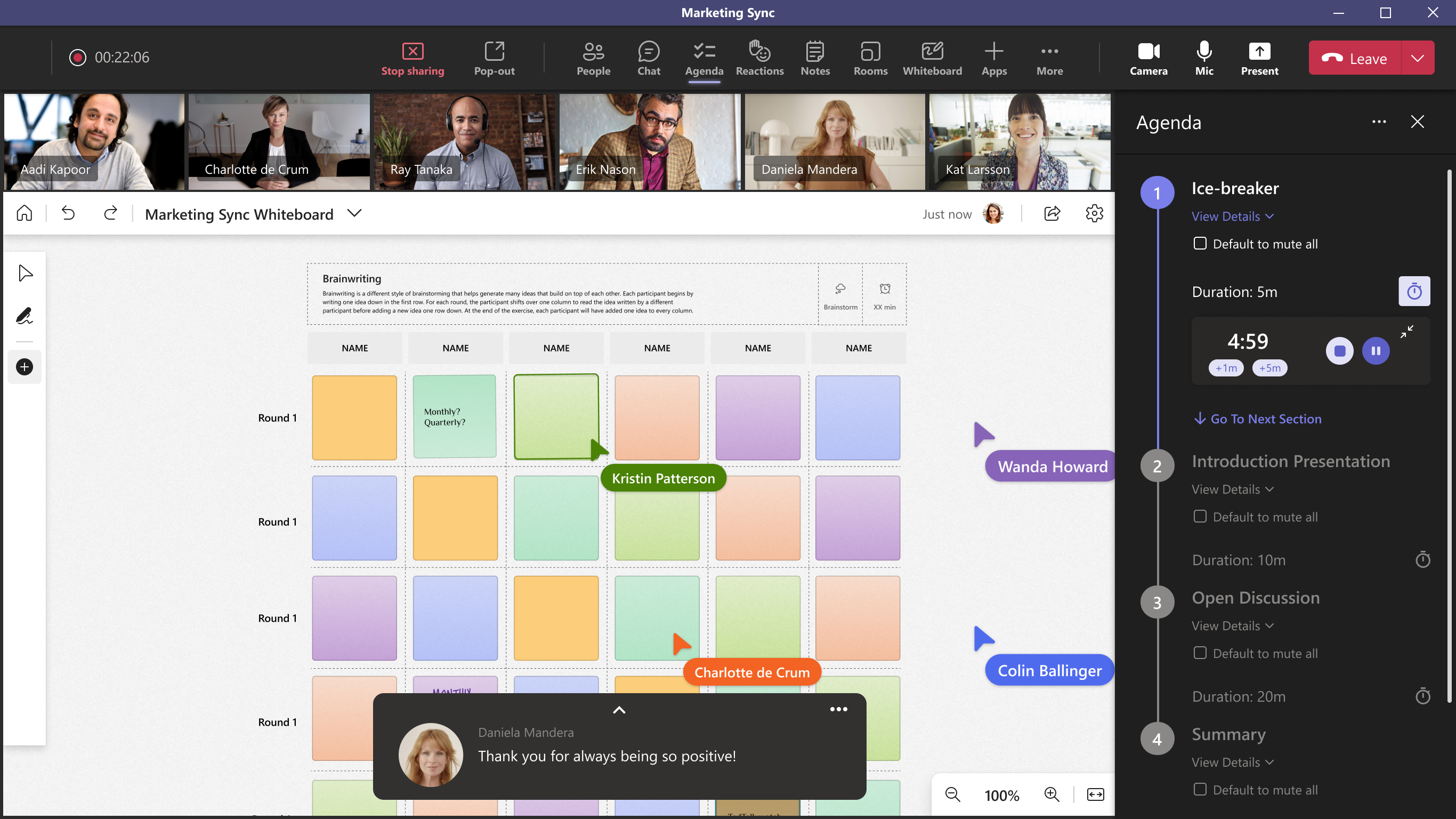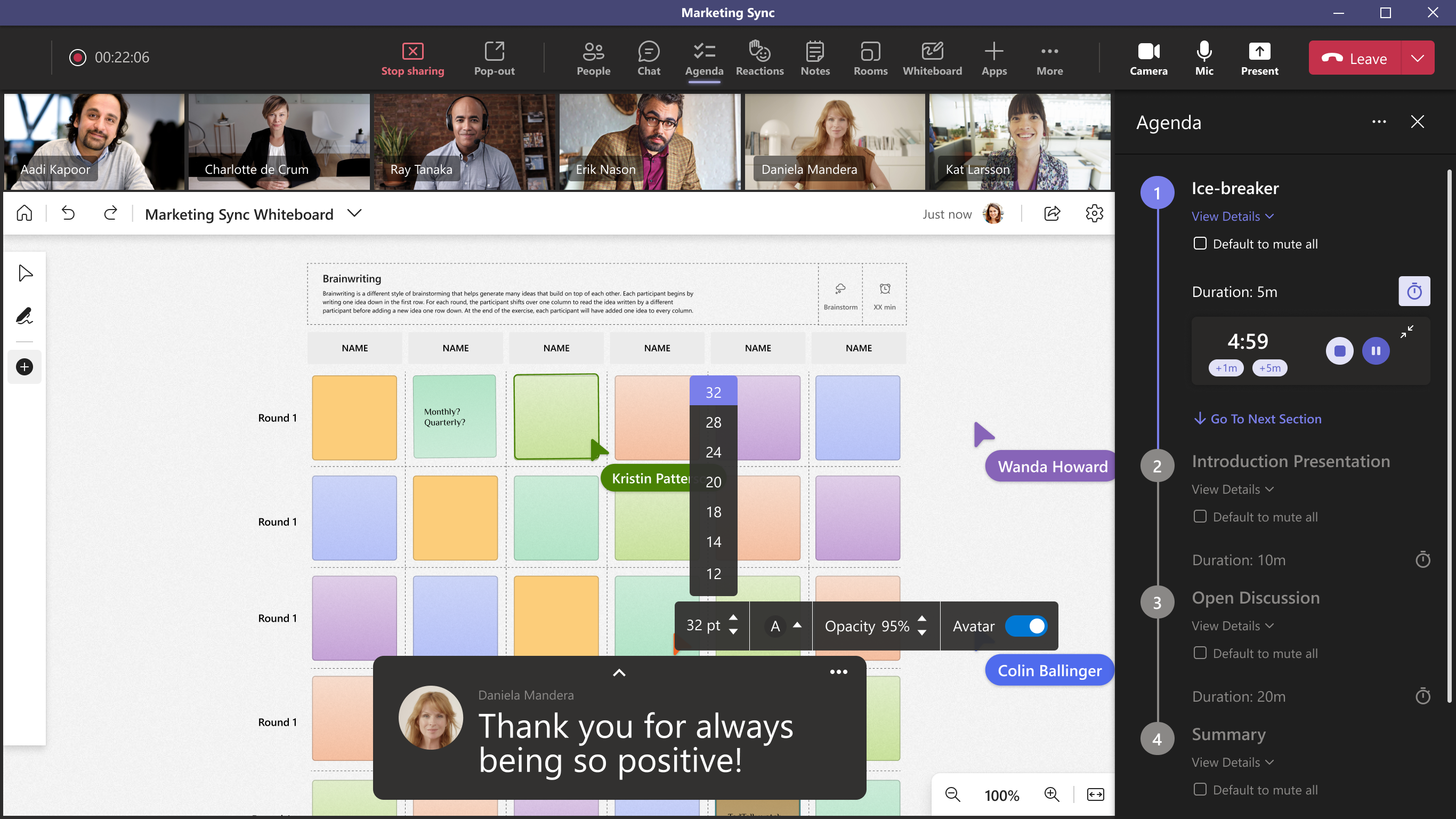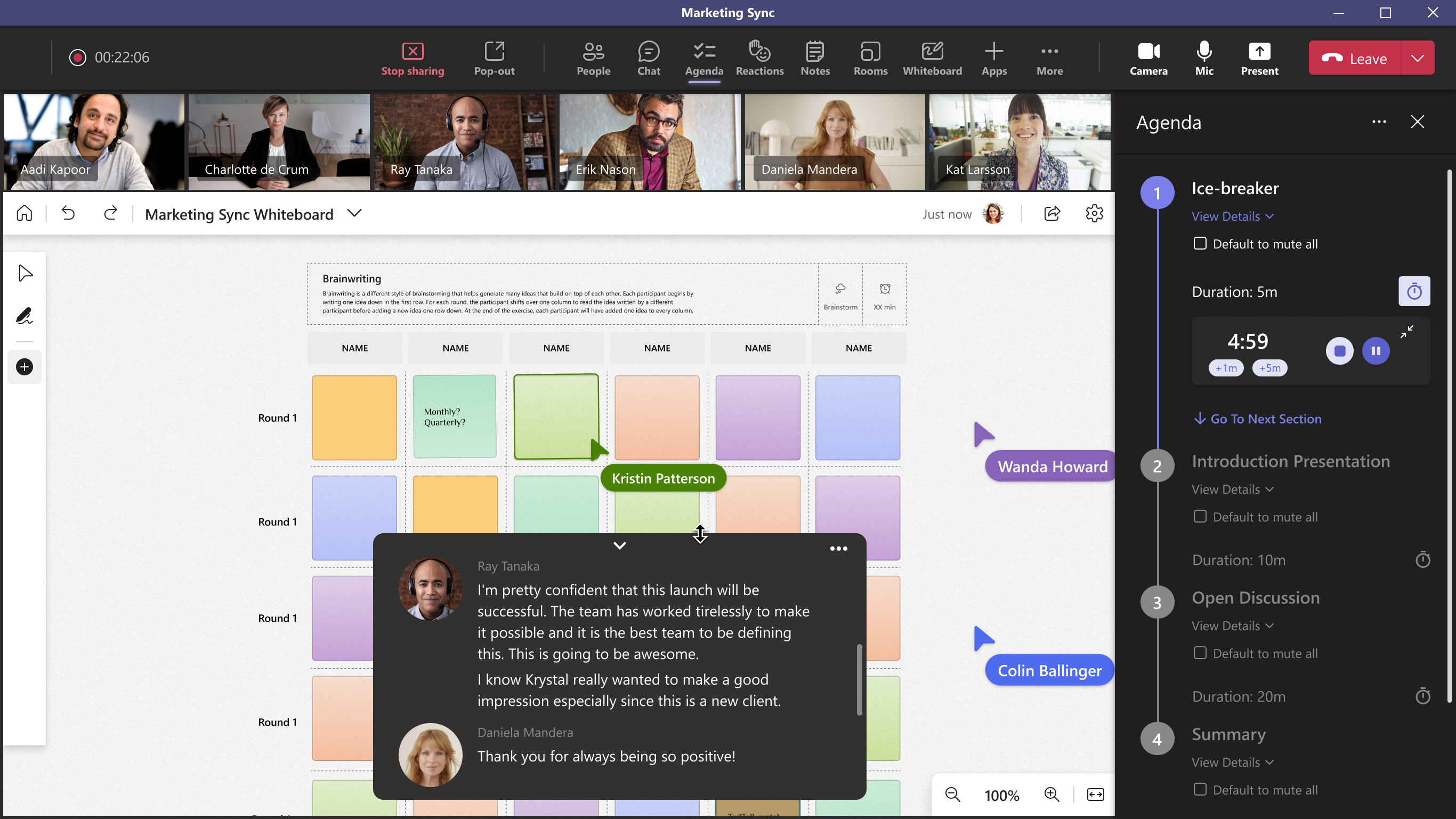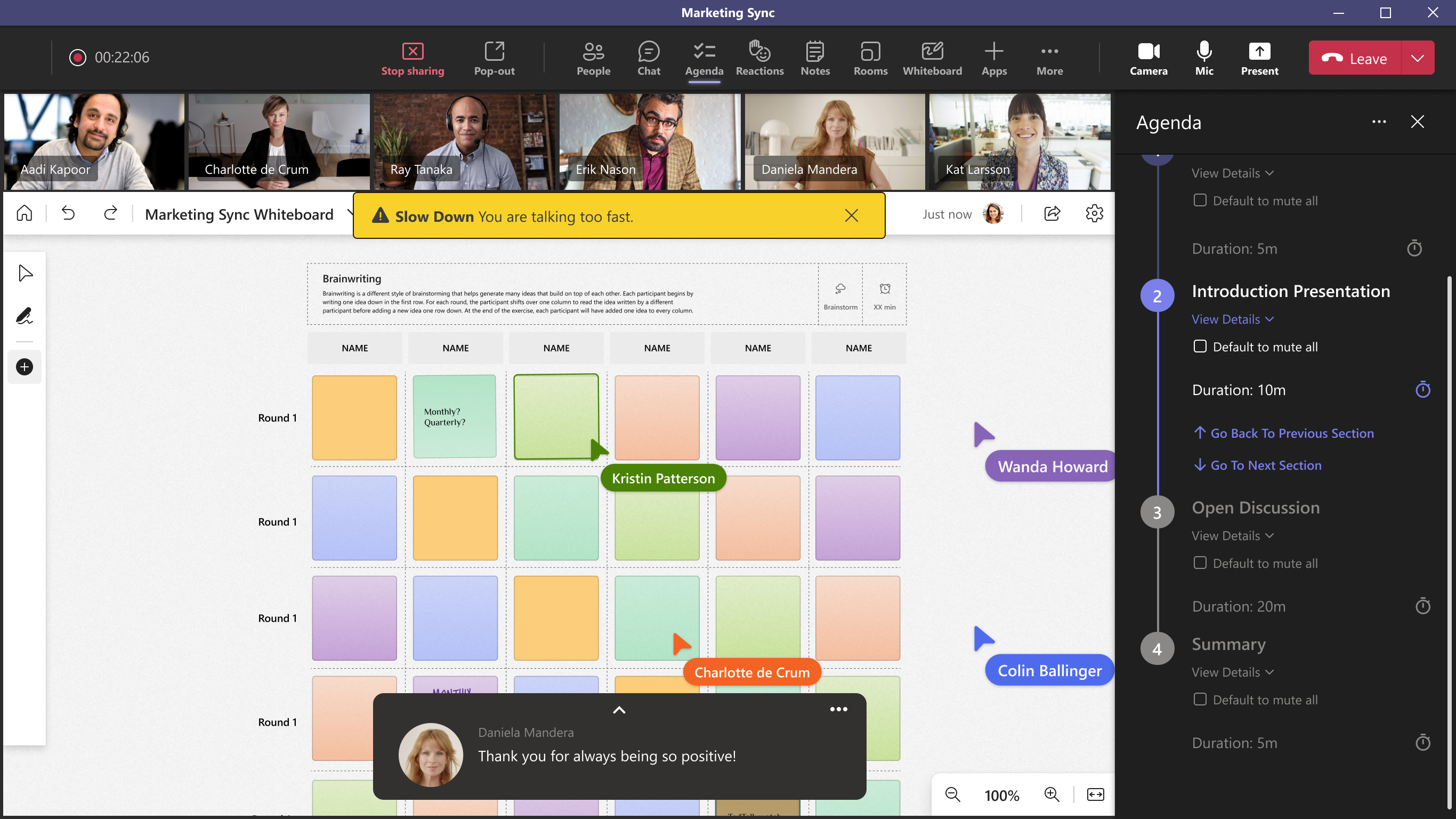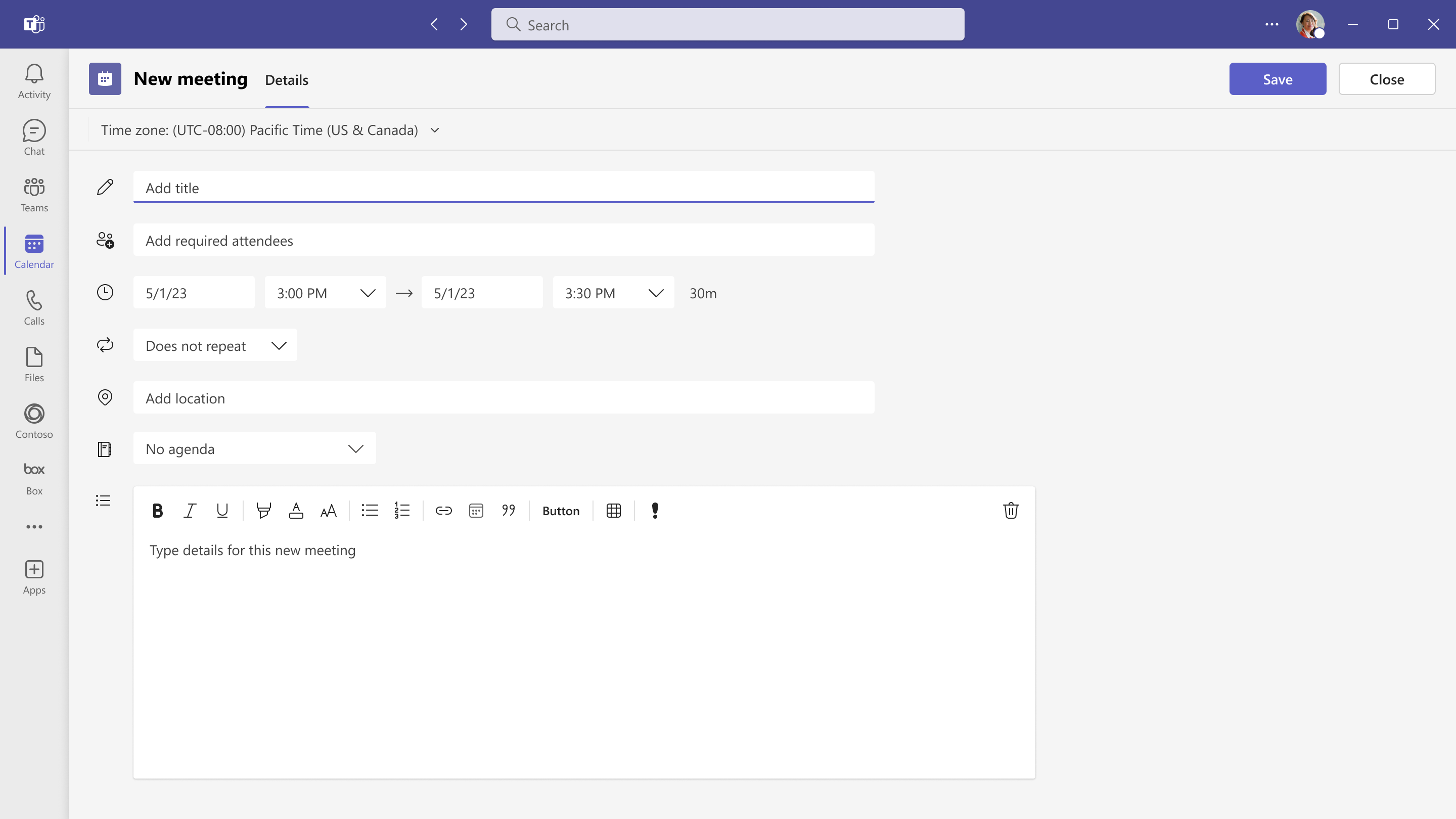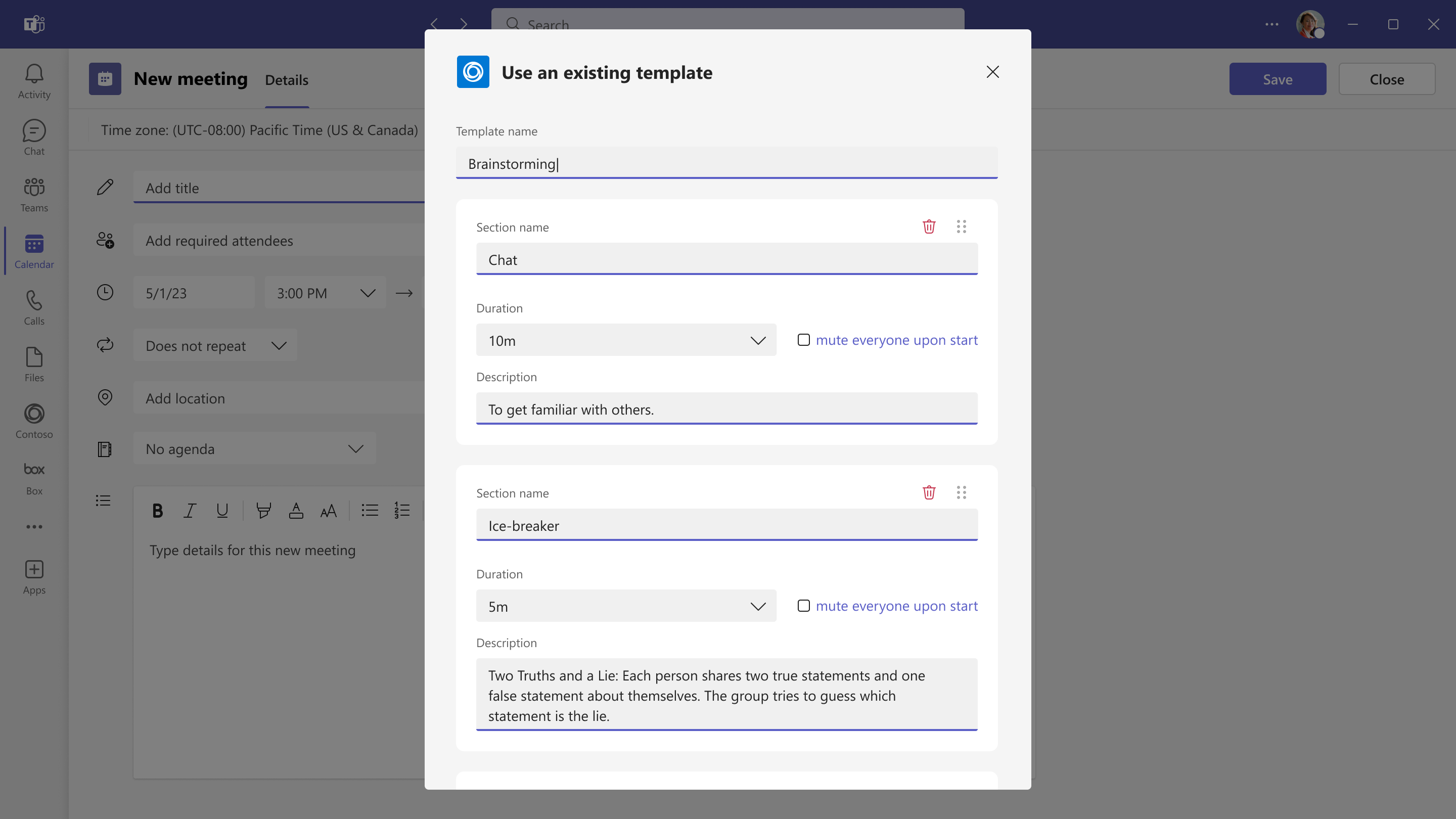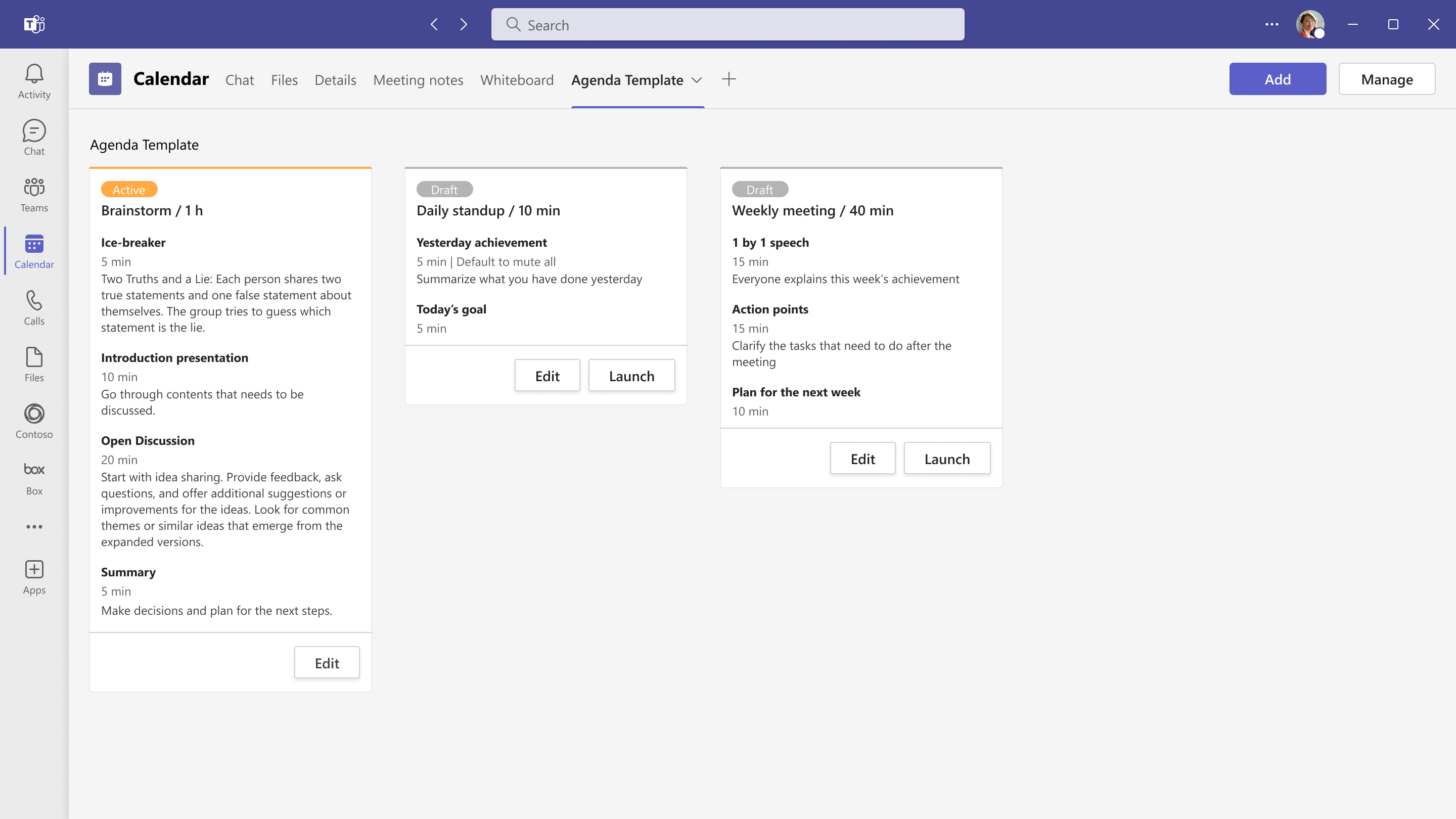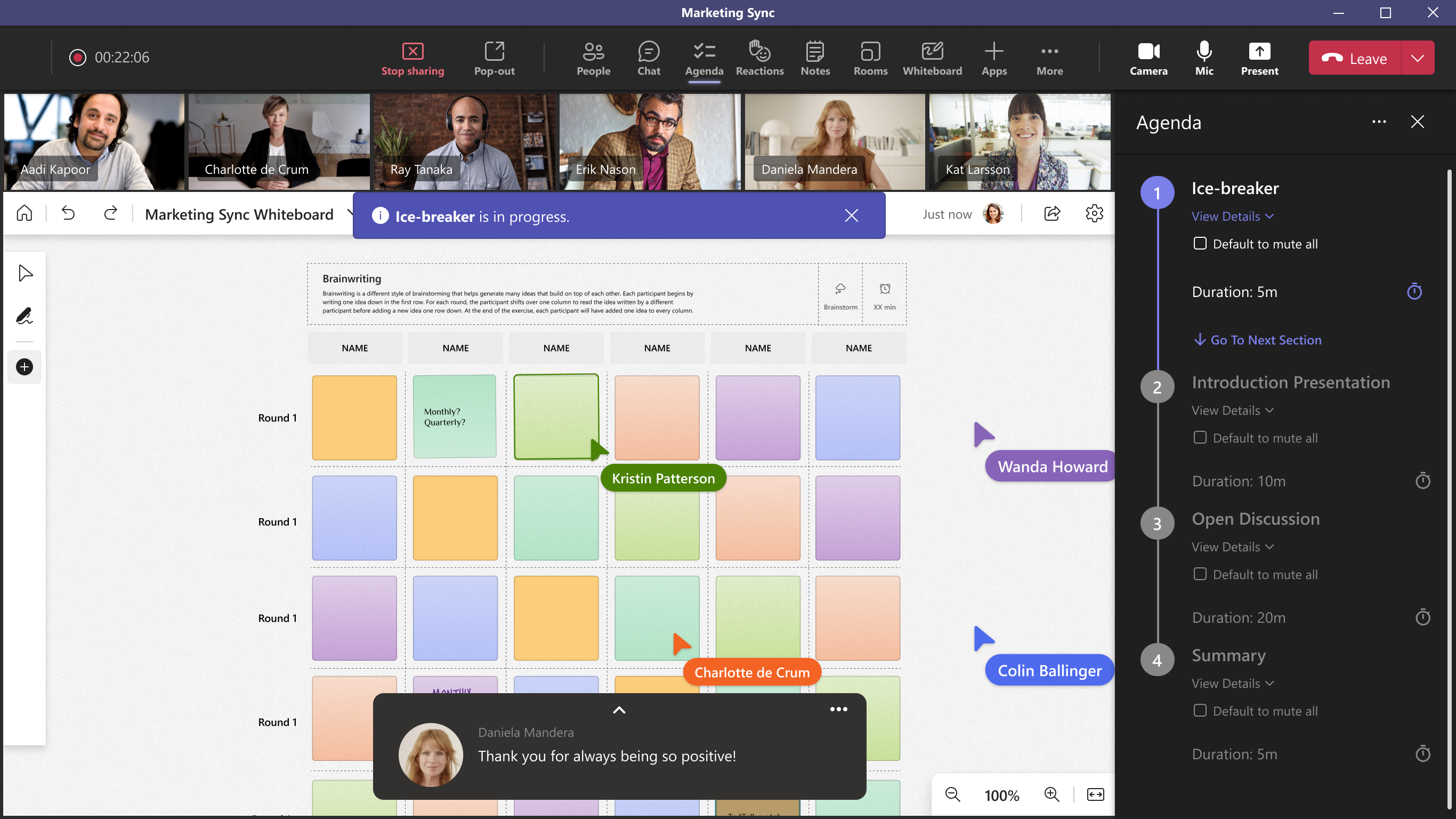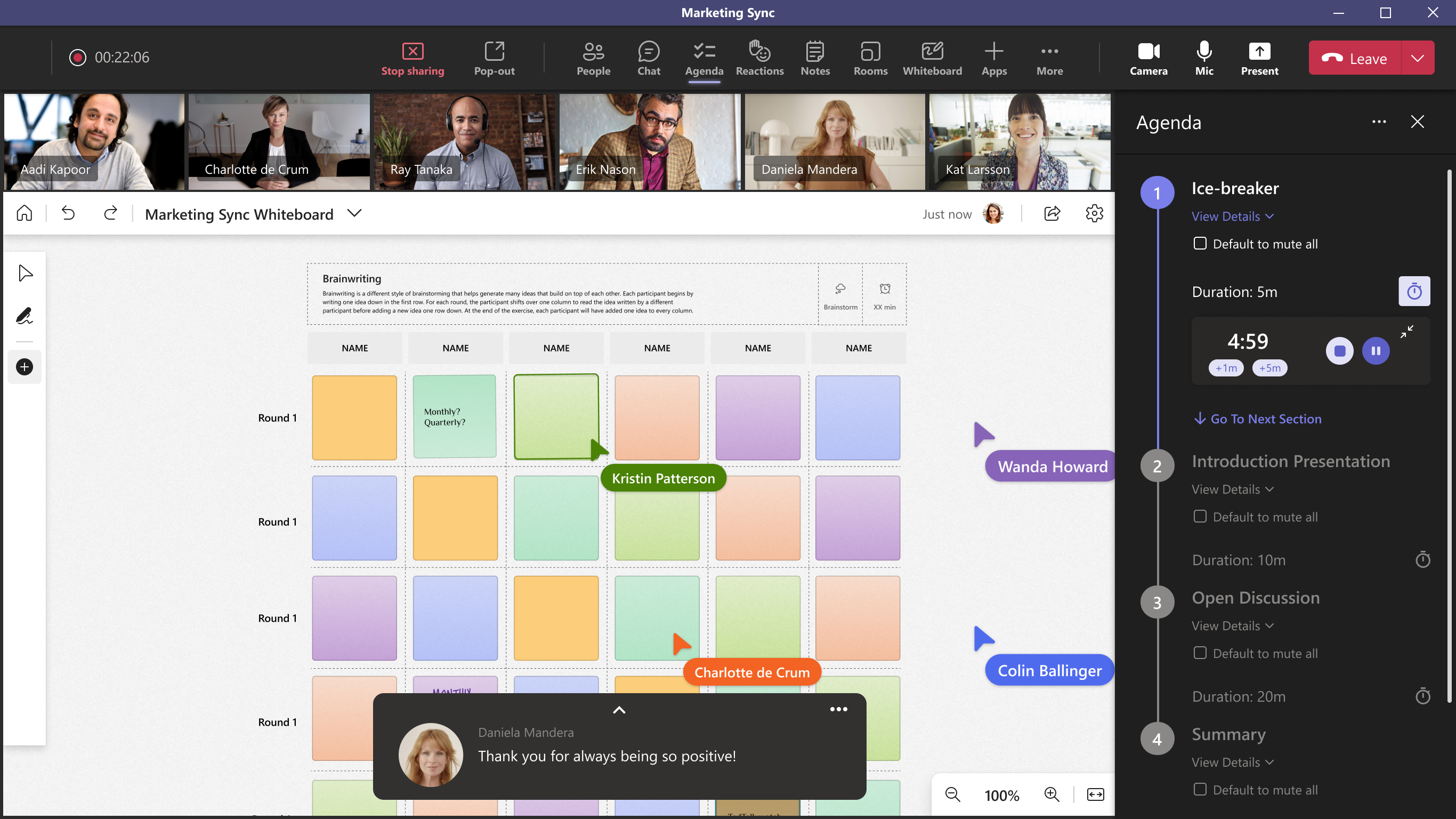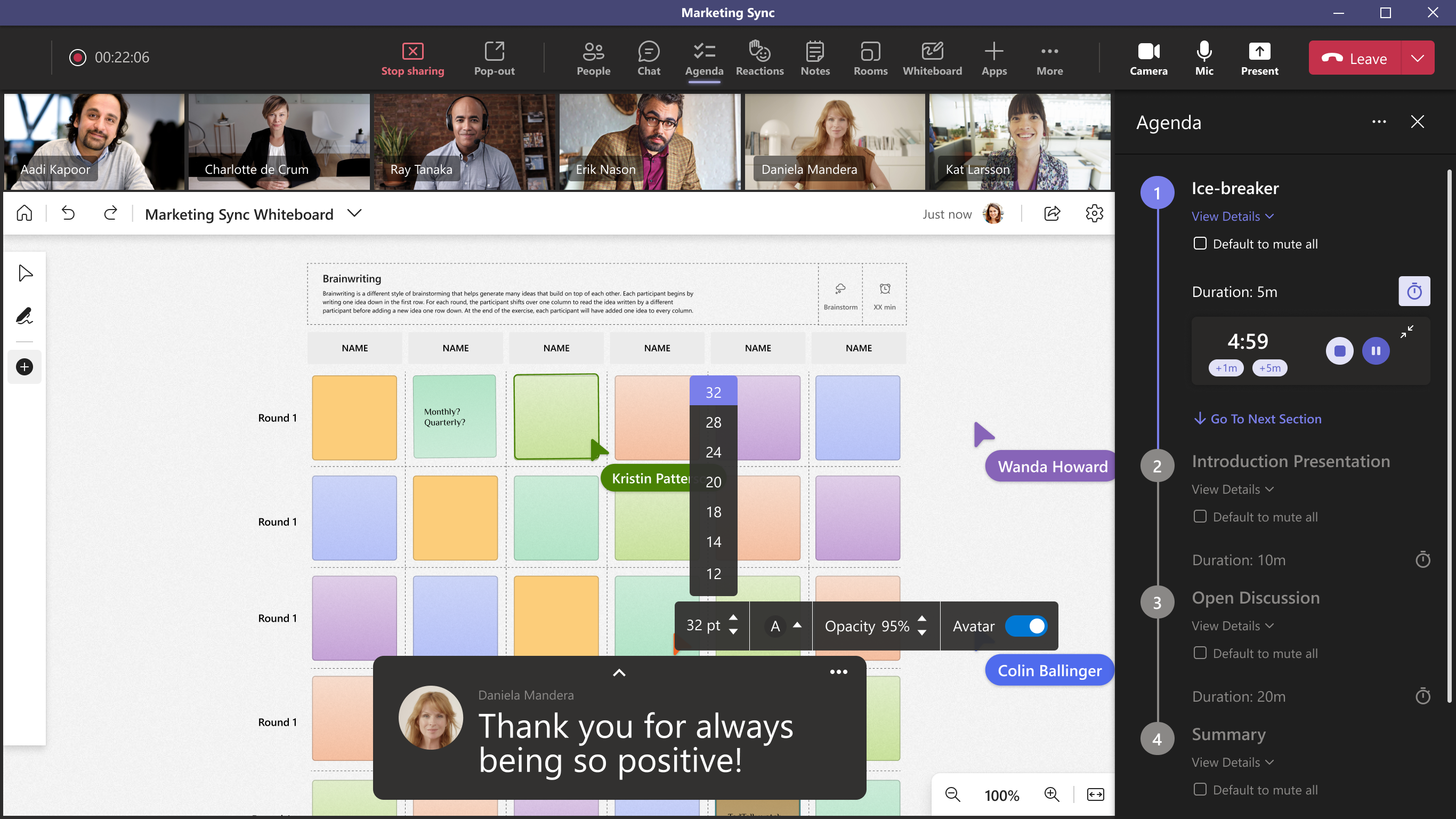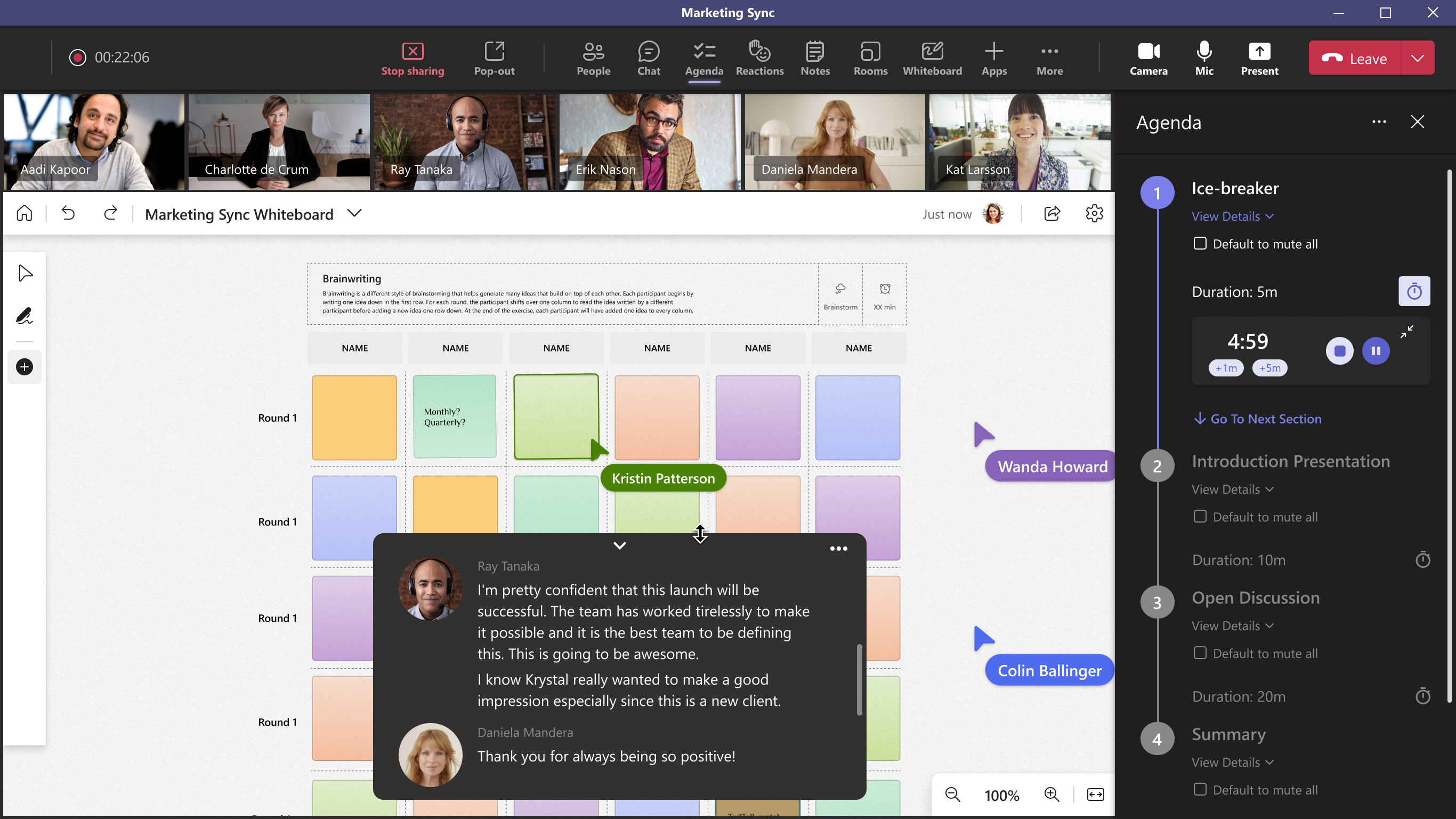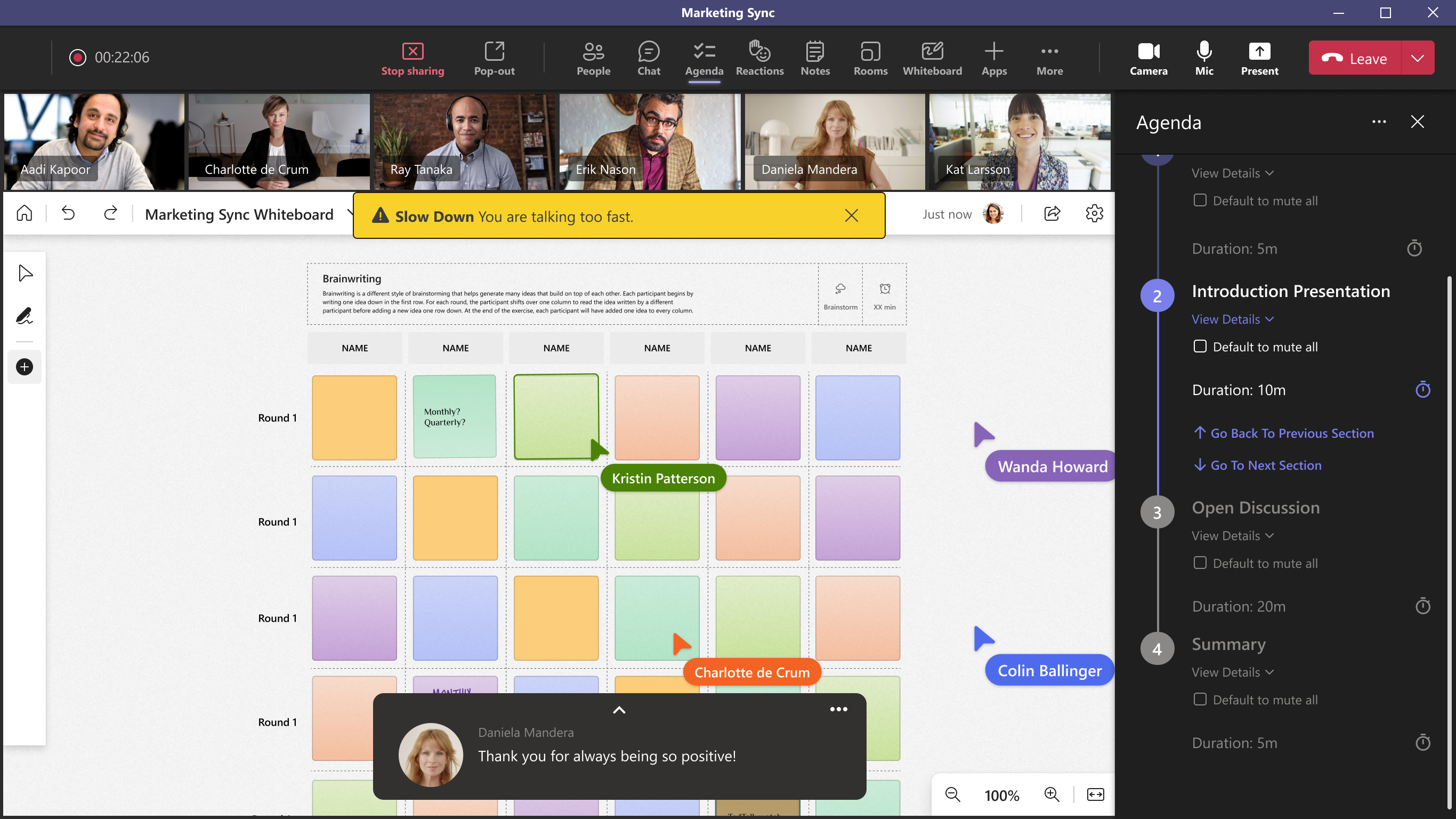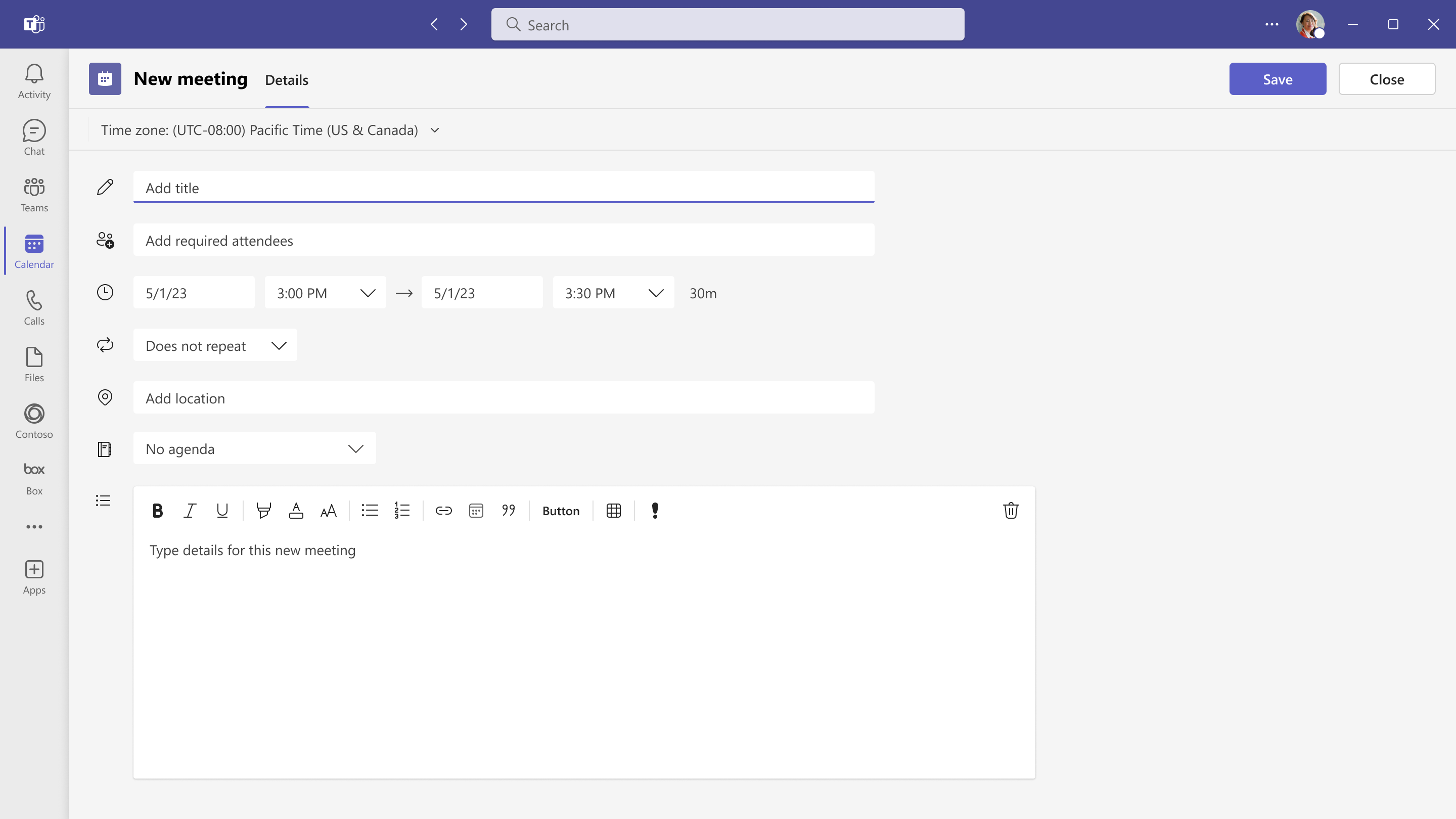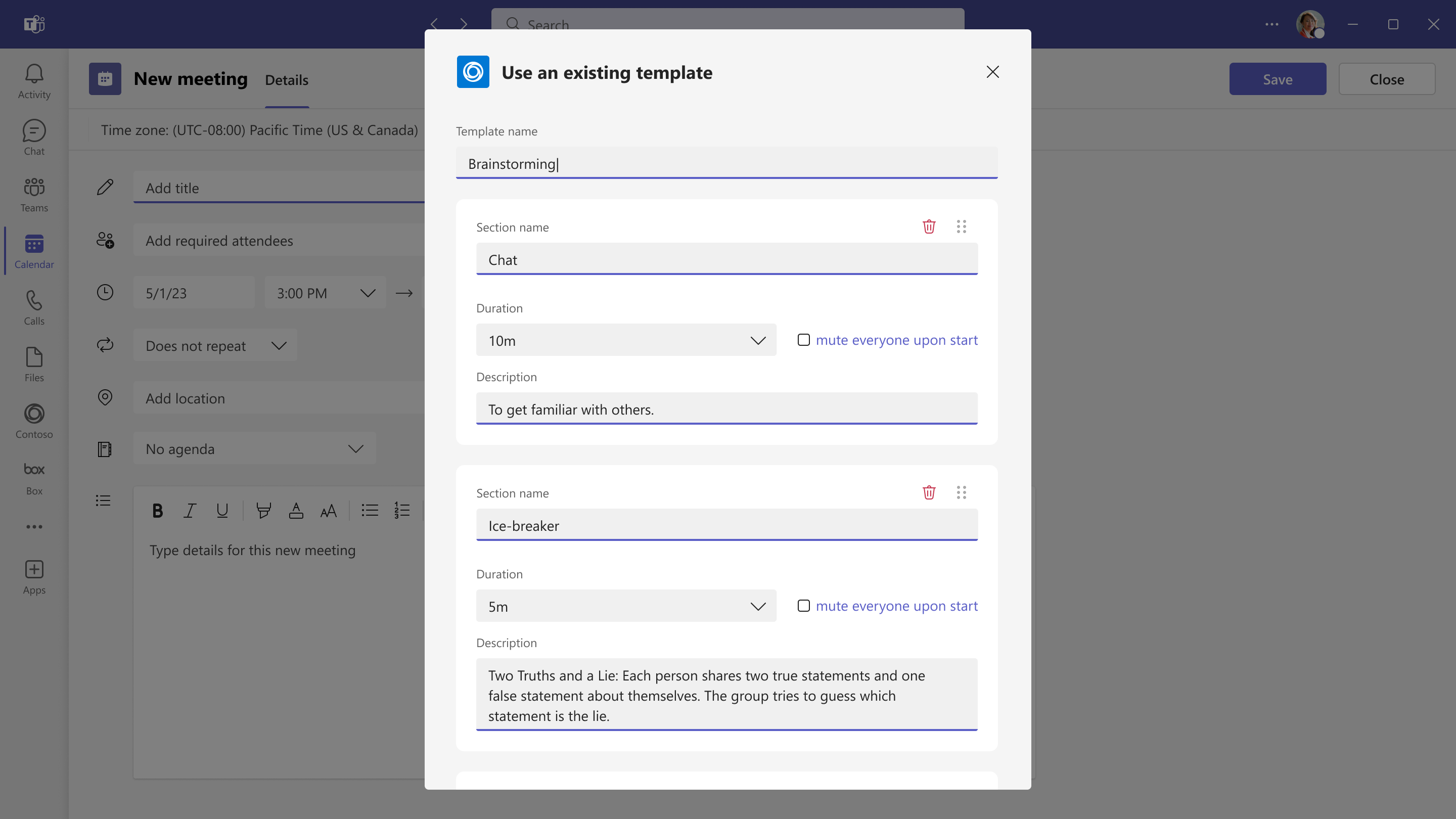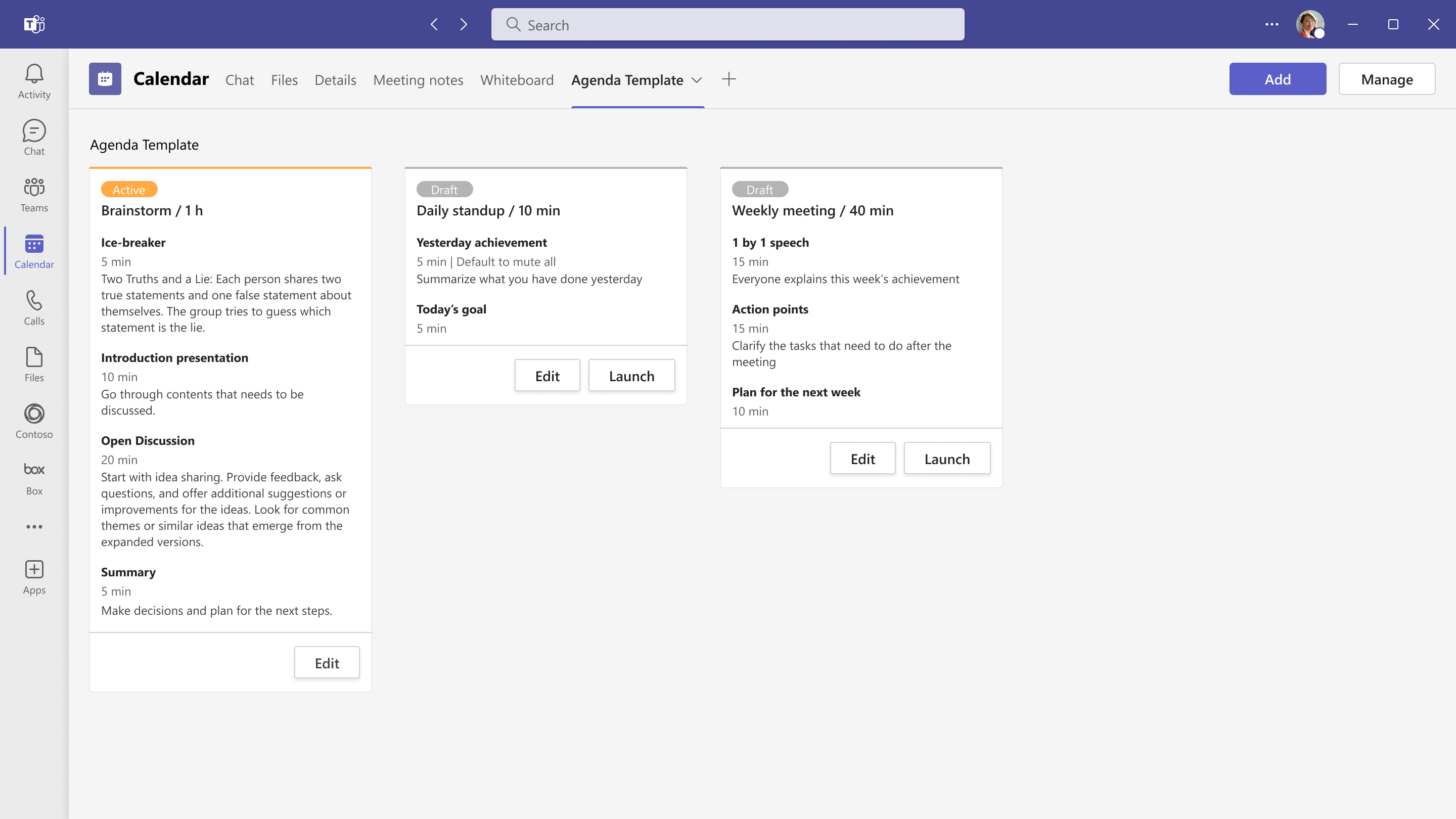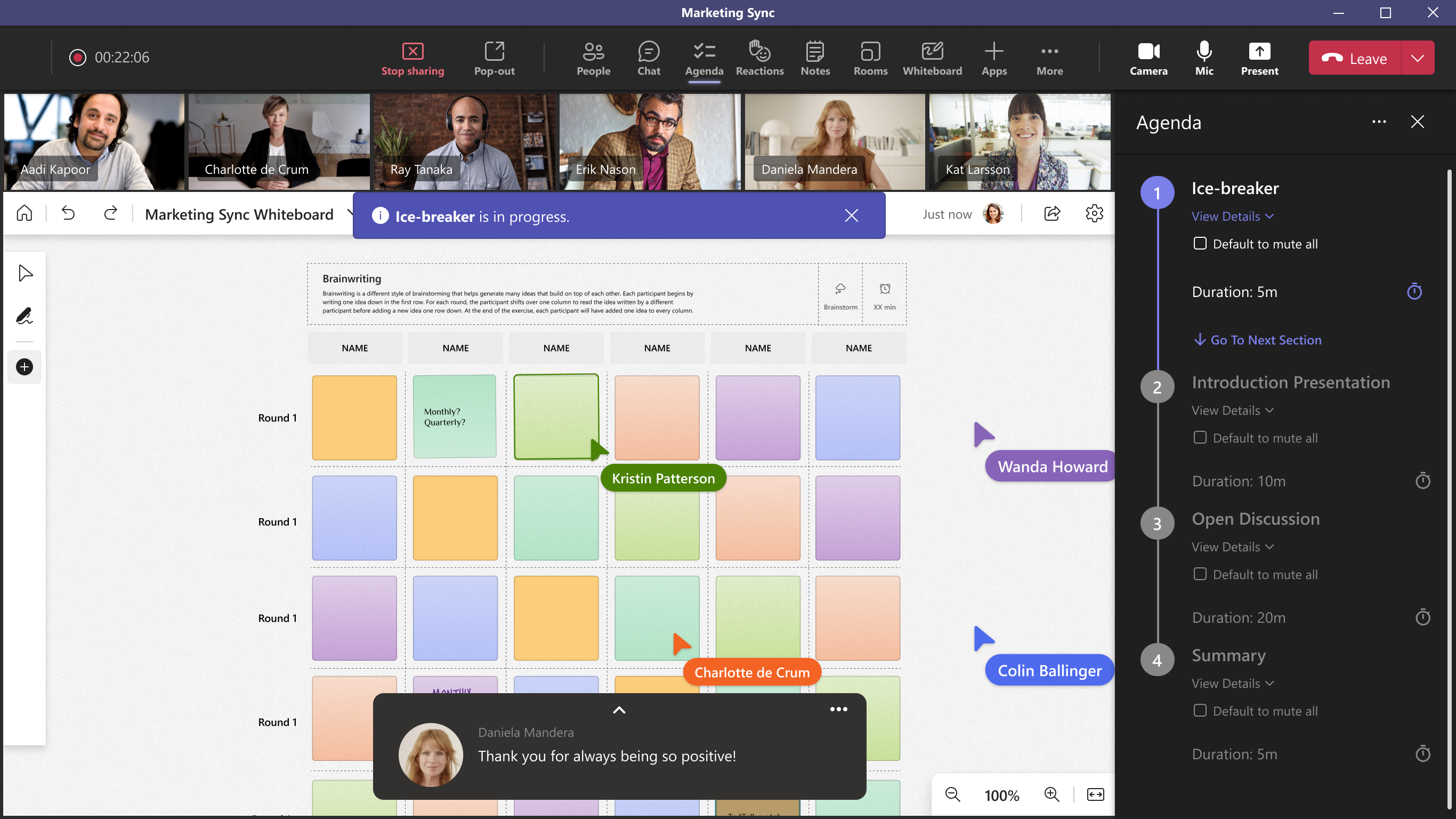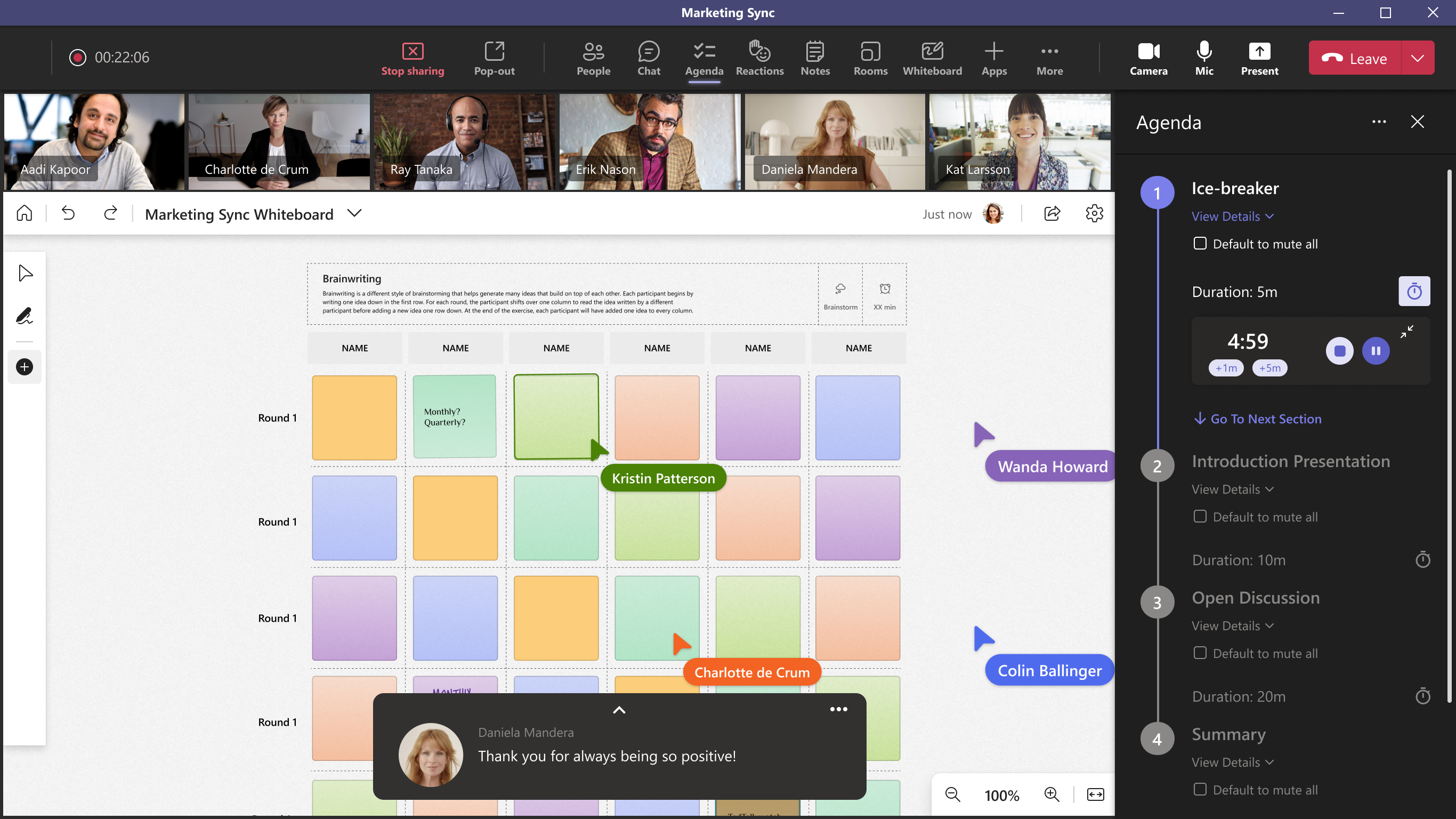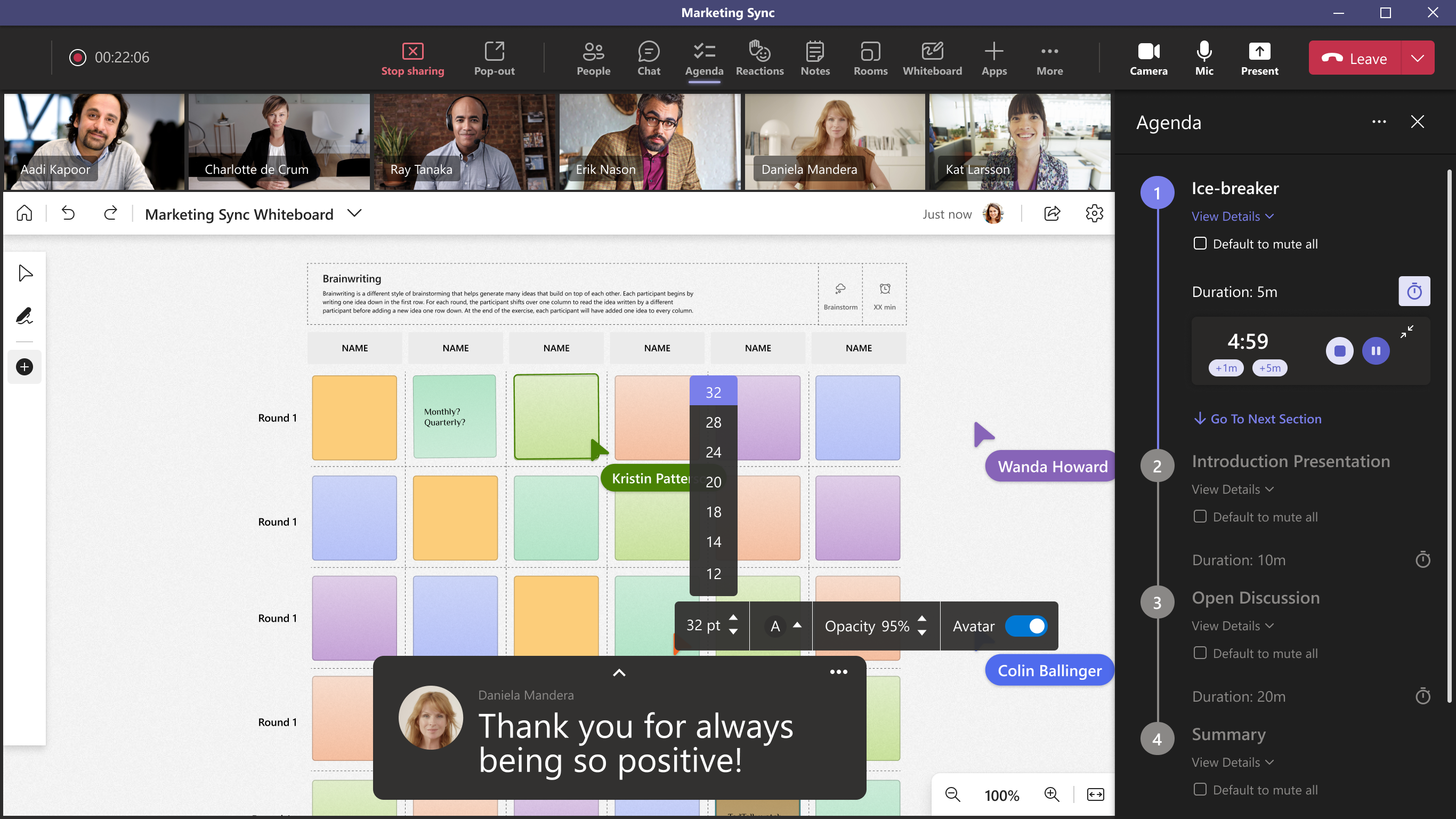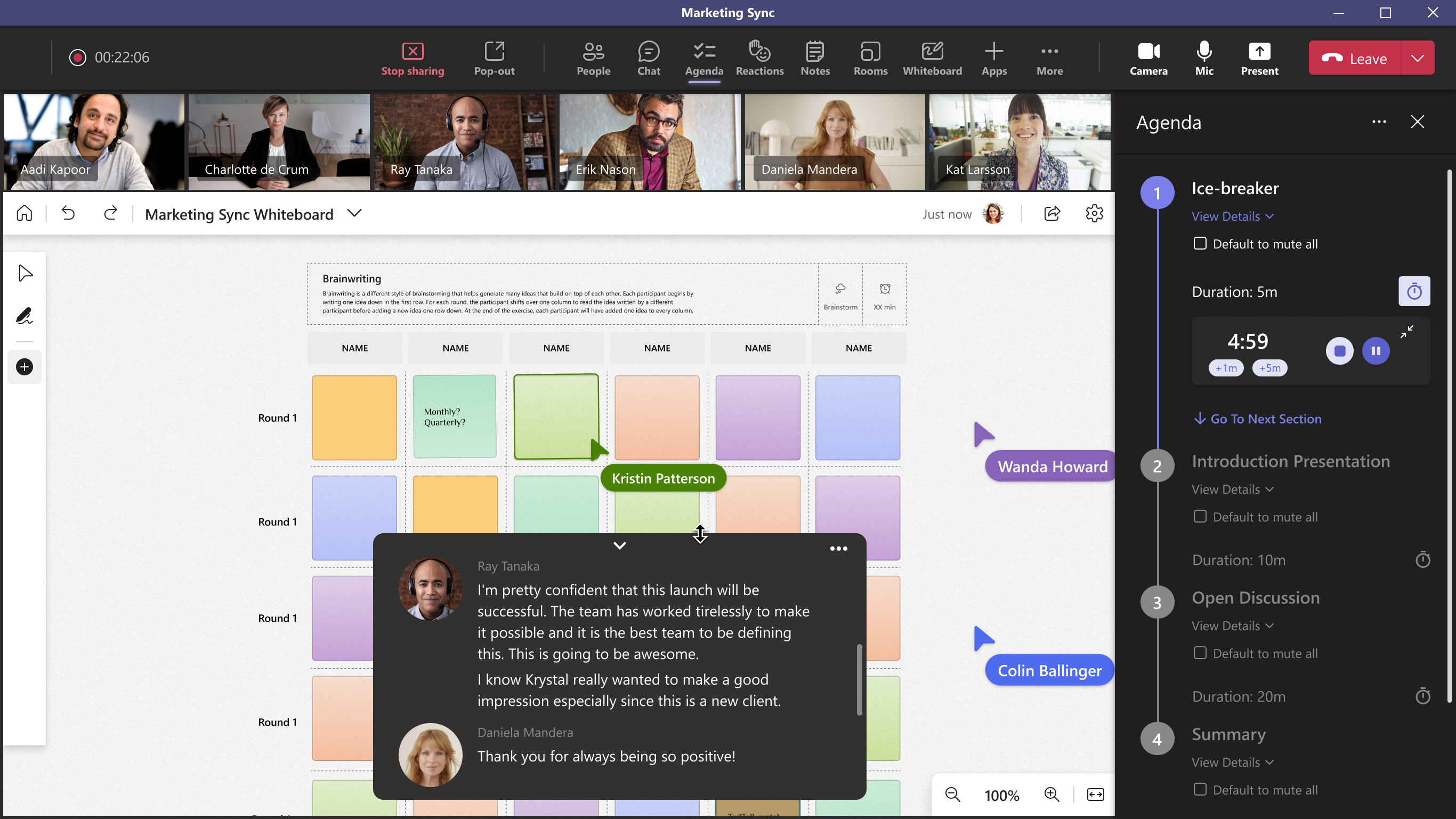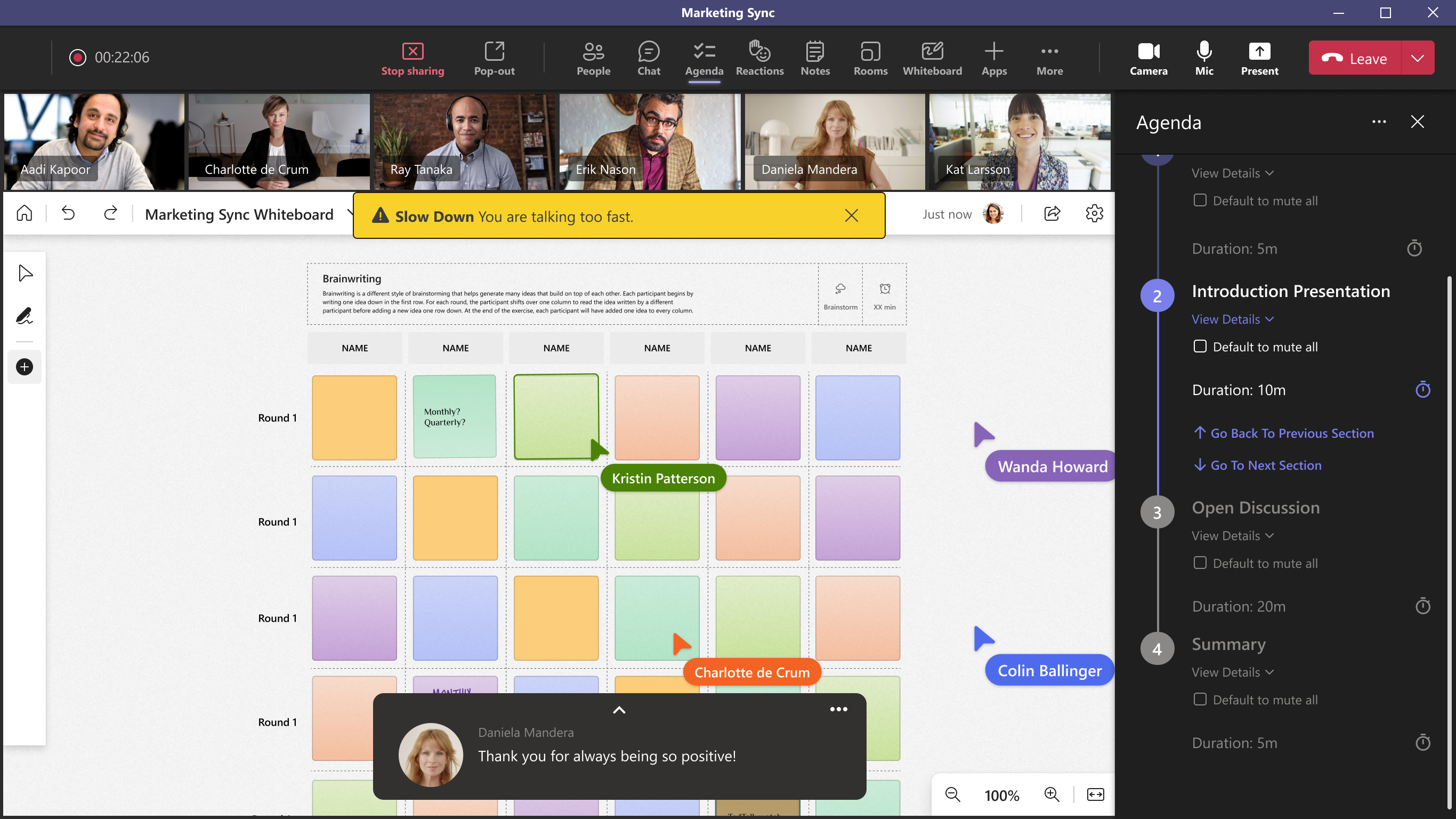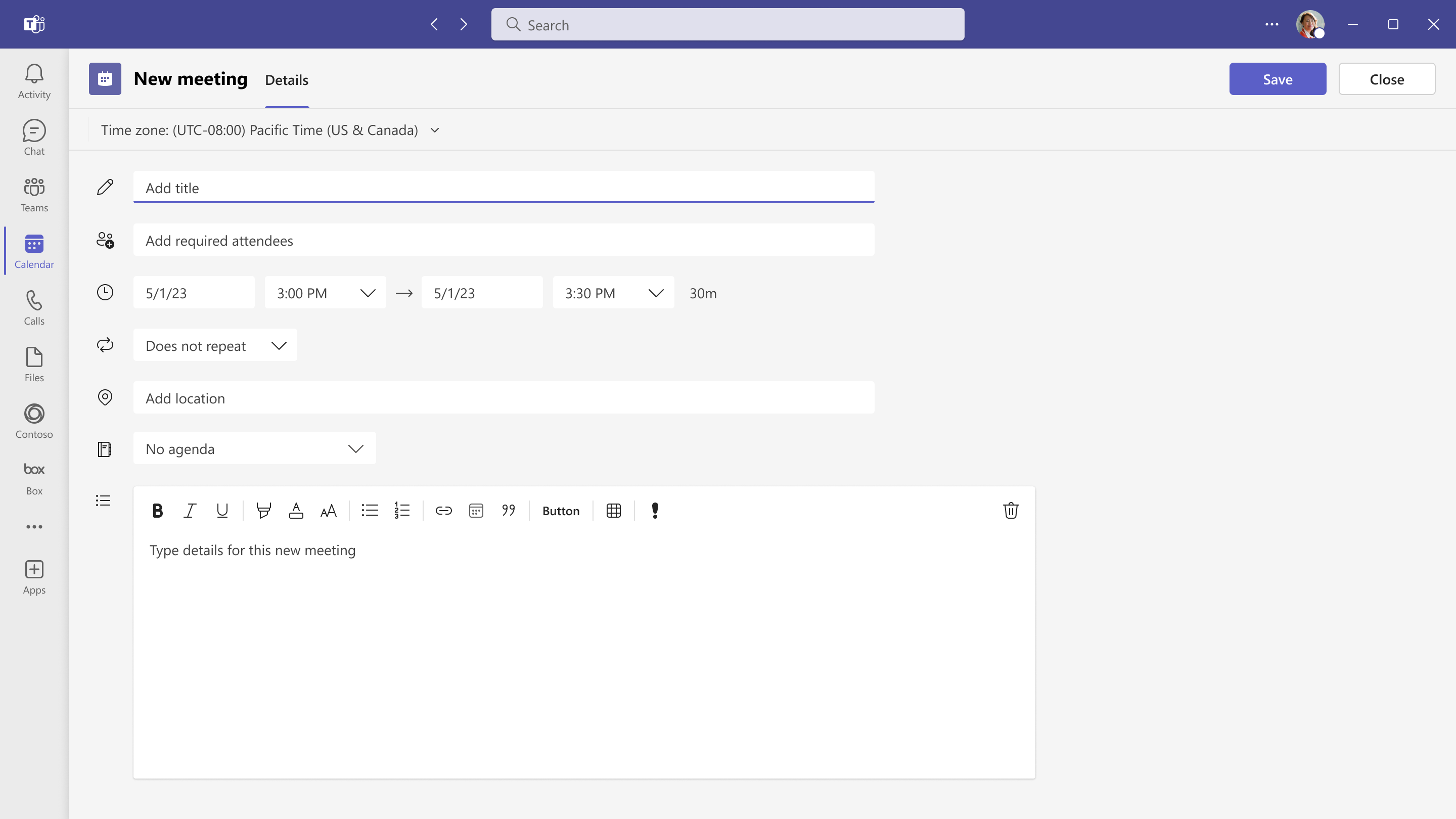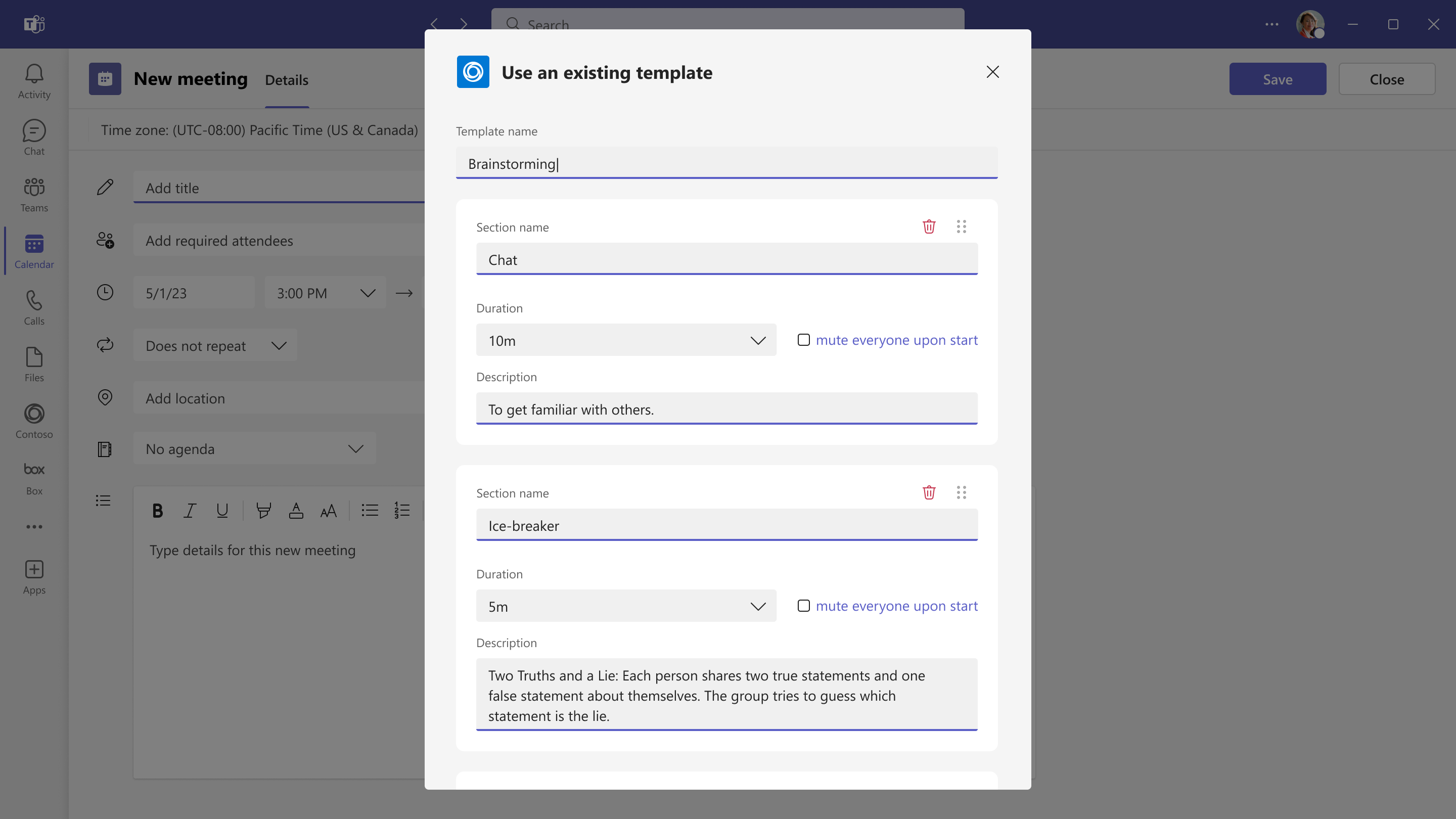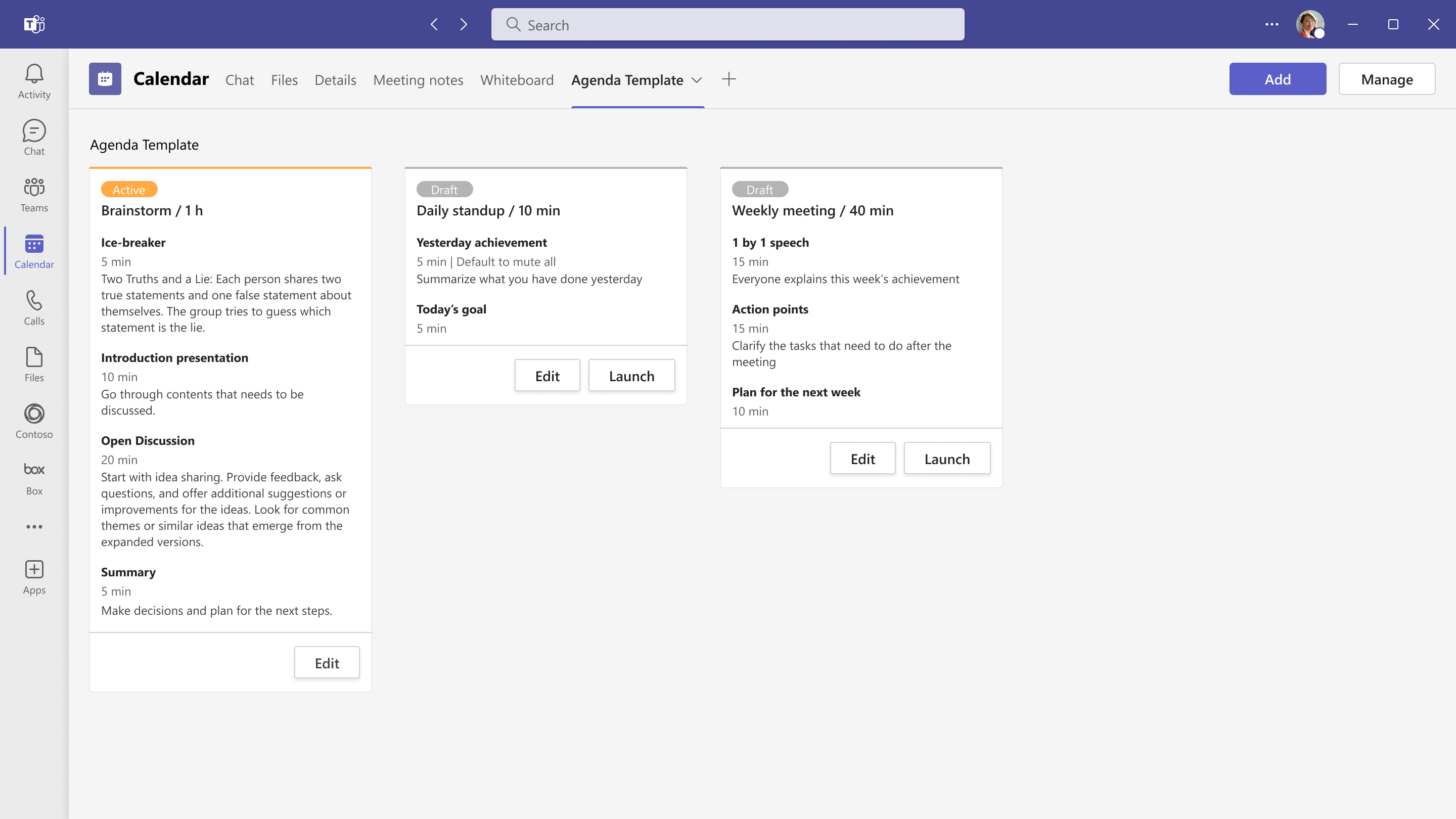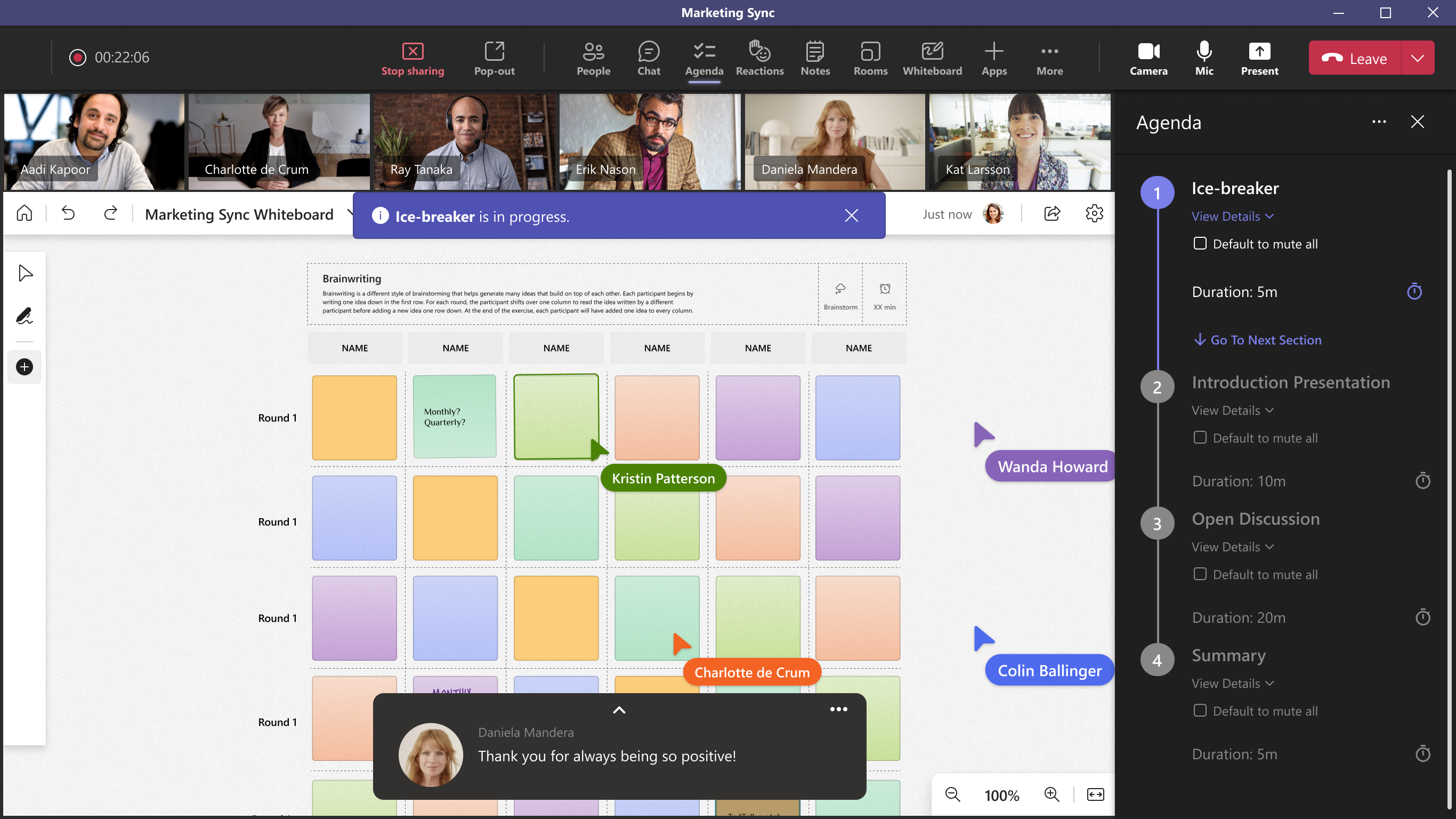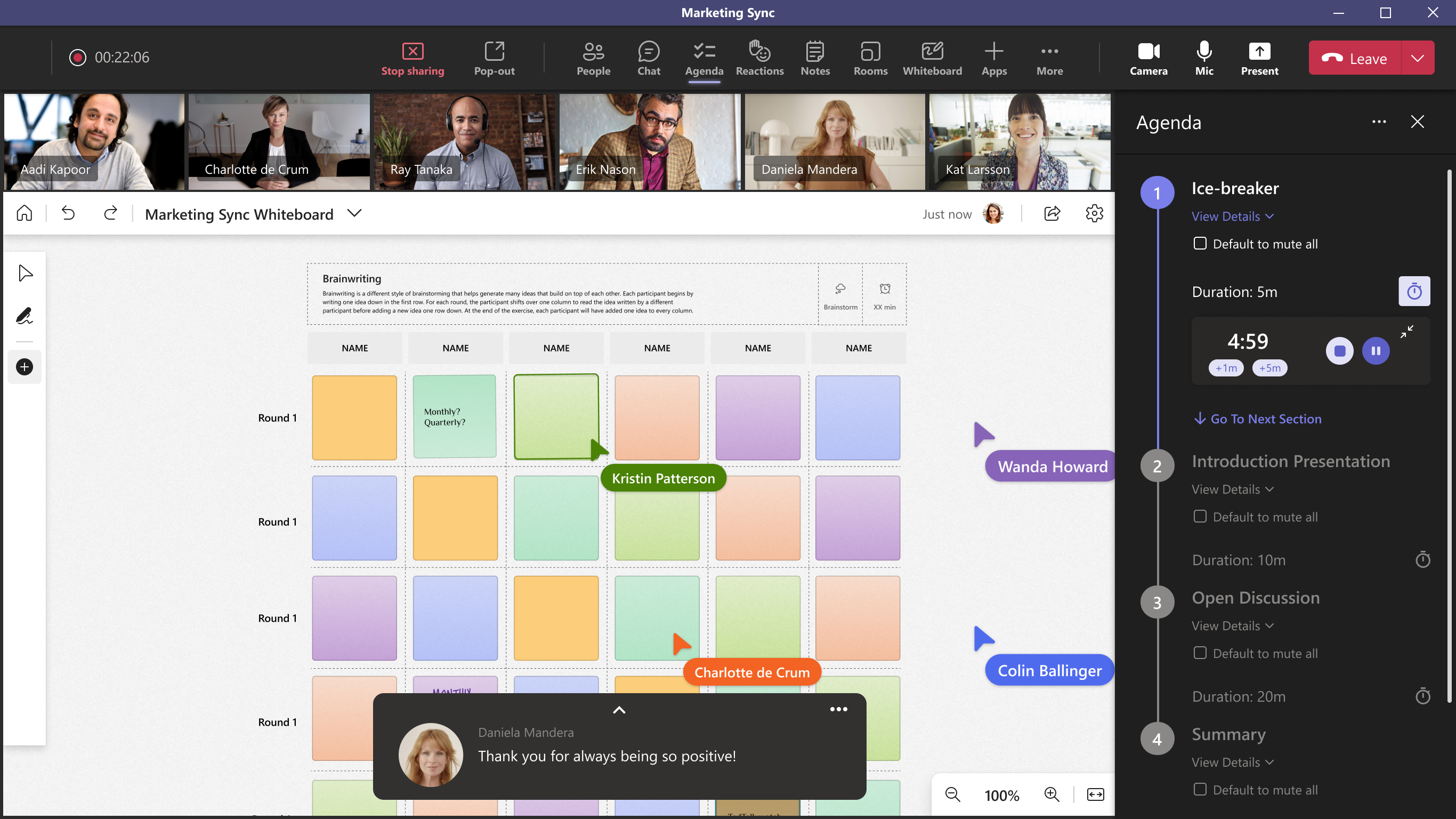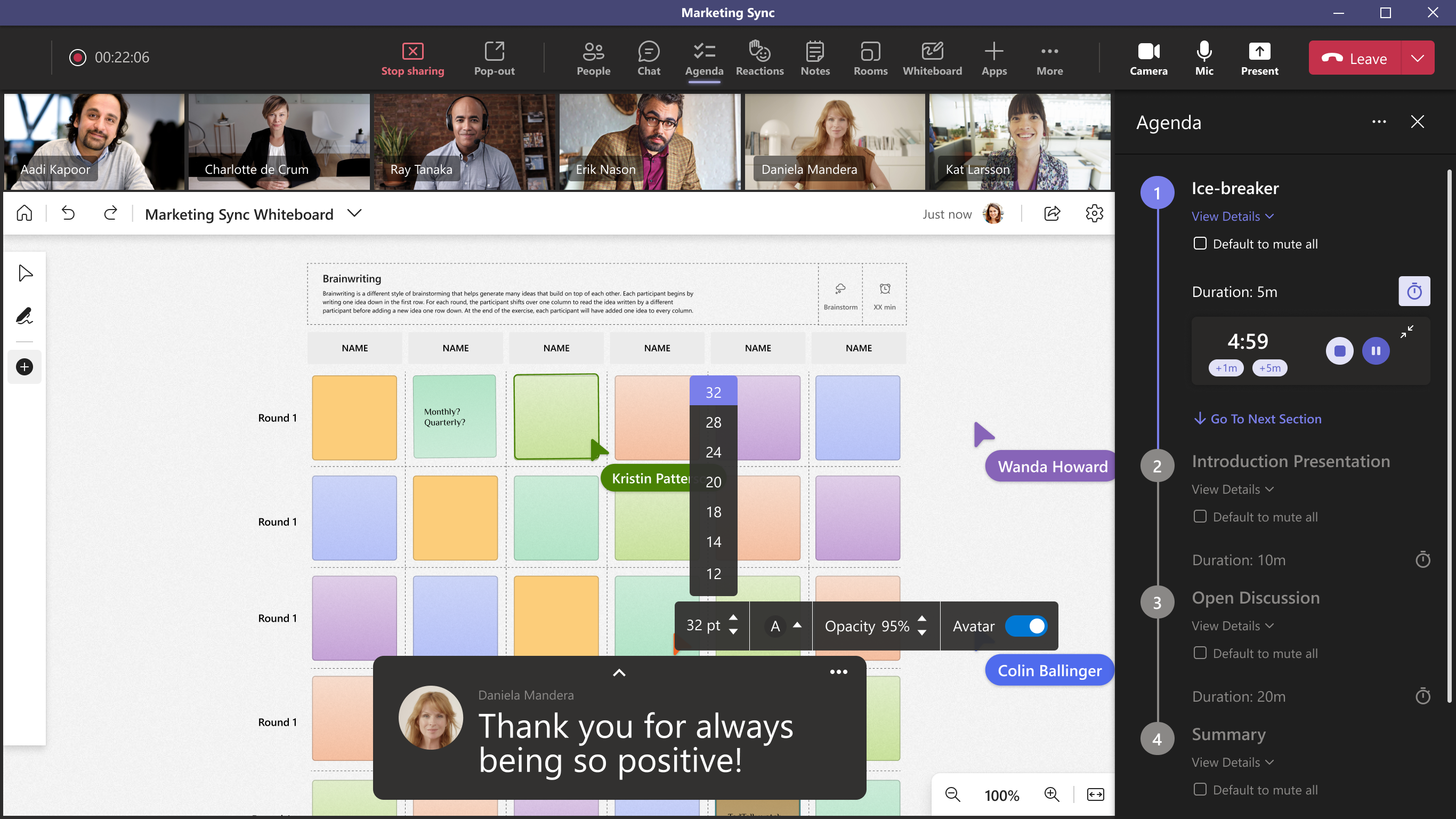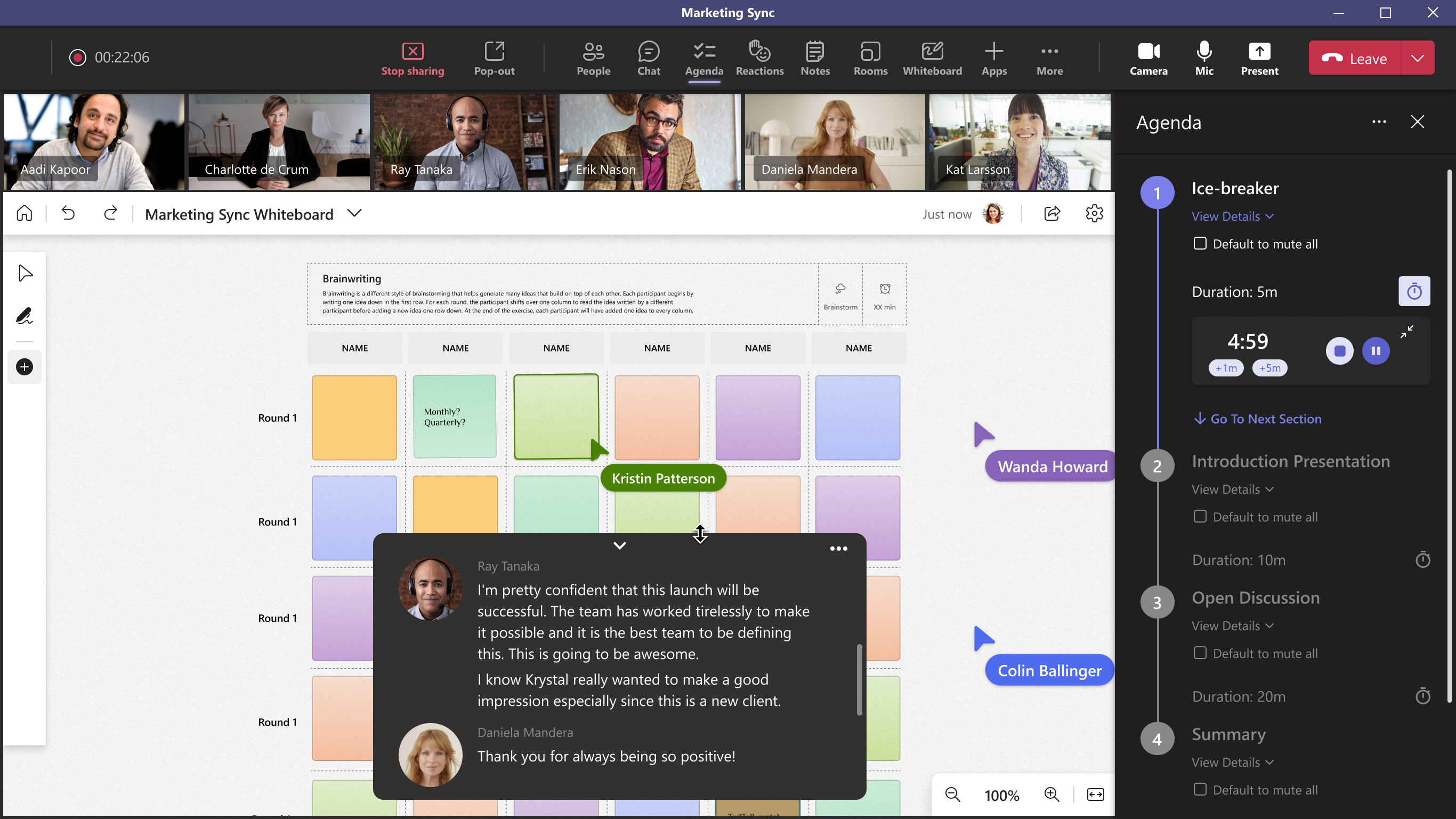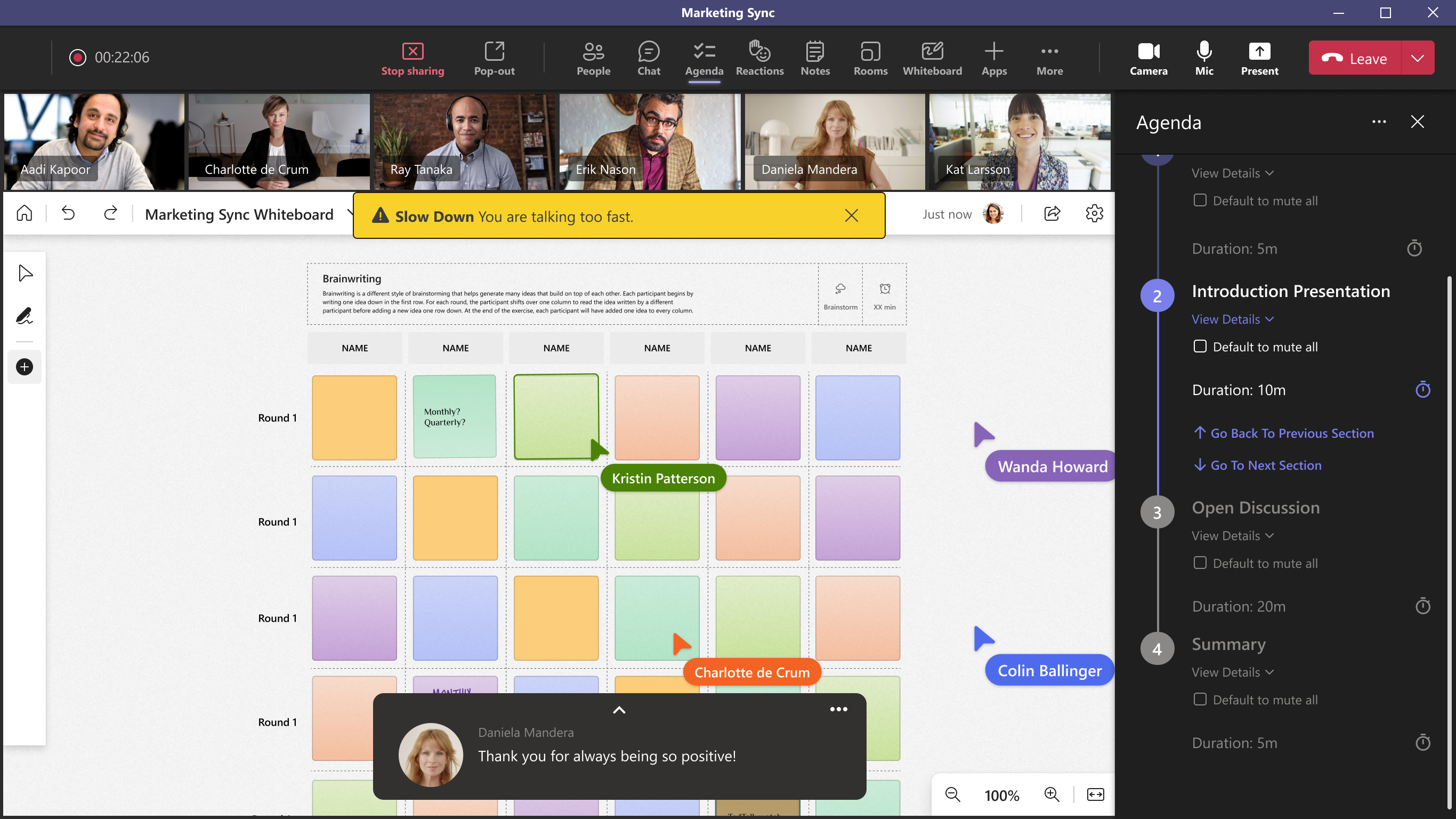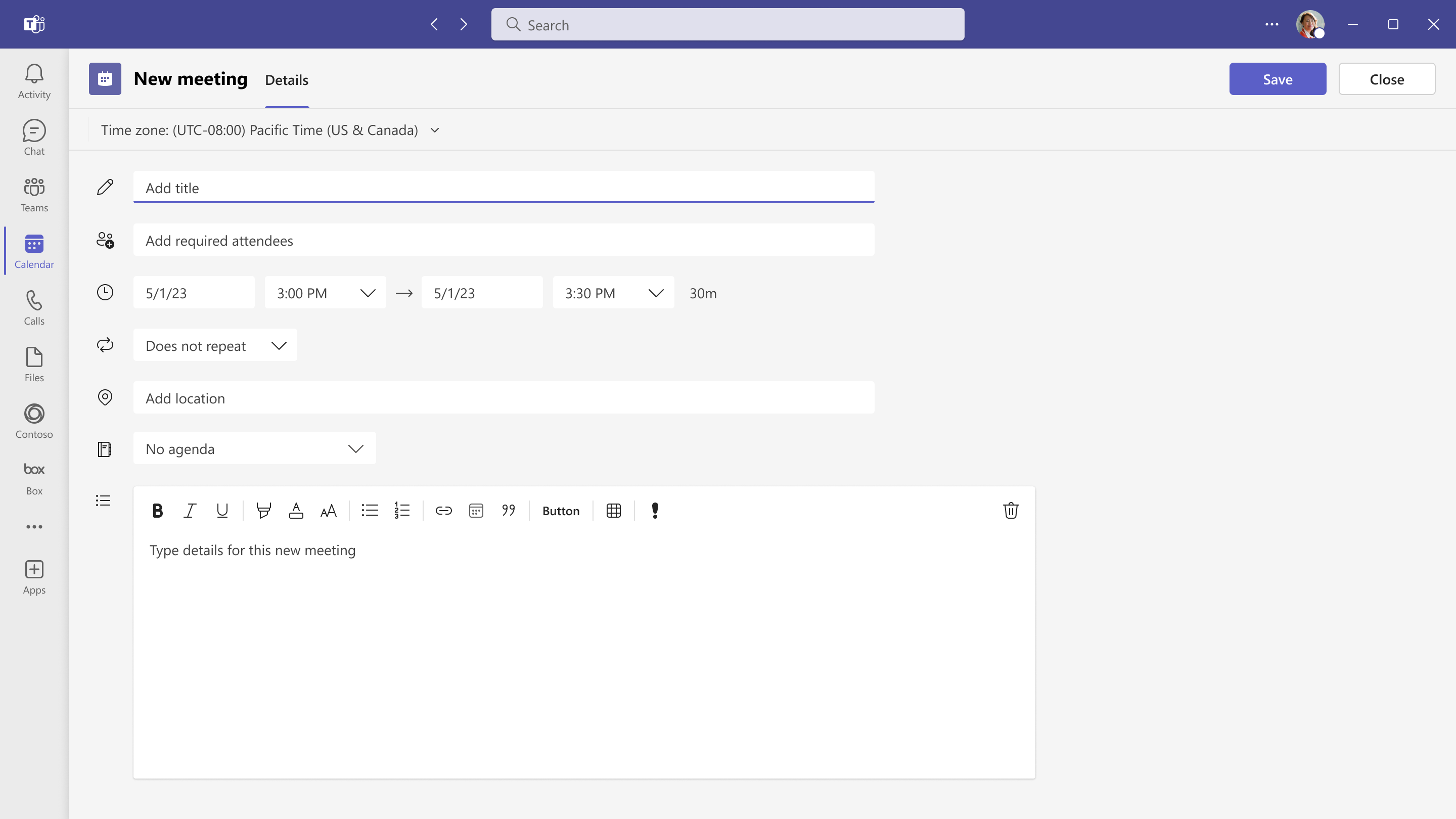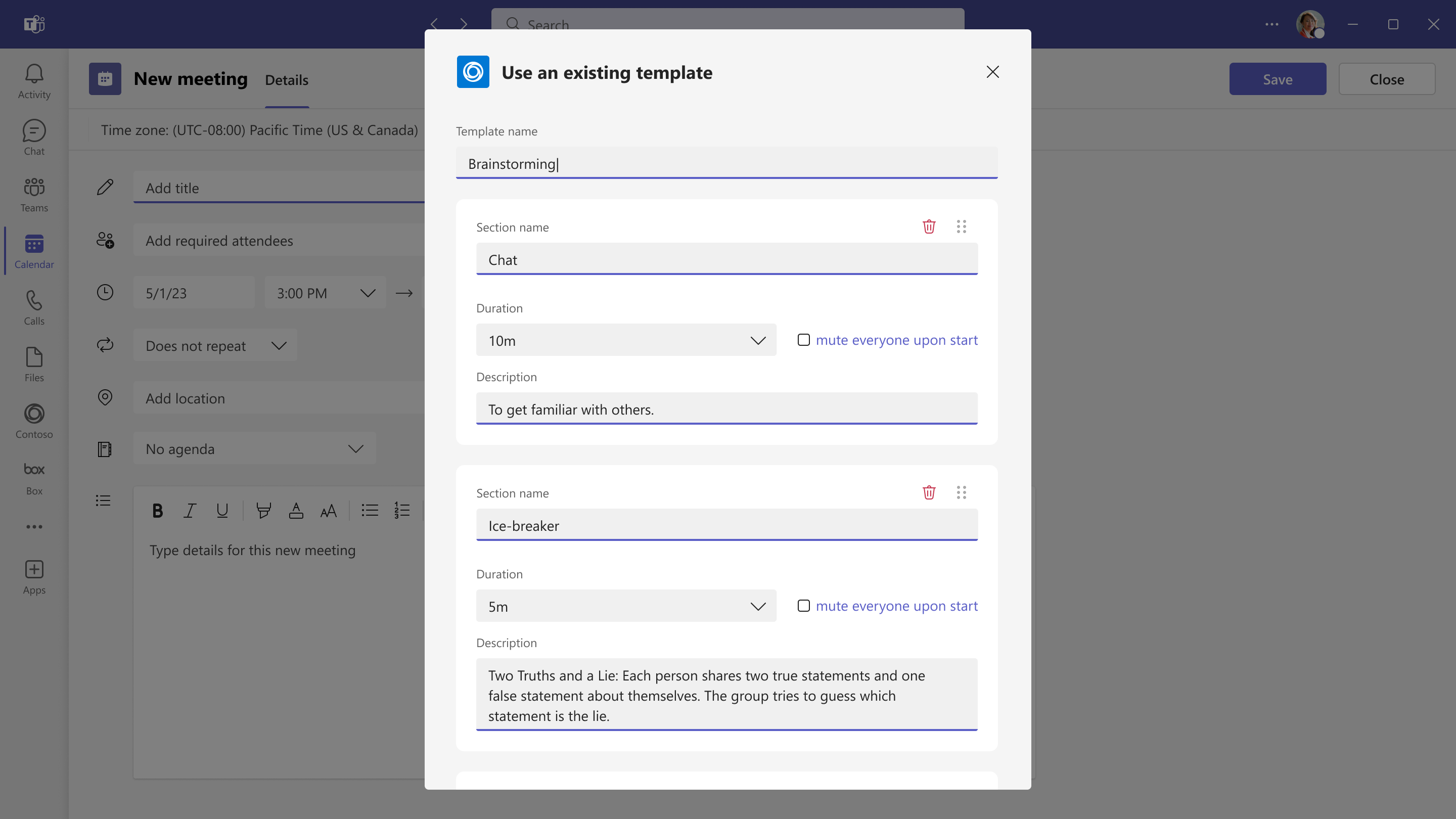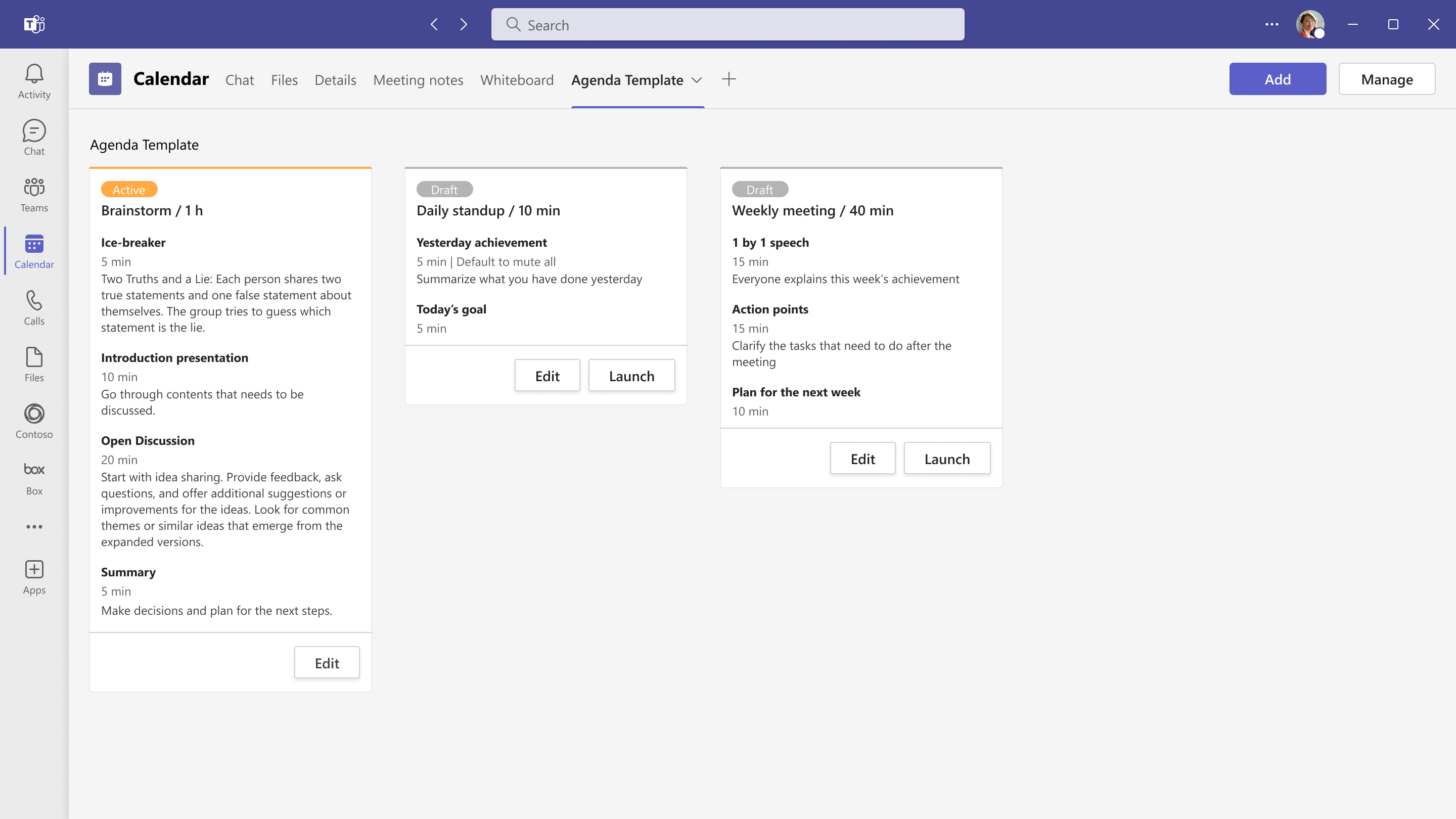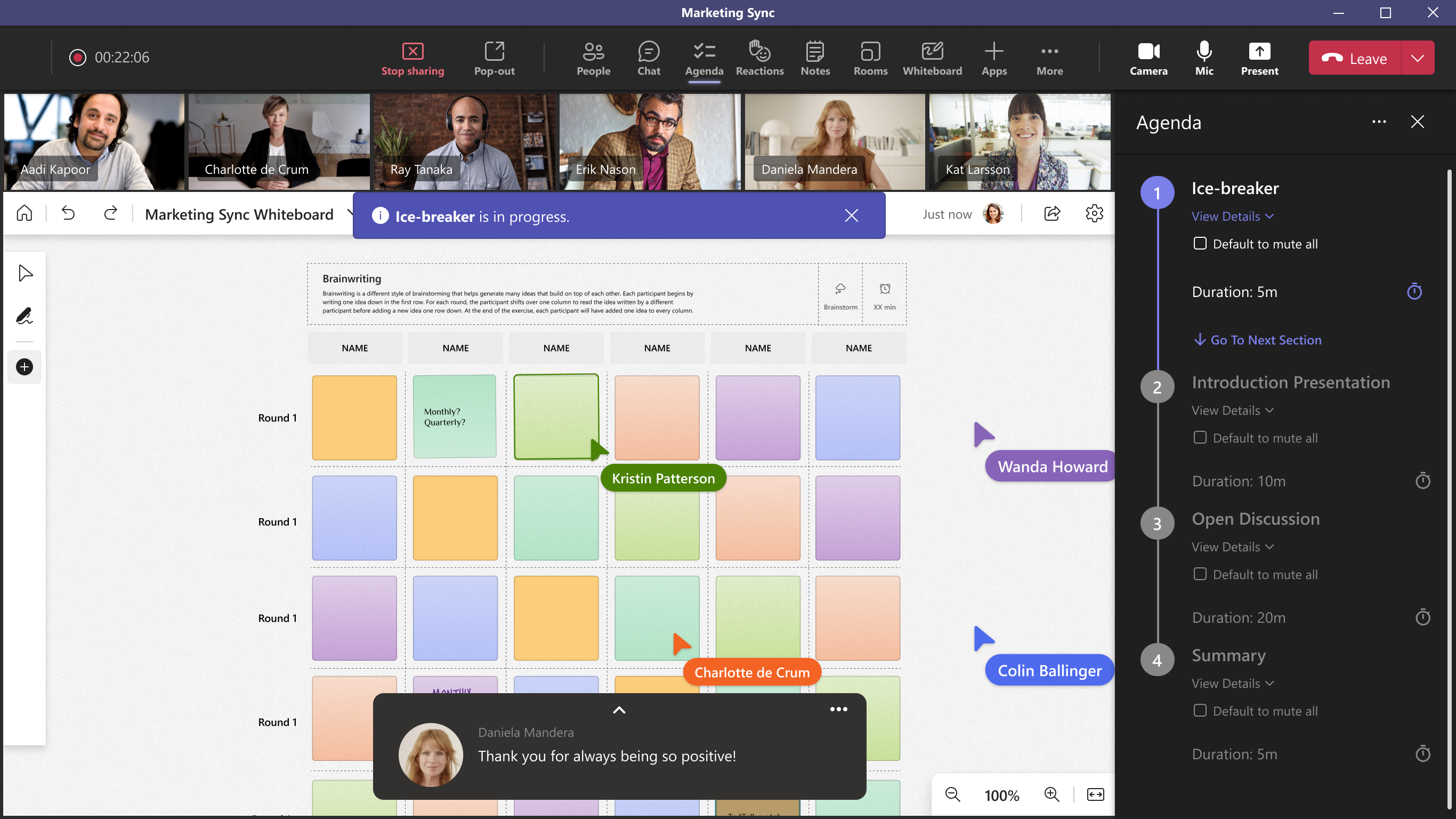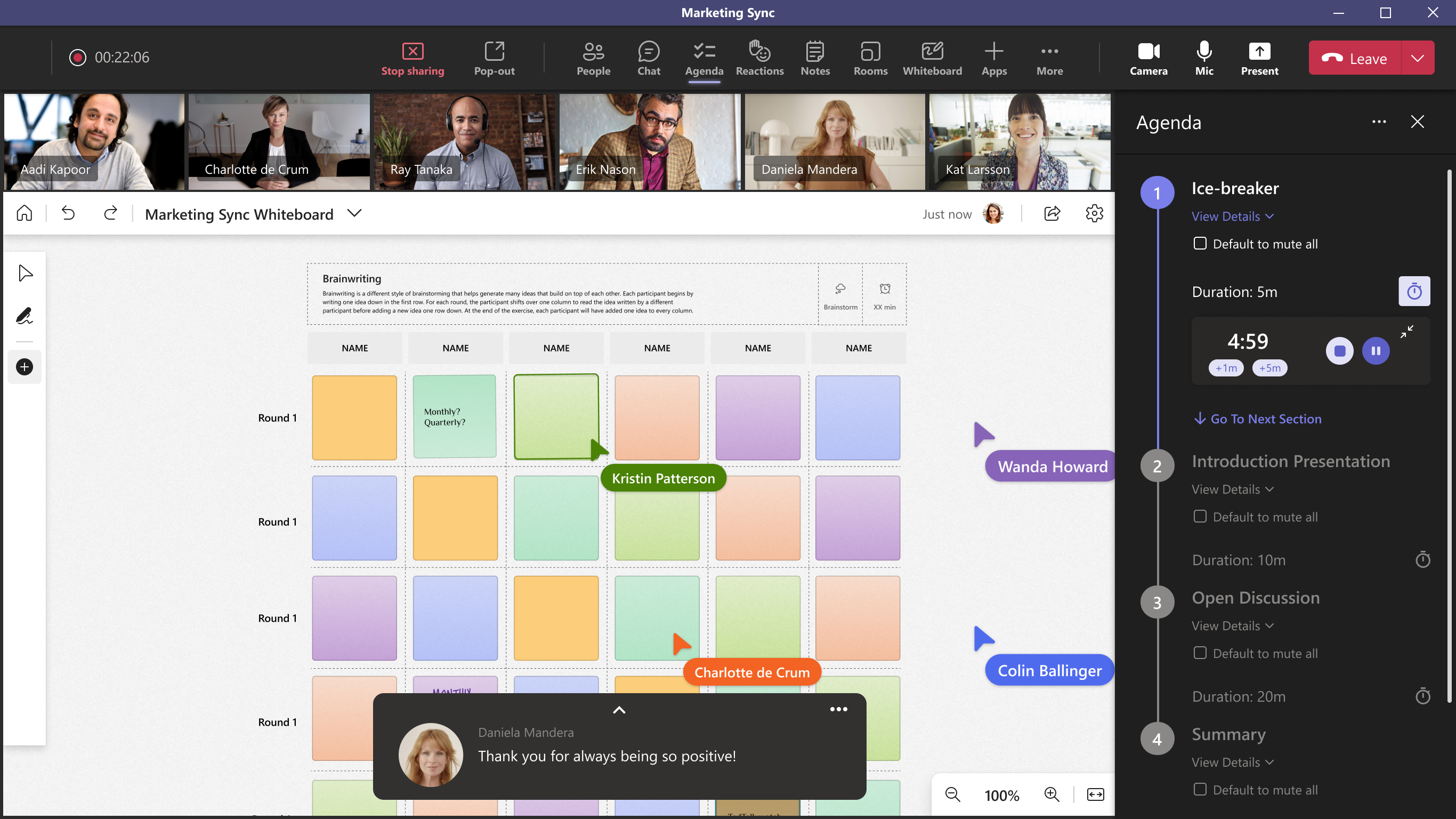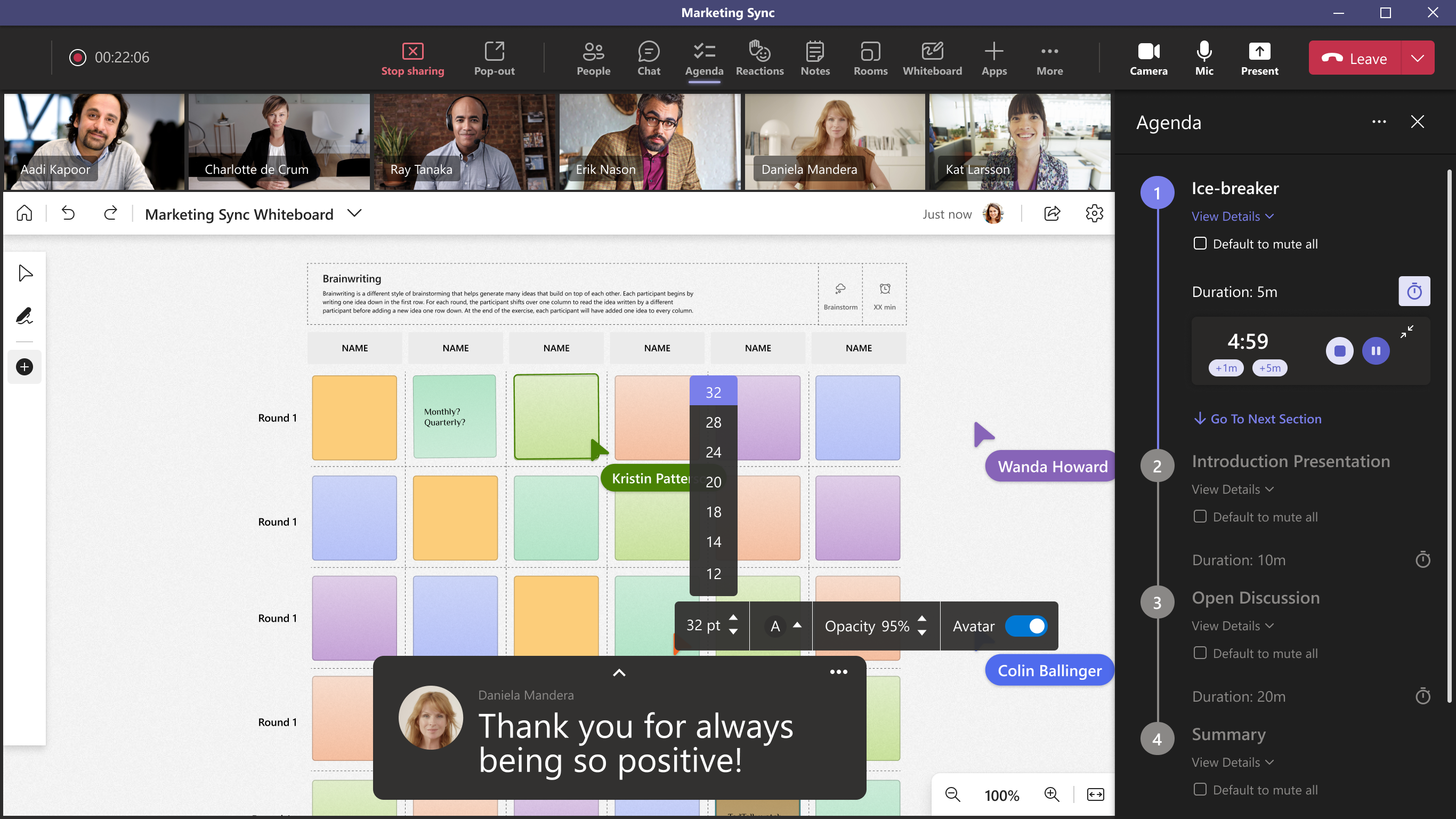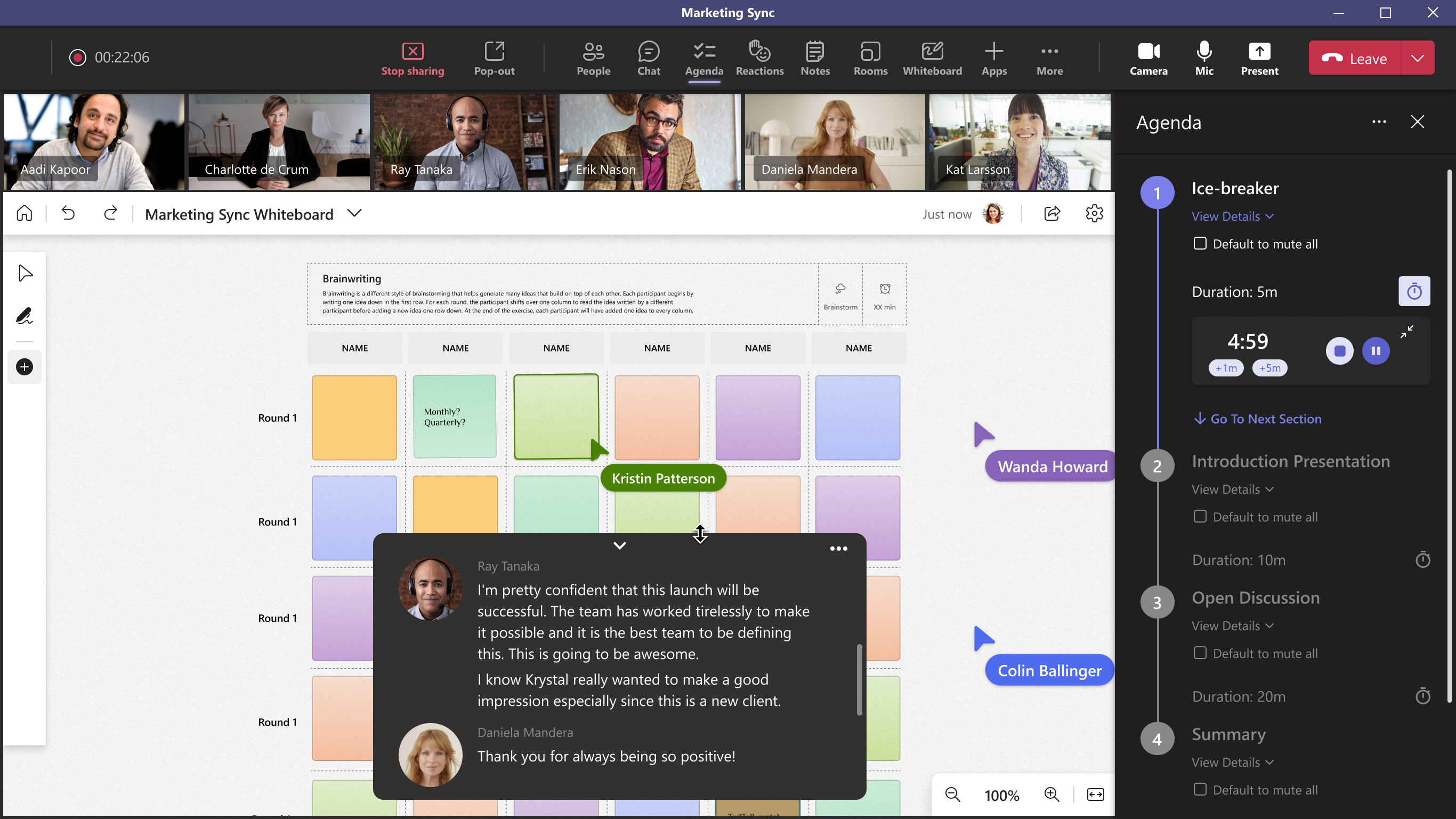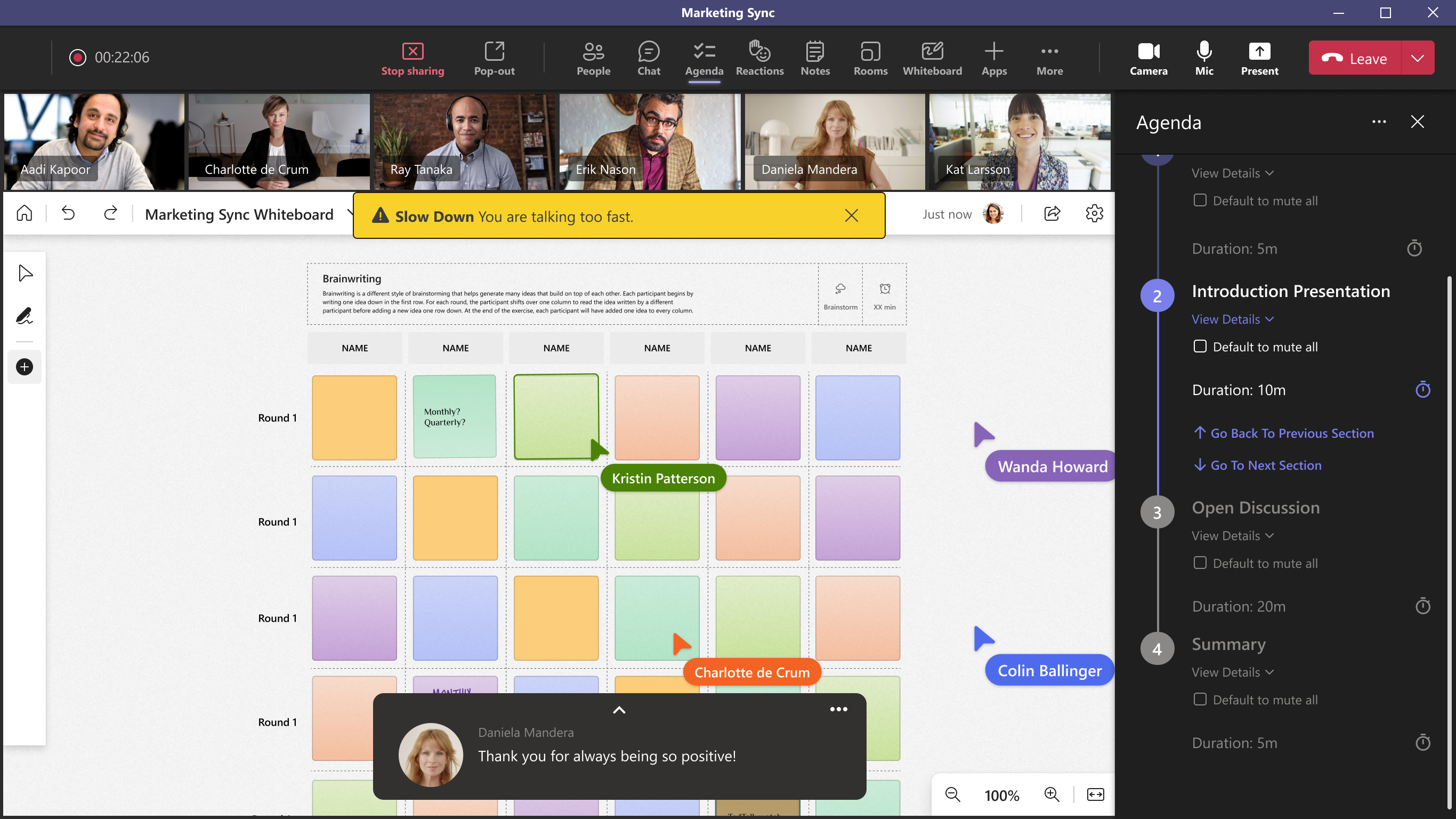 More Usability Testing
In future iterations, we intend to expand our research by conducting evaluations with D/deaf and hard of hearing individuals who rely on ASL interpreters and CART captionists. Additionally, we are interested in engaging with the DeafBlind population to gather their perspectives and accommodate their access needs. By including a diverse range of individuals, we aim to enhance the effectiveness and inclusivity of our design.
More Features
Due to time and resource constraints, we chose four main features to design and develop during the project. However, we also propose three more features that can be added in the future to assist a more efficient and mature user experience of the product.
01. Video Resizing
Add the option for participants to resize Teams video windows and zoom in and out, enabling better lip-reading by customizing the viewing experience to focus on specific speakers.
02. Interpreter Channel
Create a channel for DHH participants and their interpreters to communicate directly during meetings, as well as ensuring their joint participation in breakout rooms and activities.
03. Meeting Summary
Leverage AI technology to automatically generate meeting minutes and caption recaps after each meeting, providing comprehensive and accurate documentation of discussions.
Be Prepared for Anything
Working with an underrepresented group such as D/deaf and hard of hearing participants required thorough preparation. Despite consulting subject matter experts beforehand, we still encountered unexpected challenges.
This project taught me the importance of adapting to changing circumstances, prioritizing our target users, and avoiding assumptions.
Think Outside UX
Throughout the project, our focus primarily revolved around UI/UX research and design. However, I also realize the potential for broader and longer-term impact with our project and strategic changes across platforms and products.
In hindsight, we should have proactively reached out to accessibility organizations earlier in the process to gain fresh perspectives and expand our work.