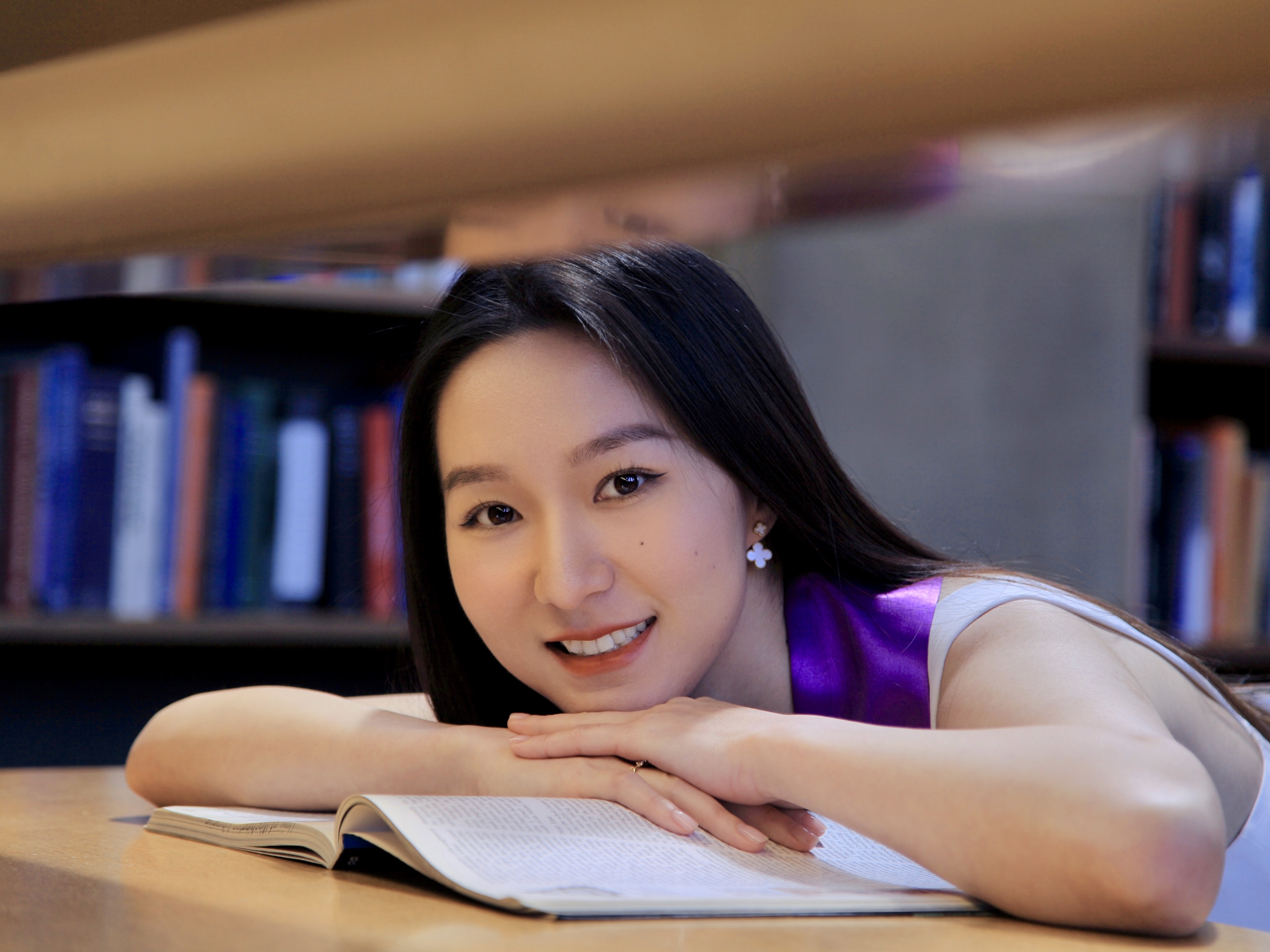 Slalom Relay
An alumni portal for former employees at Slalom Consulting, LLC.
My Role
Sole UI/UX Designer
Duration
June - August 2022 (10 weeks)
Team
2 Product Managers, 6 Software Engineers, 2 Quality Engineers, and 1 Platform Engineer from Slalom Build
Project Overview
Slalom is a business and technology consulting firm headquartered in Seattle, Washington. The company employs more than 13,000 people in 45 markets and 11 Build Centers across North America, Europe, and Asia Pacific. Its rich and friendly culture is well known and attracts both new employees joining and former employees coming back.
This online alumni portal hopes to create an active community for past employees, continue the connection between the company and these employees, and provide an opportunity for them to return to the company.

Interviews
In order to get more insights on the project, we conducted three user interviews with former employees, mainly focusing on understanding the current situation of alumni network and their needs. Here were some findings:
Currently the alumni connects with the company and other colleagues via Slack and LinkedIn, but both are considered inactive and inefficient.

They are more than willing to recommend people in his network for opportunities at prior employers, however they have had a difficult time finding ways to connect them with people in charge within that Company in a timely fashion.

Content wise, they are interested in behind-the-scene stories of Slalom pursuits/successes, beyond what is given in Press Releases.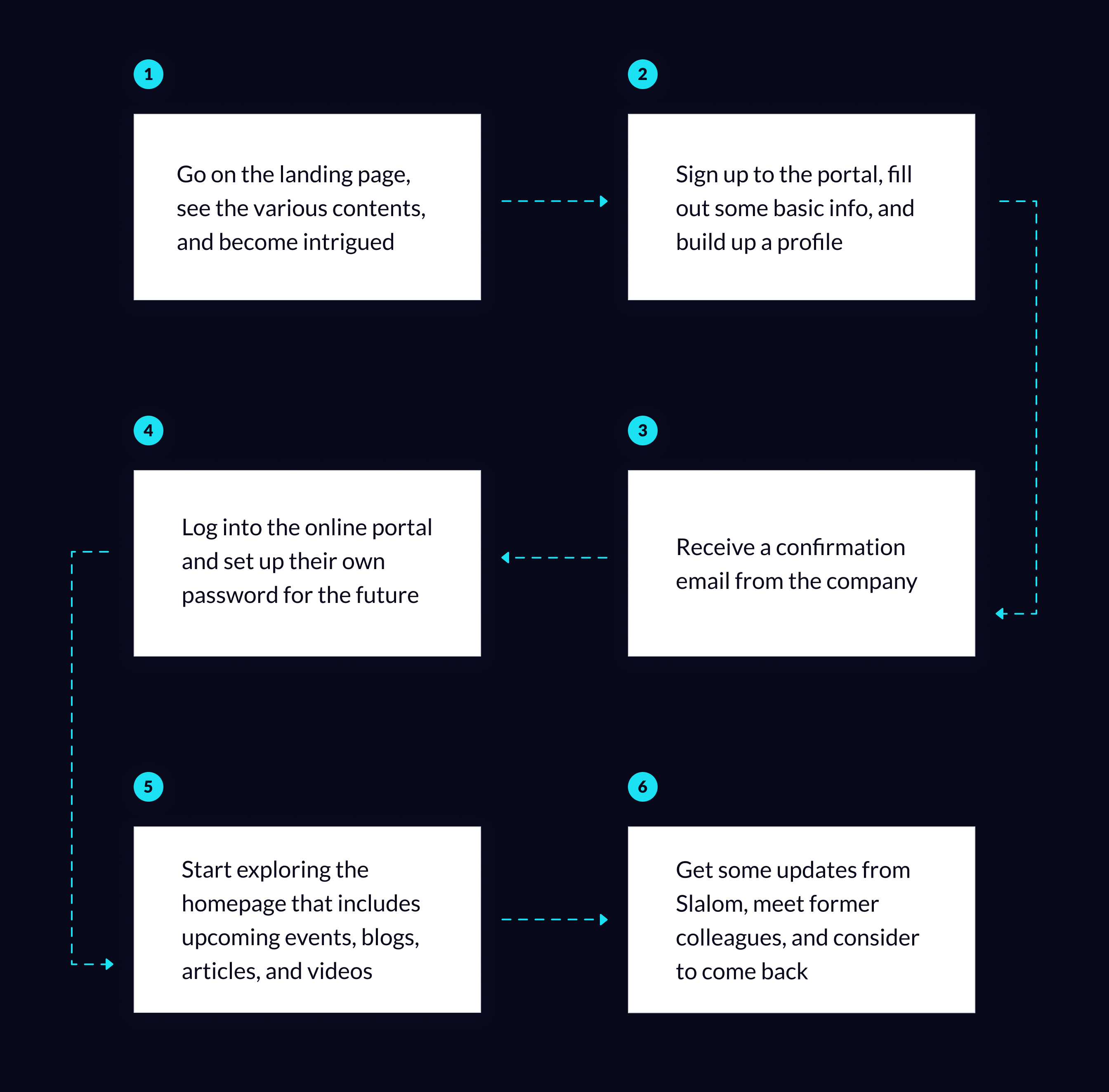 Persona 1: Alumni
Alumni are former employees who left the company, but still want to get more information from the company and stay connected for further opportunities.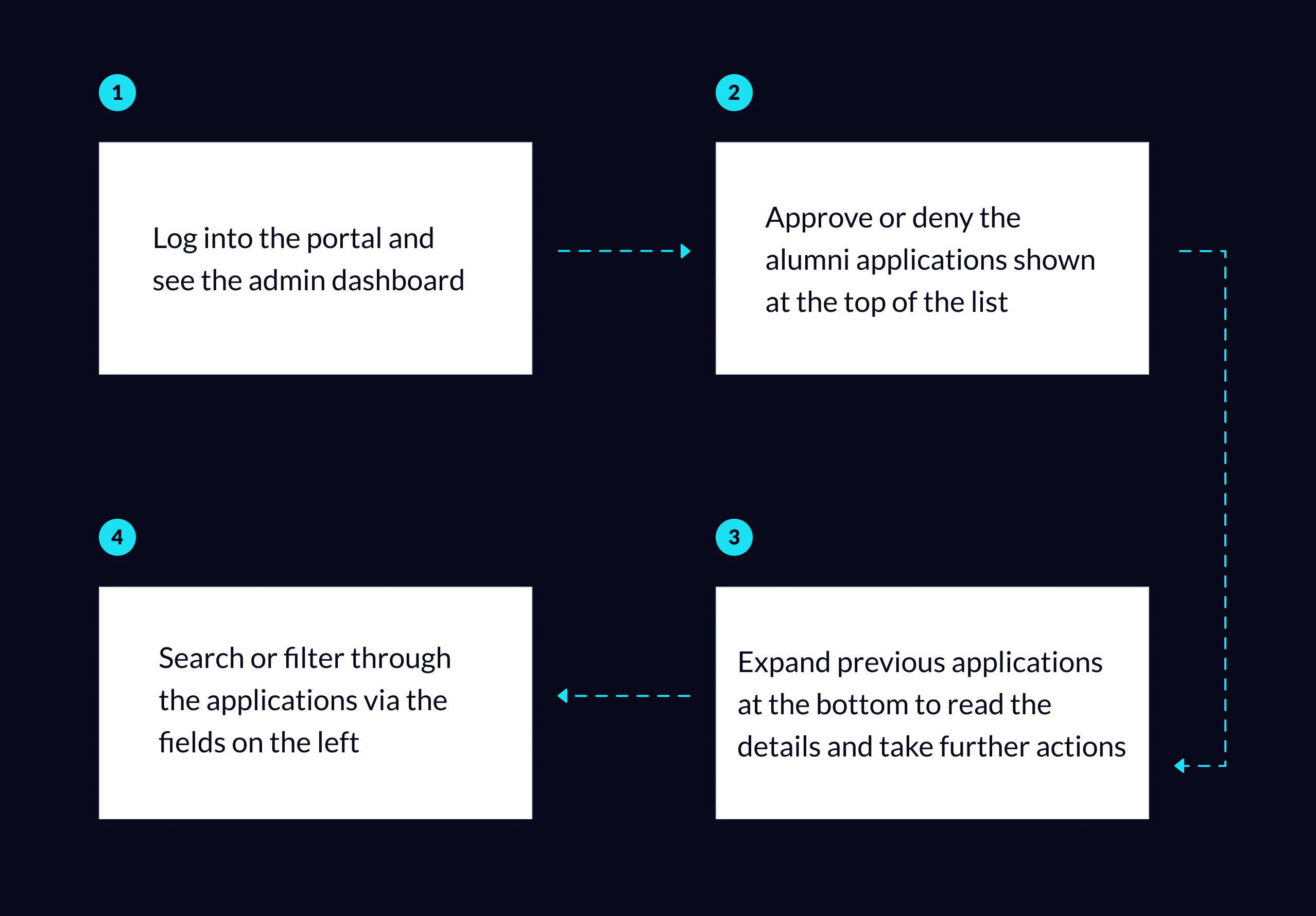 Persona 2: Administrators
Admins are Operations Managers, Human Resources, and Talent Acquisitions who are currently in the company. They are in charge of putting up contents and approving certain alumni onto the portal.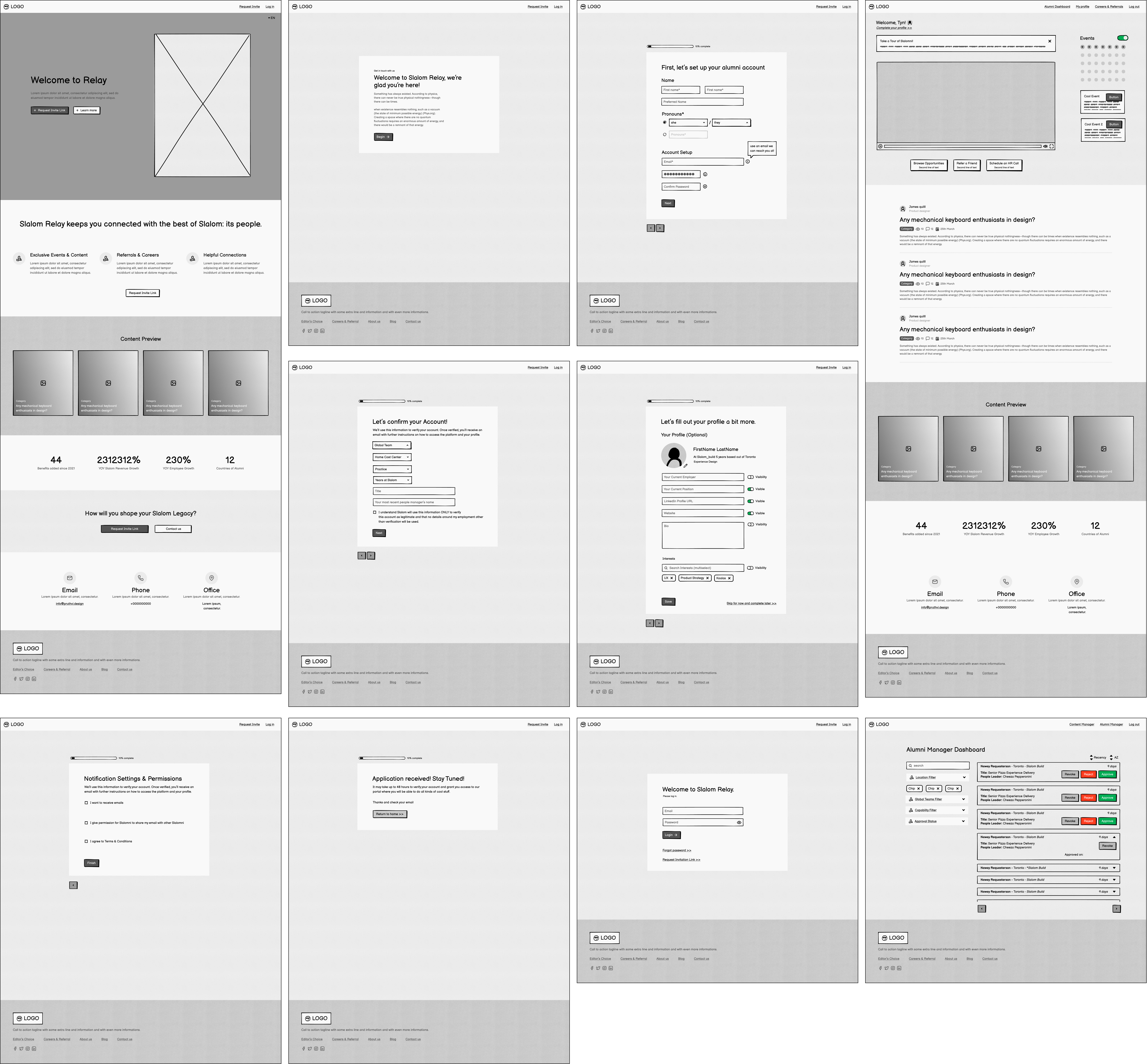 Wireframes
The first delivery was low-fidelity wireframes for the main screens based on the user journey maps. This includes:
Public landing page

Alumni registration flow

Alumni log in page

Alumni private homepage

Admin dashboard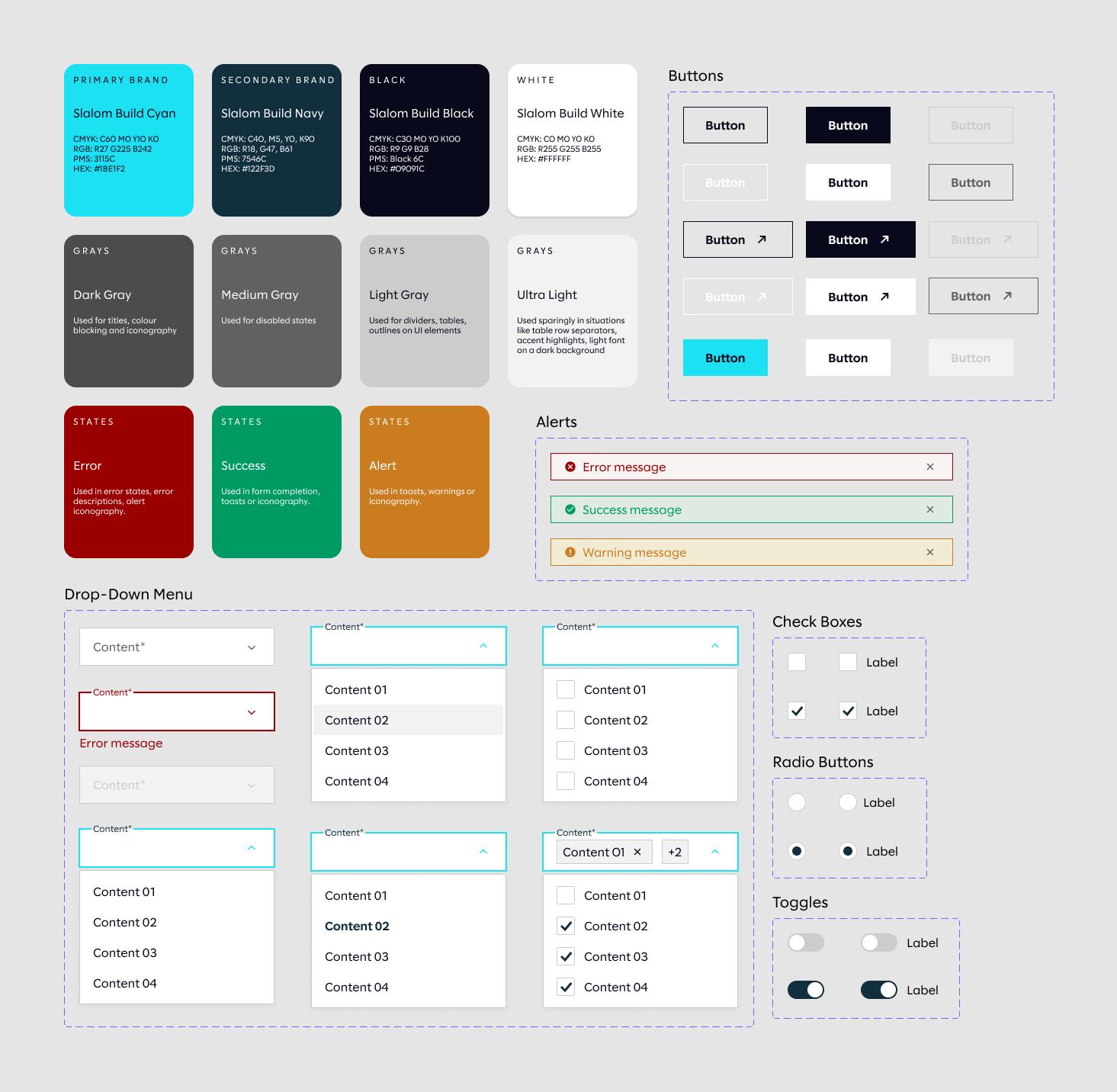 Design Library
The design system includes all most-frequently-used components, so that they could be developed by engineers and reused by future designers. This library also passes the accessibility testing and is consistent with the company's branding.
Prototype
Using wireframes and the design system library as reference, I started building prototypes, considering edge cases, and generating notes for developers.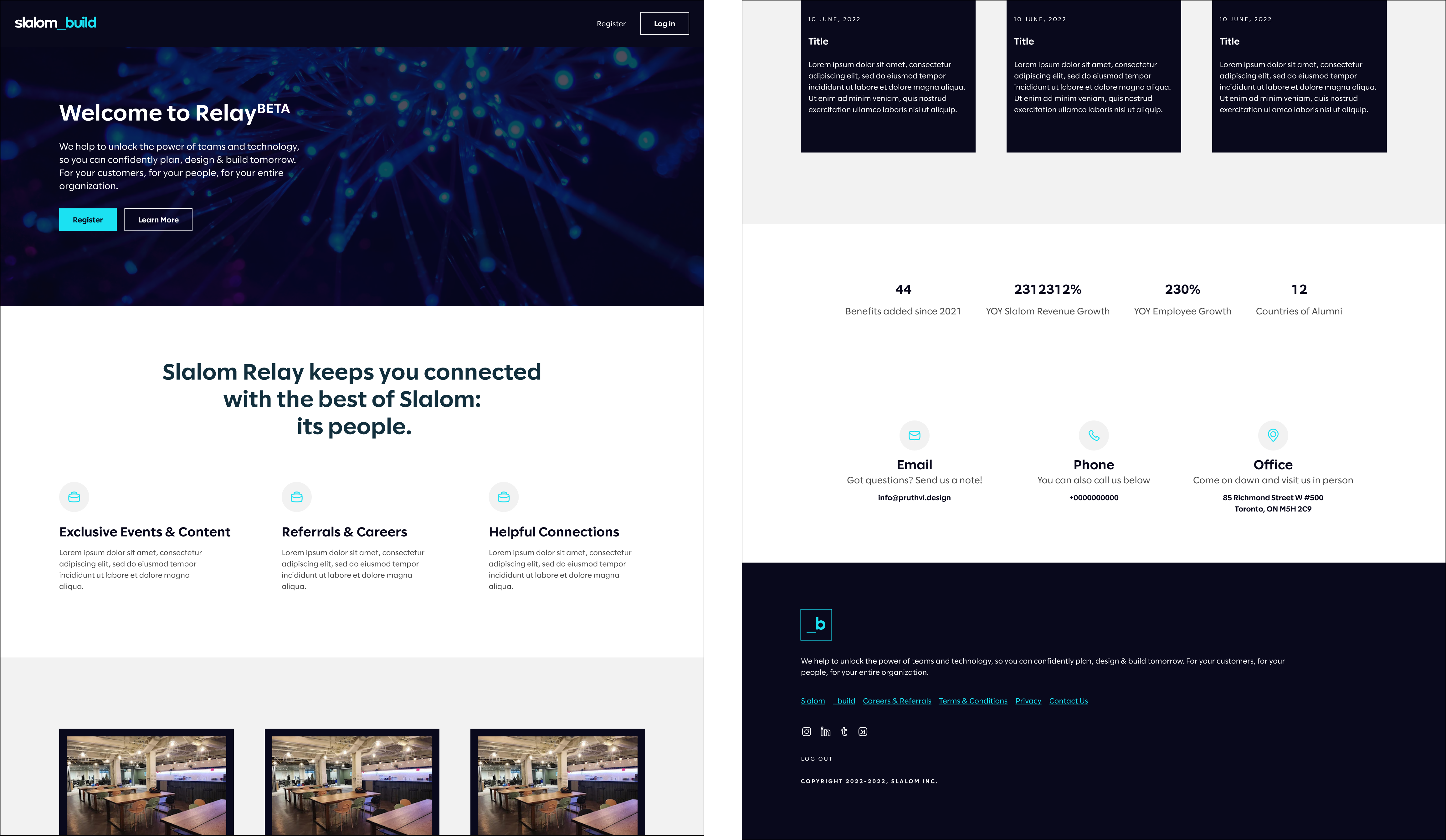 Public Landing Page
Various contents, such as an overview, fun facts and more, are on this page. When users first get on the site, these will serve as compelling reasons that persuade alumni to sign up and join the portal.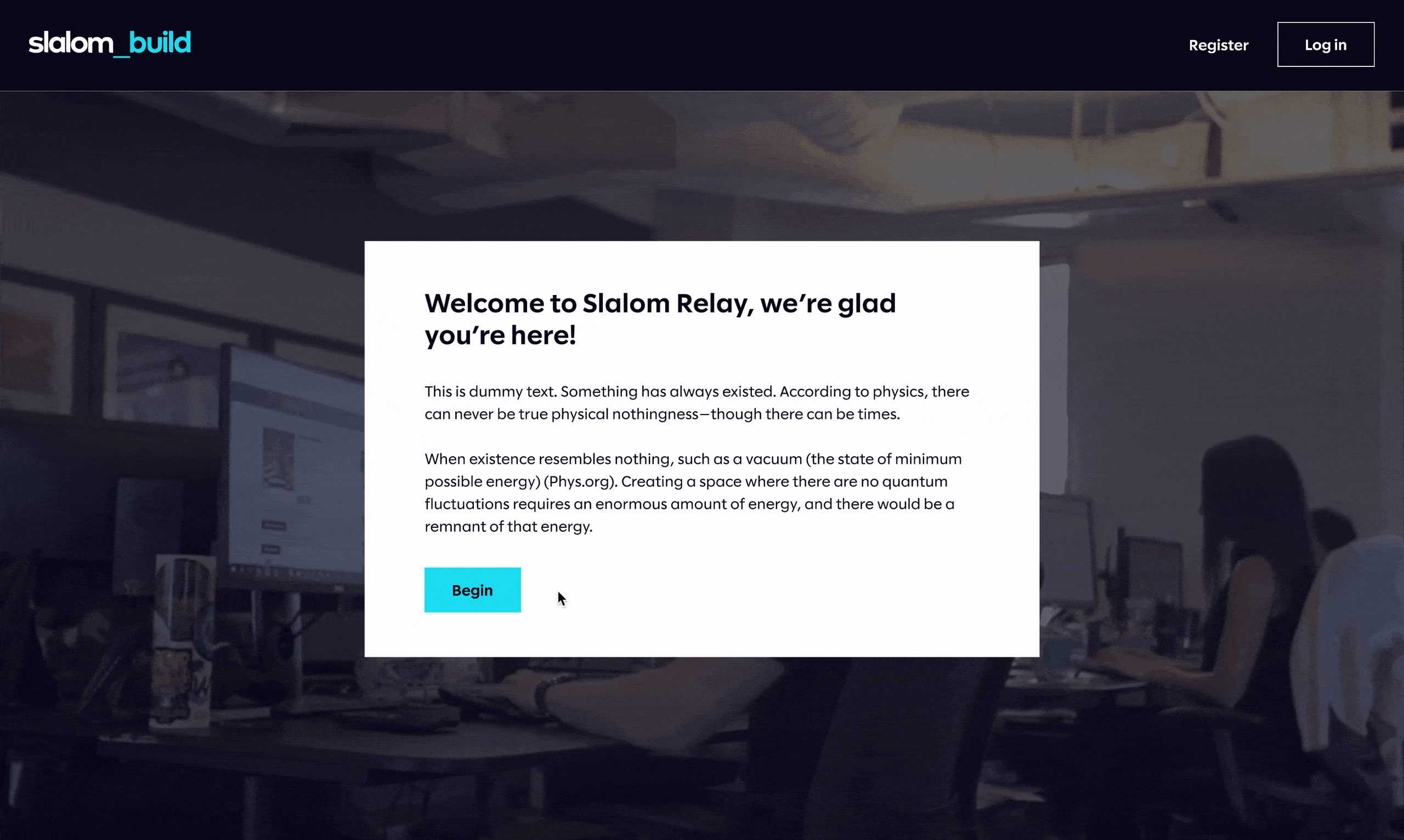 Alumni Registration Flow
Once alumni are intrigued, they would begin the registration flow by putting in their basic information.
After admins approve their application, alumni would receive a confirmation email.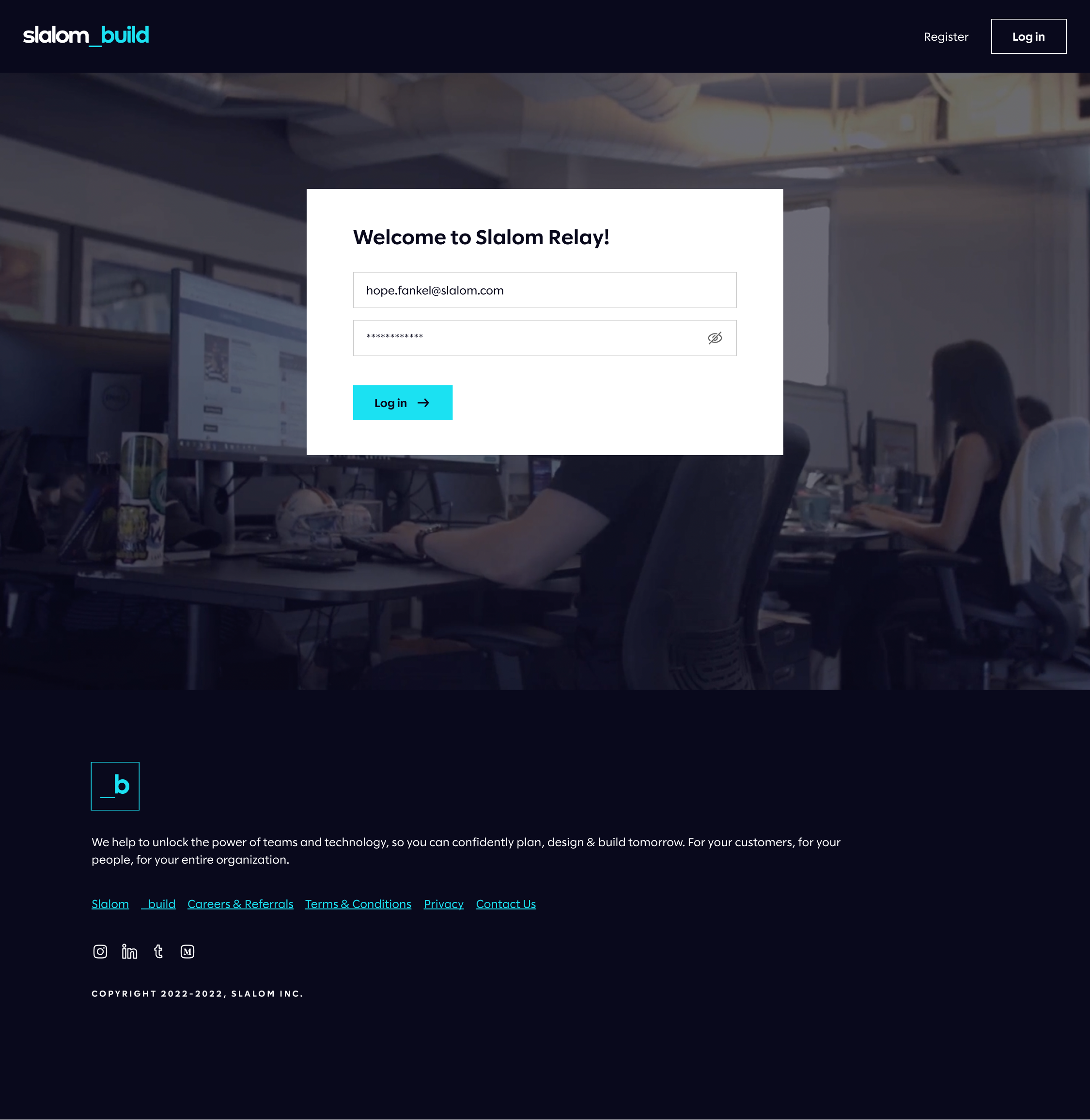 Alumni Log In
When alumni are admitted to the portal, they see this. Due to some backend issues, we are providing newcomers a temporary password for first-time login and then they reset to their own password.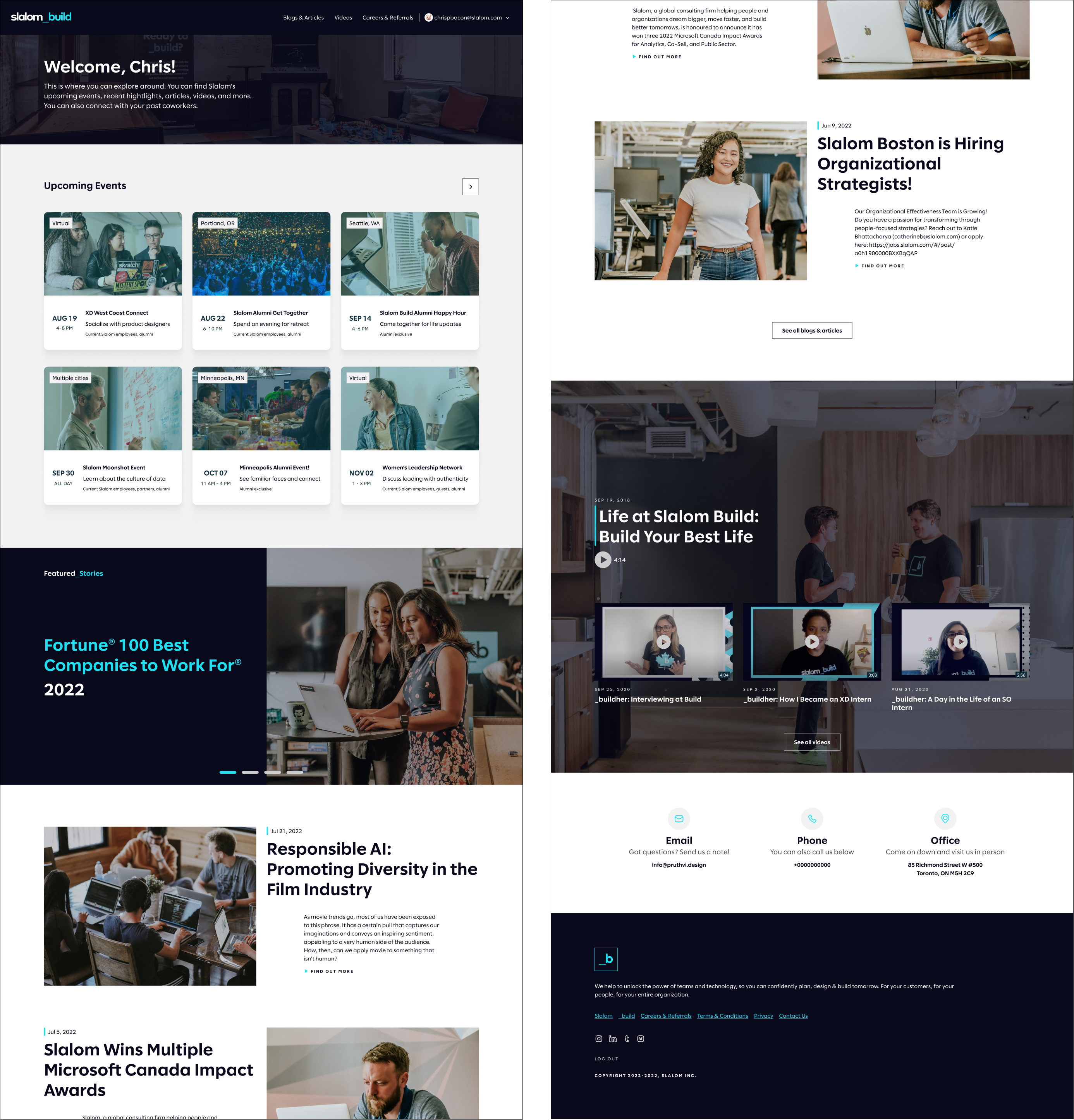 Alumni Private Homepage
Based on user interviews, alumni would be most interested in looking through events hosted for them. So the event section is prioritized.
Stories and articles come up next, keeping alumni up to date with Slalom's news.
Other sections on this page include videos, contact info, etc.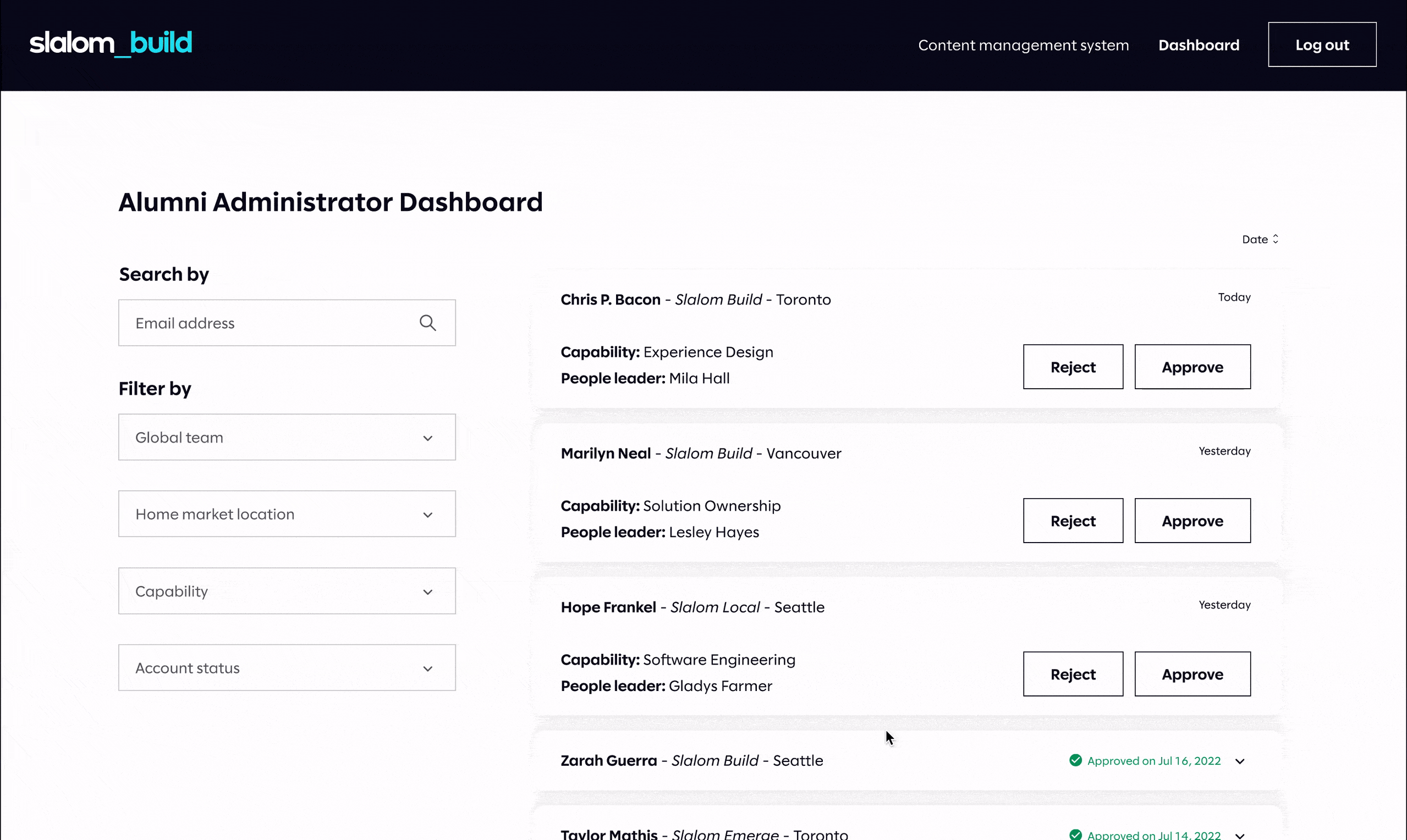 Admin Dashboard
Admins' main task is to approve or deny alumni to become members of the portal.
On the left, admins can search or filter through the applications. On the right, applications that need to be reviewed are shown at the top.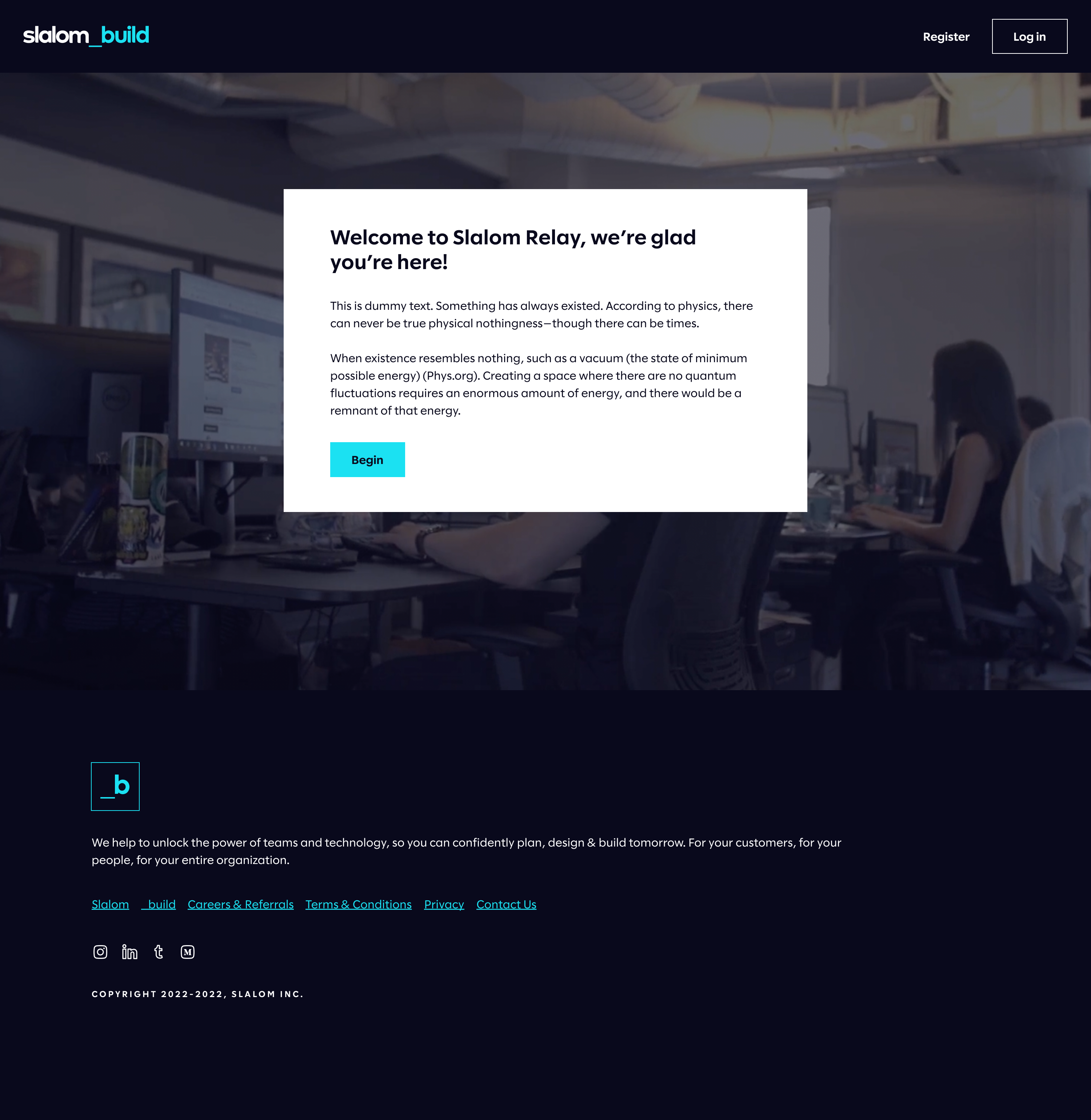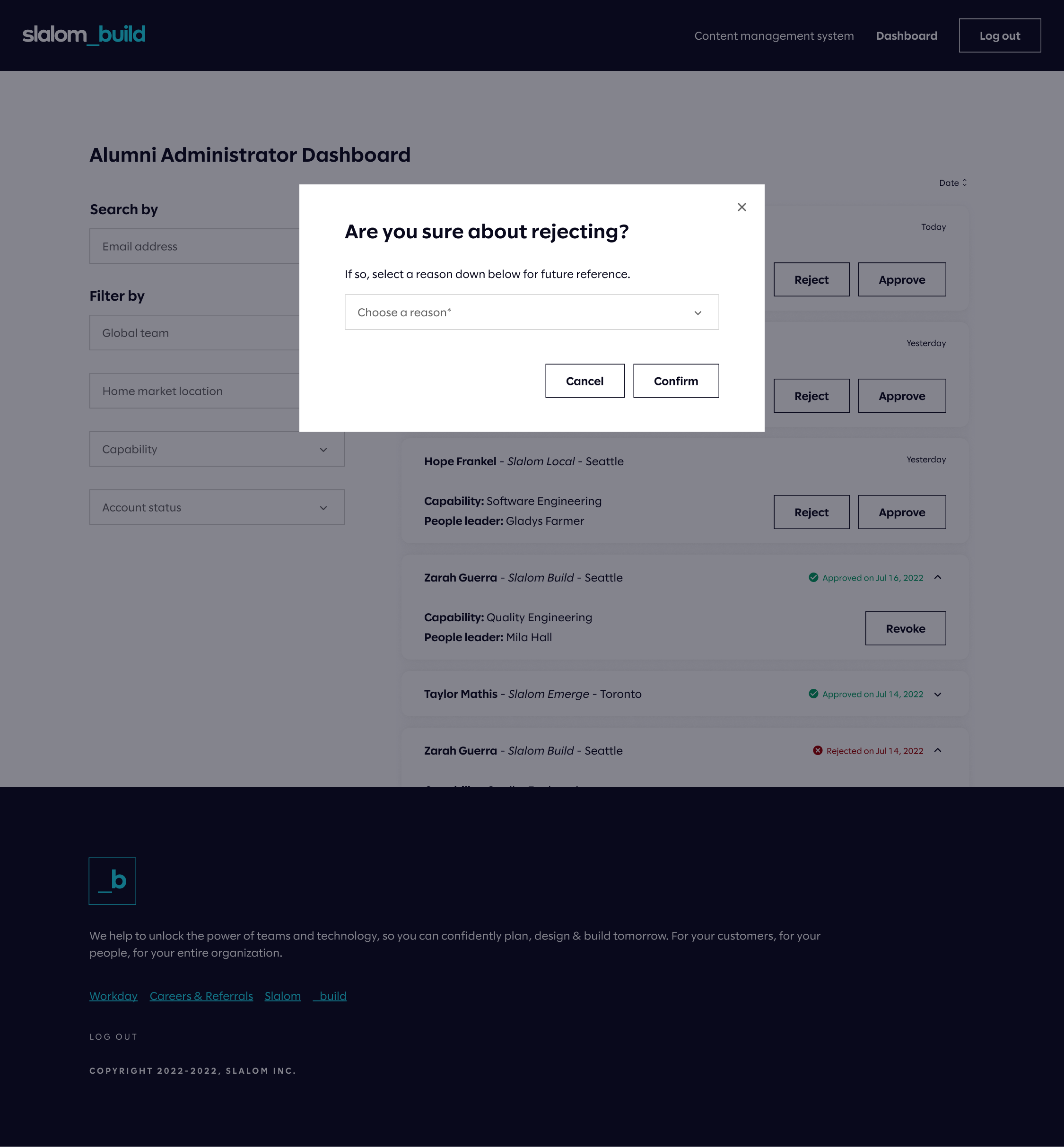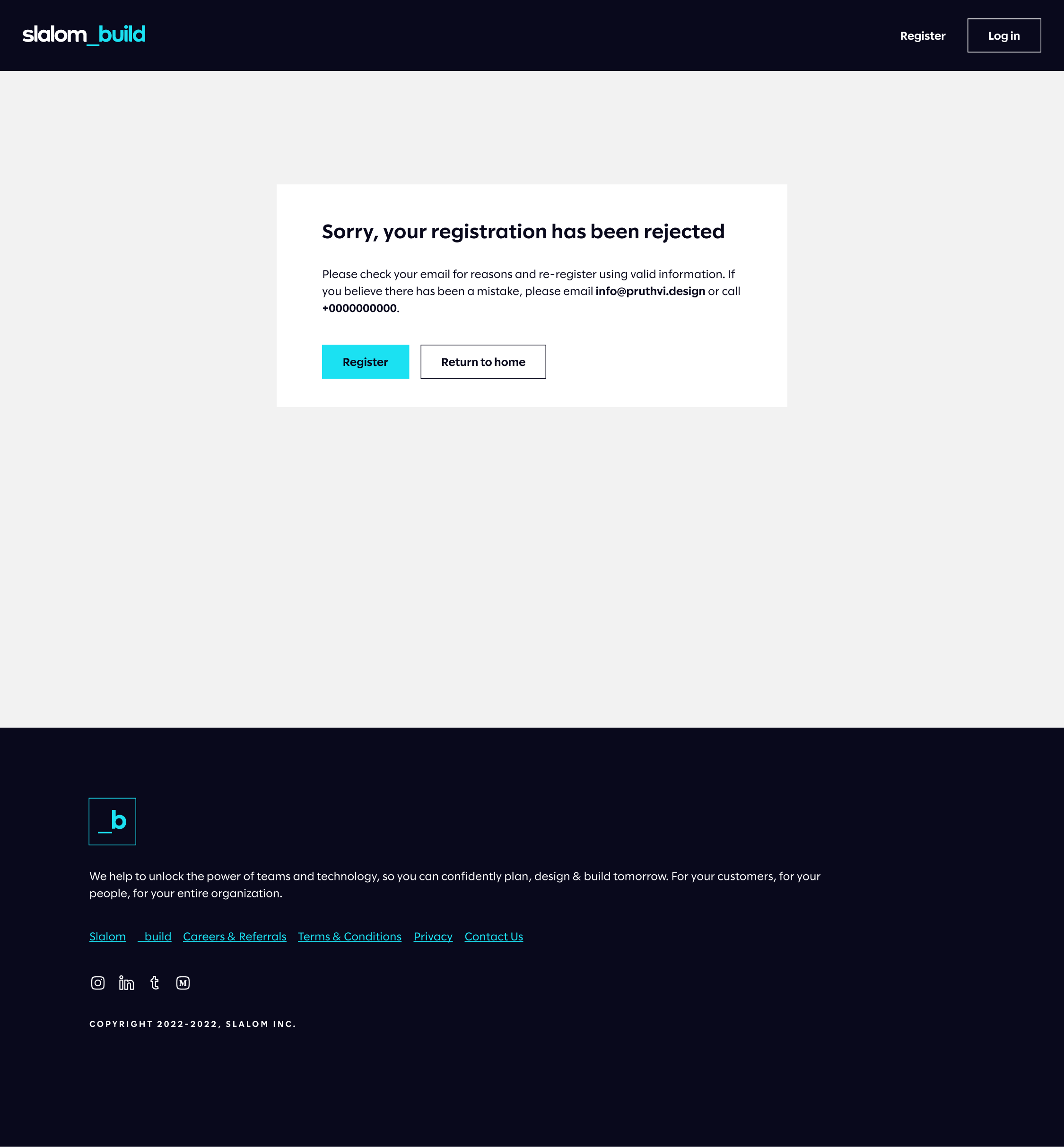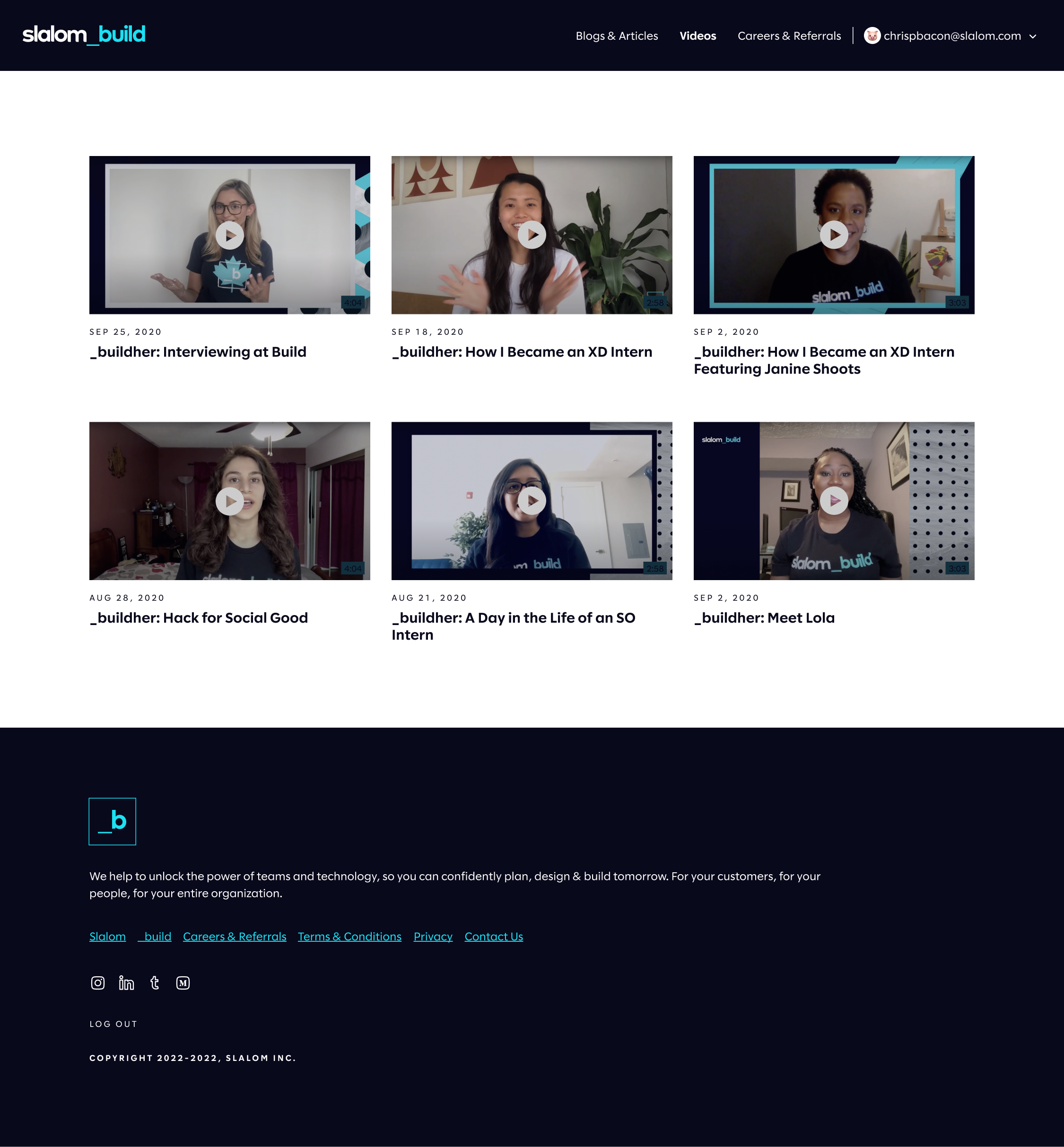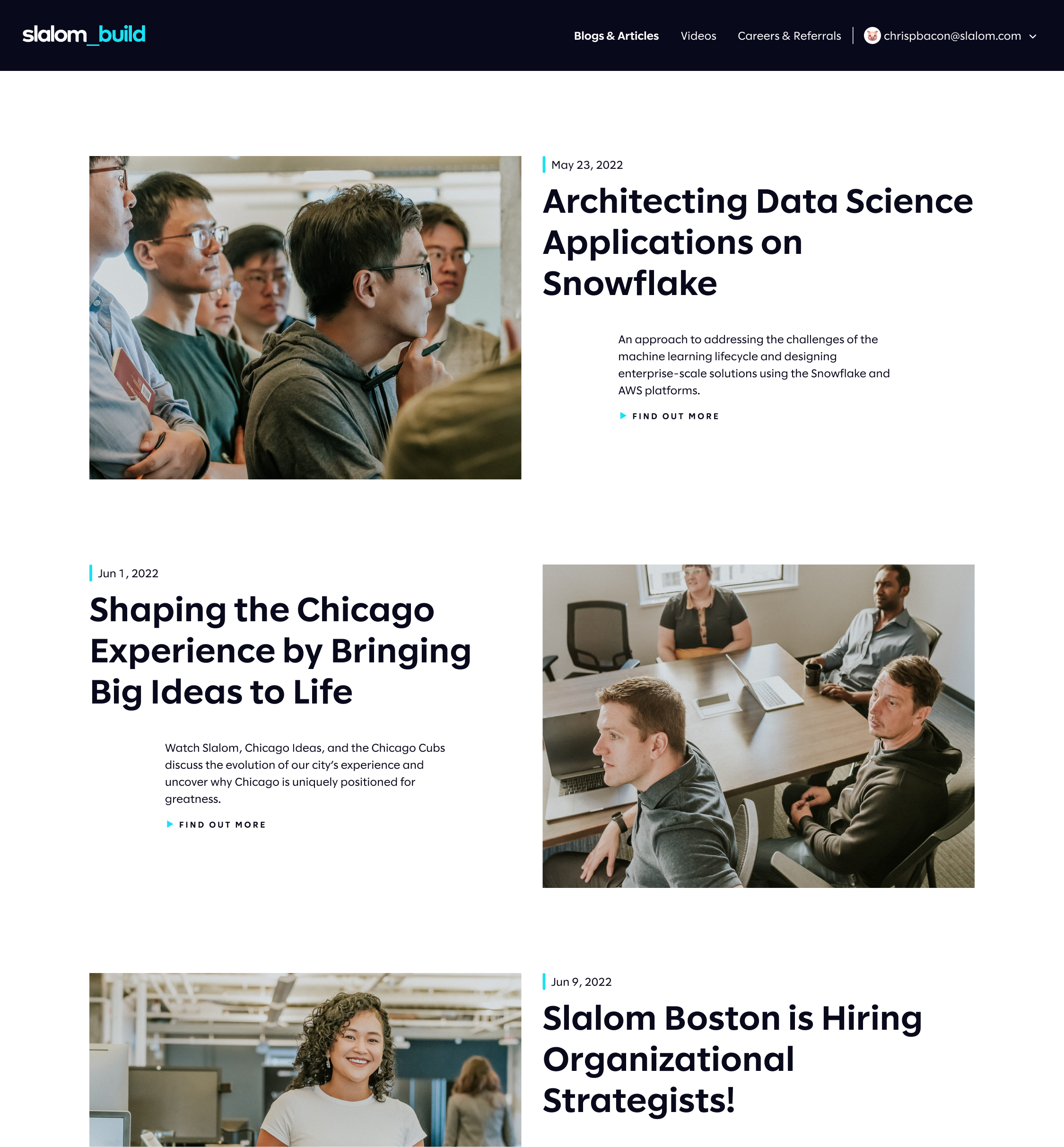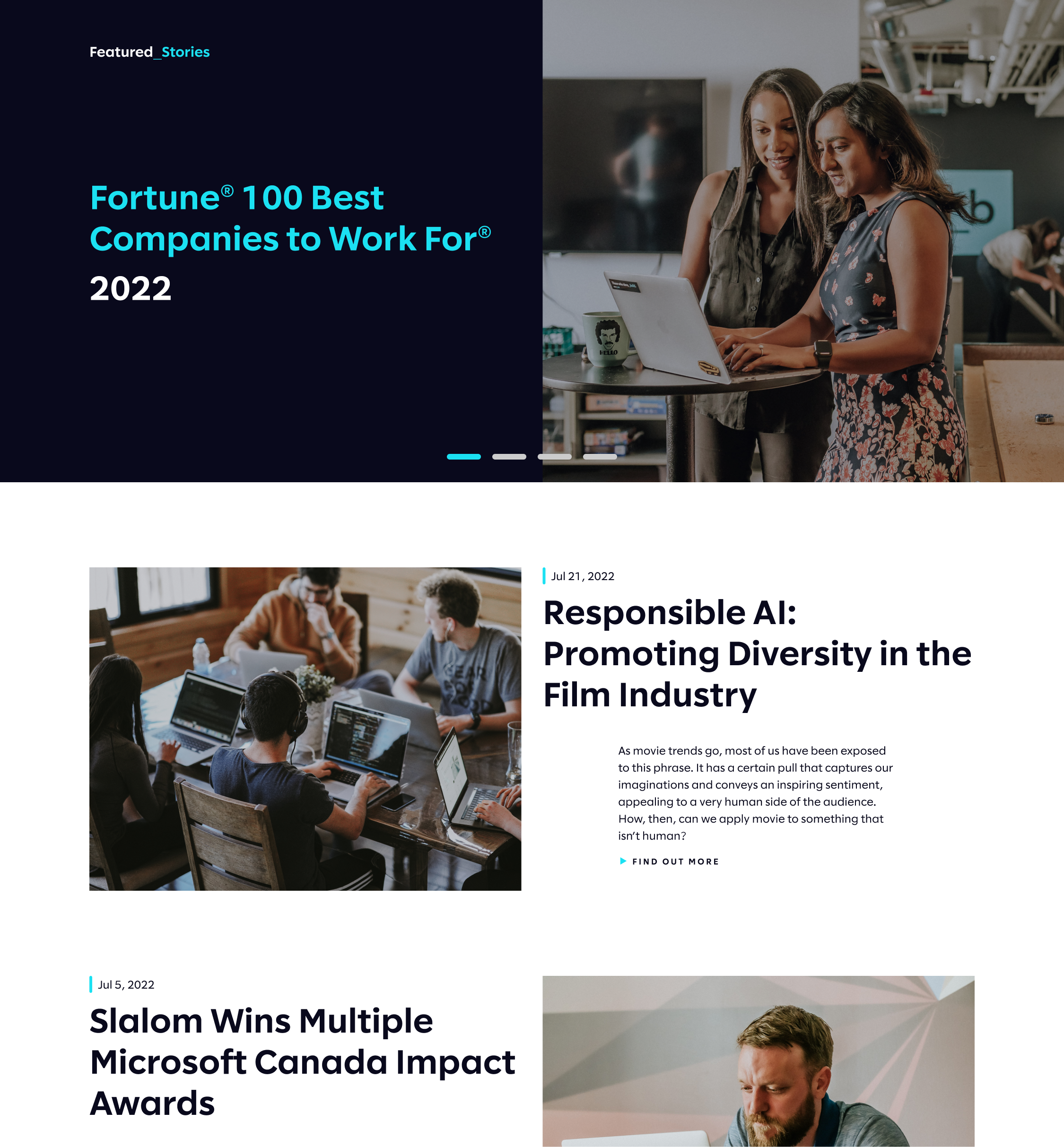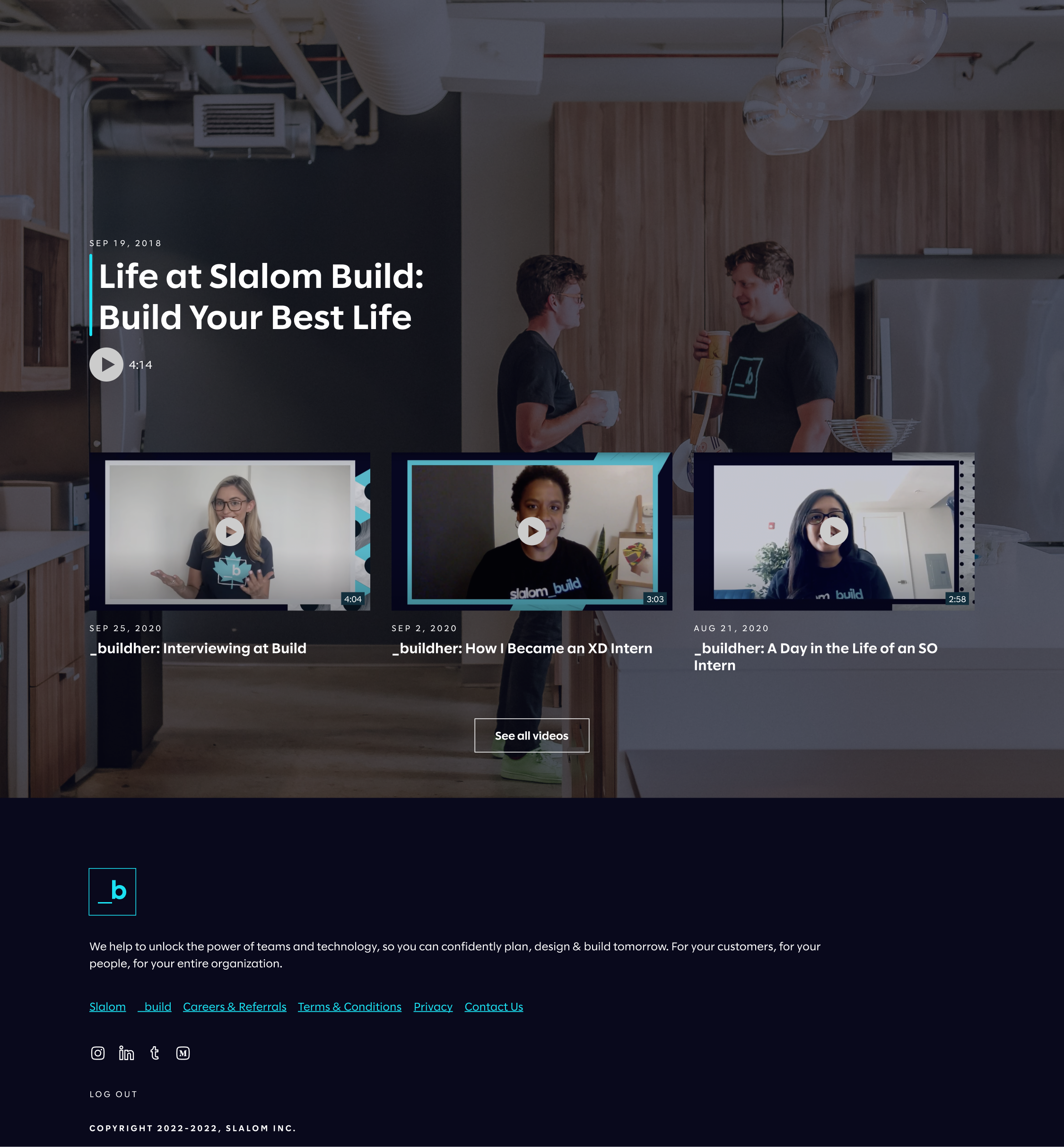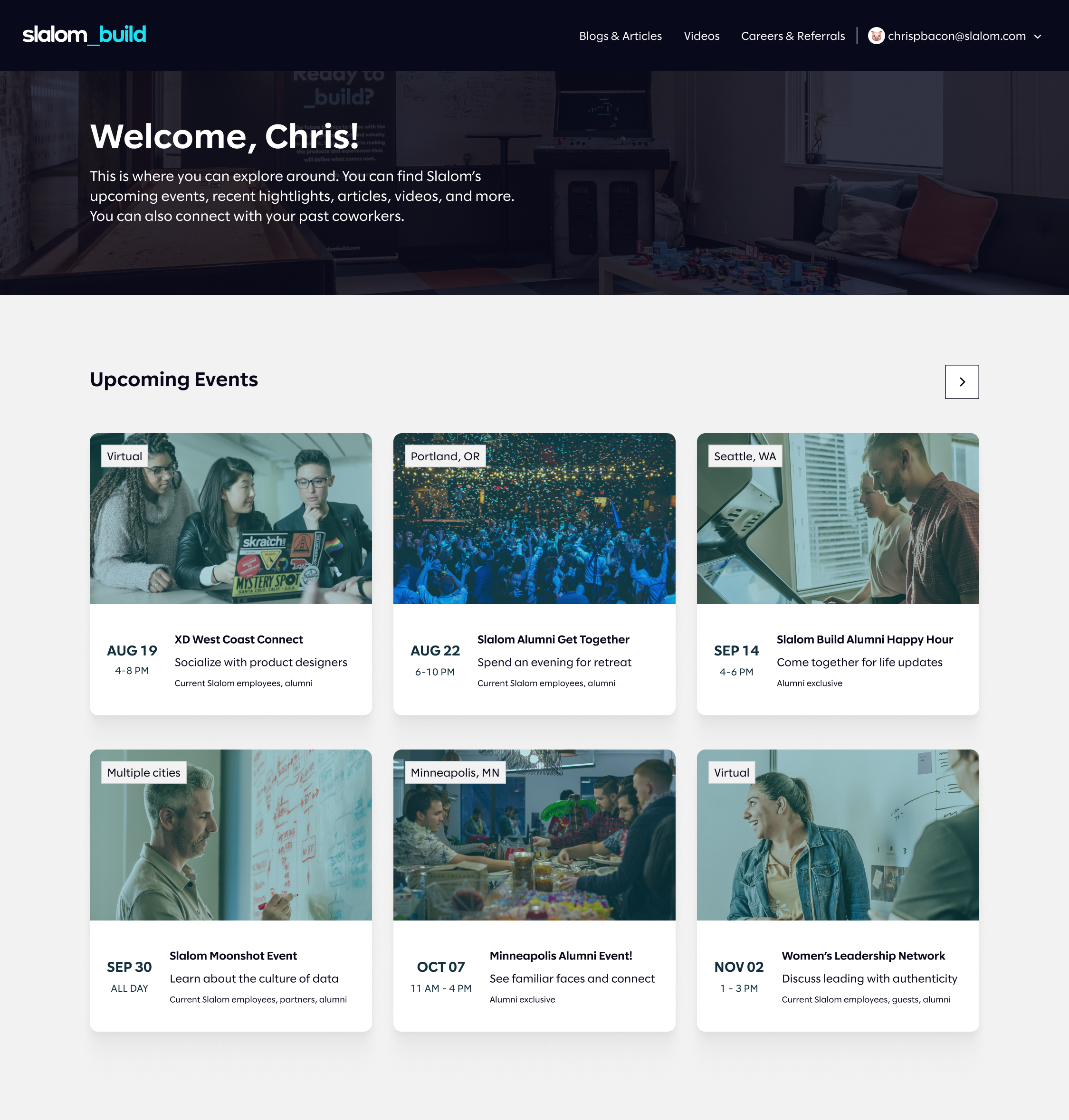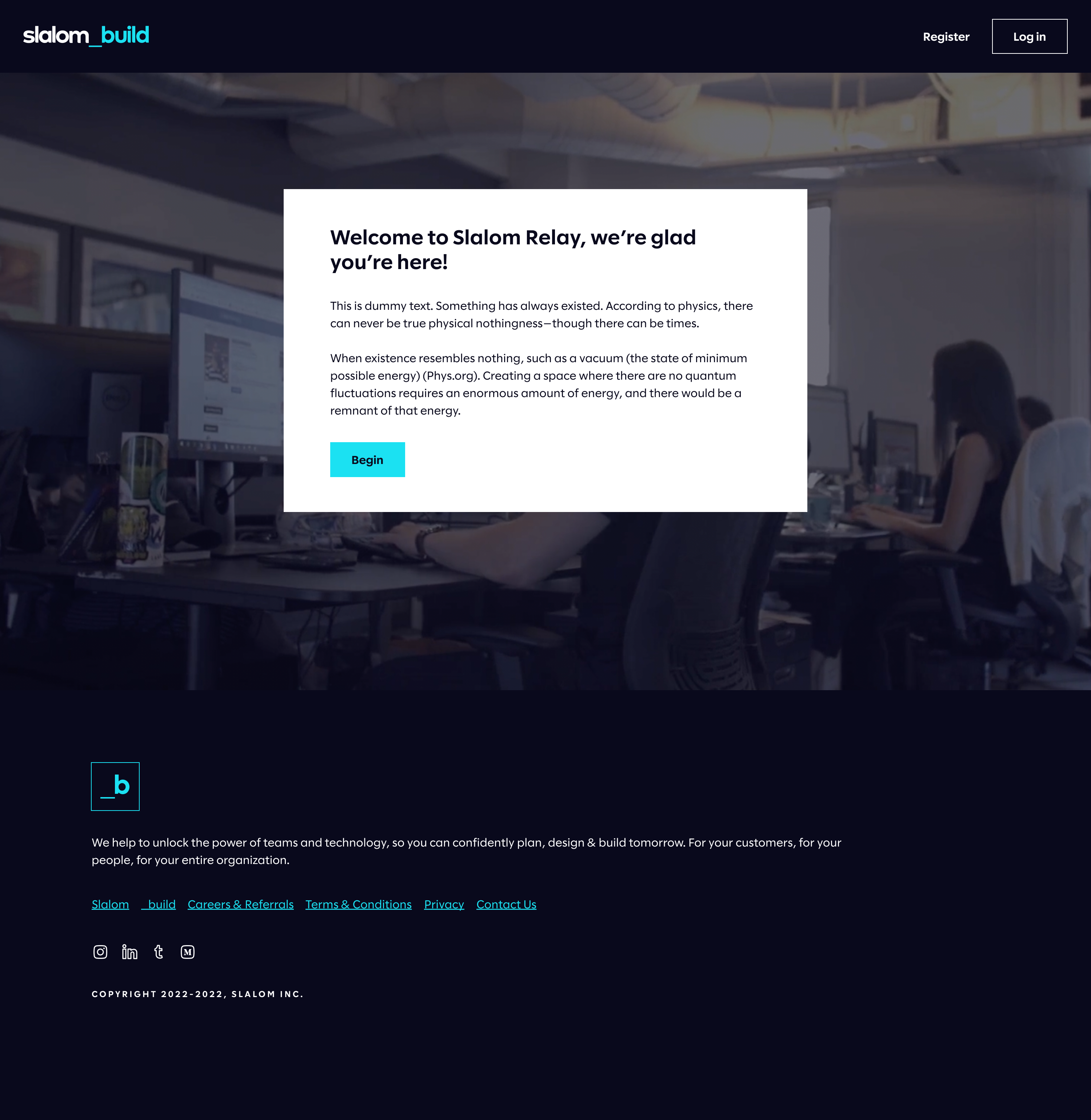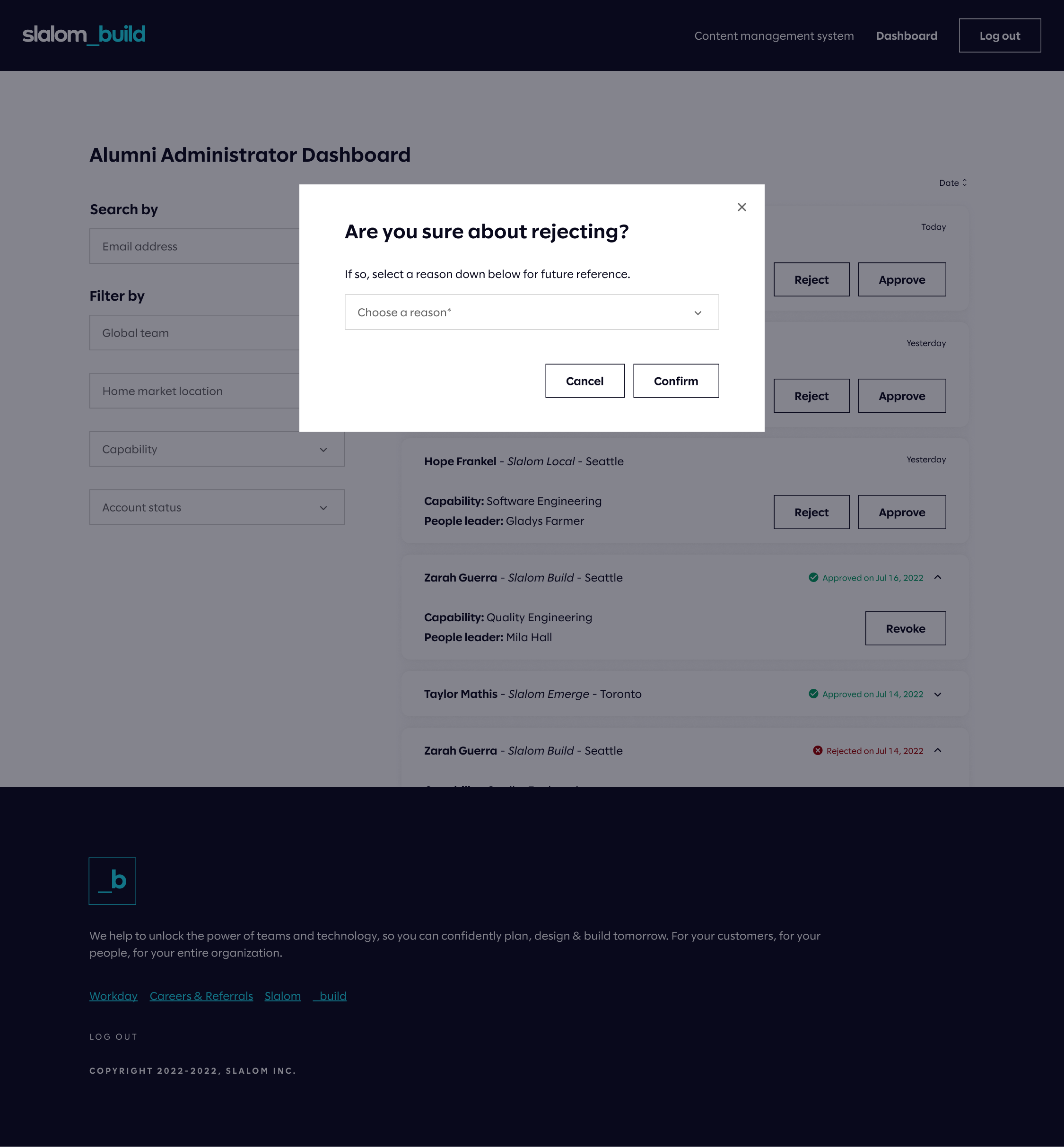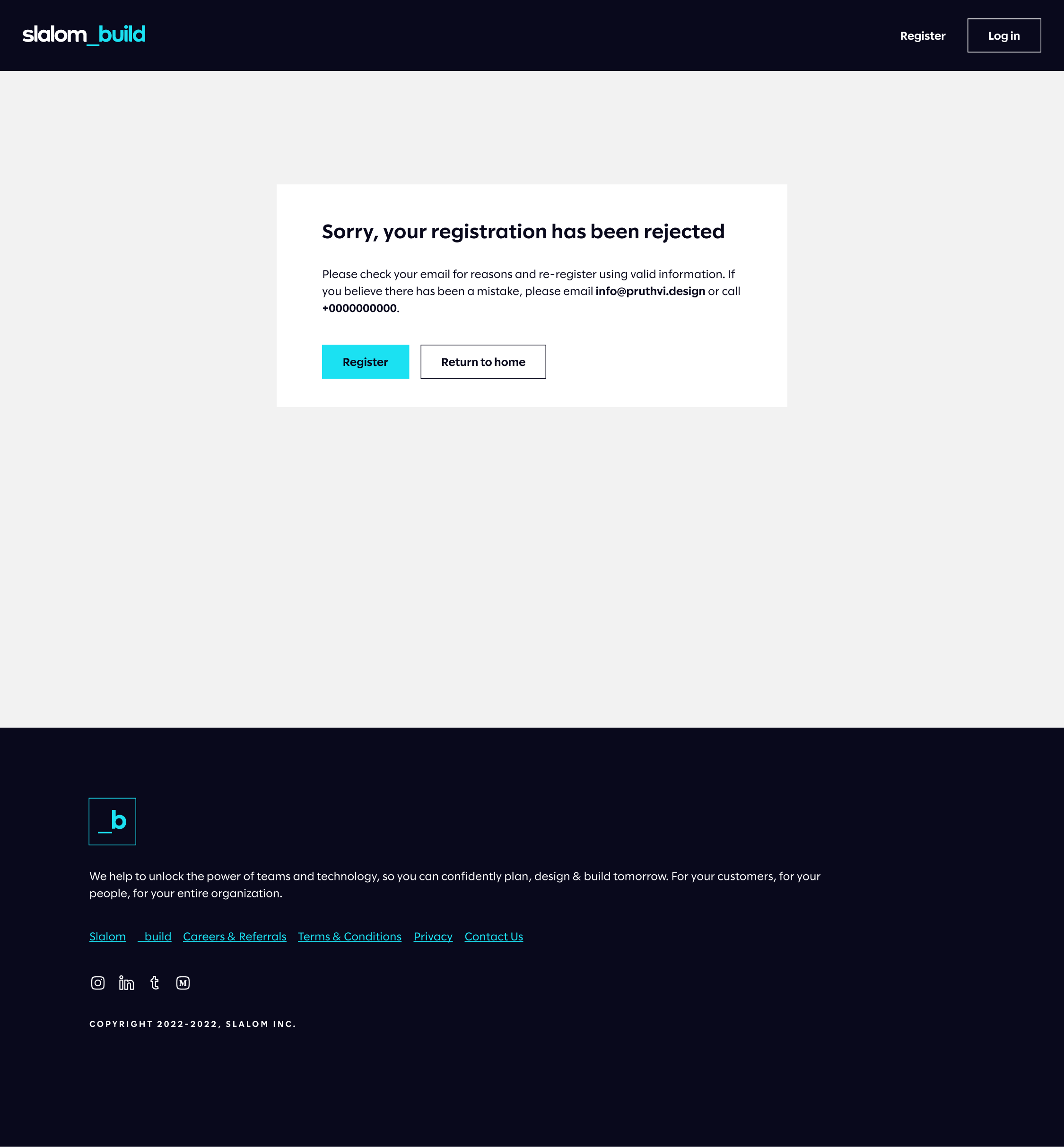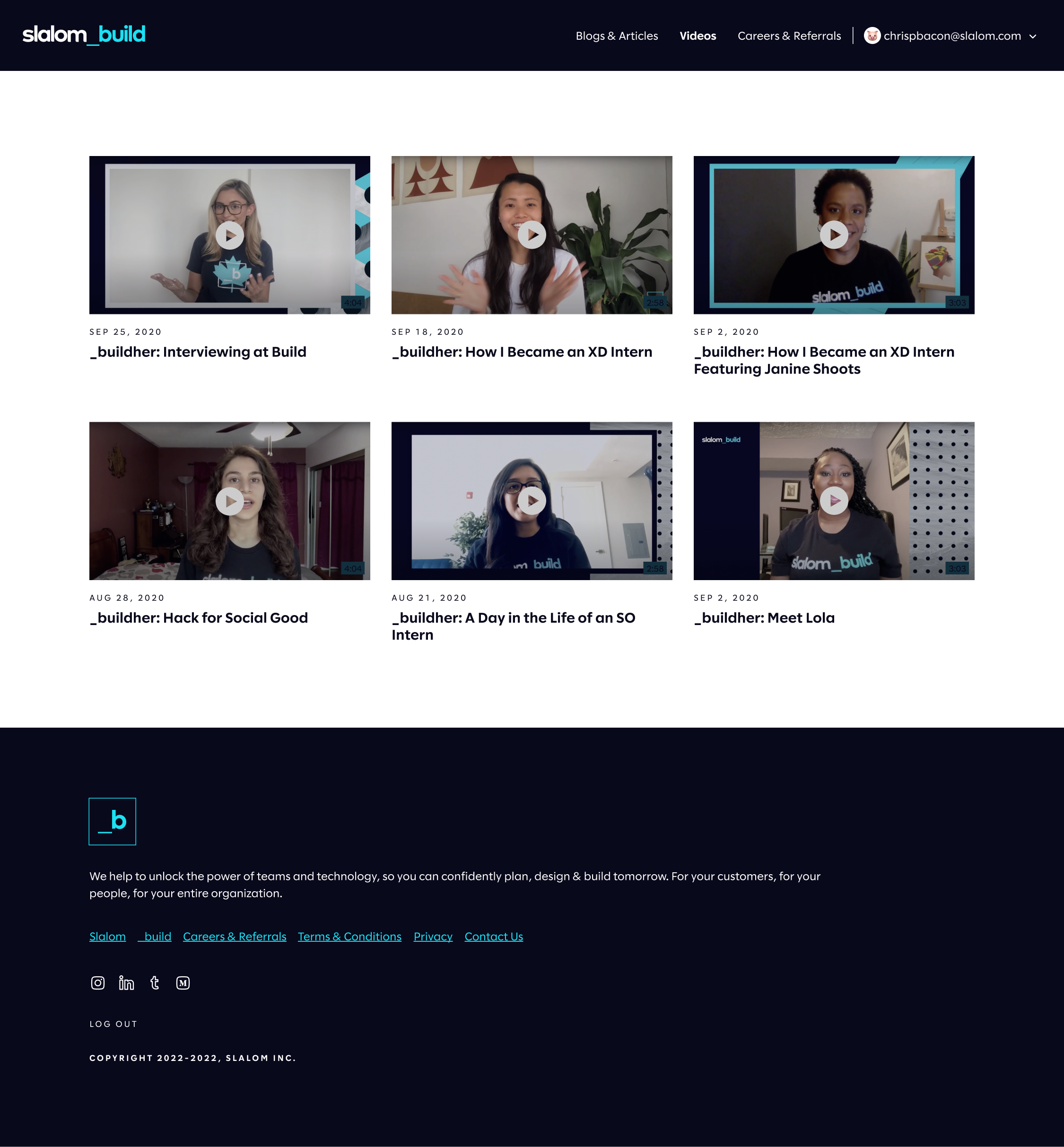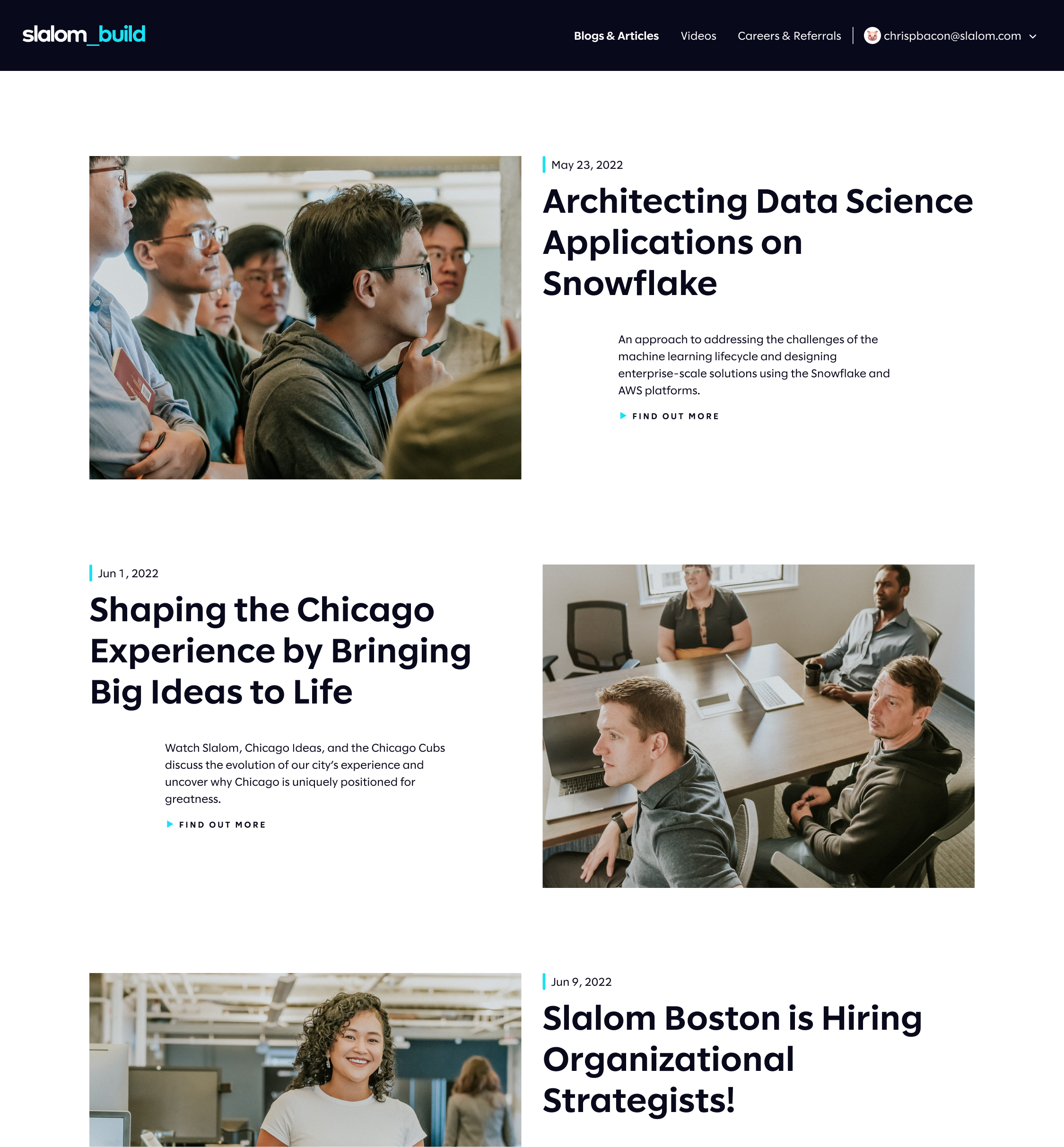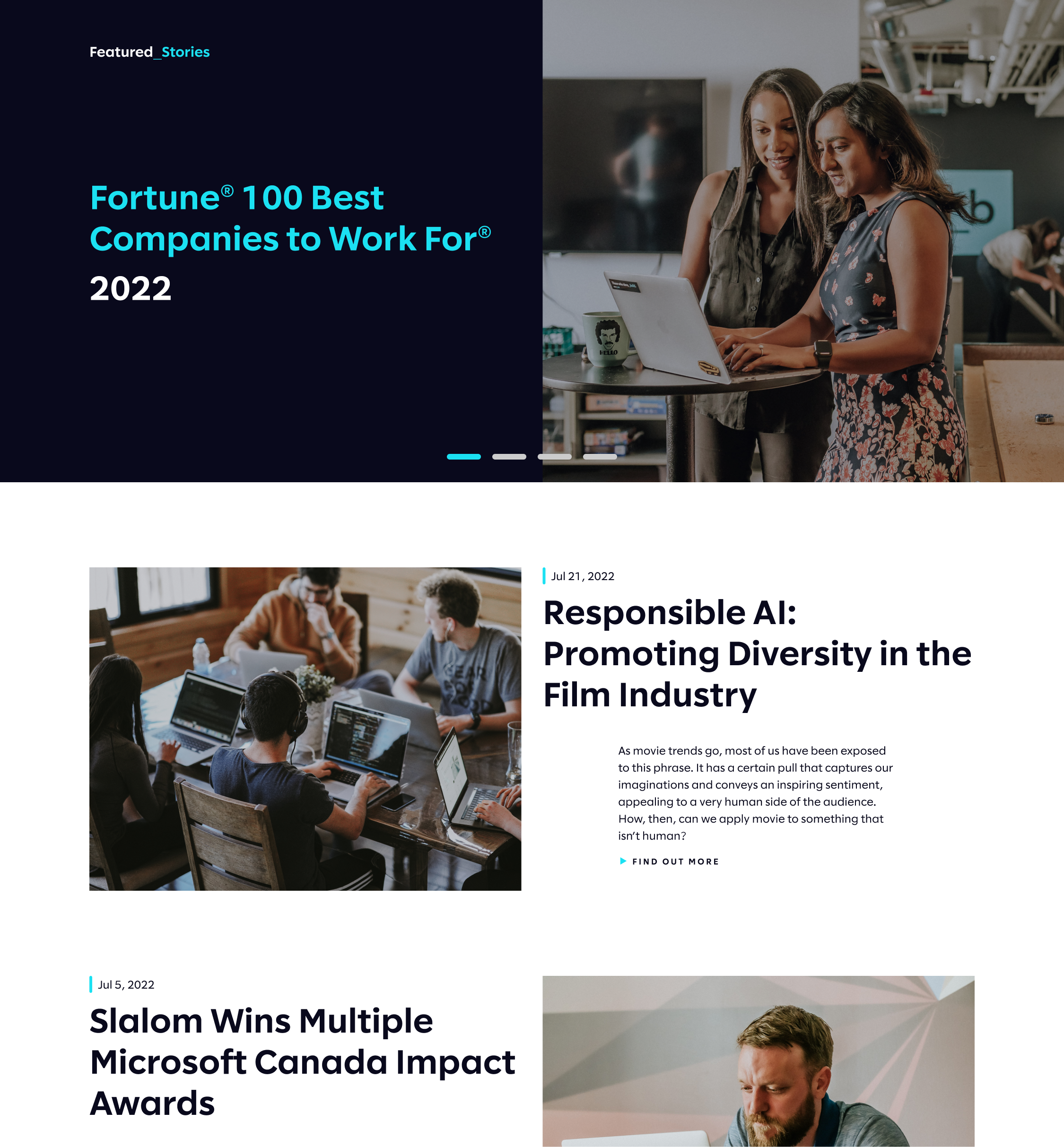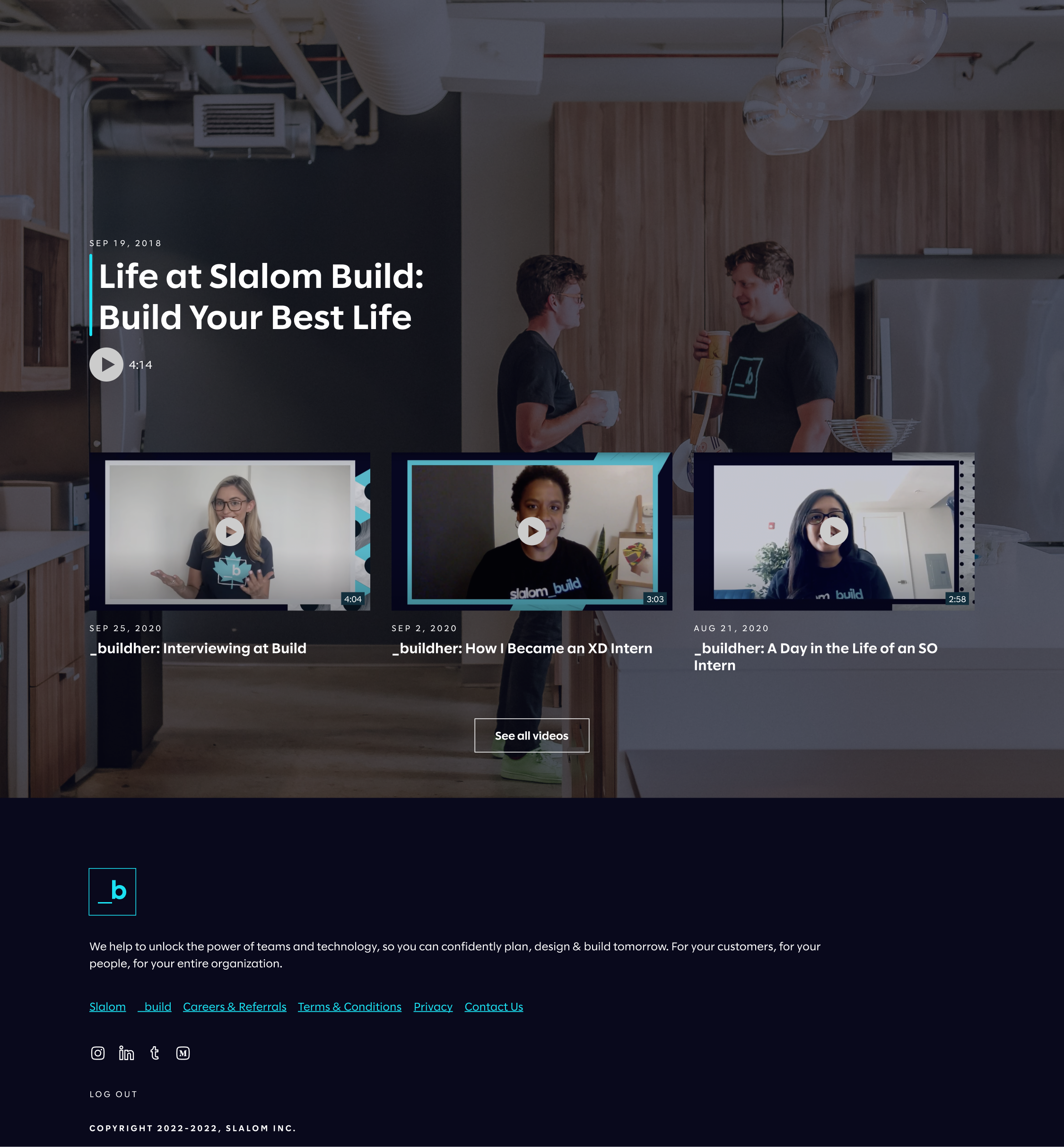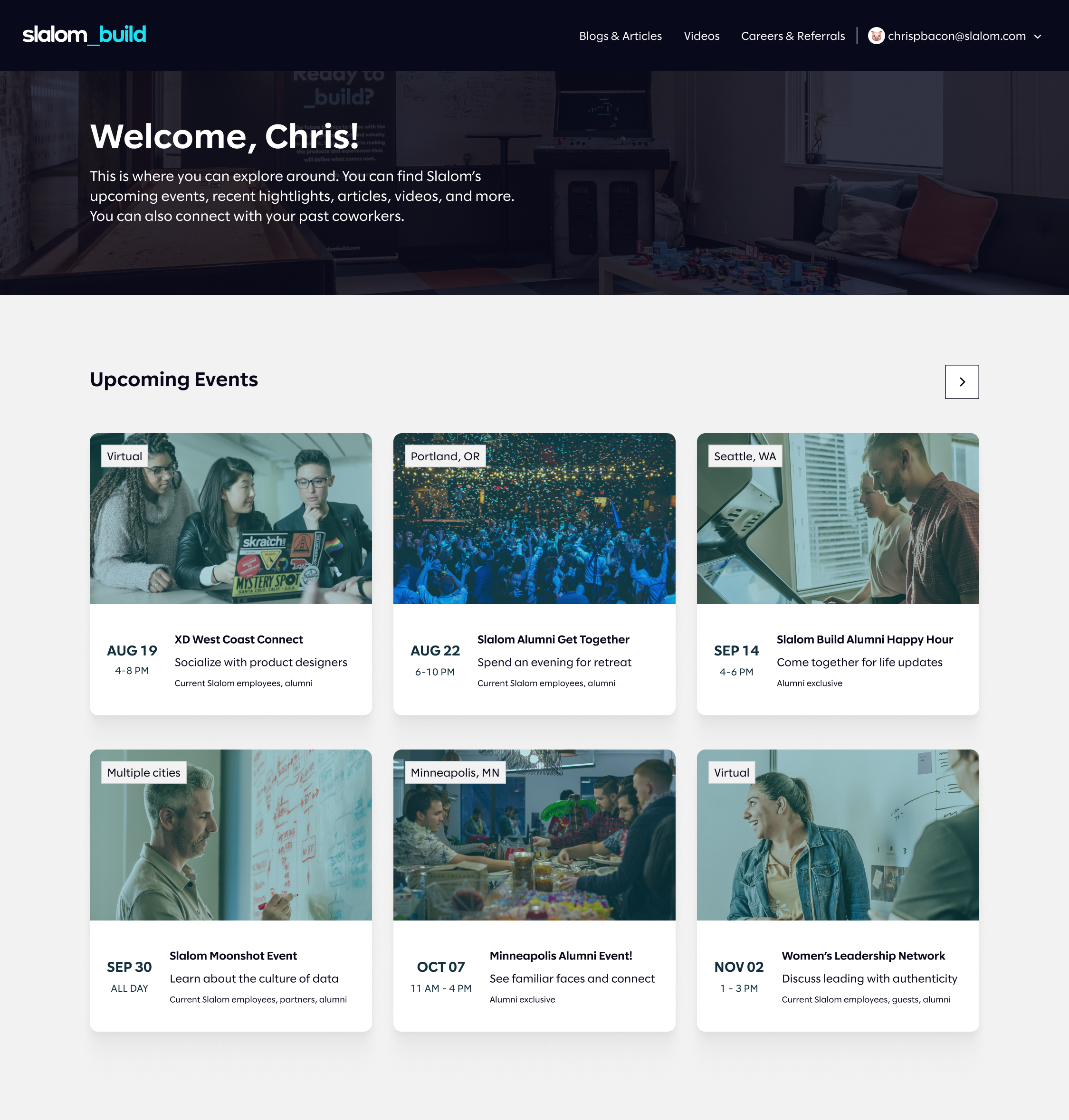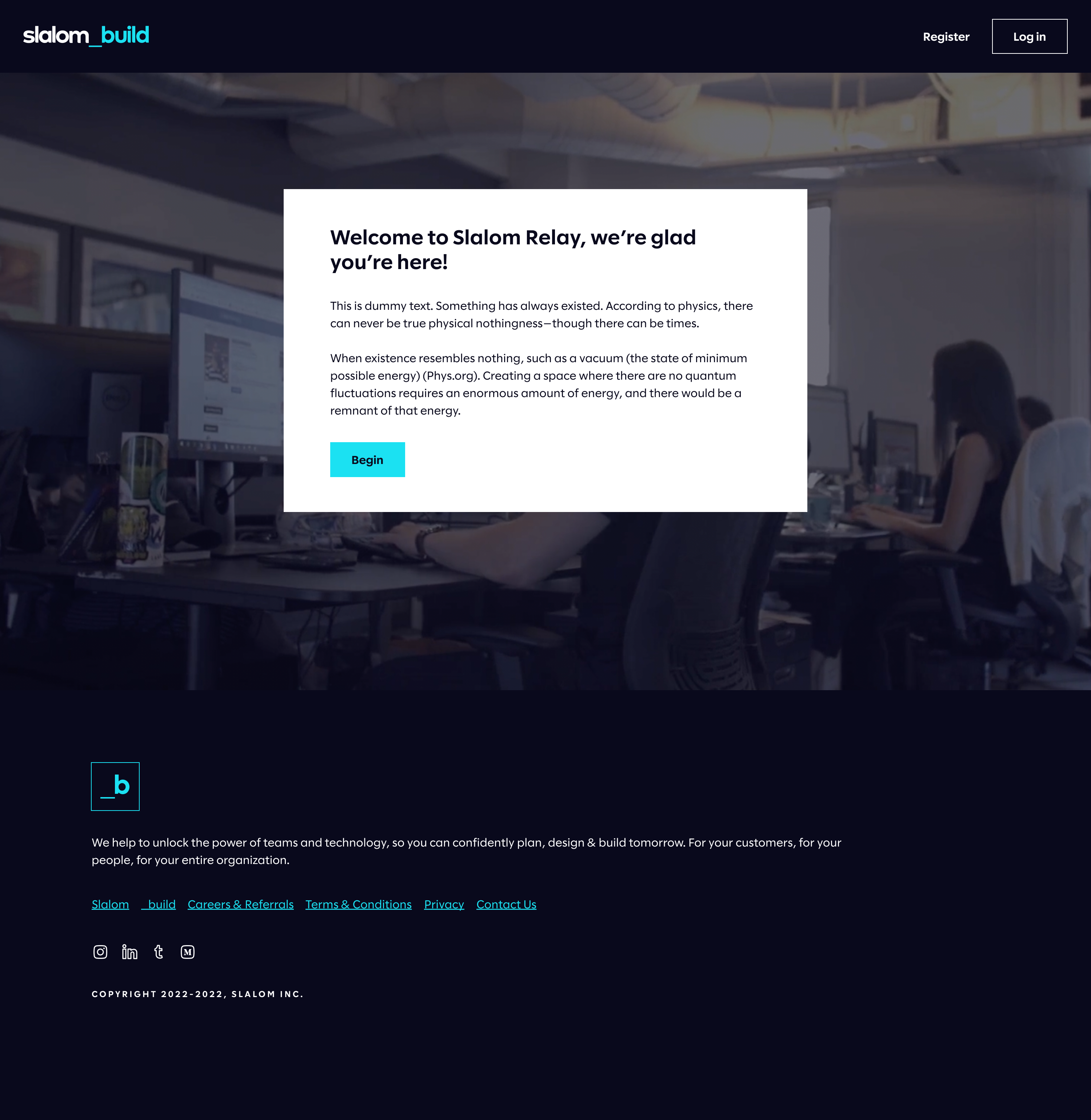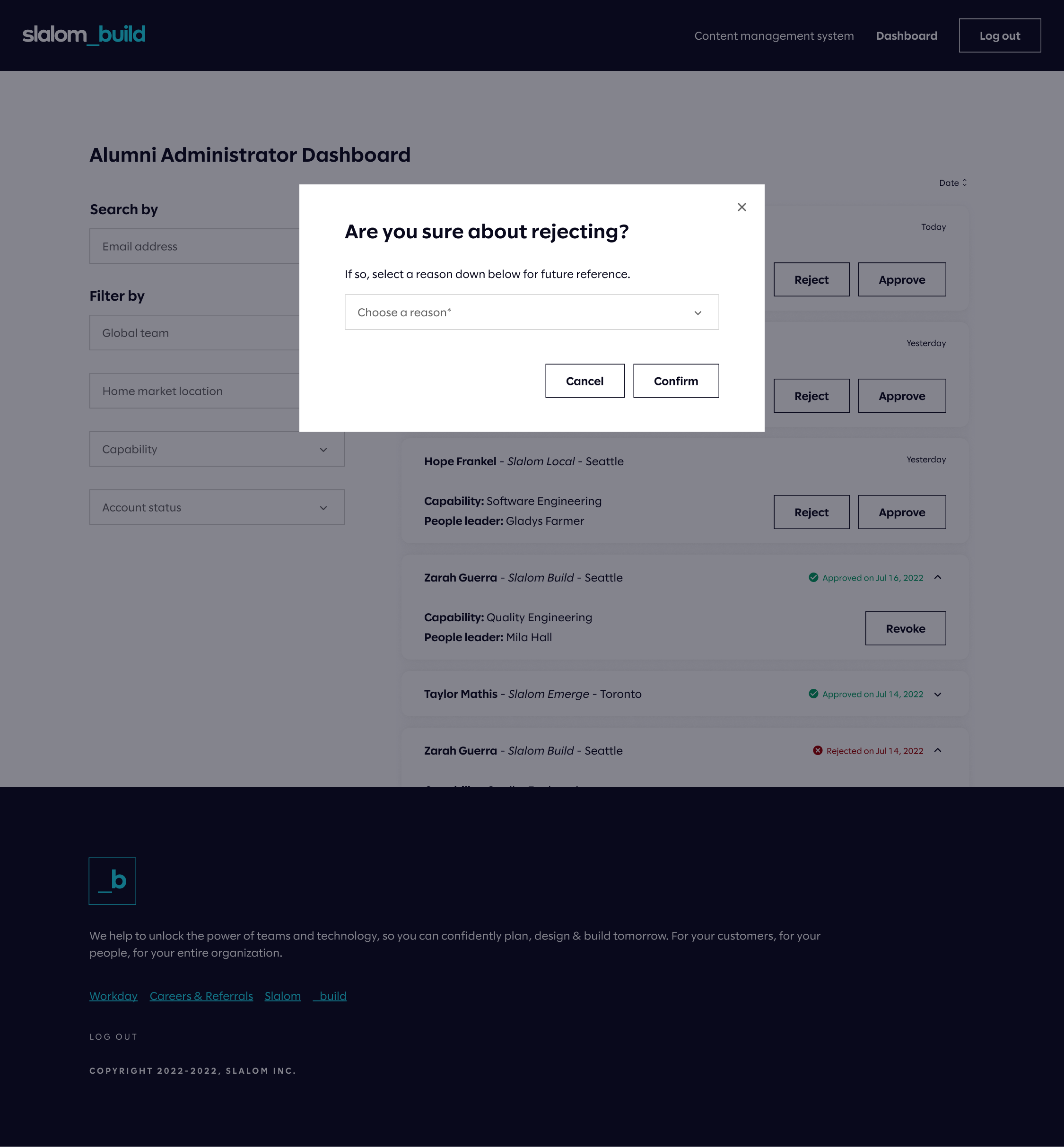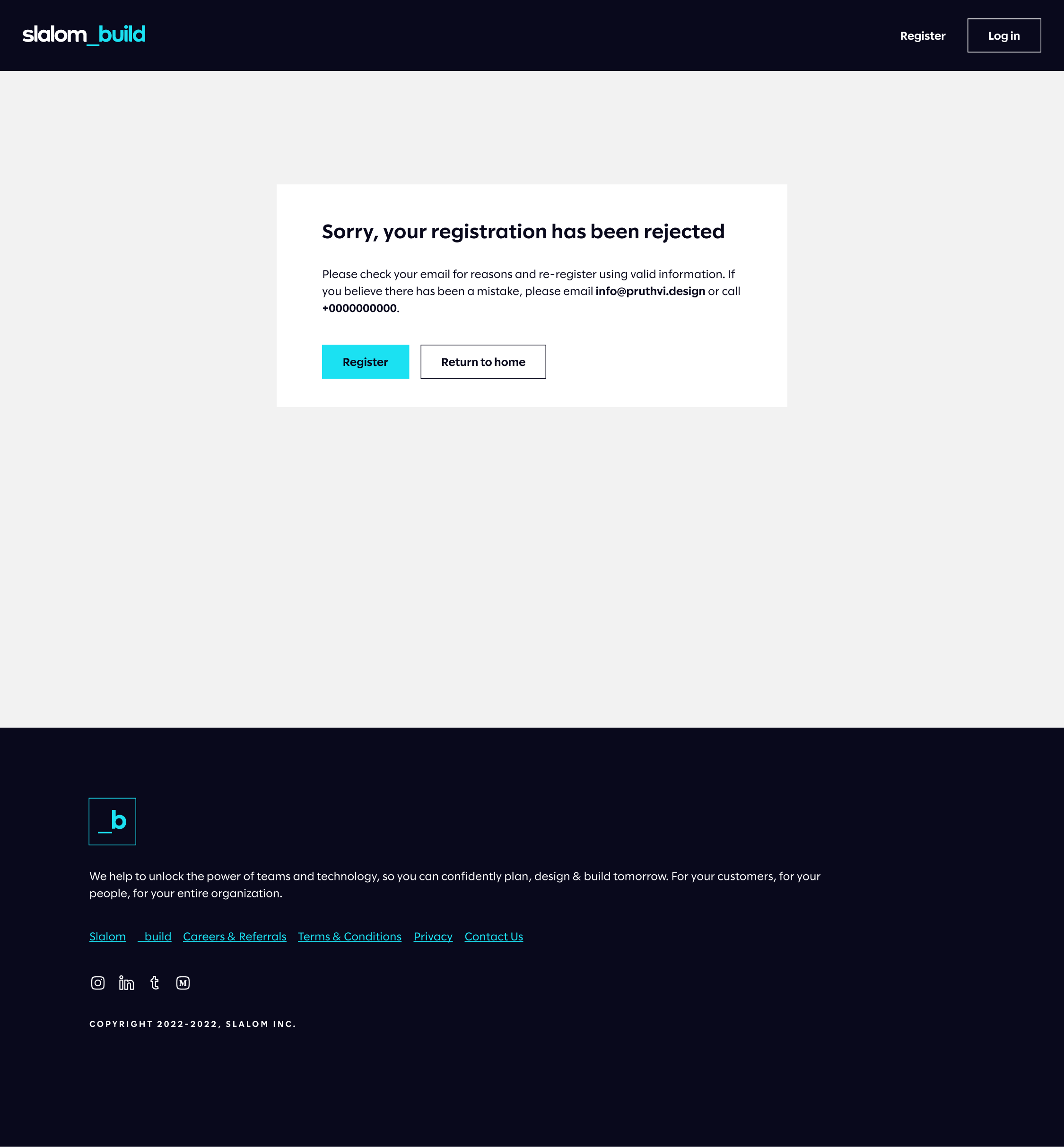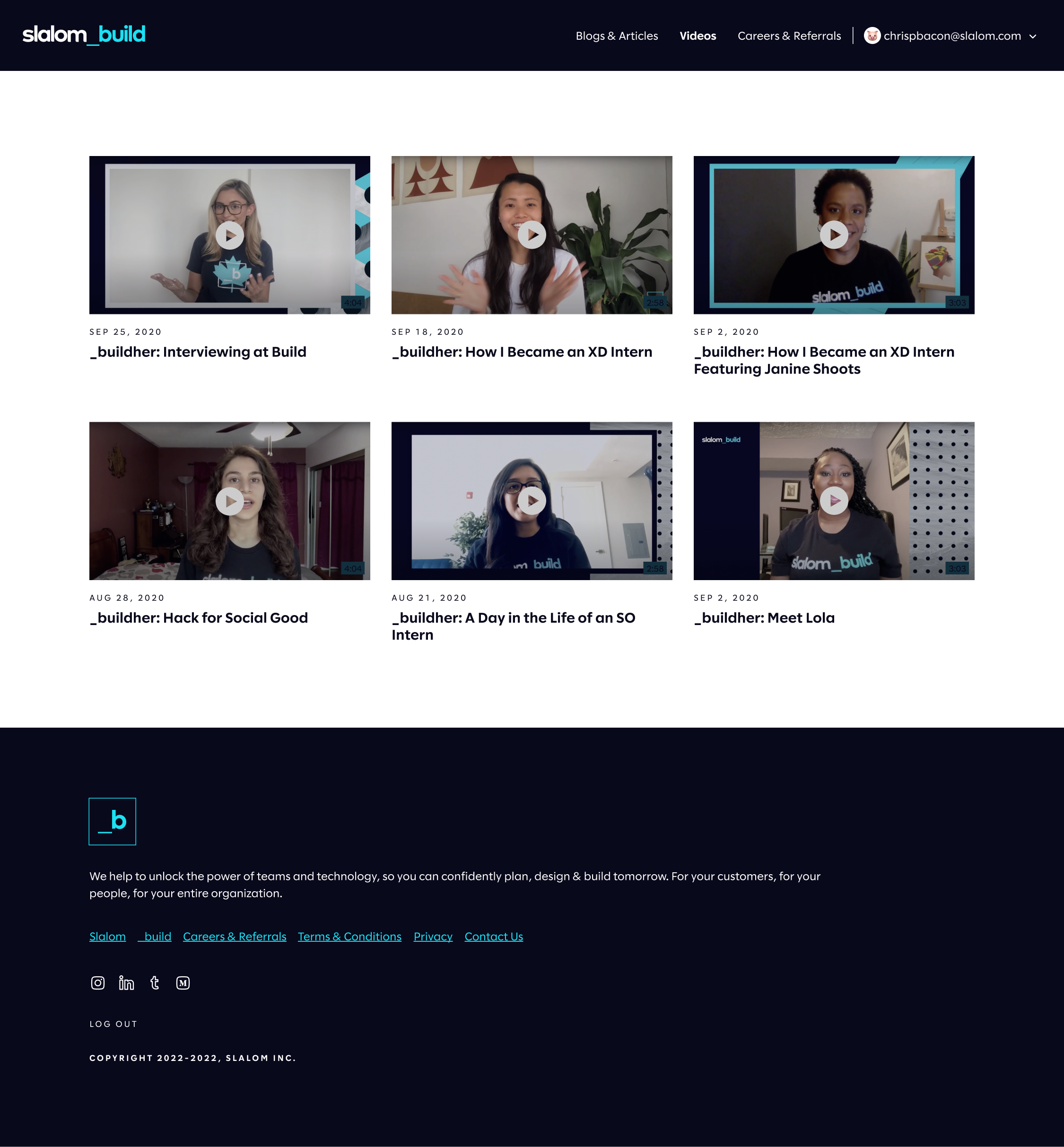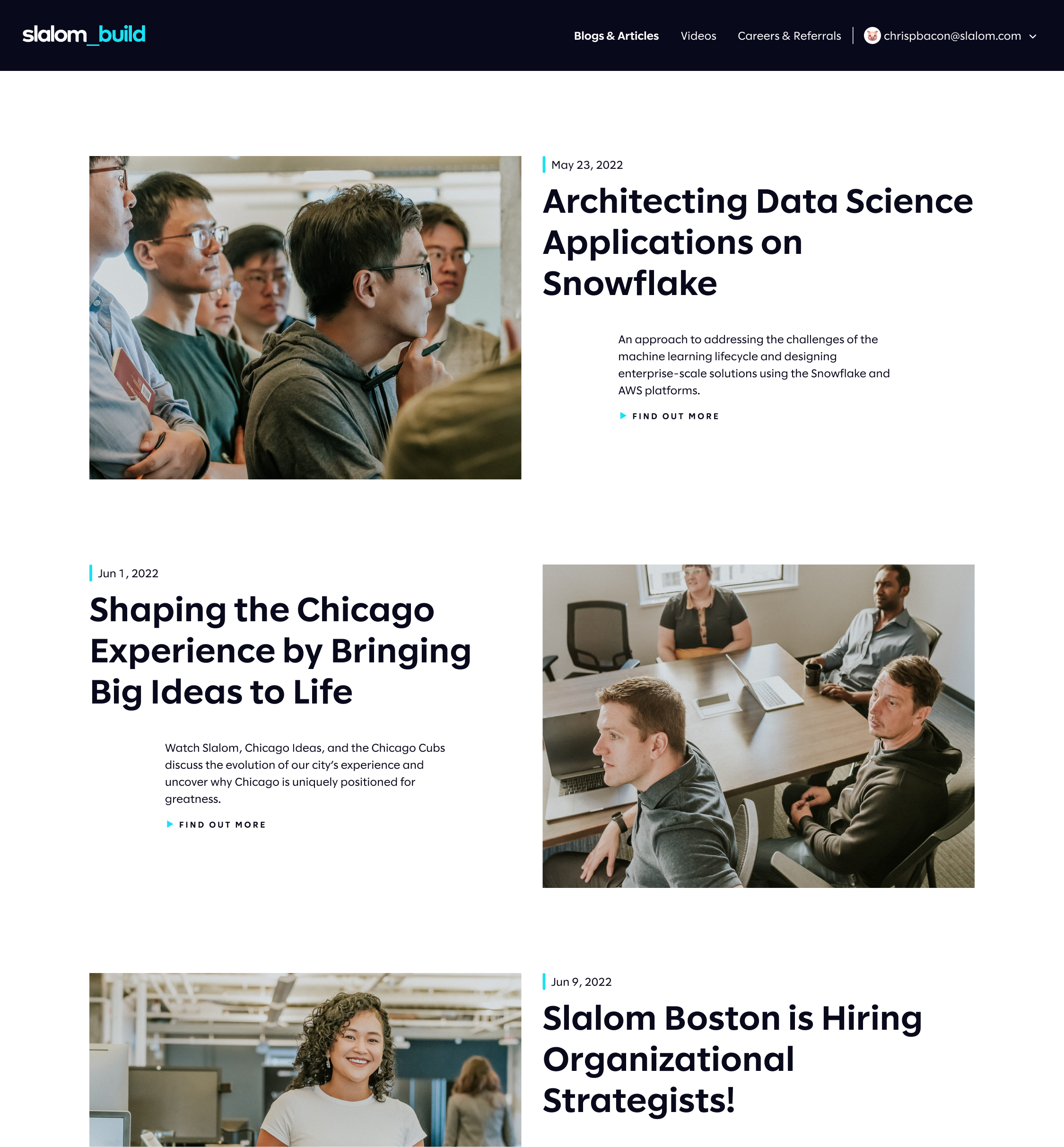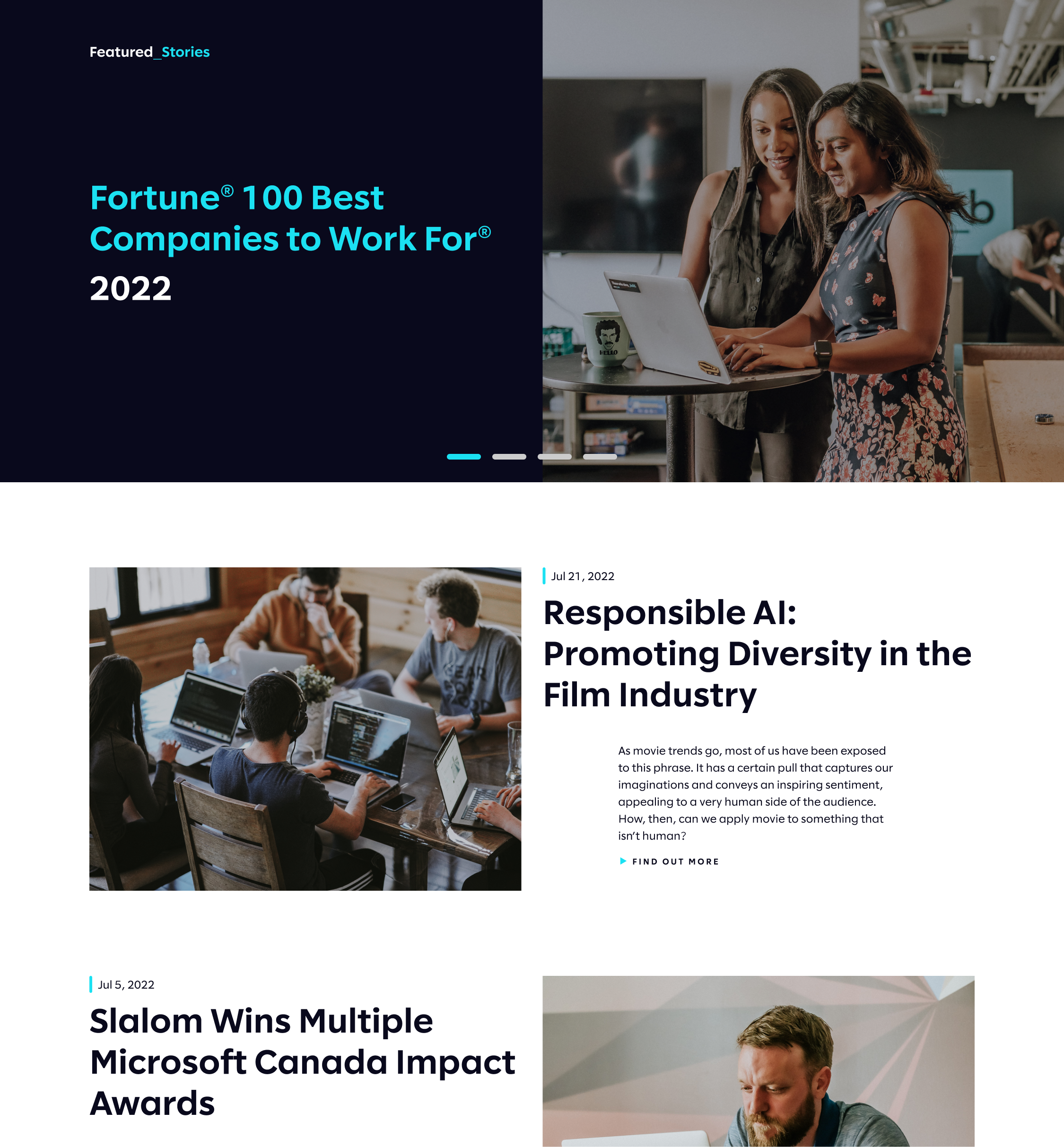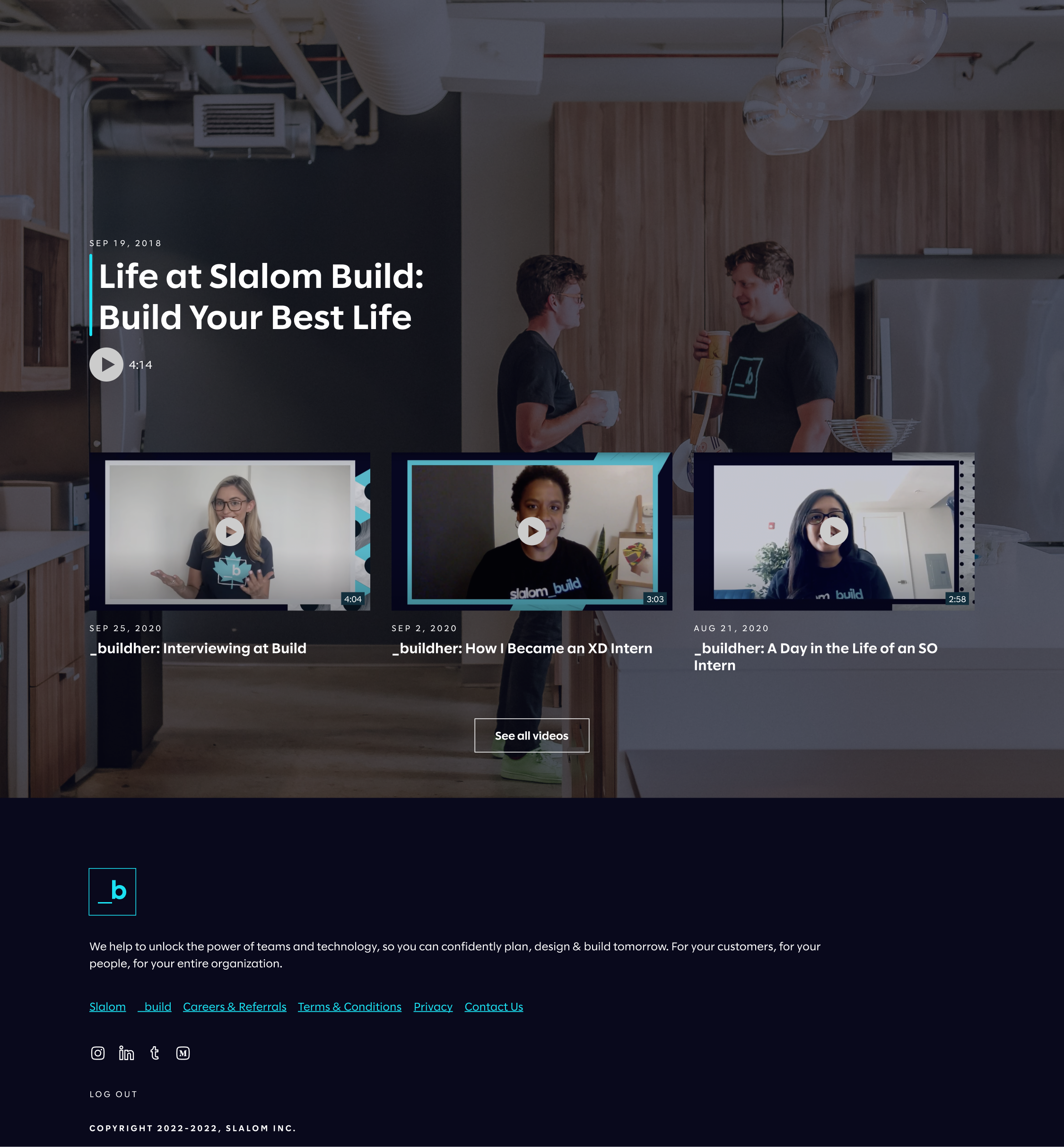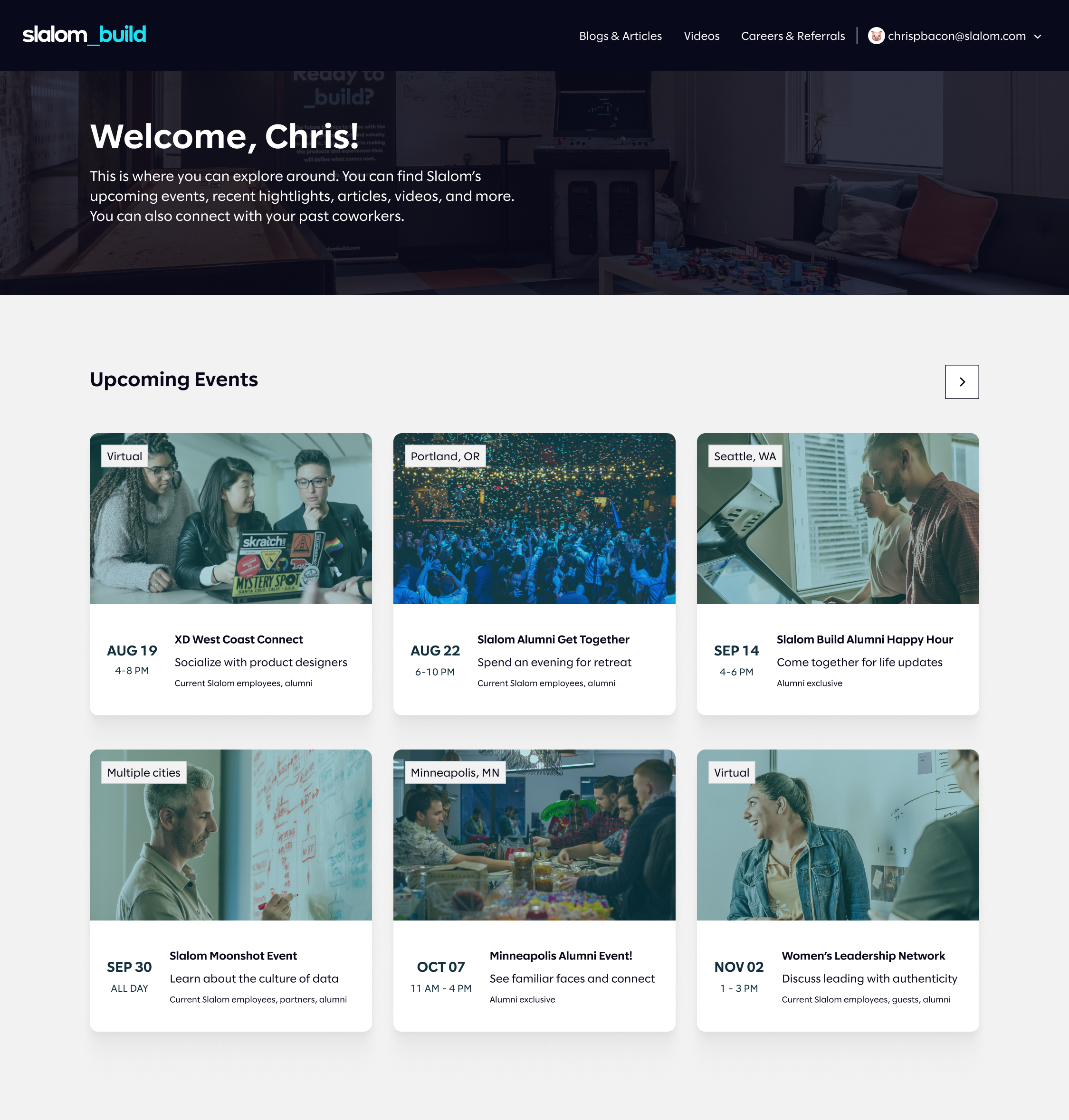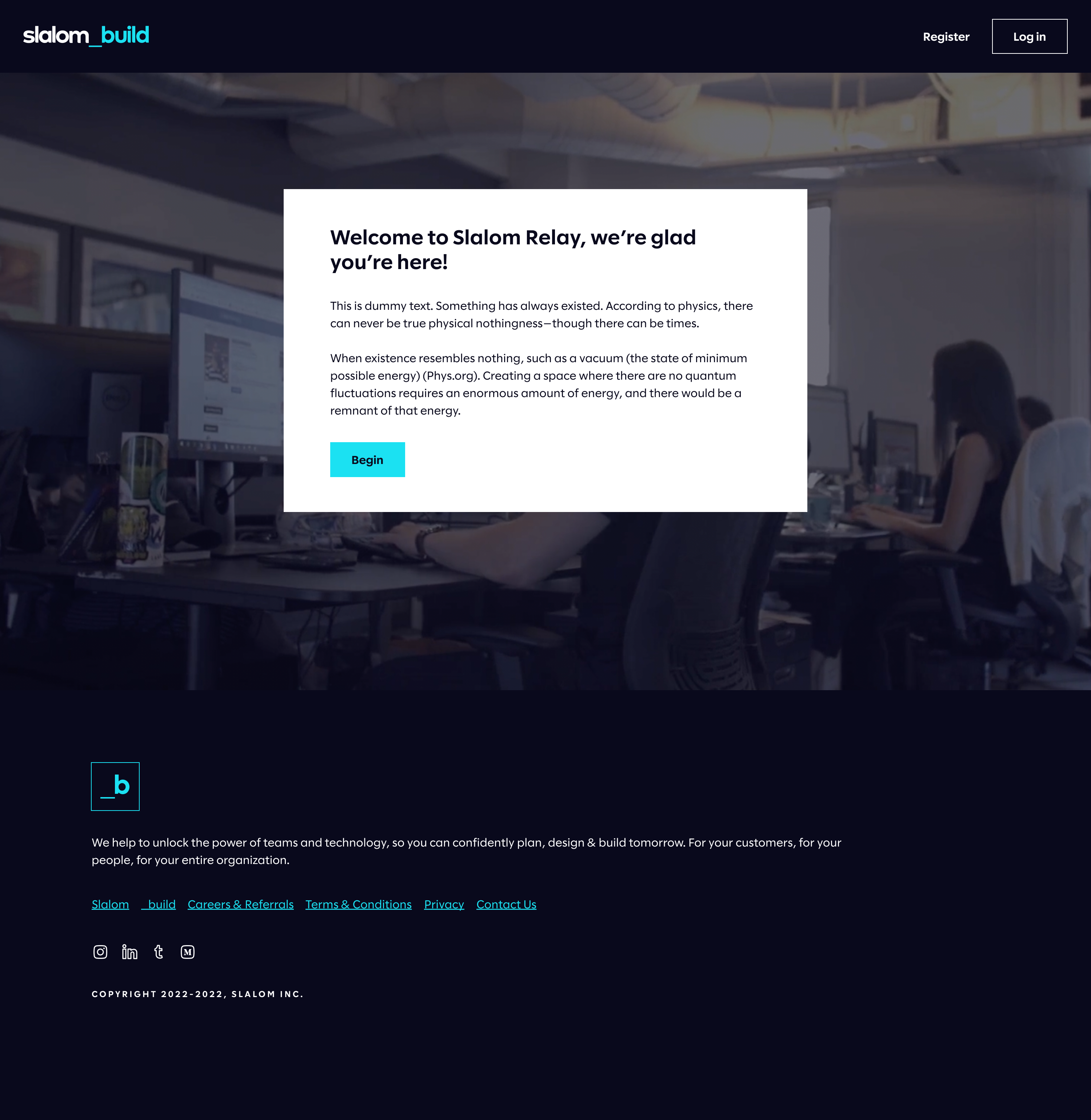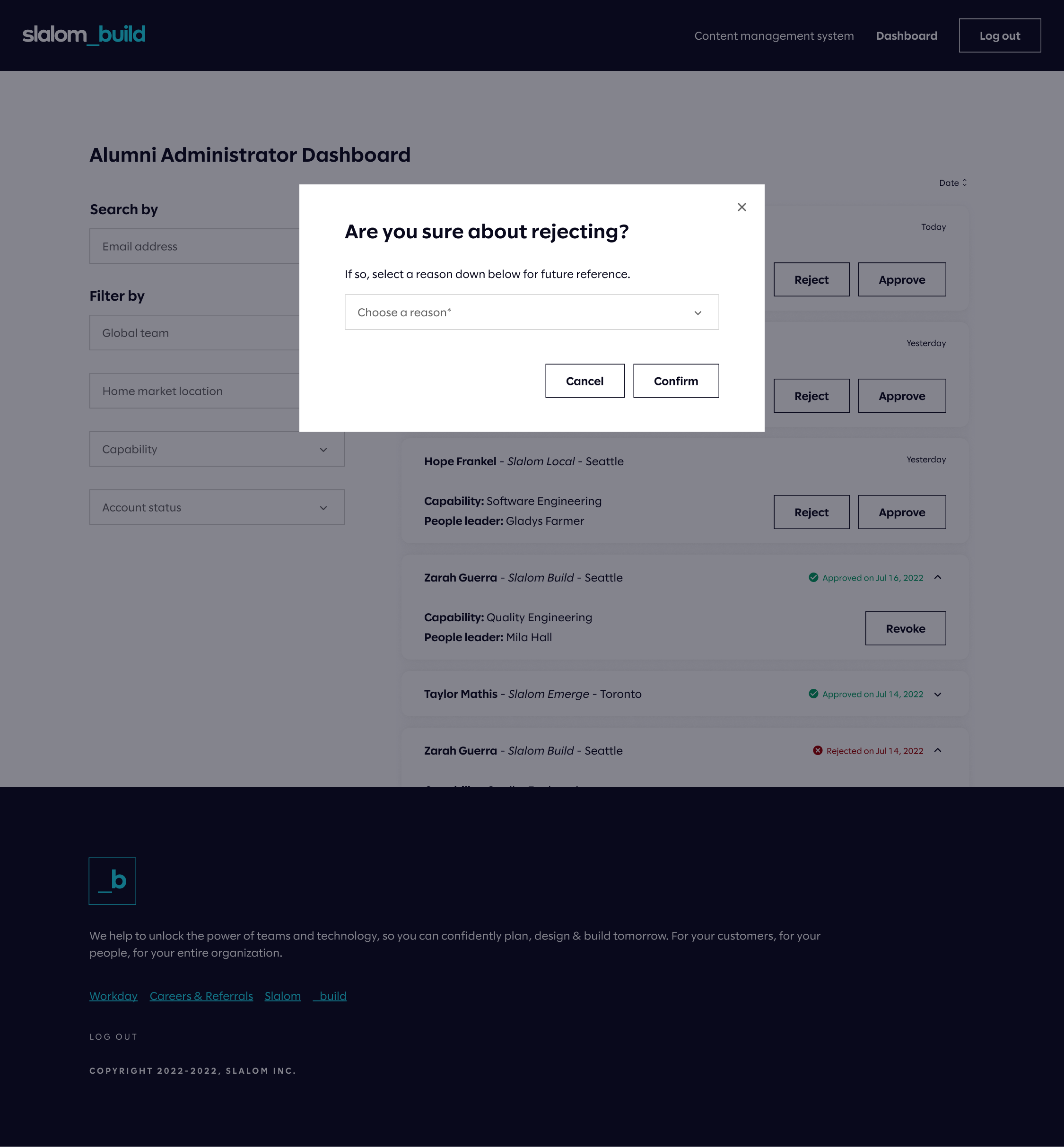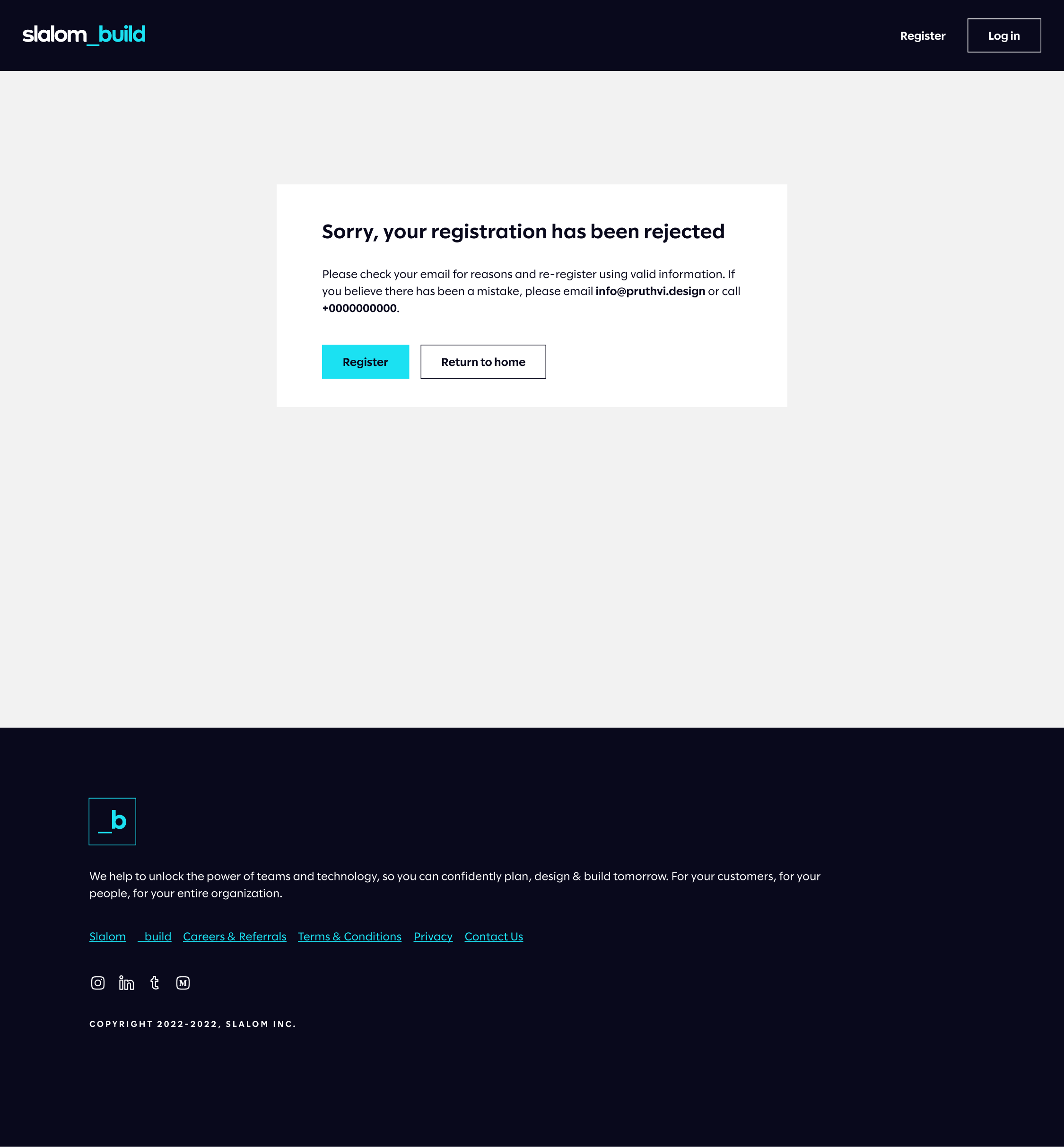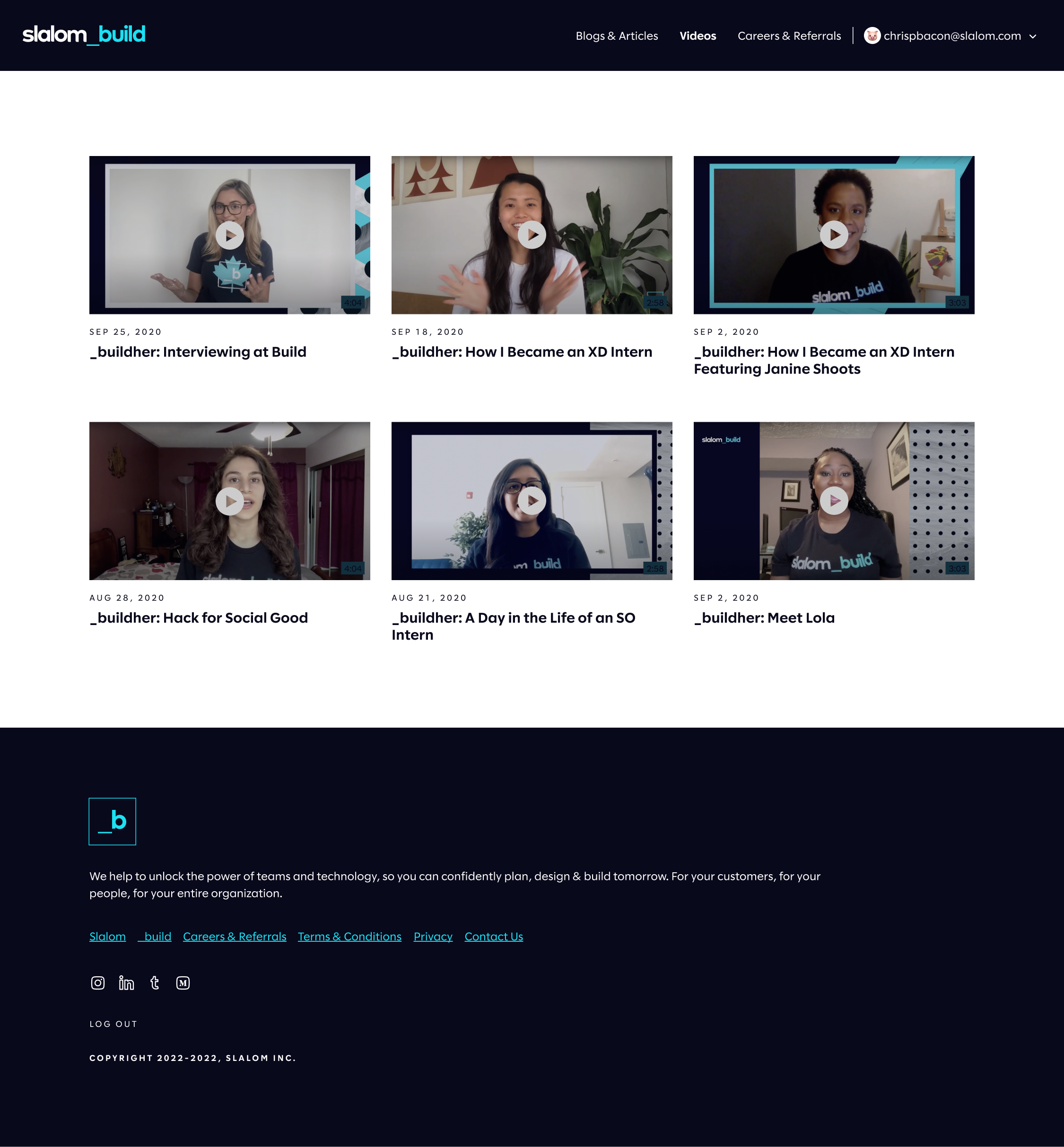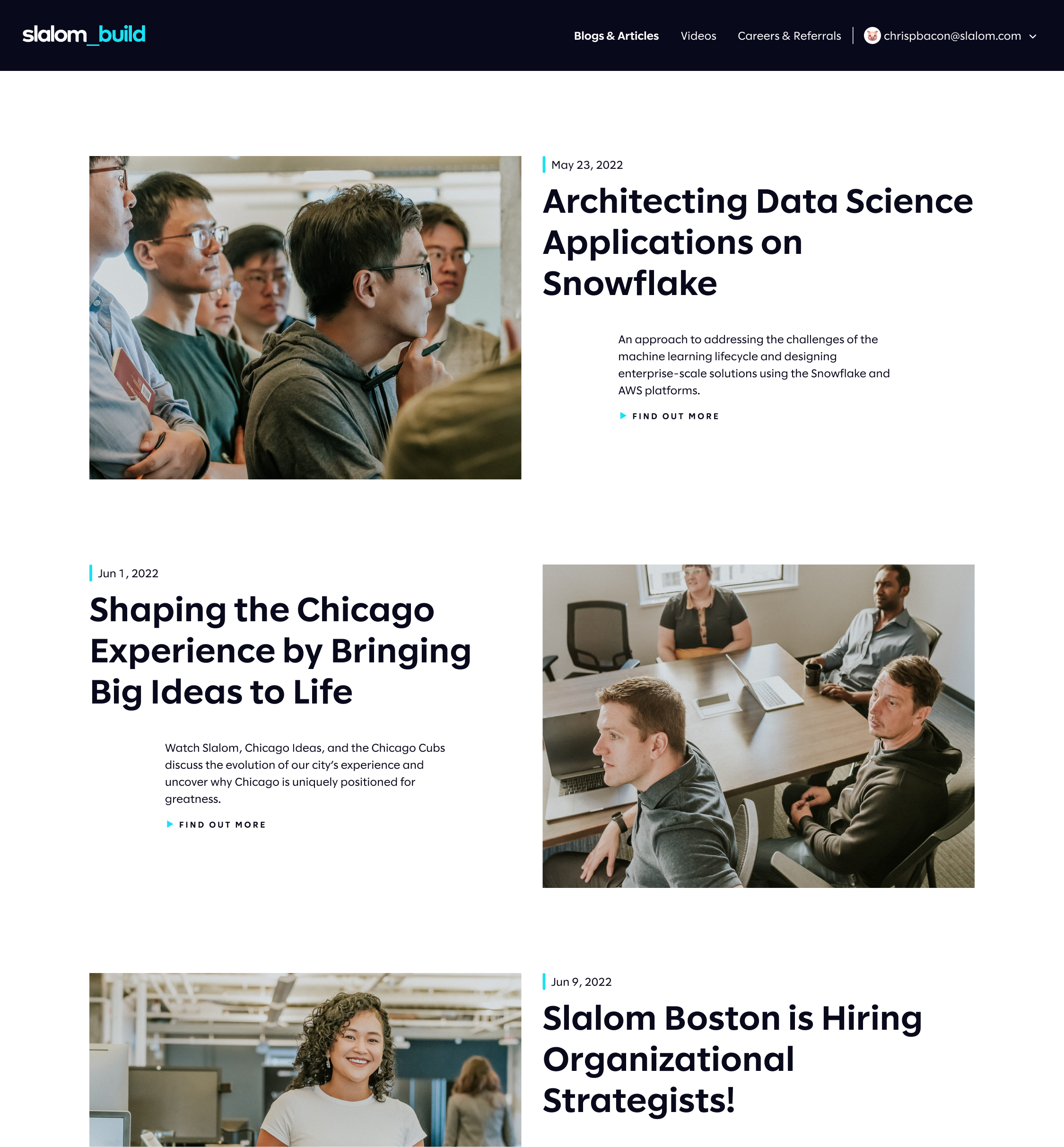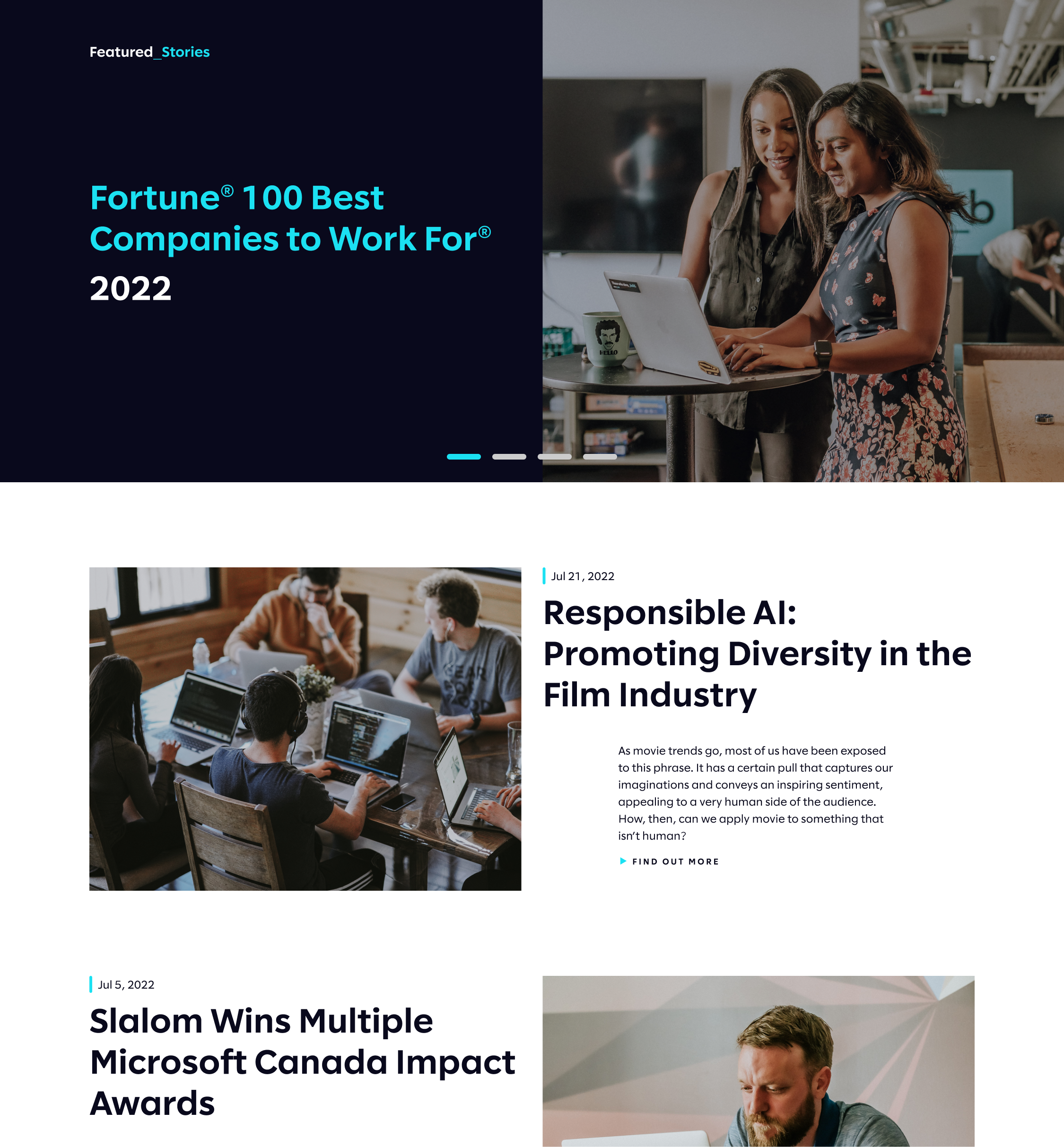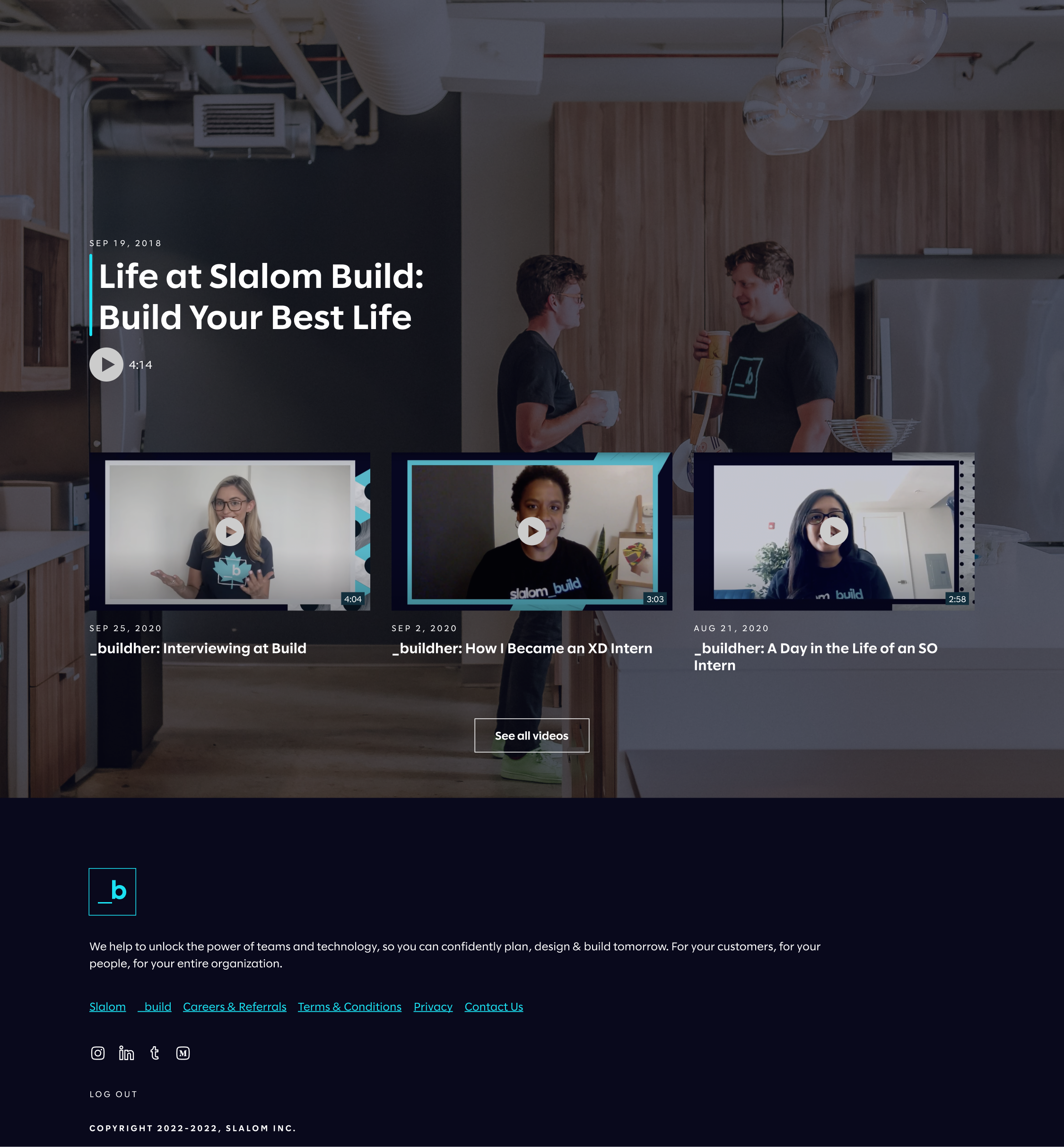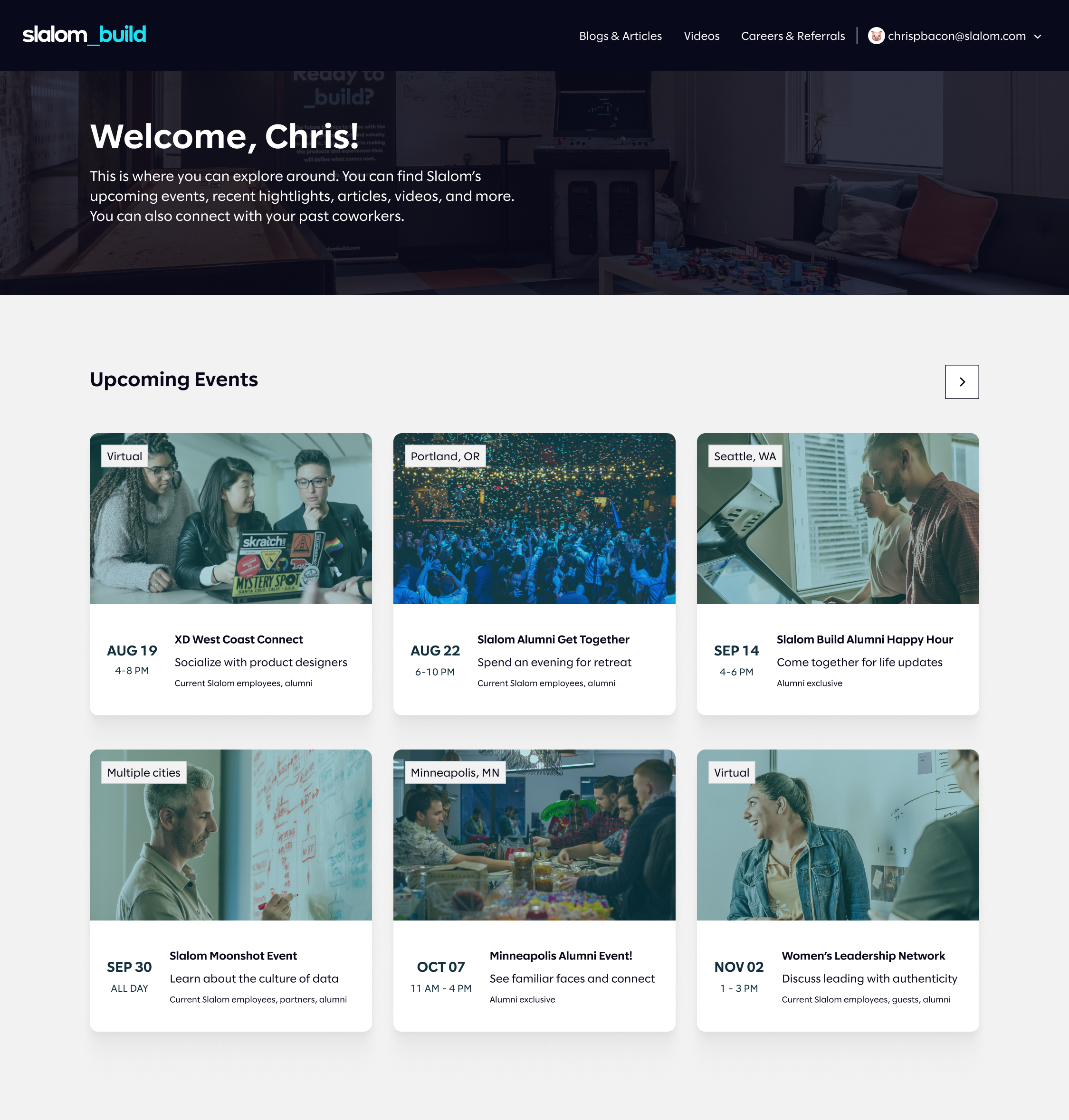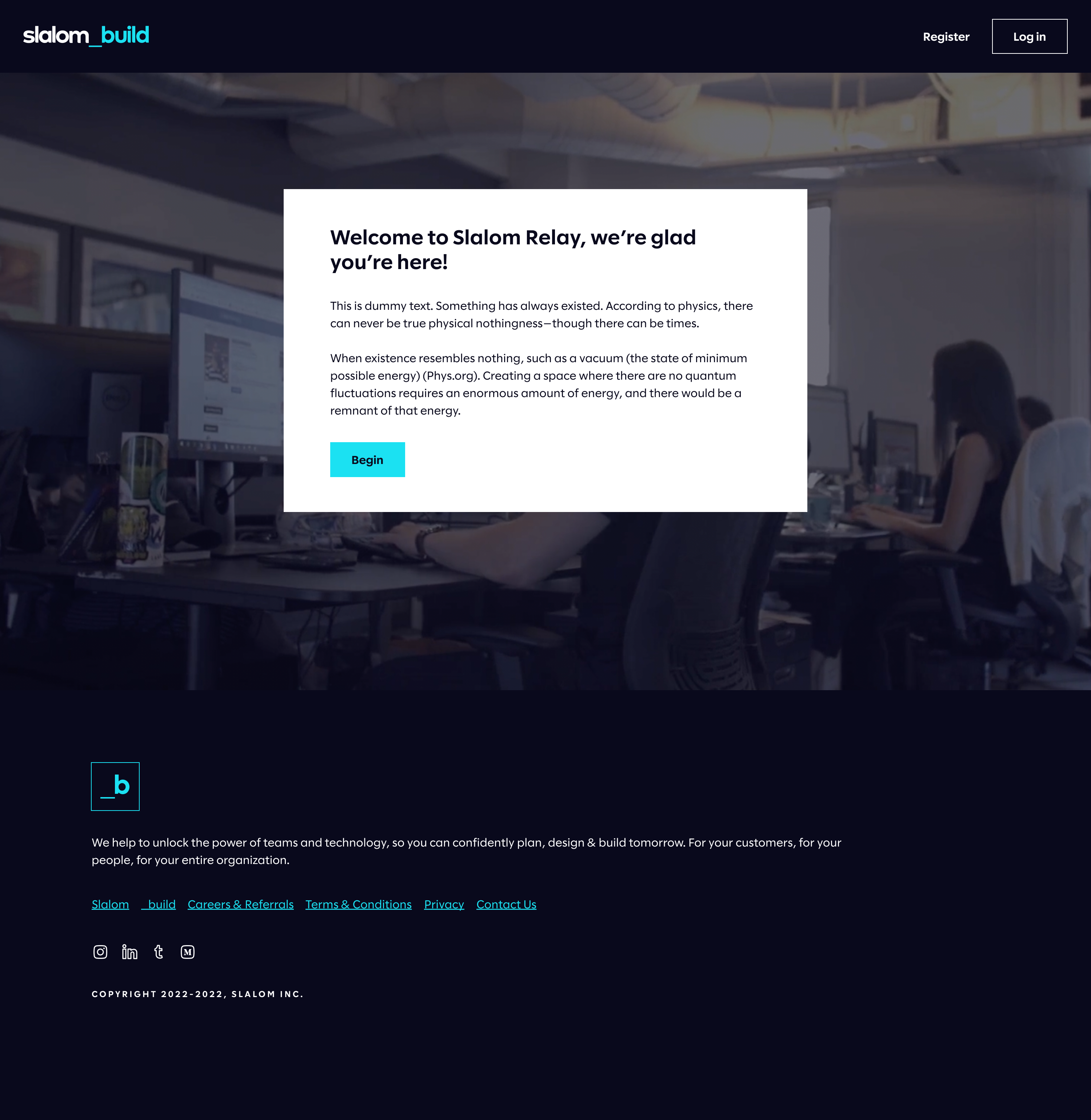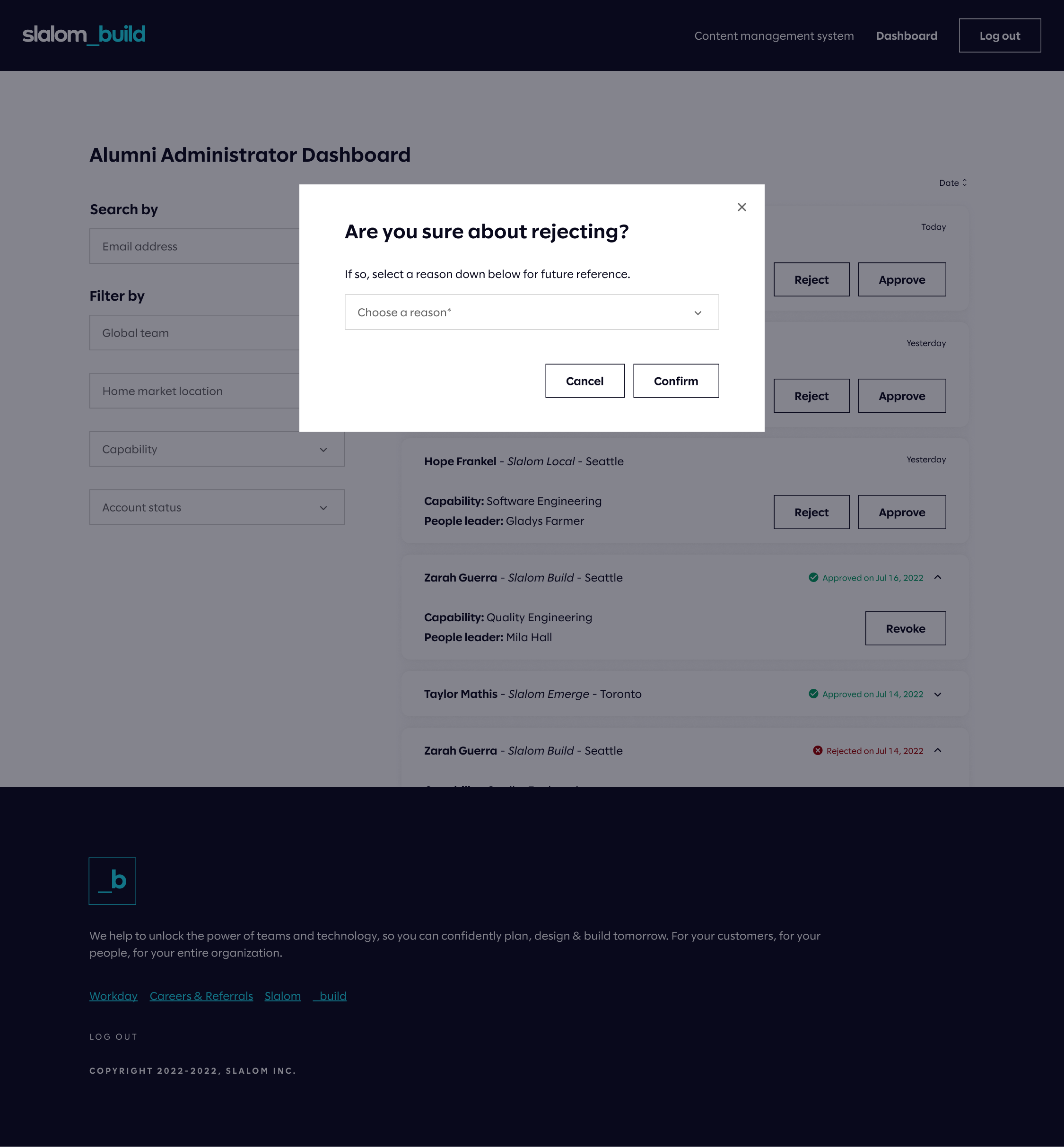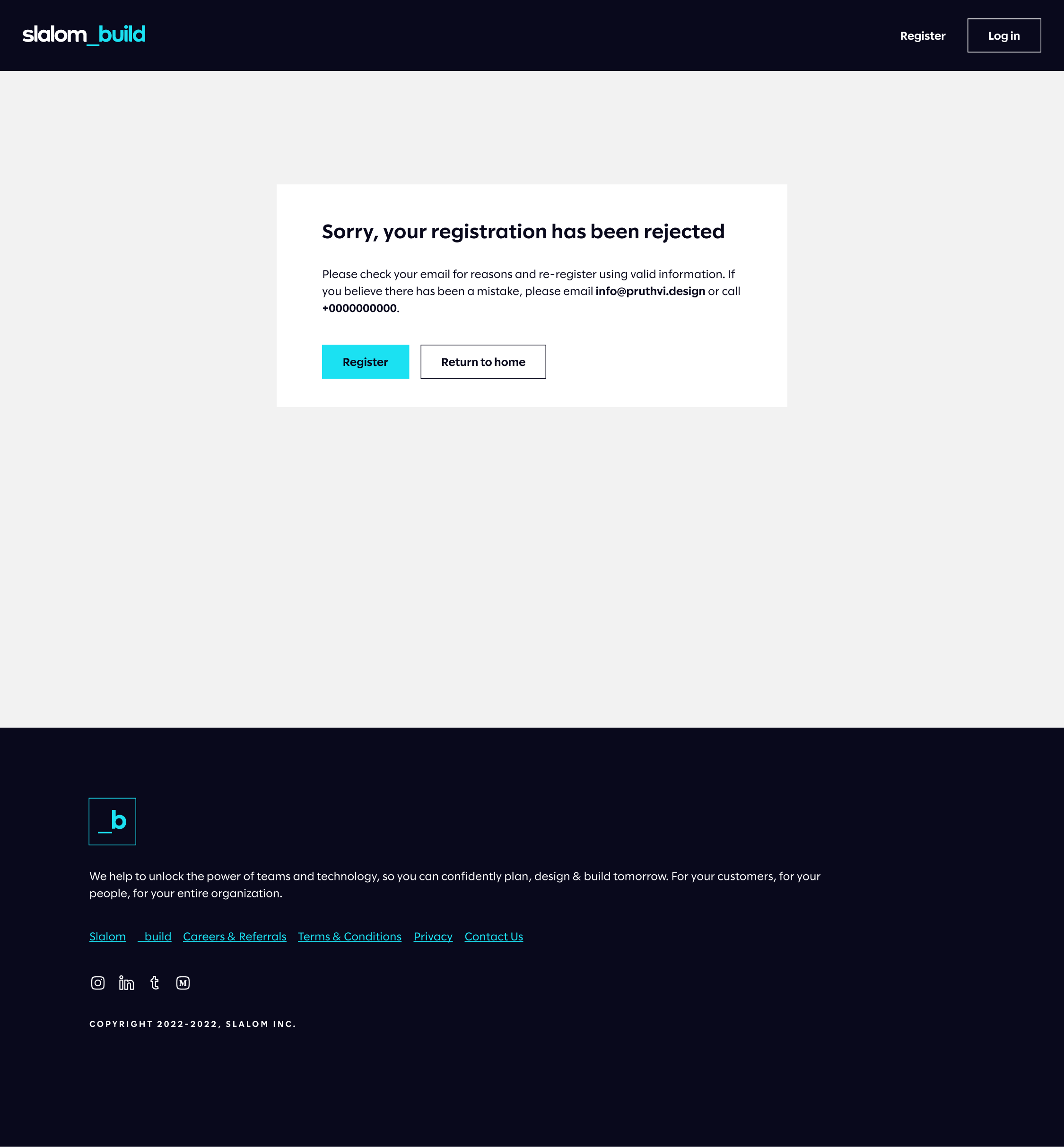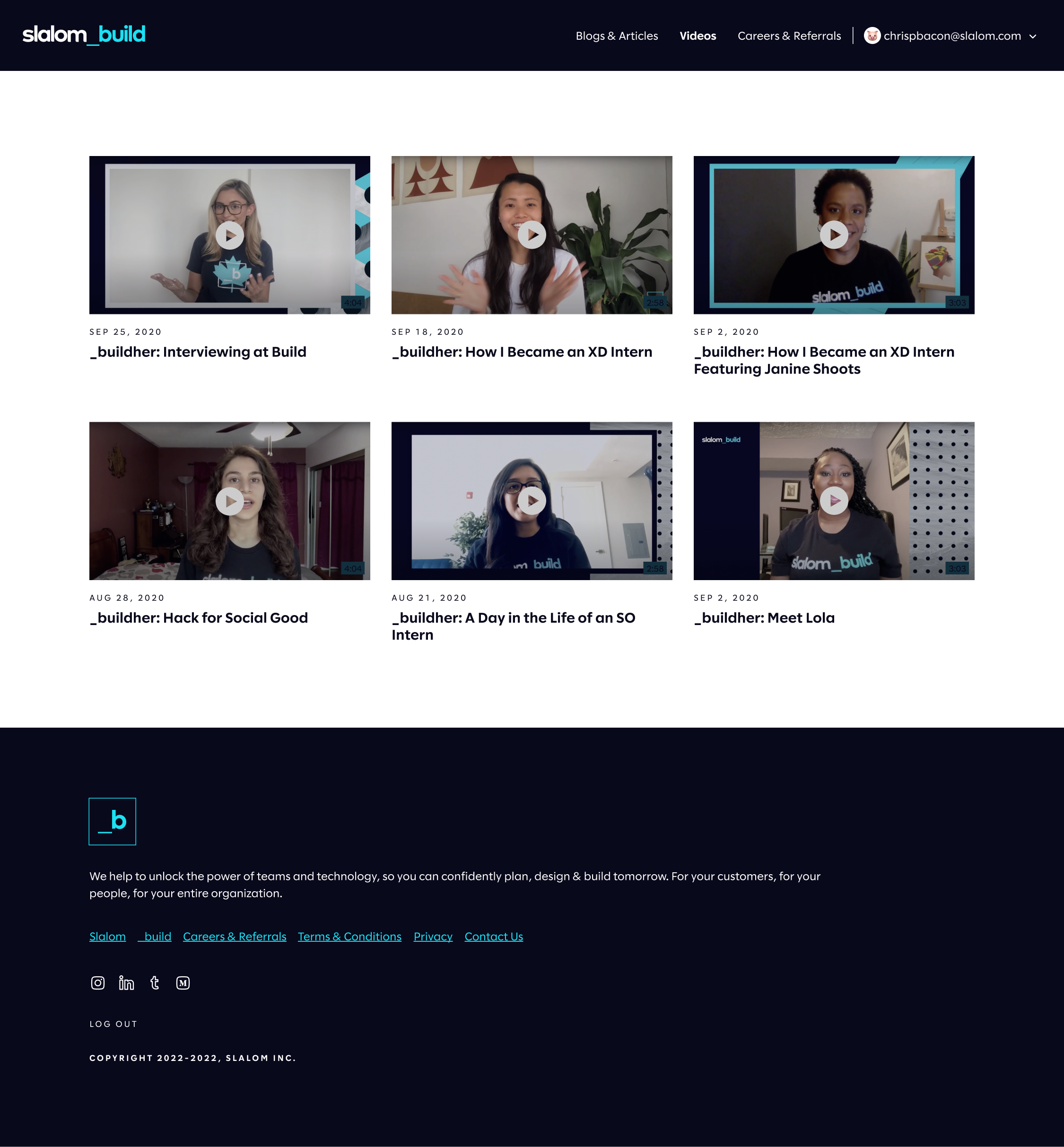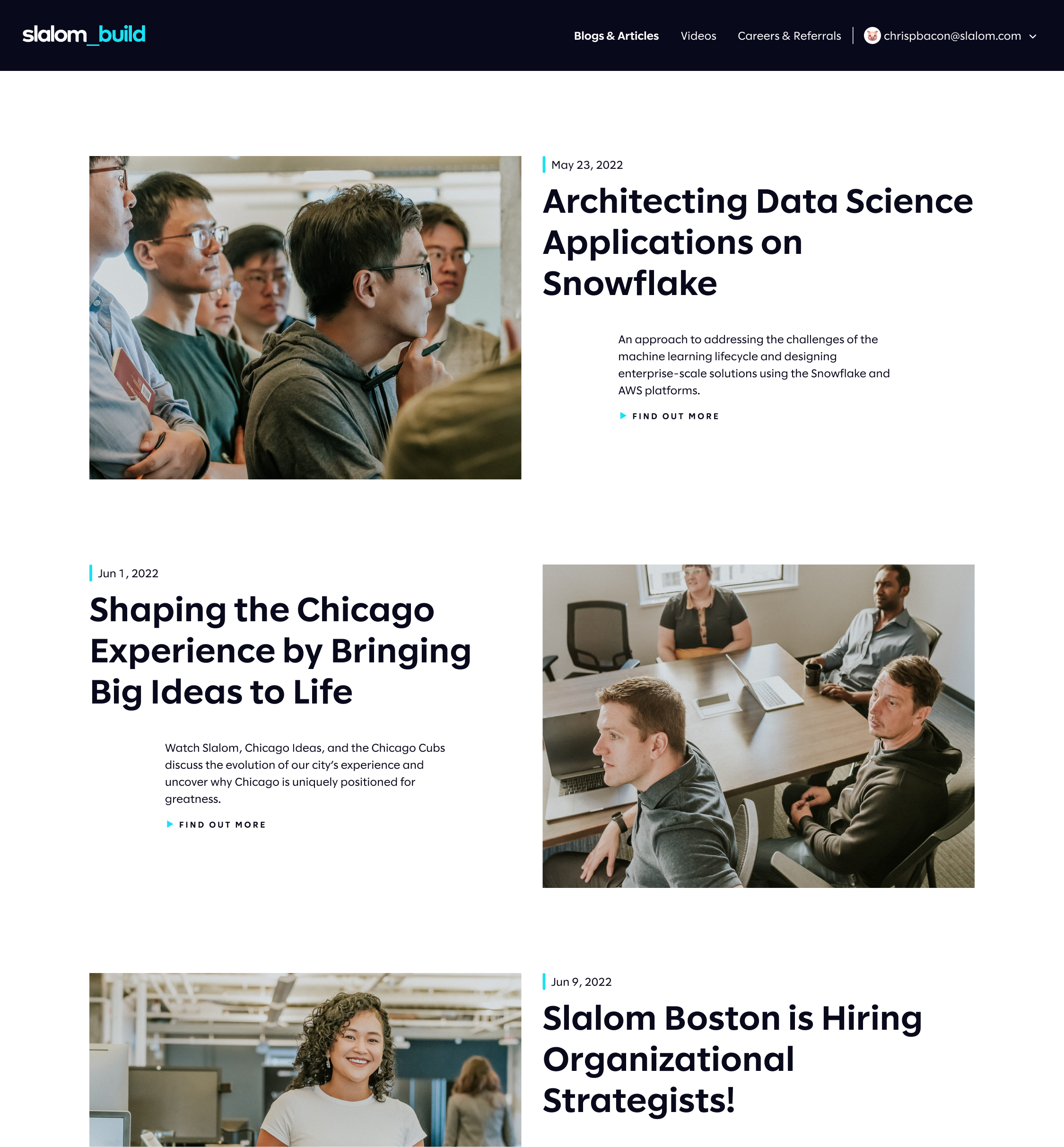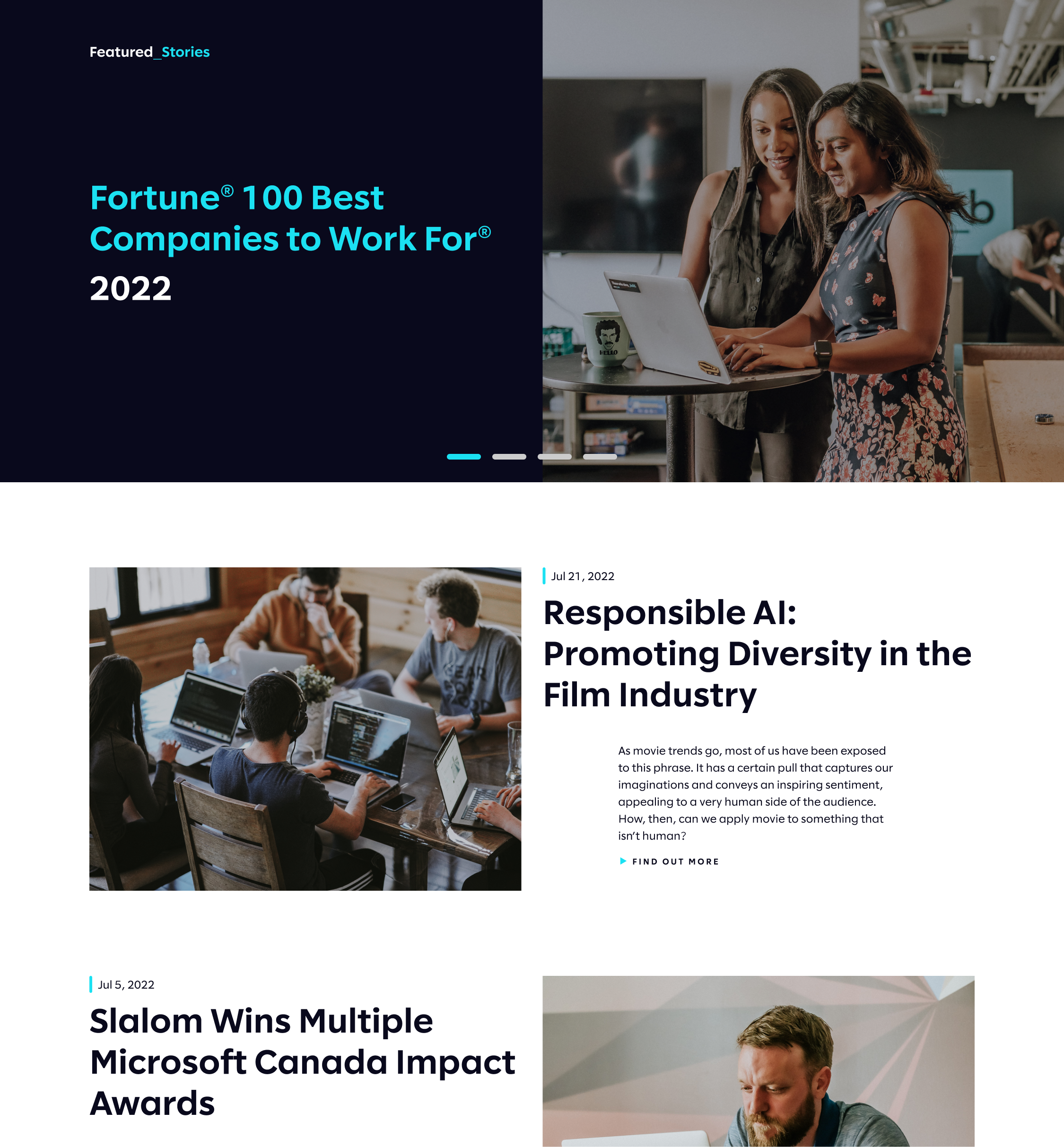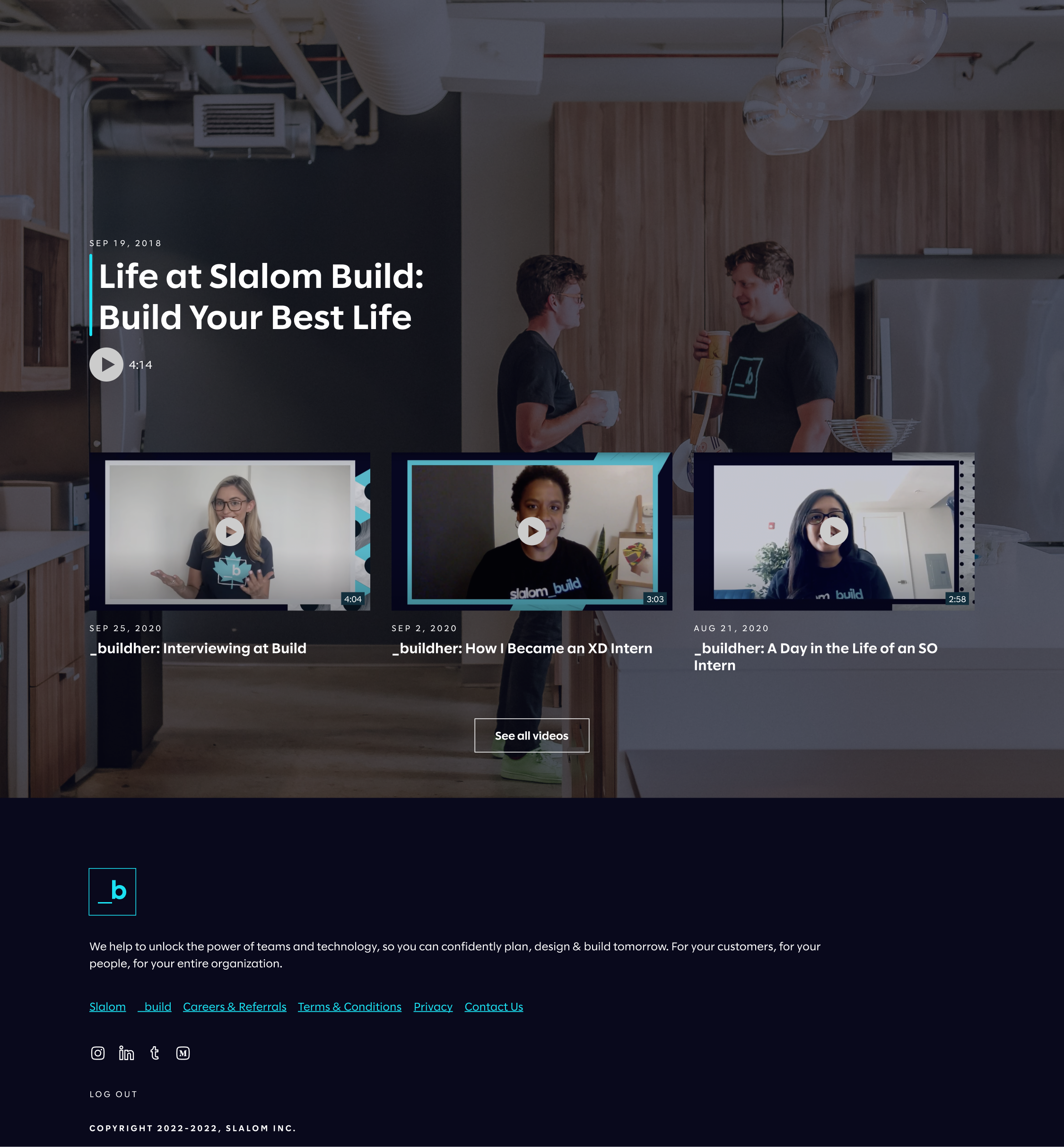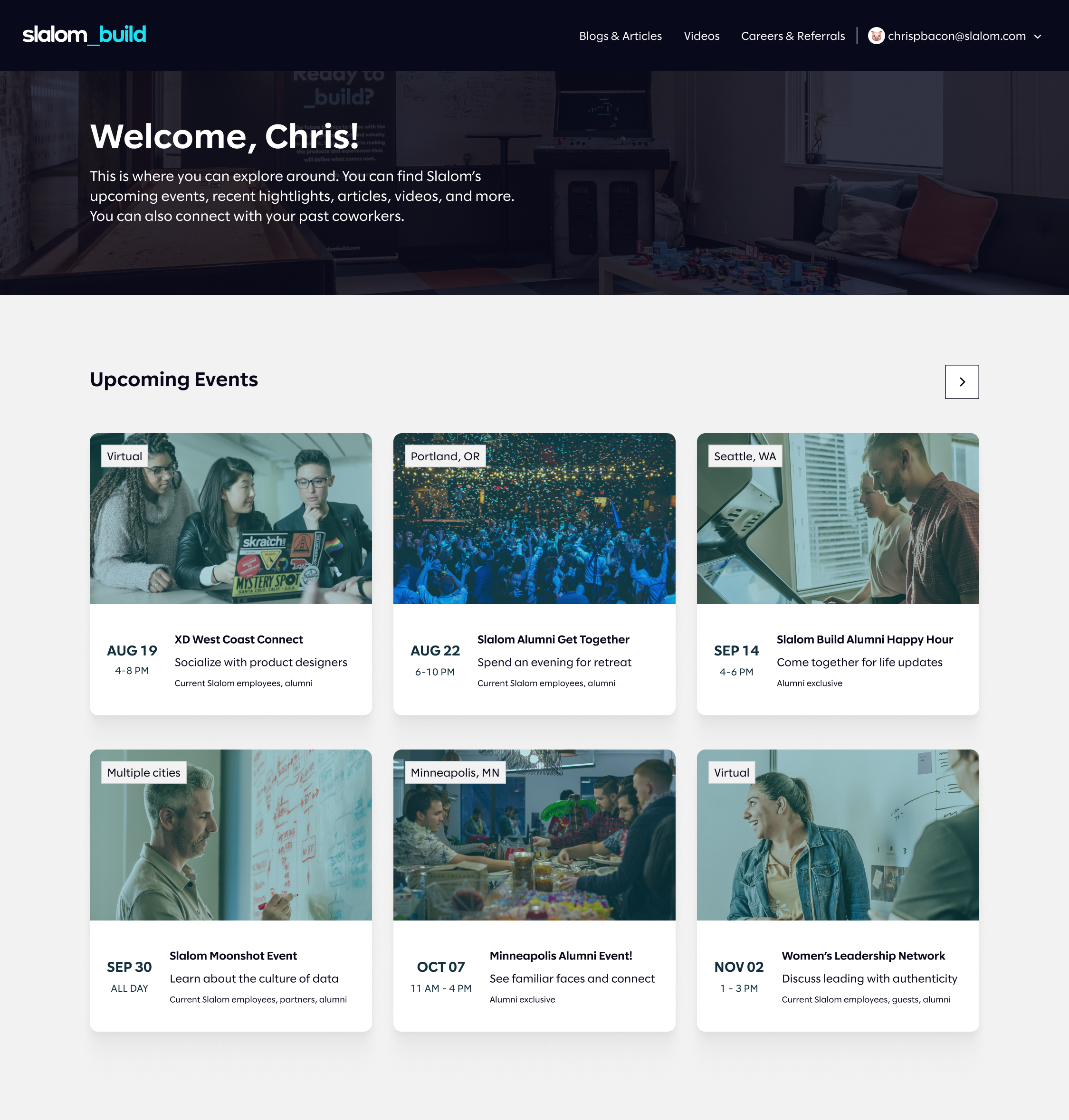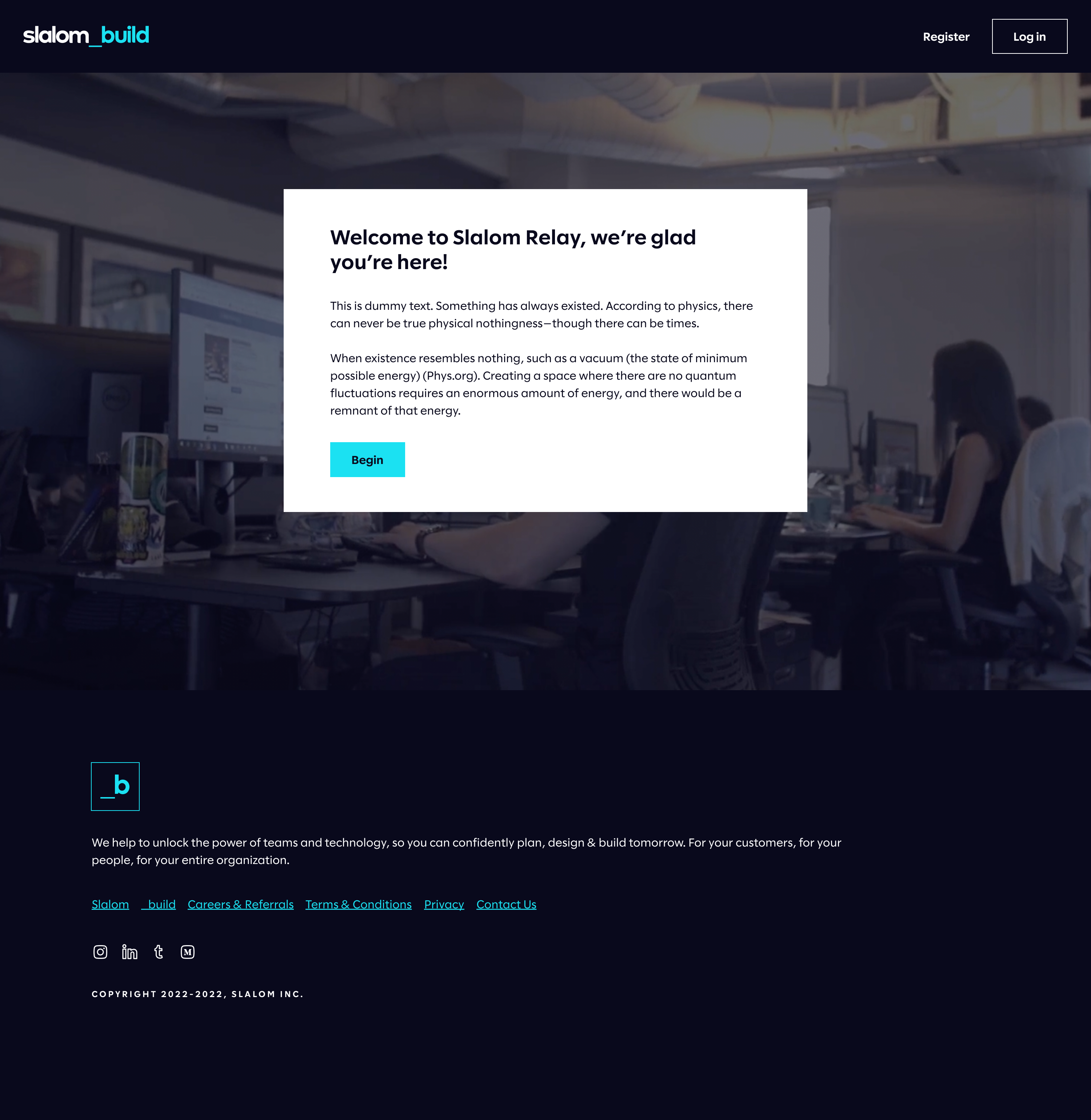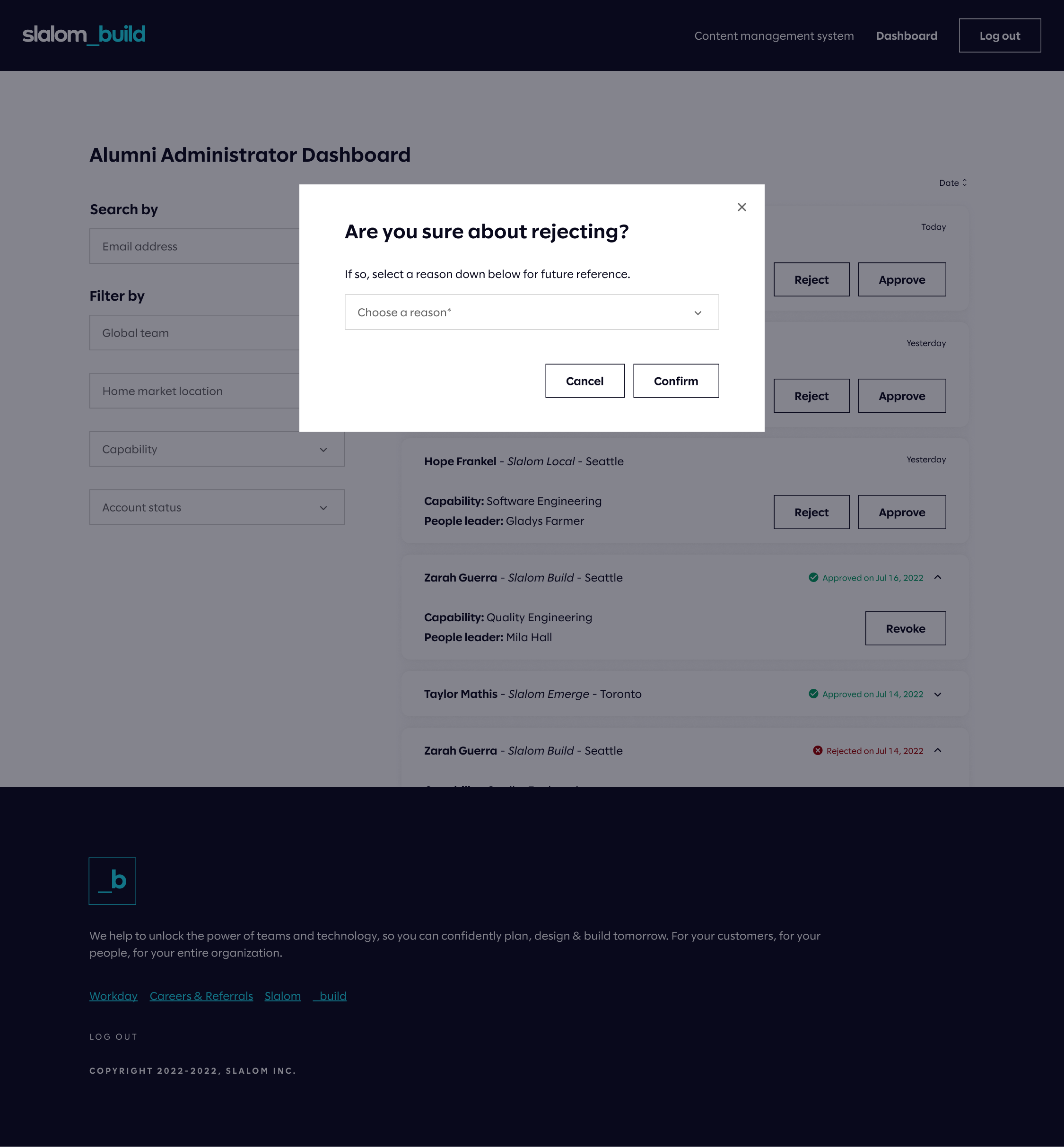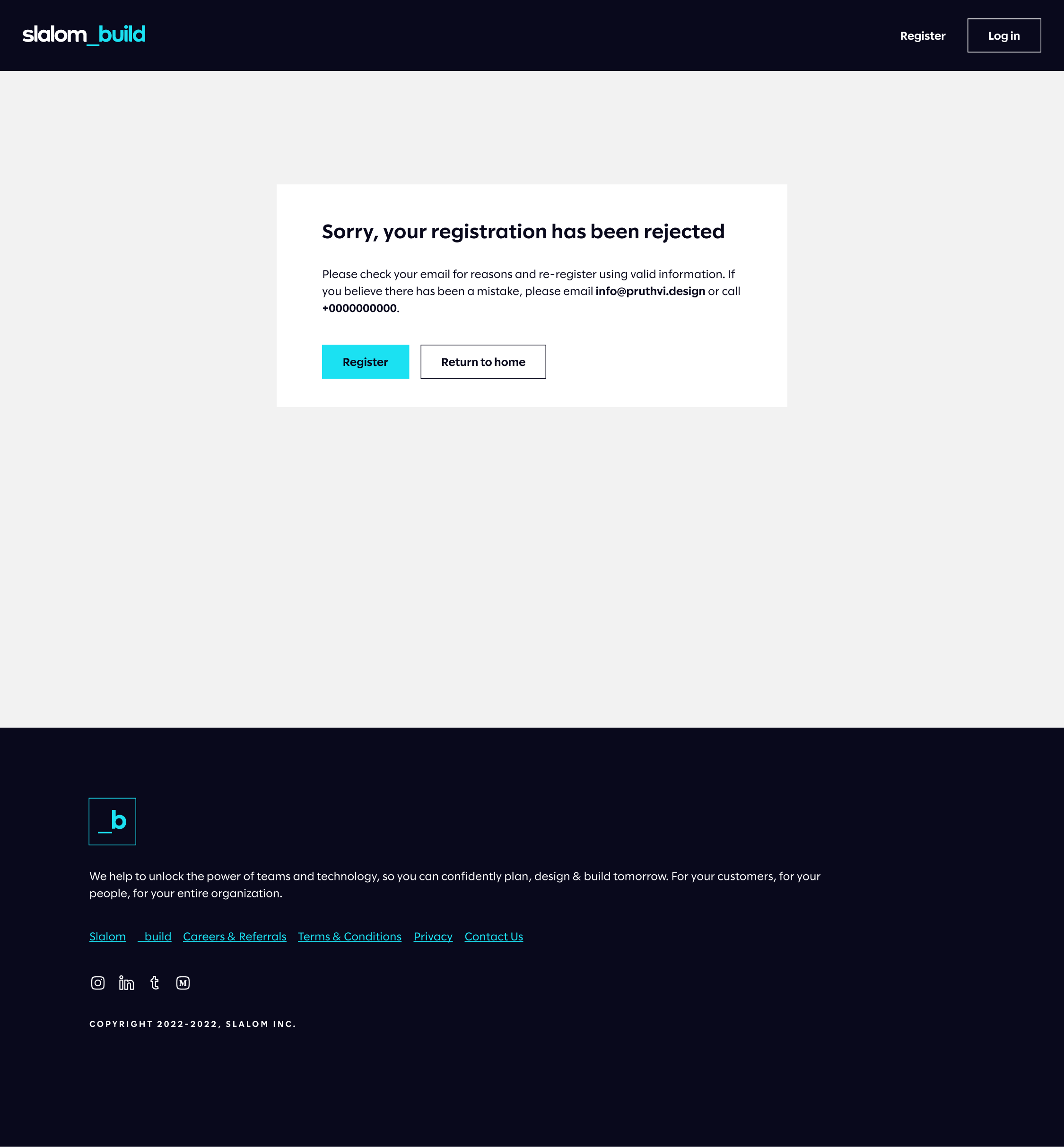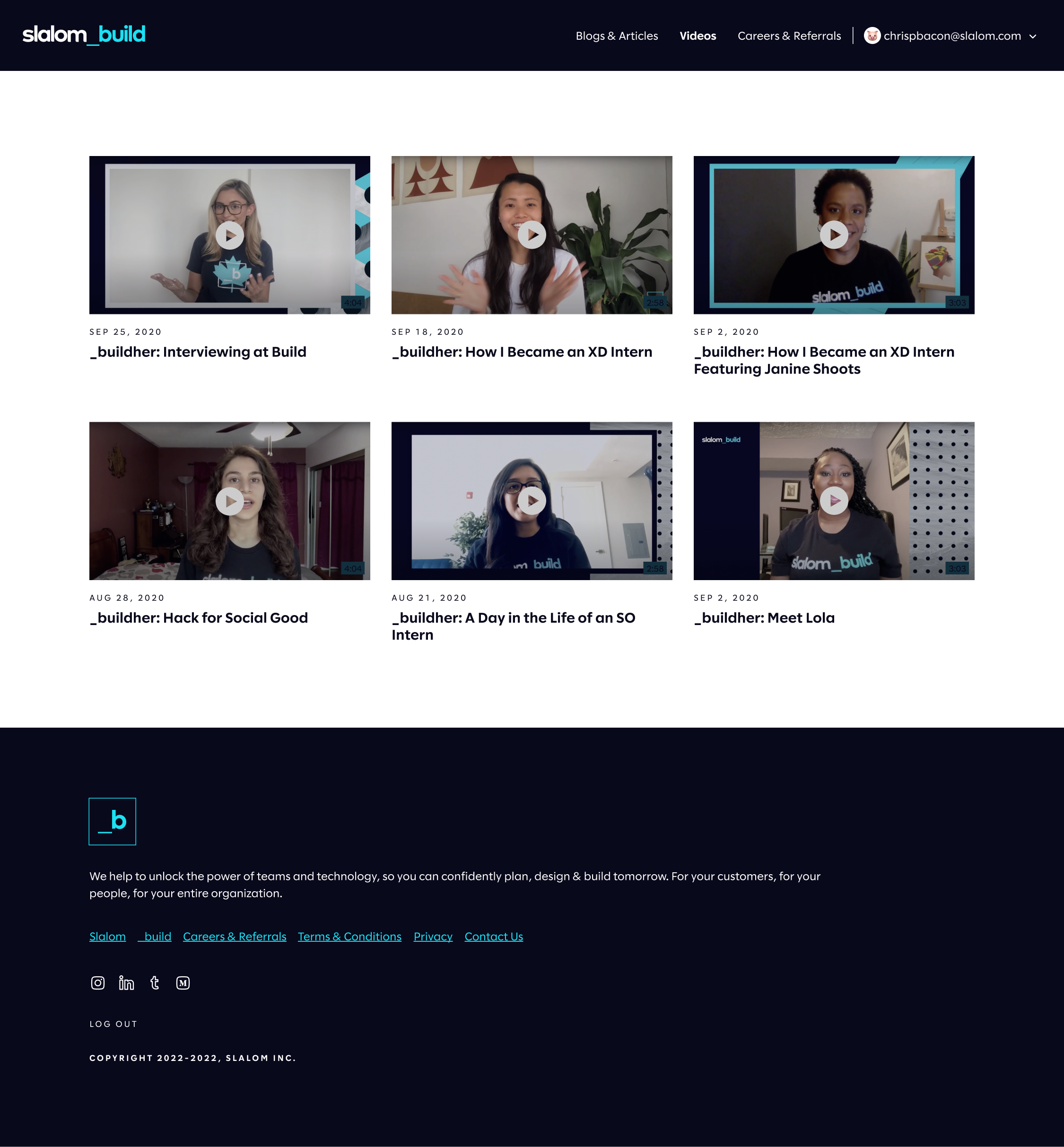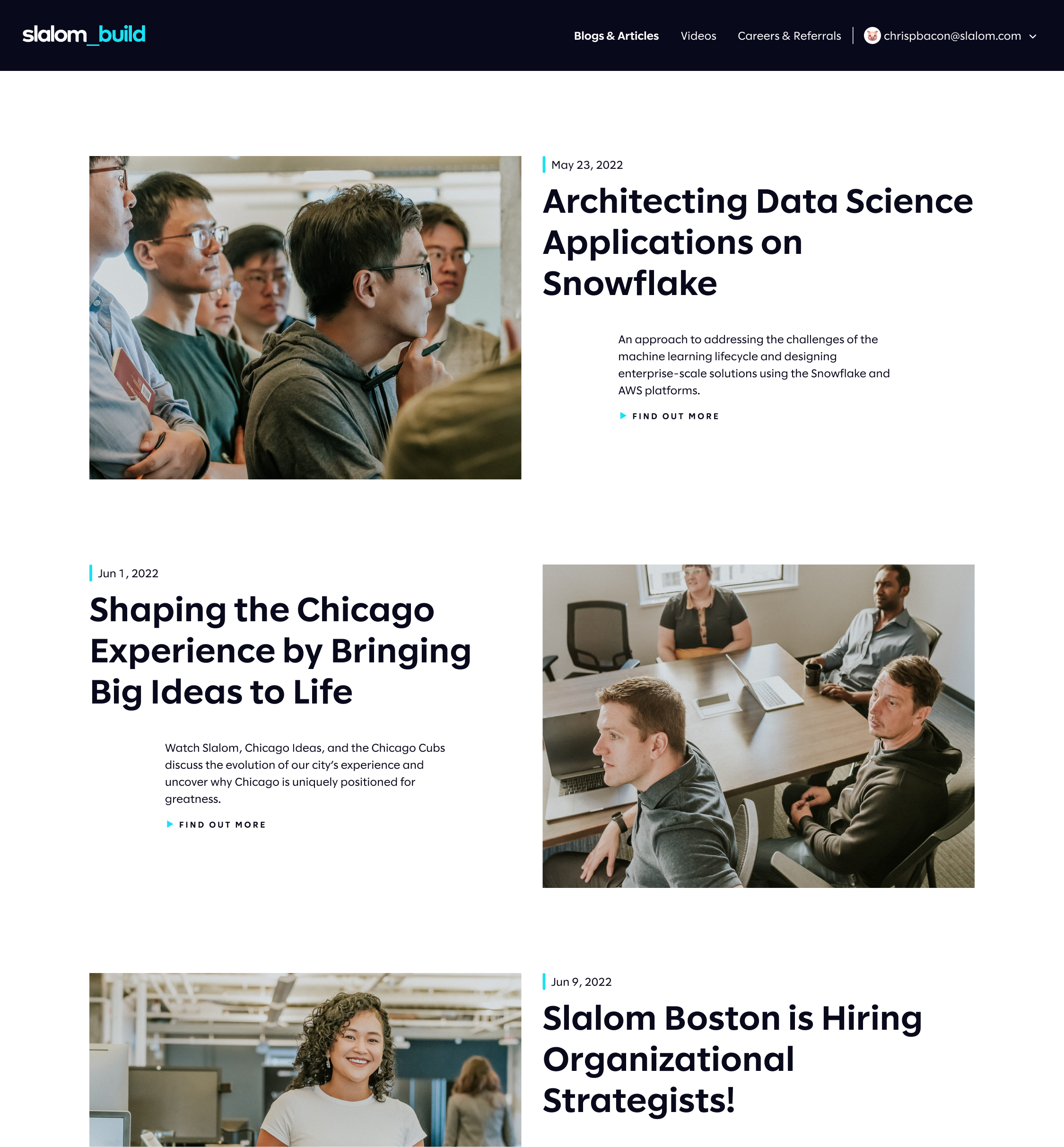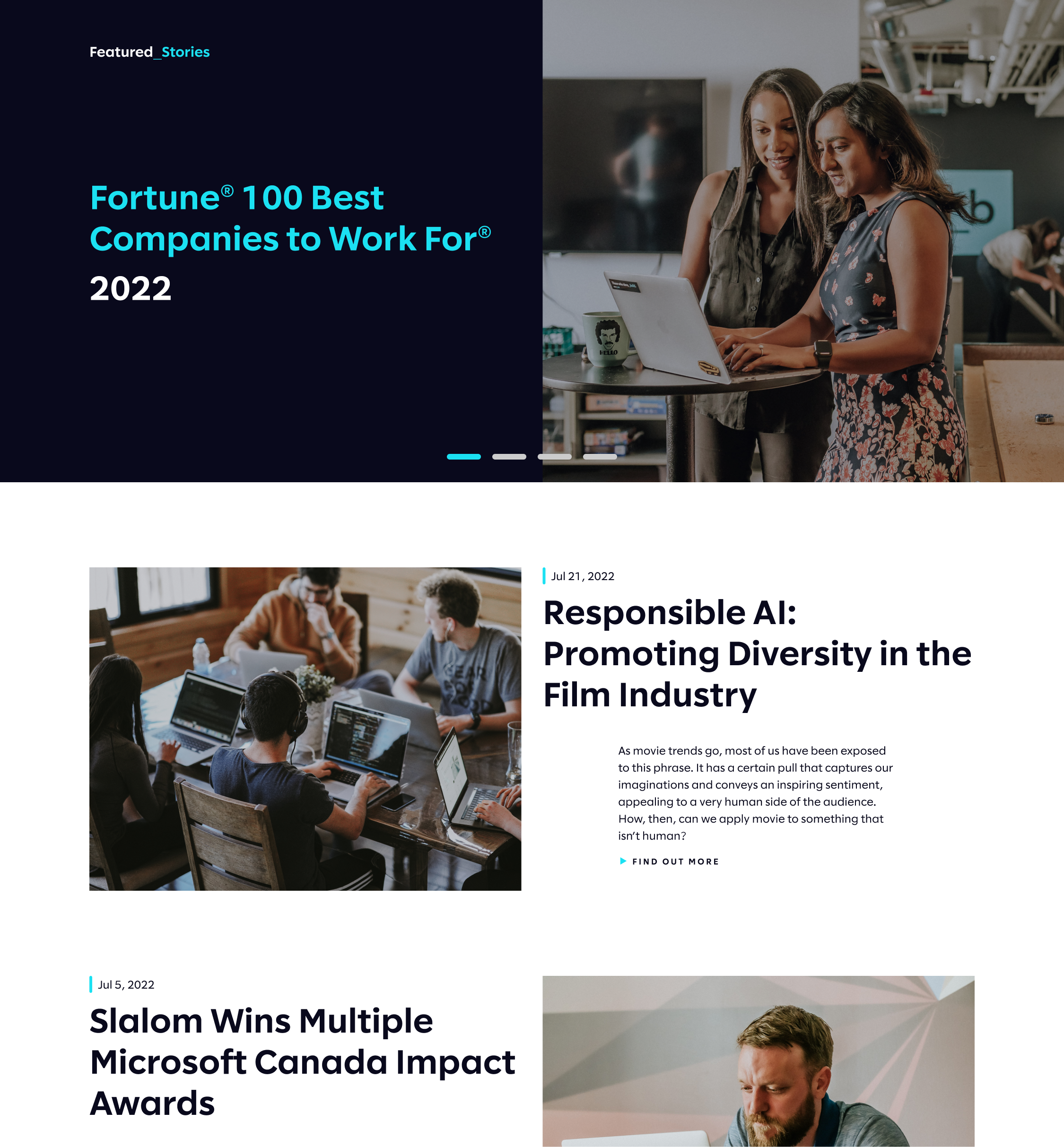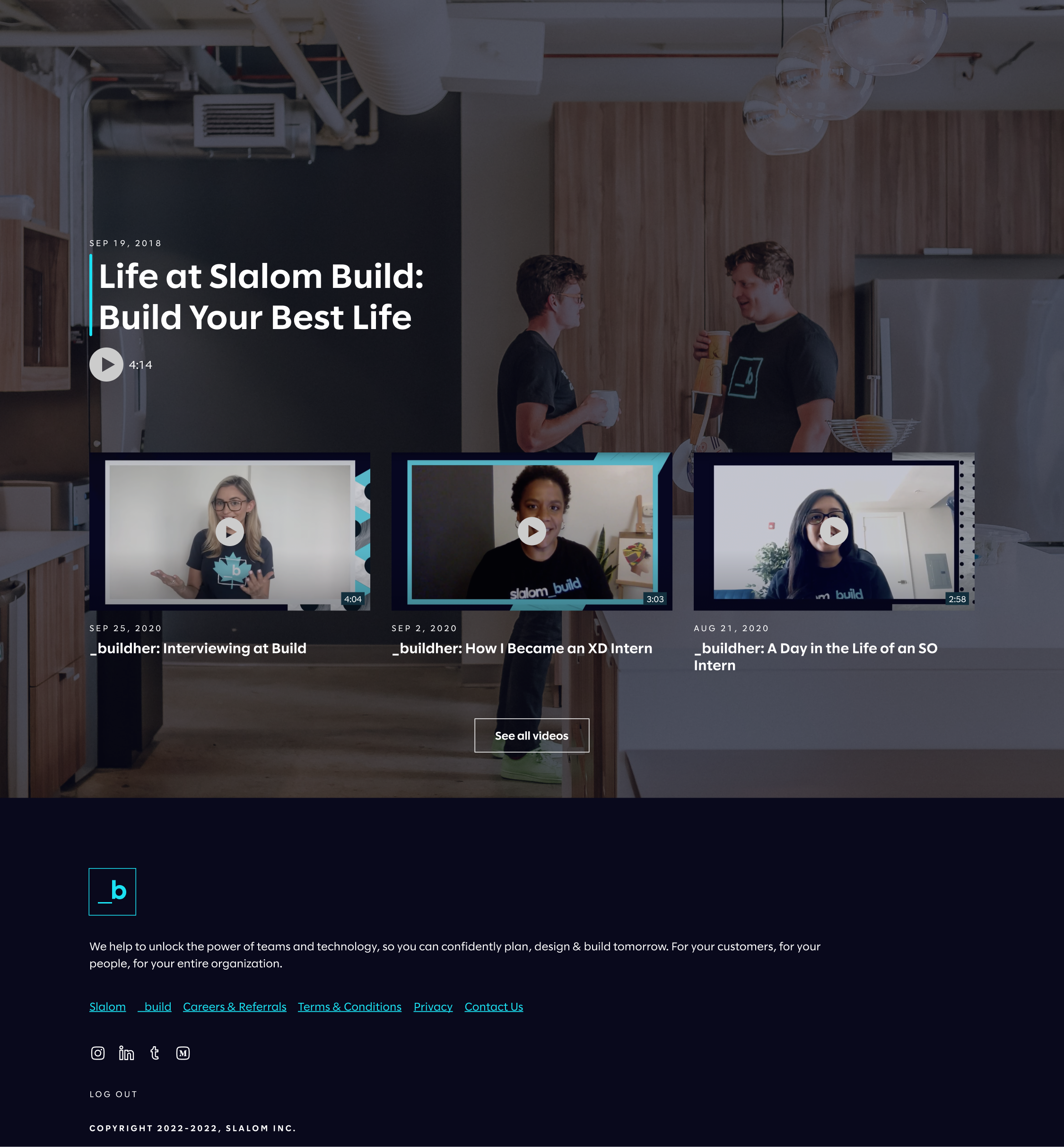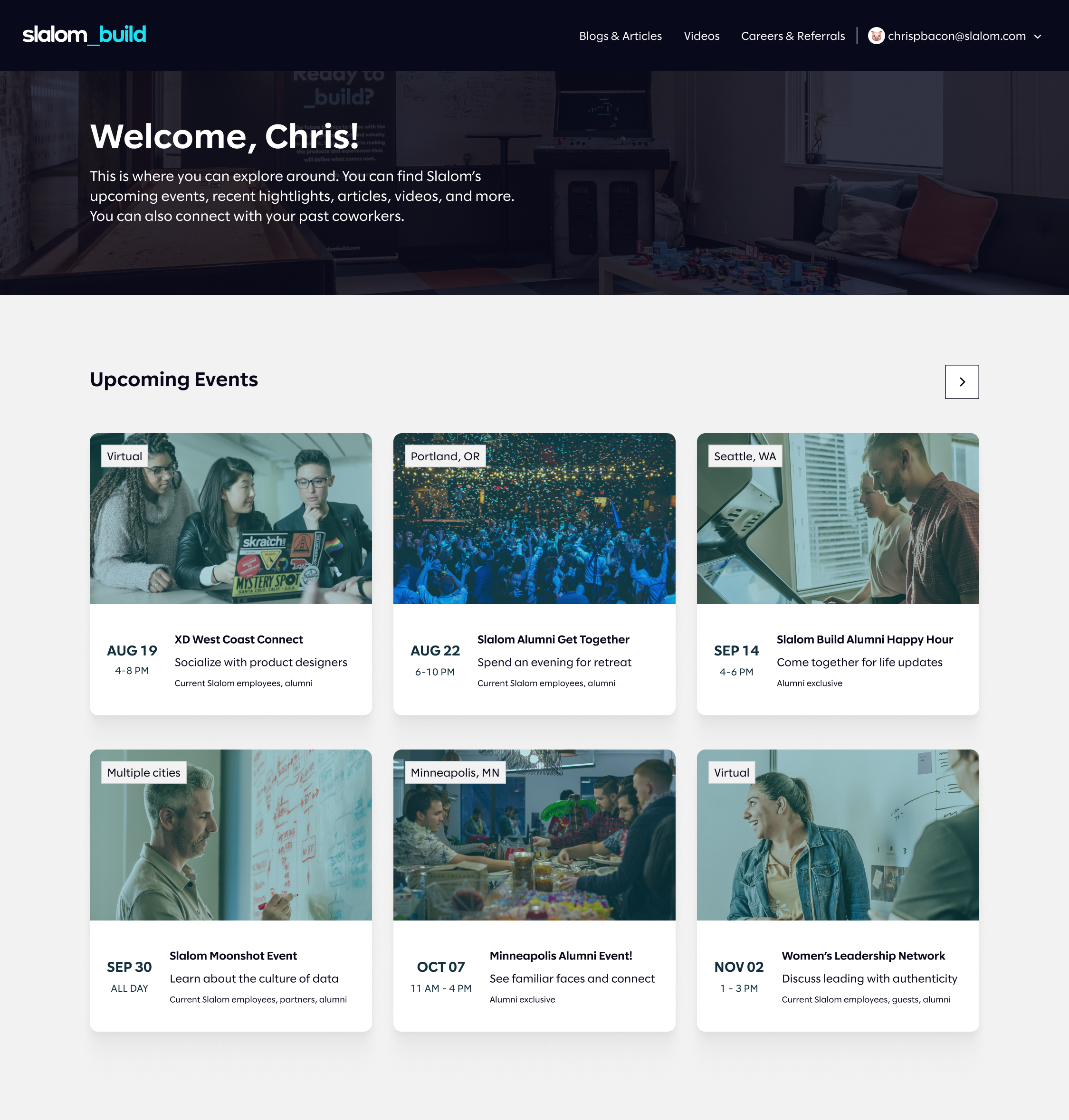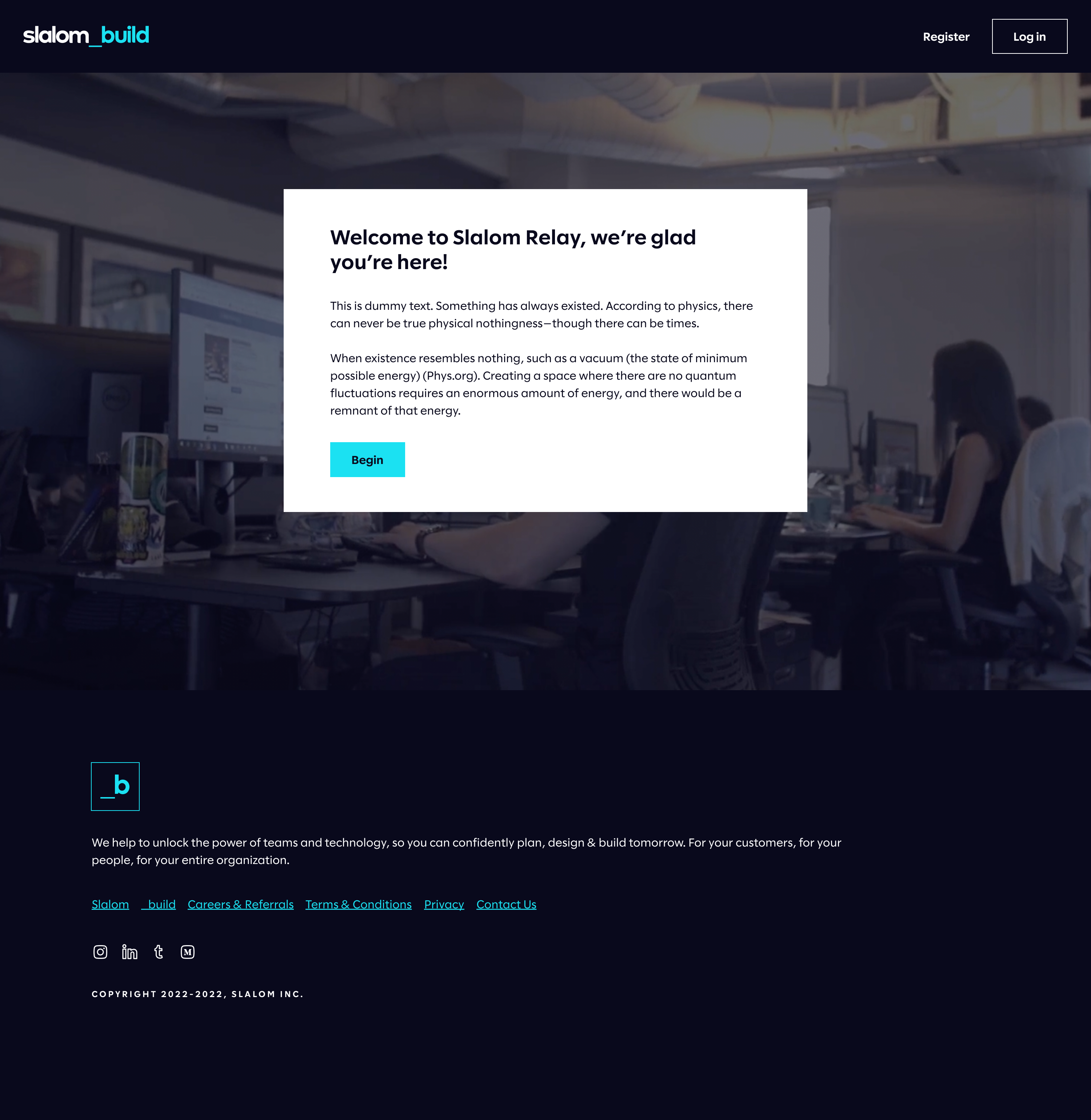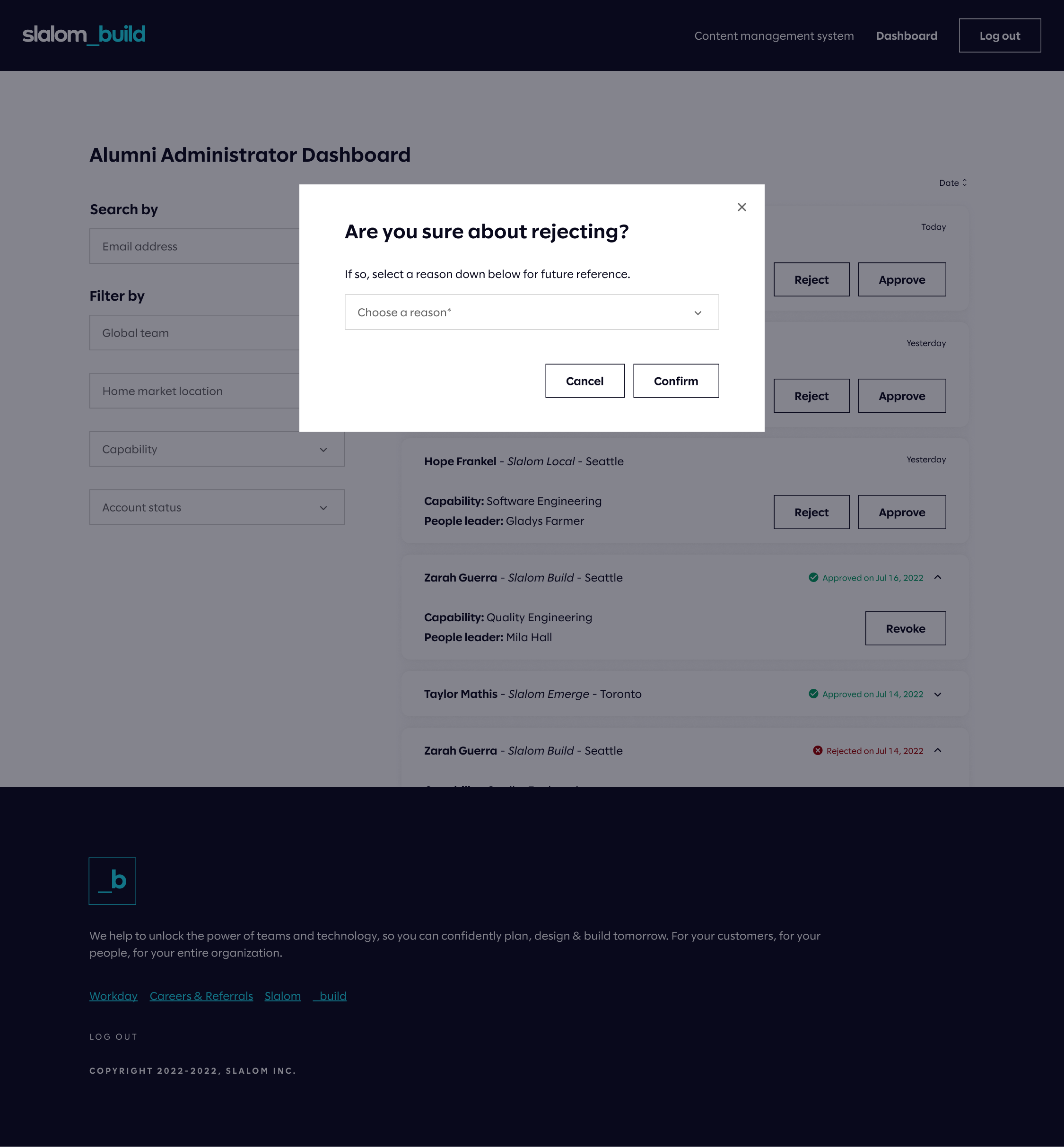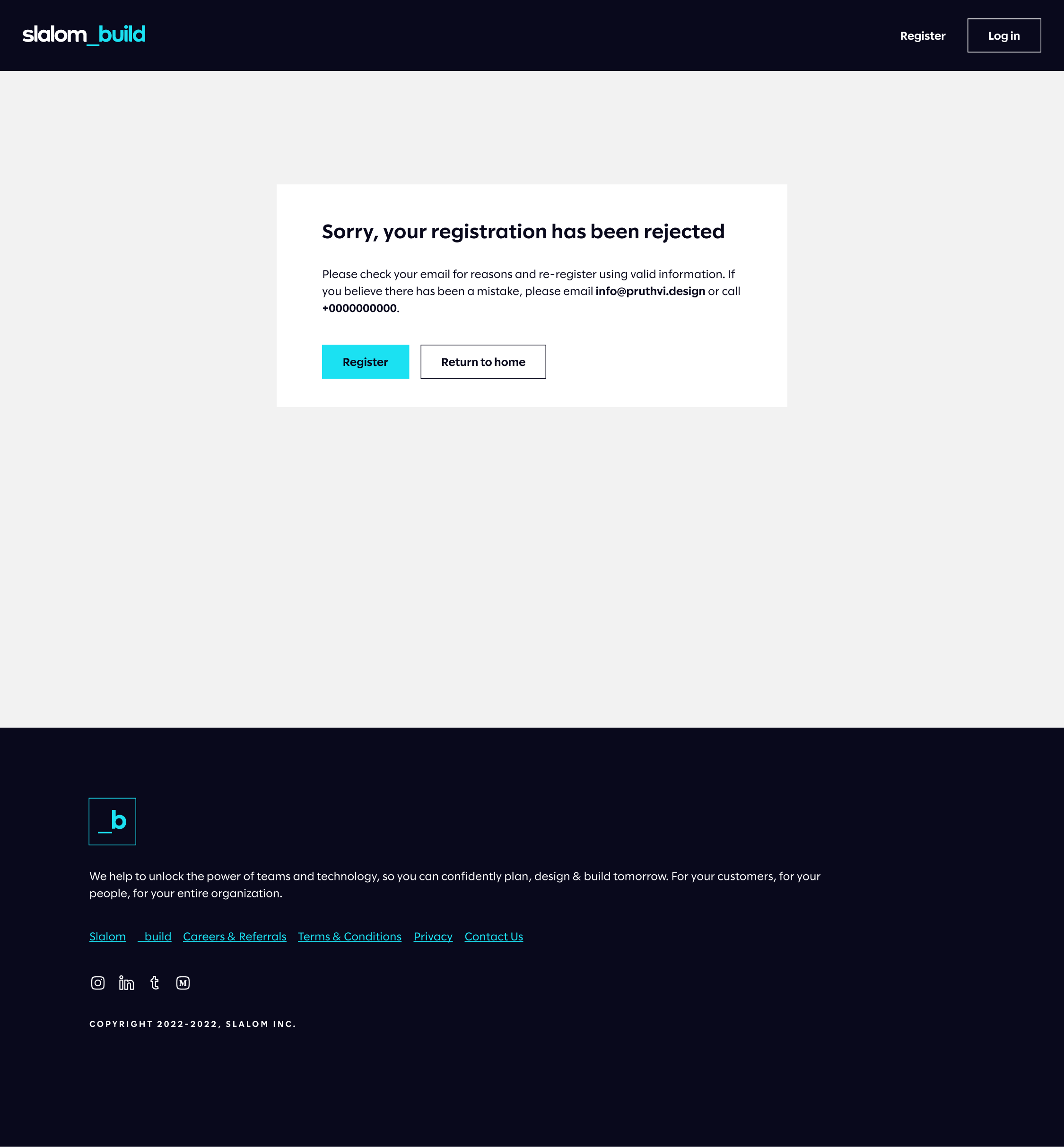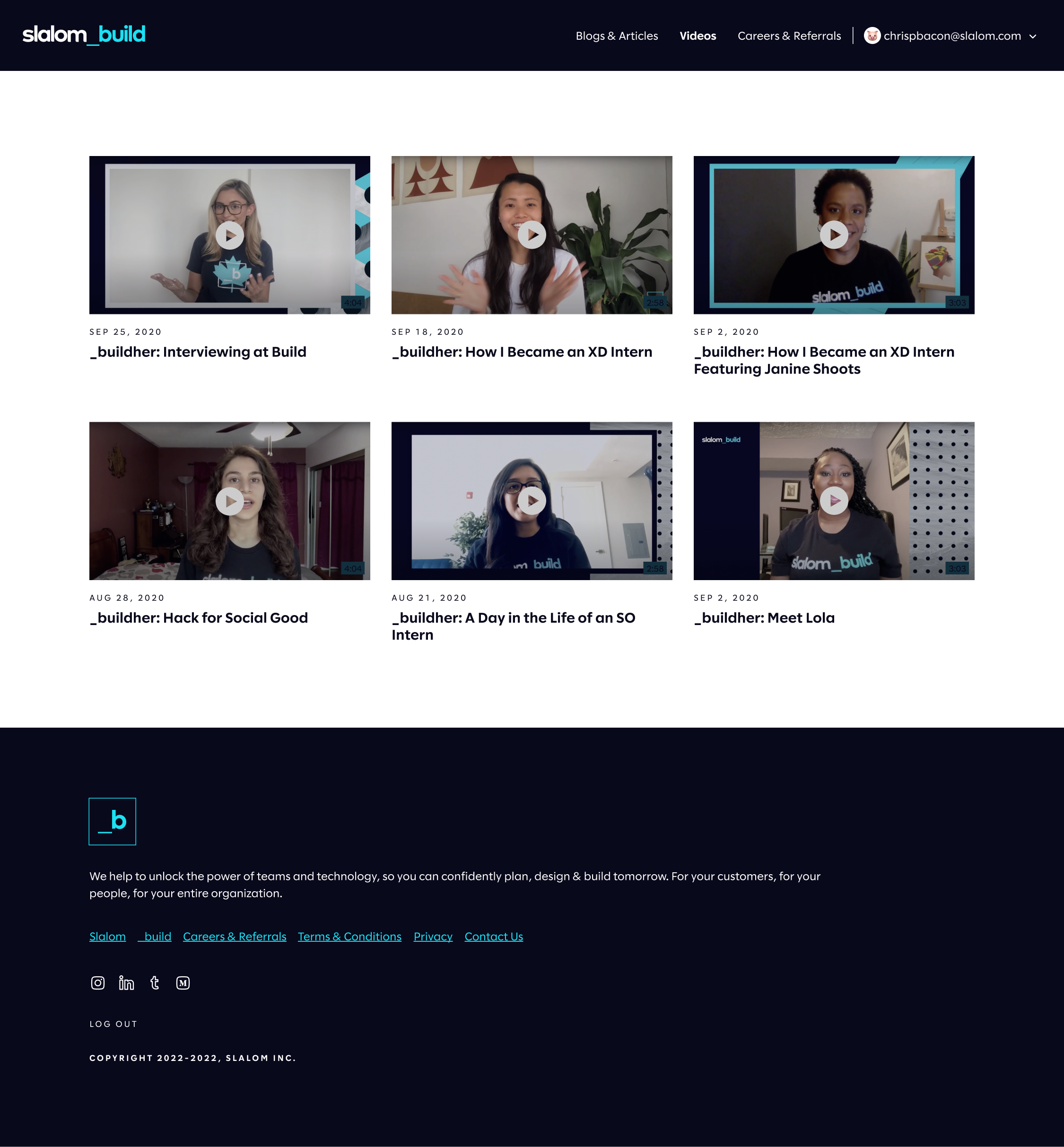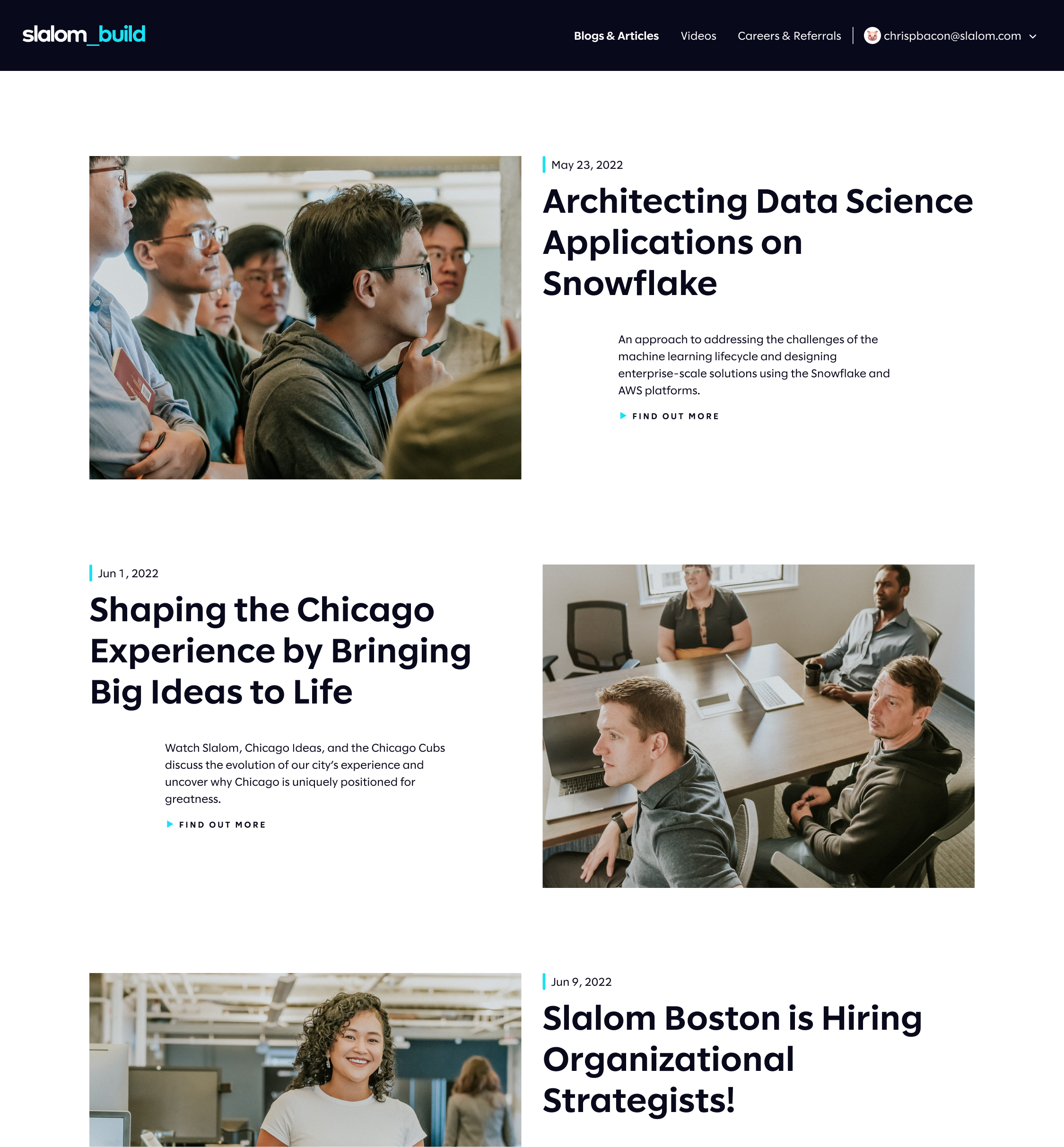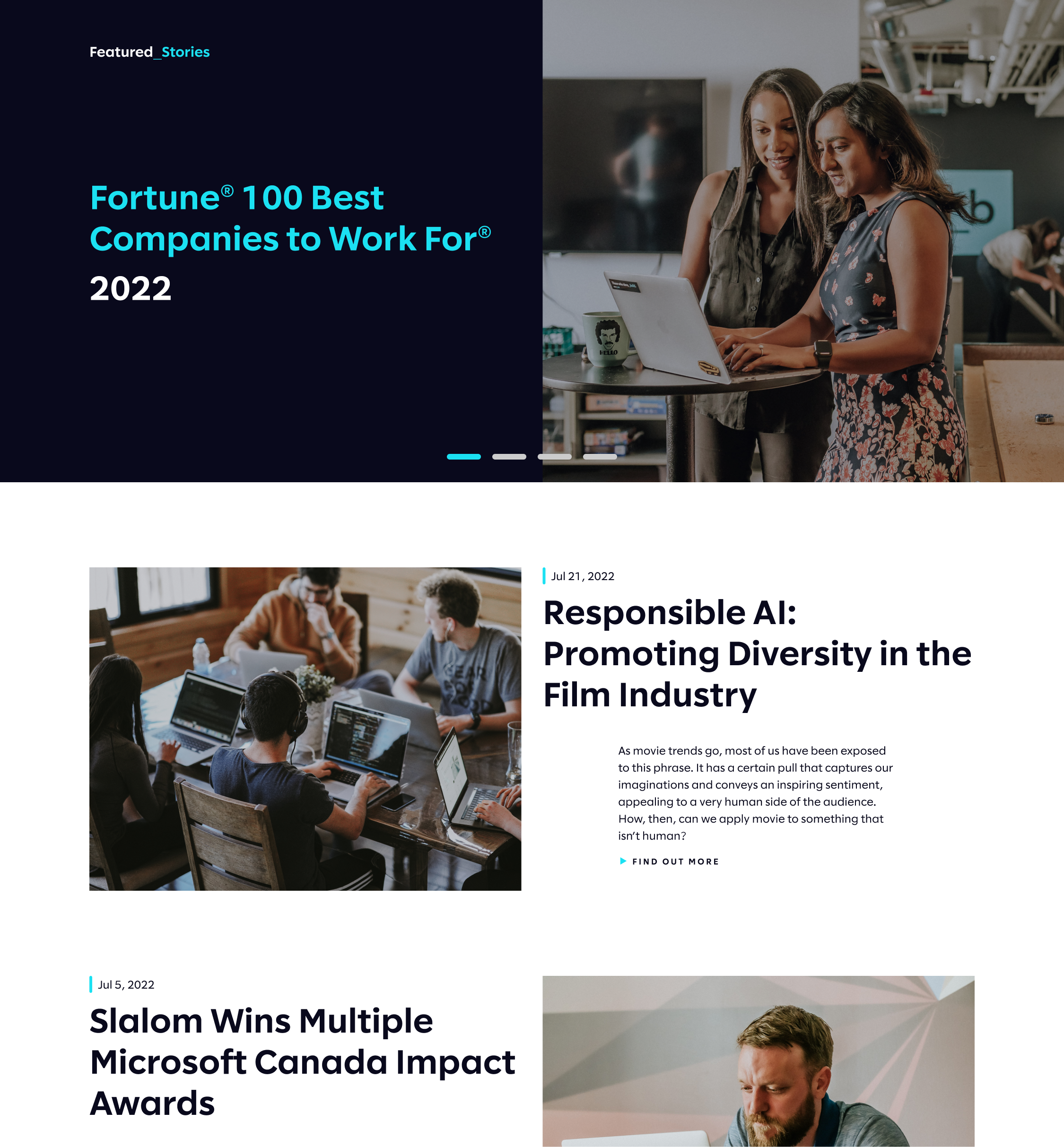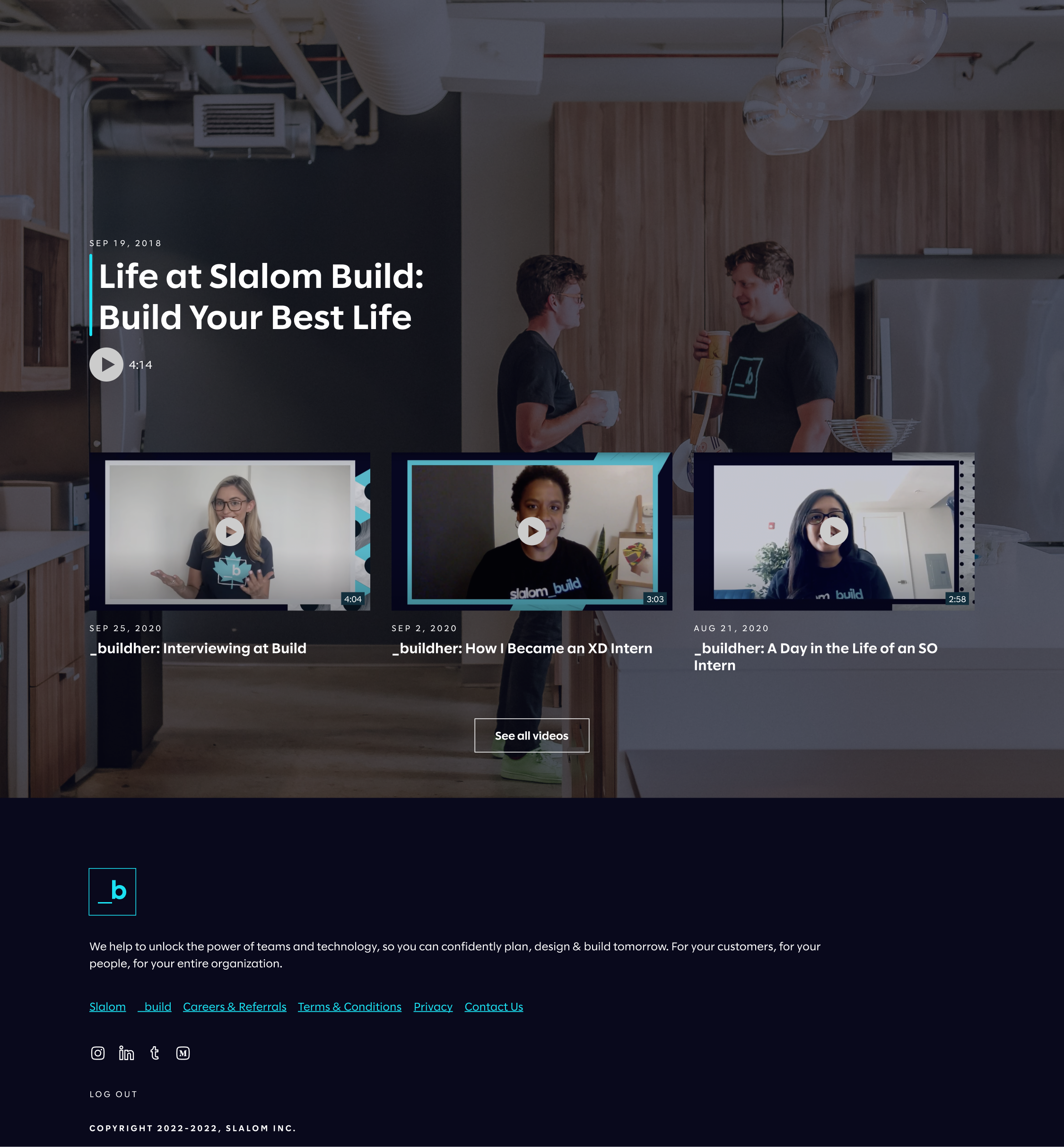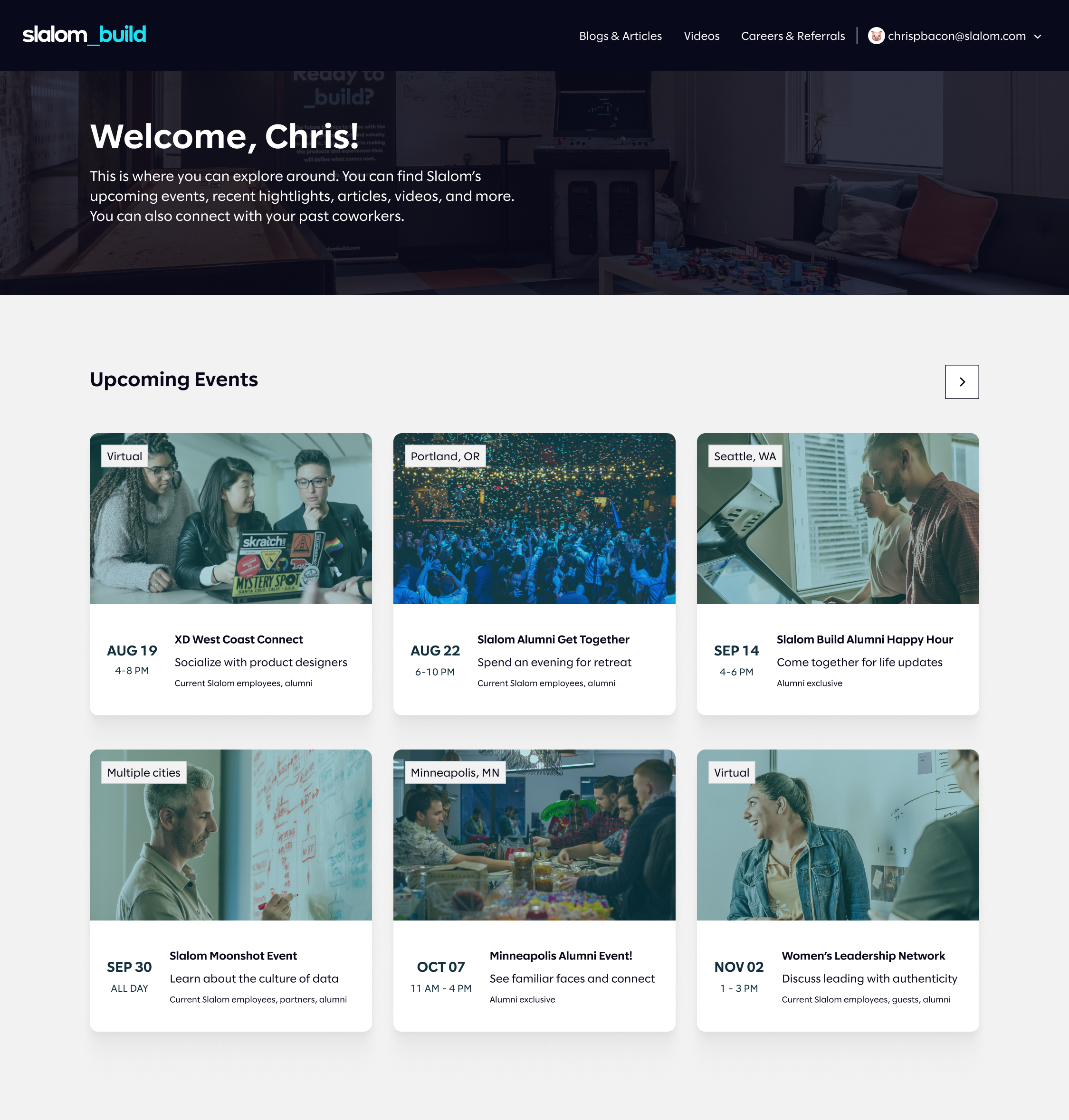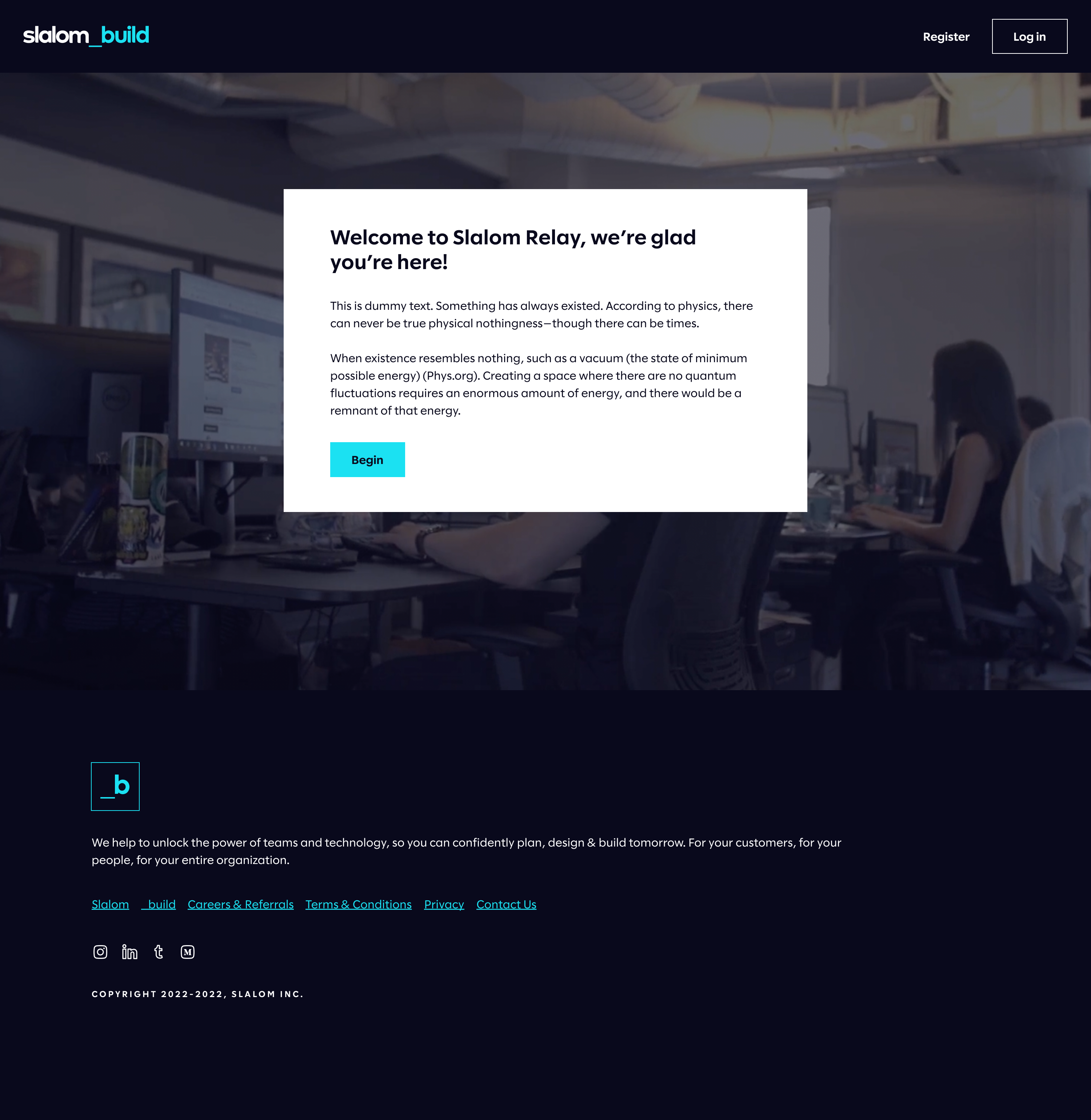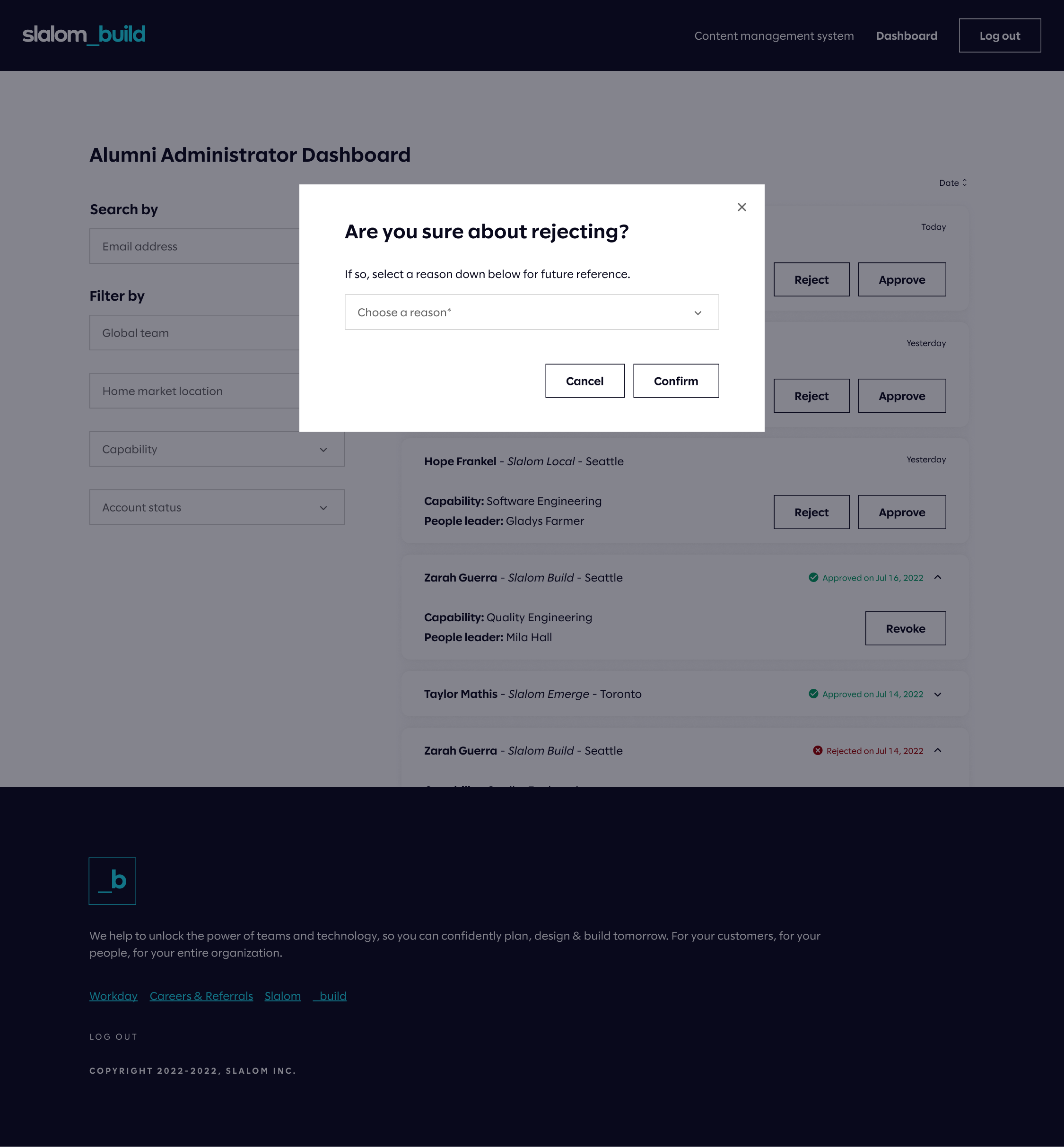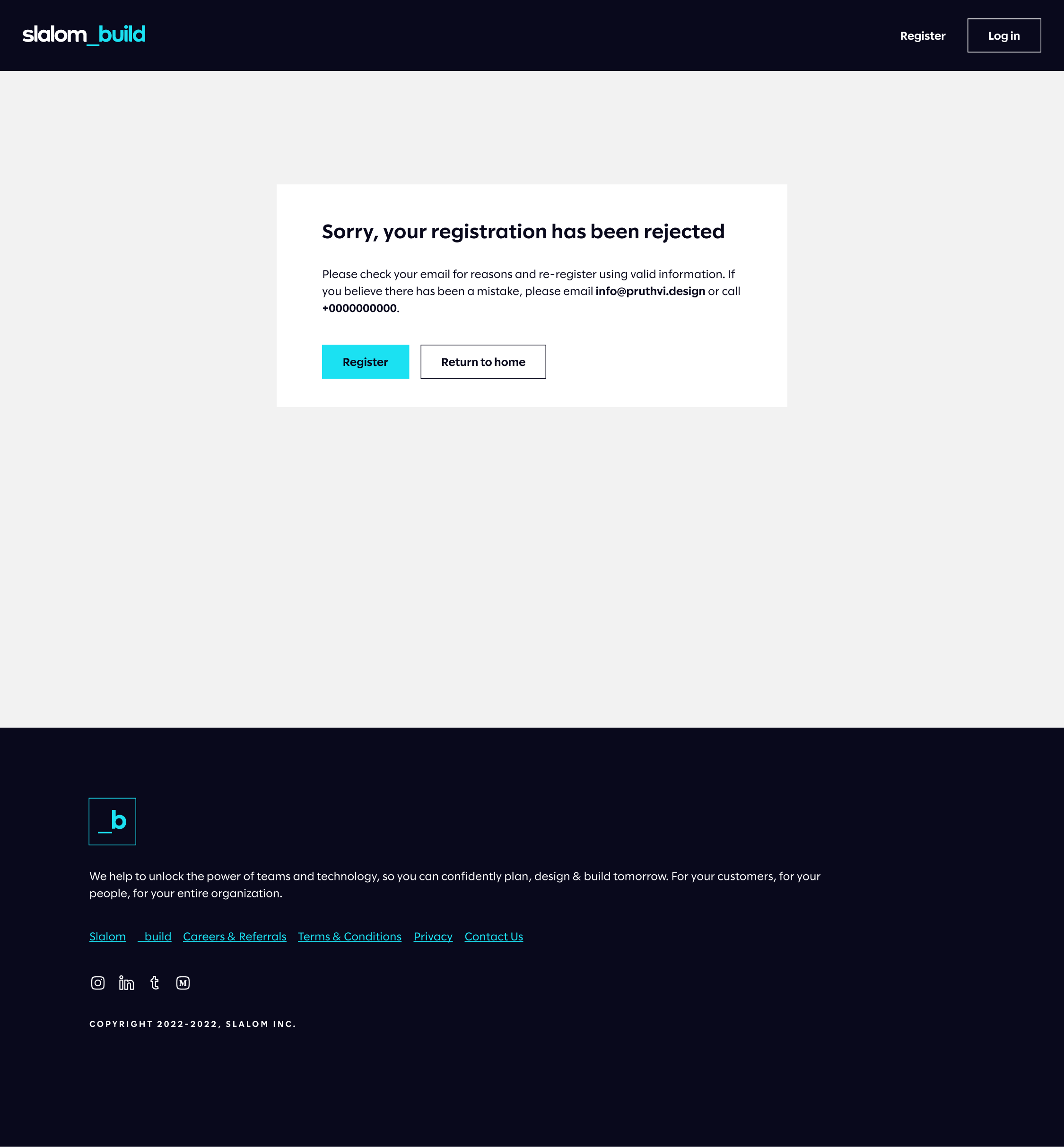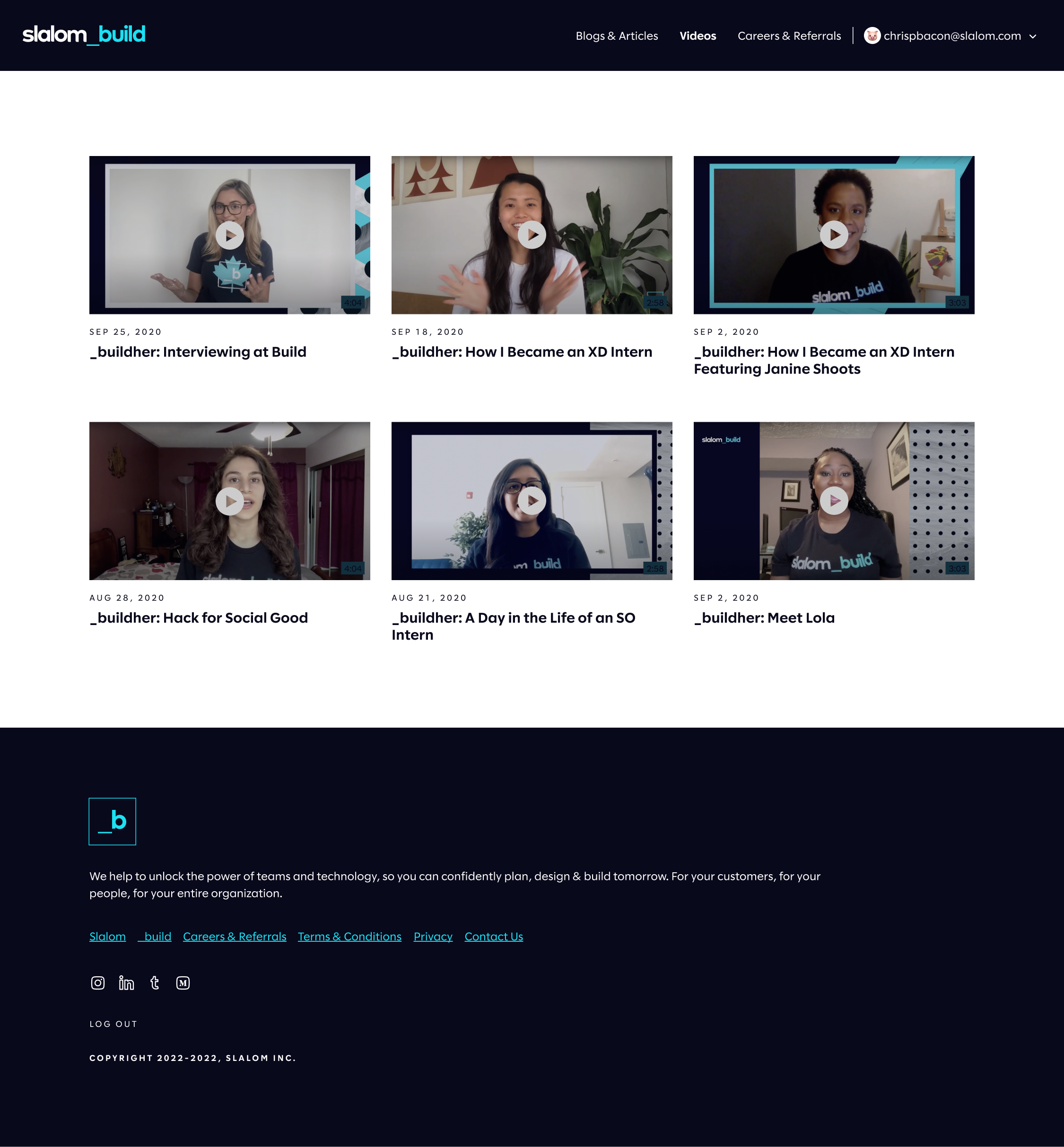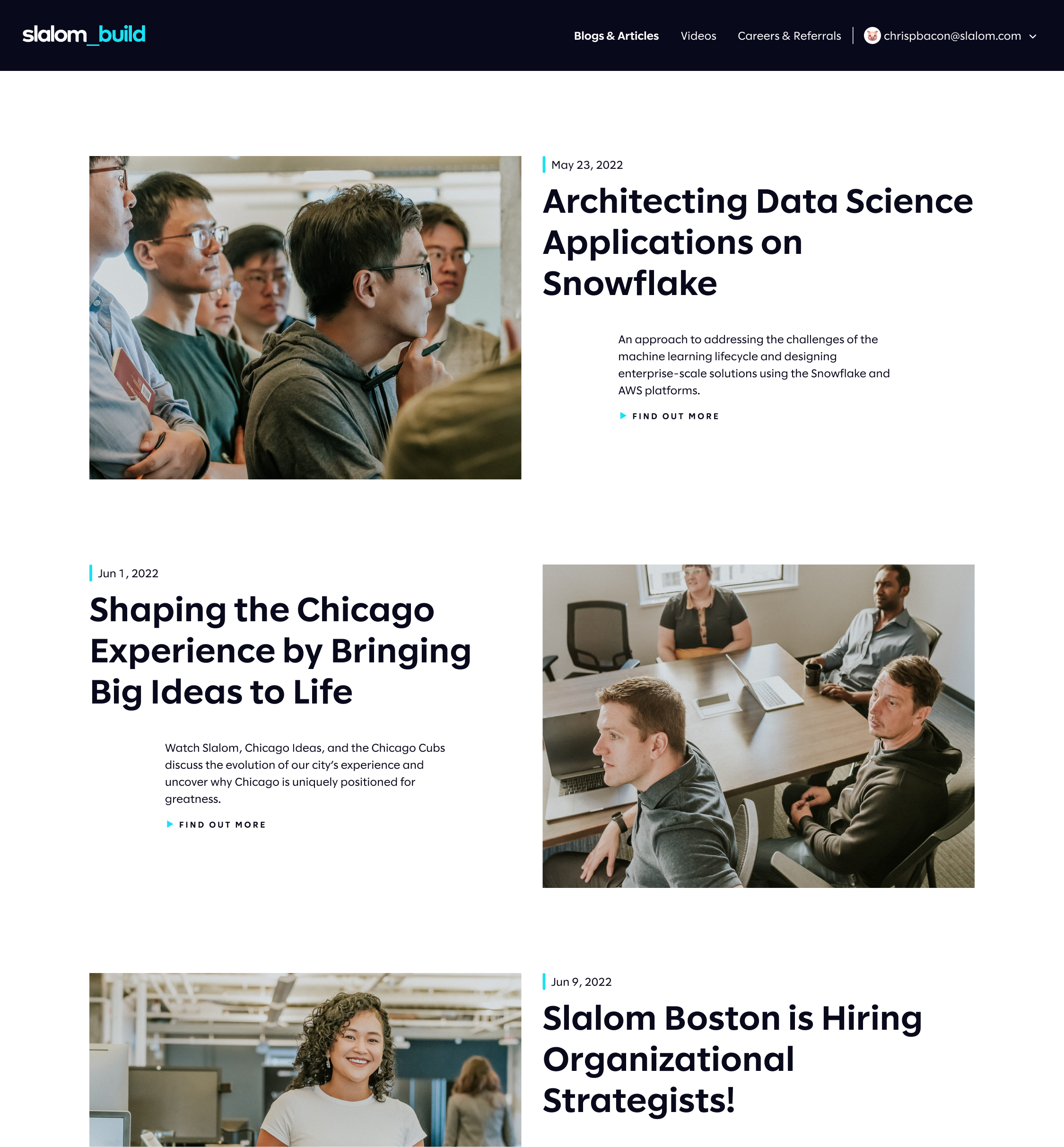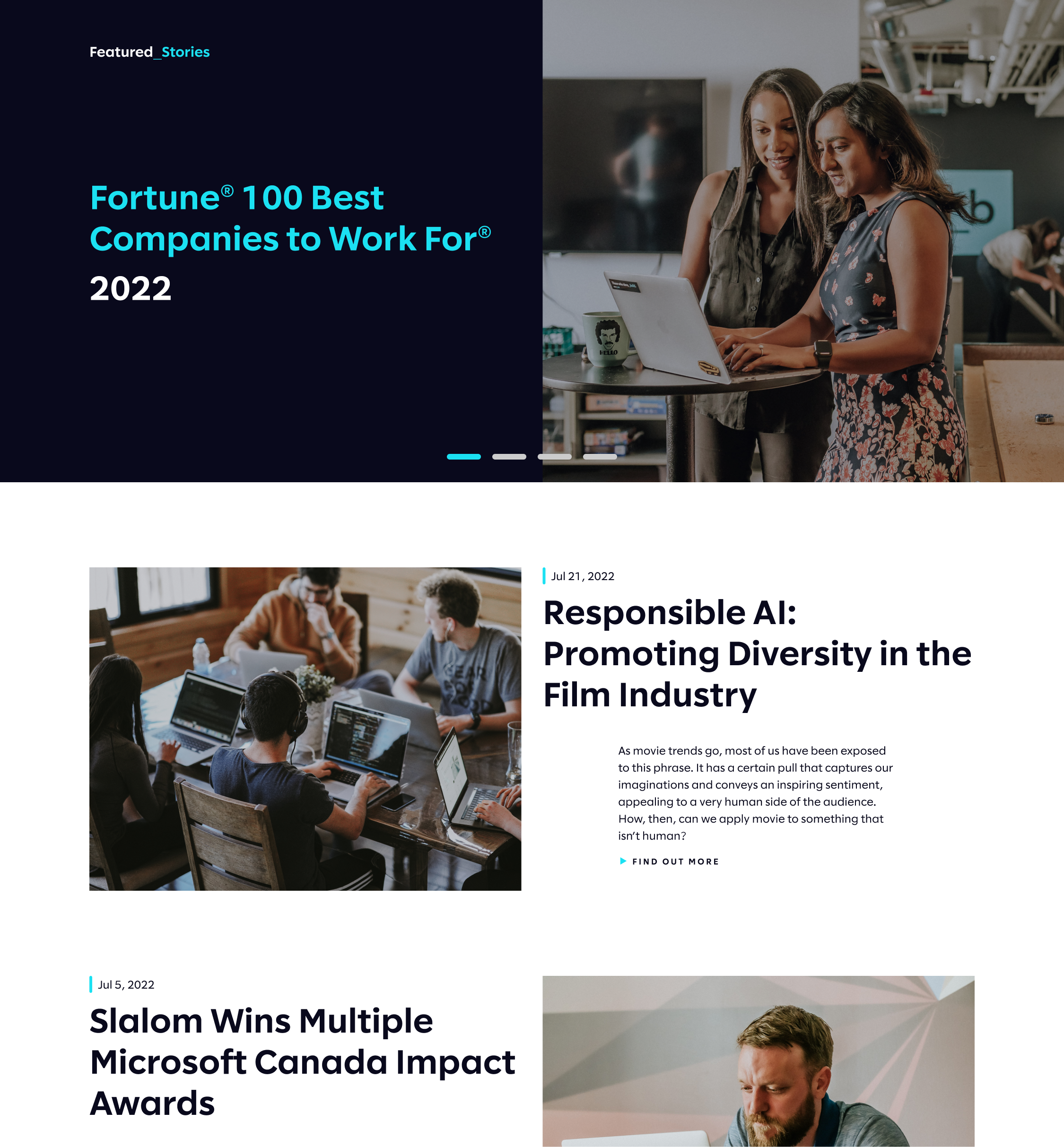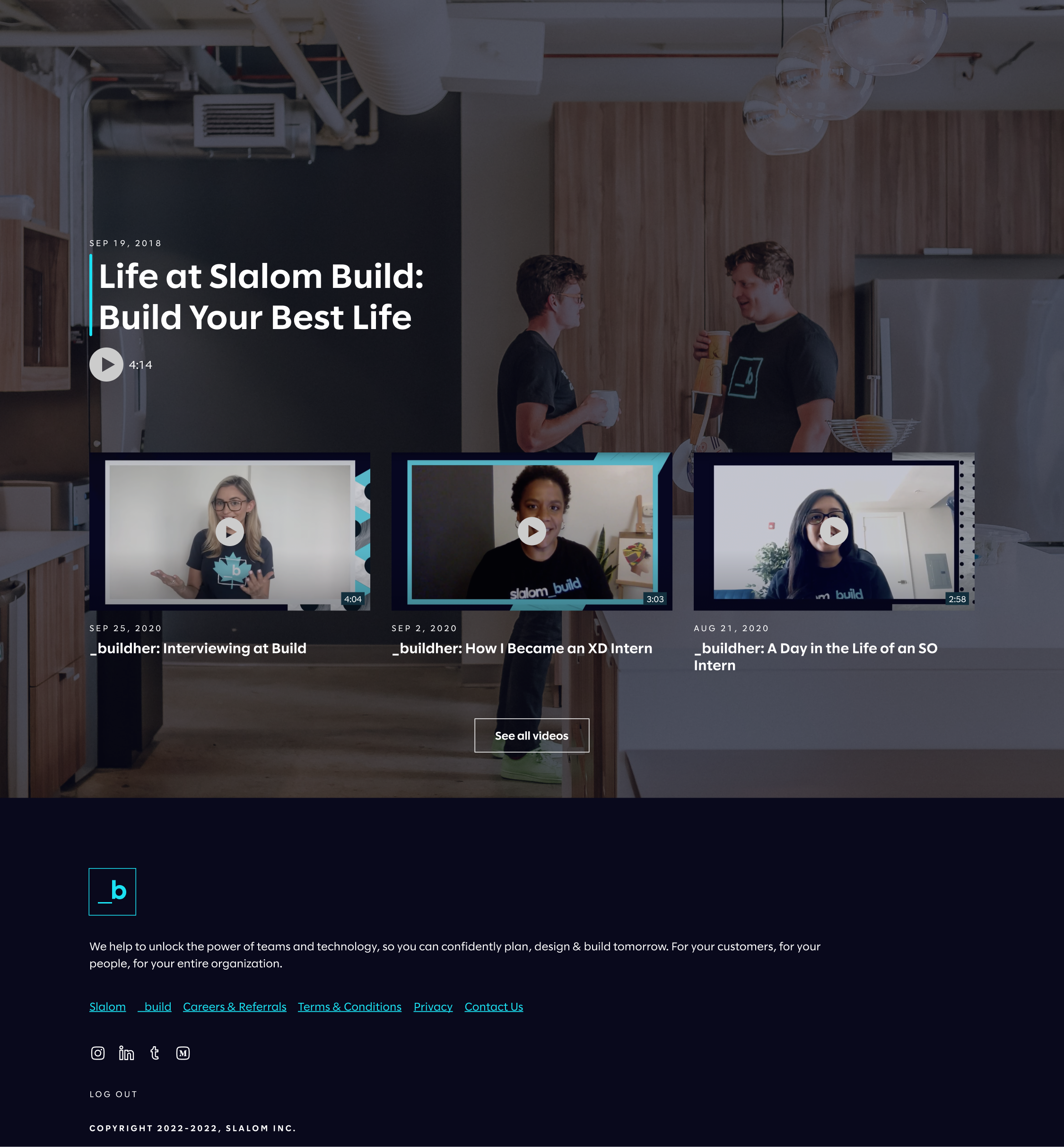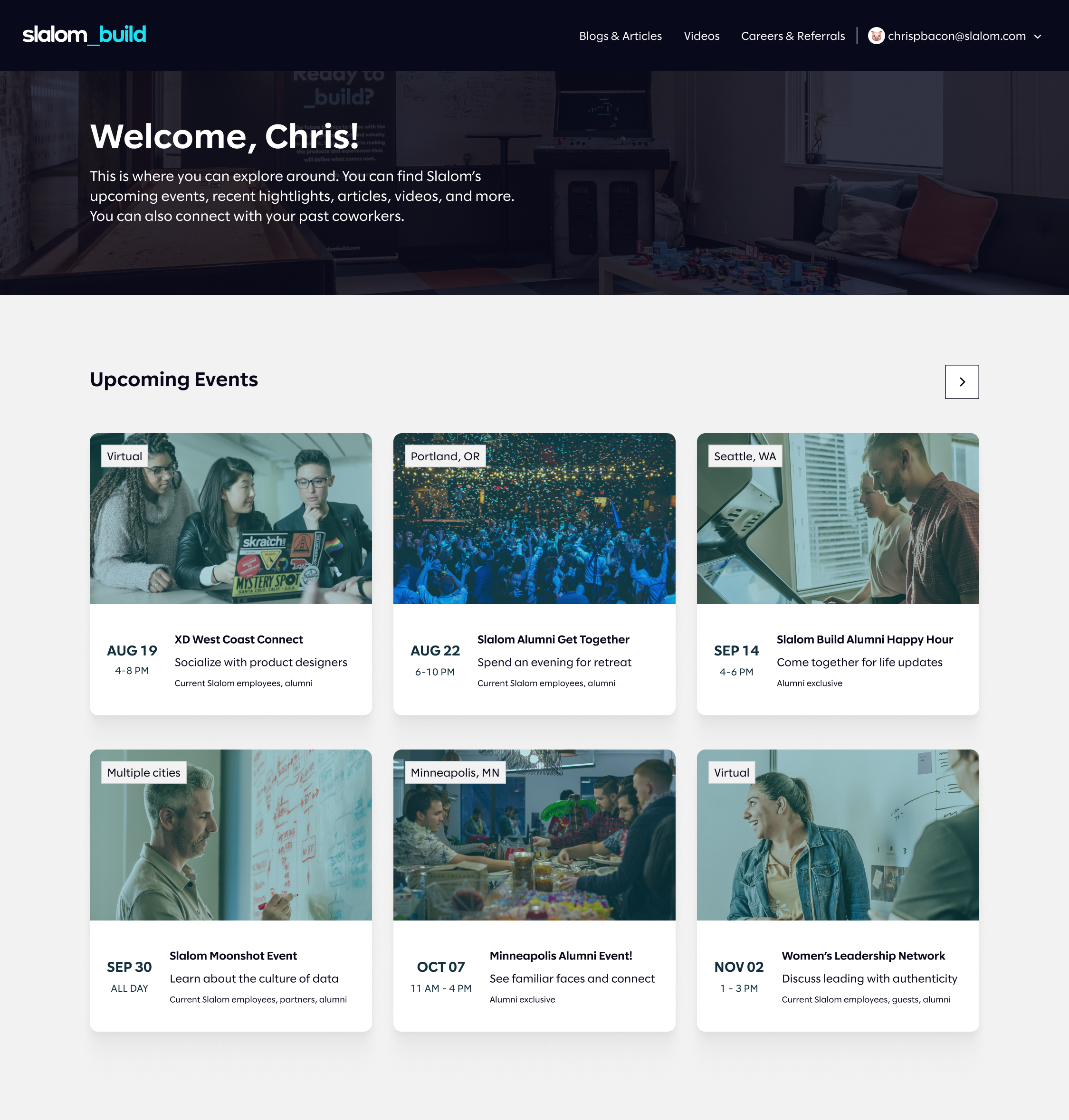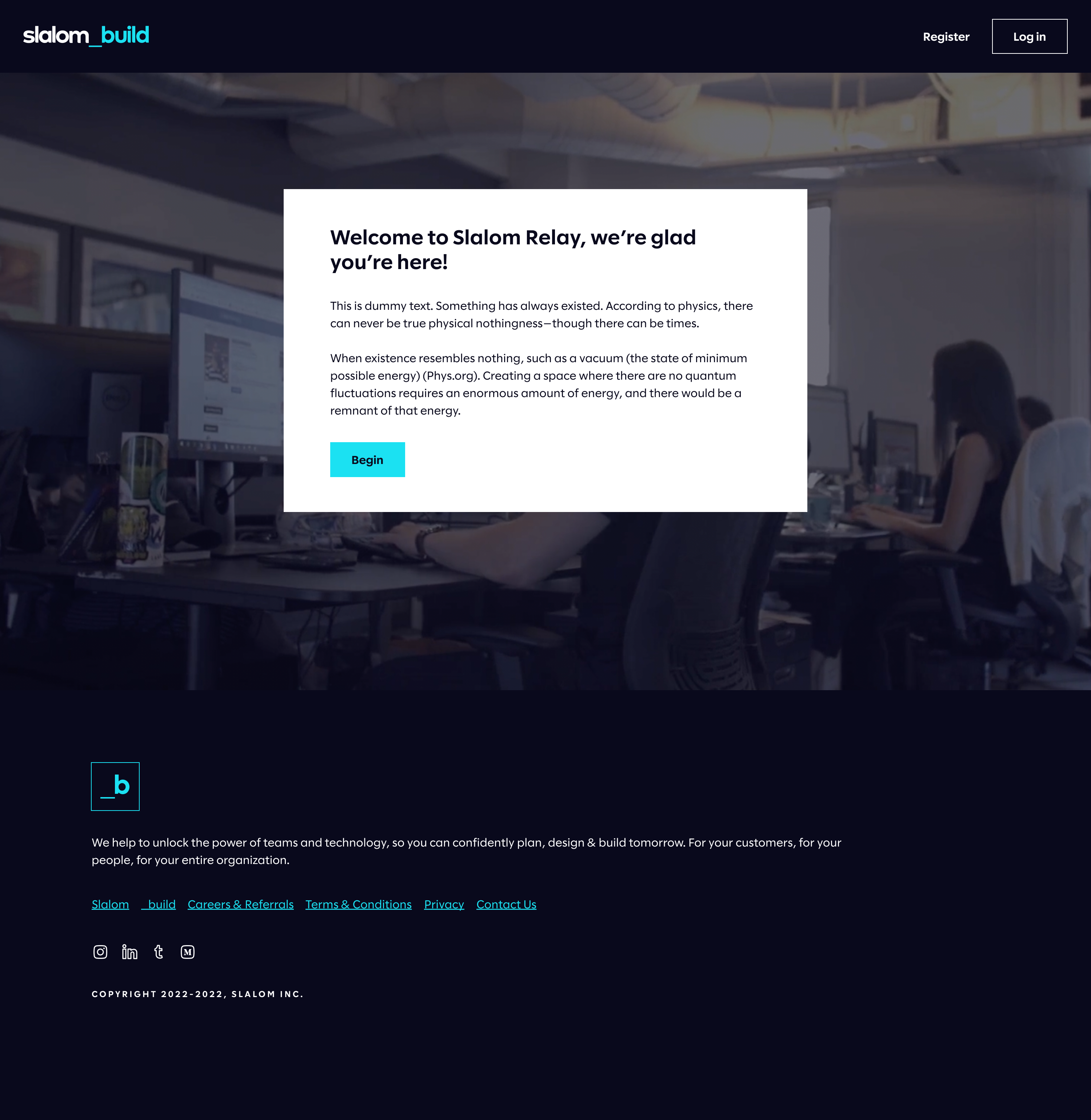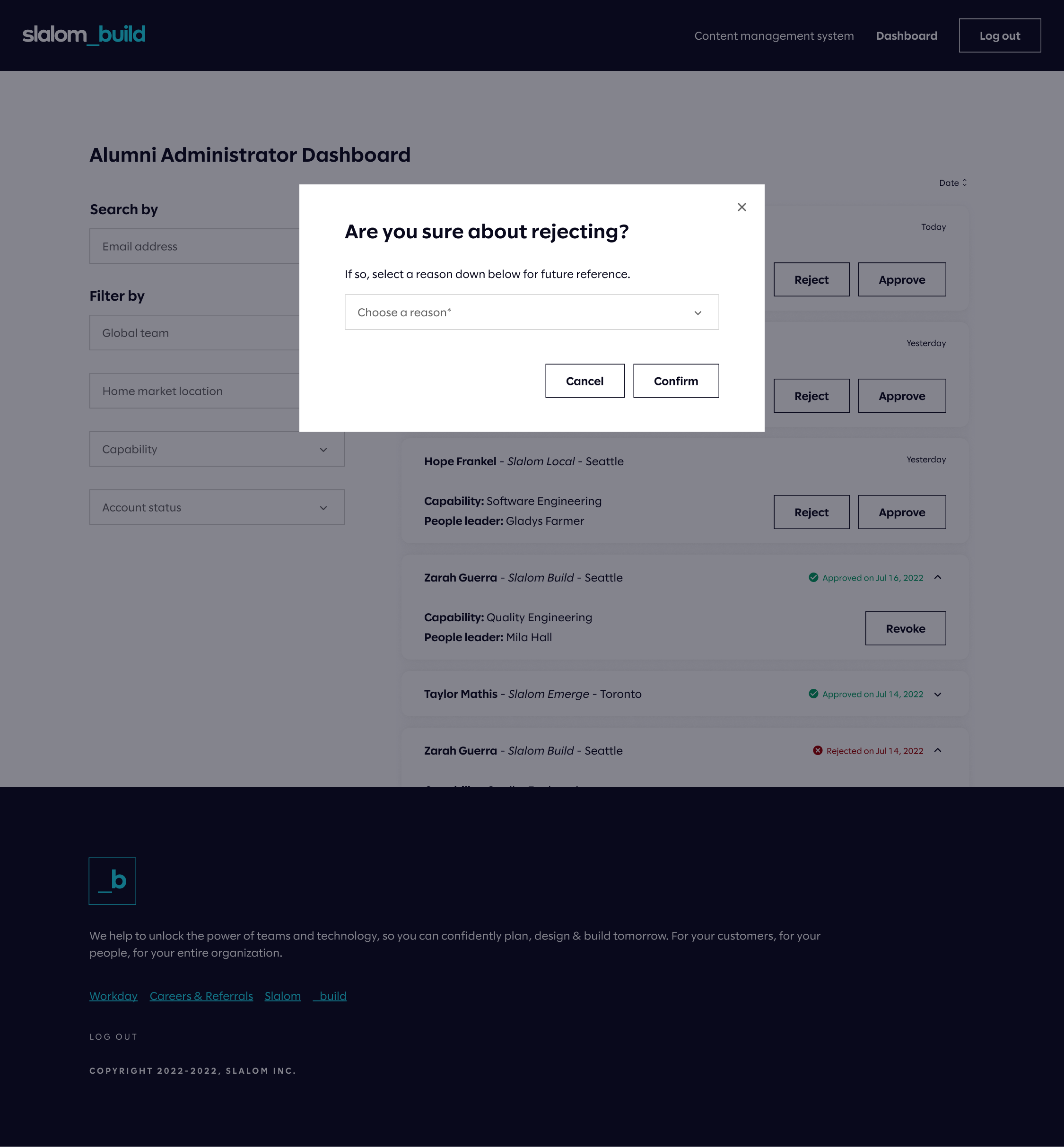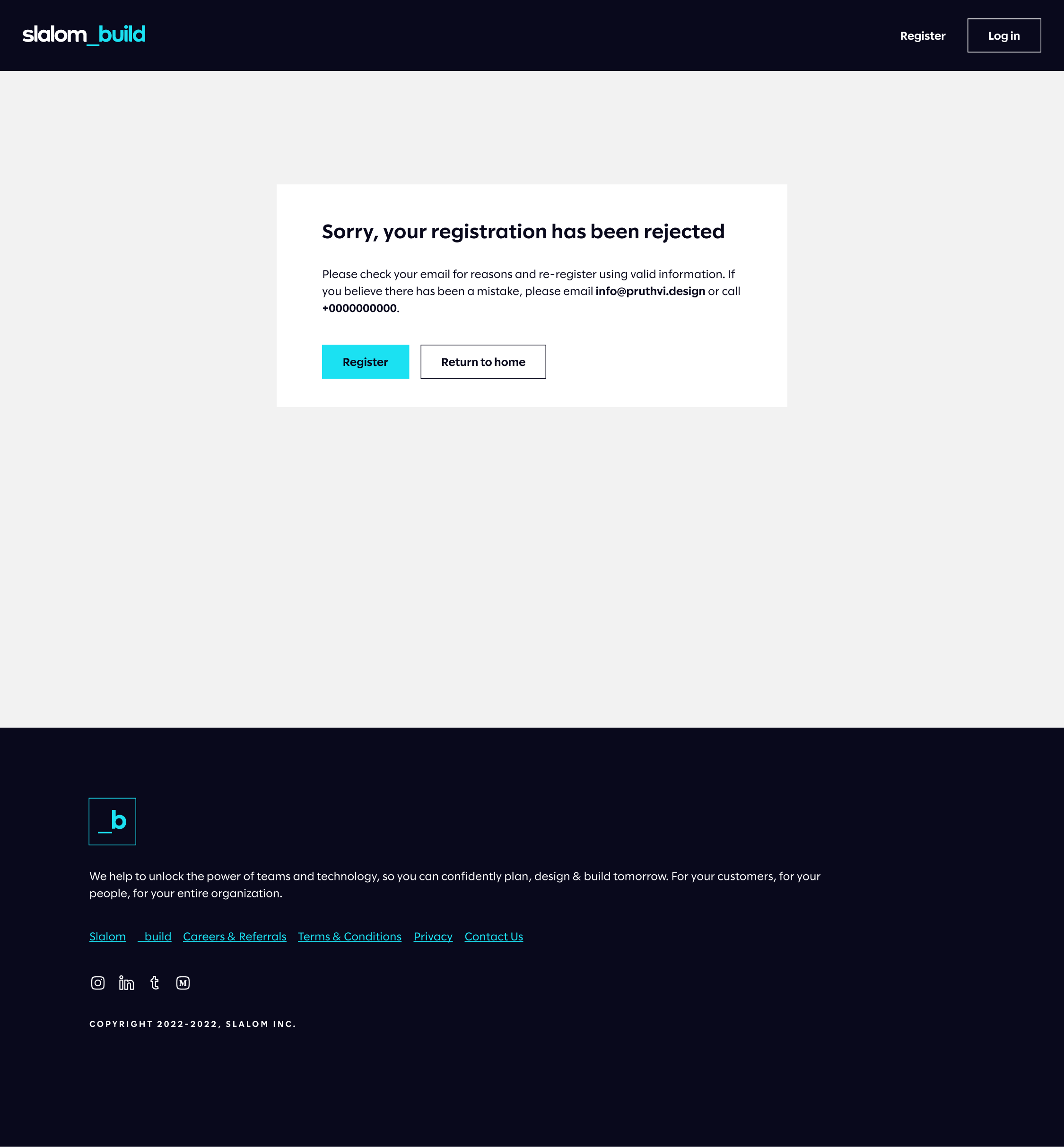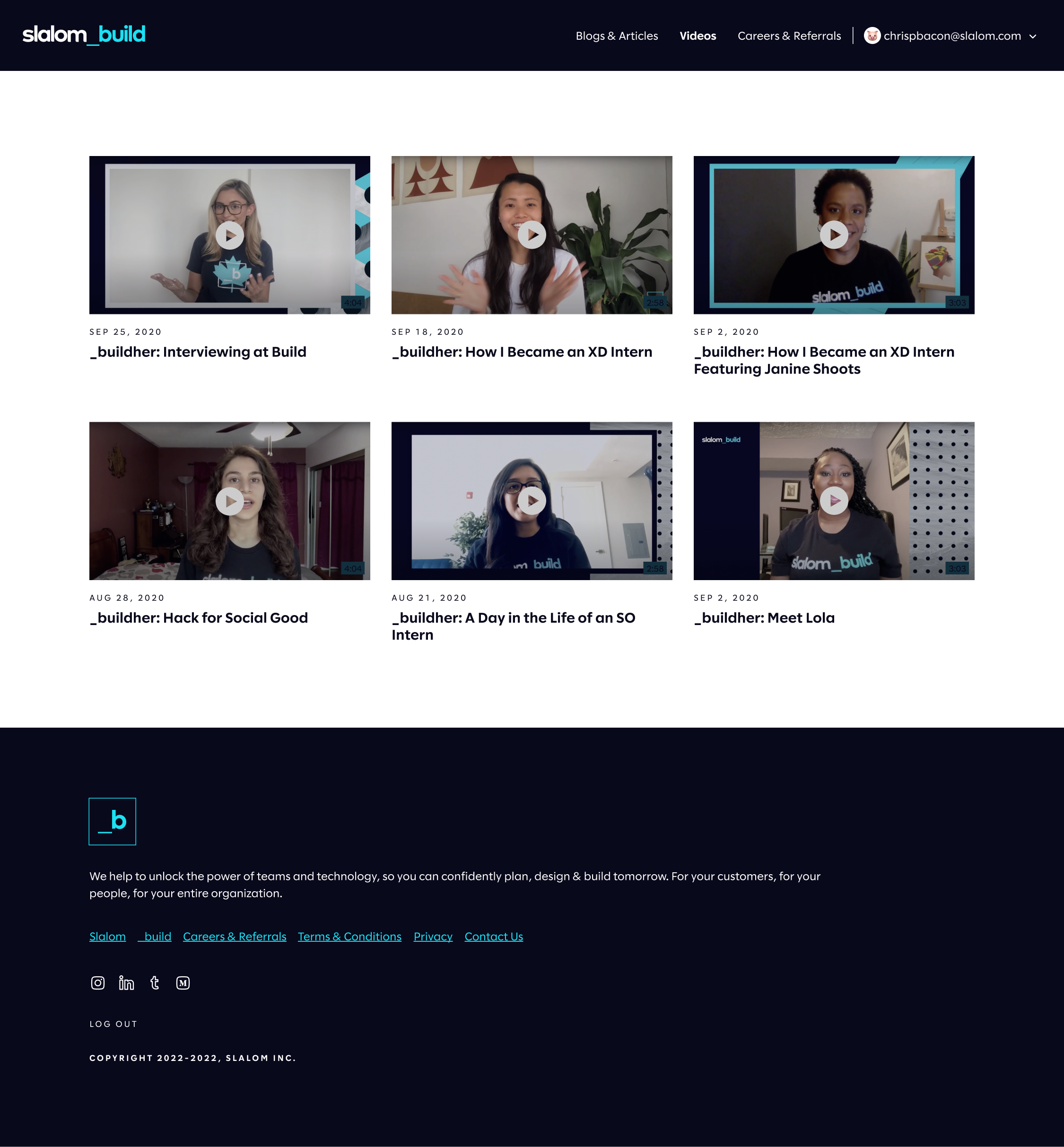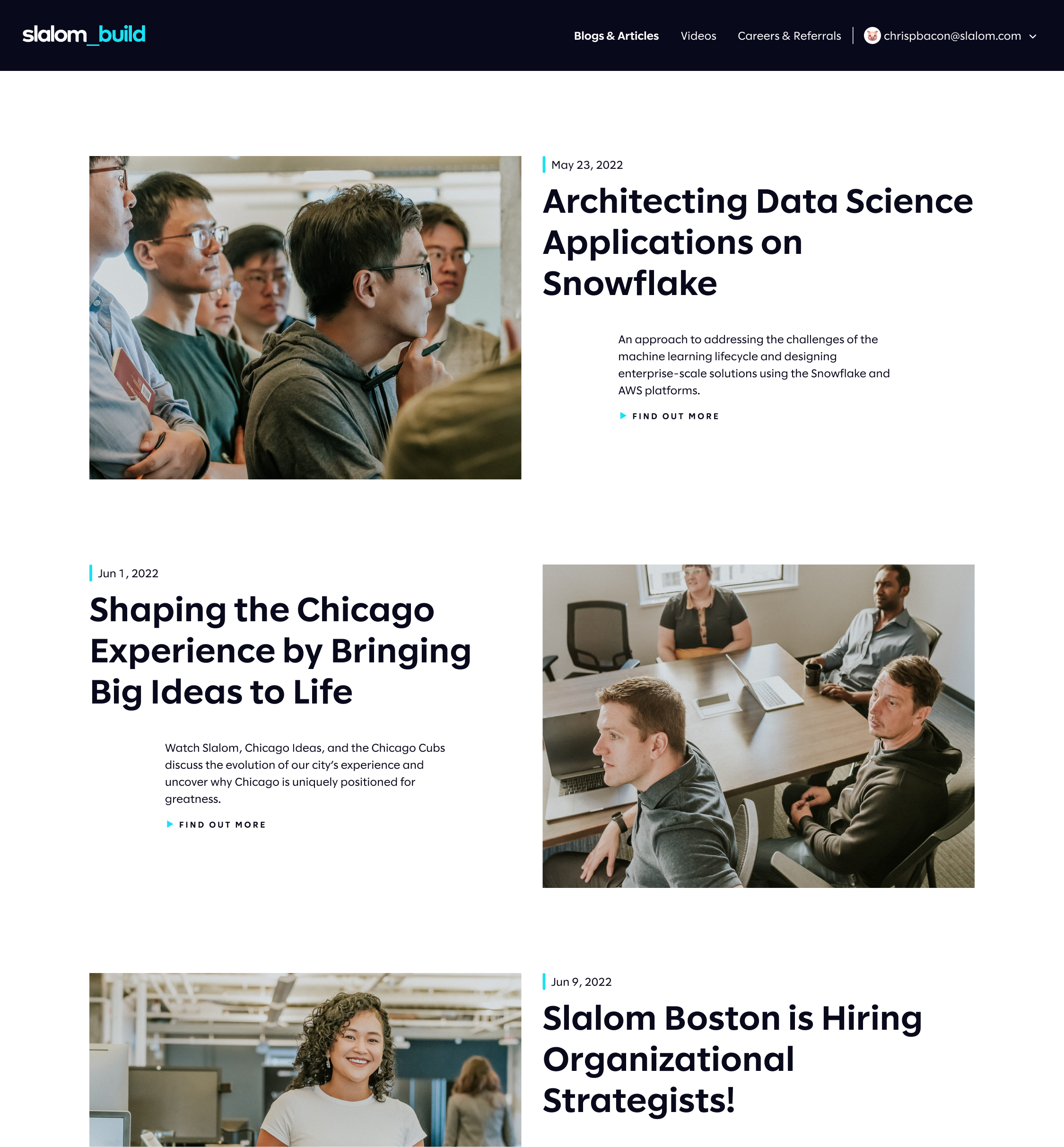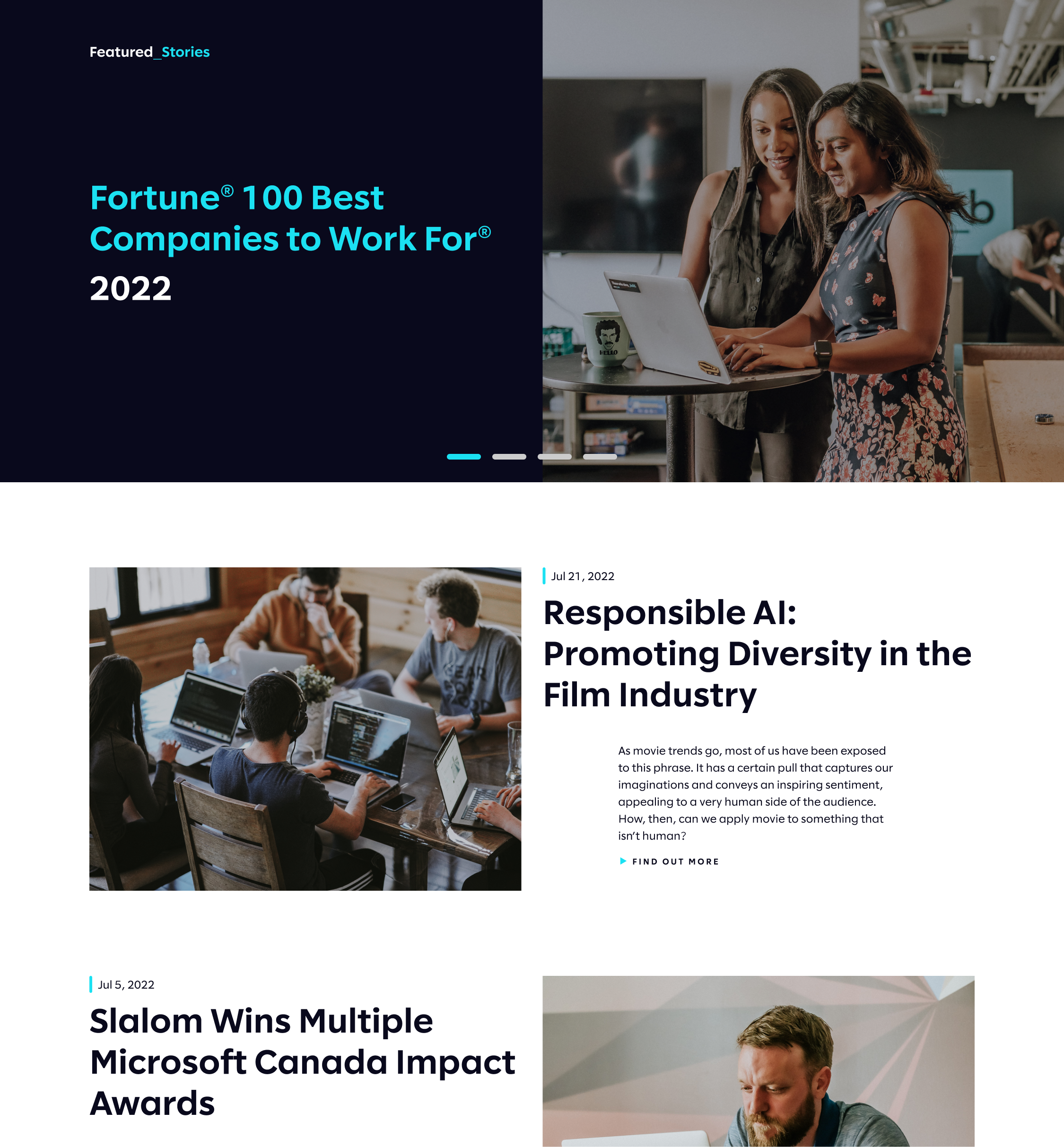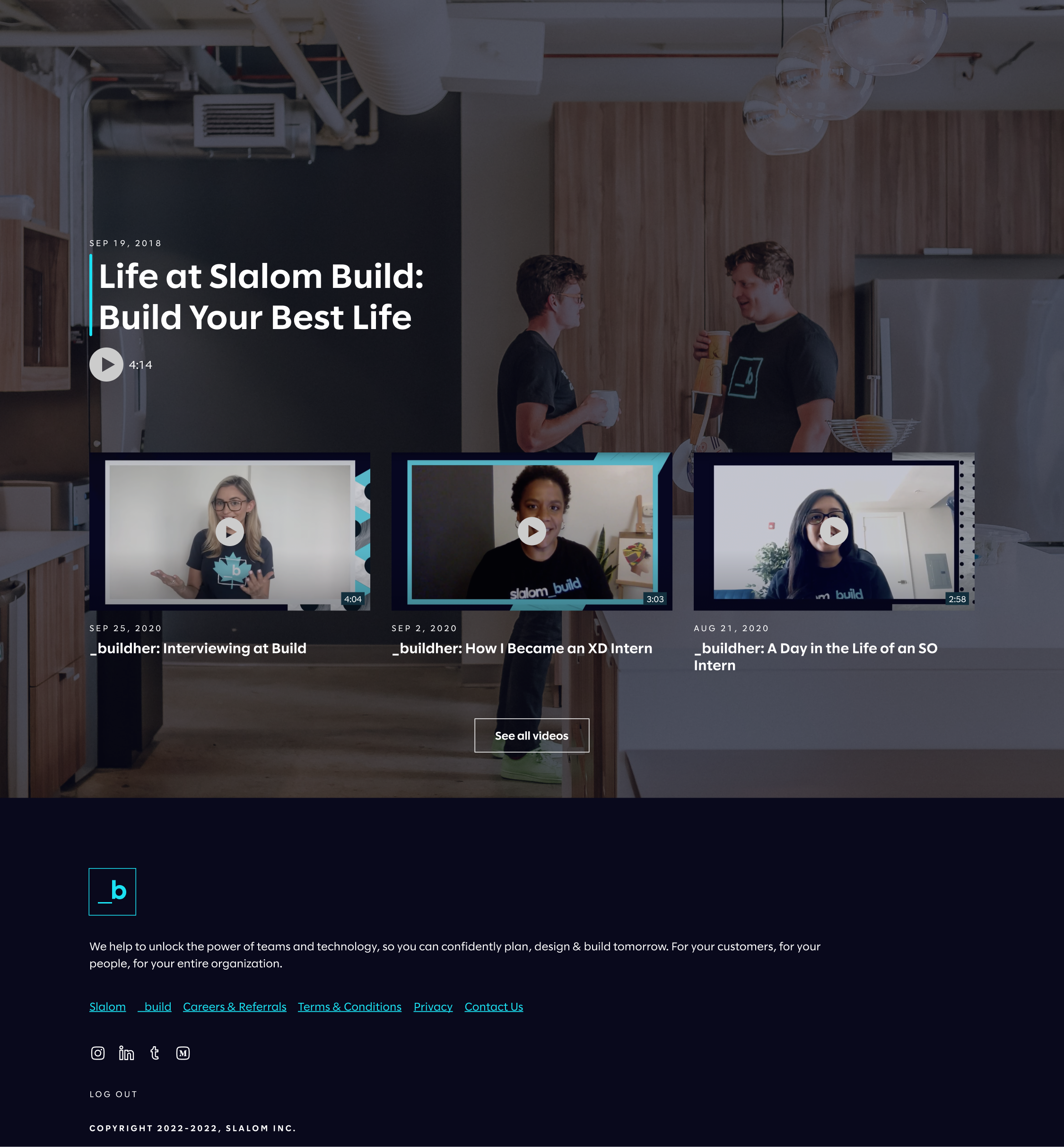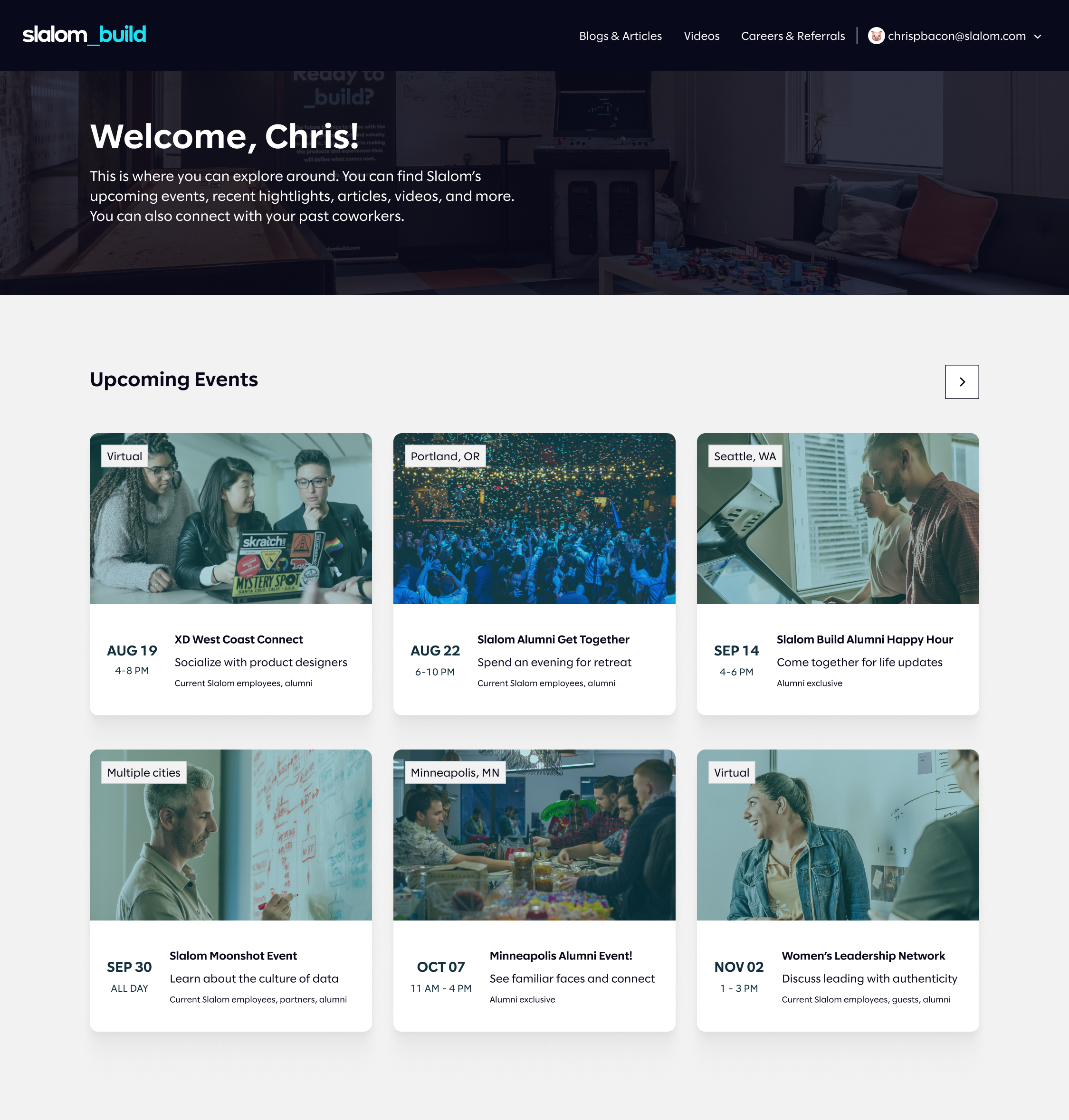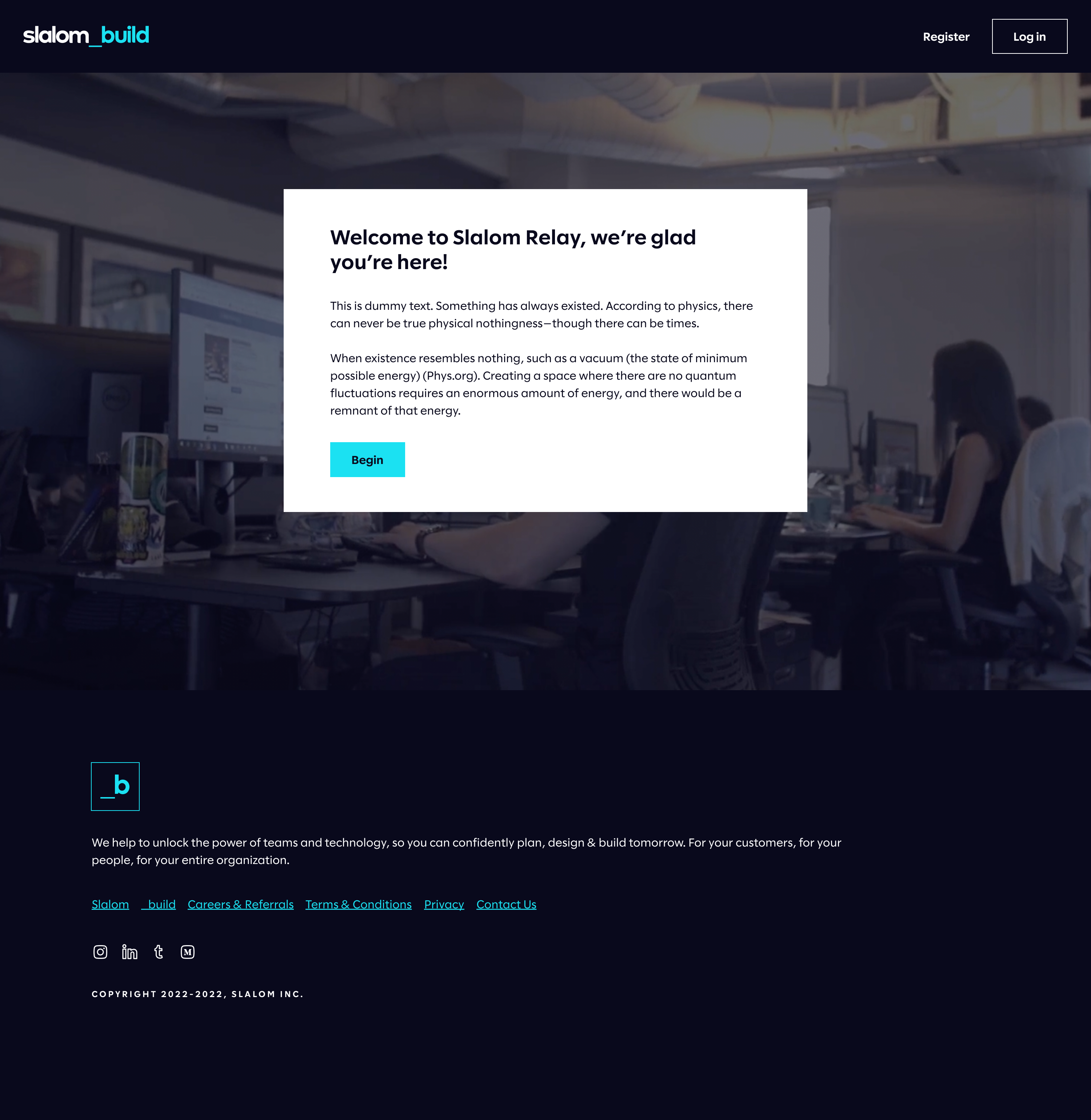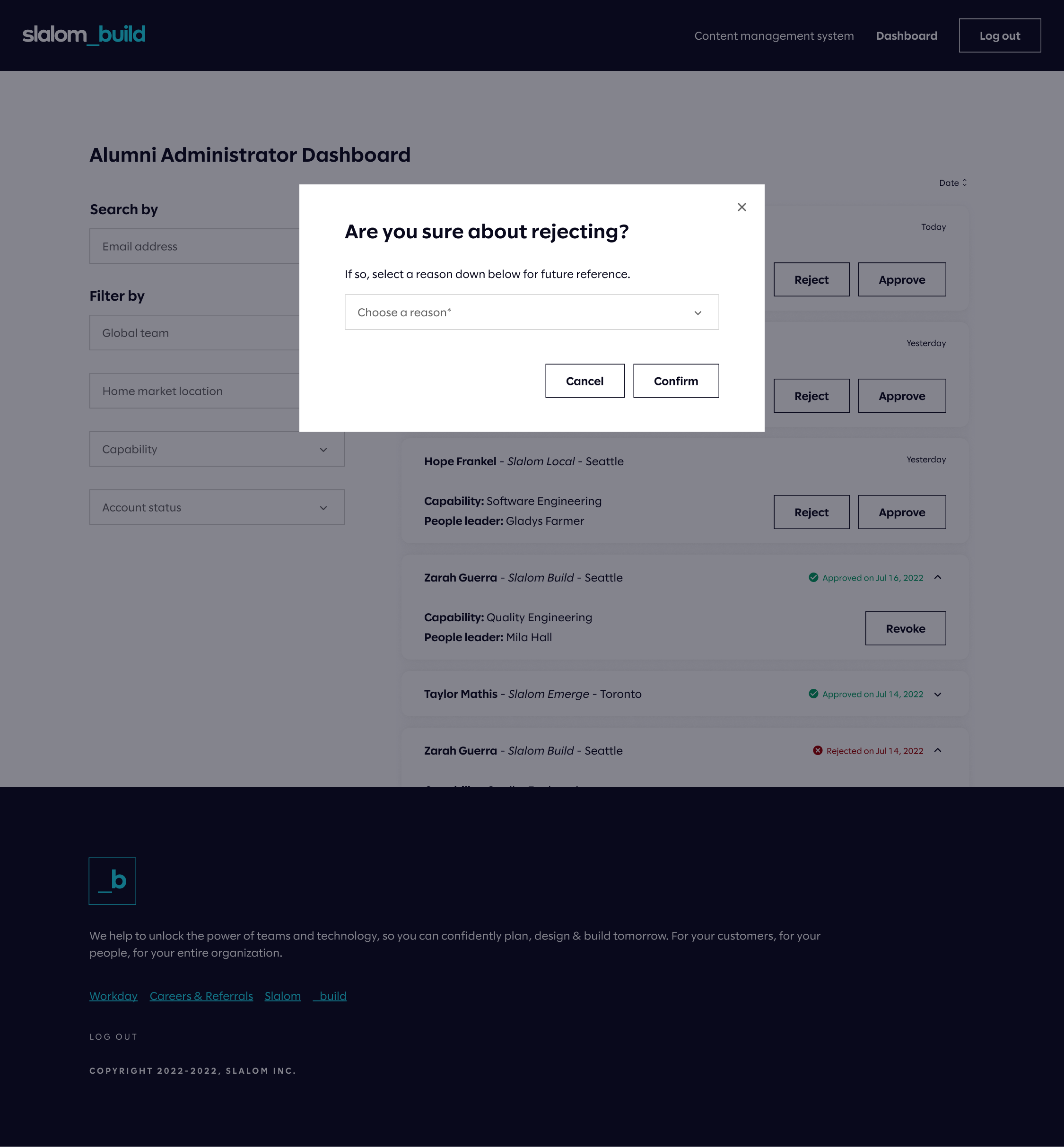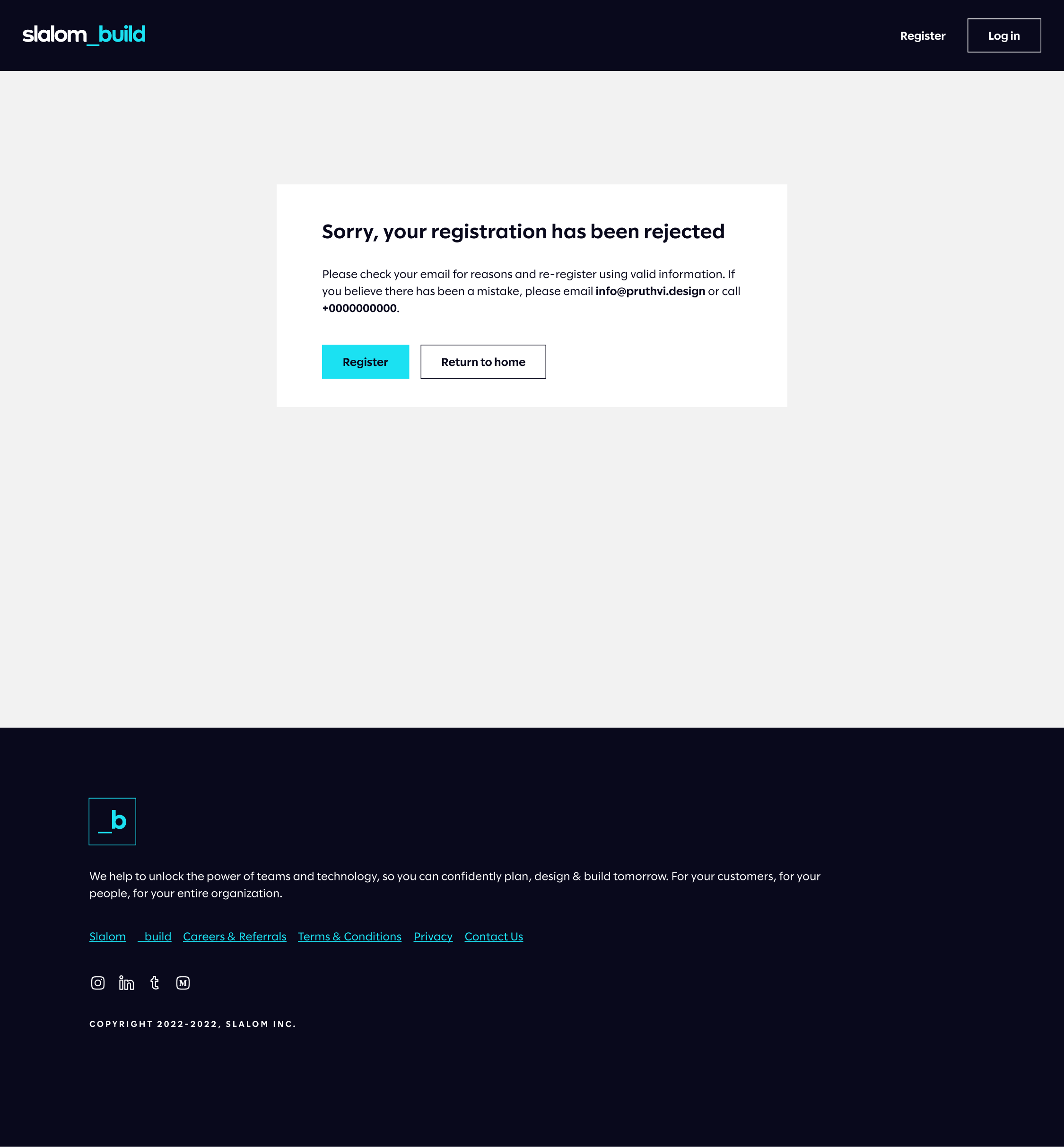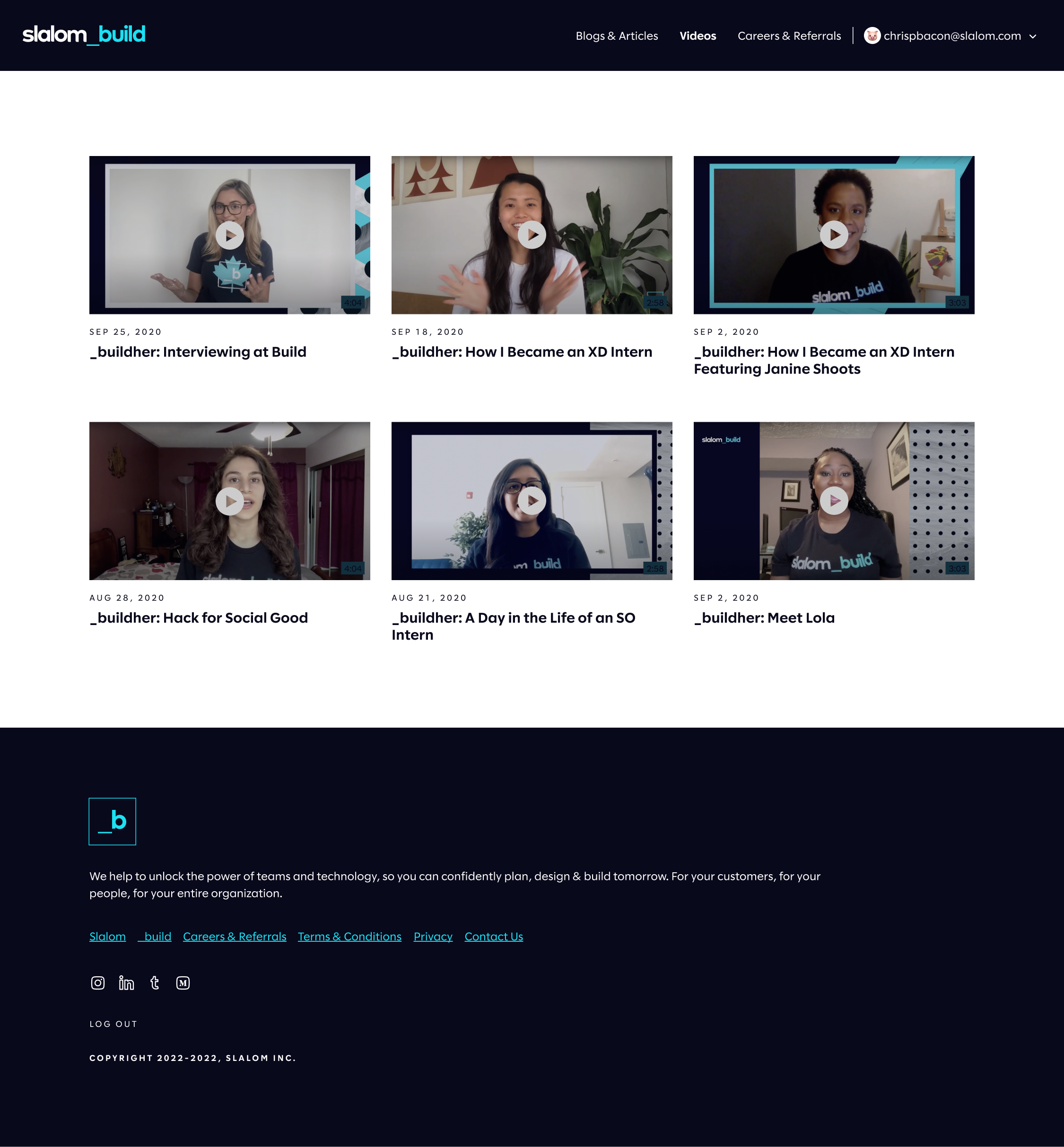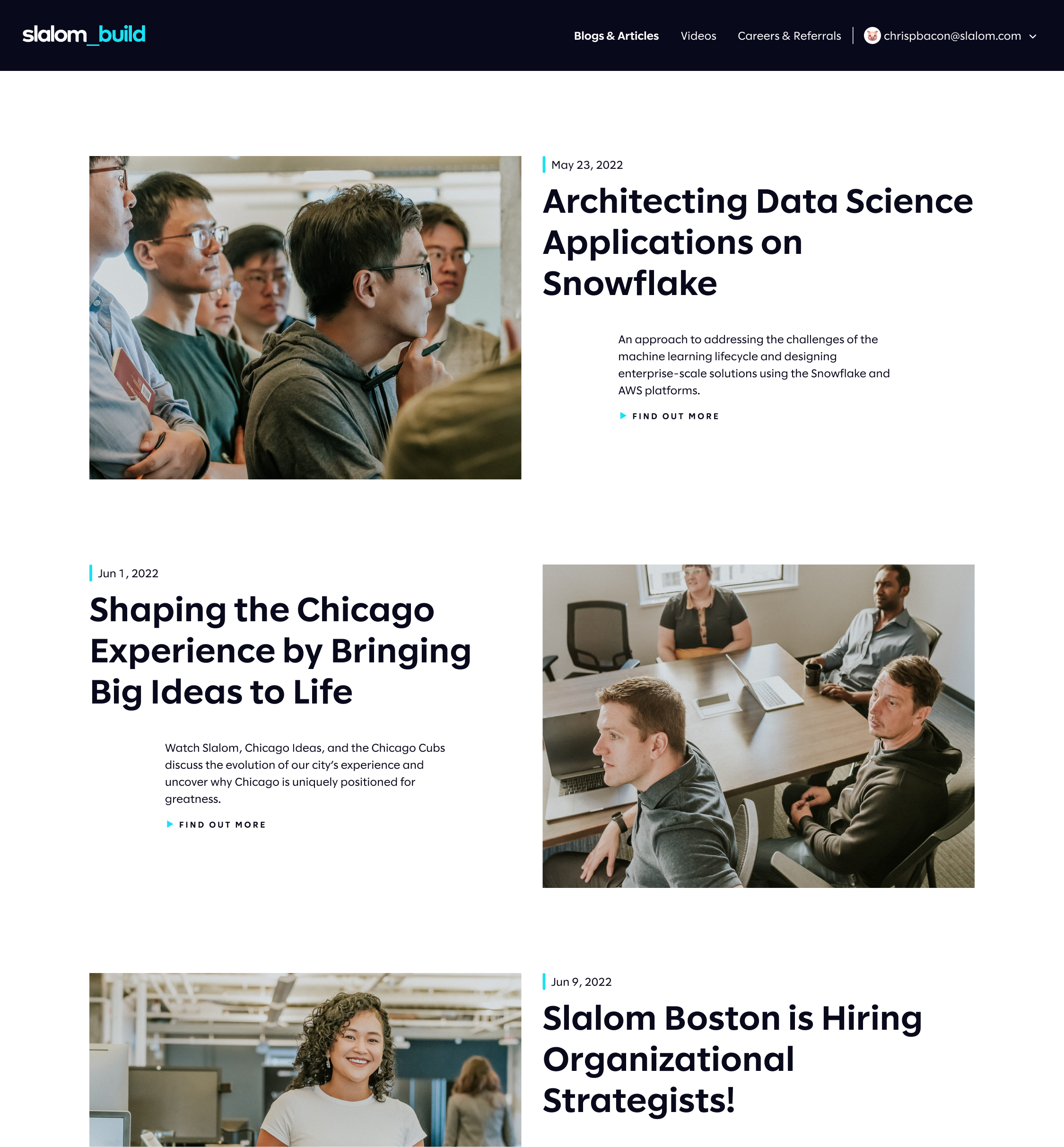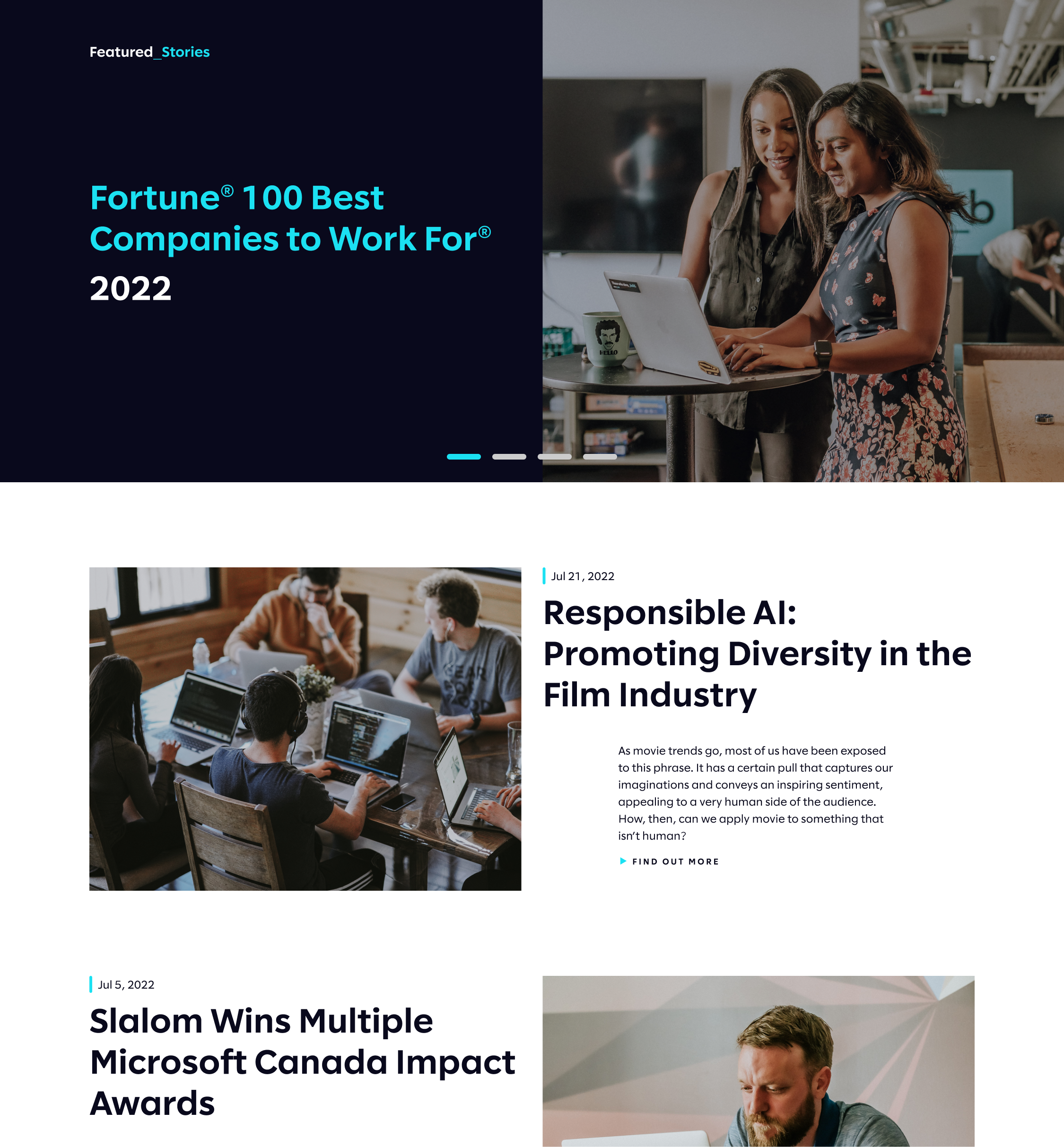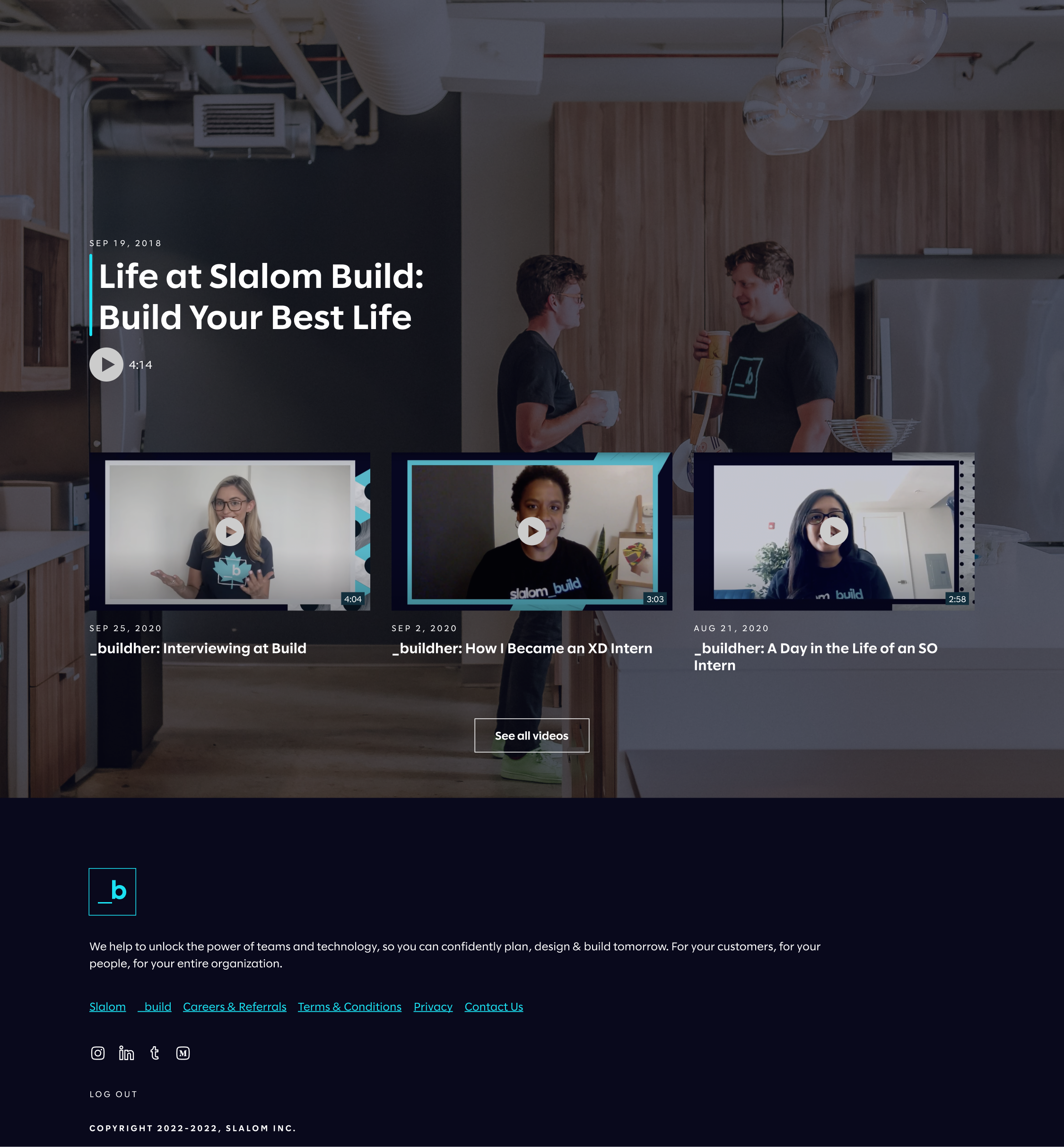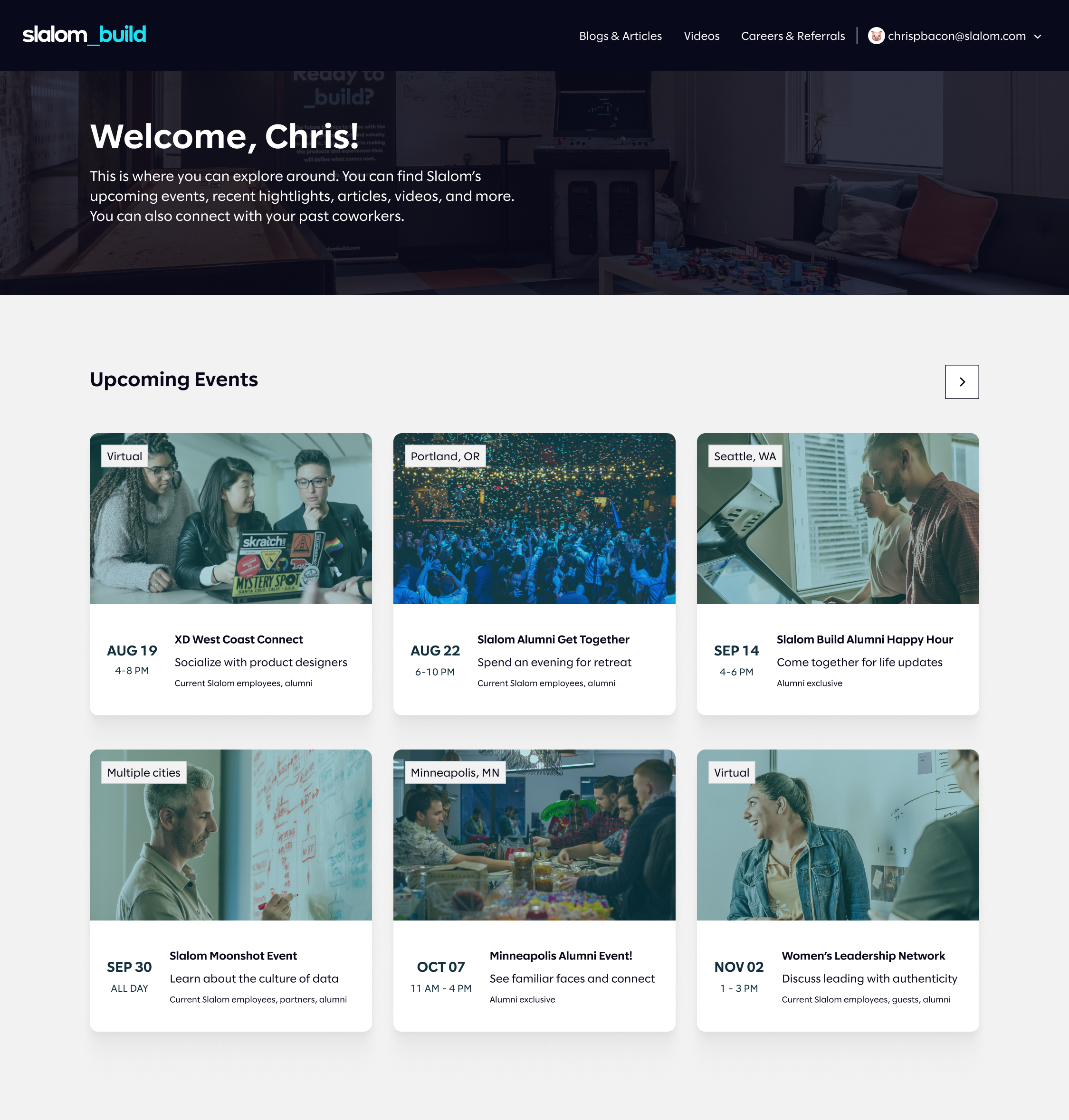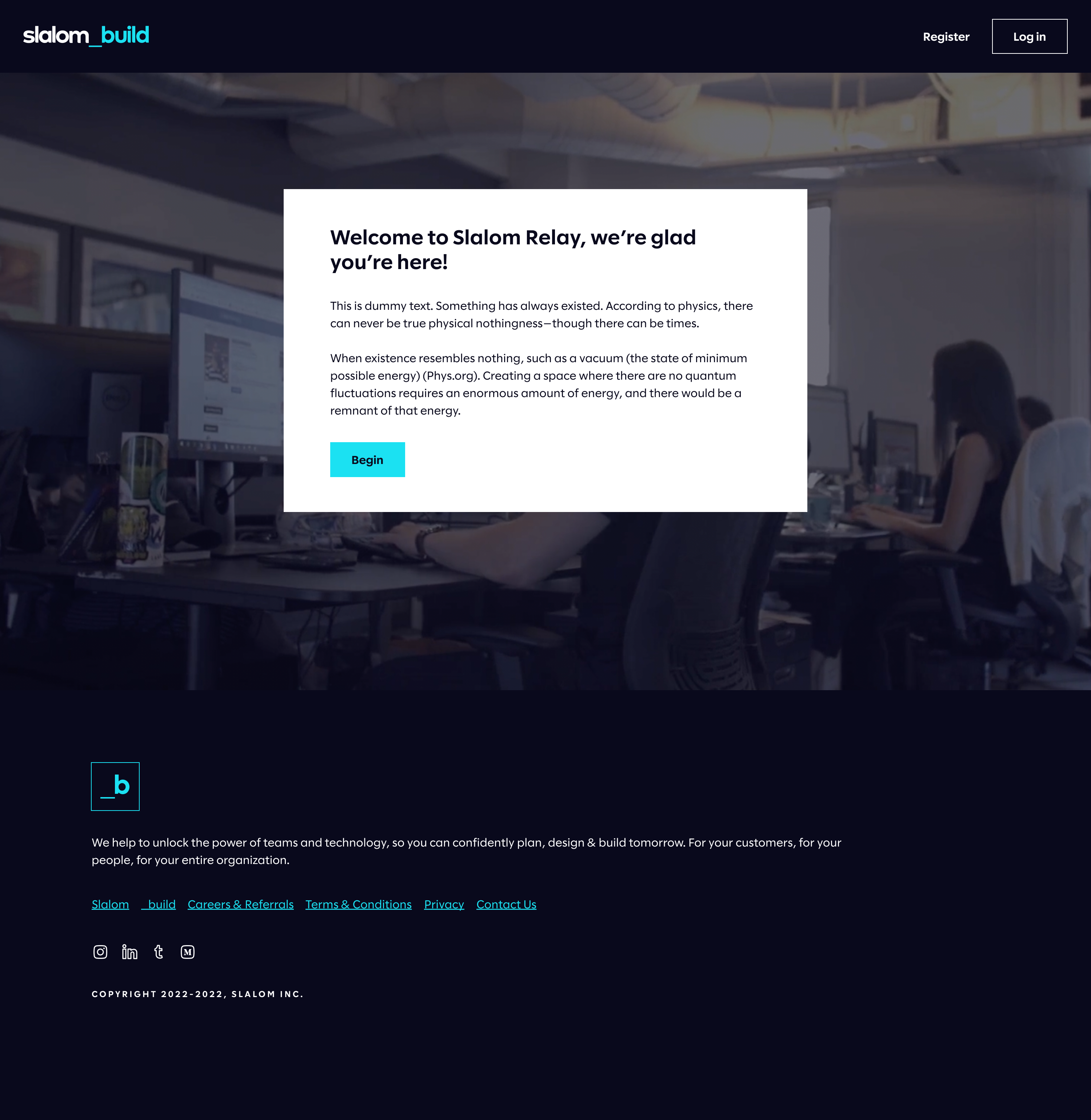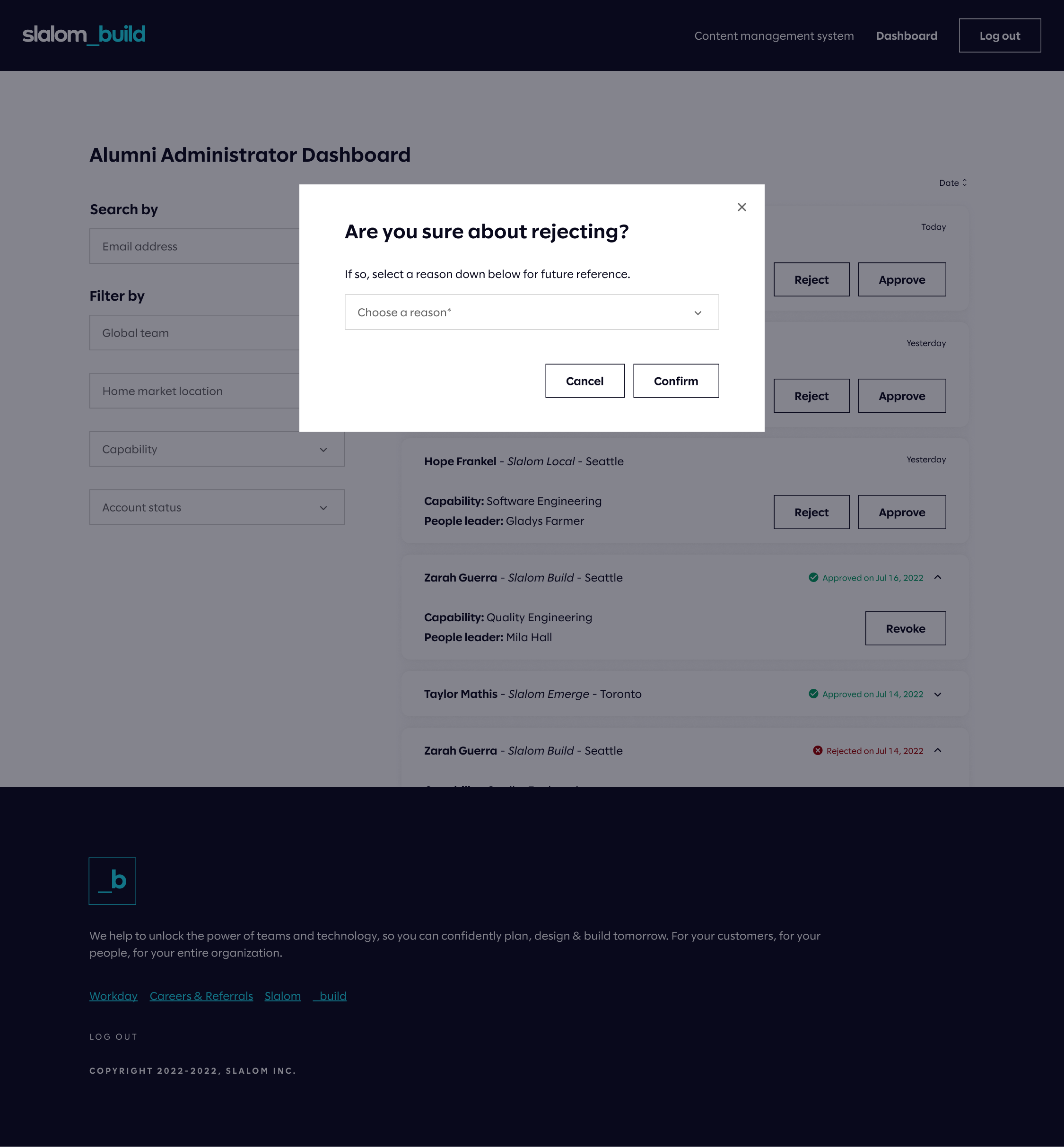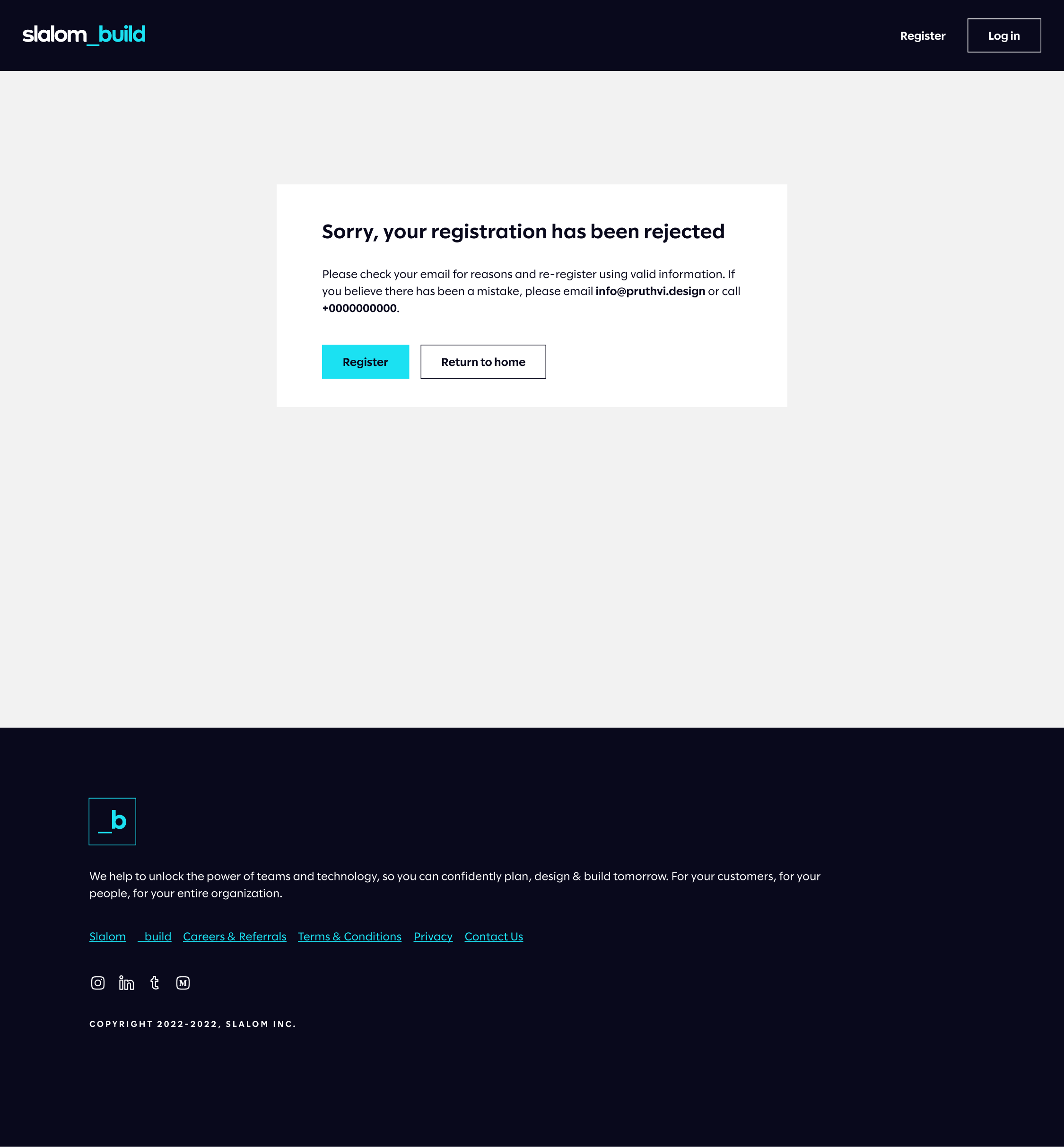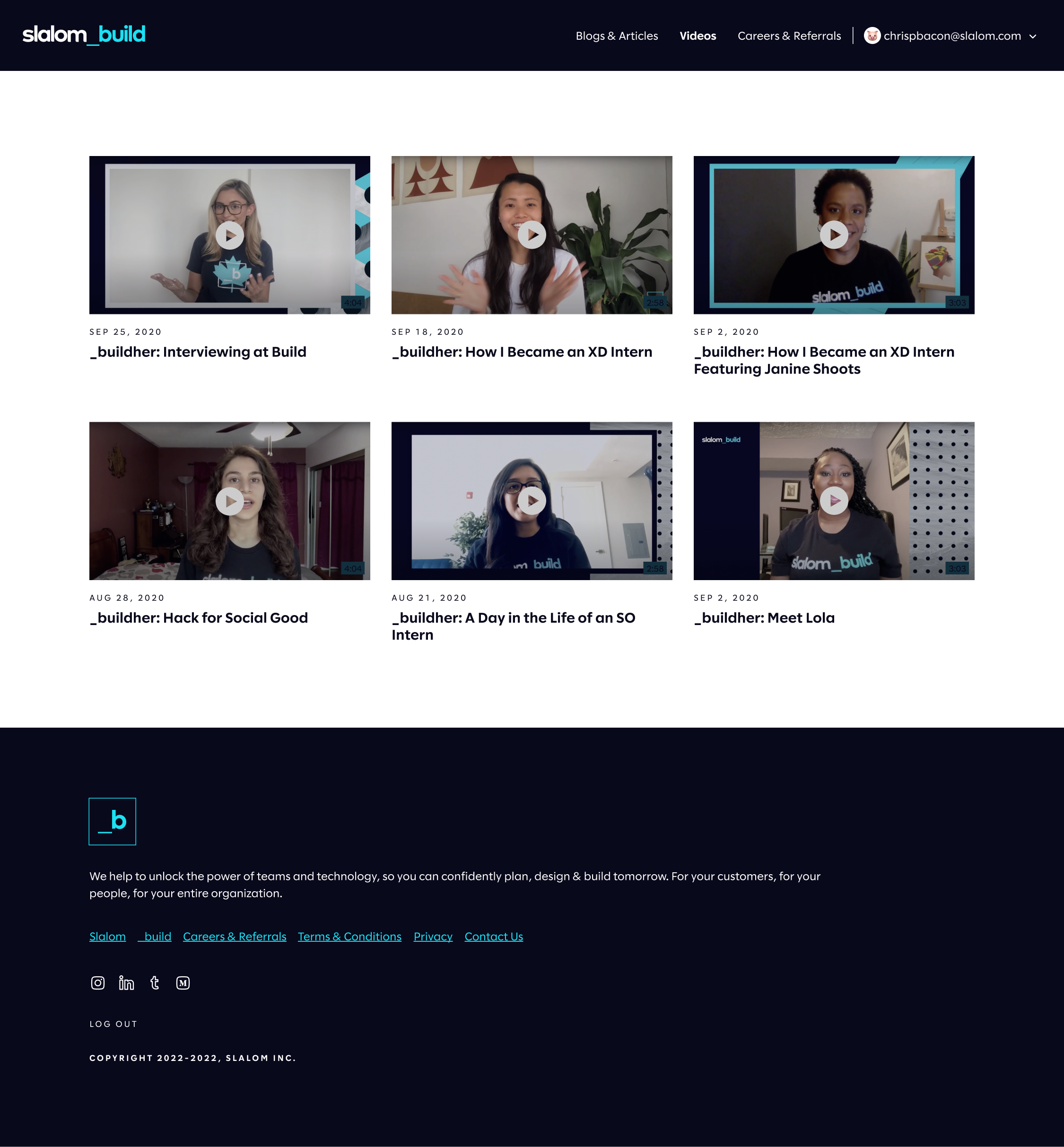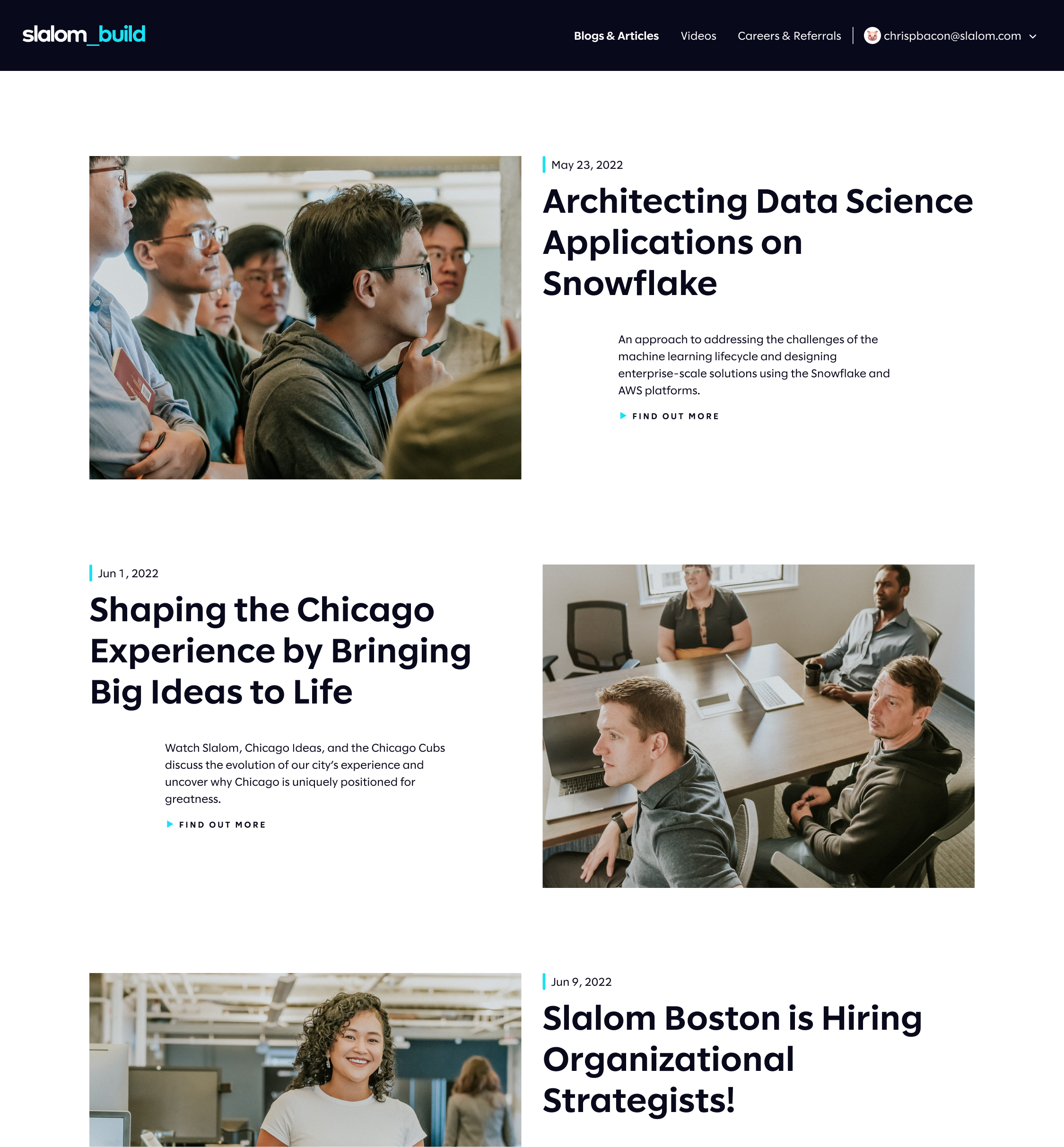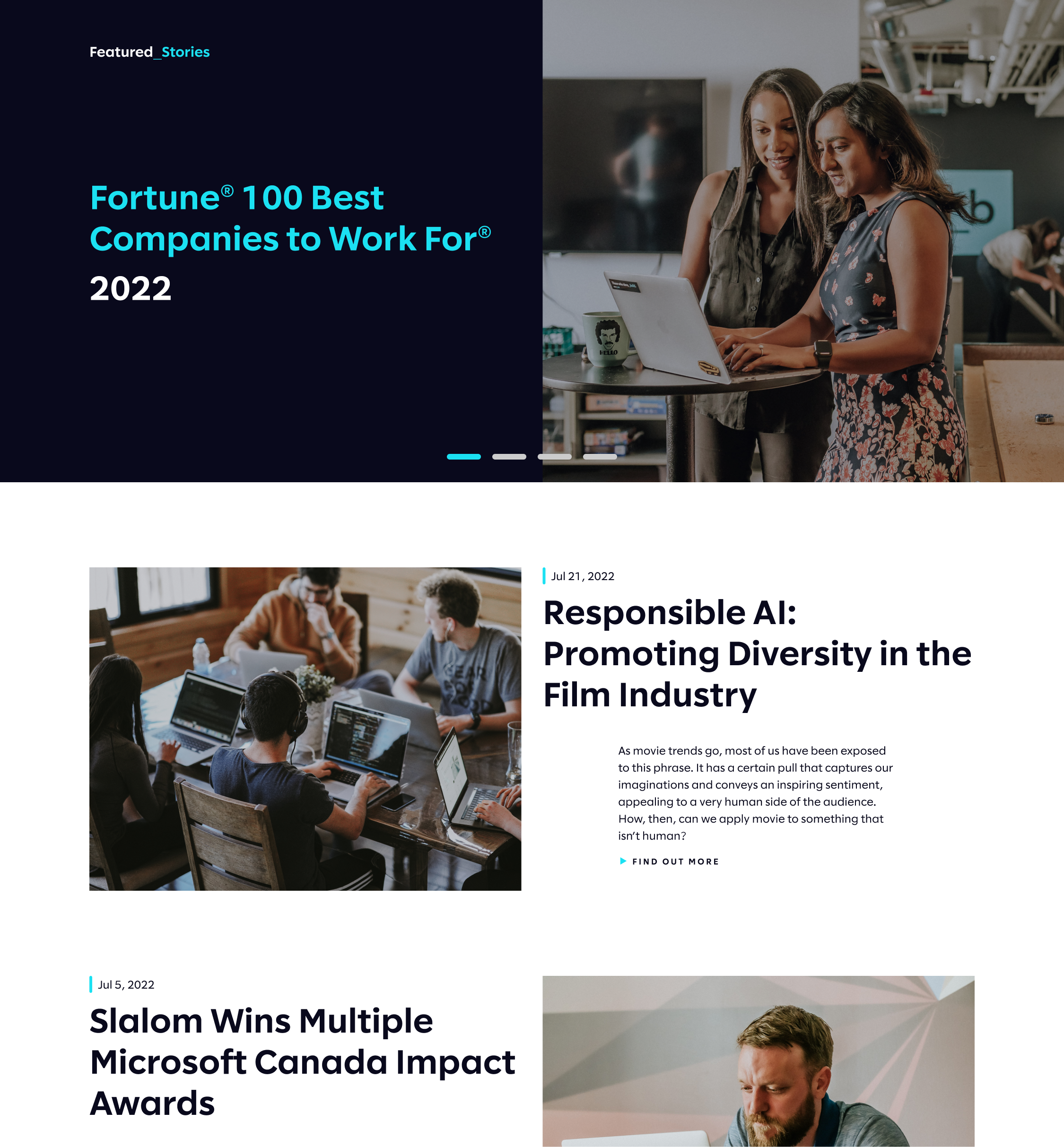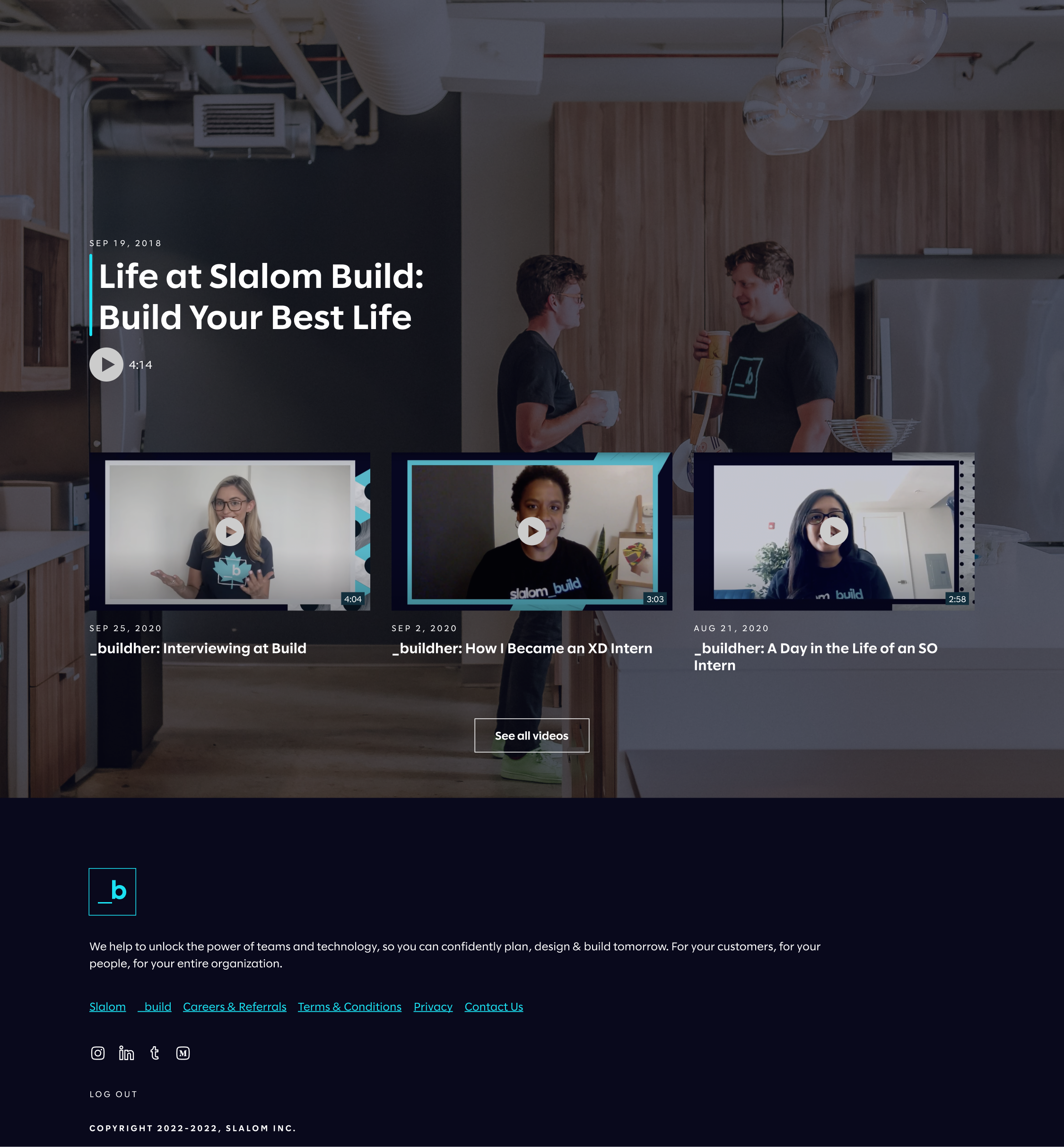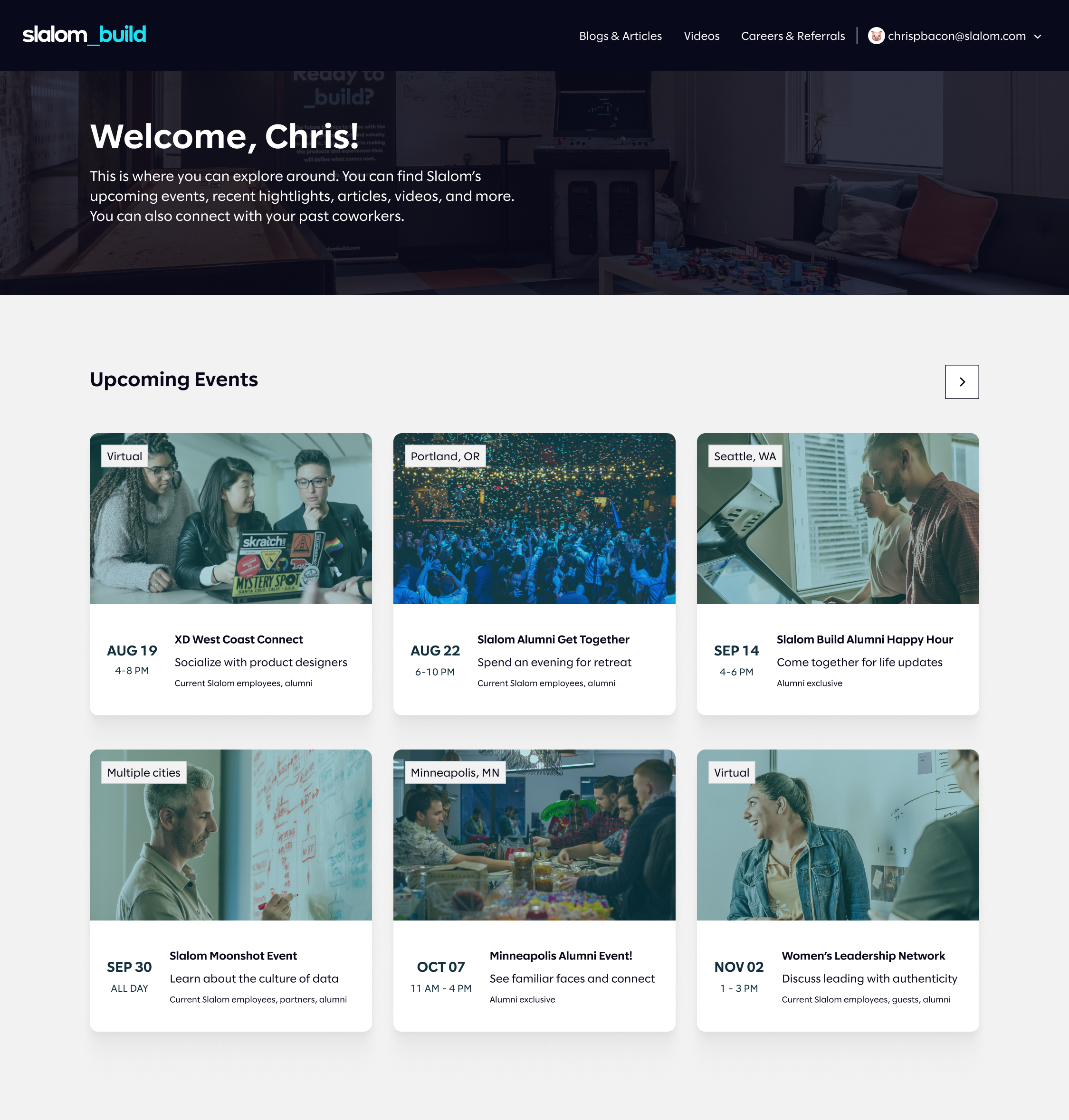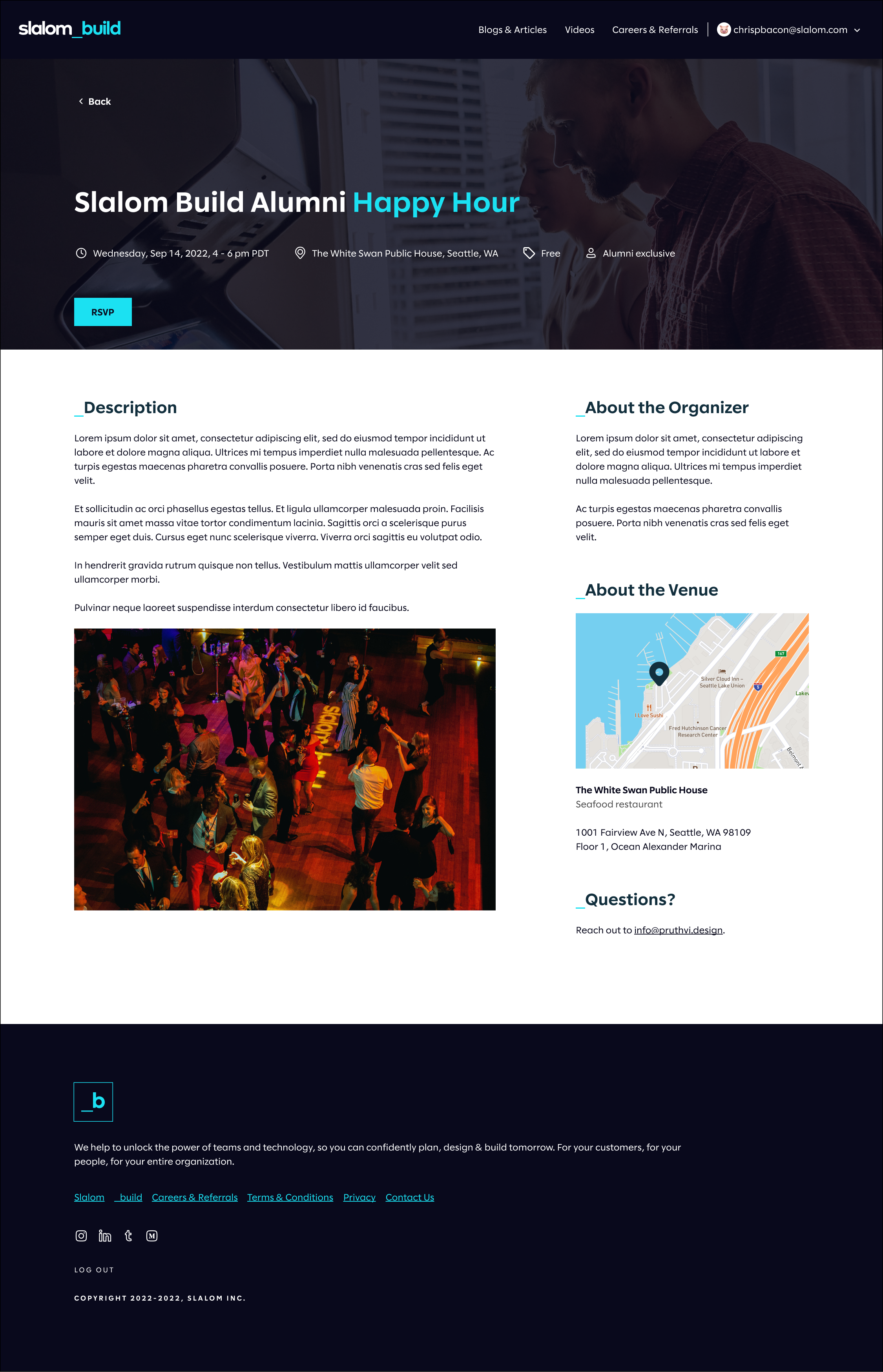 Future Steps
After 10 weeks, or 5 sprints, the MVP of this portal was almost done and I started considering the future.
First, I created some designs left for engineers to develop after my leaving. Take the Event Details Page as an example. This would allow alumni to click on the event cards displayed on their homepage and see more description.
Usability testing is also necessary both before and after launching the portal. We can look at the registration success rate, Likert scale, and employee return rate. Qualitative research like interviews can also be introduced to get more insights from our users.
Post MVP, more practical features like helping alumni retrieve tax forms, connect with other colleagues, and refer someone or themselves back to the company can also be added.
What I learned from this project
Communication is key. Asking the right question to the right people leads to a happy path. Engineers, PMs, and stakeholders usually offer a fresh pair of eyes and are likely to solve my problem.

Also, don't hesitate to speak up. When I feel like my design is being compromised, I talk to people. It's not an accusation but a discussion towards the same goal of making the project better.