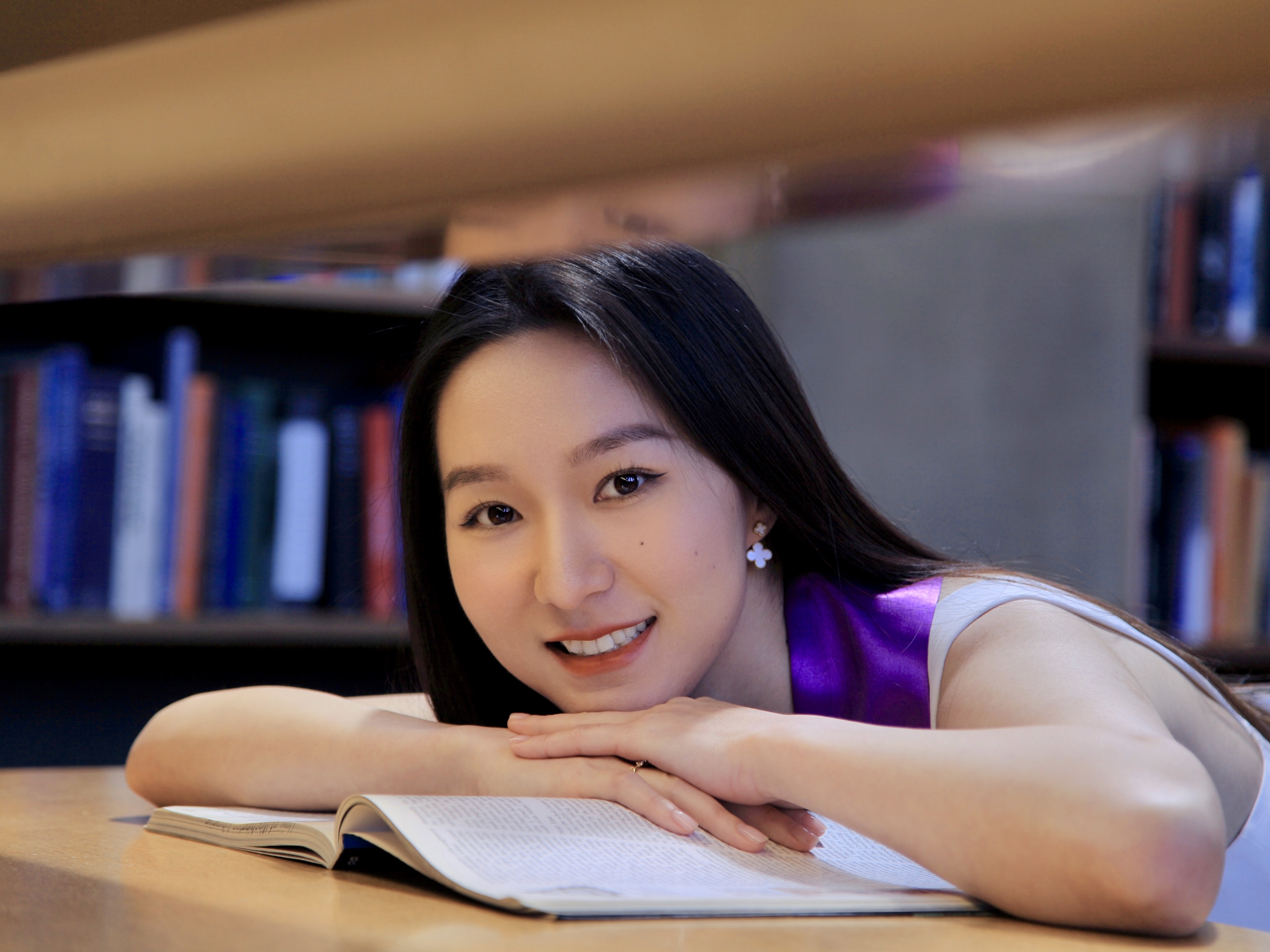 Jeeva
A Mental Wellness Mobile App Sponsored by Medufin LLC
My Role
Lead UX Designer
UX Researcher
Duration
February 2021 - May 2021 (10 weeks)
Team
Noaf Alsheikh-Ali, Mitch Choi, Annie Weng, and Julie Yeung (from Tufts University's HFE program)
Project Overview
Jeeva is a mental health app that aims to engage and support 14-24-year olds with their mental wellness, while also normalizing mental health and reducing possible stigmas. The goal is that in supporting this demographic, any issues that are present can be detected earlier, which allows for treatment to have a higher chance of success.
We teamed up with Medufin, a tech startup aiming to contribute to more patient-focused outcomes, transparency, and patient empowerment.


Competitive Analysis
We started off our generative research by taking a look at similar products that are already on the market. Apps like Happify, Woebot, and Fabulous were examples of apps that had similar goals to ours. From this, we categorized the apps into two categories: goal/habit based and conversation based.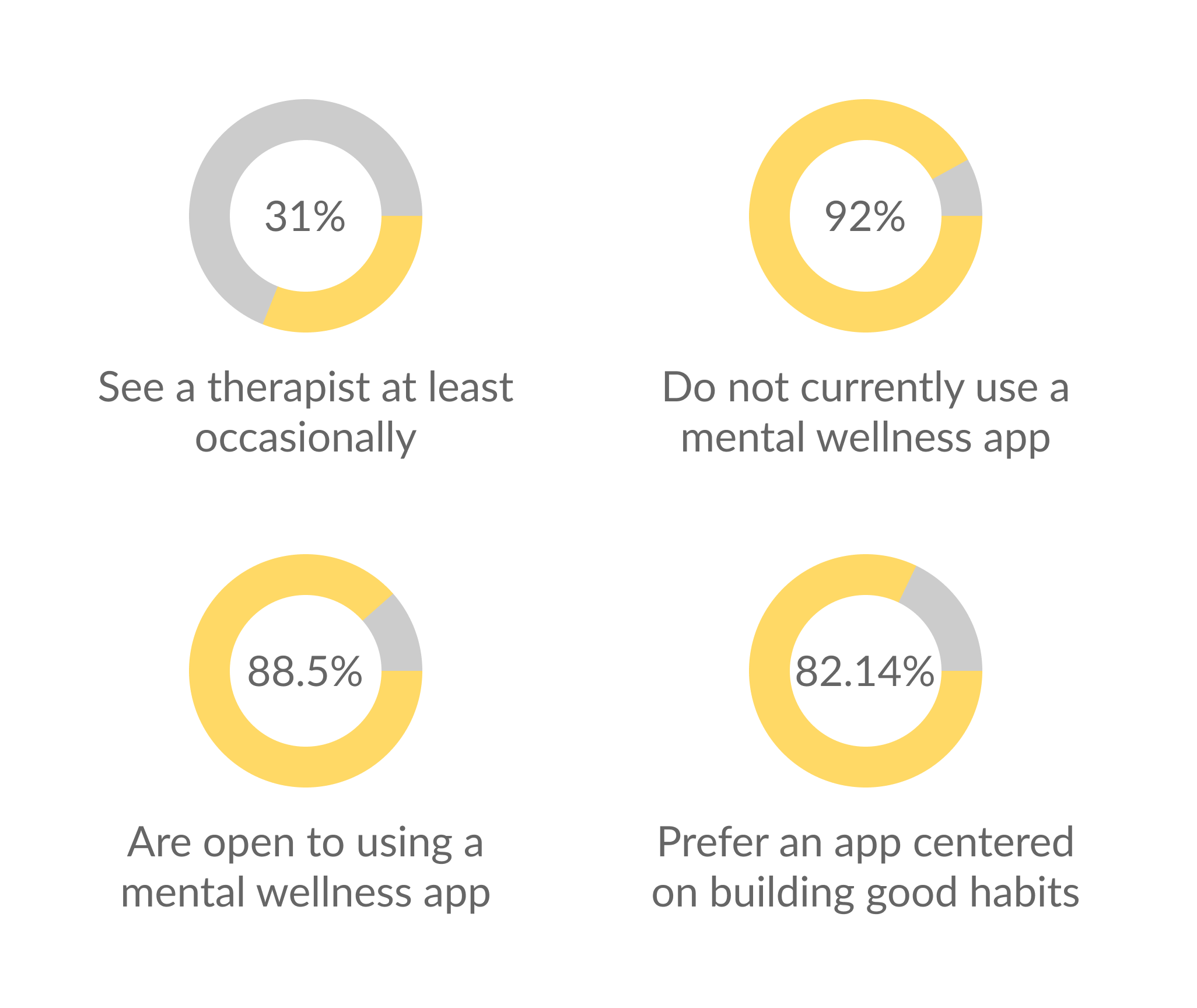 Surveys
We then sent out a survey that asked about what features current users and non-users of mental wellness apps would like to use/see in a mental wellness app. This survey was distributed to the Tufts community via Facebook groups. We collected a full set of data from 79 participants and were able to get some interesting results.
Interviews
We also conducted three semi-structured interviews on participants representing our target user group. Each session was on Zoom and lasted 30-45 minutes. We got these insights:
Users would like to receive notifications to build healthy daily mental wellness habits so that they can maintain a healthy mental state;

Users would like to have a personalized, engaging, and low-time-commitment way to take care of their mental health;

Users would like to understand the benefits of using a mental wellness app so that they know what they are doing, why they are doing it, and whether it is working.
Logic Flow Diagram
After summarizing research results, our first step of refining was to figure out a flow diagram, as the logic and features behind this app could be relatively complicated.
We planned to have four main pages: Login, Home (Growth), Journal, and Community. With the help of these pages, users could set up mental health goals, track their progress, write down journal entries, and connect with the community.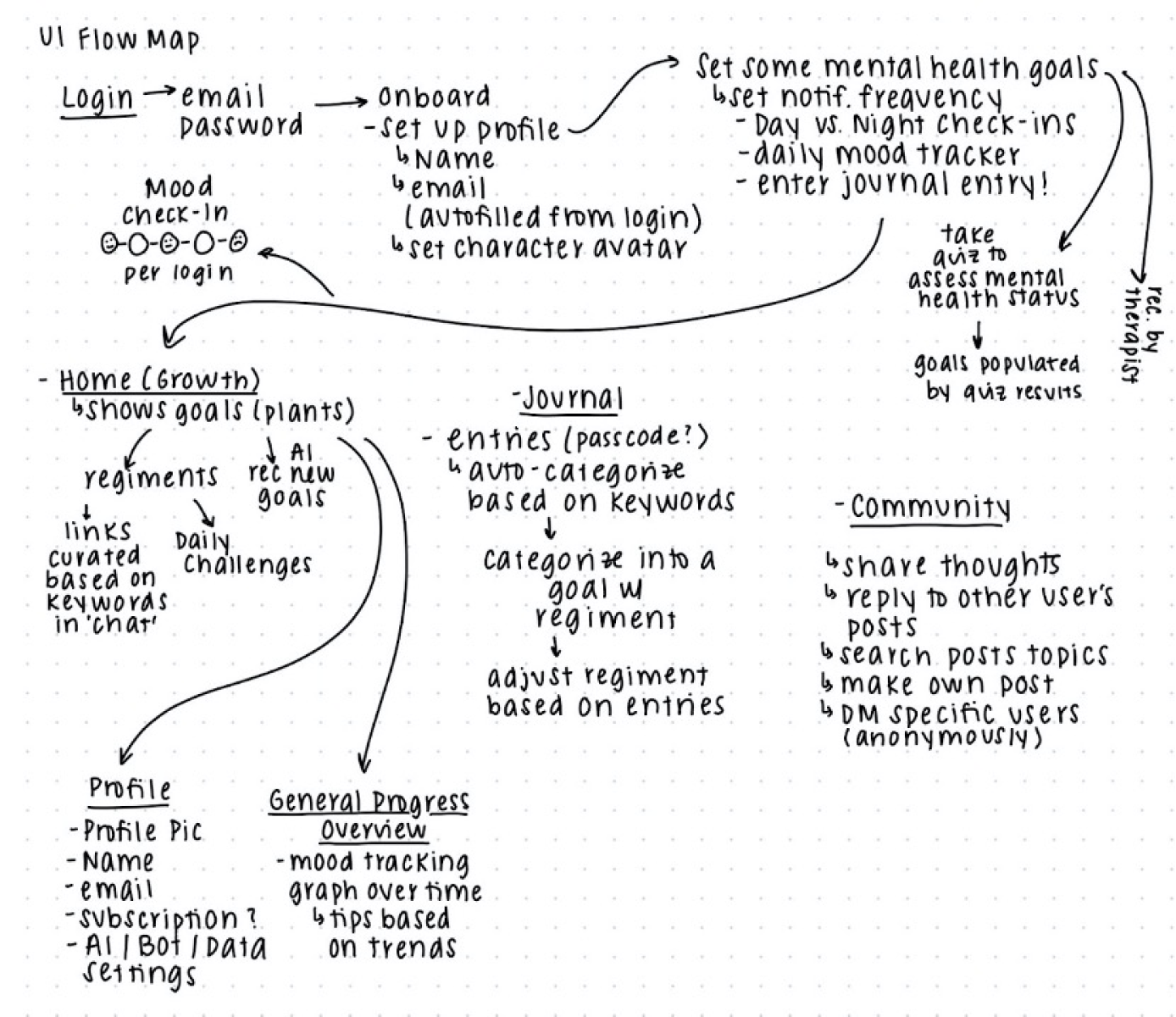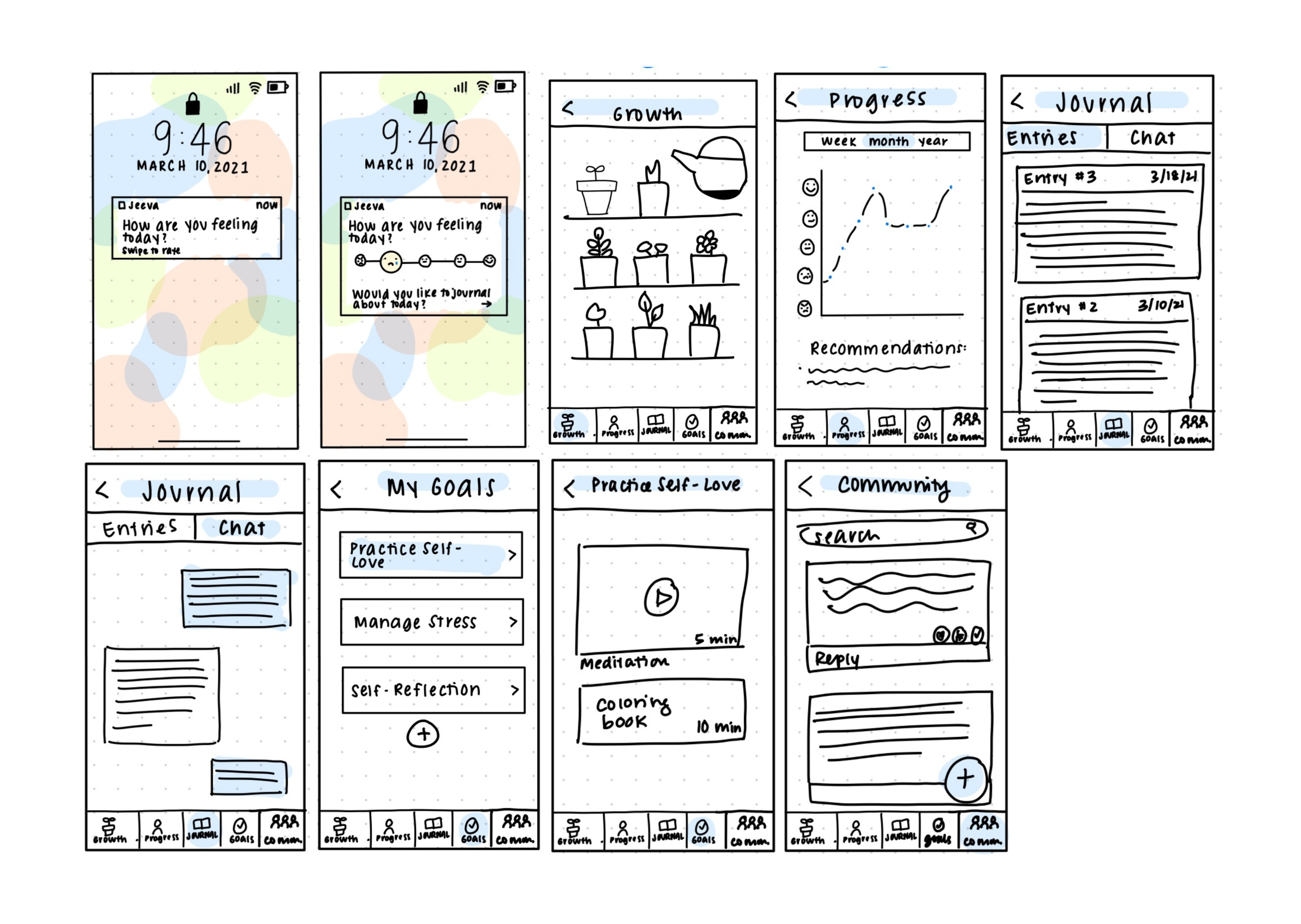 Sketches
I sketched these for brainstorming and testing purpose. This way, I could iterate different design options quickly. I focused on the following design requirements:
Rate mood swipe notification for easy mood tracking

Engaging stats/progress tracker

Goals/gamification elements
I decided to use the plant metaphor so that users would feel more attached to and responsible for their goals (plants). Every time they make progress, they are "watering the plant" to keep it alive.
Guerilla Testing
After sketching out the three main features, we did a quick Guerilla testing round. We conducted the testing with five participants via Zoom. We found the following:
Participants all liked the easy mood tracking slider that came with the app notification;

Participants were curious about the quality and personalization of recommendations provided below the "Progress" diagram;

Participants liked the goal building idea of the app, but were unsure about how they might accomplish the final goal.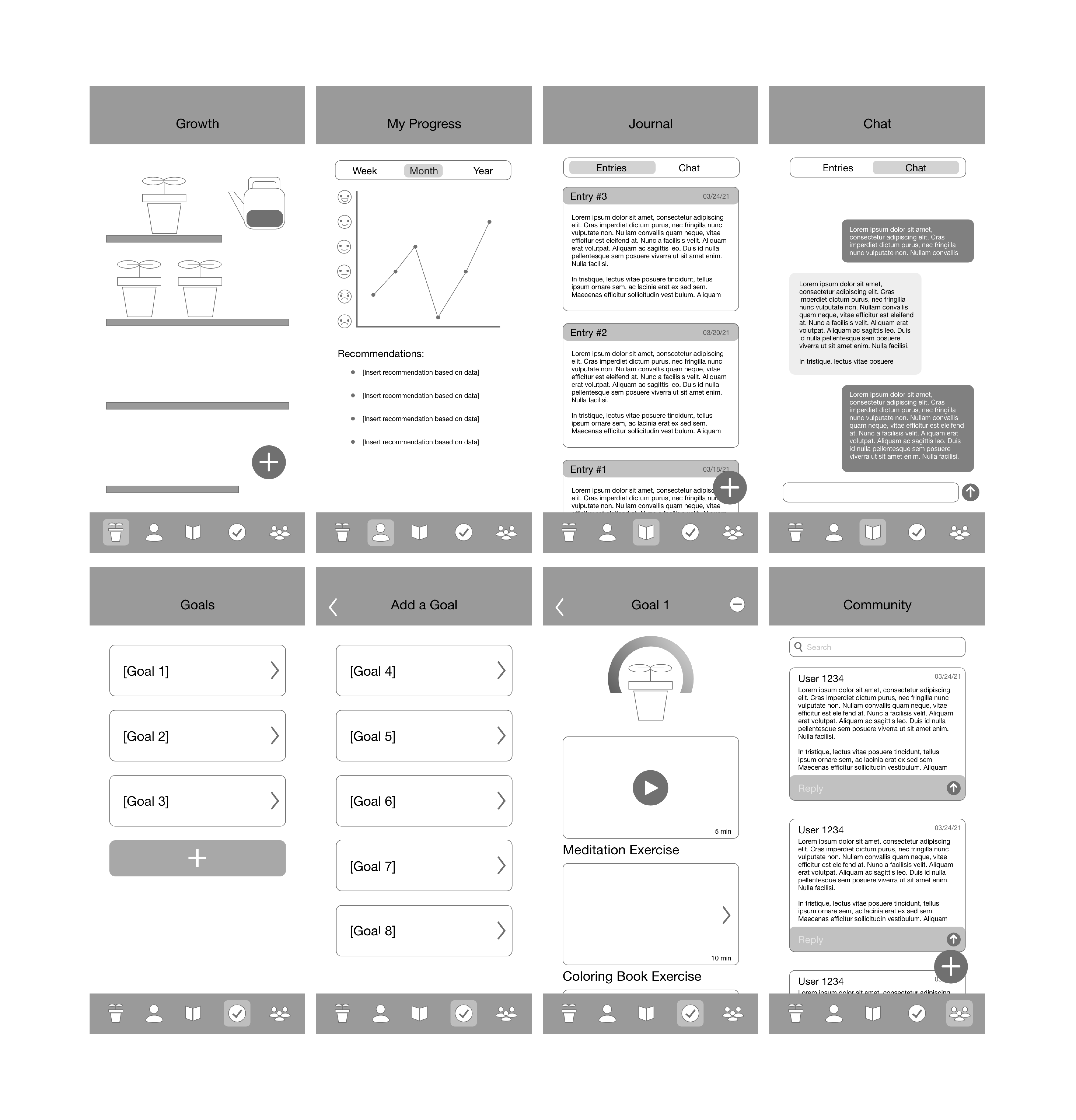 Low-Fidelity Wireframes
The Guerilla testing made me realize that a working prototype was needed due to complexity of the app. So I used Adobe XD to draw some wireframes and added interactions.
Unfortunately we had to remove the mood swiping notification feature due to privacy and accessibility settings.
User Testing (Round 1)
We did a round of user testing to reveal possible usability problems of the wireframes. We conducted the testing with five new participants and discovered some issues of the design:
Users expected to find chat functionality in the "Community" page;

Users could not immediately find the path to get to their goals;

Many did not relate watering the plants to making progress of their goals;

The goal icon elicited a perception of leading to a checklist rather than broad goals;

Goals to be added looked too similar to goals already in progress.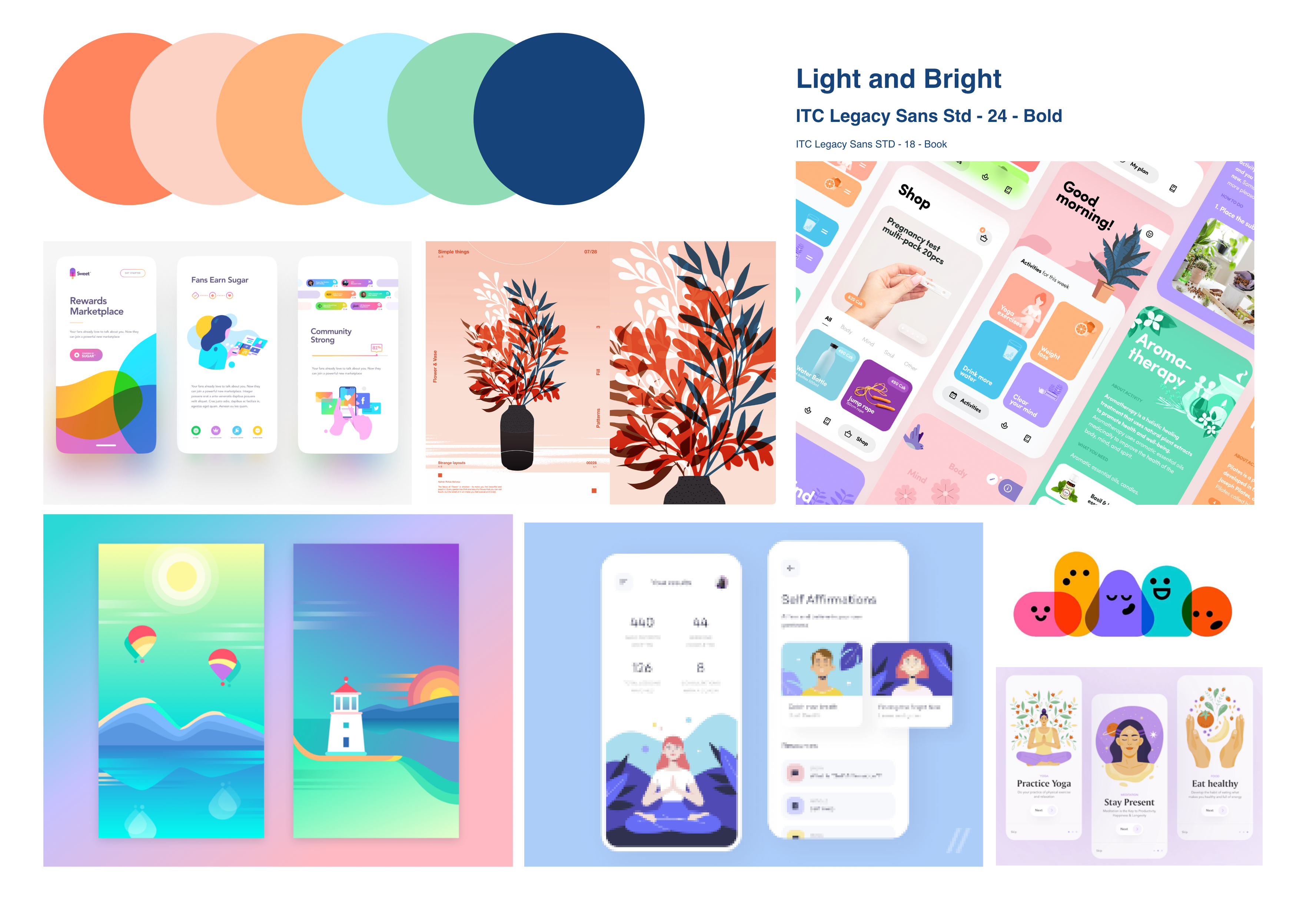 Mood Board
We put together several options of the mood board and chose this one, because we wanted something uplifting, yet soft and pleasing to the eyes.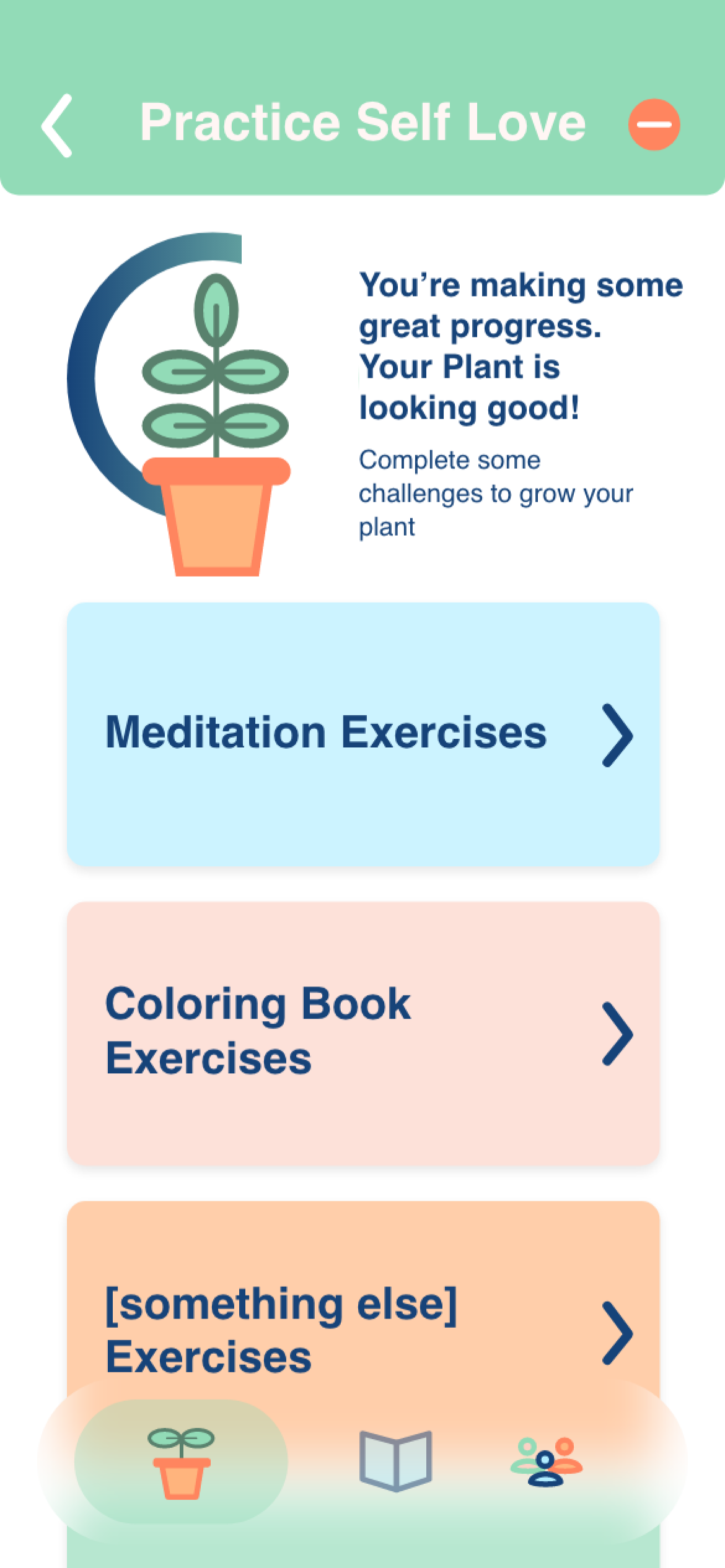 High-Fidelity Prototype
Once we tested out all usability mistakes, I started designing the high-fidelity prototype using Figma. I made sure to:
Move the chat functionality to "Community" page;

Allow users to access progress by tapping on plants;

Remove the watering kettle icon for clarity of the metaphor;

Change the "goal" icon and combine the pages;

Differentiate the new goals from existing goals.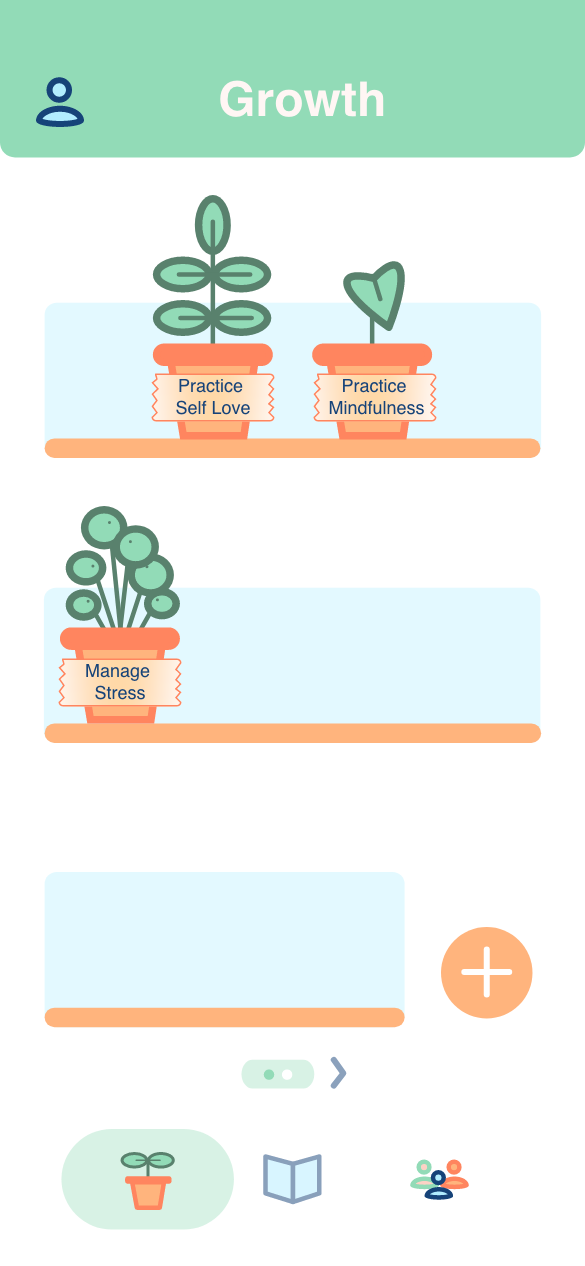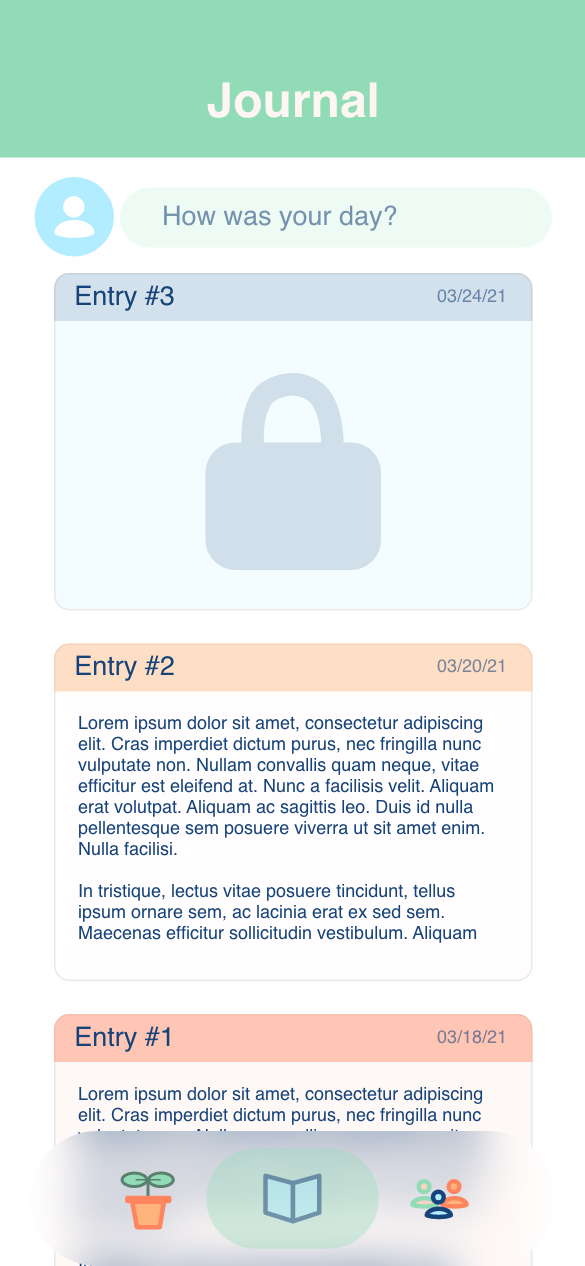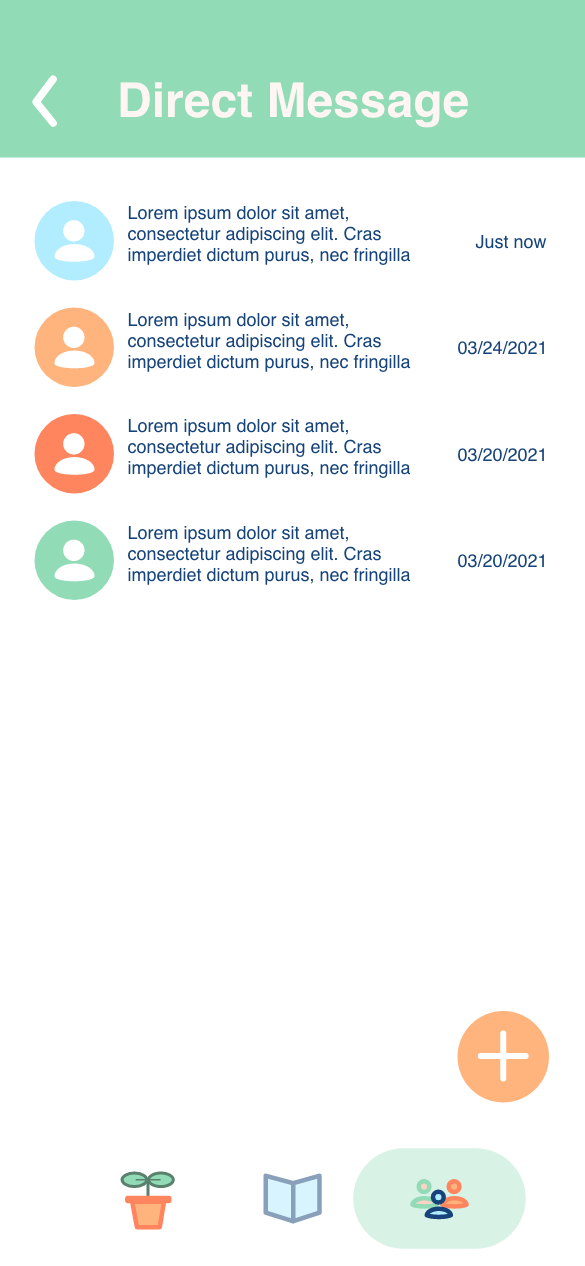 User Testing (Round 2)
We did a second round of user testing on the high-fidelity prototype. We conducted the testing with another five participants and discovered the following minor issues:
Some prompts' wording might be interpreted inaccurately by users;

New users found it difficult to start the journey of using this app;

The app provided a lighthearted and energetic feeling that encouraged users to use it only when they feel motivated.
To solve these issues, I:
Rephrased some ambiguous expressions of the app;

Added an onboarding questionnaire and walkthrough to help new users;

Adjusted a dark mode for users to use when they are feeling unwell and/or at night.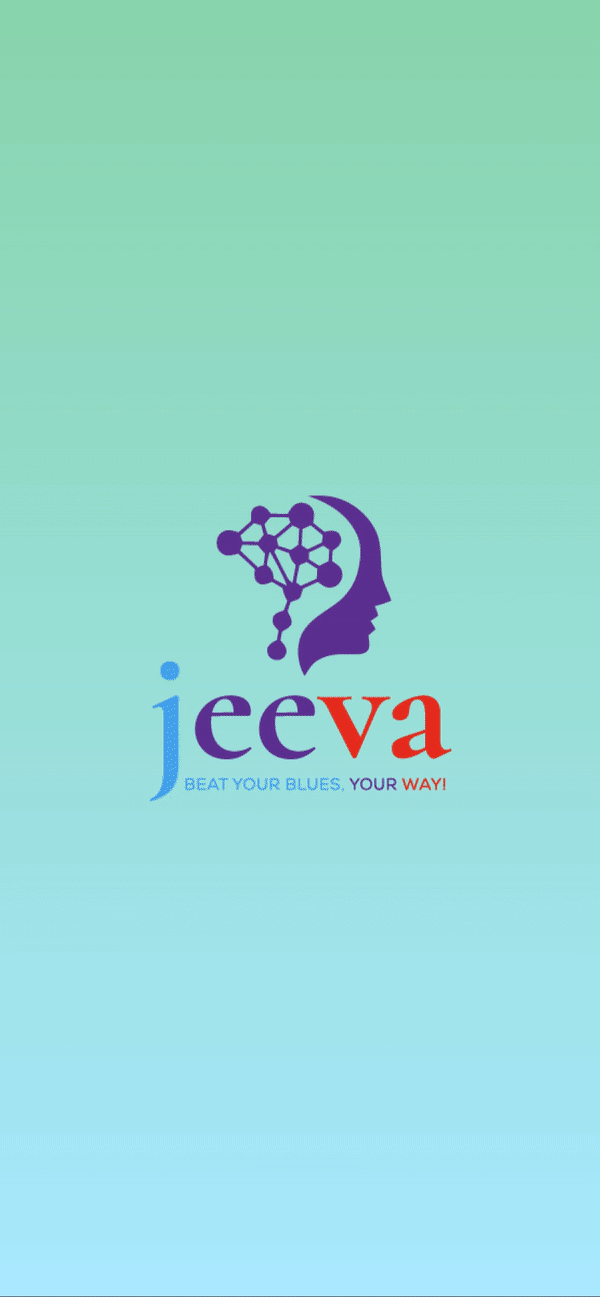 Onboarding
For new users of this app, they can start with an onboarding yet professional survey to generate personalized mental wellness goals.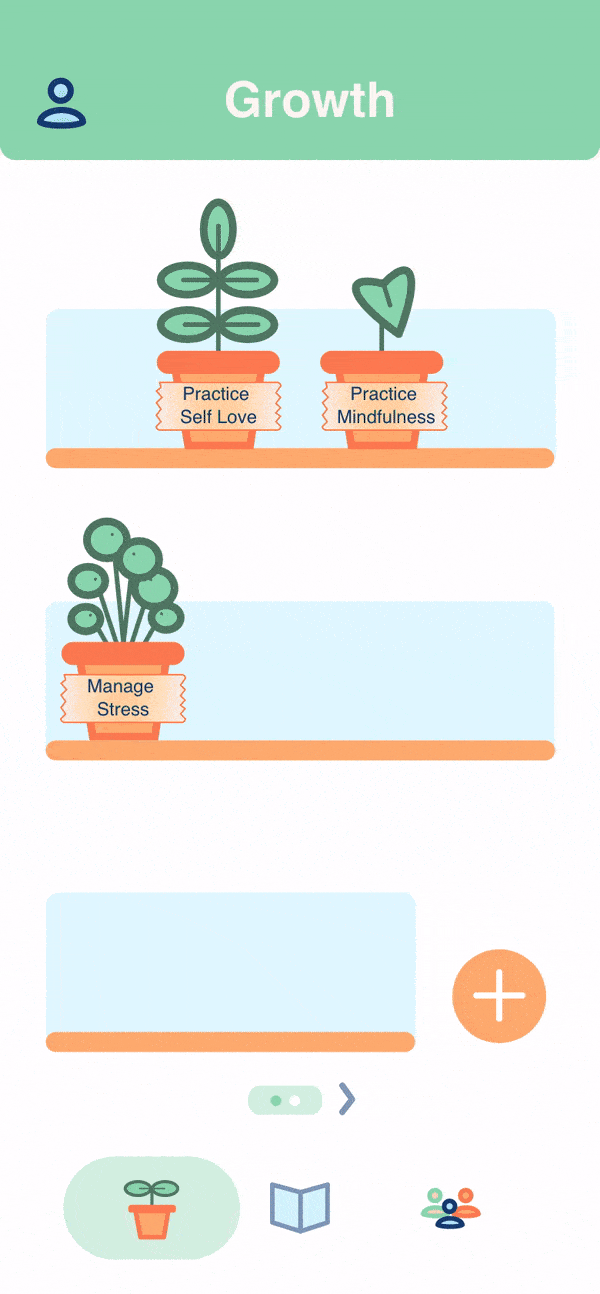 Growth
The home page of this app is also called the Growth page. Users can add new goals and achieve existing goals.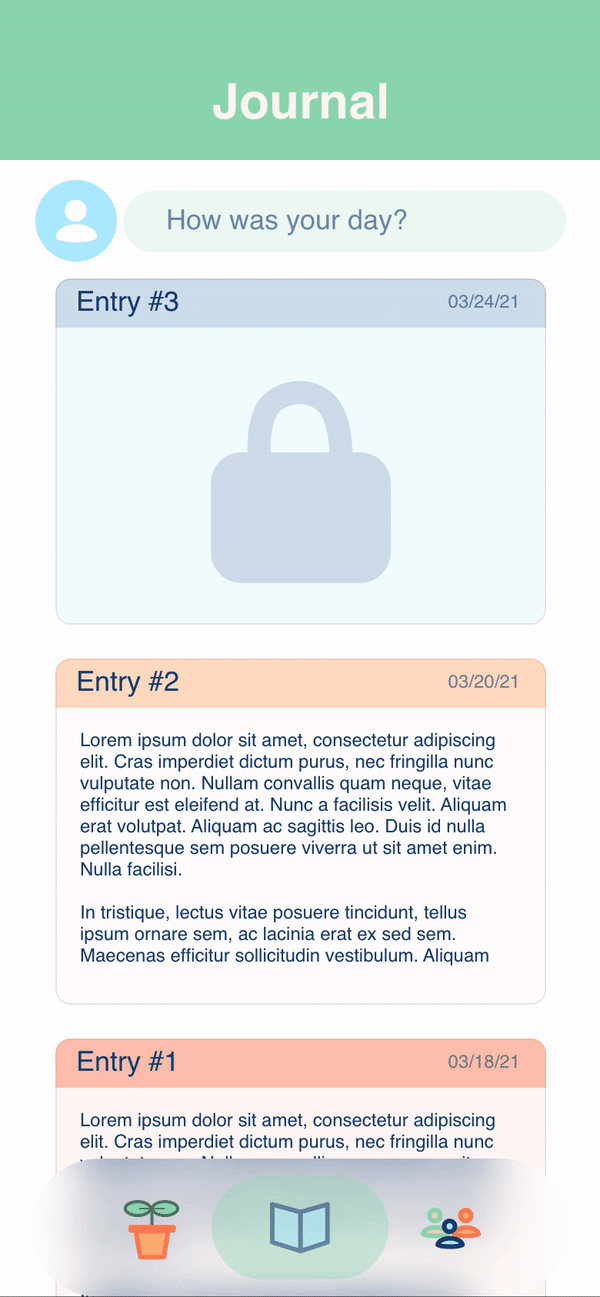 Journal
The app helps users keep track of their daily thoughts and emotions through journals. Privacy can be protected via adding a passcode.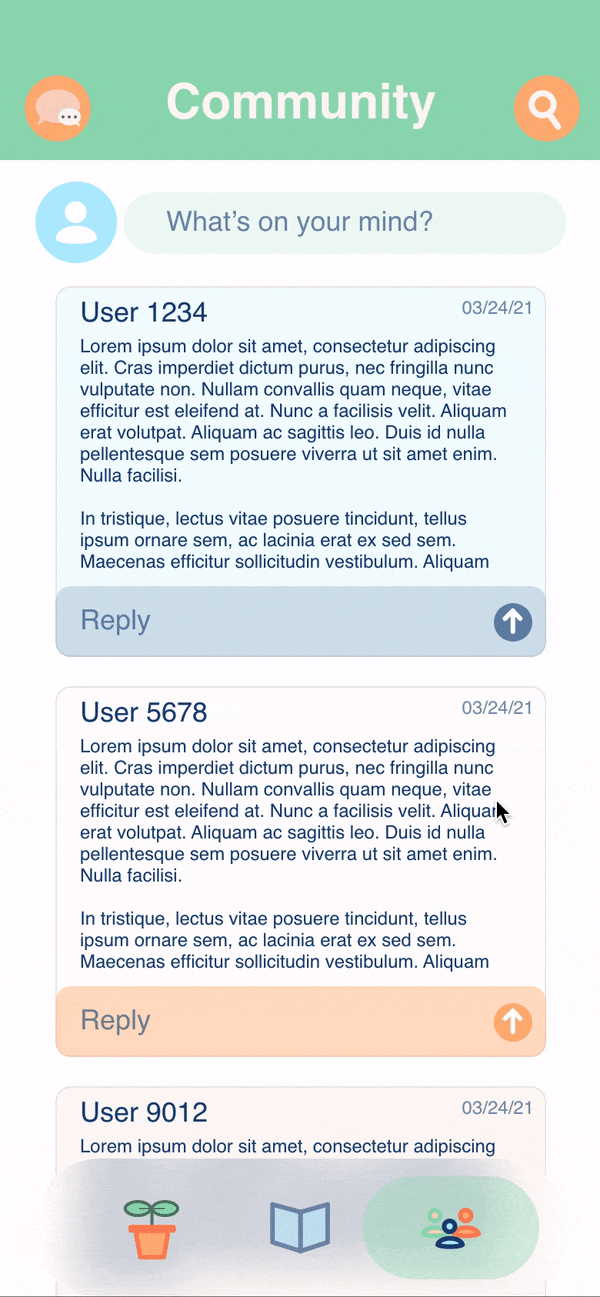 Community
The app provides an opportunity for users to connect with the community and others having the same issues. They can contact through direct messages, topic-specific posts, and posting their own thoughts.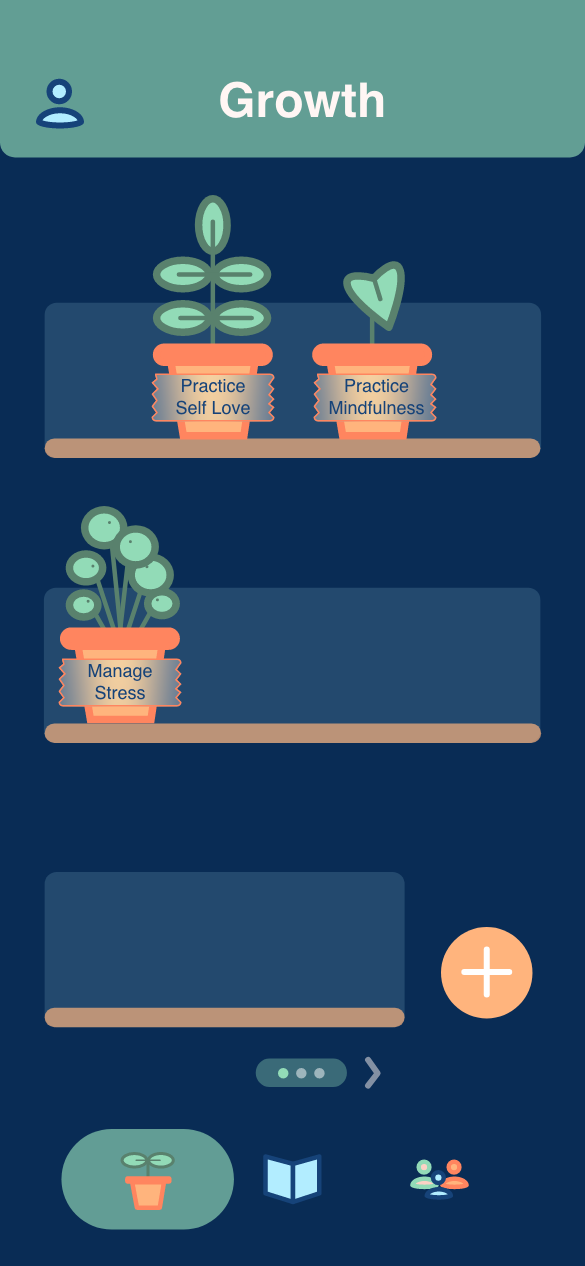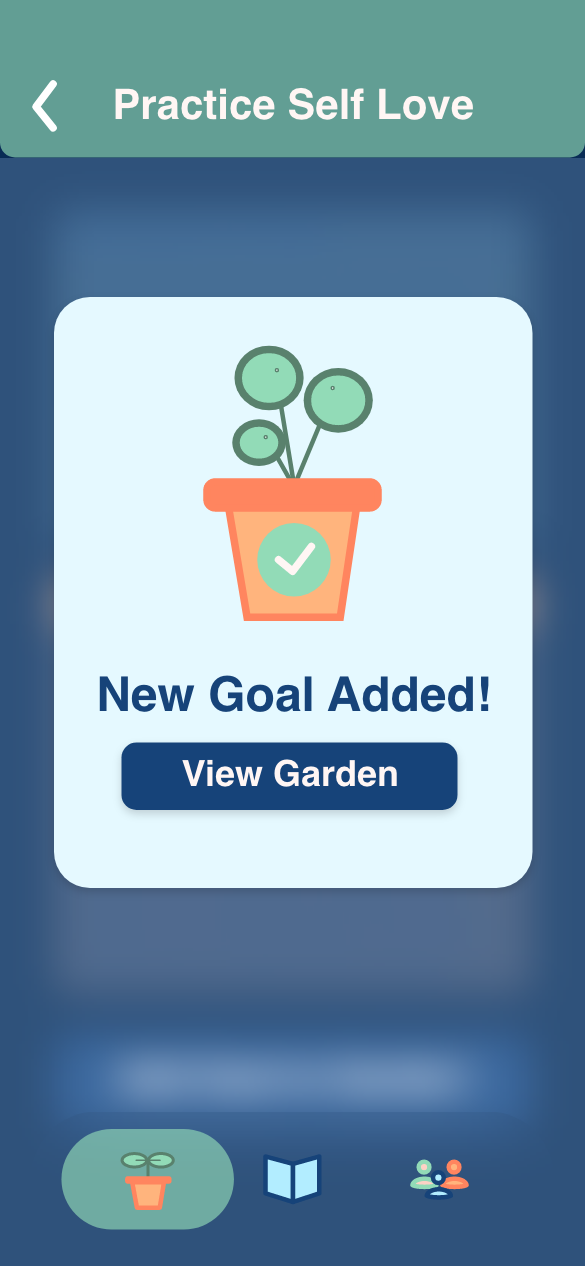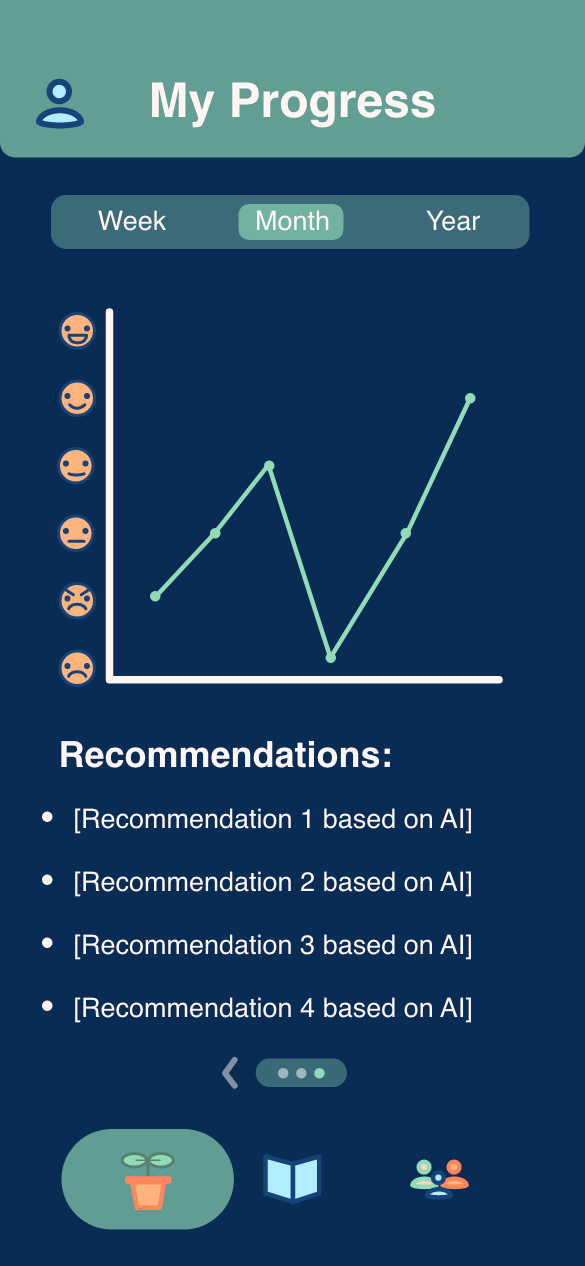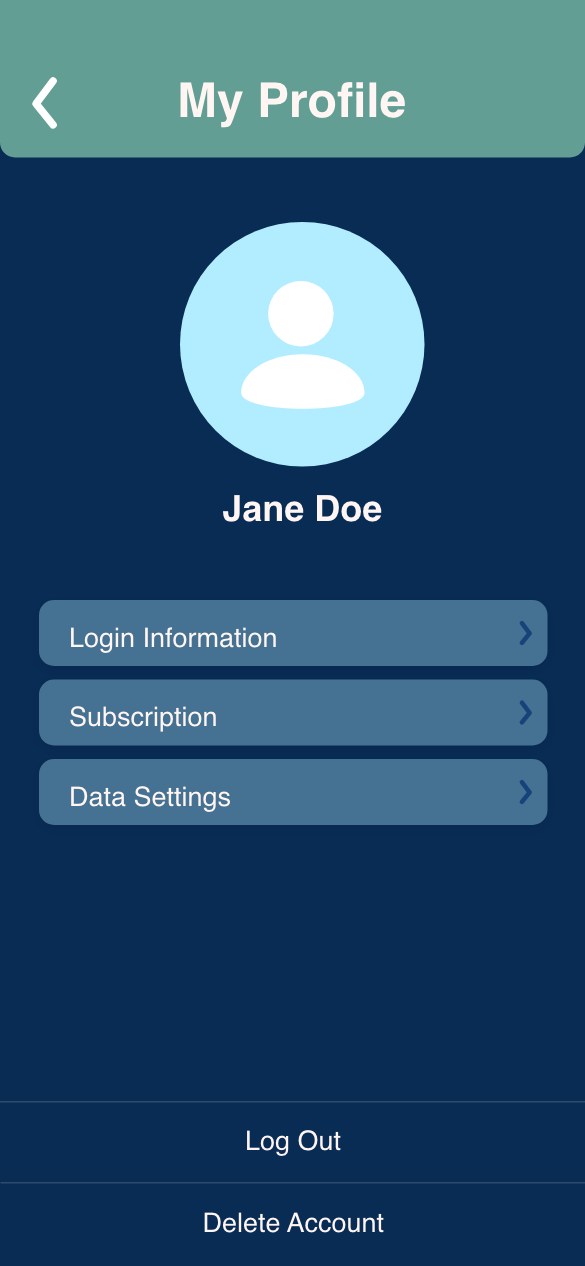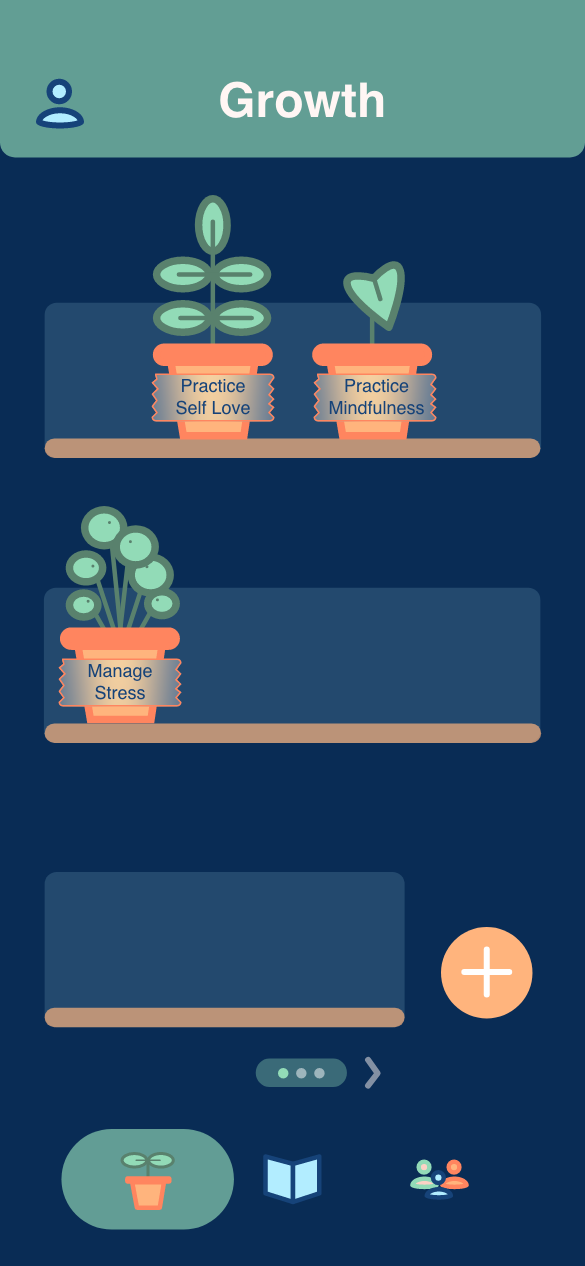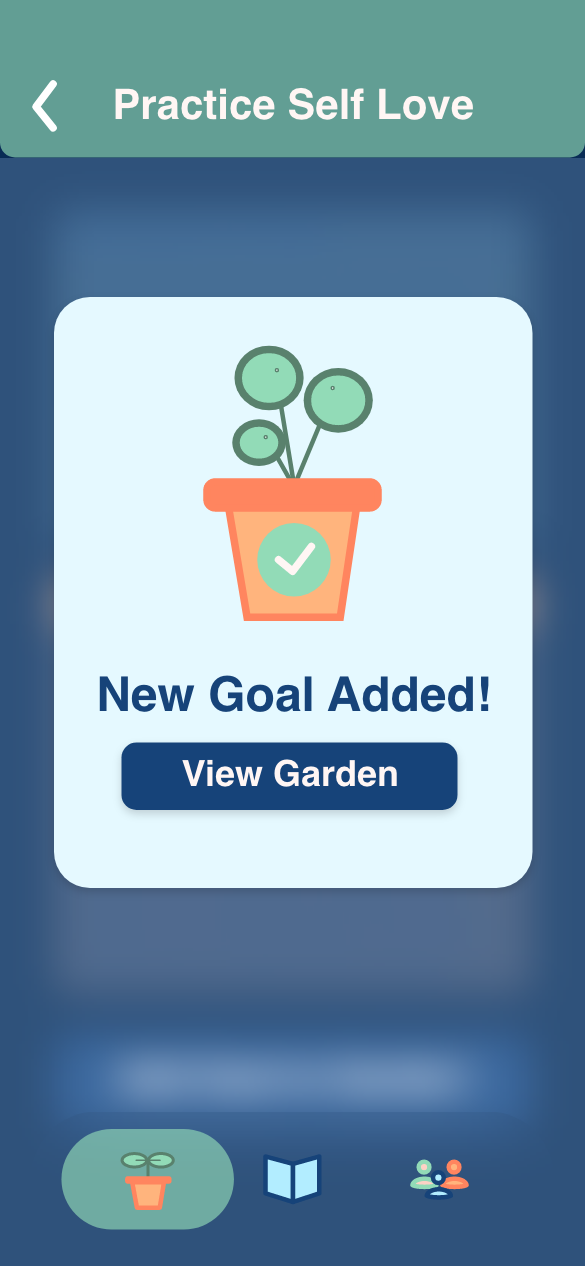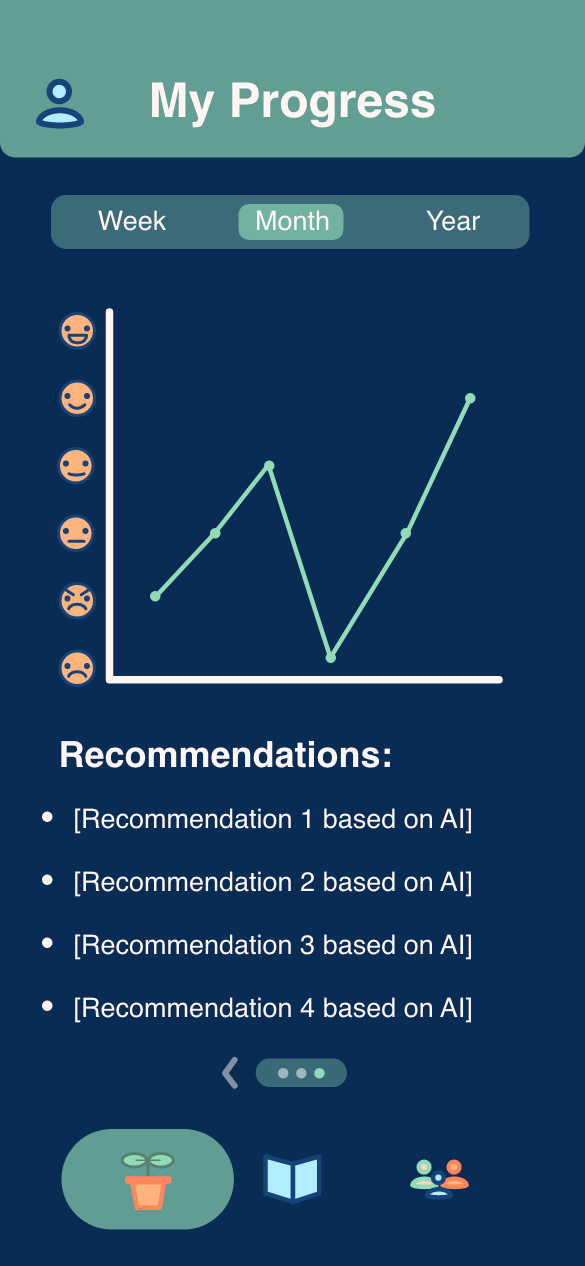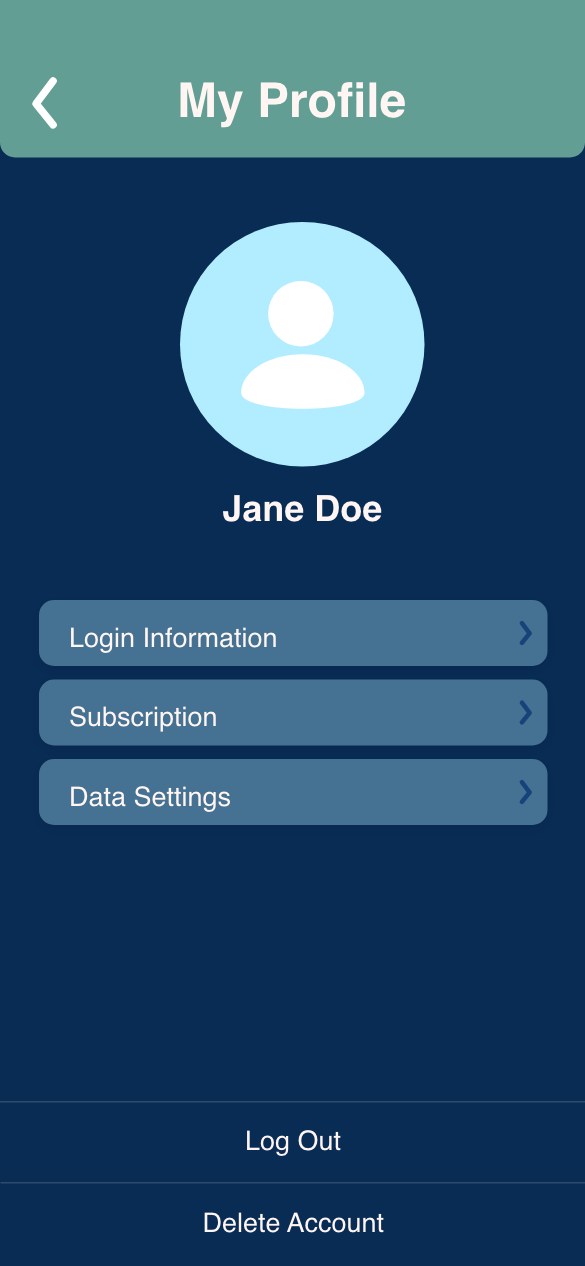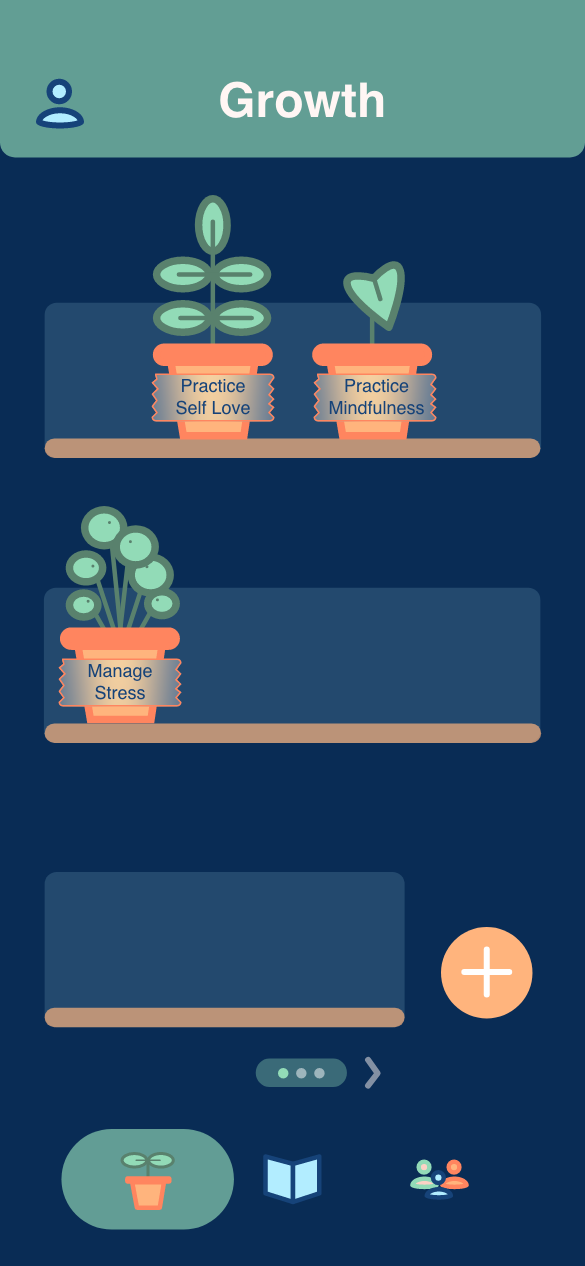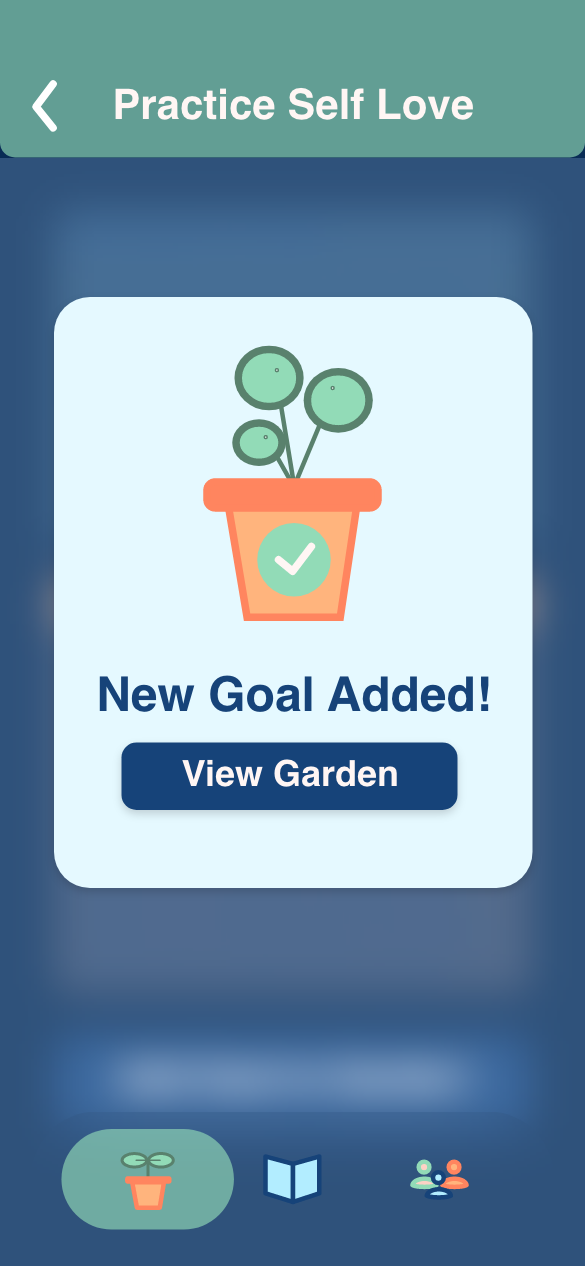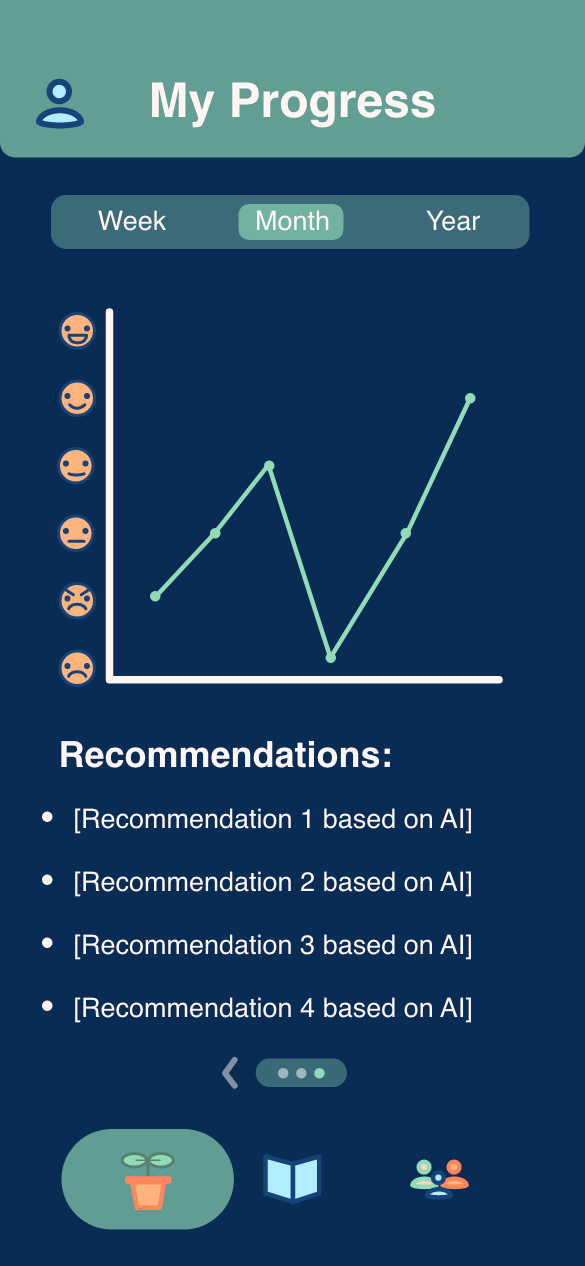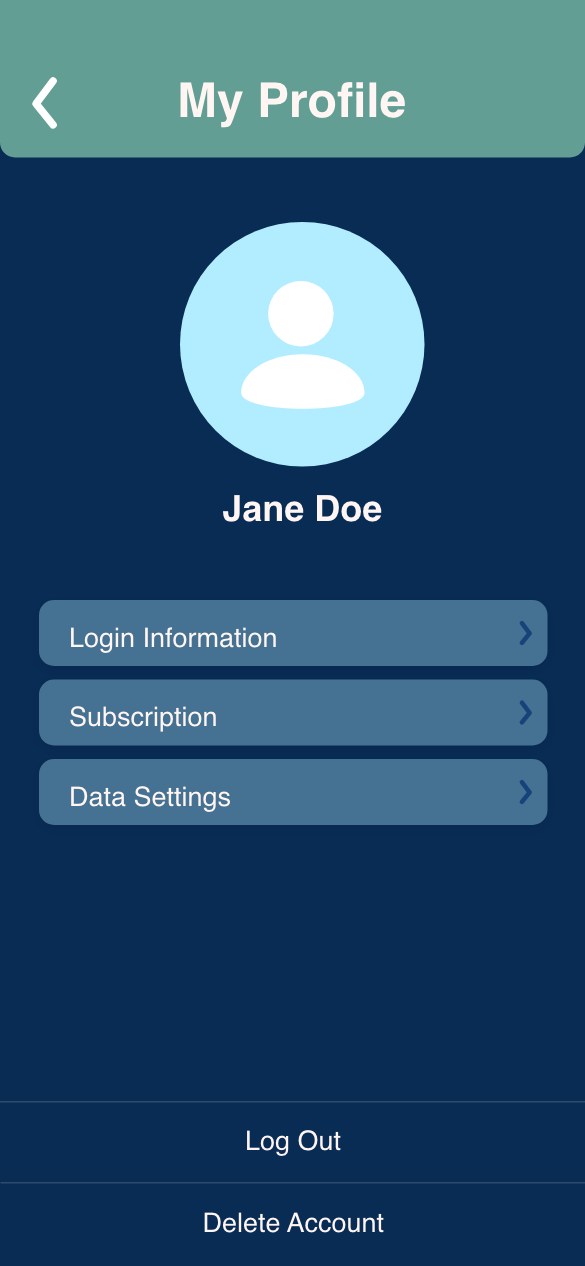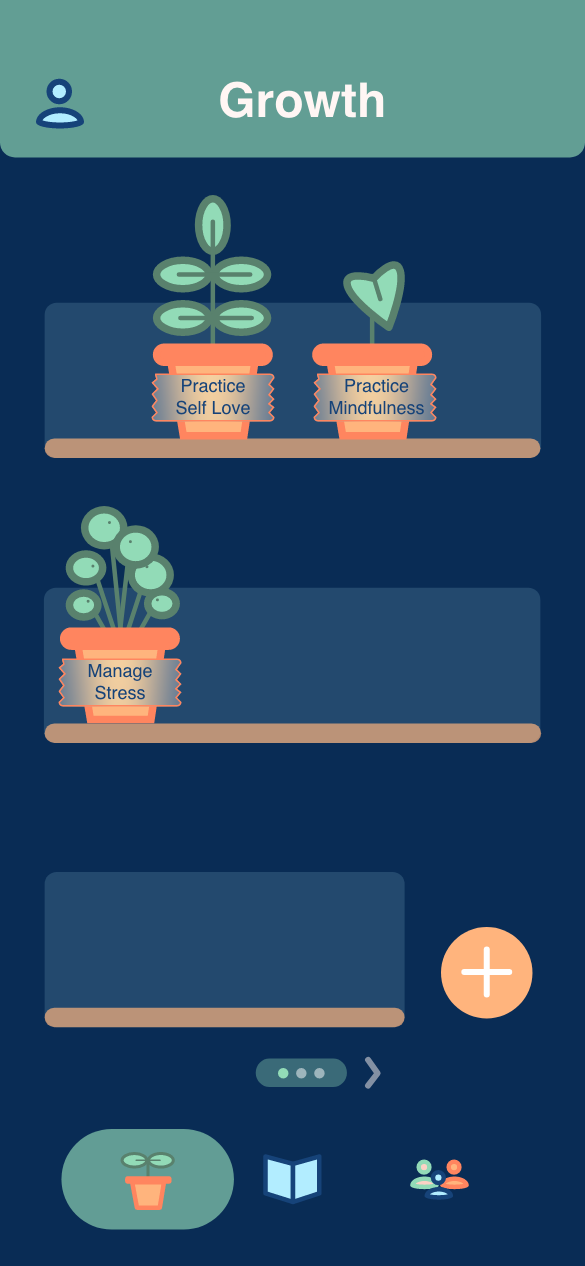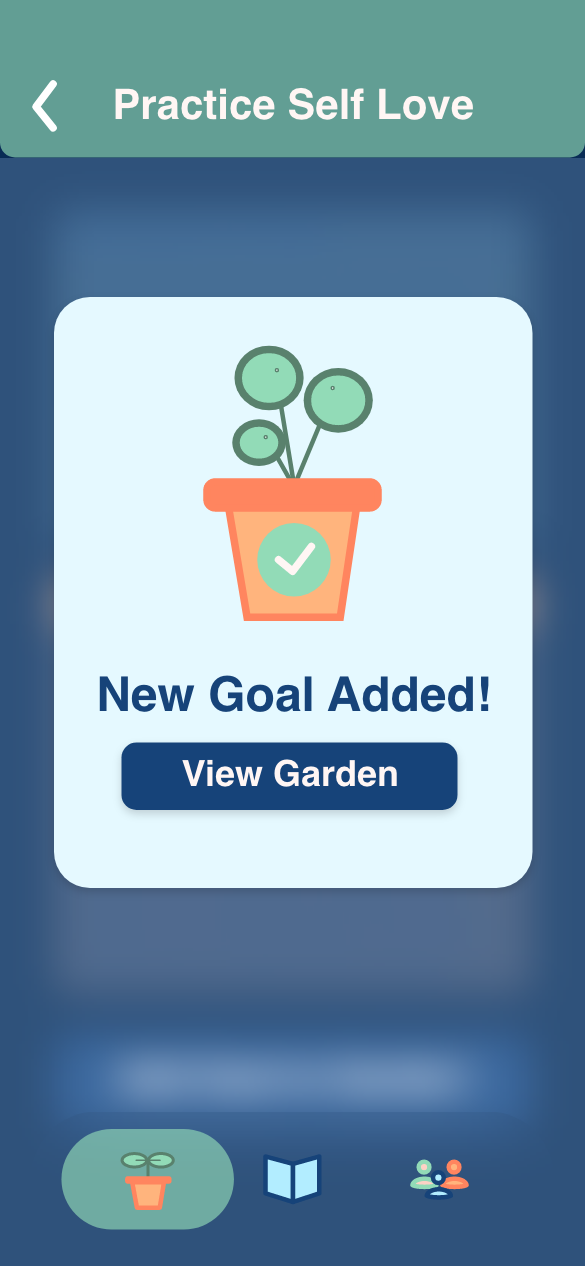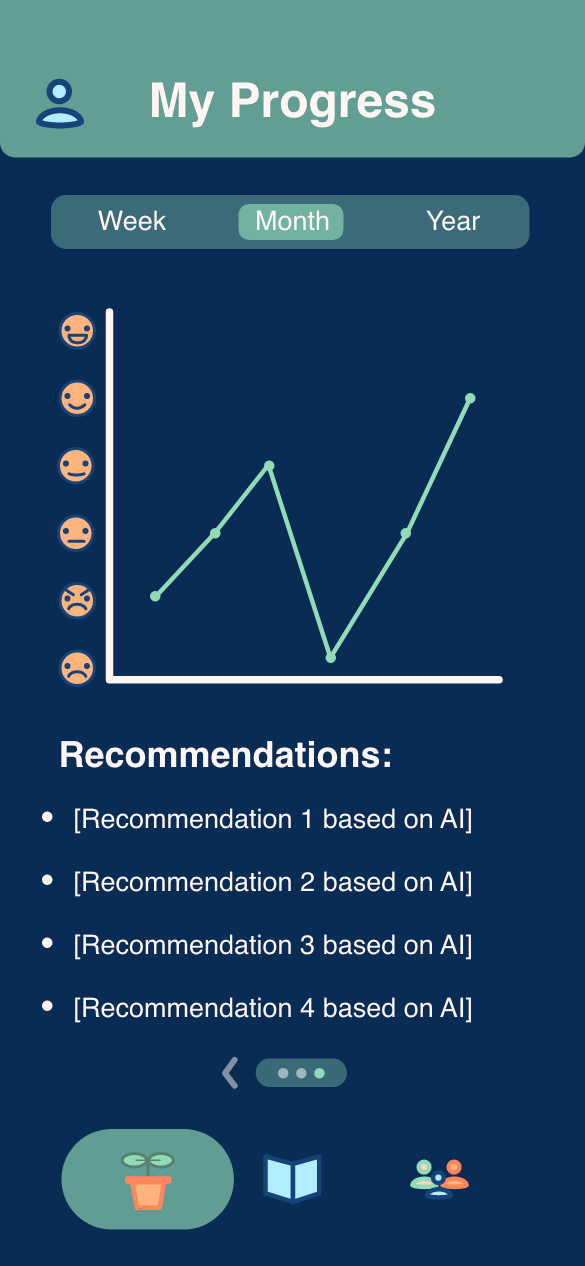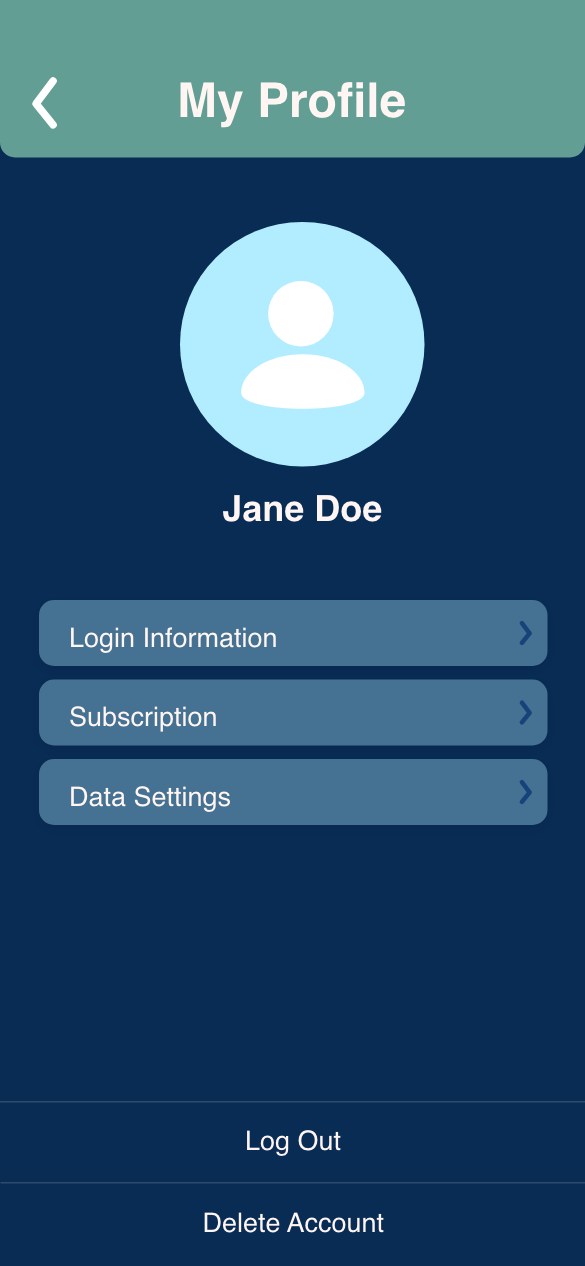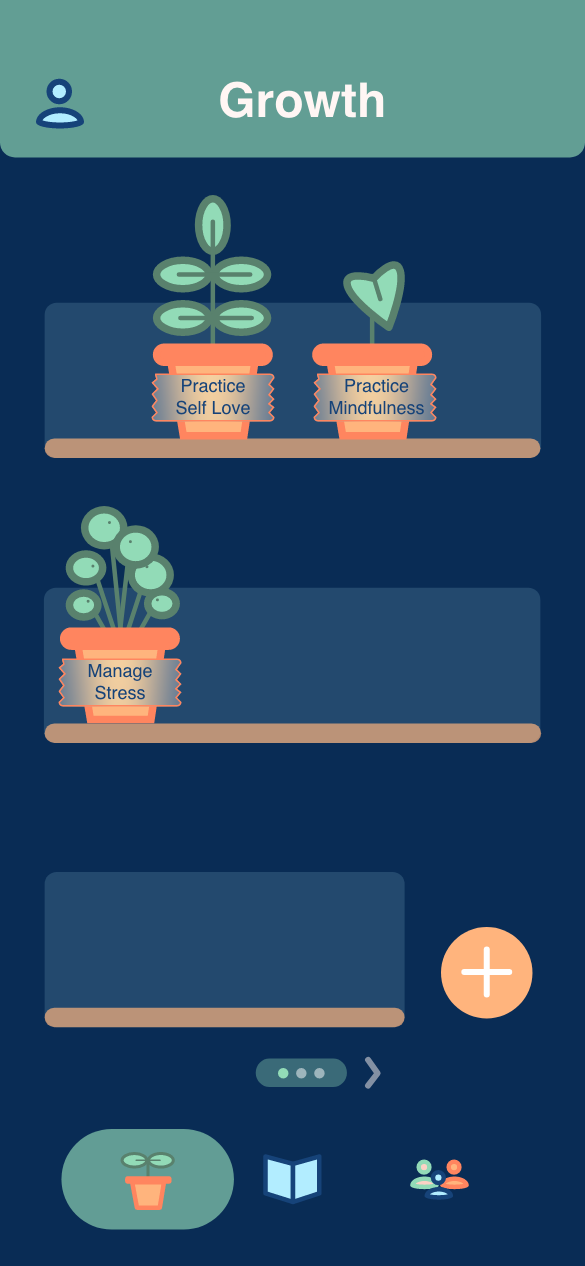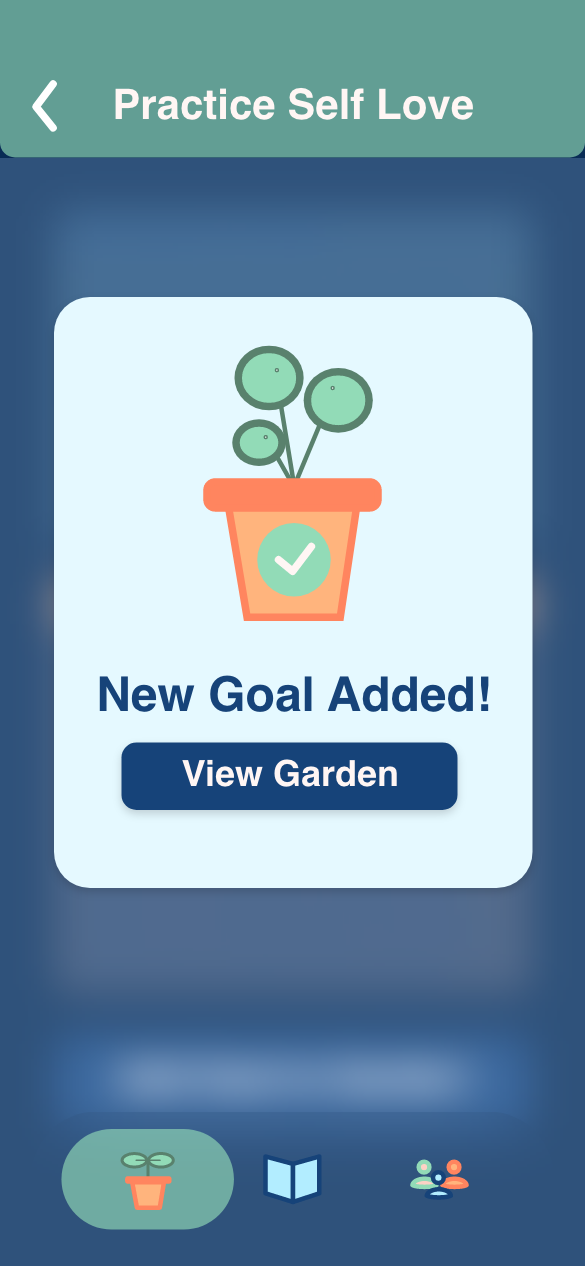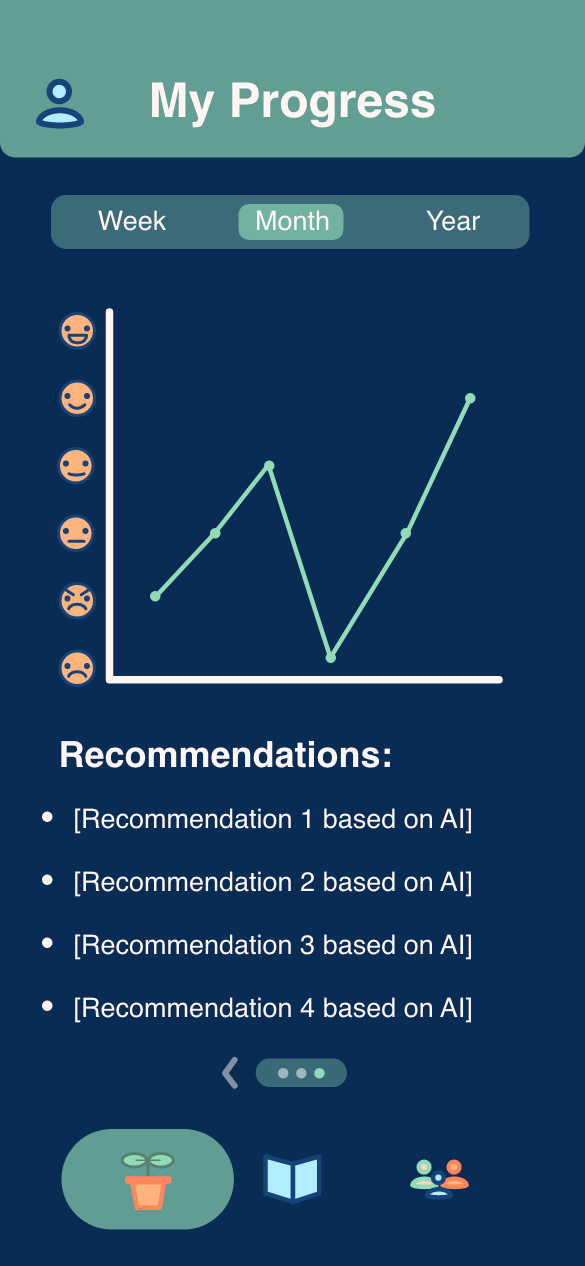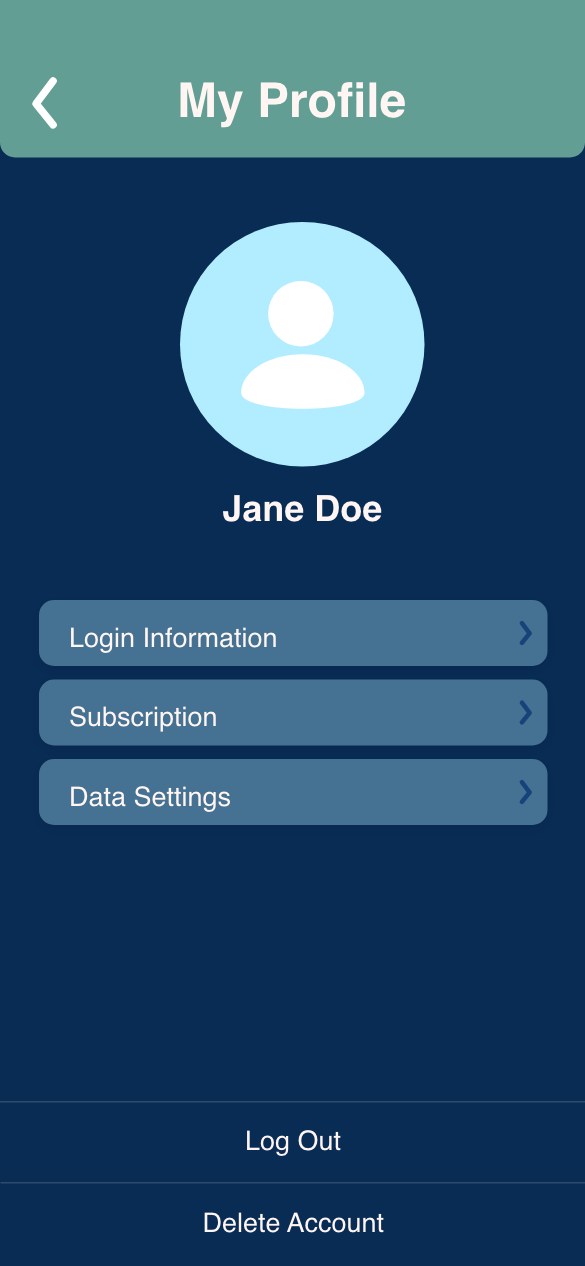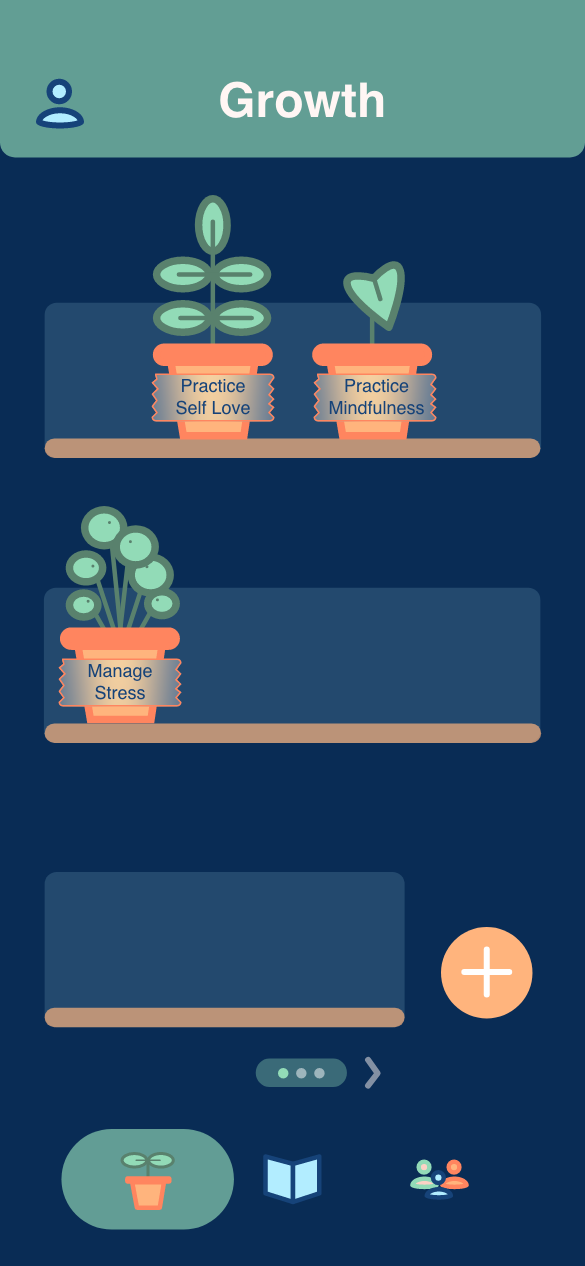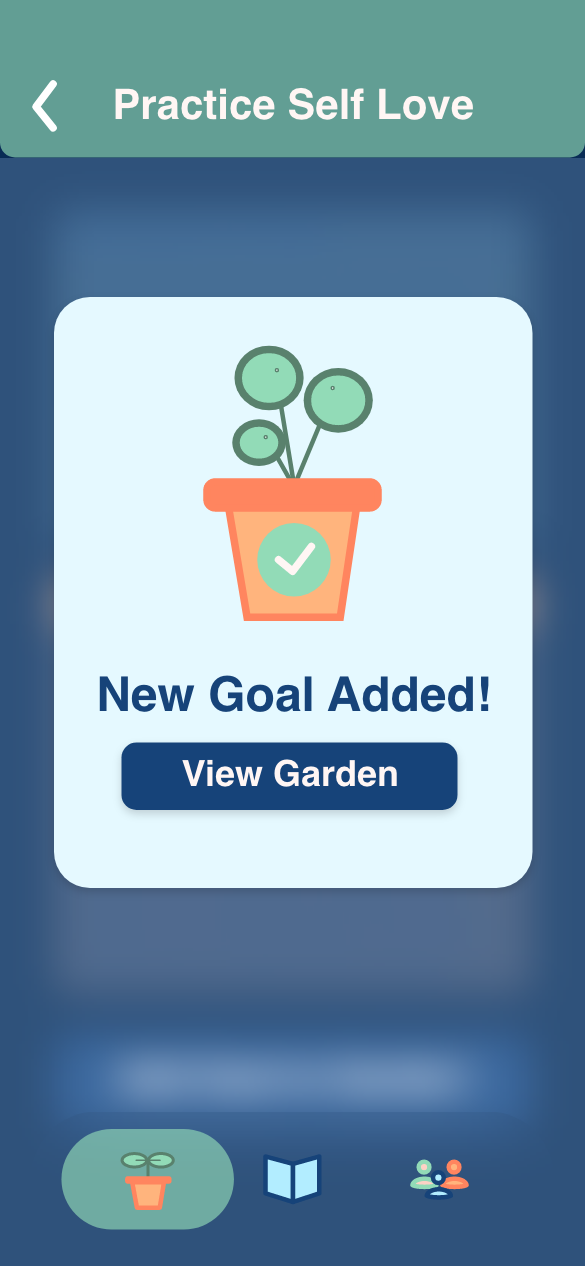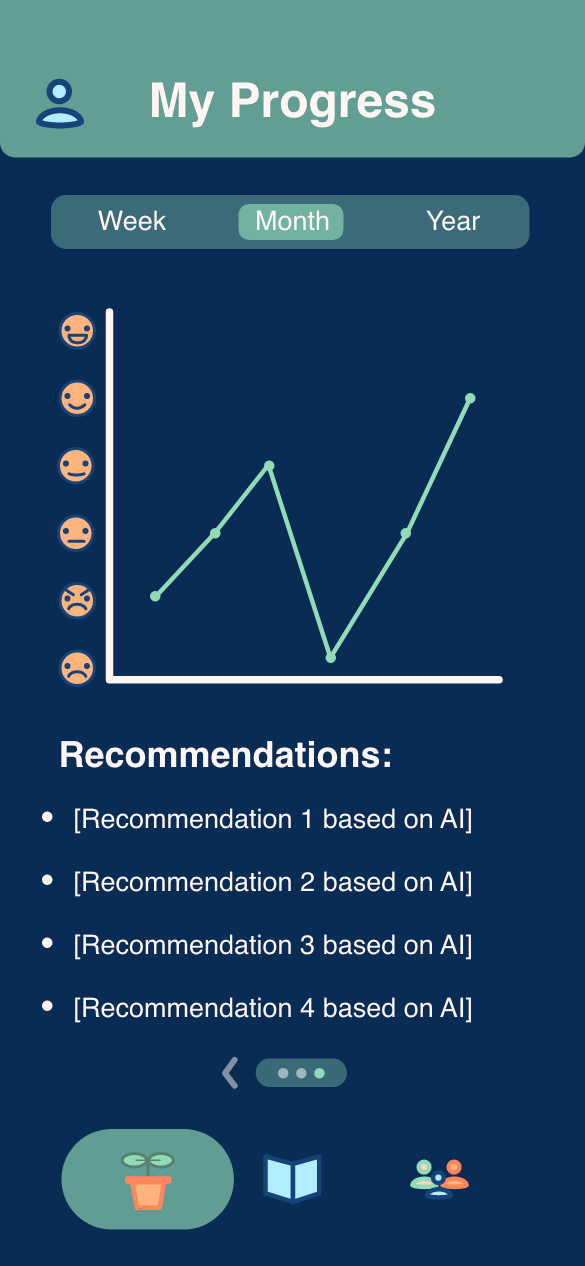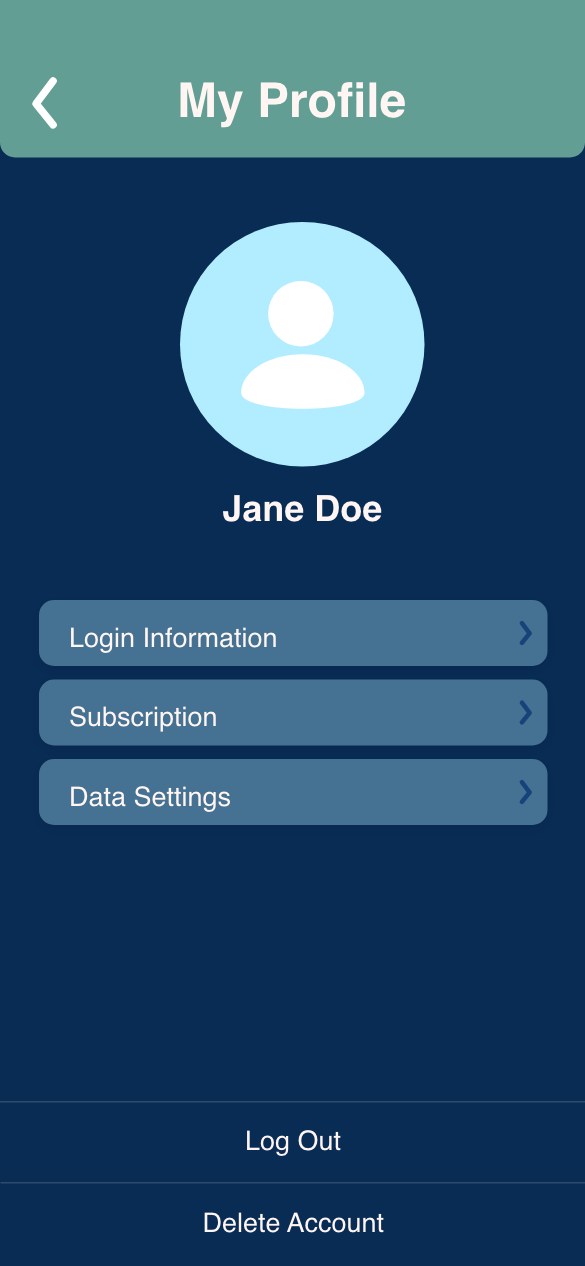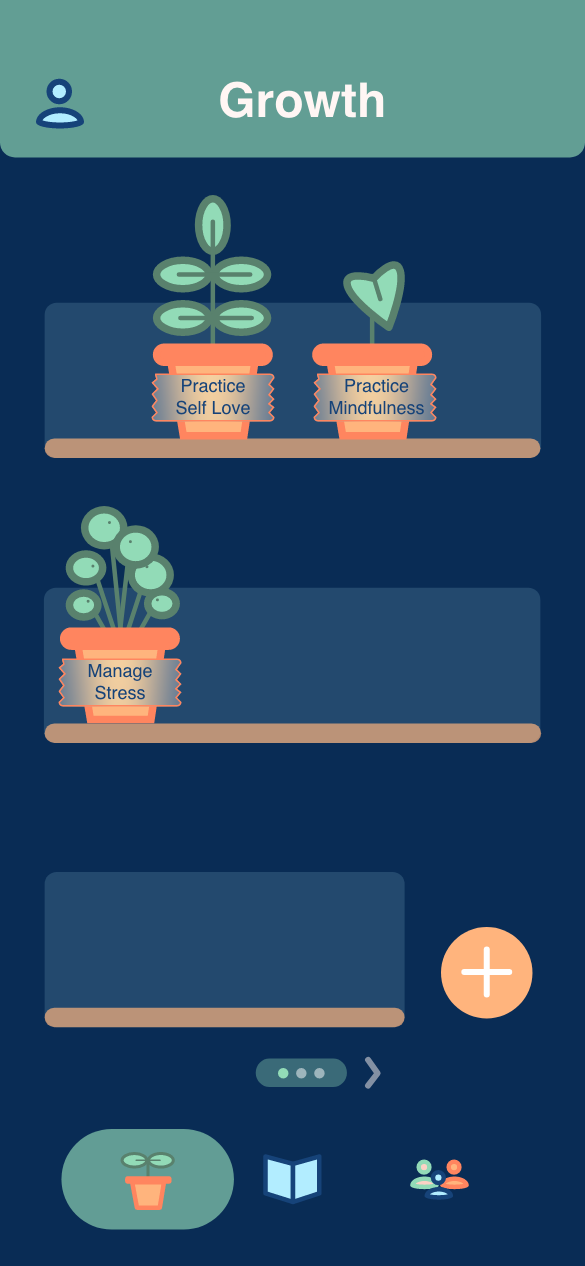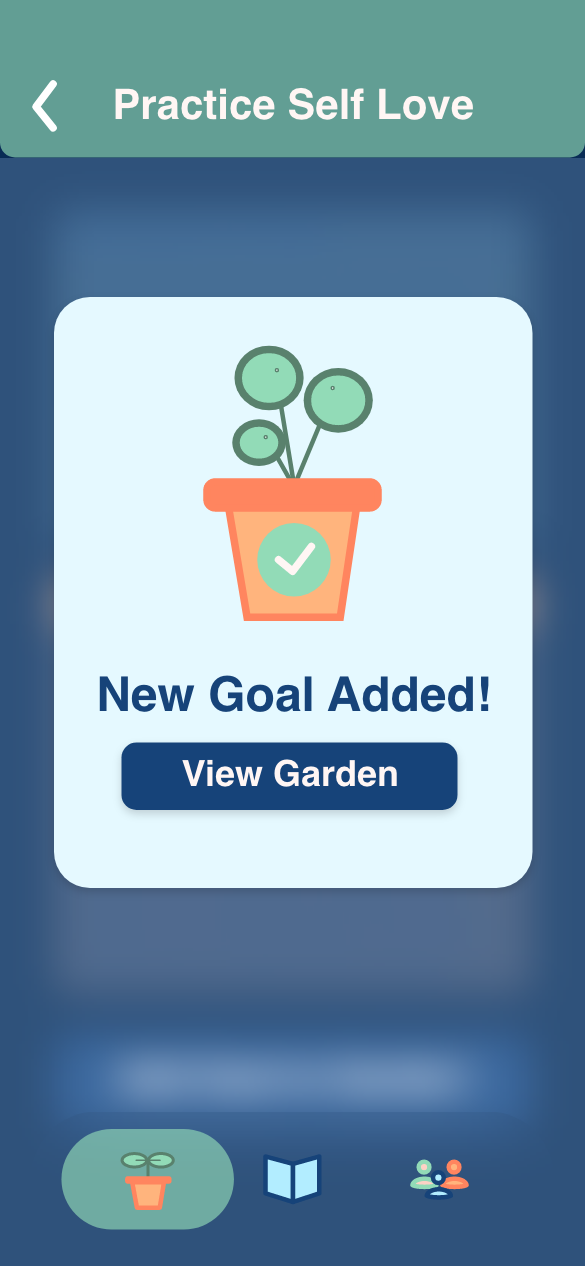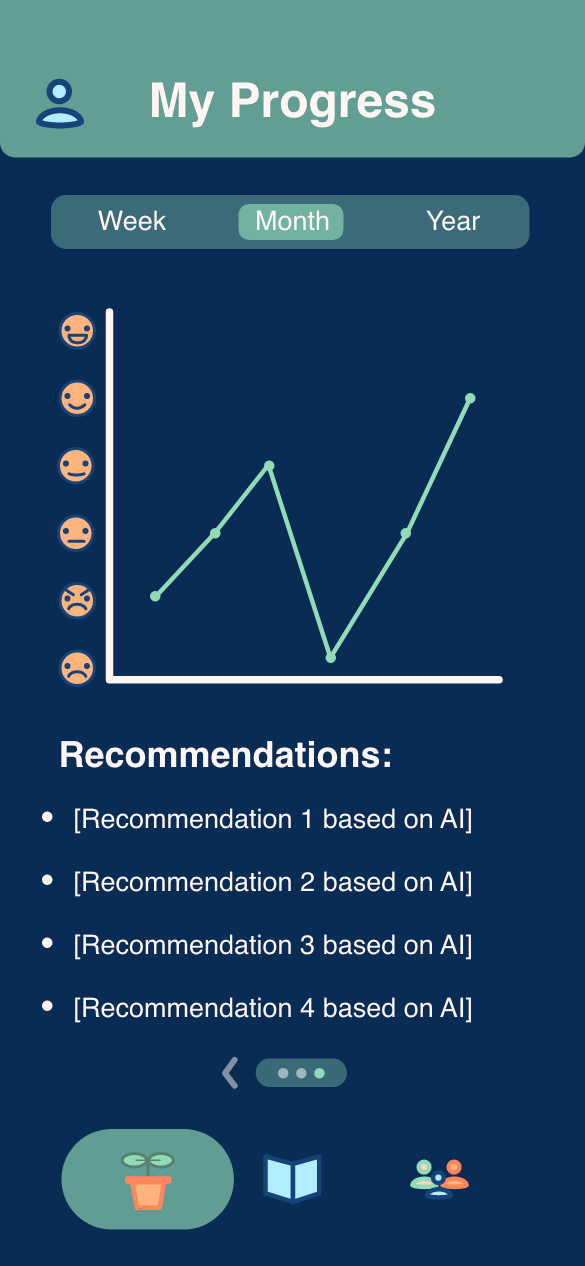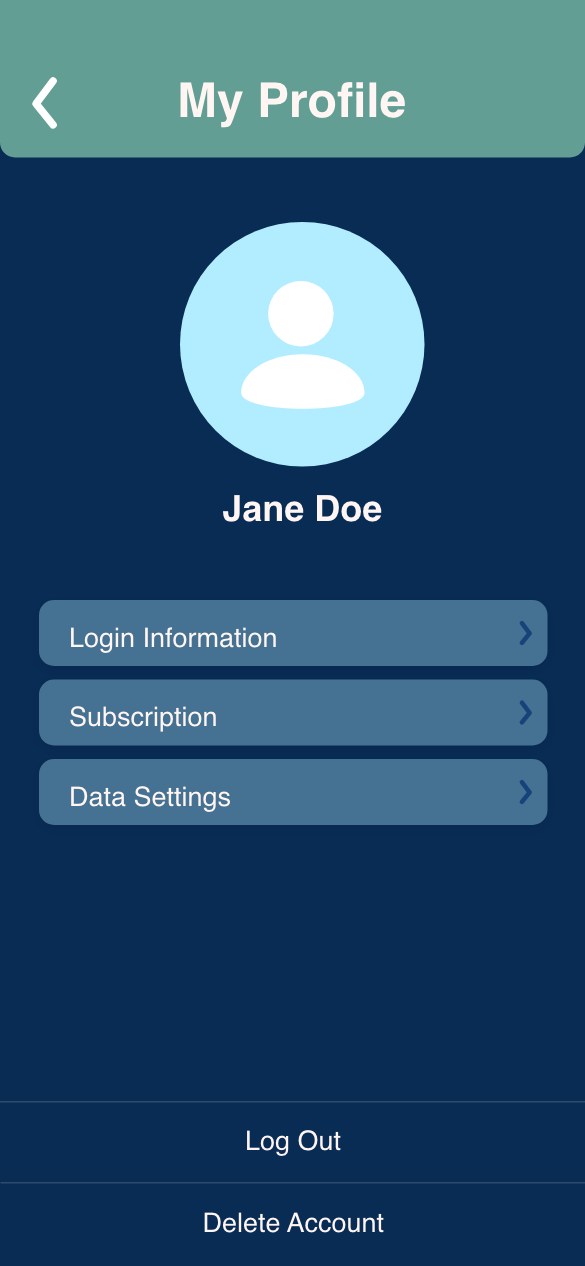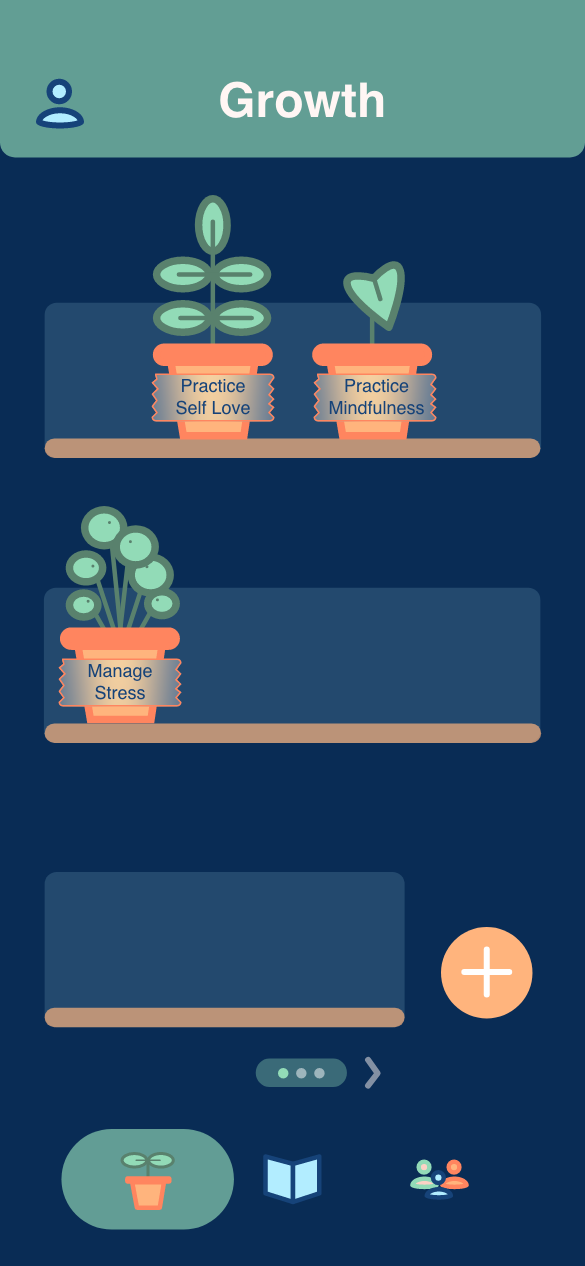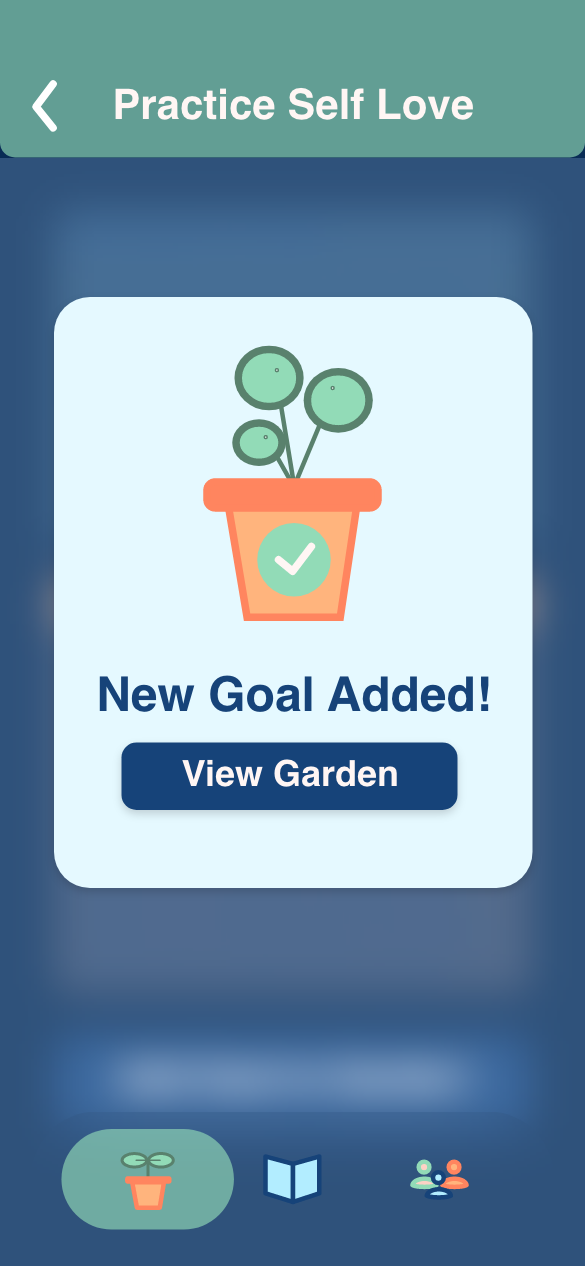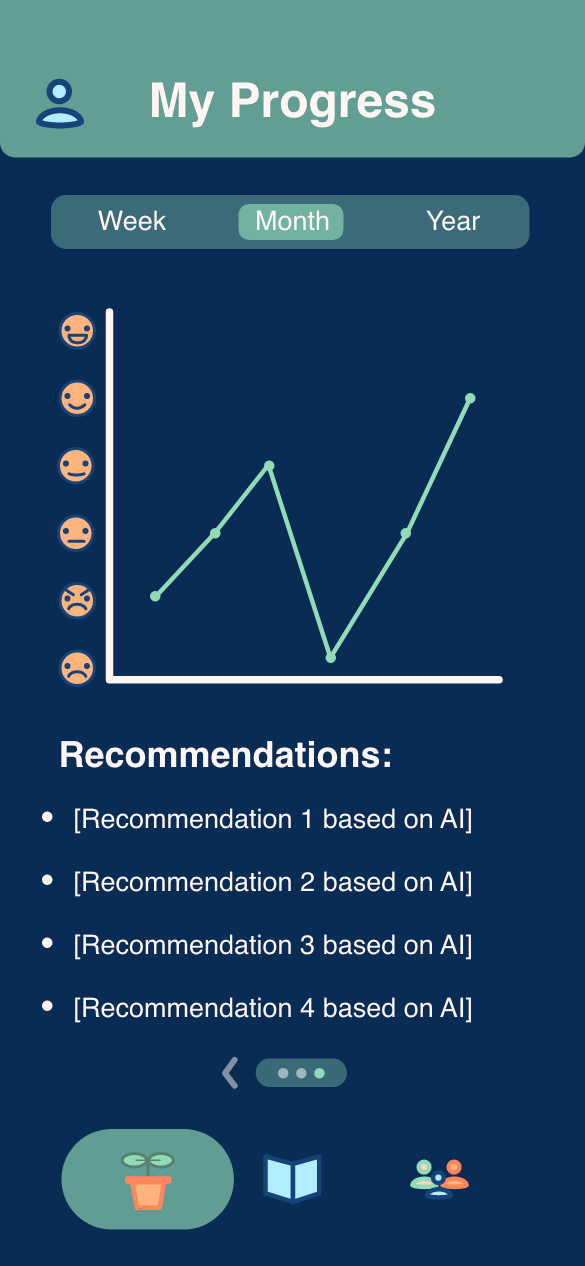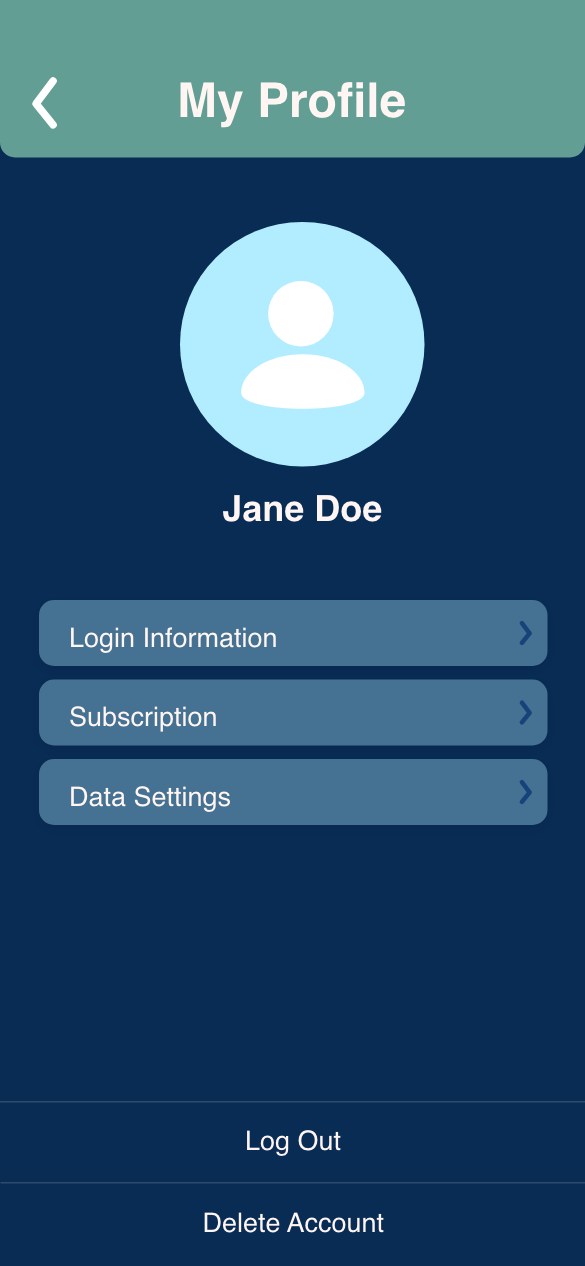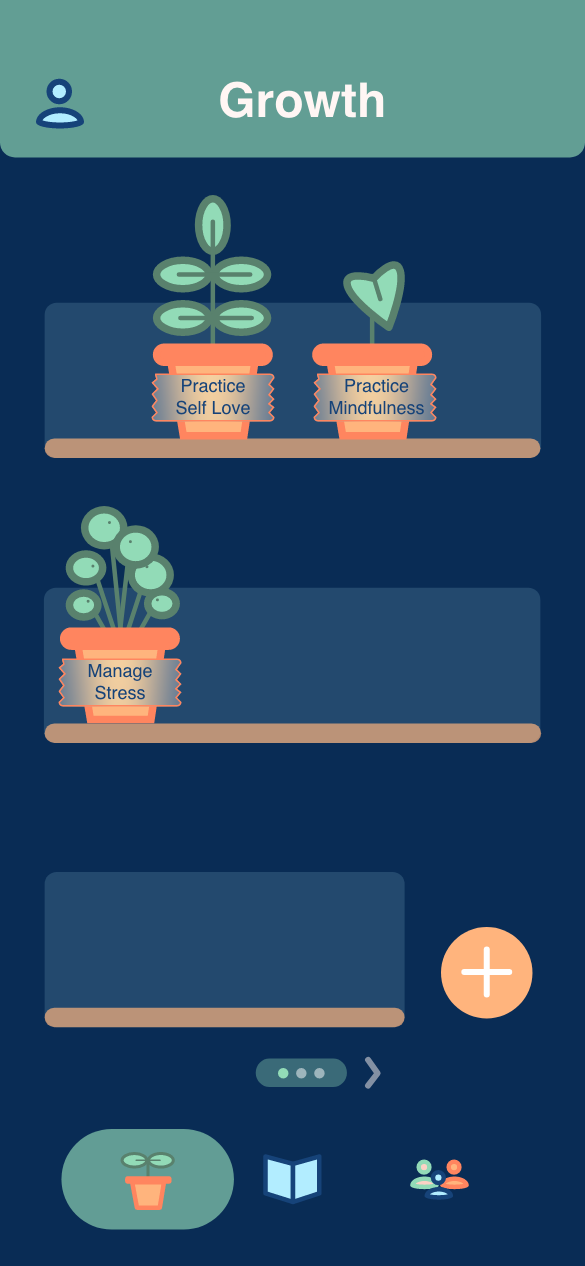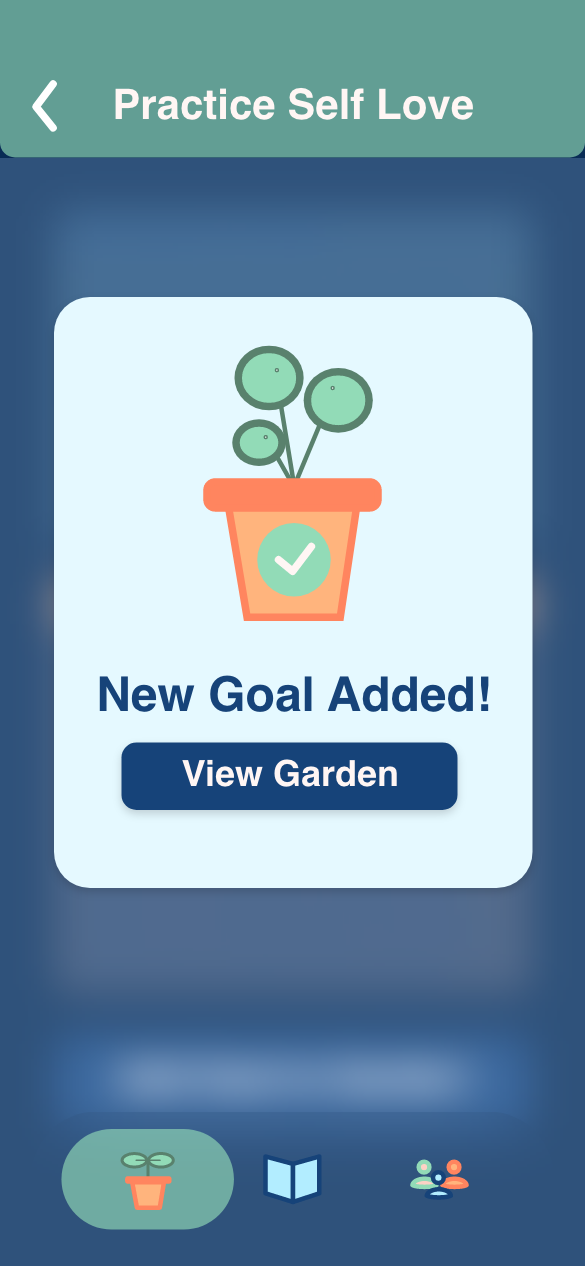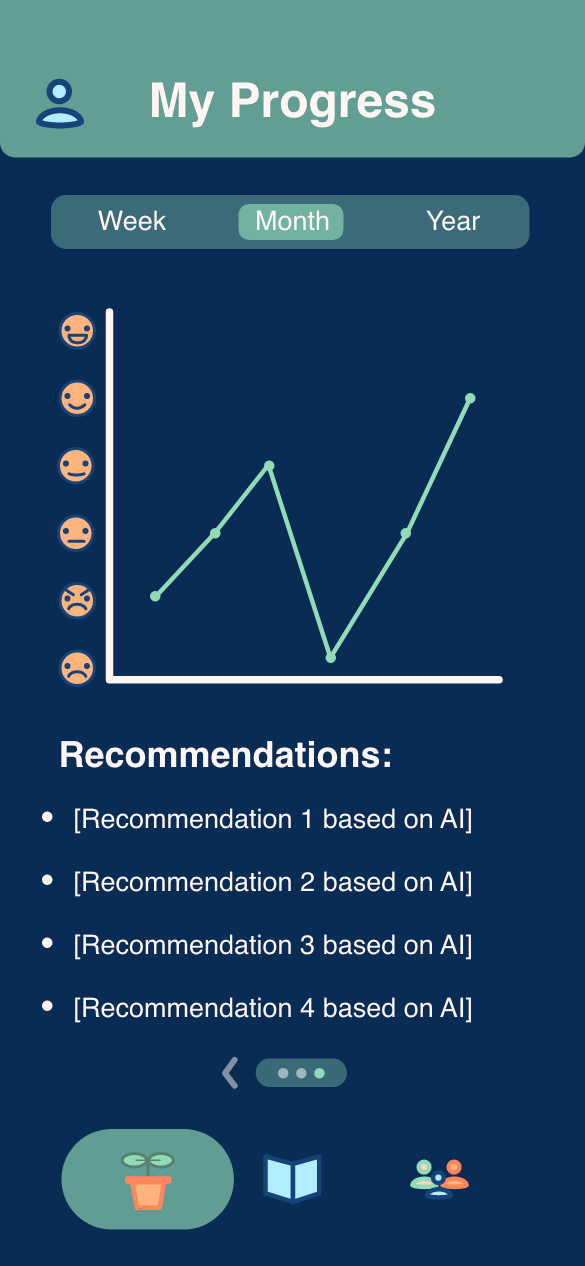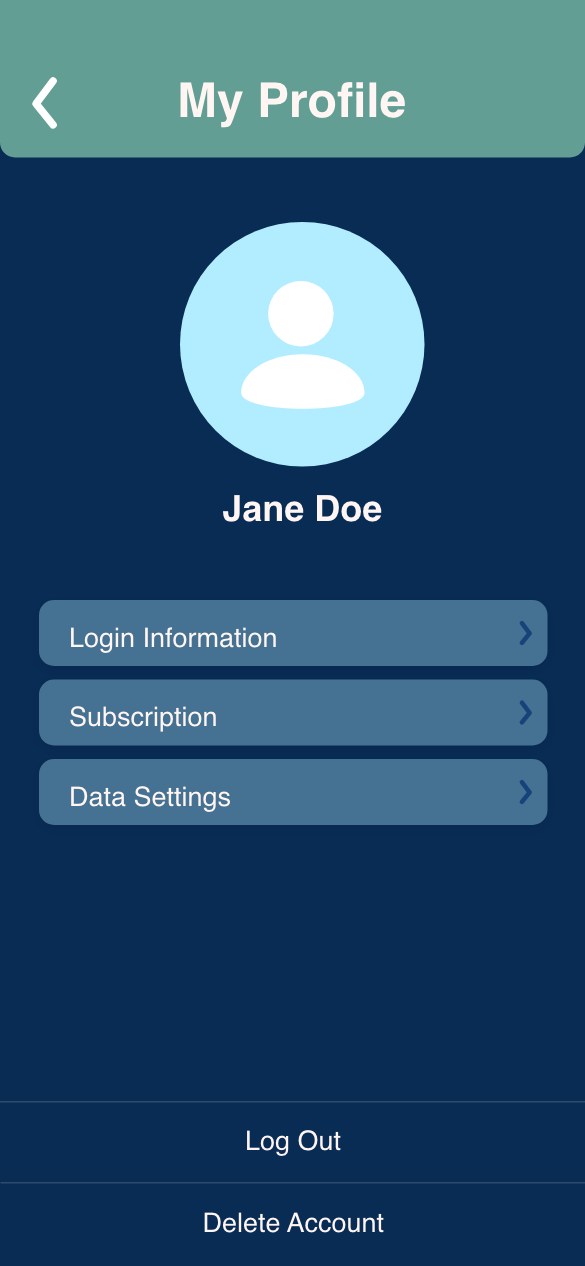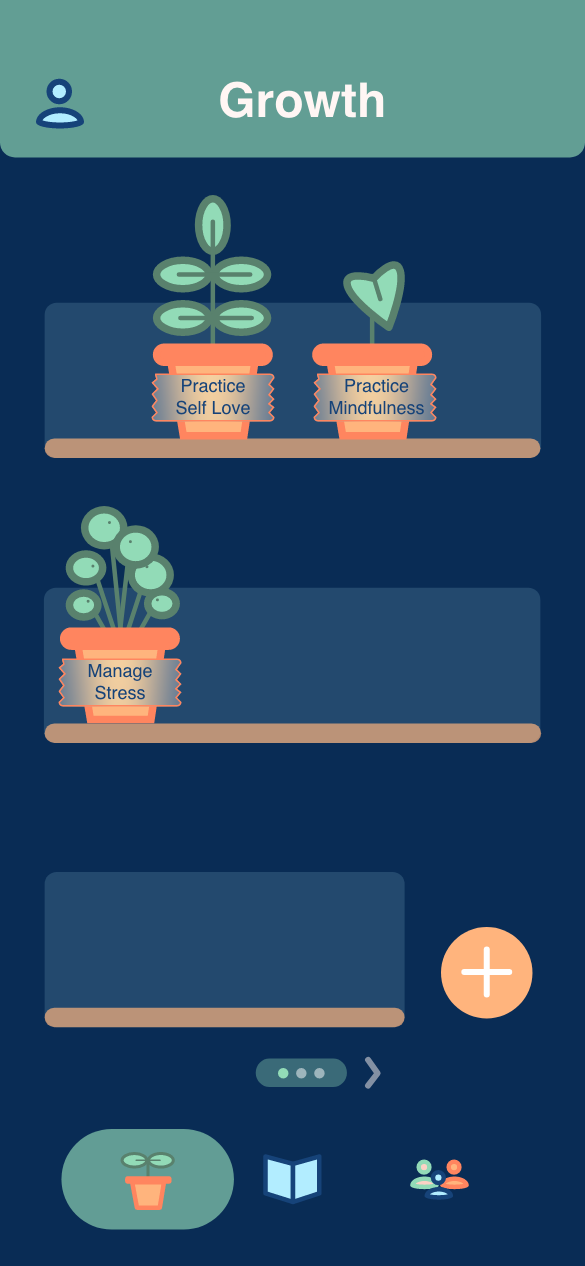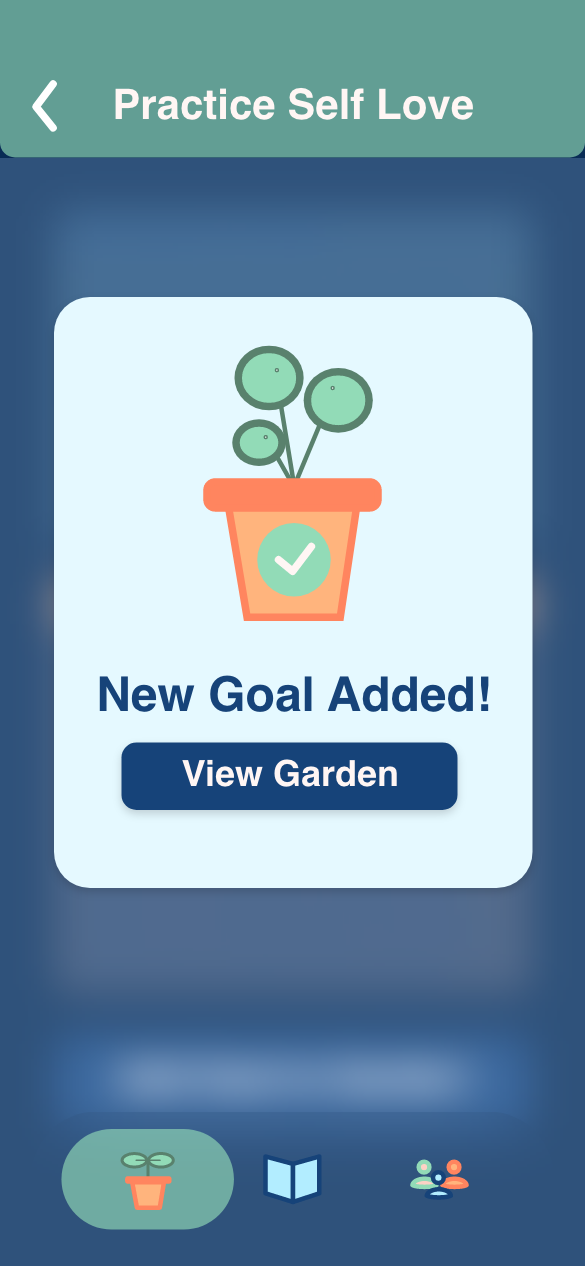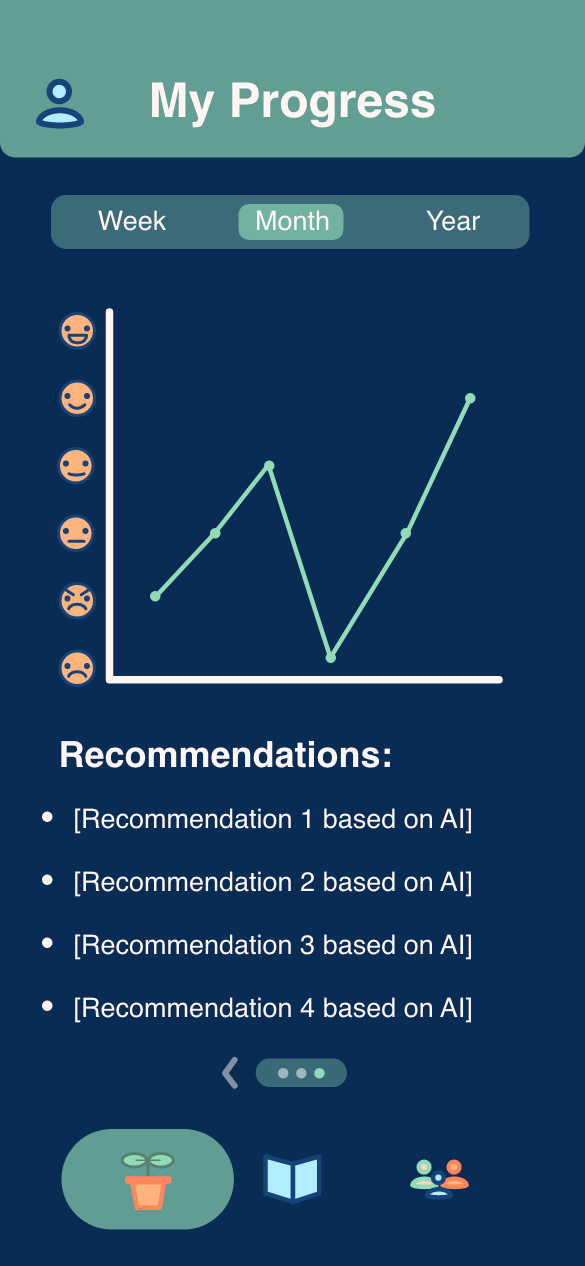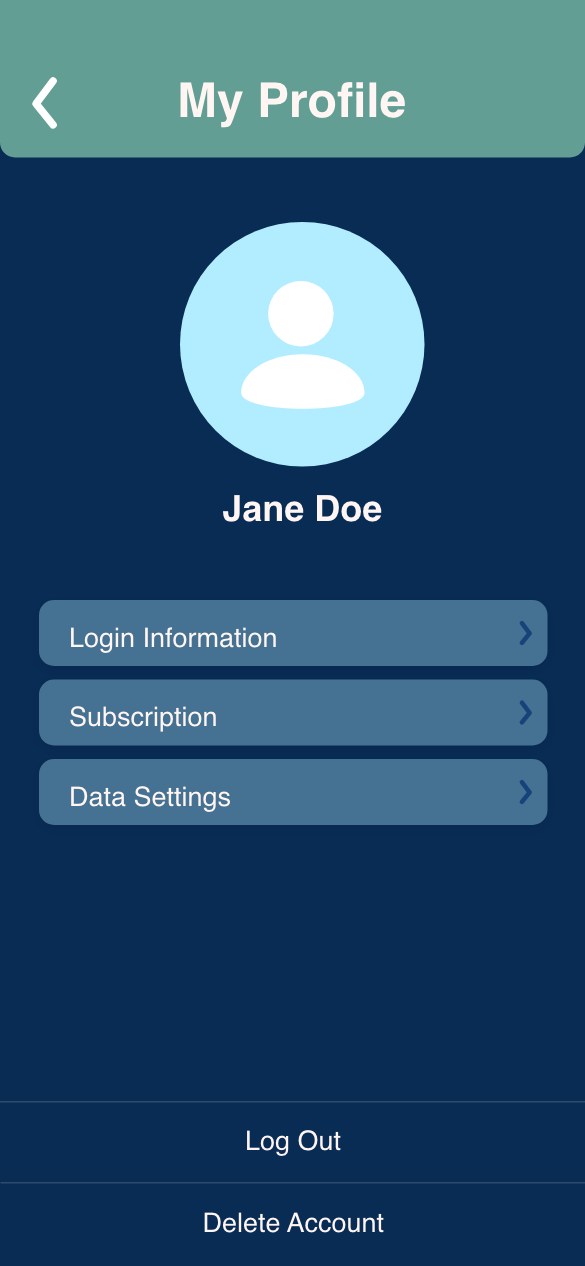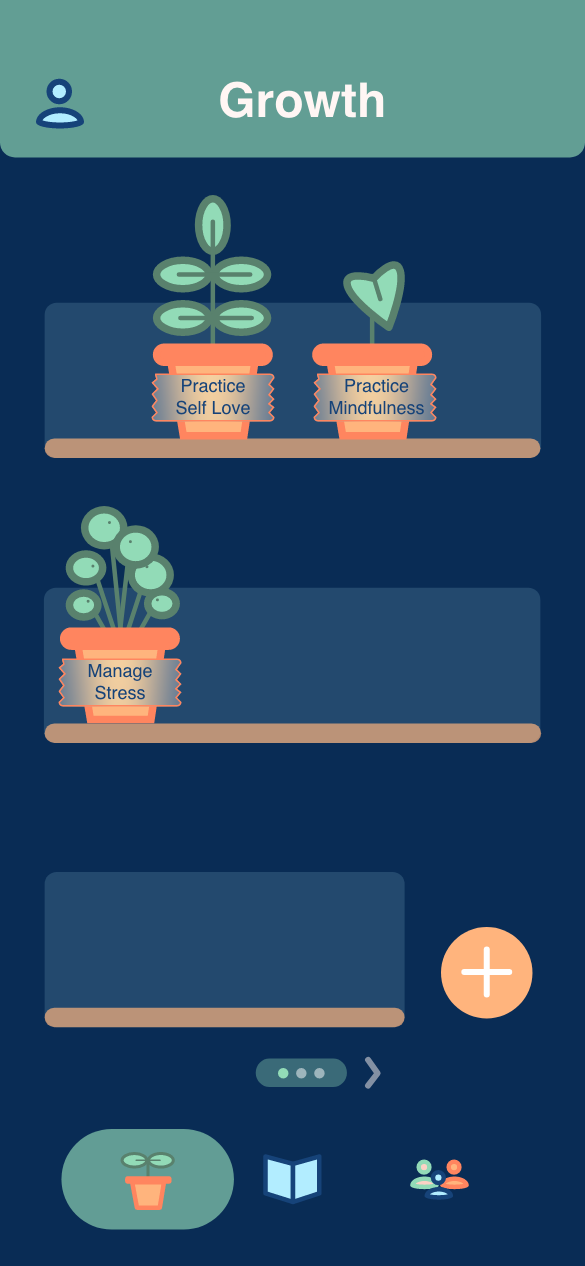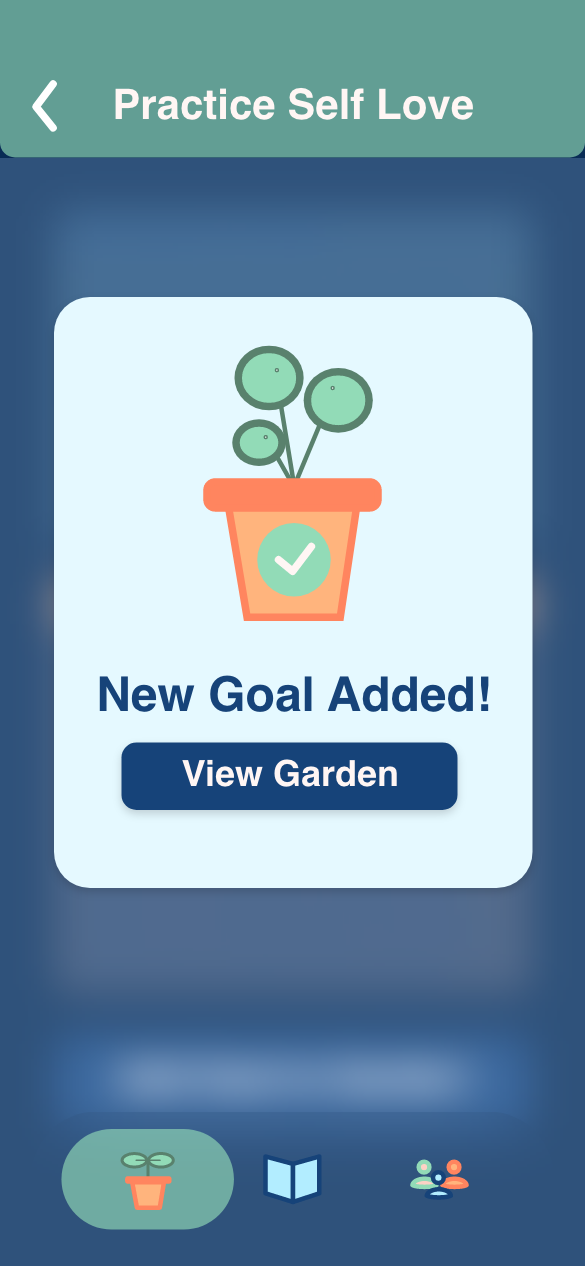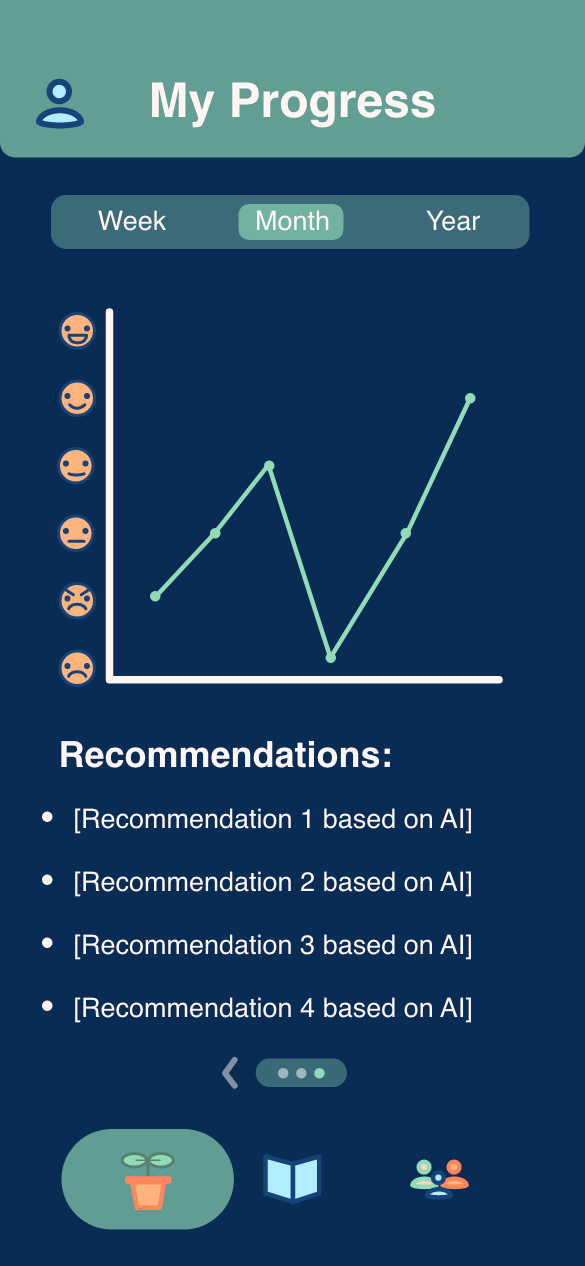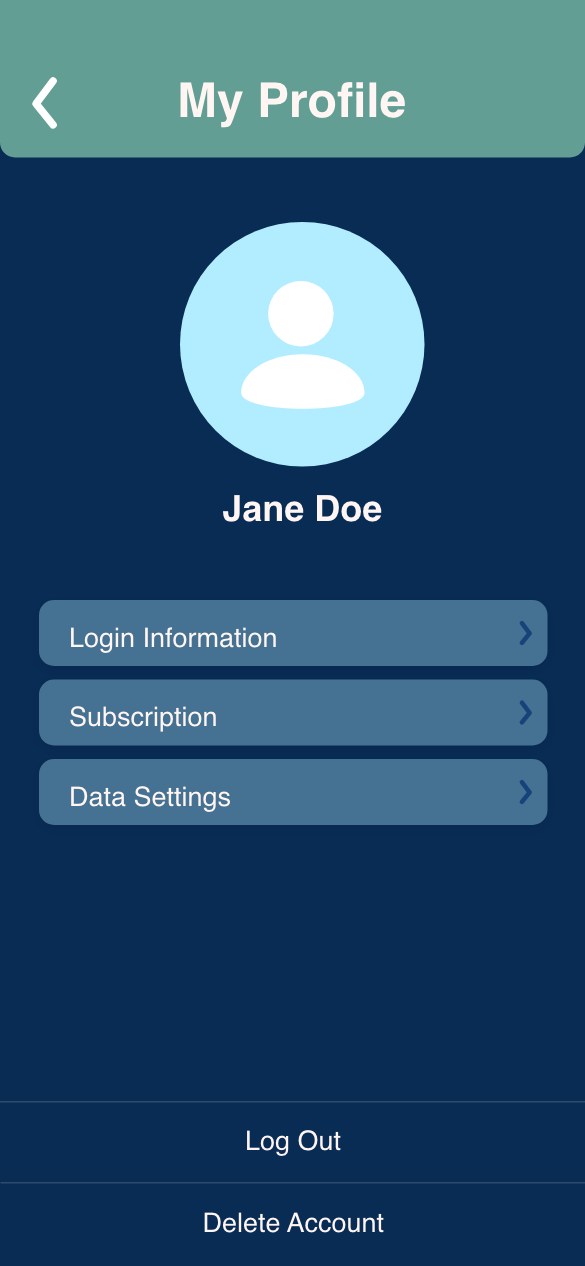 Future Recommendations
As our team delivered the final version of Jeeva to Medufin LLC, we believed there was more work that could be done with the product to ensure its highest quality when being launched. We included the following suggestions:
Expand the scope of the app by adding additional features that are more geared towards aiding younger populations to the design;

Allow users to use this app to connect to licensed professionals for further assistance and help;

Tailor the use of Artificial Intelligence to better predict the need of users through chatbots, journal entries and public posts;

Use the app to gather helpful information for future research on adolescents' mental wellness.
Limitations
Due to Covid-19, all of the research and testing we conducted had to be done virtually. This created obstacles of reaching out to people outside of the Tufts University community, which might not be completely representative of those that are in the 14-24-year old age group.

The app tackled a sensitive topic, which was related to privacy, health, and mental wellness. We had many plans, but some, including providing users with professional help, were eliminated.
What have I learned from this project?
Designing an entire product requires much effort and time. Despite 10 weeks of working, we still wished we had more time prototyping and testing.

When reaching a conflict with sponsors or within the team, turn to the data being collected and build the reasoning based on them.