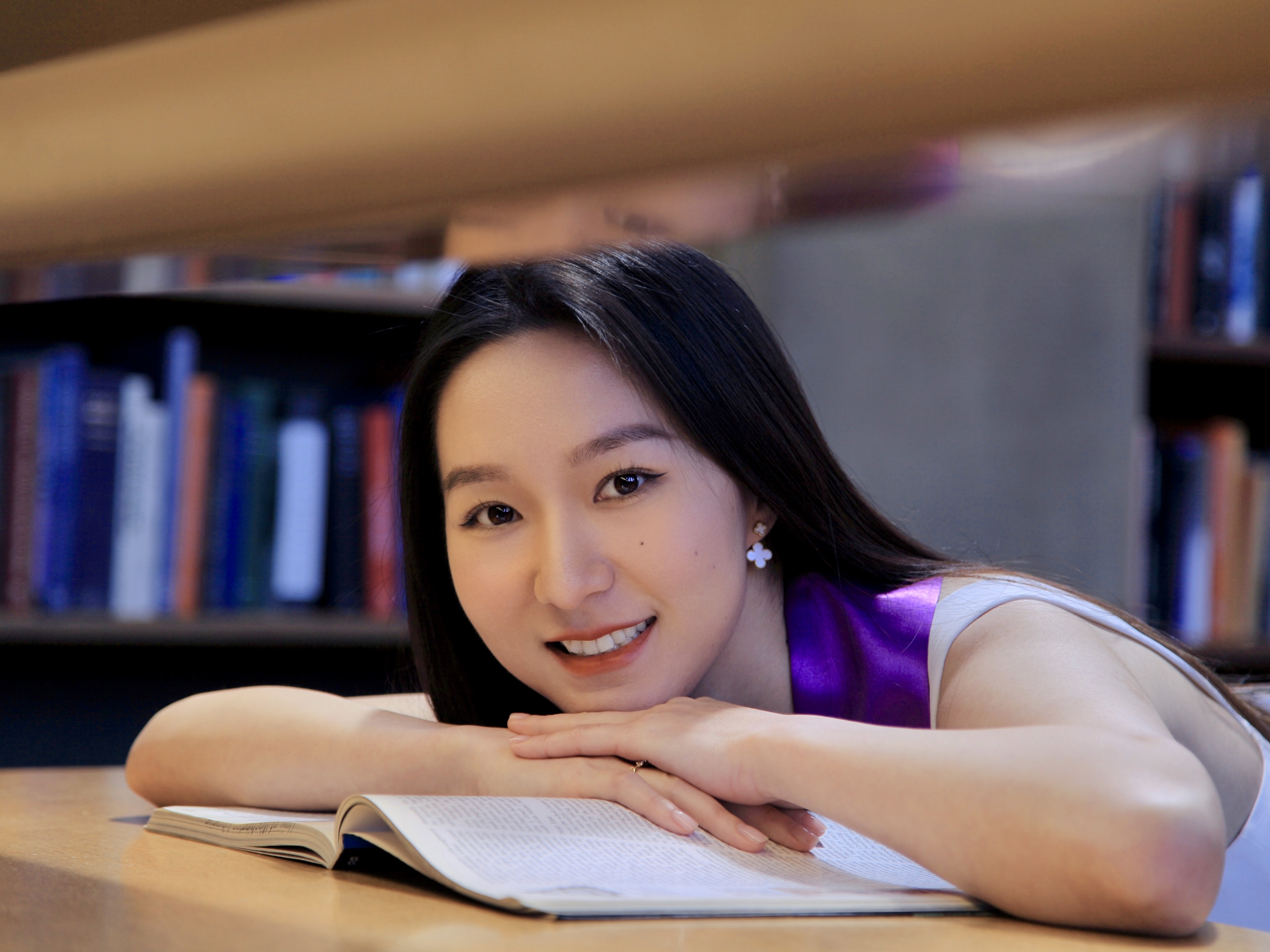 Scribs
A writing enhancement platform for ESL learning
My Role
Lead UX/UI Designer
UX Researcher
Duration
October 2021 - December 2021 (10 weeks)
Team
Kasturi Khanke, Anh Nguyen, and Hailee Kenney (from University of Washington's HCDE program)
Project Overview
Scribs is a writing platform for writing essays and giving feedback, designed with ESL (English as a Second Language) students in mind.
We selected this idea based on our personal experiences with the ESL writing process — we all agree that the writing feedback processes we've experienced with current products in the market aren't optimized for ESL students to grow as writers or for tutors to help students. We wanted to design a tool that could improve the process for both writers (students) and reviewers (tutors).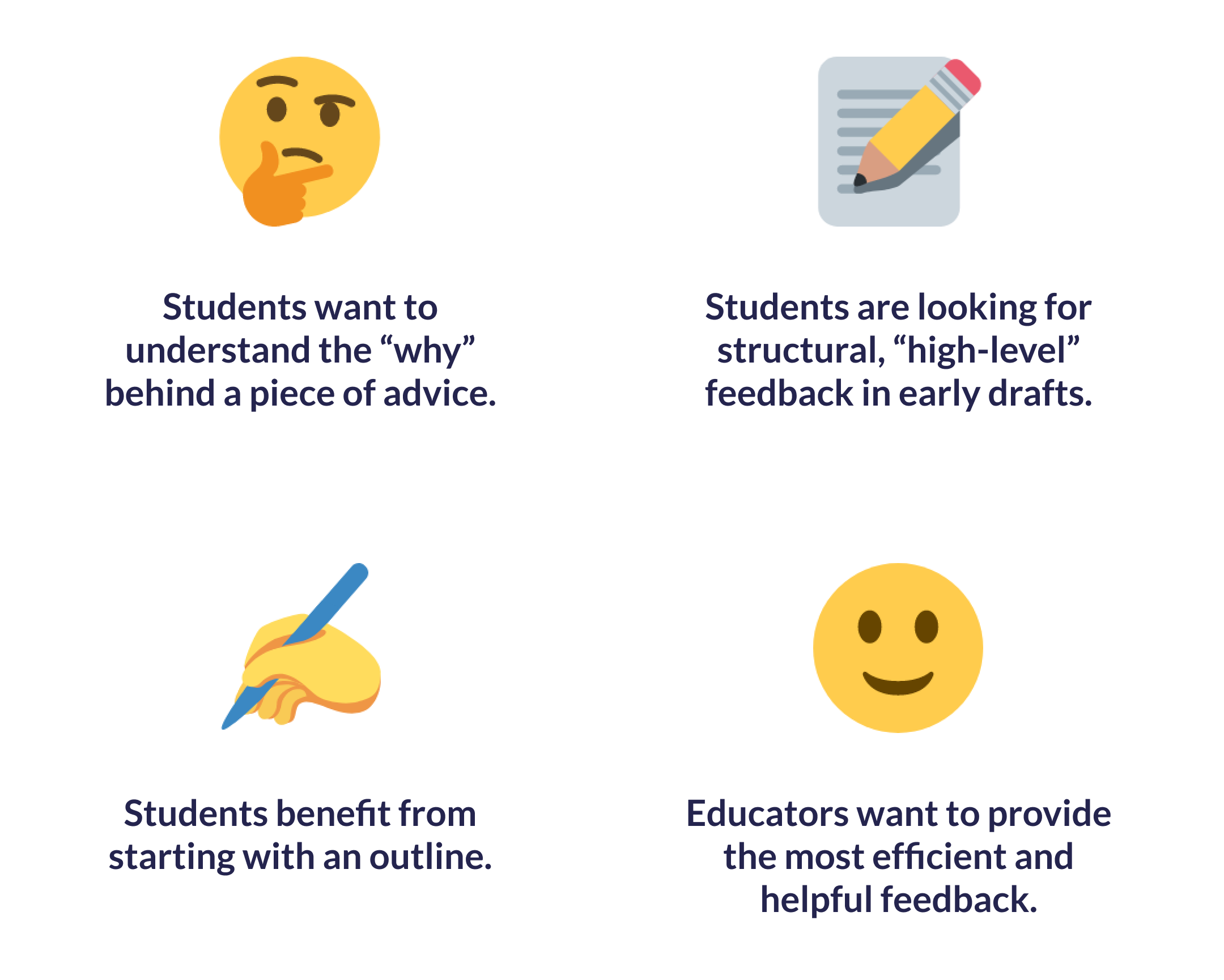 Interviews
We conducted a total of six user interviews with five ESL students, who were learning to write, and one subject matter expert, who was an ESL educator. We mainly looked for students' experience receiving feedback from educators. Here's what we found:
Surveys
To complement our interviews, we sent a survey and received 35 responses from a mix of college students and professionals who speak English as a second language. The survey collected the following insights: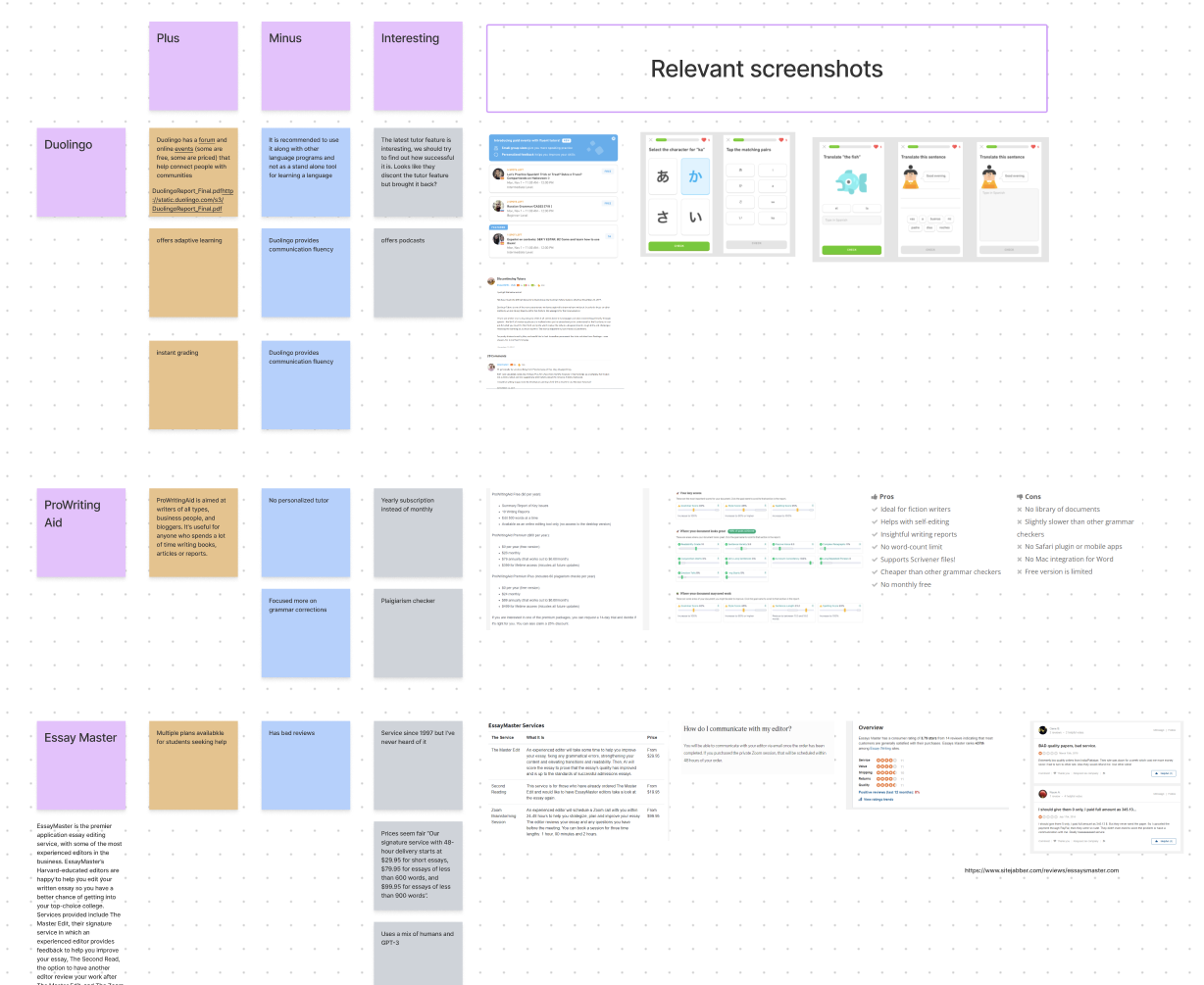 Competitive Analysis
We used a PMI matrix to analyze existing writing tools in the market (e.g., Grammarly, Duolingo, ProWriting Aid, and Essay Master). We concluded that although these tools could help users with grammar and reviewer matching, they did not solve our user groups' pain points entirely.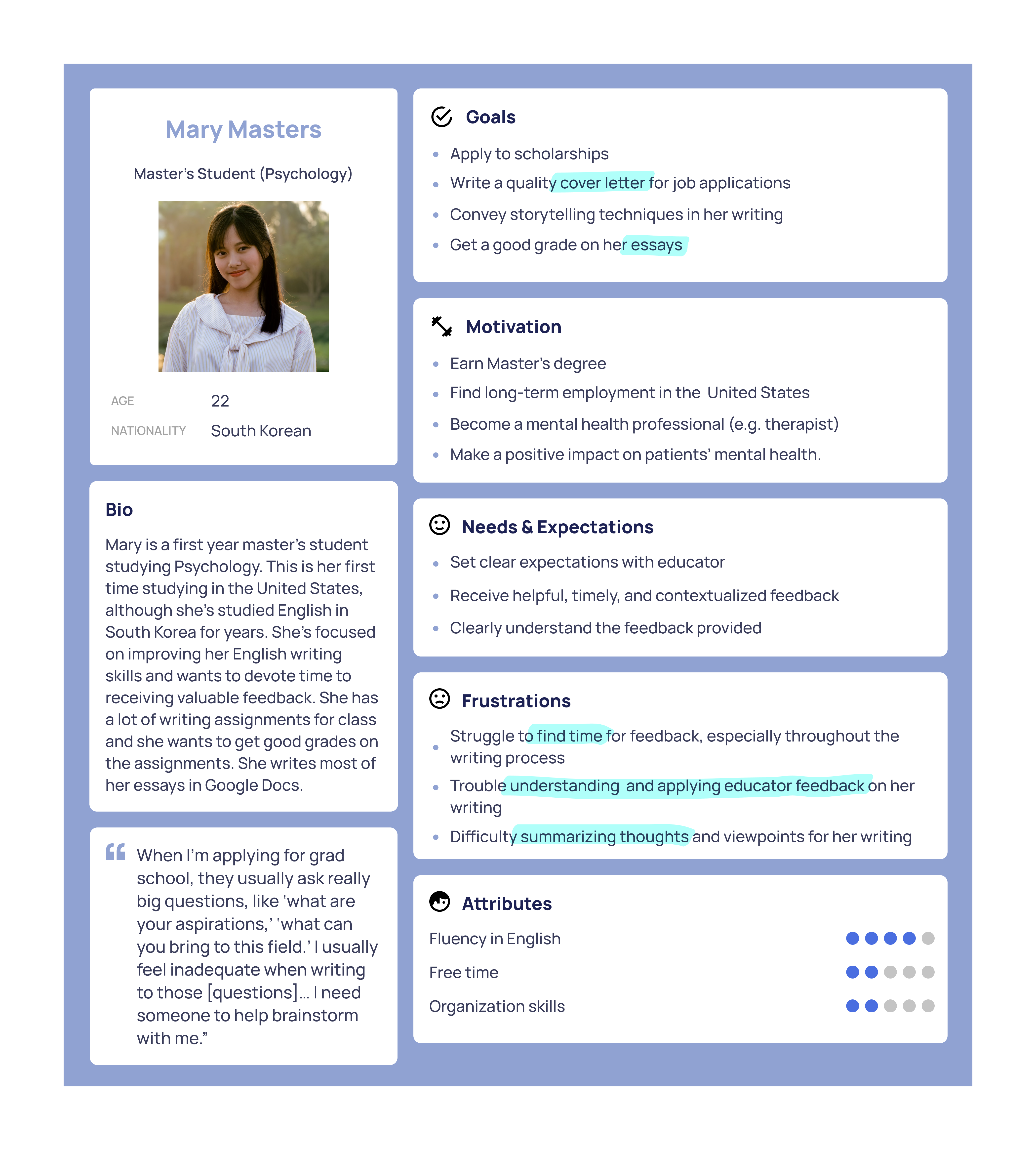 Personas
Our research helped us create two personas to represent the goals of our key users. Mary Masters represented our primary persona - ESL students. Her pain points were: time shortage, failure to understand reasons behind the reviewer feedback, and difficulty generating a synopsis.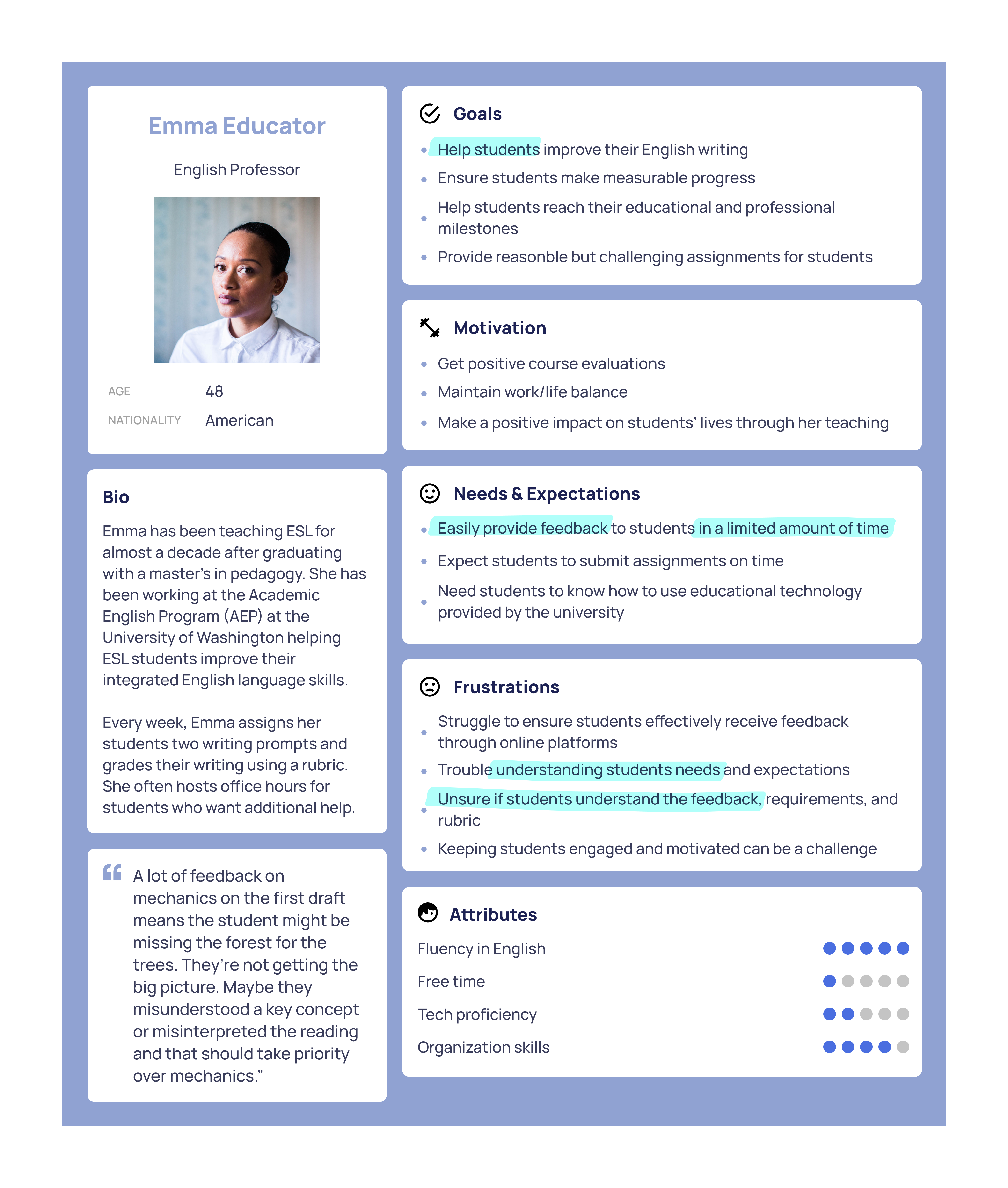 Emma Educator stands for our secondary persona - ESL educators and tutors. Her pain points were: busy schedule, low tech proficiency, and communication difficulty with students.
Design Goals
We then defined our product's design goals and requirements based on previous work: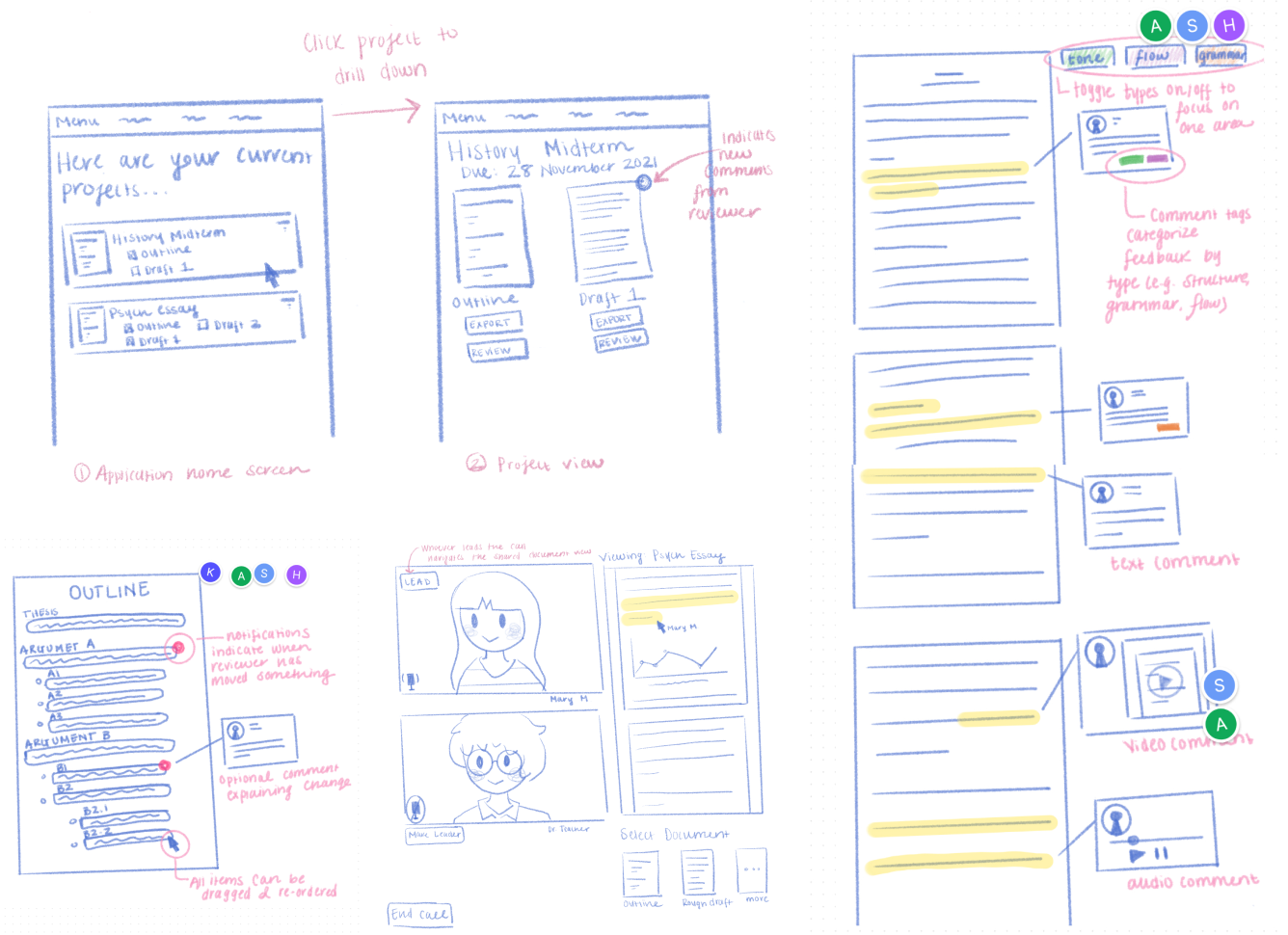 Feature Prioritization
Using sketches, we listed out the most frequently-and-commonly-used features below and made them MVP:
Dashboard view to track writing and reviewing progress

Providing and receiving feedback (both written and audio)

Templates that help generating an outline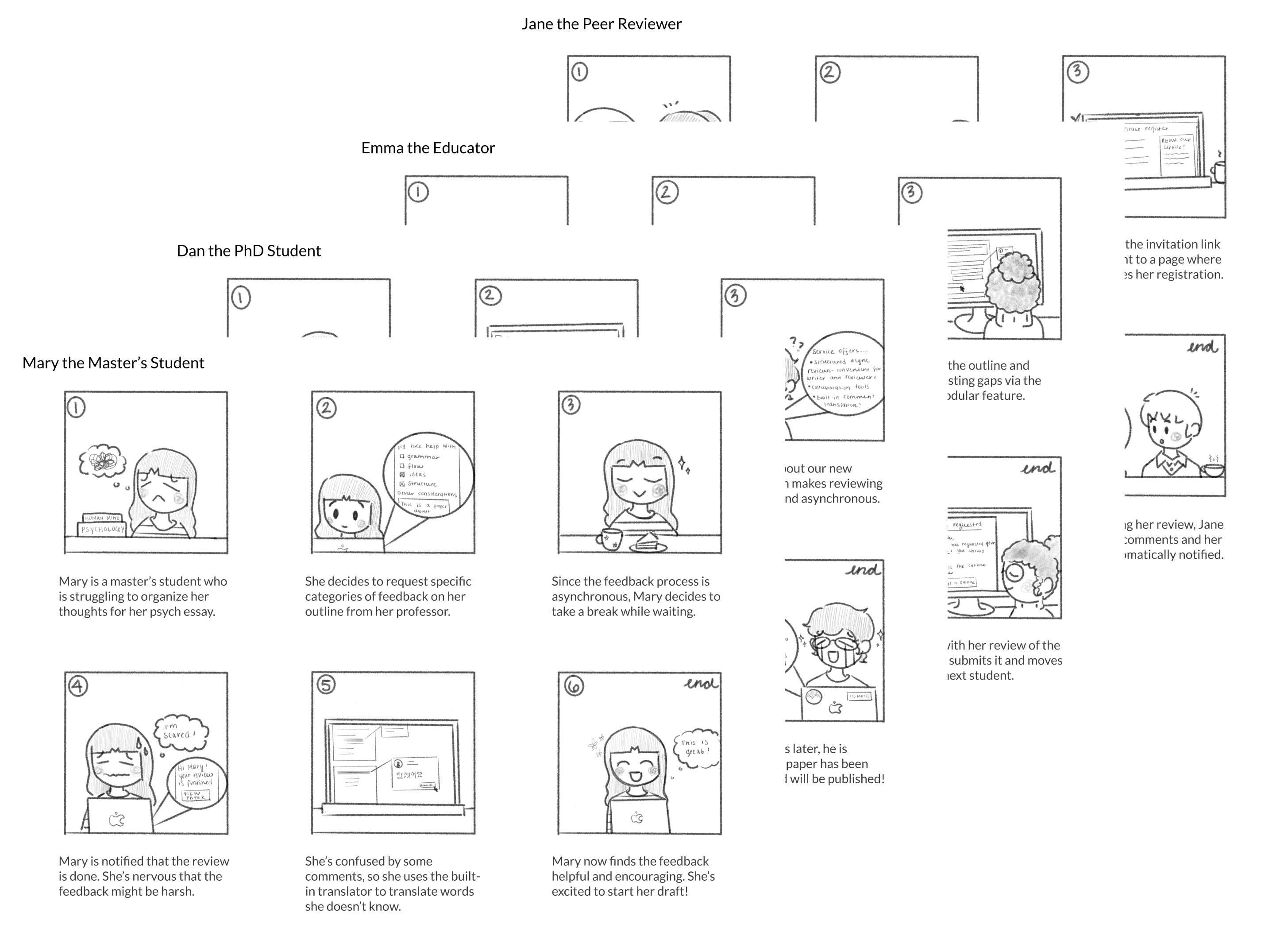 Experience Prioritization
Using storyboards, we rendered top scenarios where users would be using our product. We looked specifically at their actions, thoughts, and emotions so that we can make their experience smoother.
User Flows
To specify user interactions with the product in steps, we created two user flows for the writer and reviewer: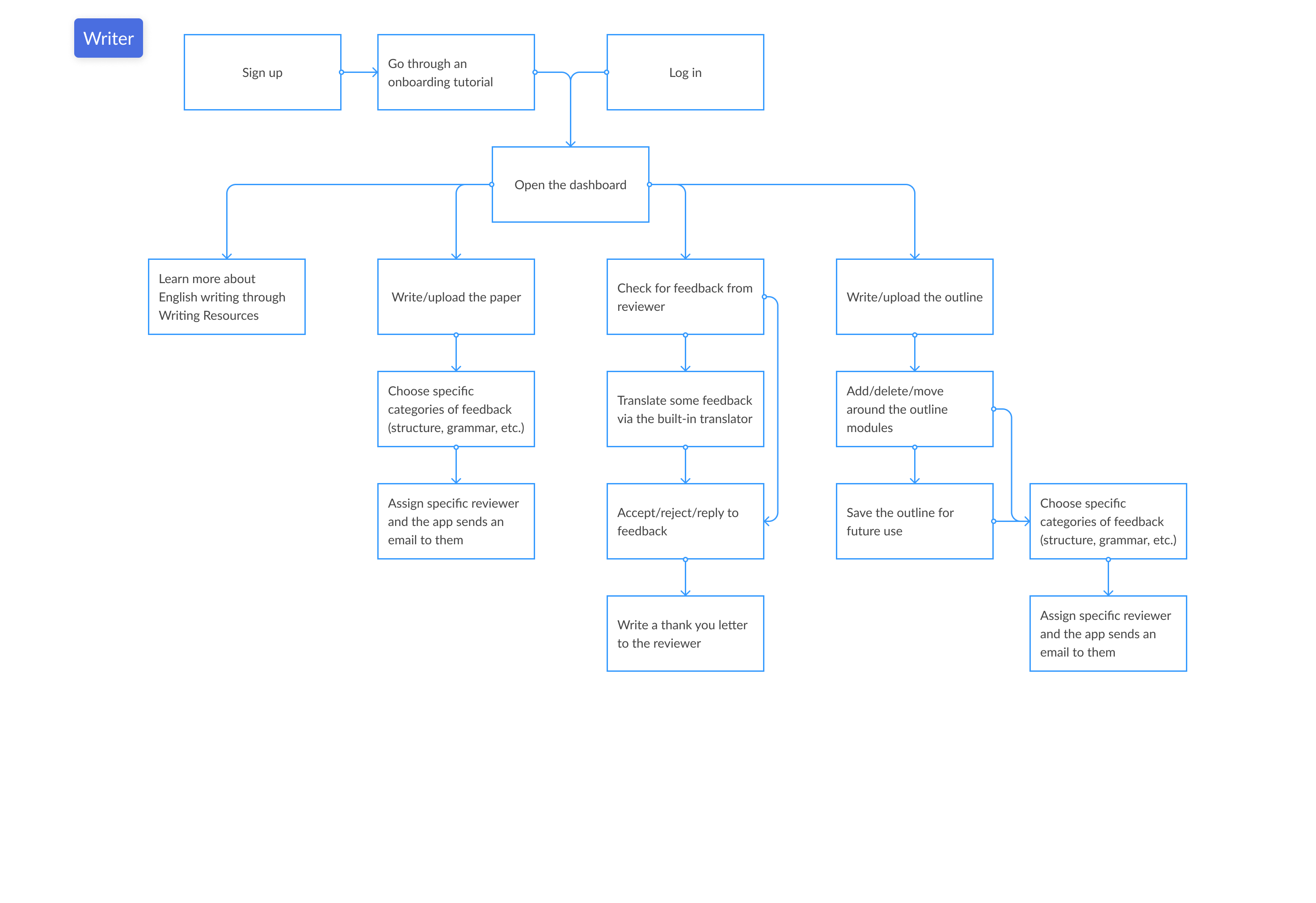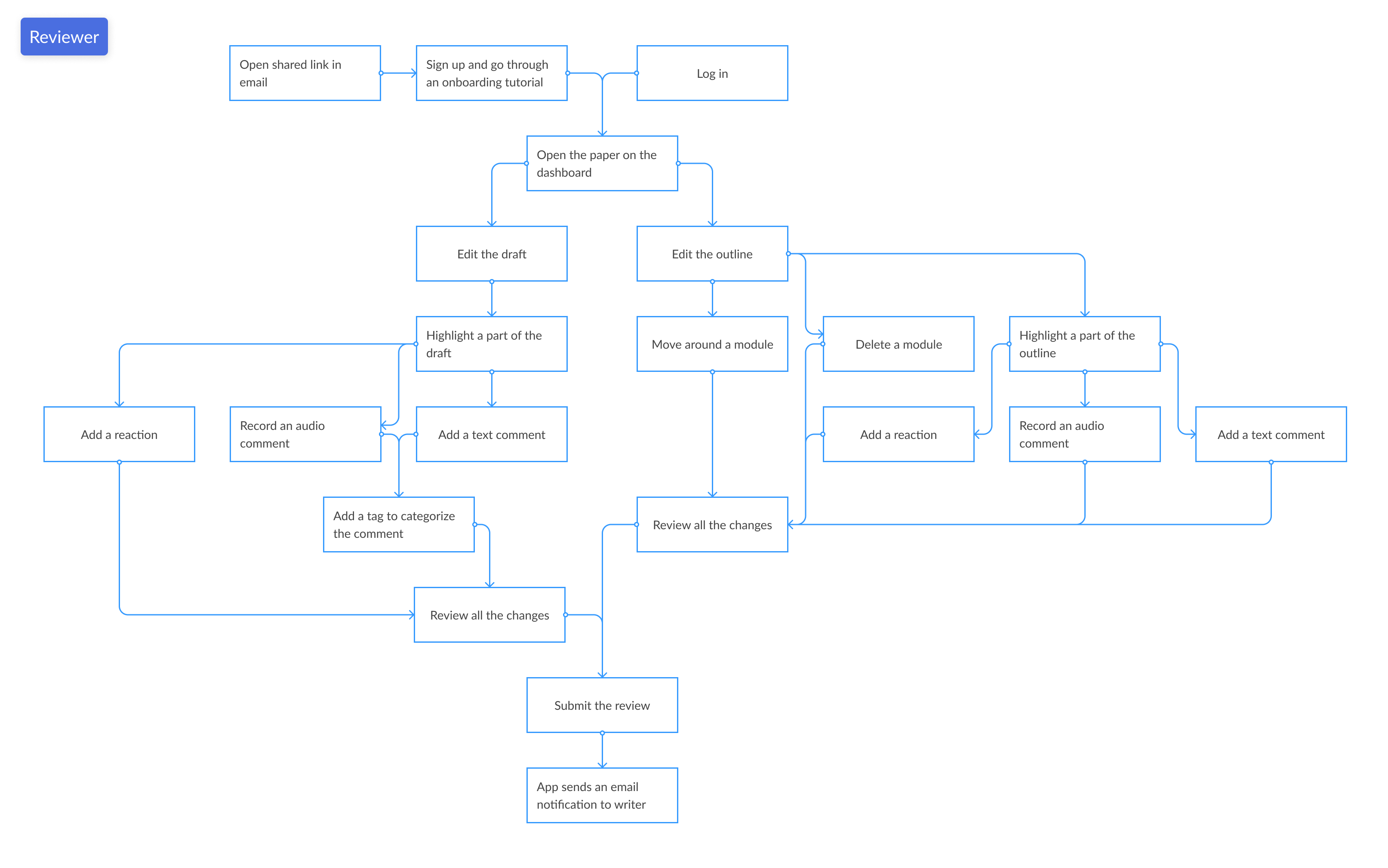 Wireframes
As the design process started, we created interactive mid-fidelity wireframes for testing purposes.
Usability Testing
We then performed testing with four users: three ESL students and one native English speaker. We focused mainly on testing the Dashboard navigation and Creating an Outline process. Using think-aloud protocol and task success rate, we gained some insights and grouped them into four aspects: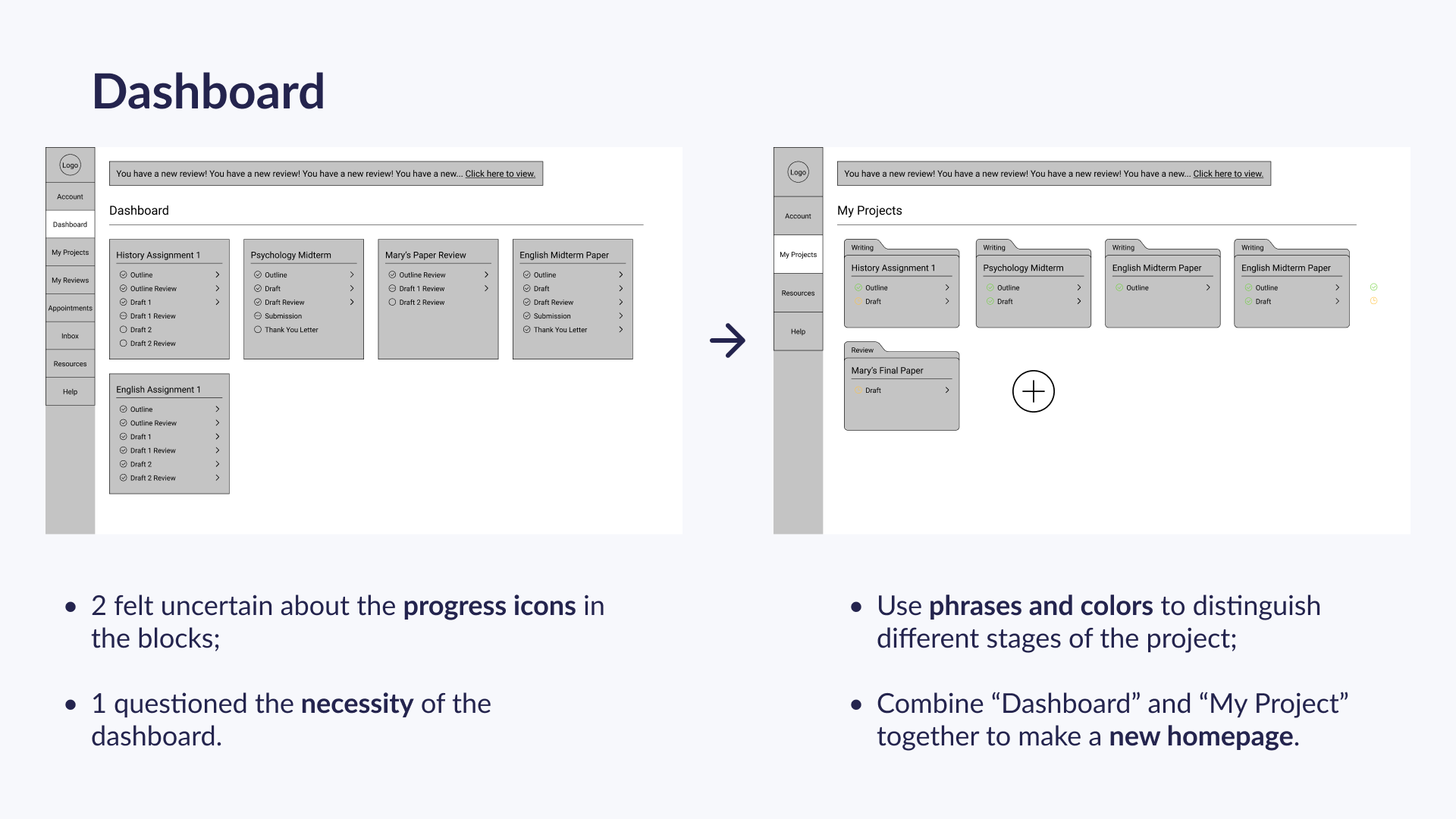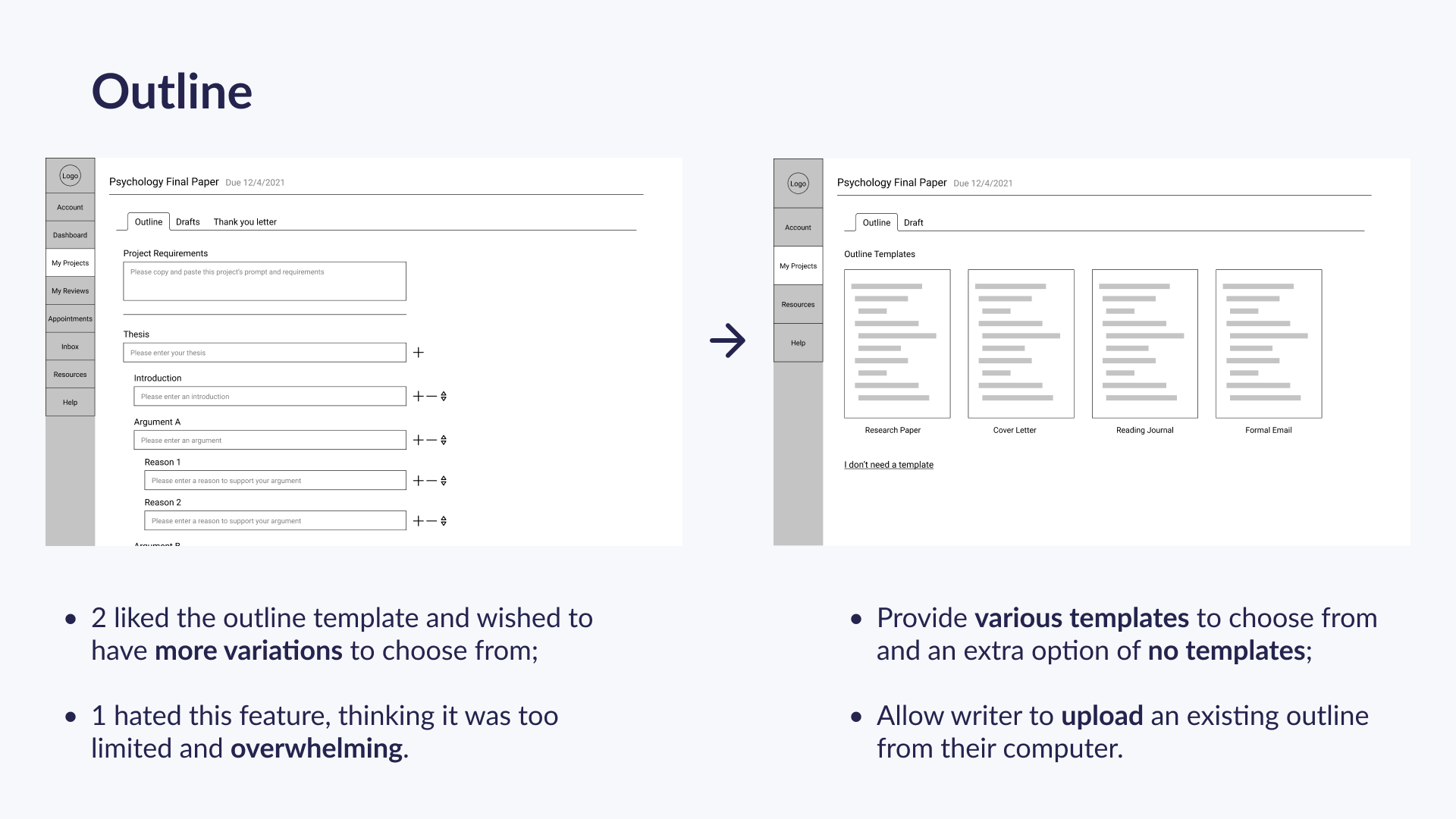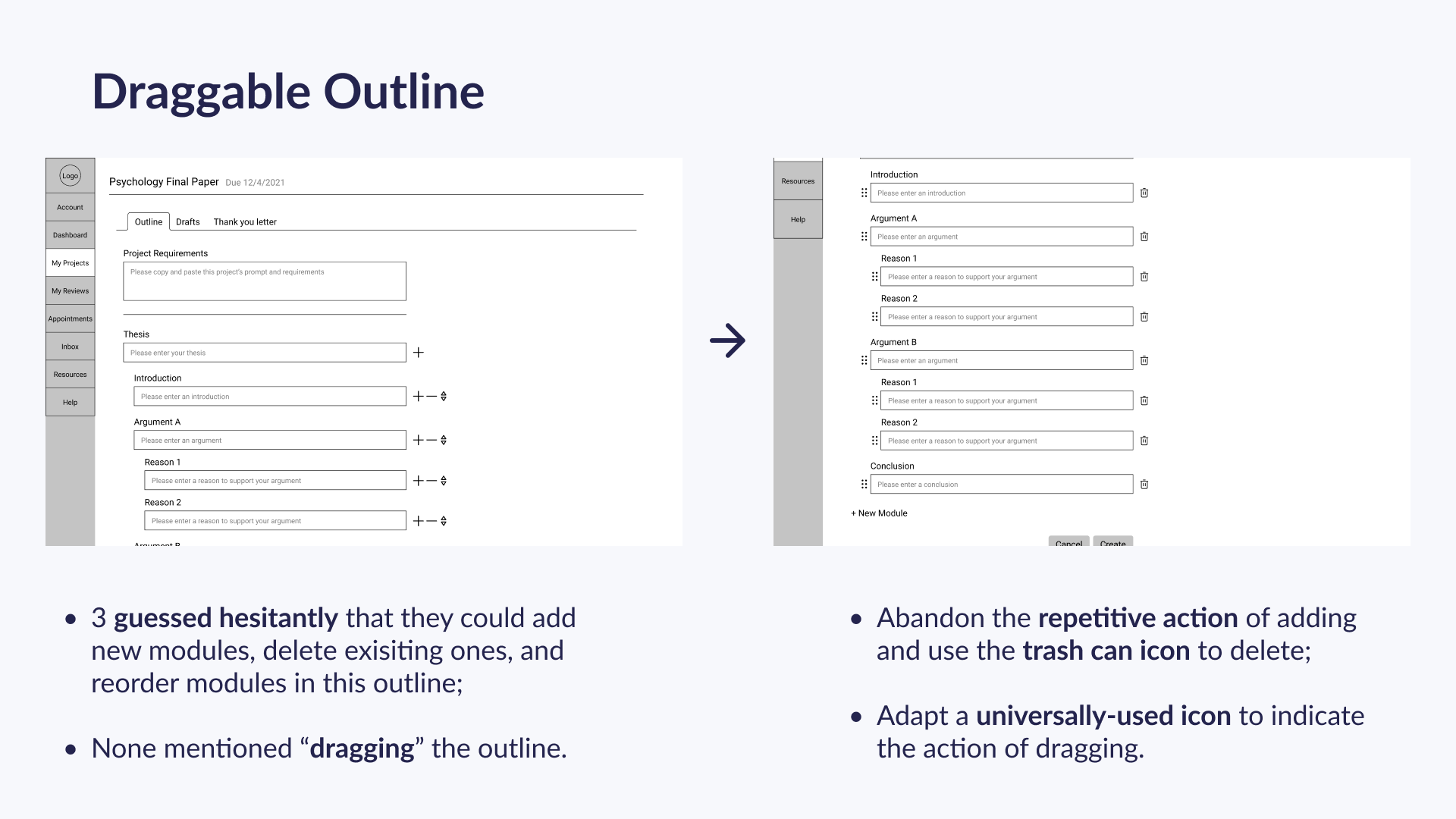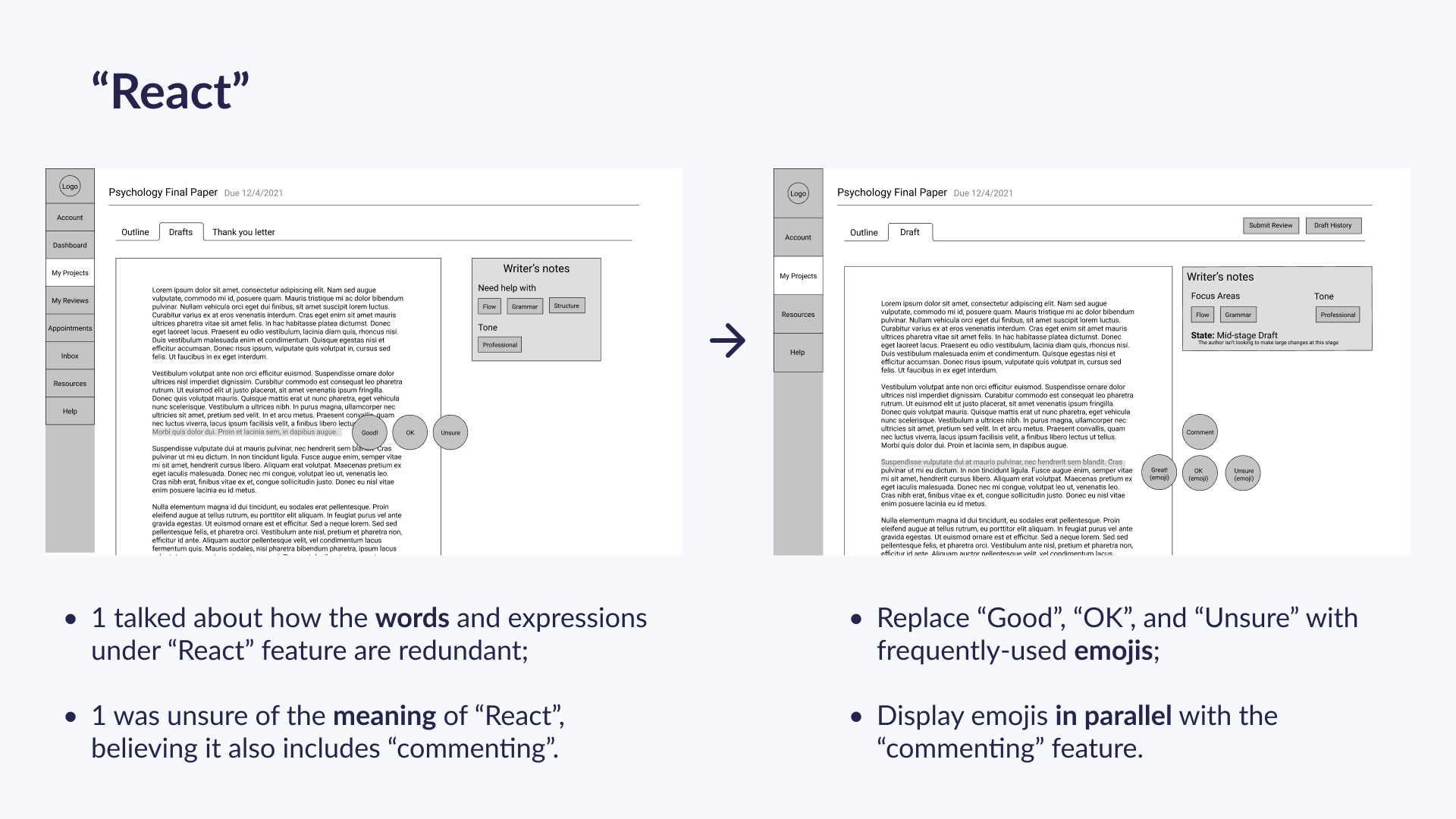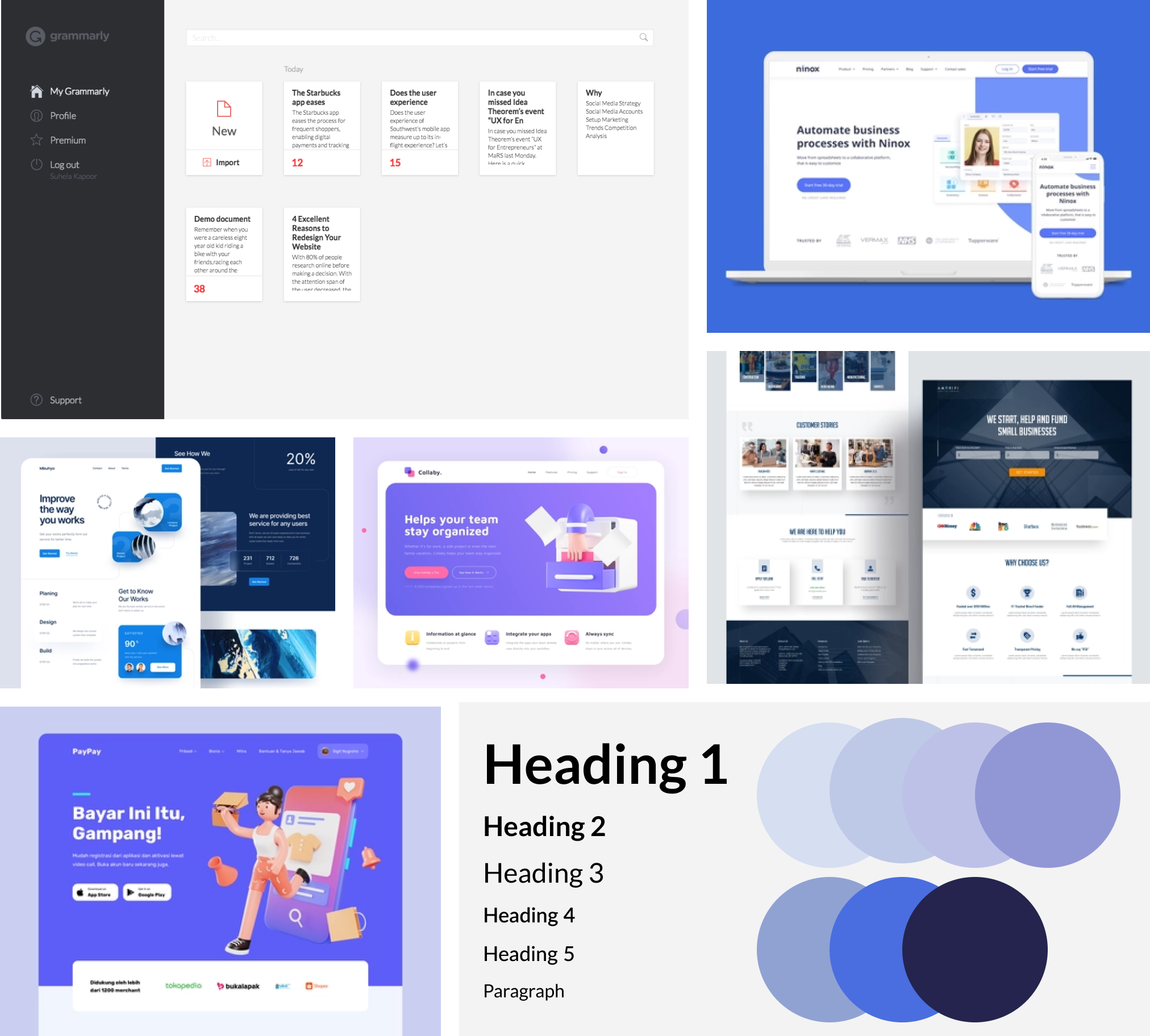 Mood Board
We decided to build upon a commonly-used layout that satisfied our features so that users would feel familiar with the design and onboard faster. We also went for a professional and reliable theme to maintain credibility.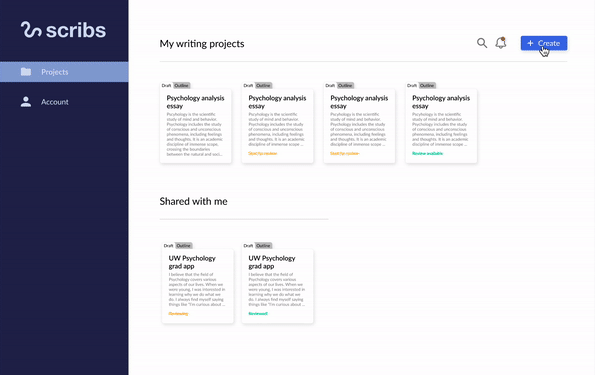 User Creates a Project and Outline
In order to help users locate their writing and reviewing progress, we designed a homepage including all projects.
When users create a new writing project, we assist them with documenting their earlier ideas via outlines. We provide several templates for different writing purposes (e.g., cover letter, in-class essay, research paper, etc.).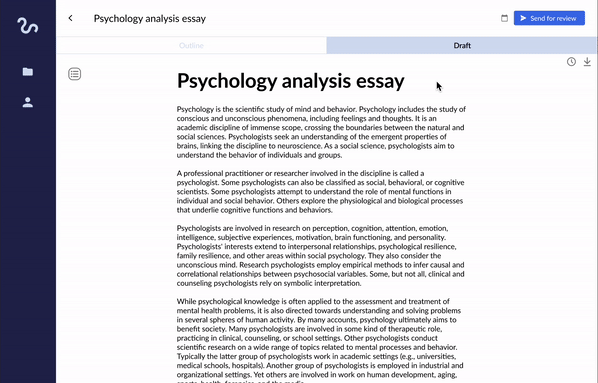 Writer Requests a Review
To connect writers with reviewers easily, we designed a "Send for review" button. We included an email prompt, allowing the writer to communicate their needs and expectations with the reviewer easier. The reviewer receives the message and a link to the project via email.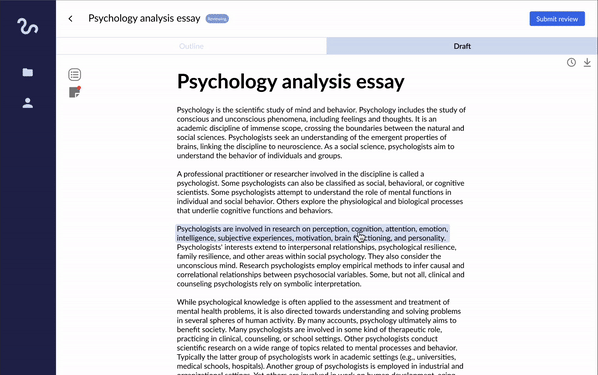 Reviewer Reacts and Comments
In order to make the reviewing process professional yet fun, we created a "React" feature so that the reviewer can express how they feel about a passage and explain the reason behind that emoji. This helps create the emotional bond between the writer and reviewer, drawing them closer.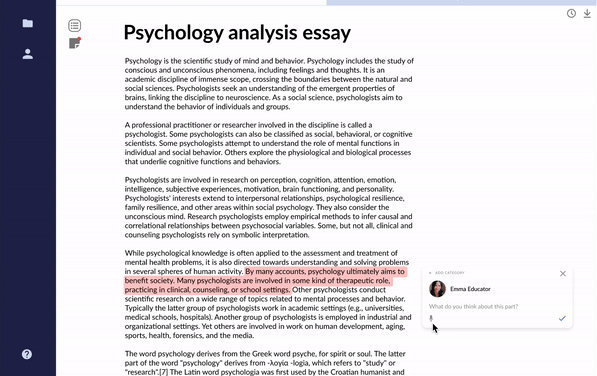 Reviewer Records an Audio Comment
Some reviewers may be busy and/or novel to technology, therefore we added in the audio comment. Recording the feedback will save reviewers time and help them explain themselves more thoroughly.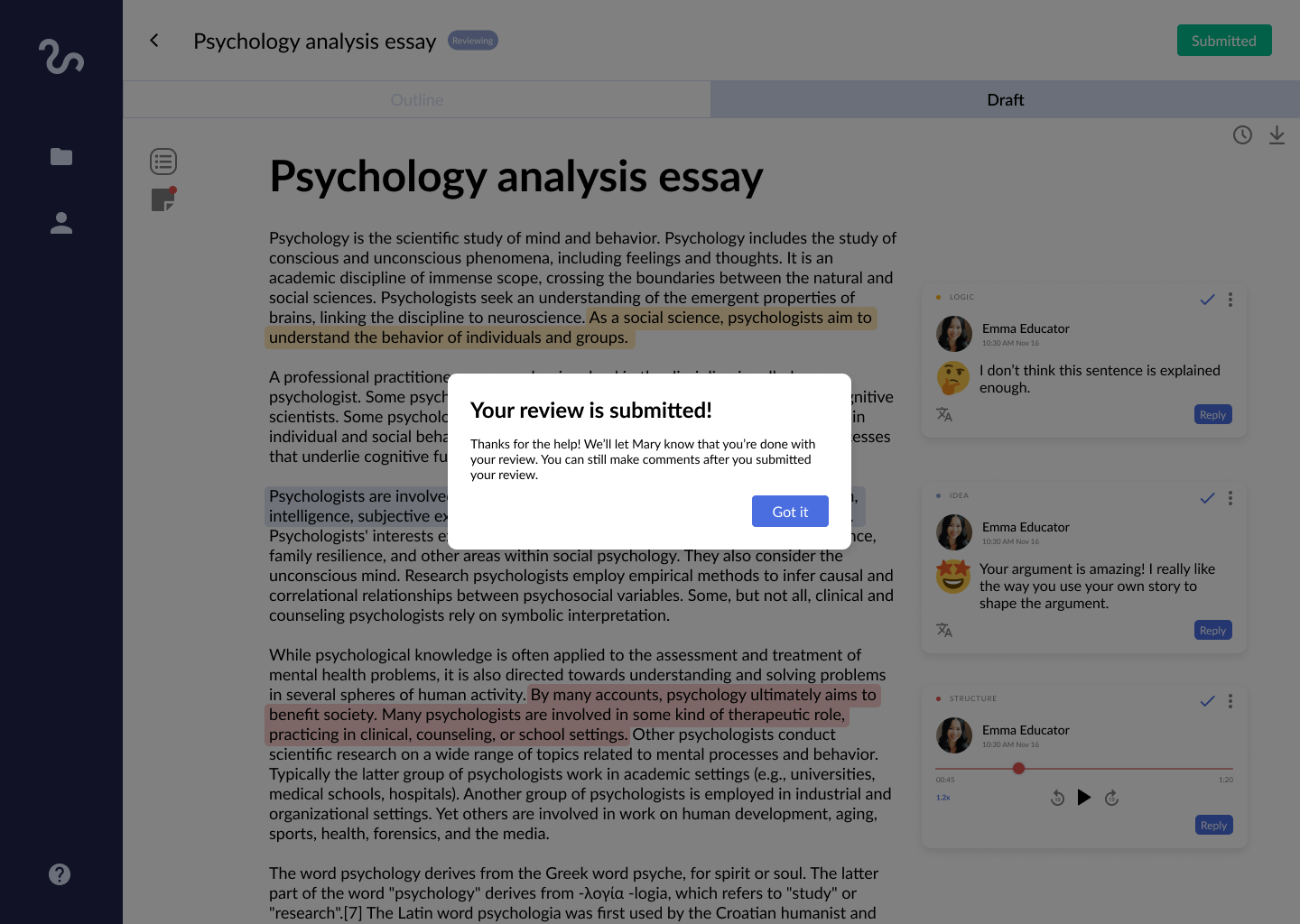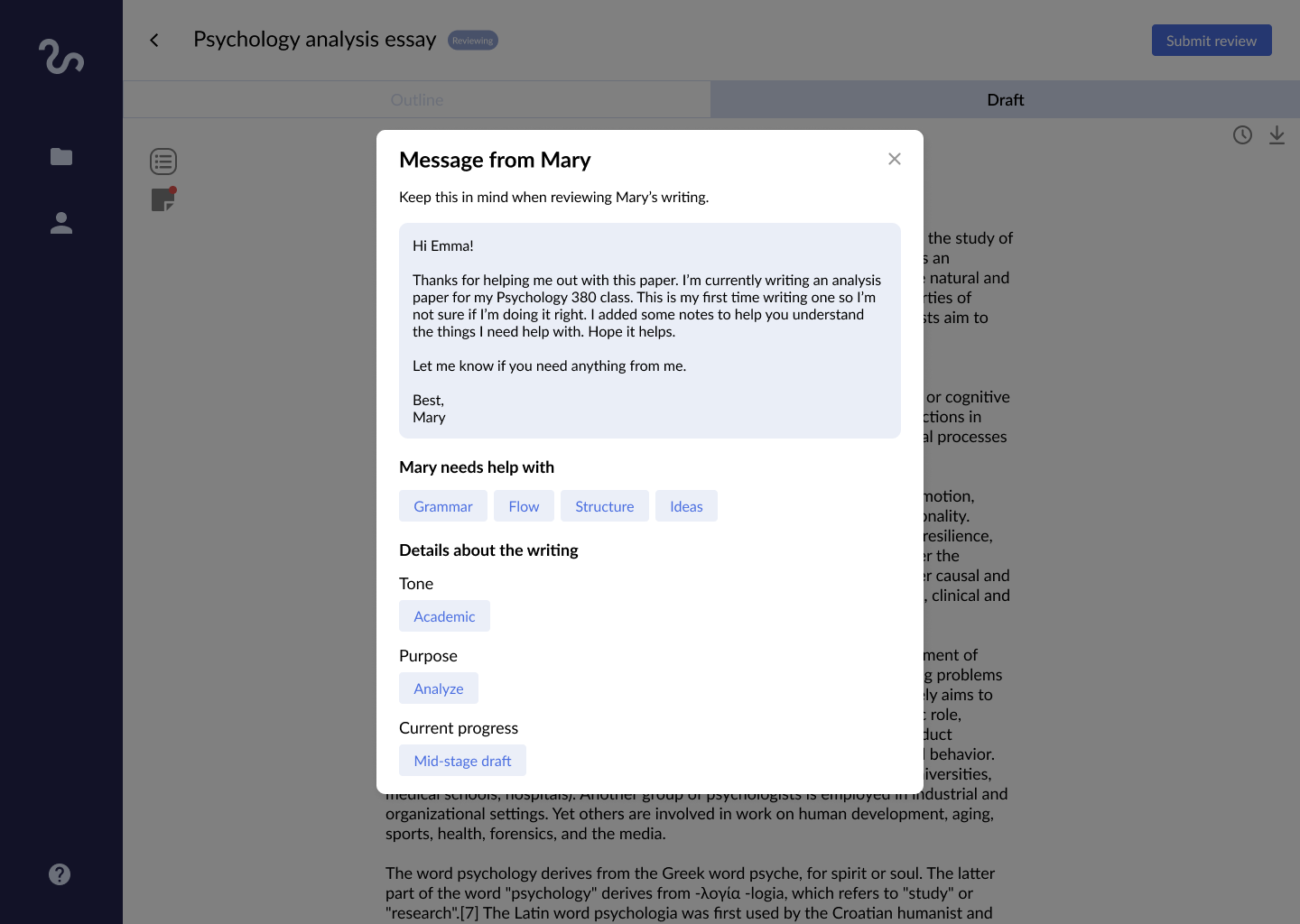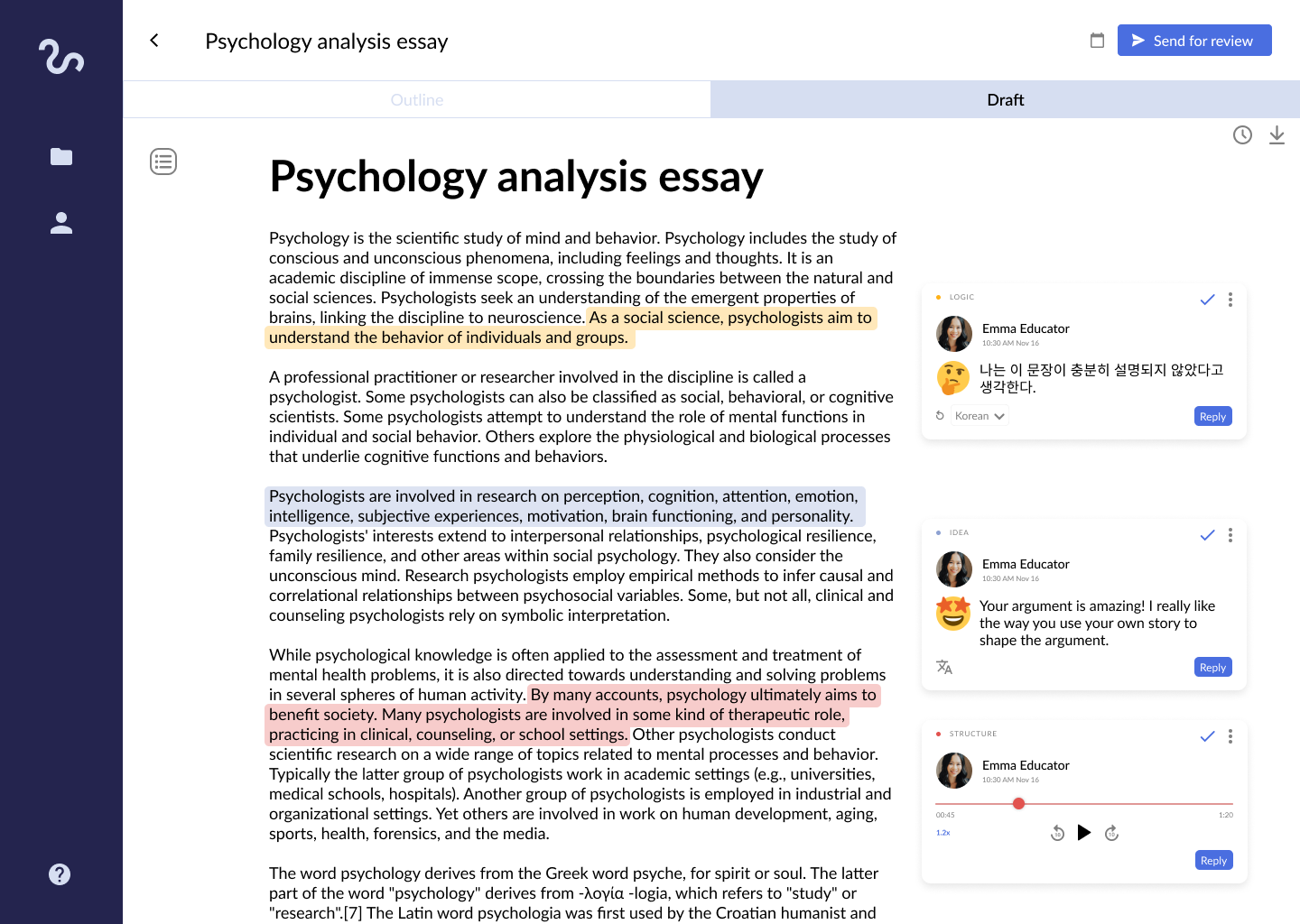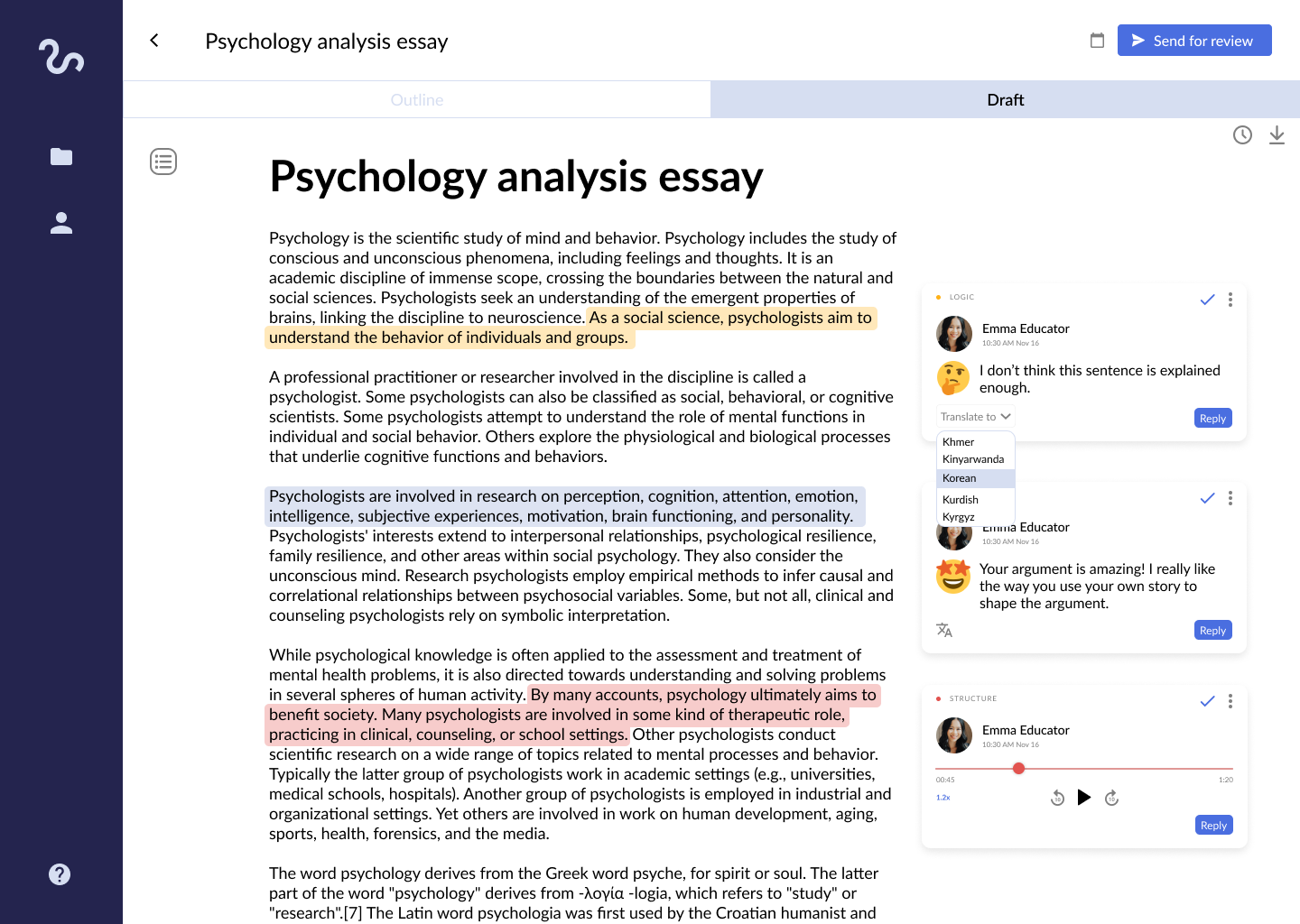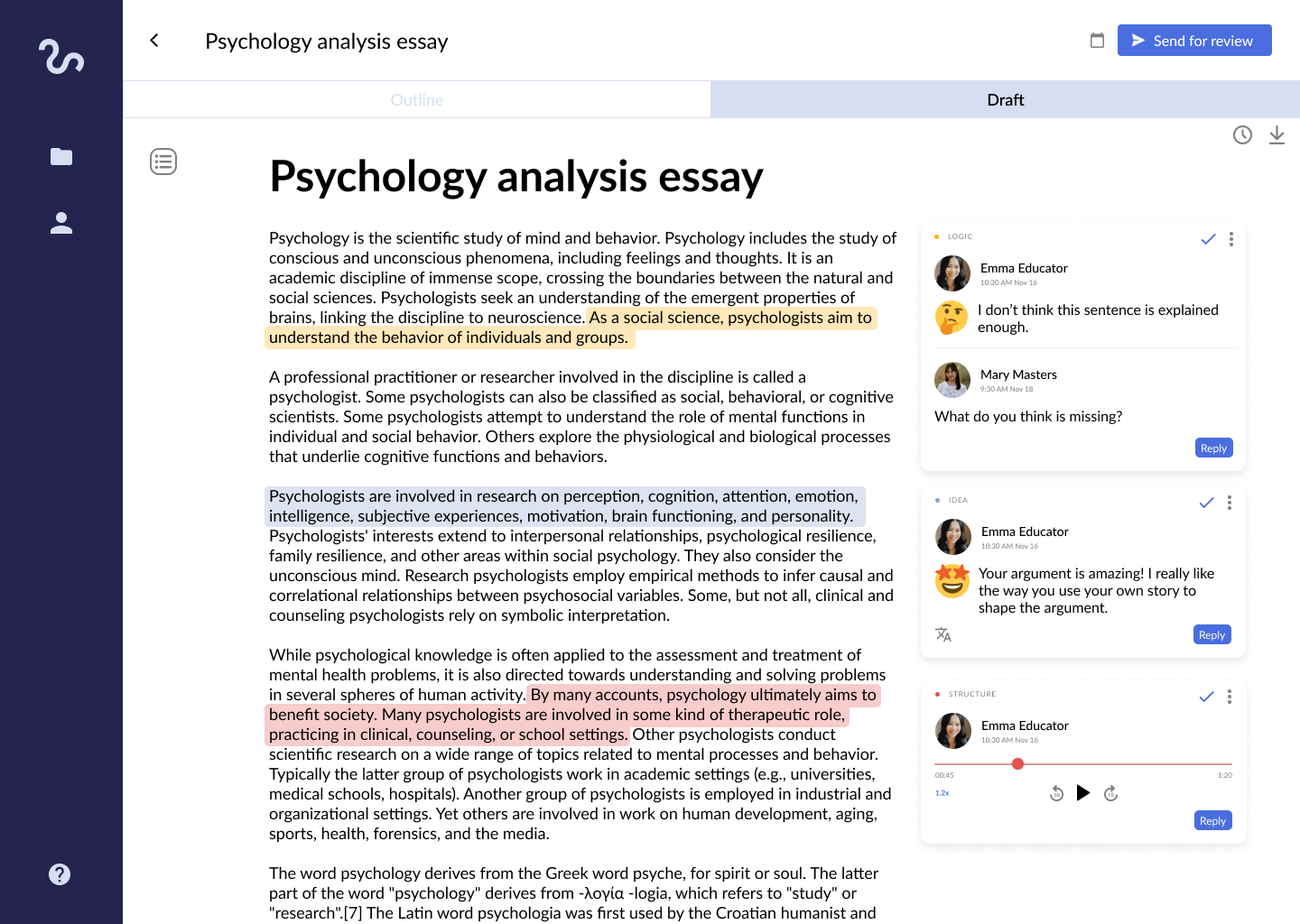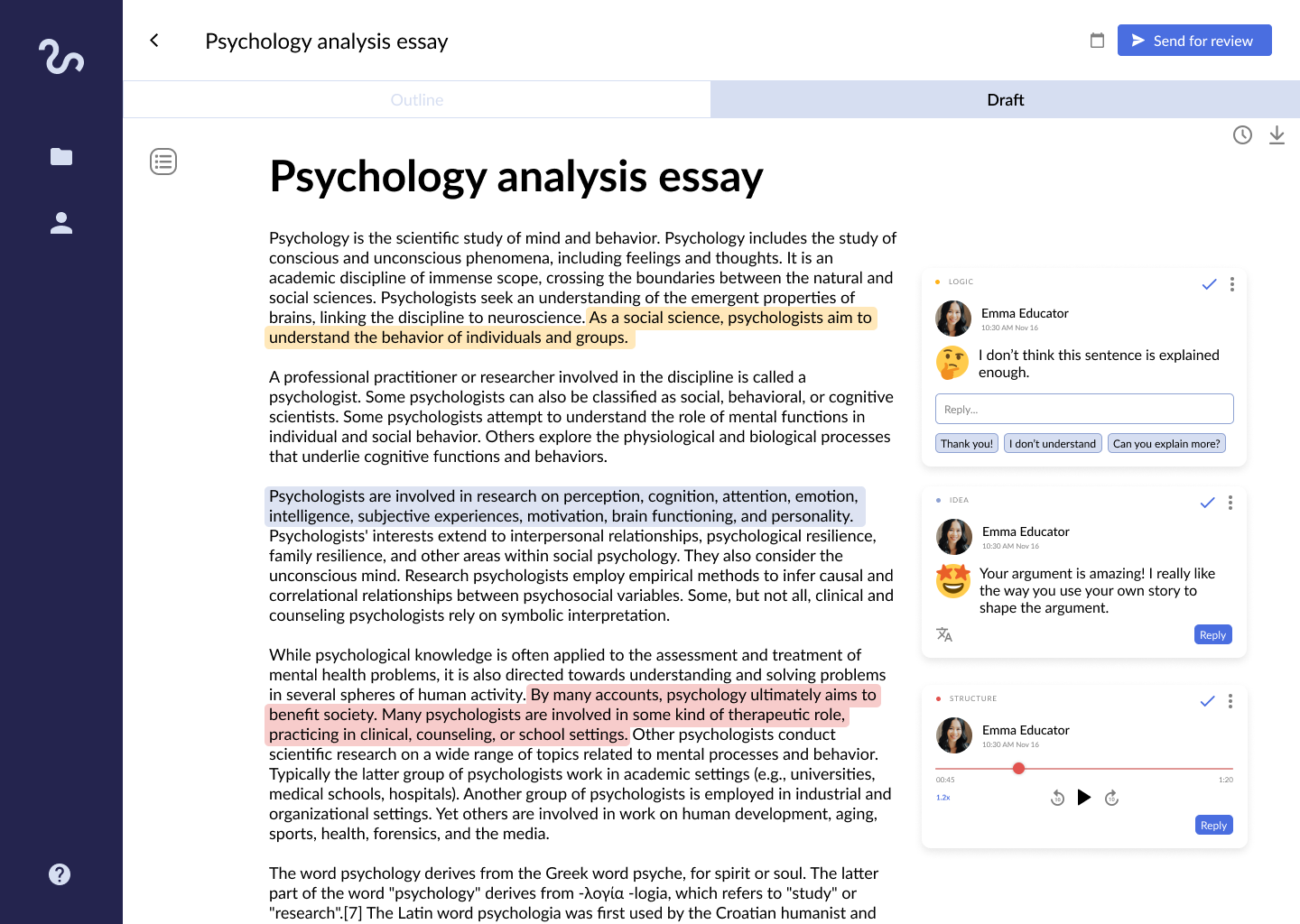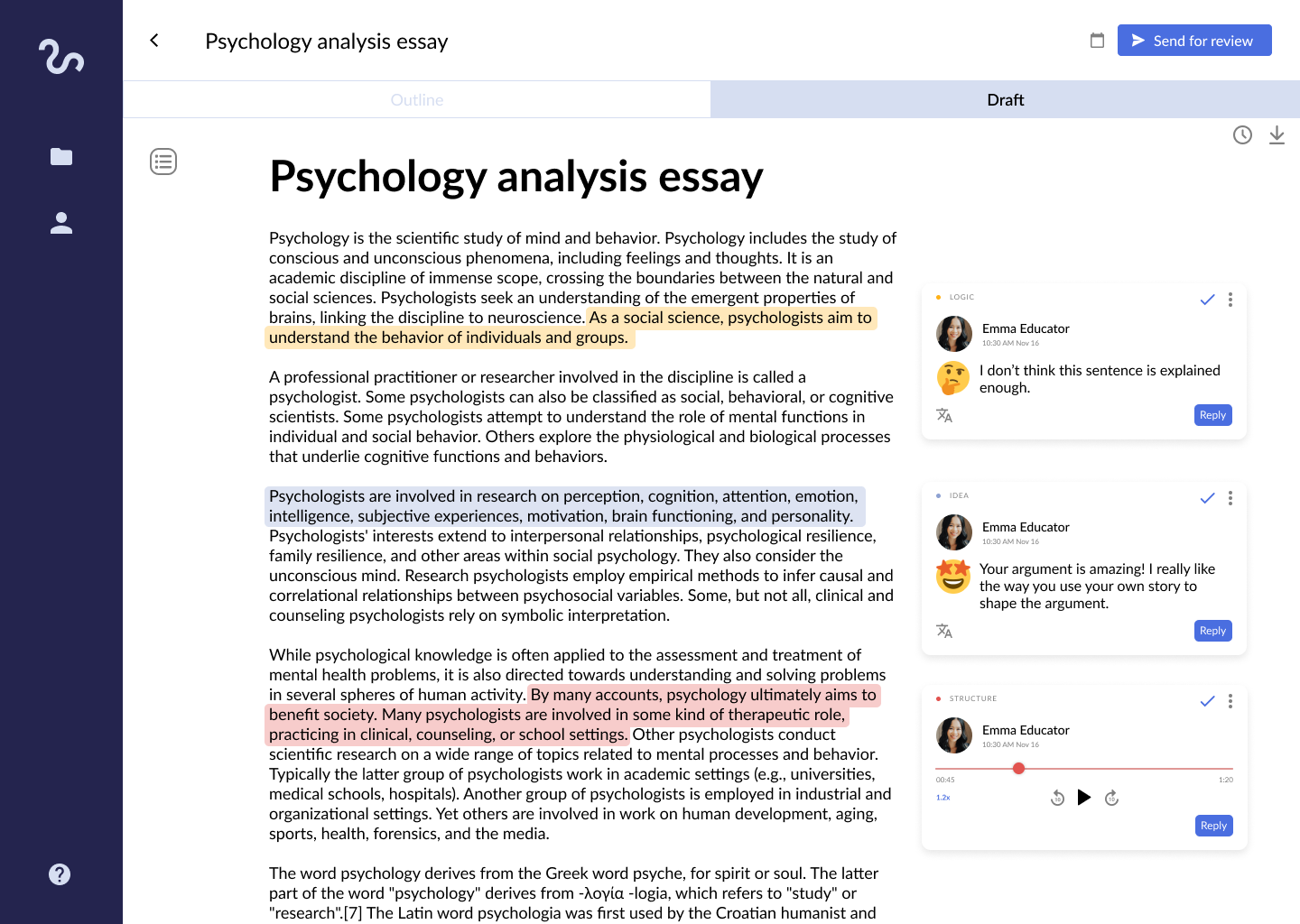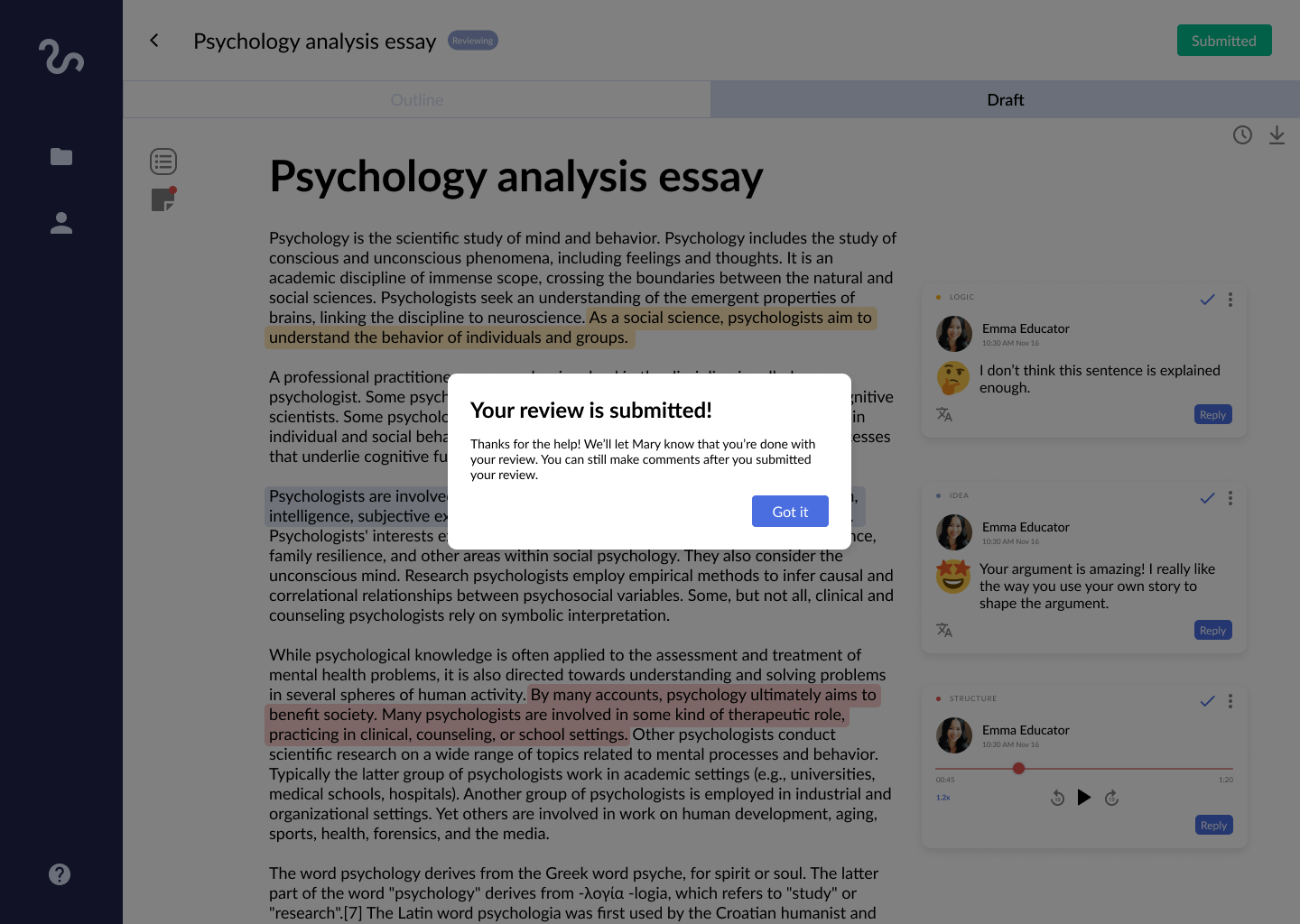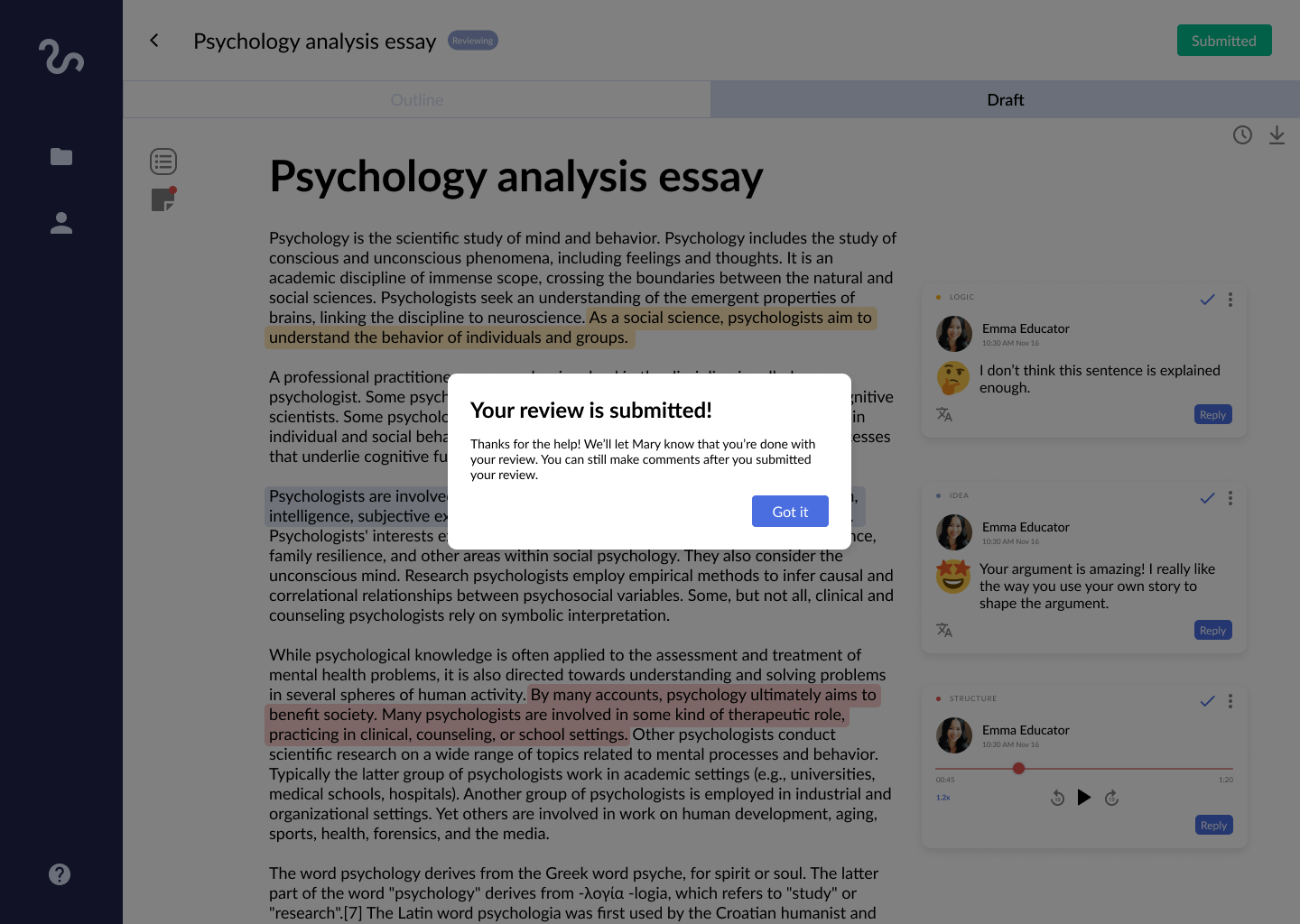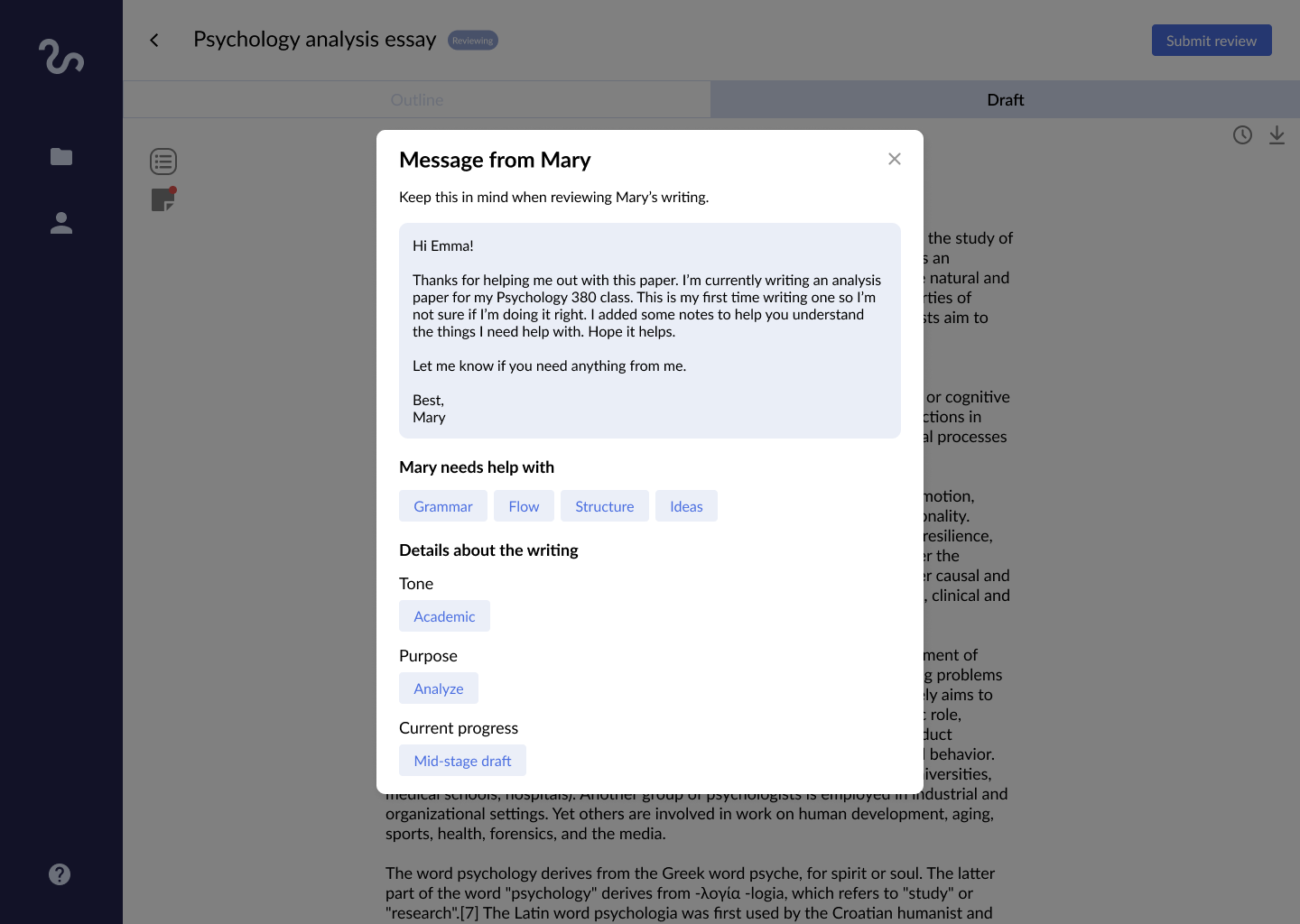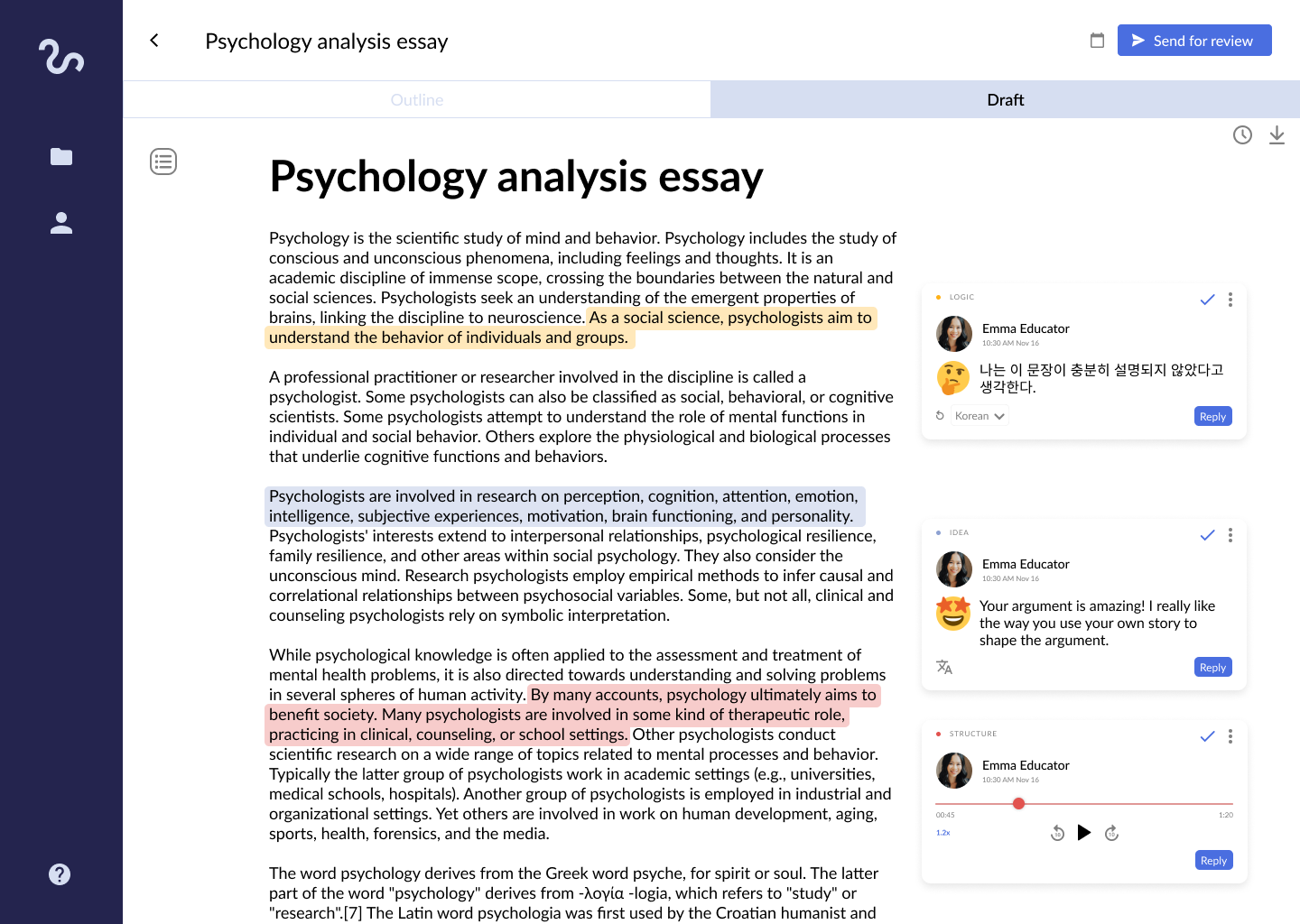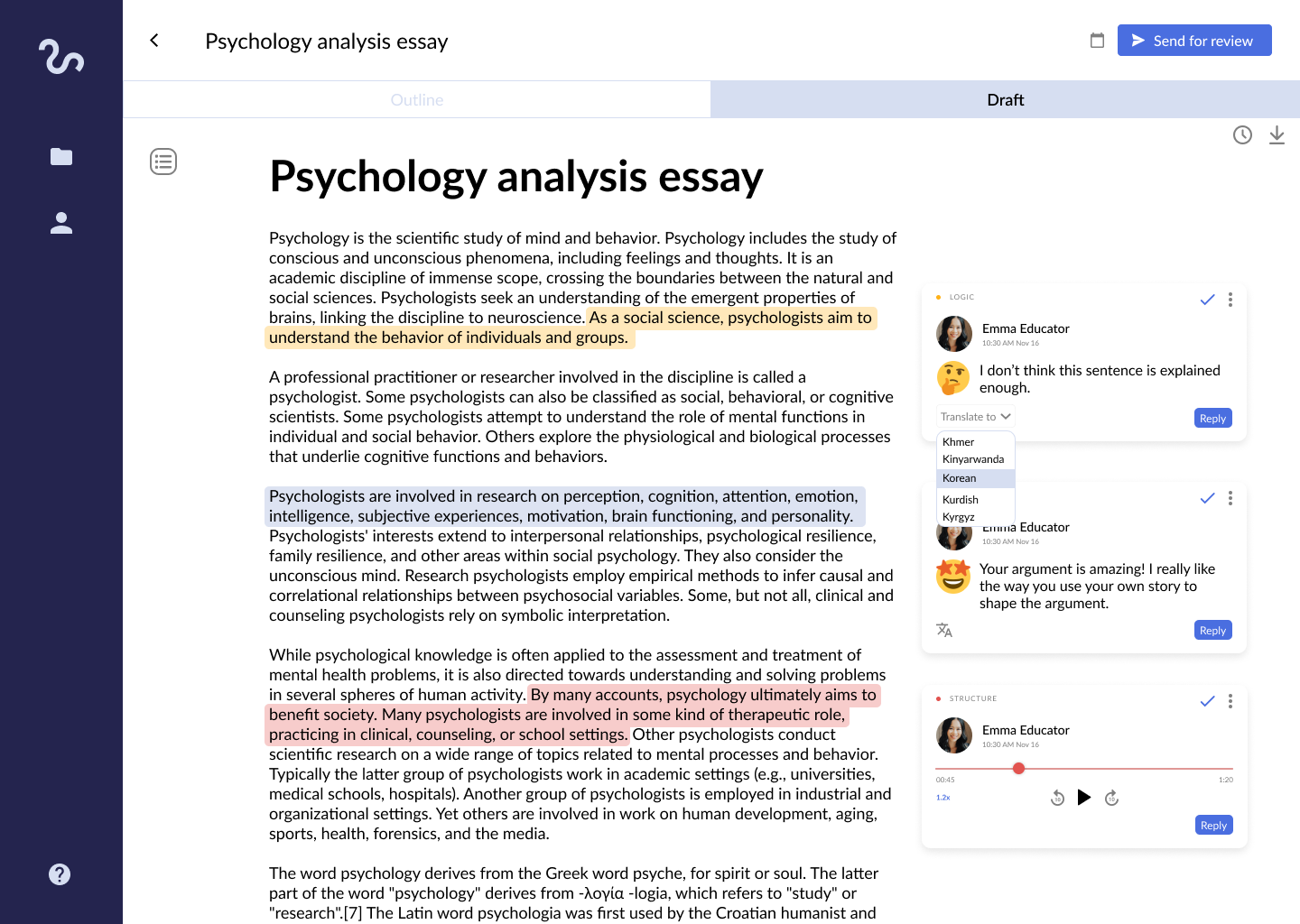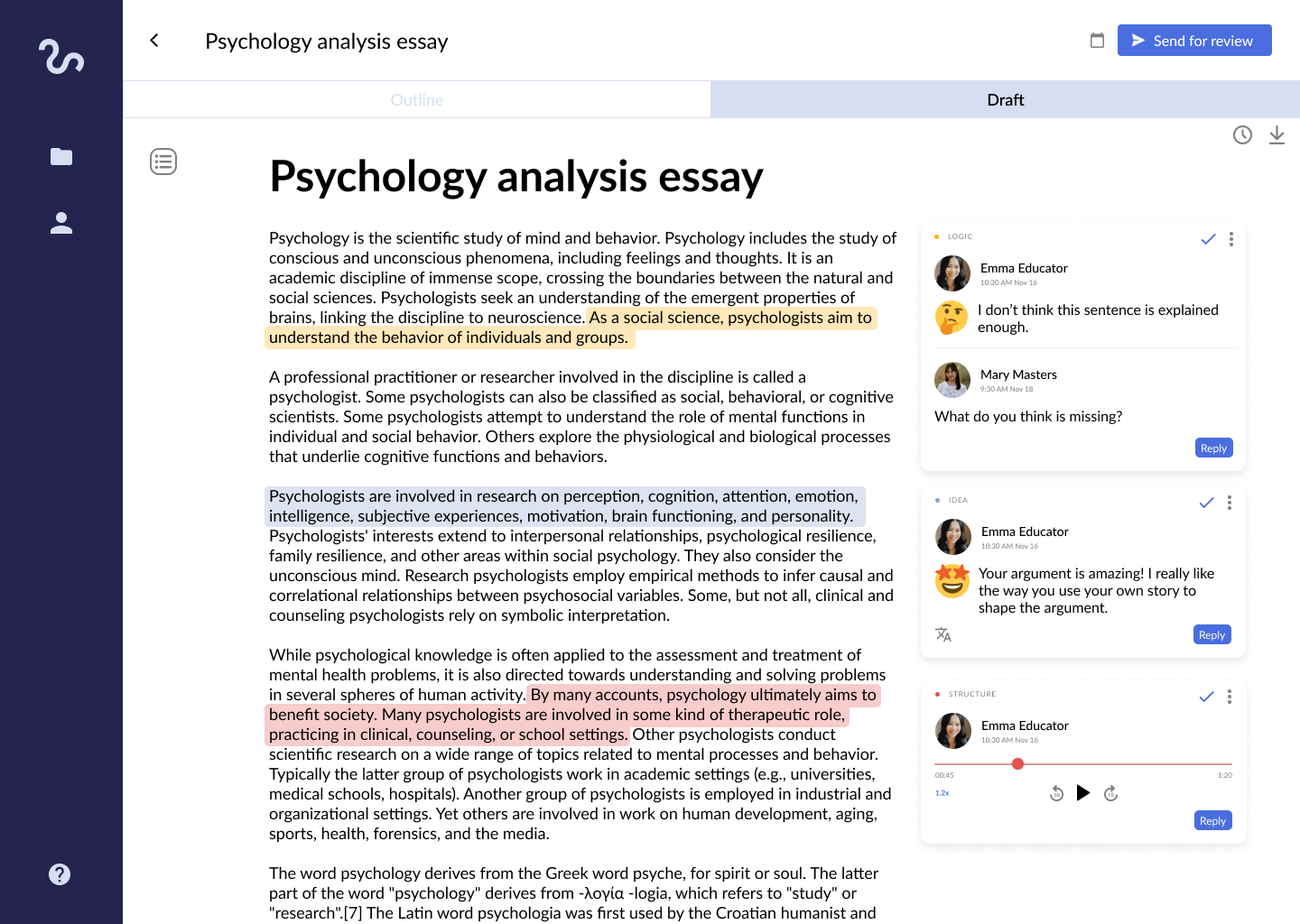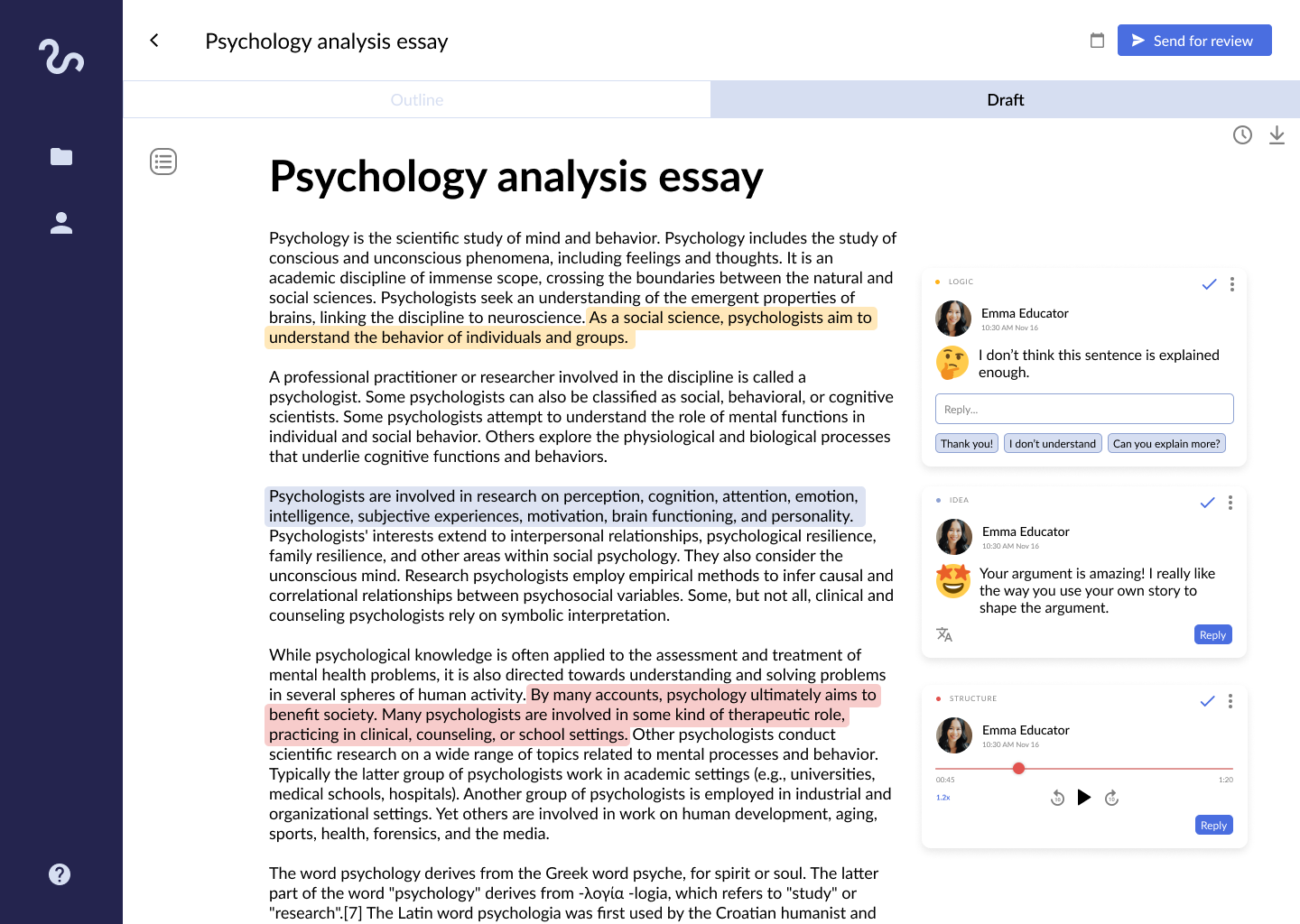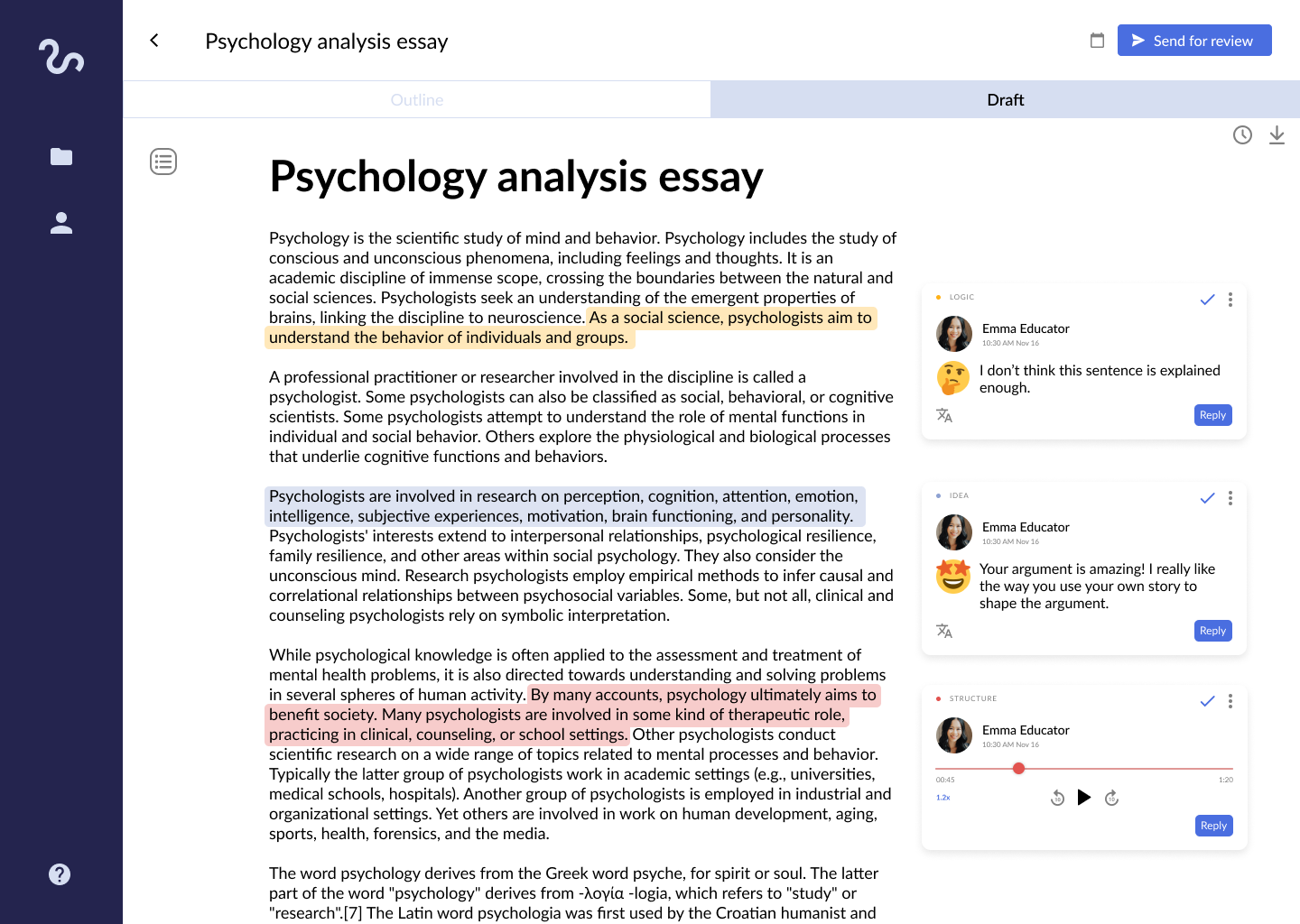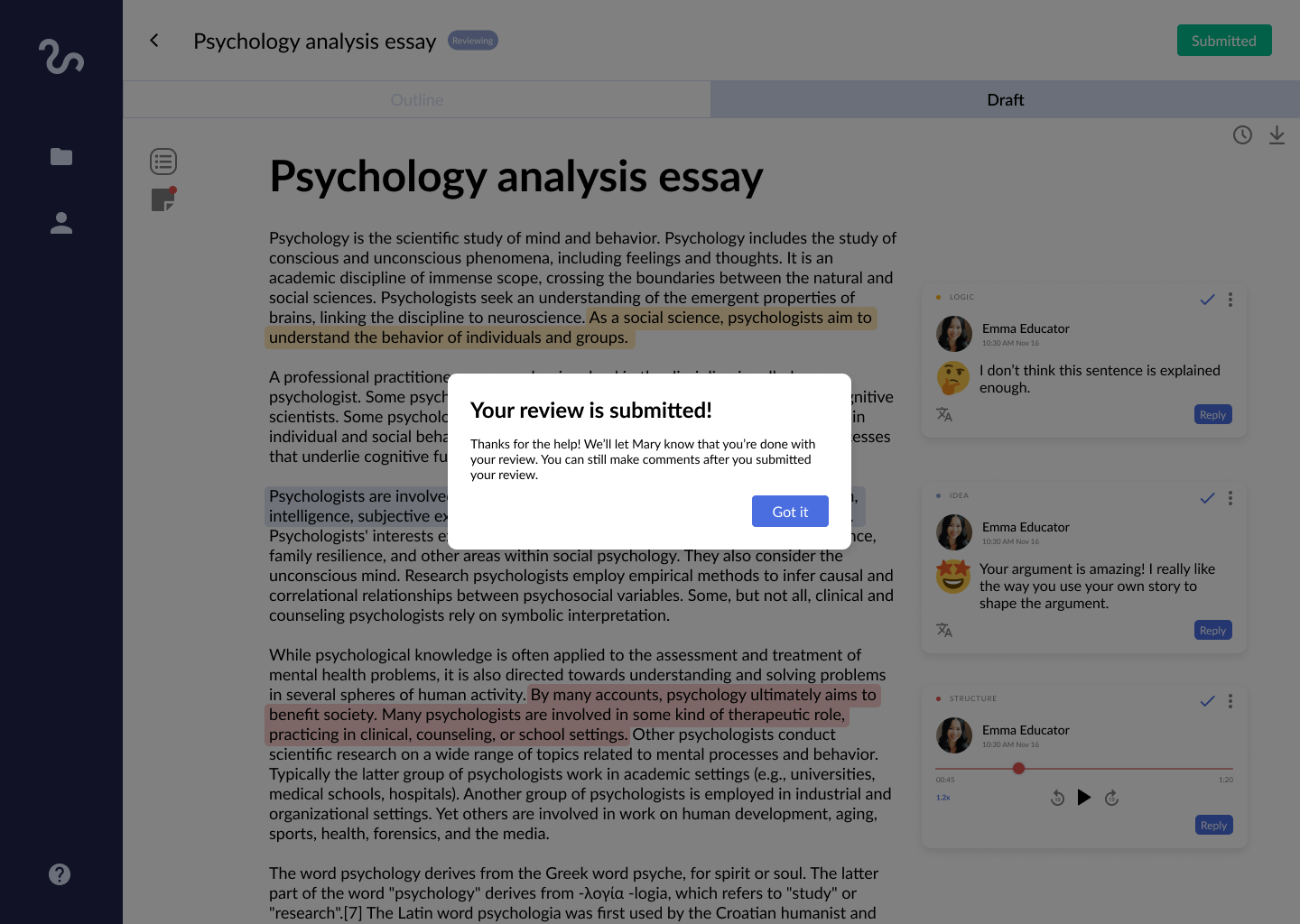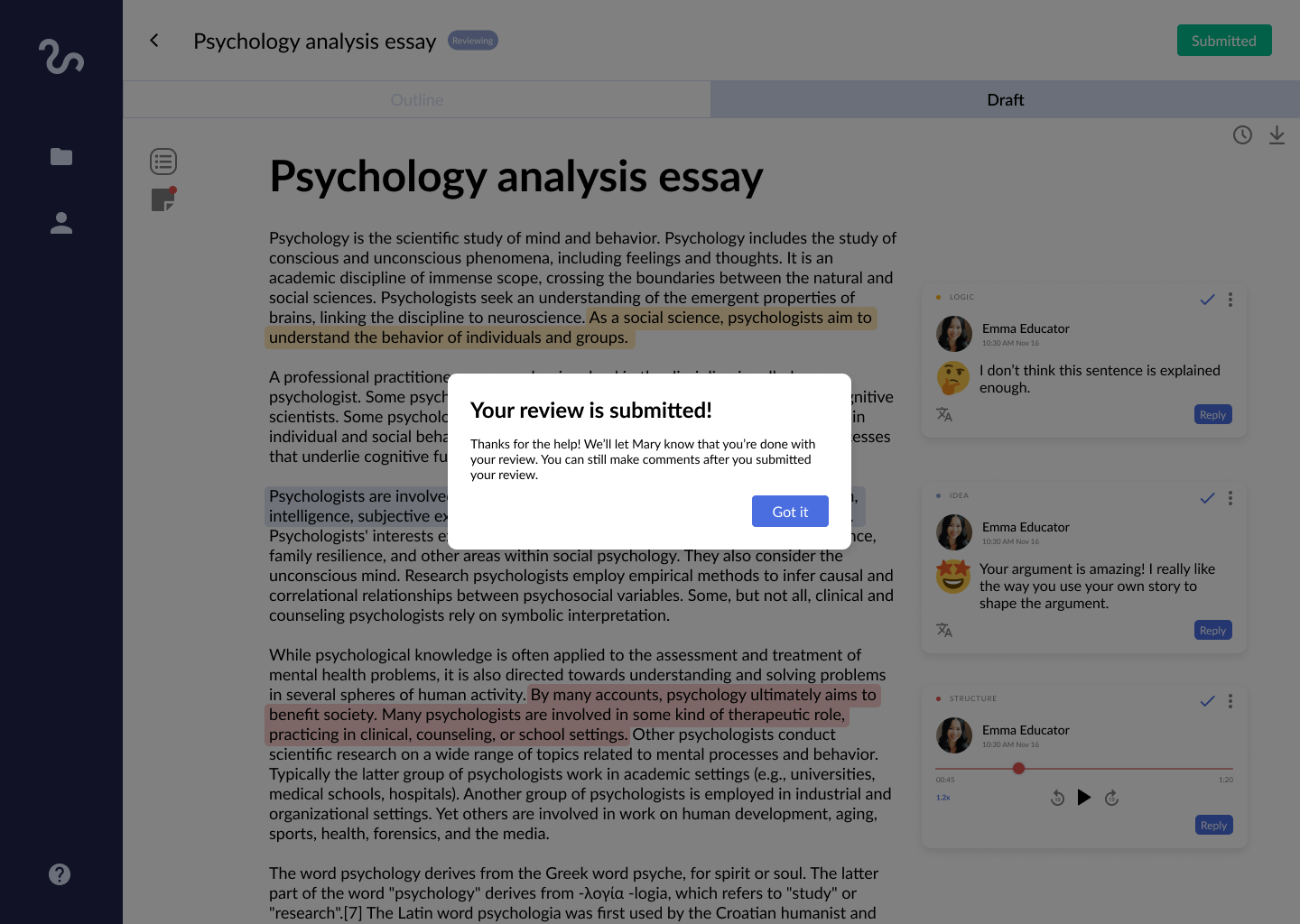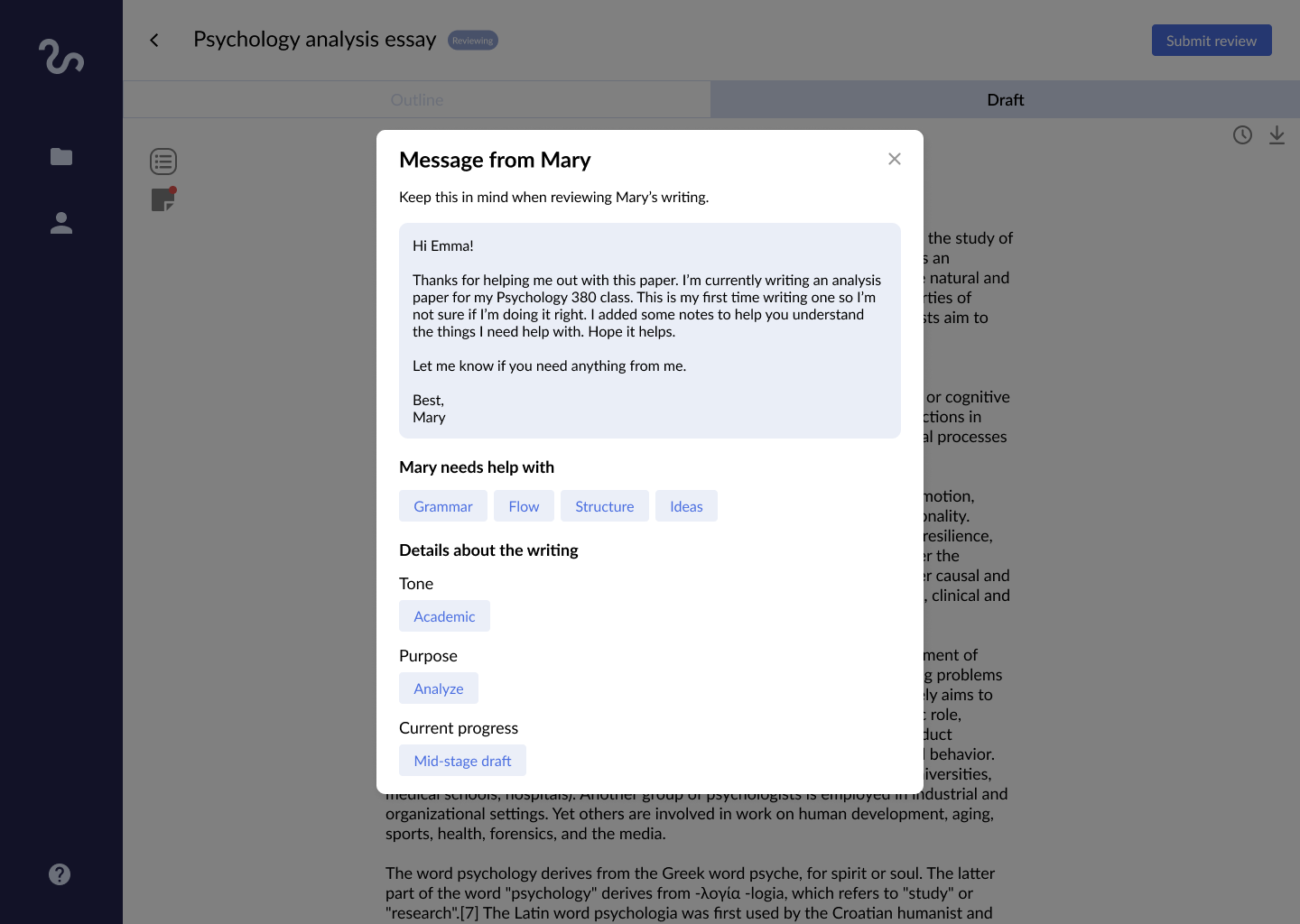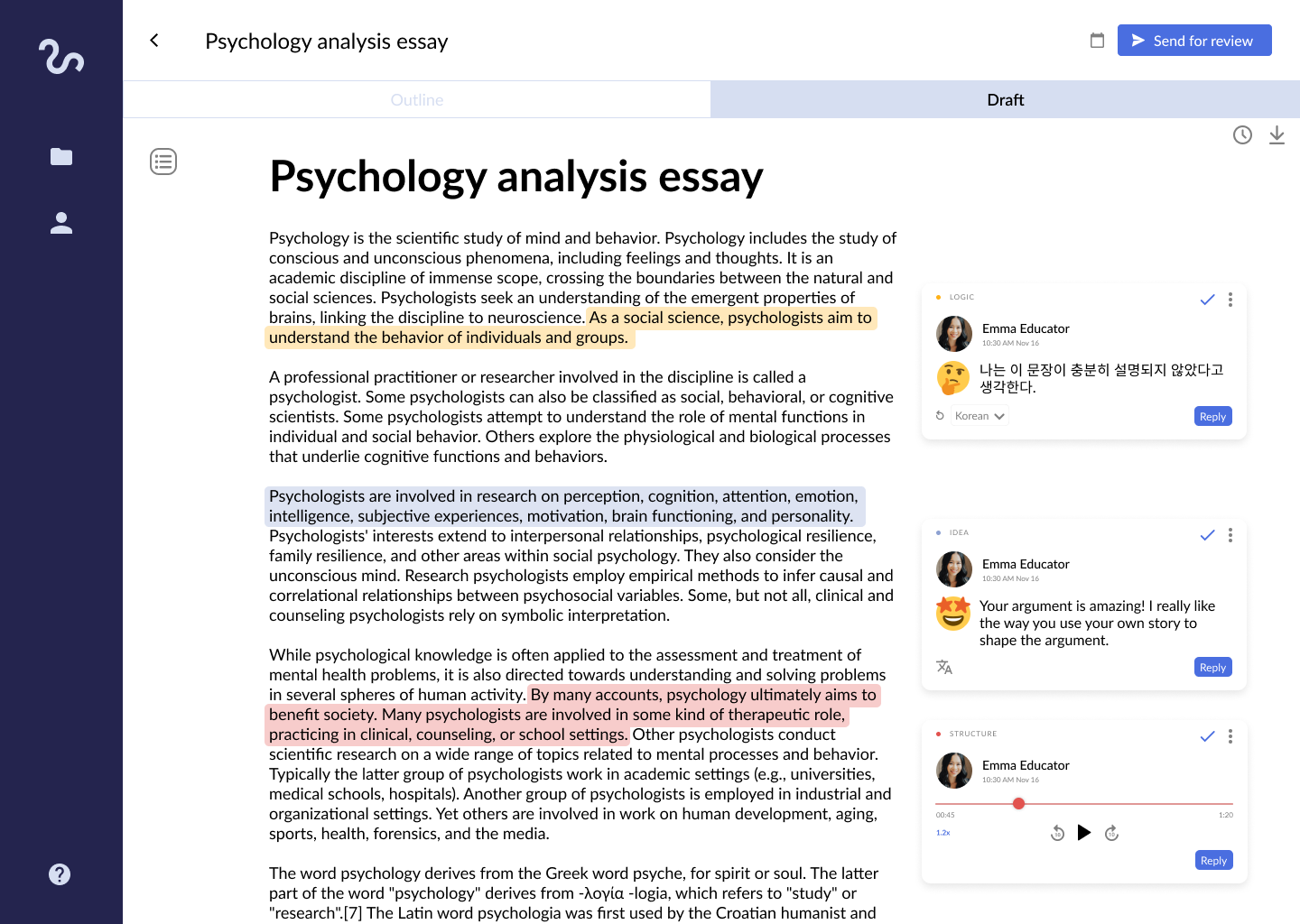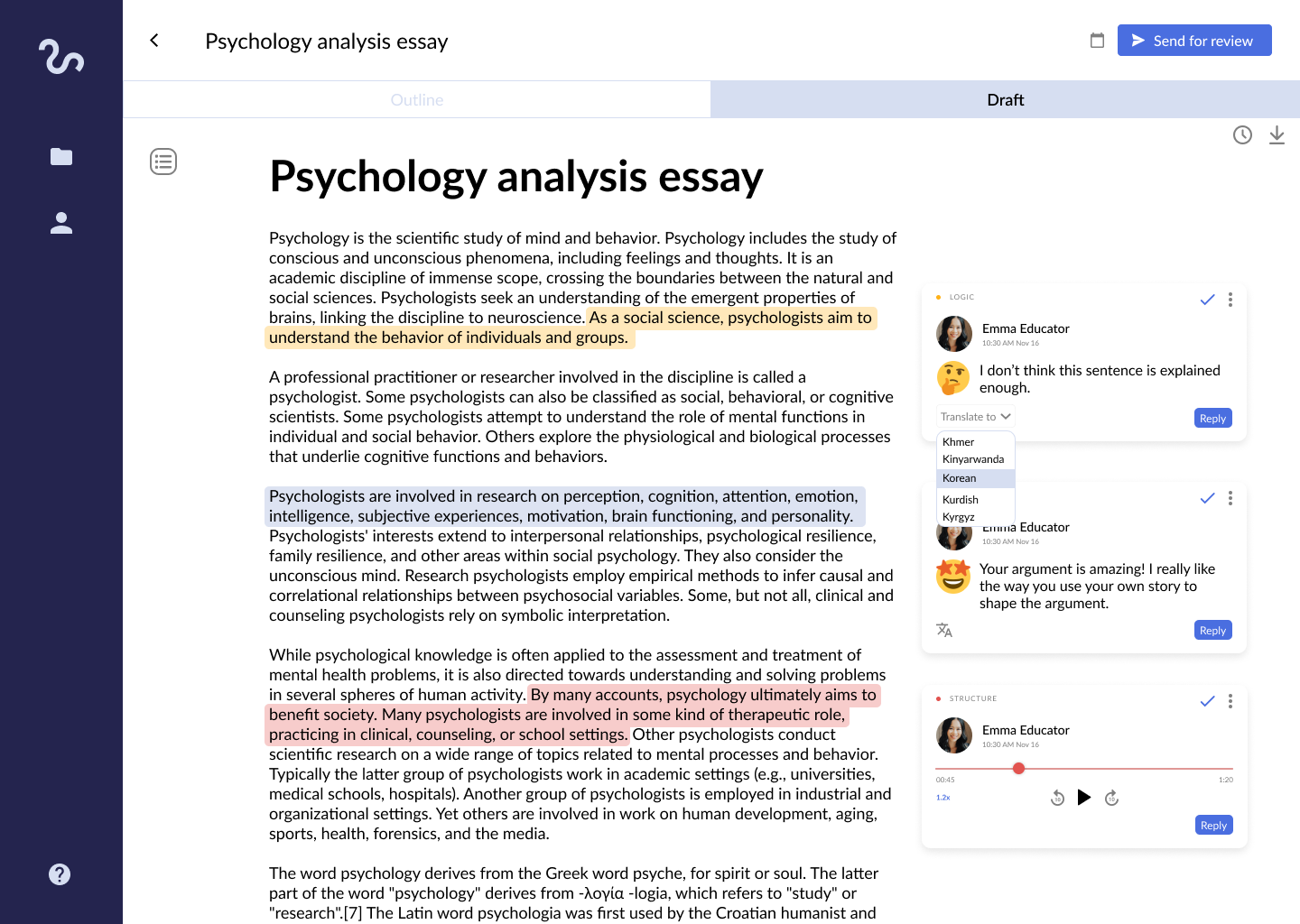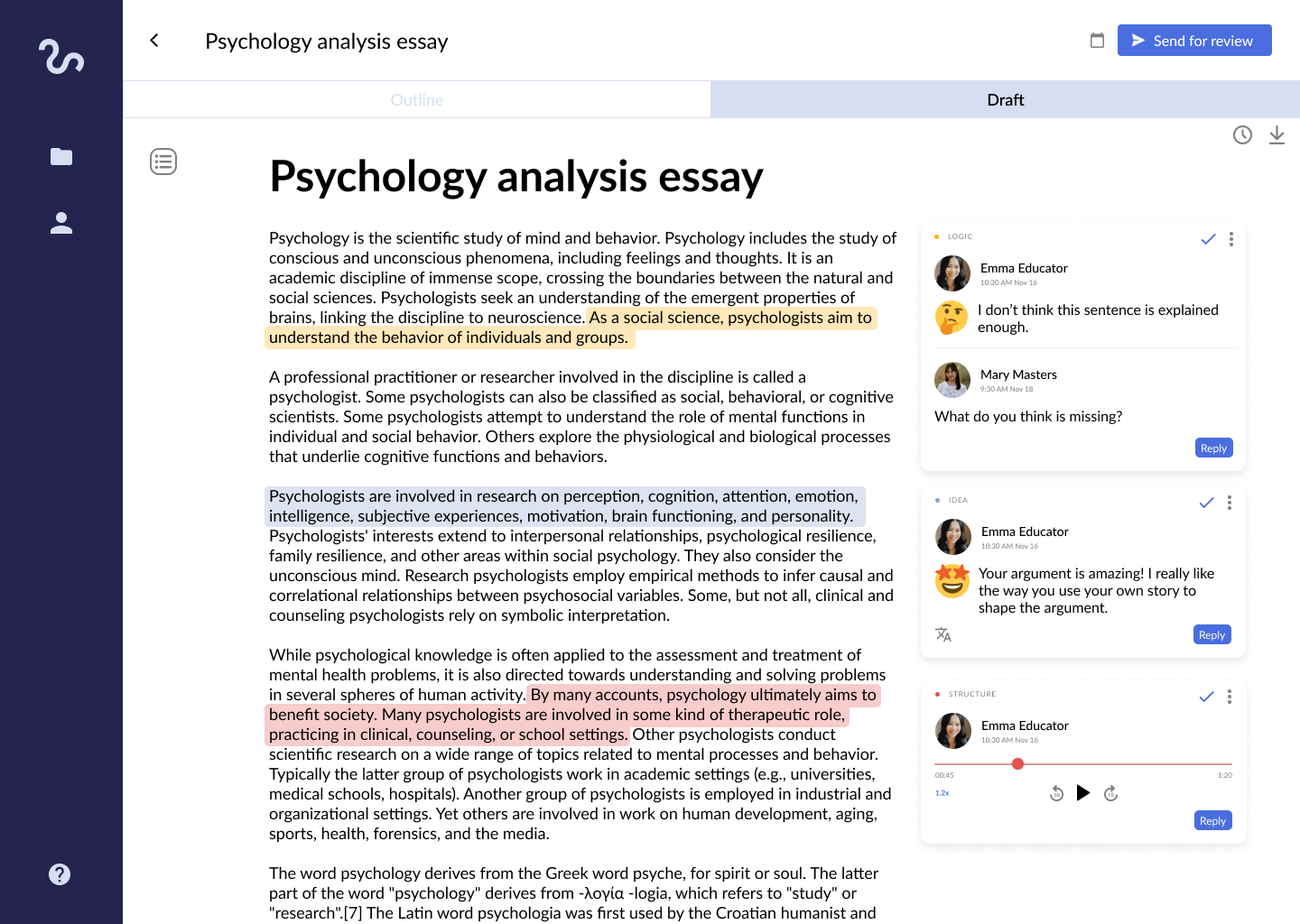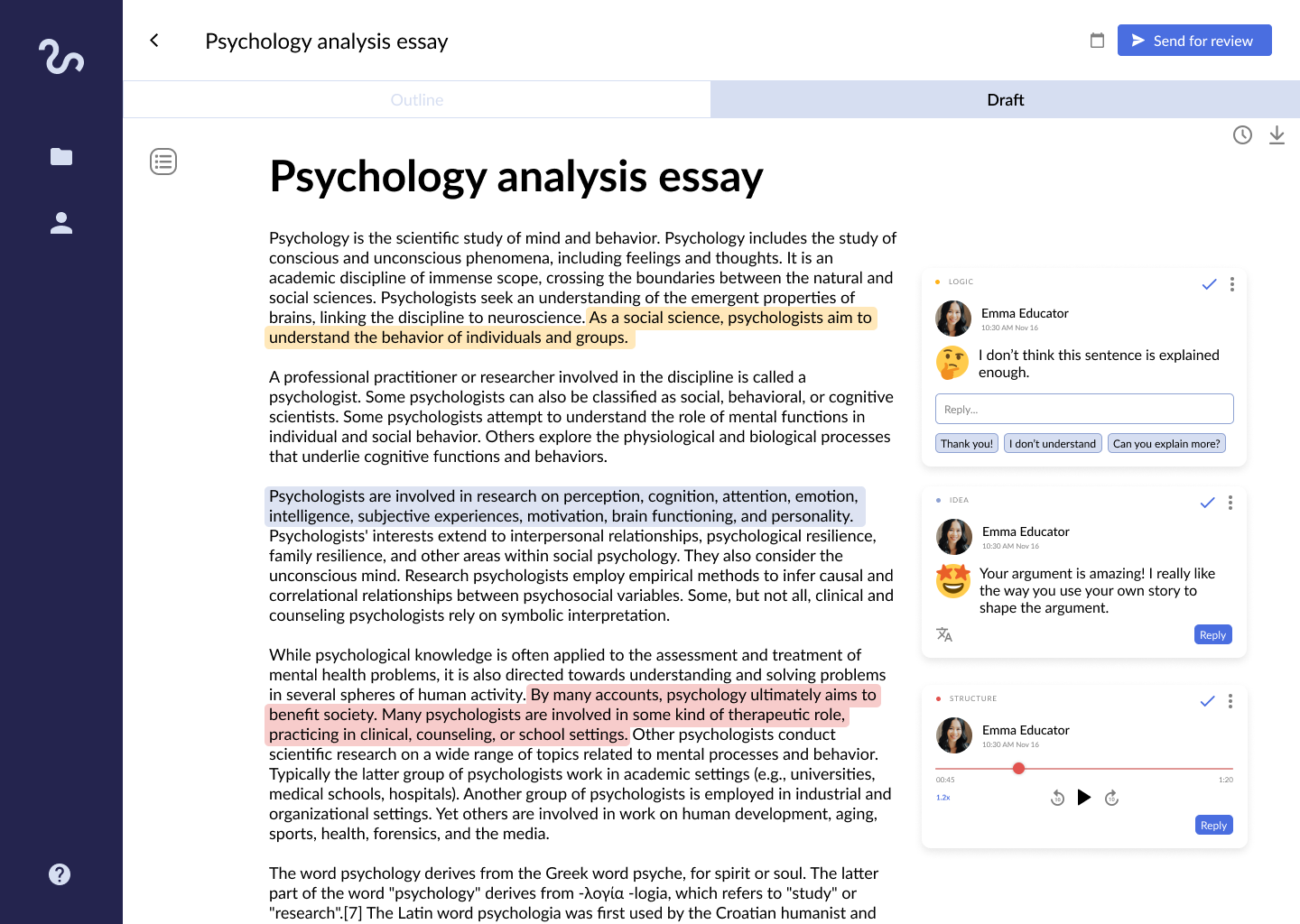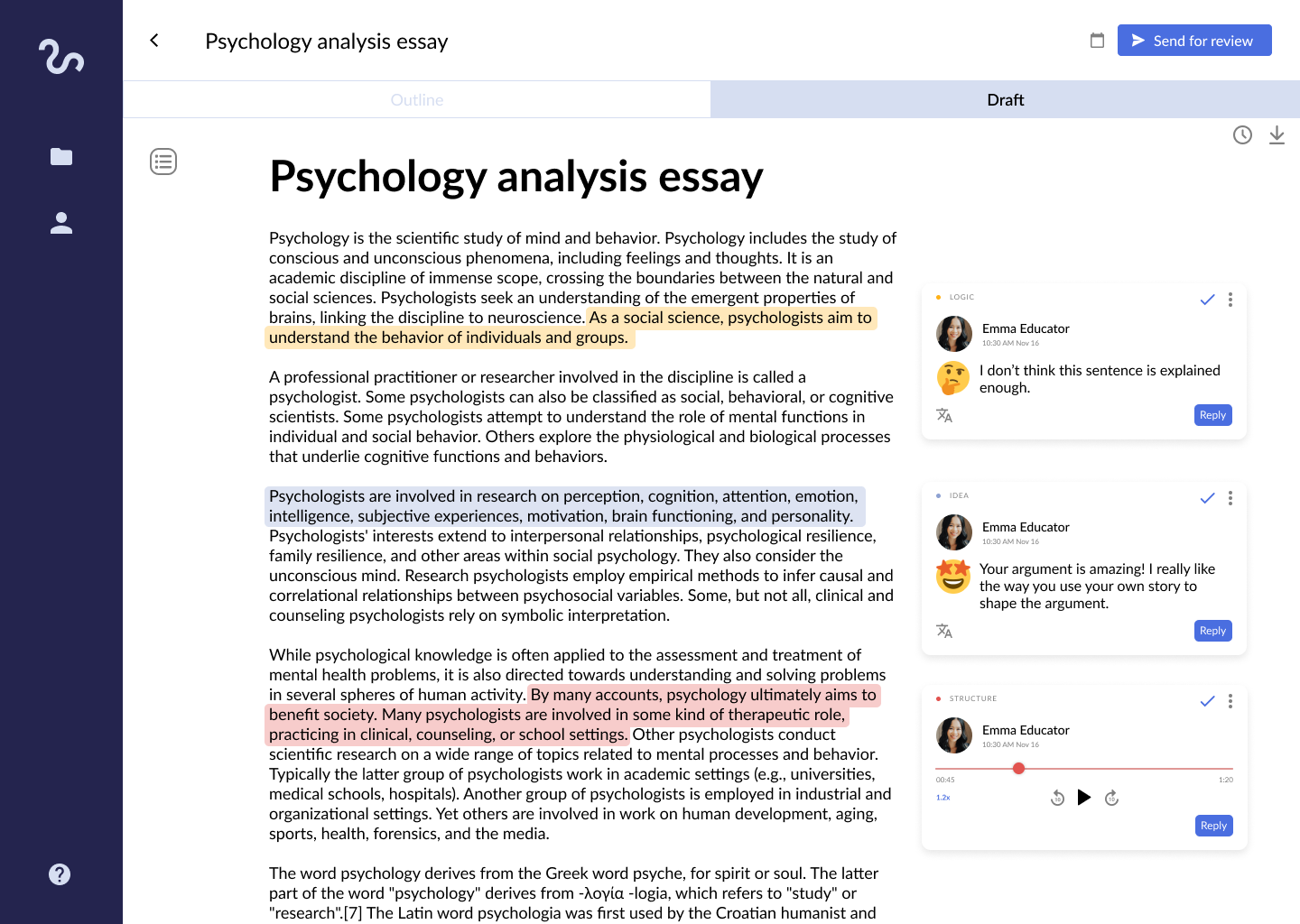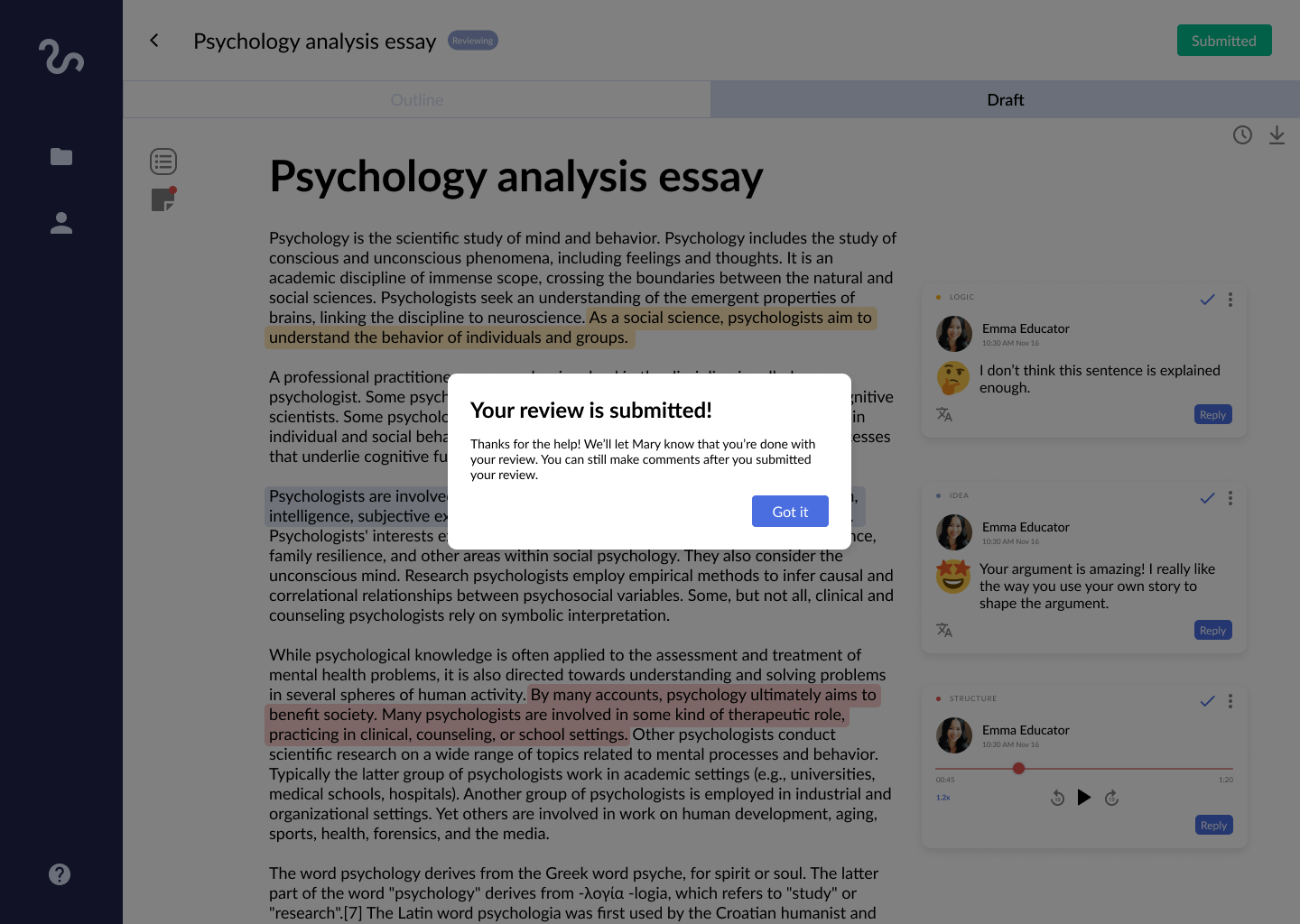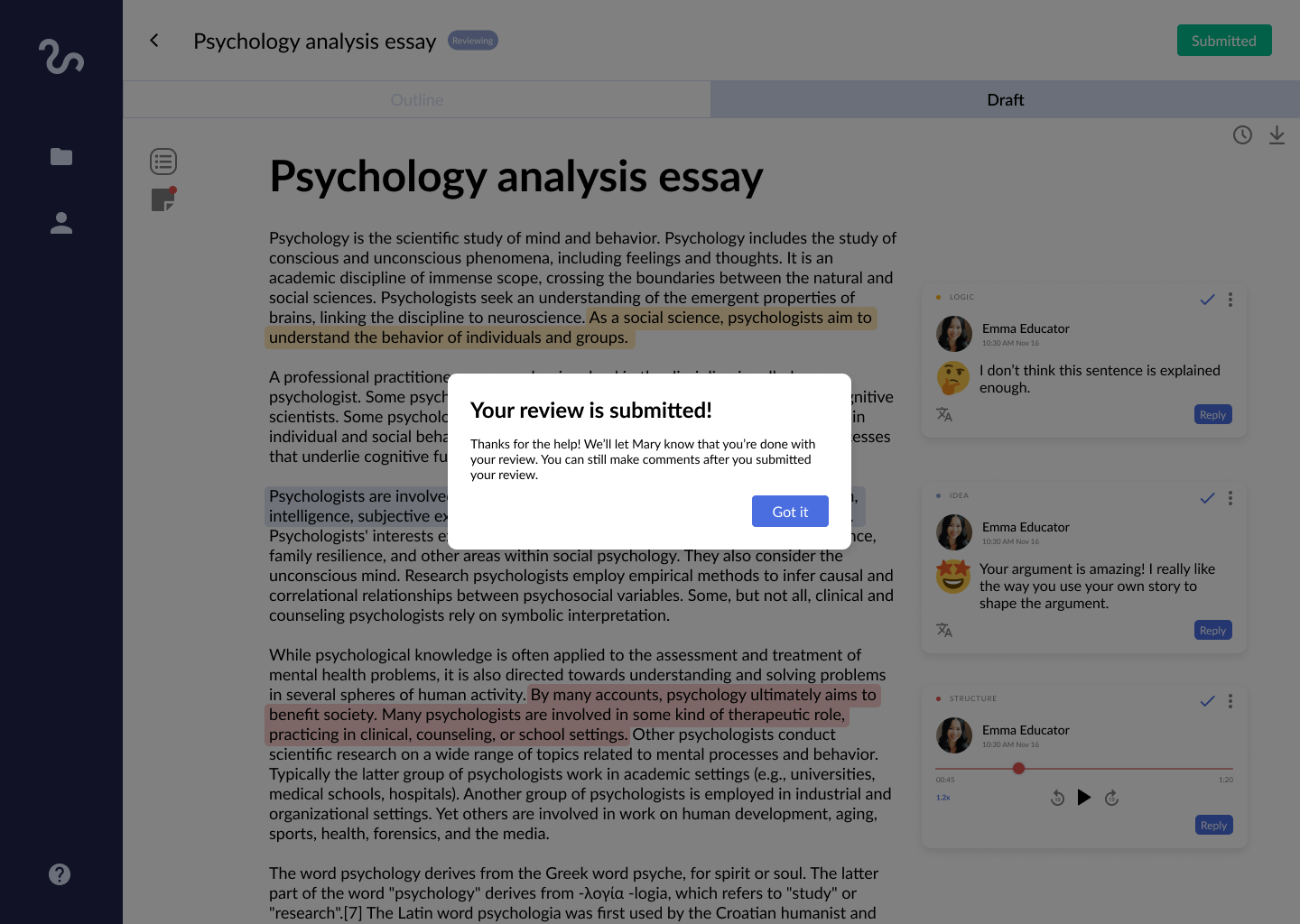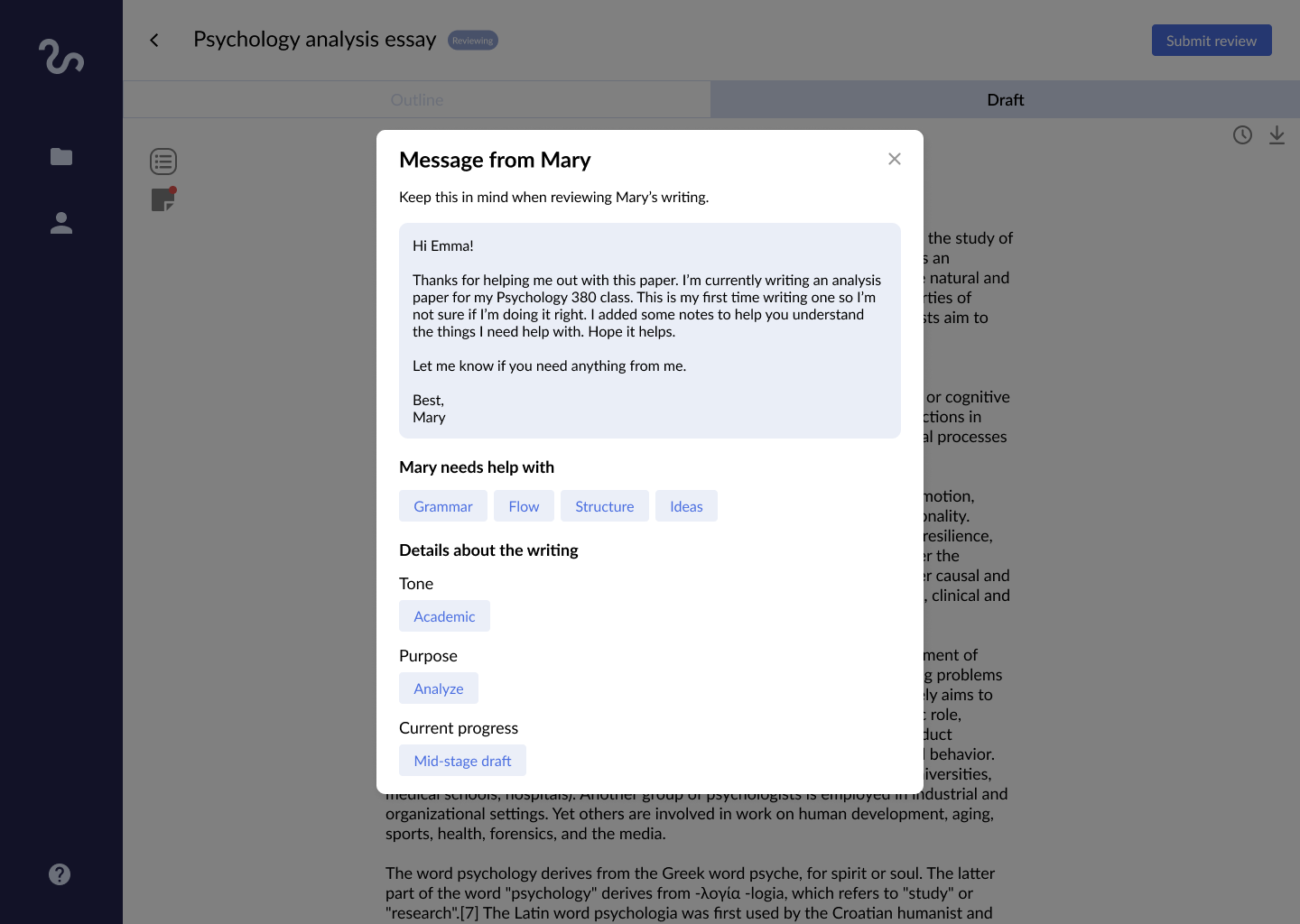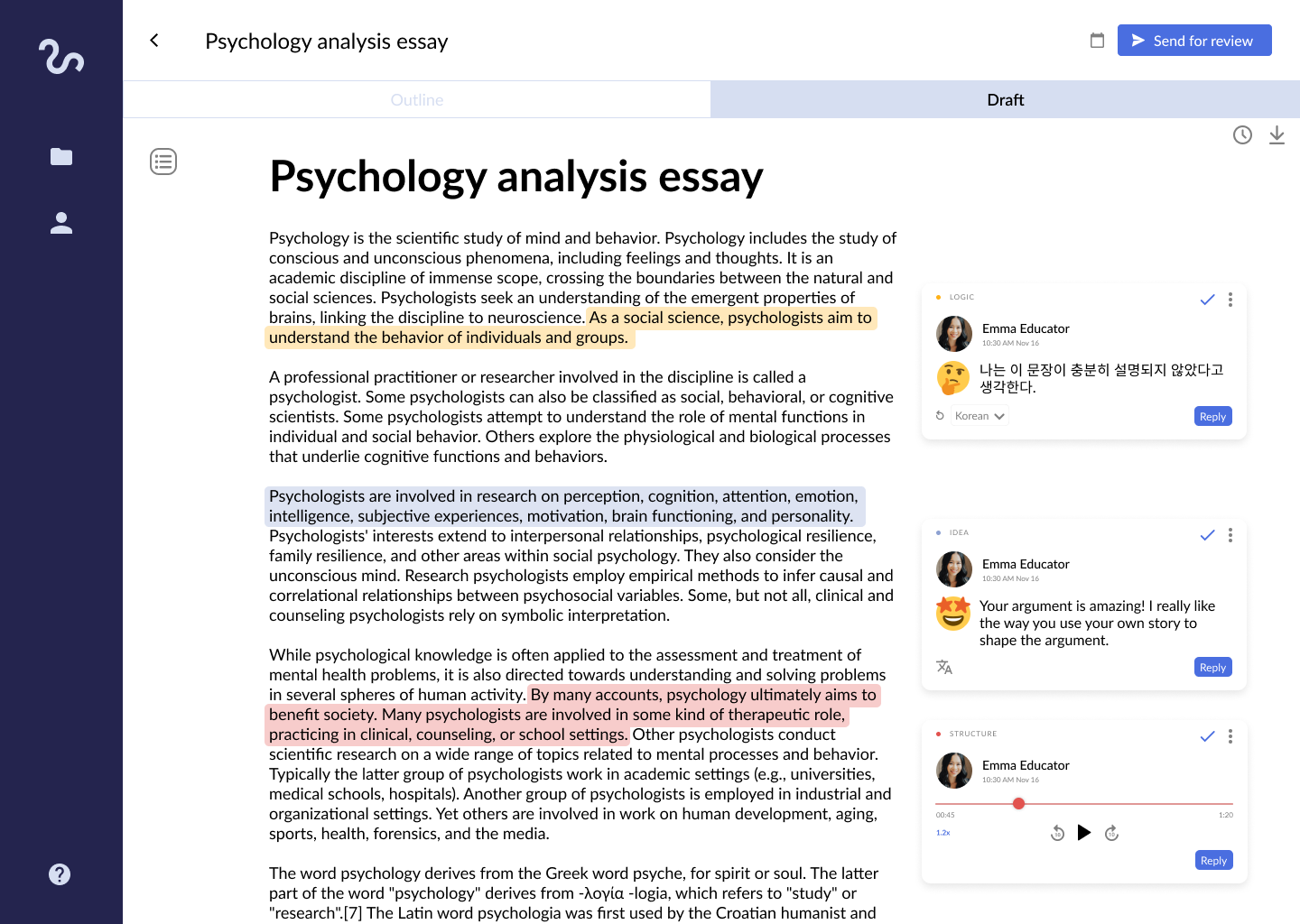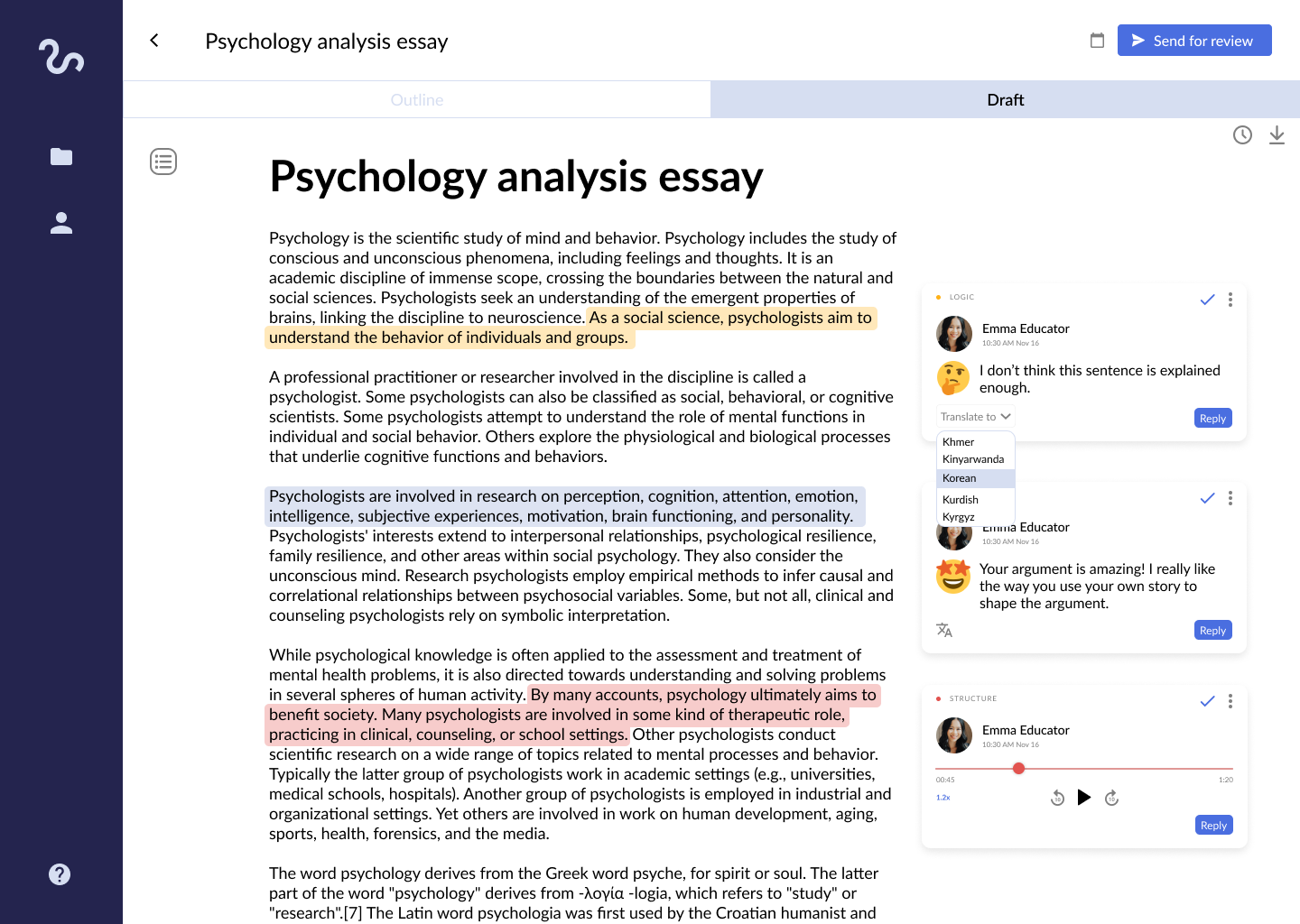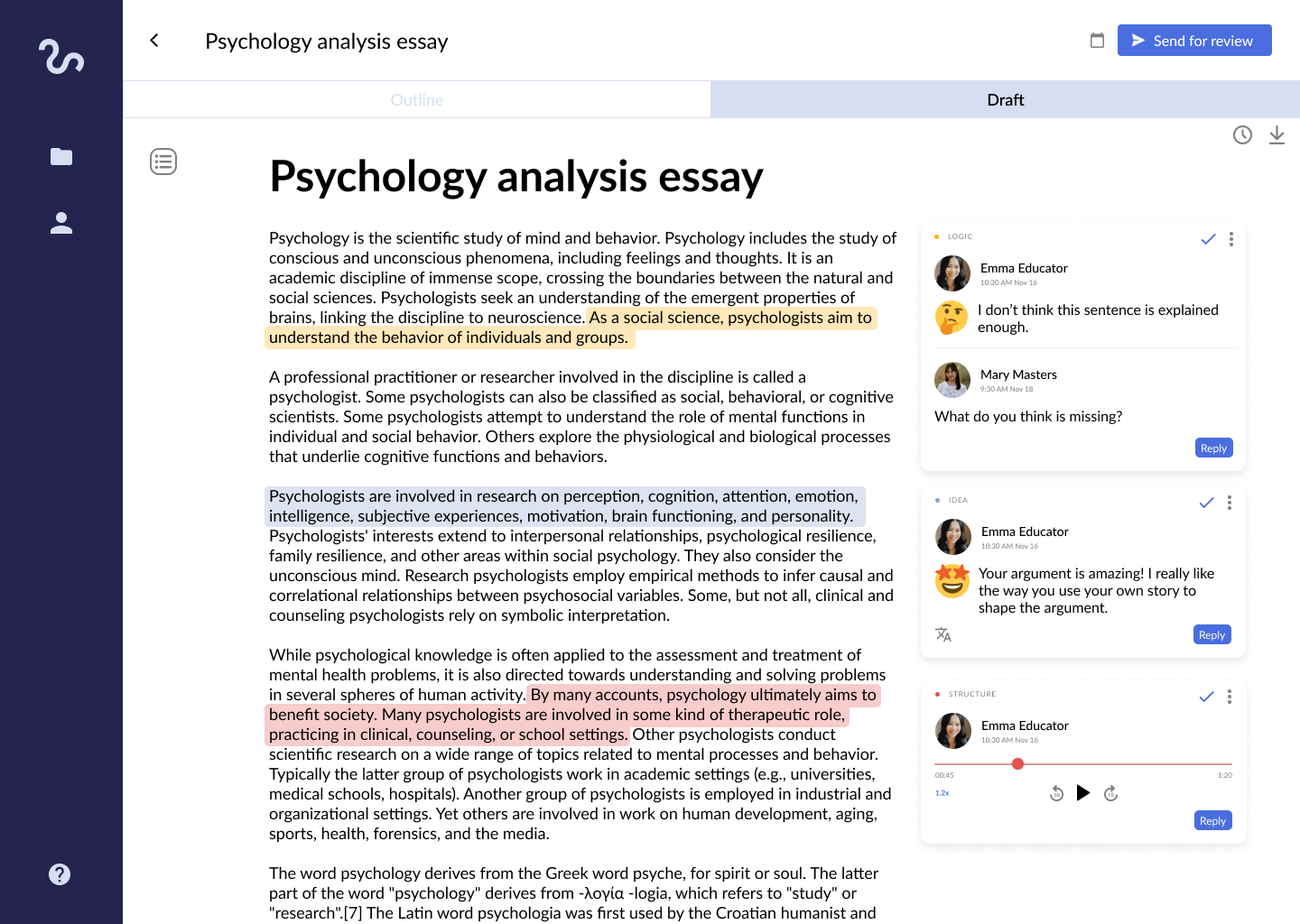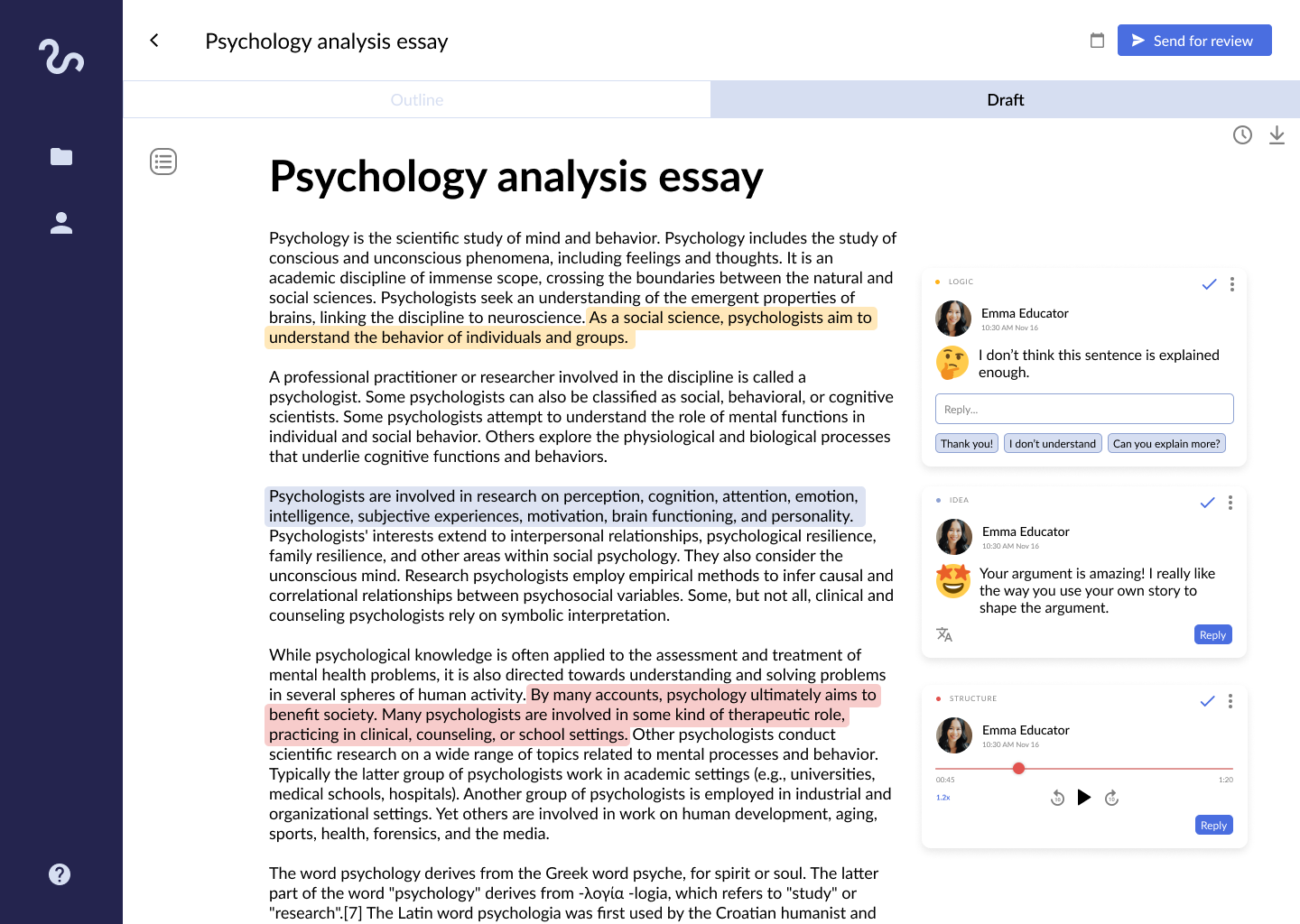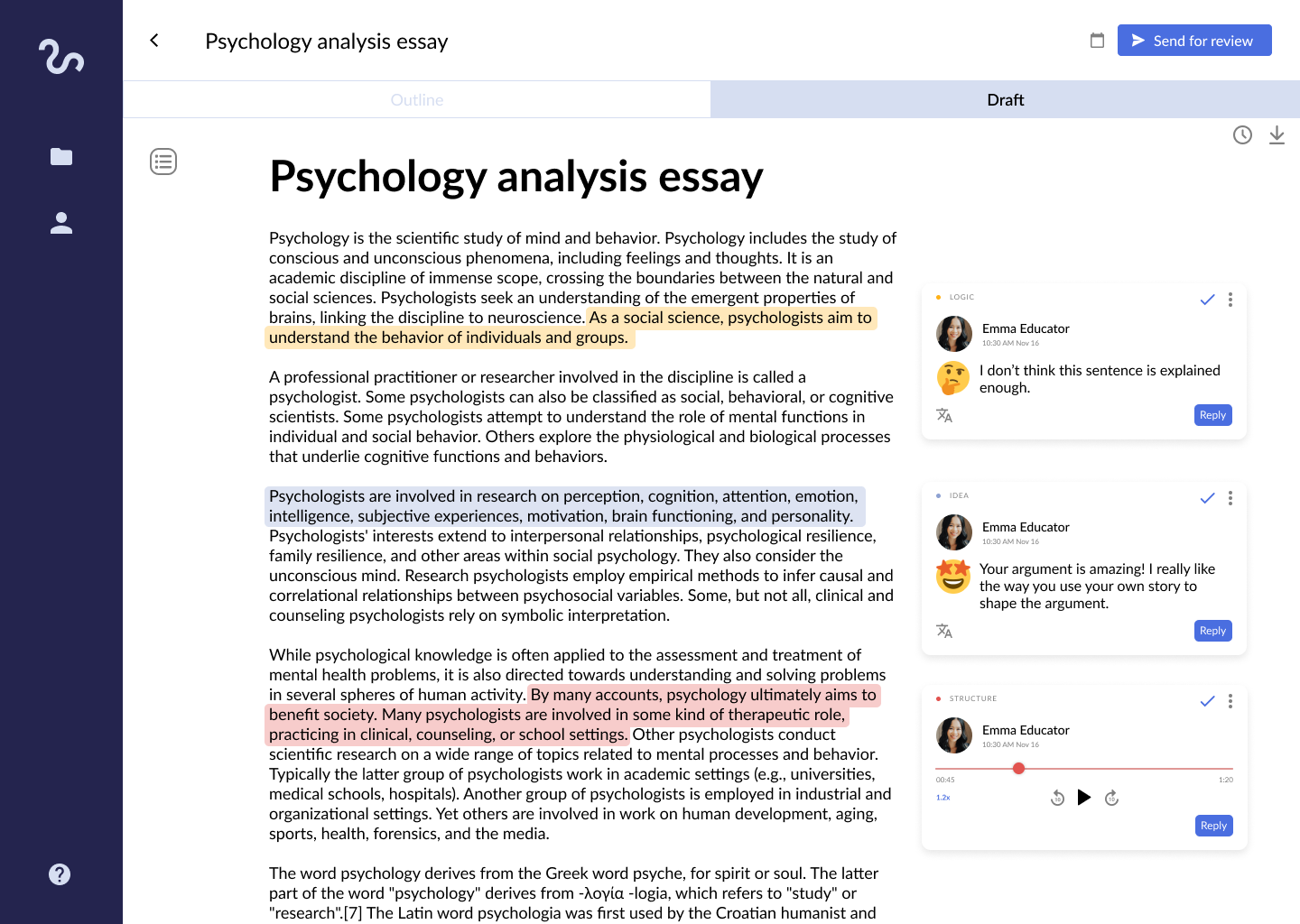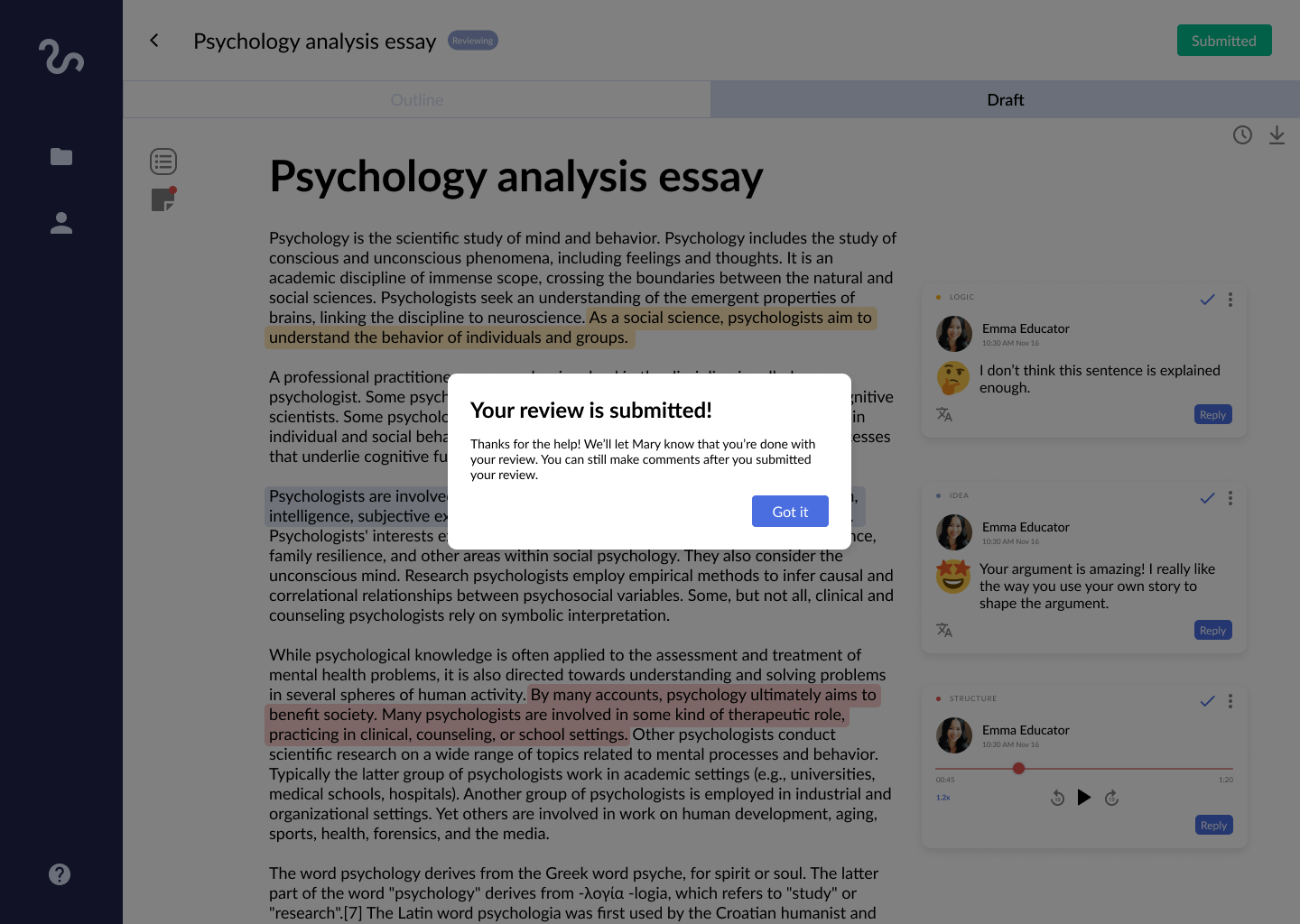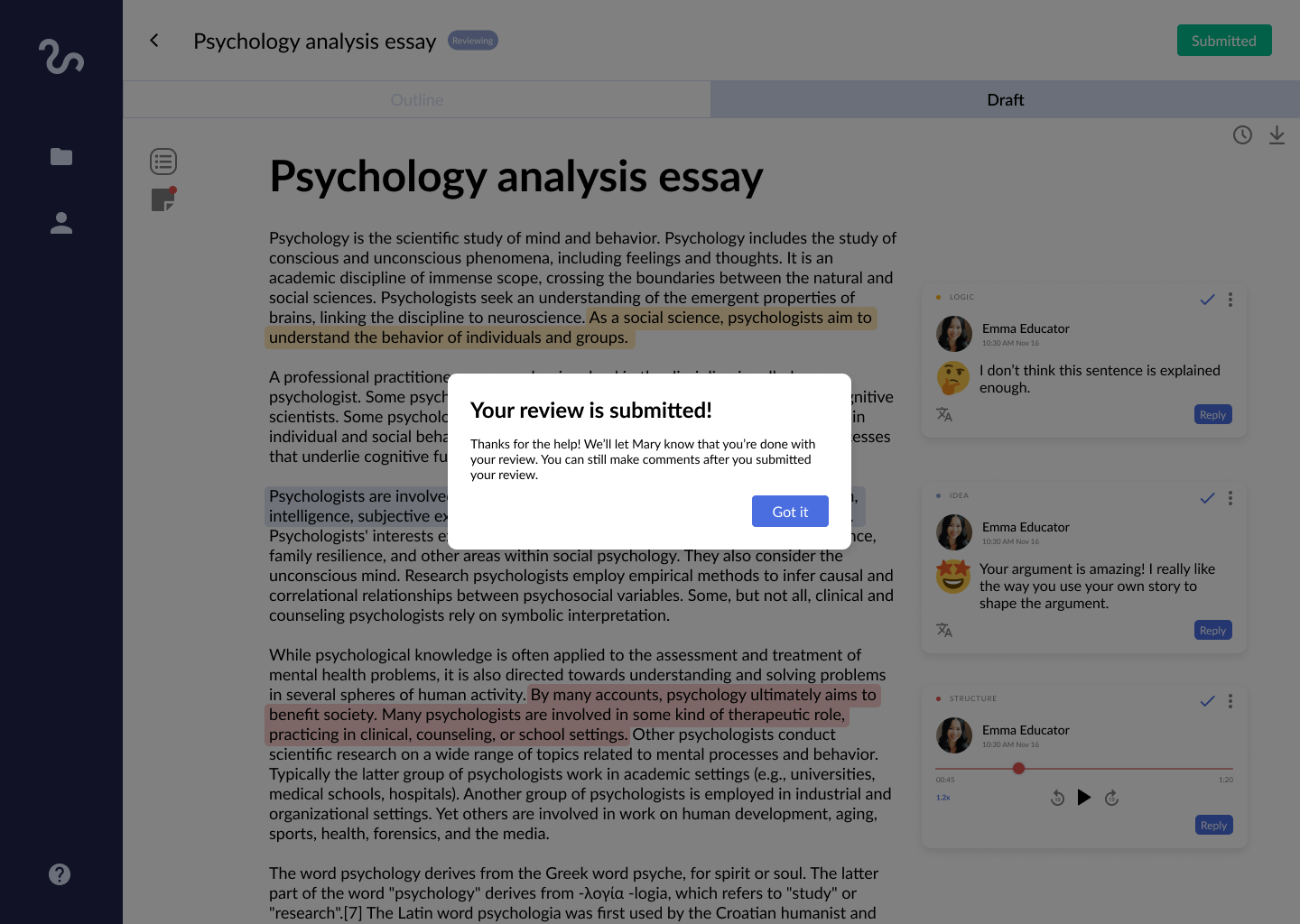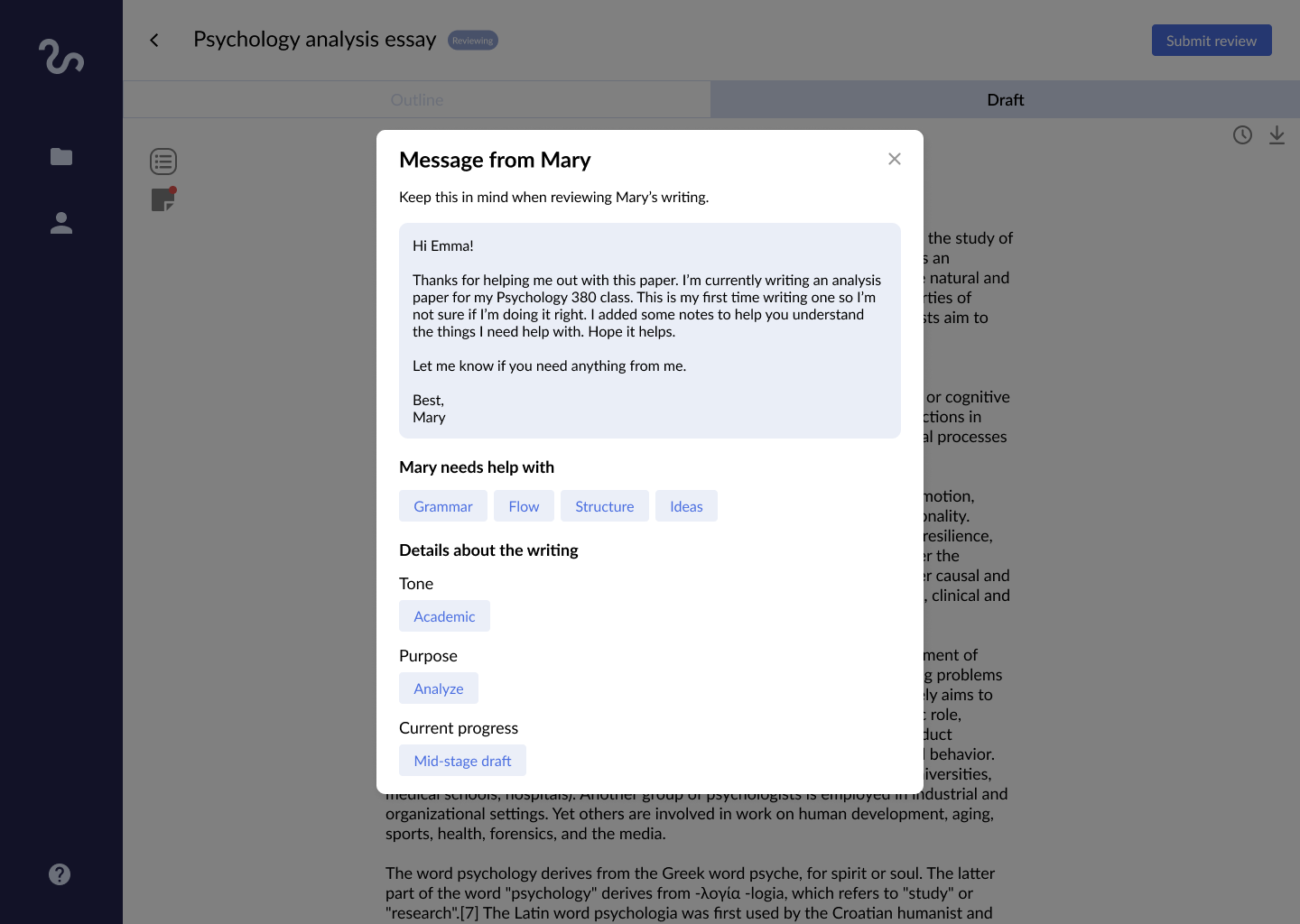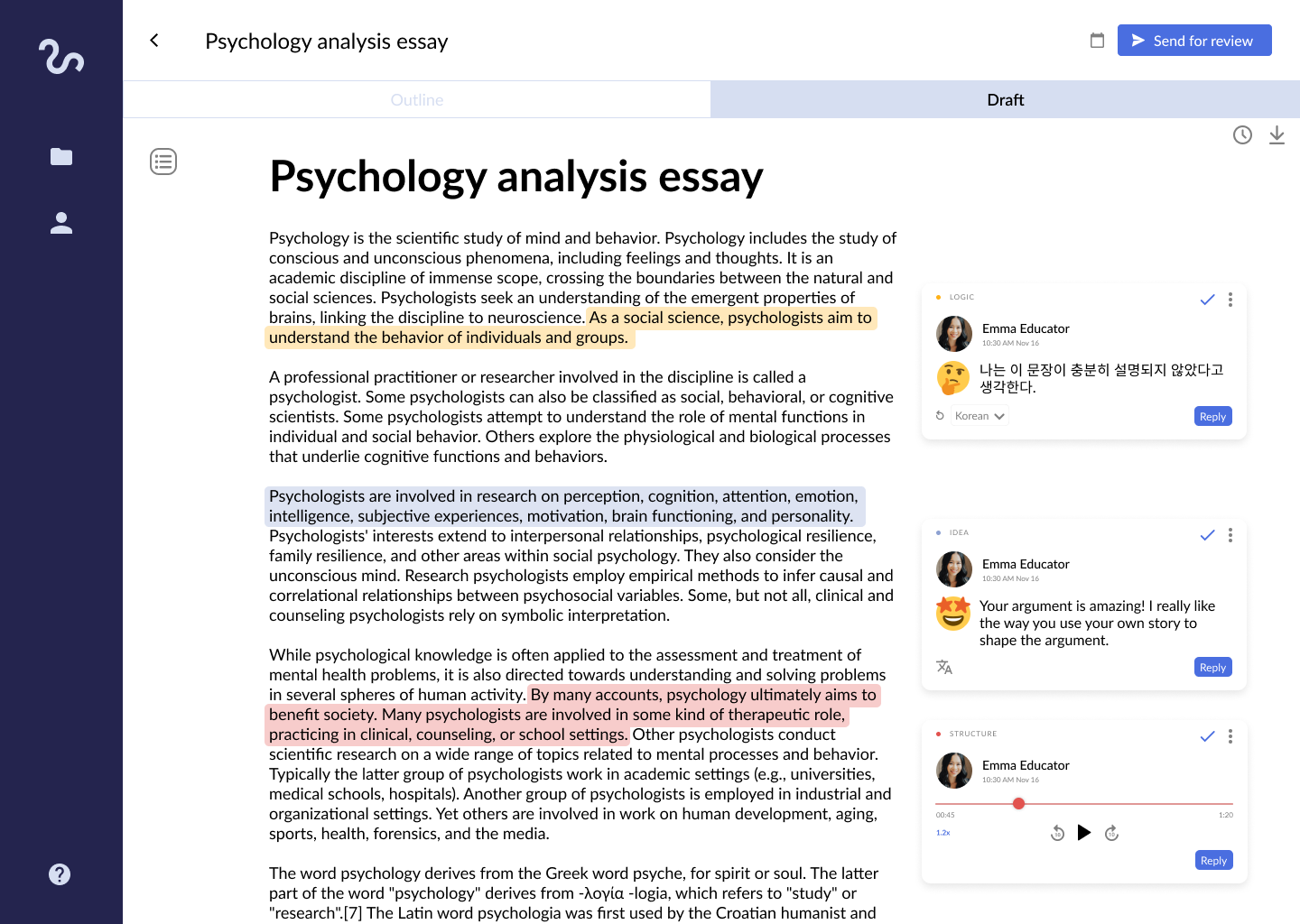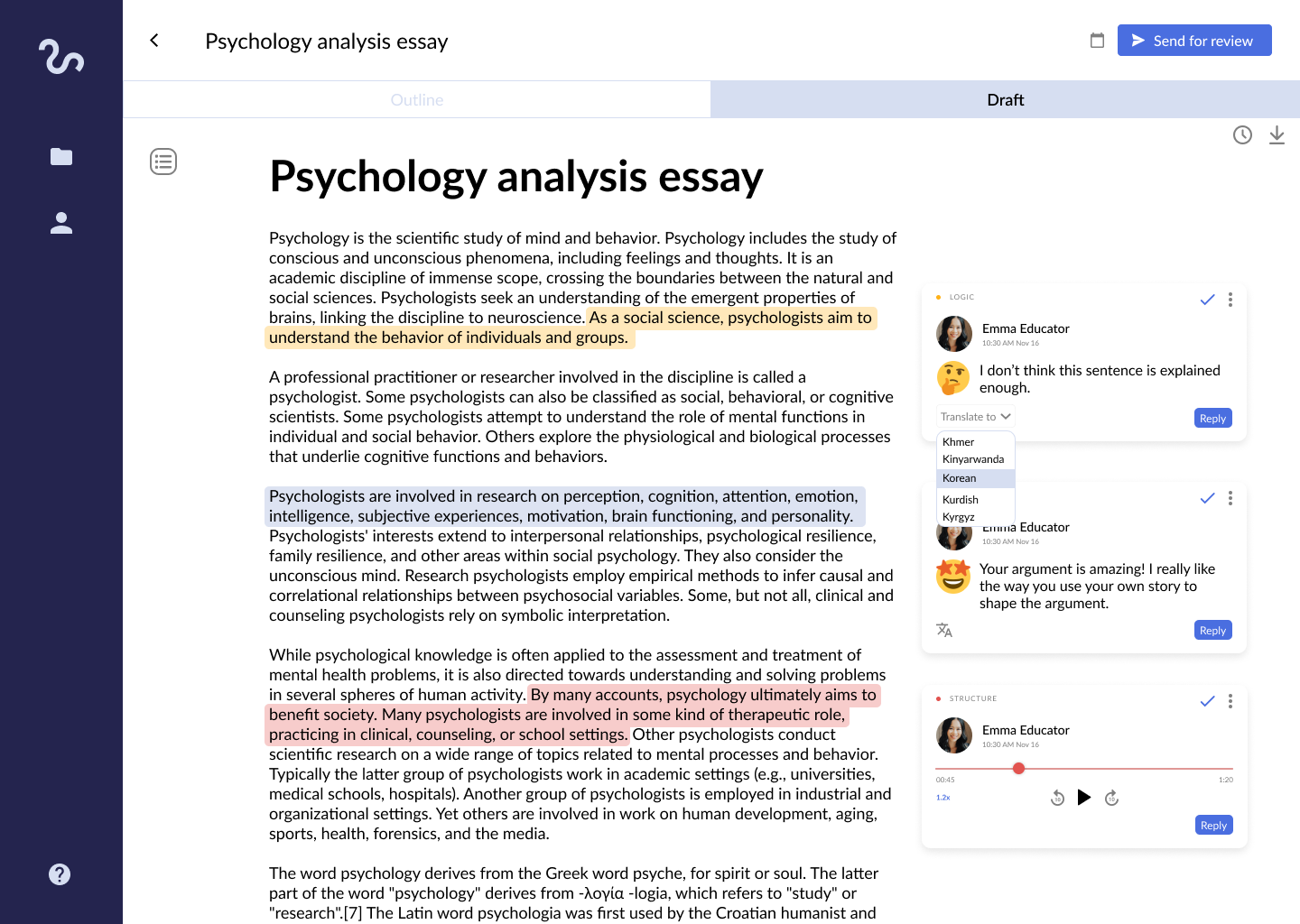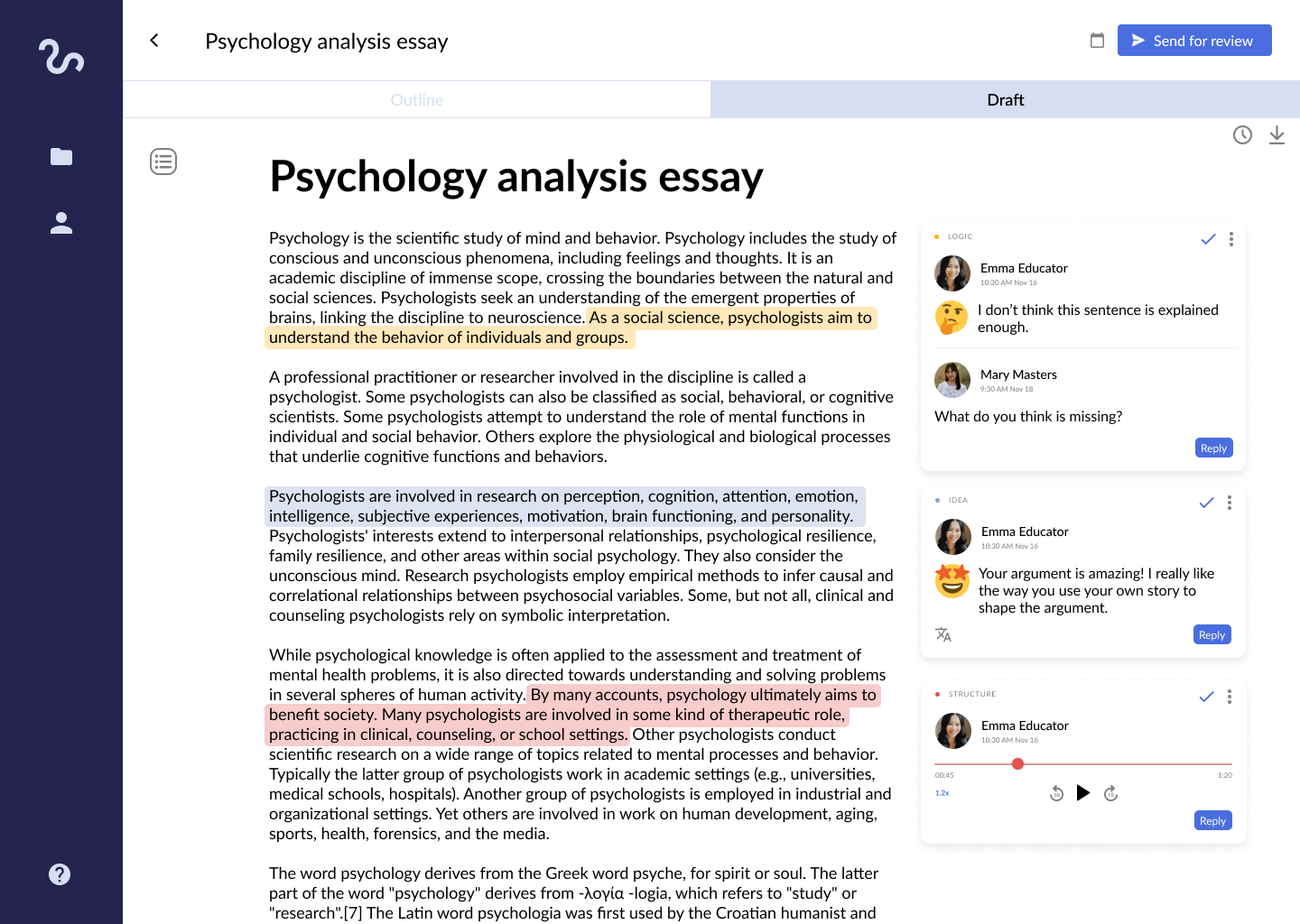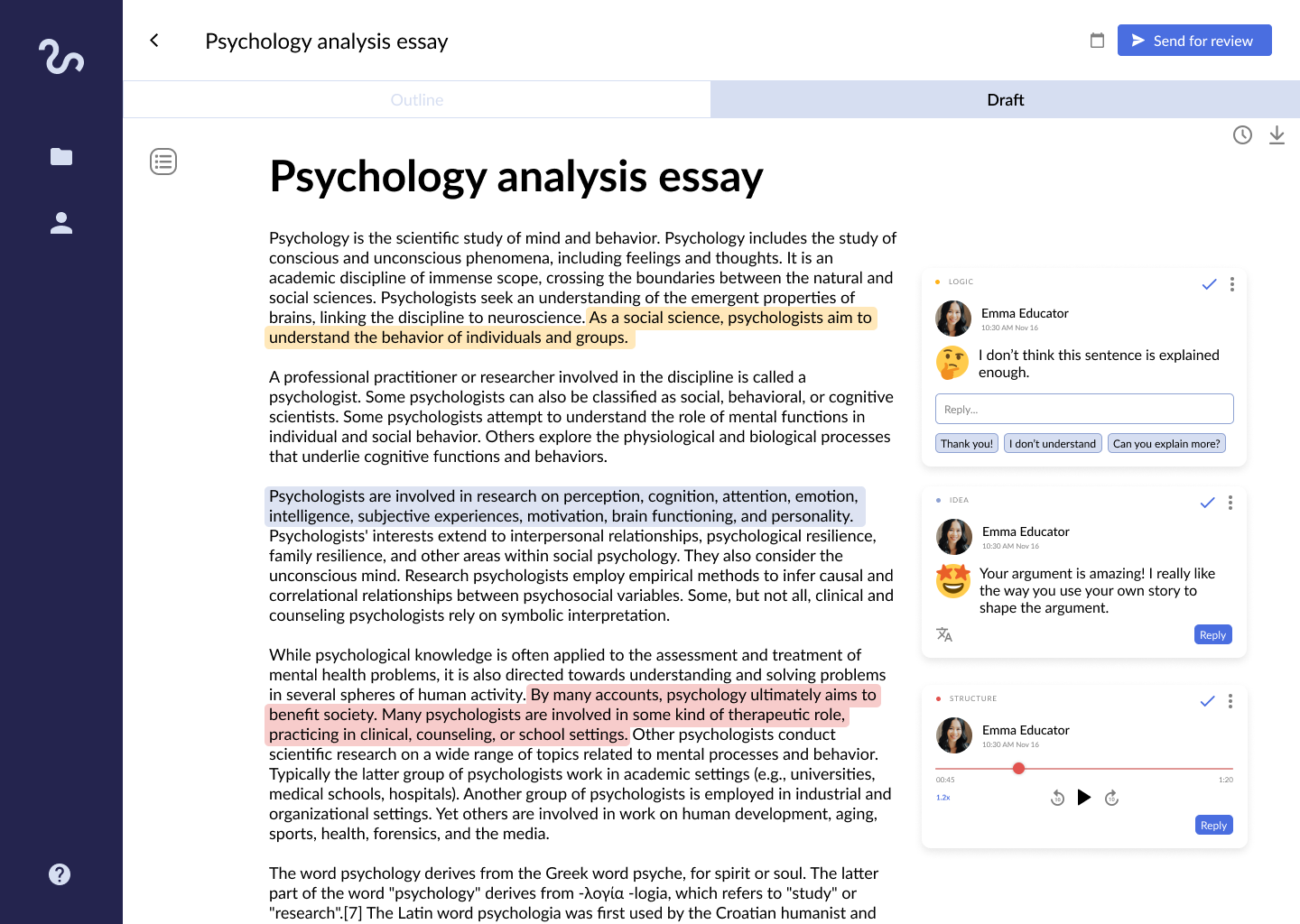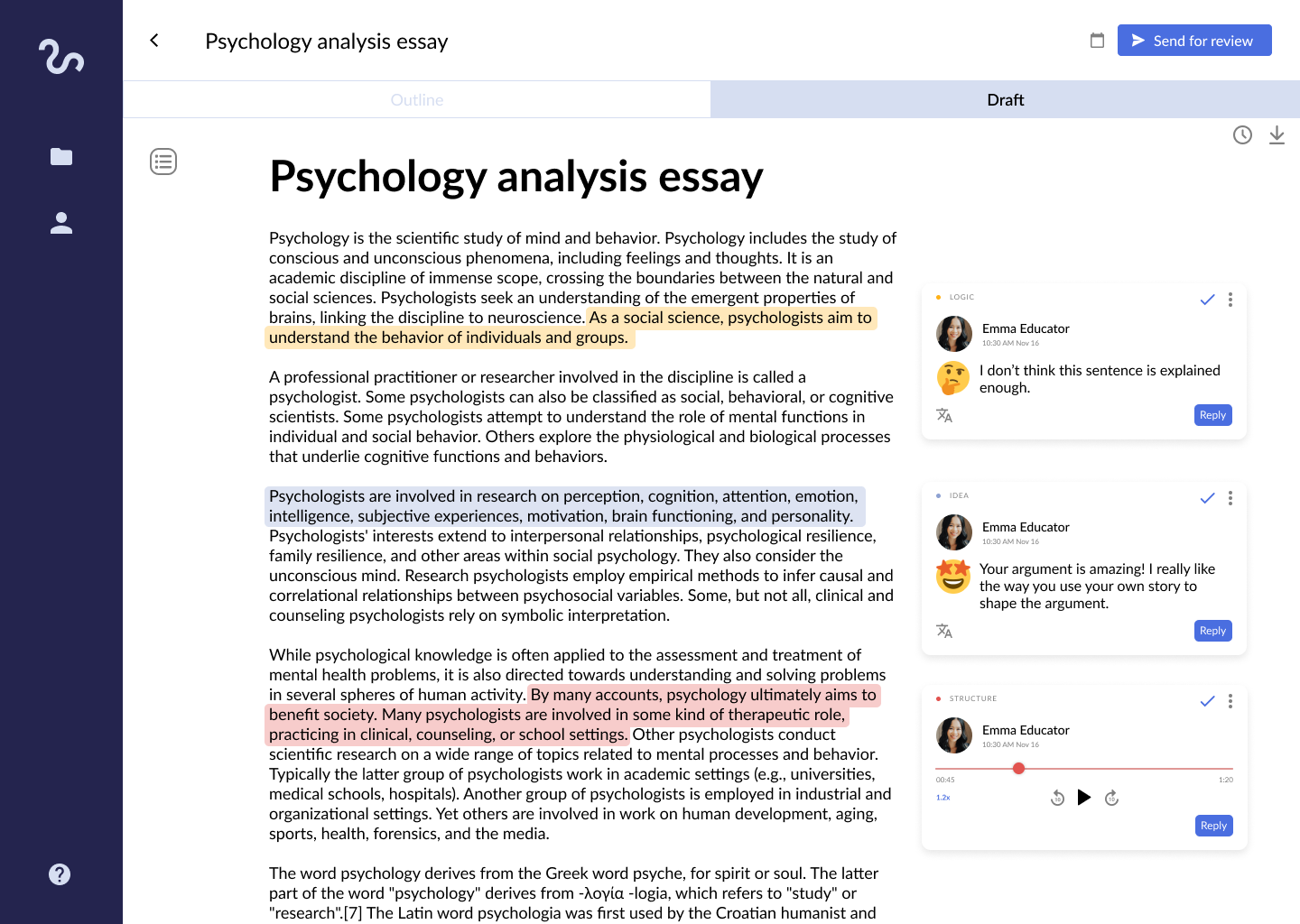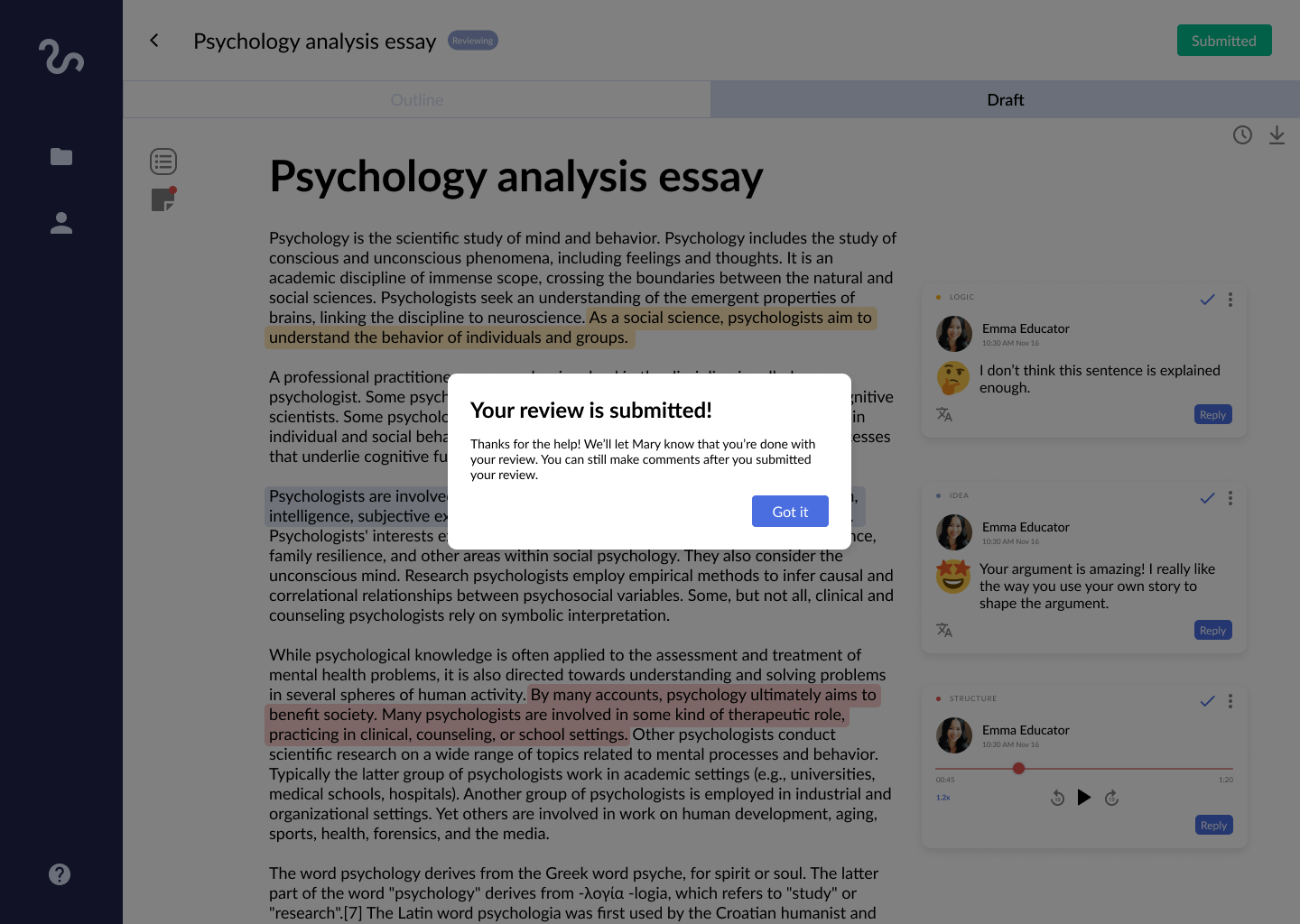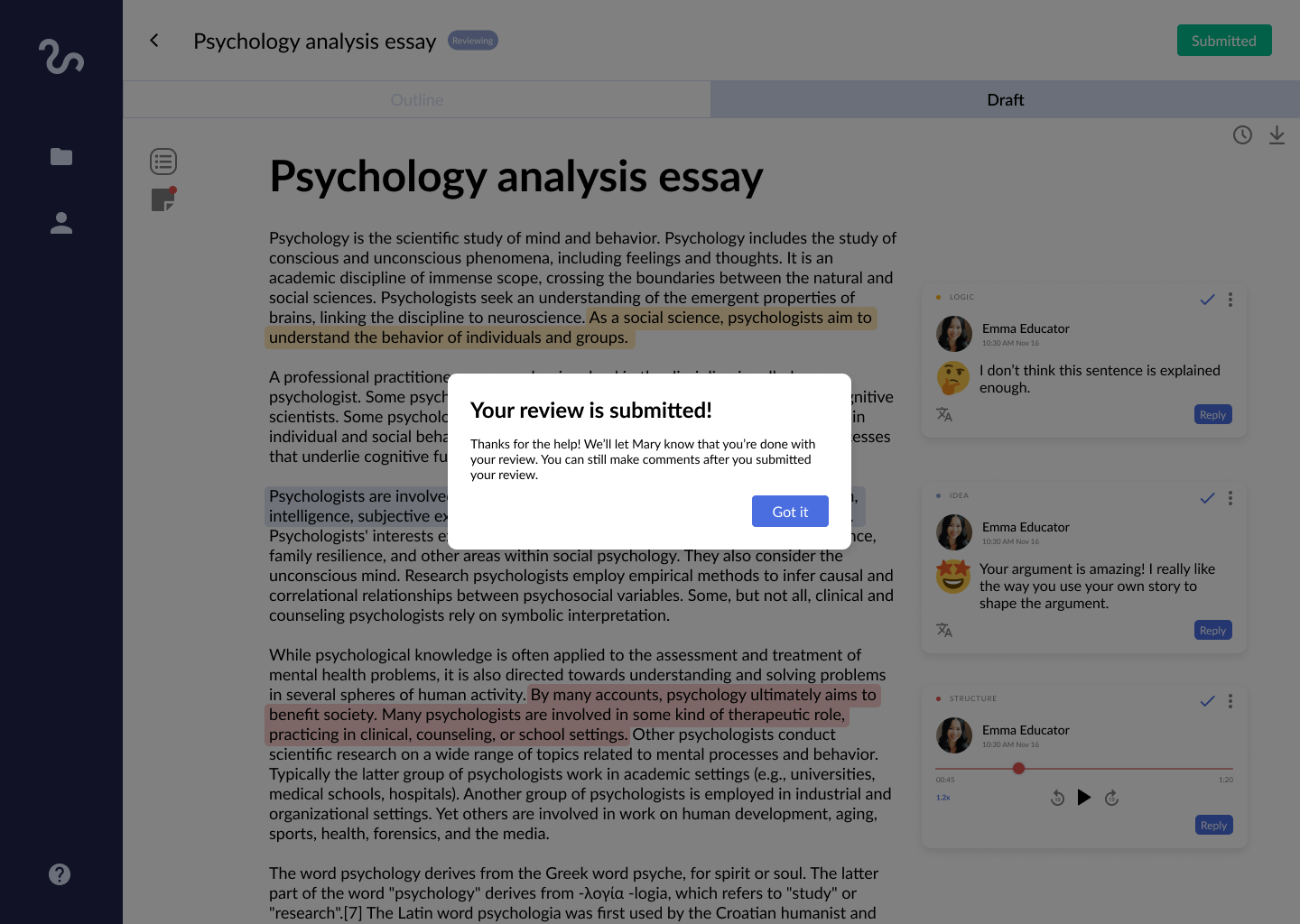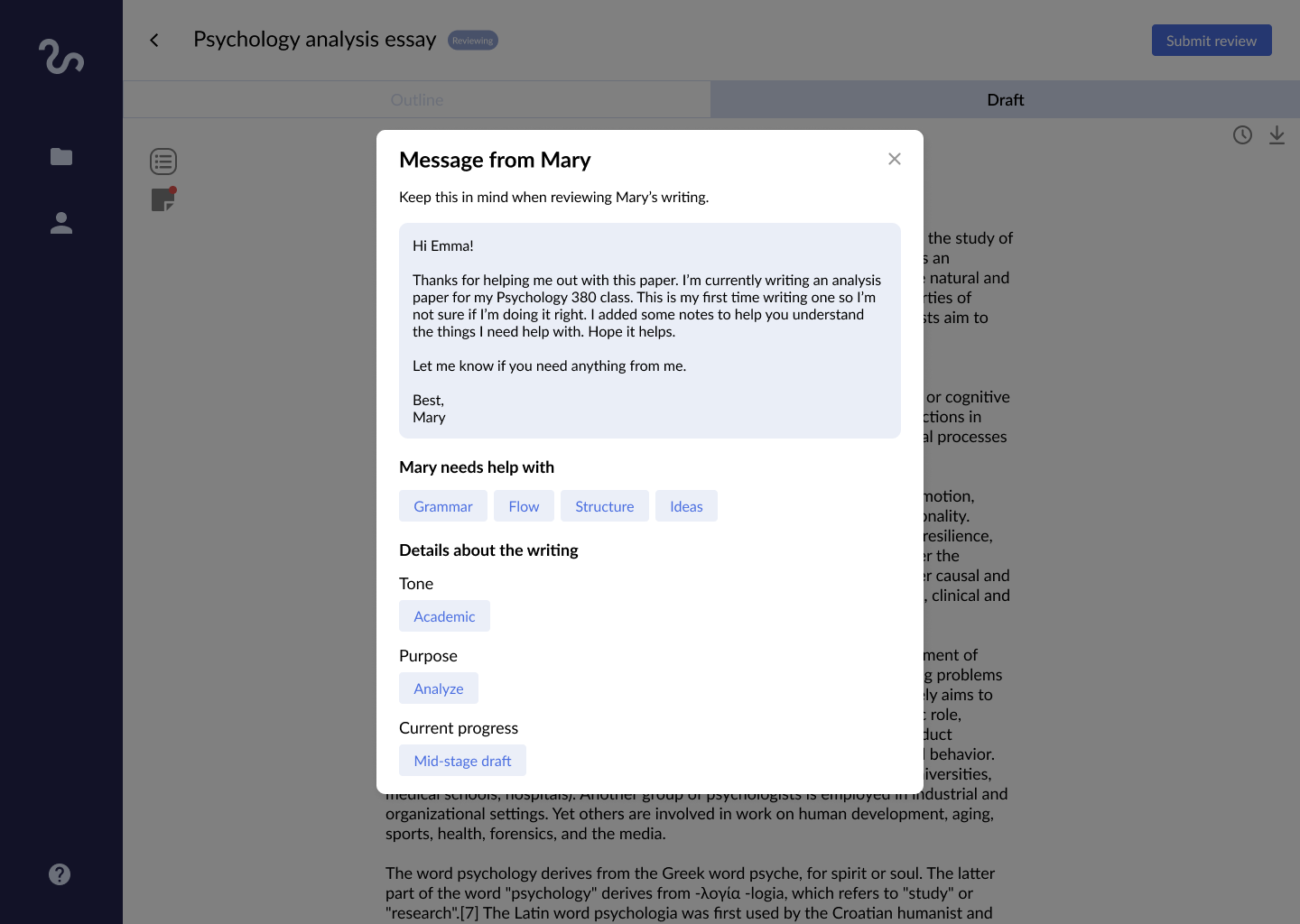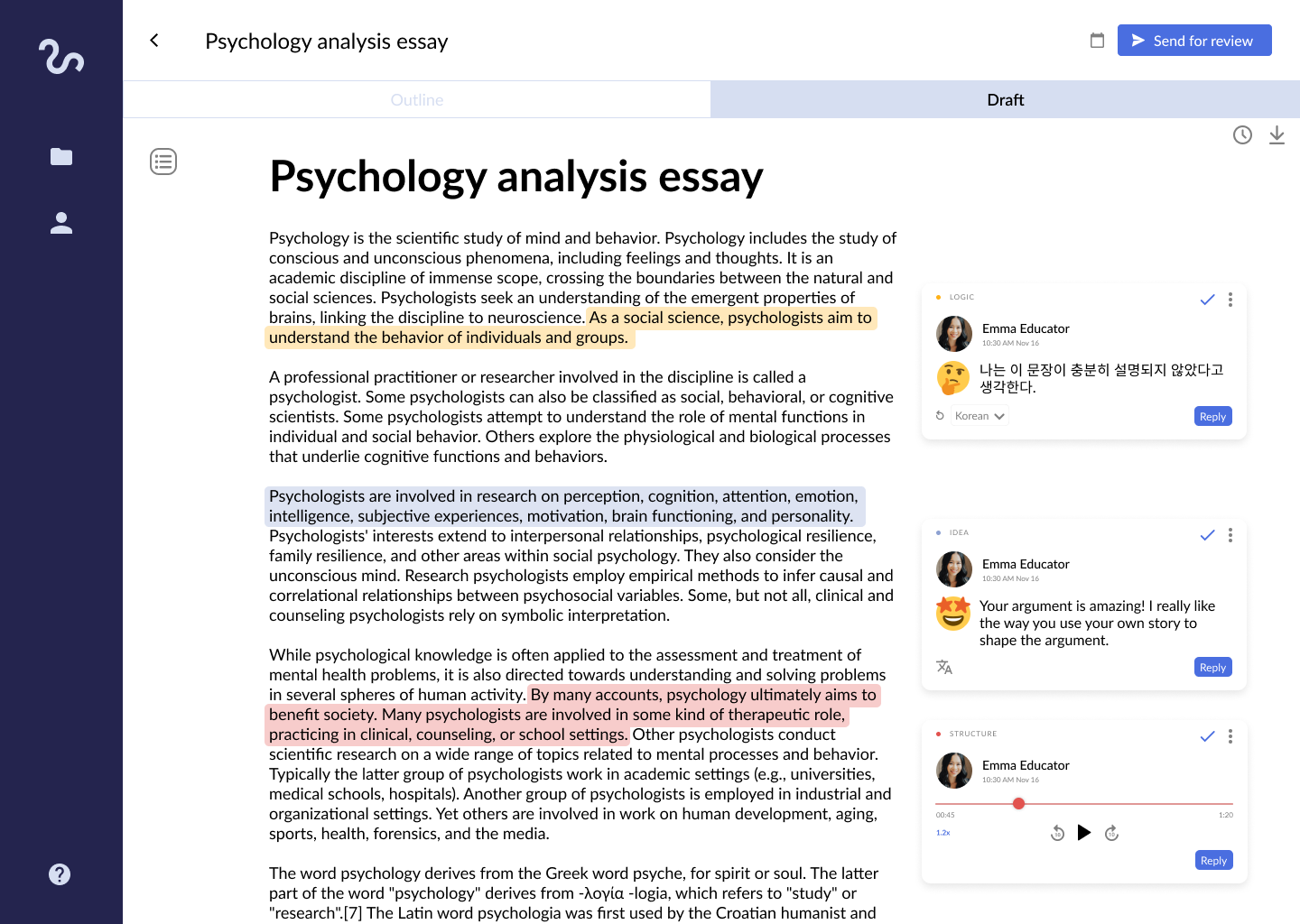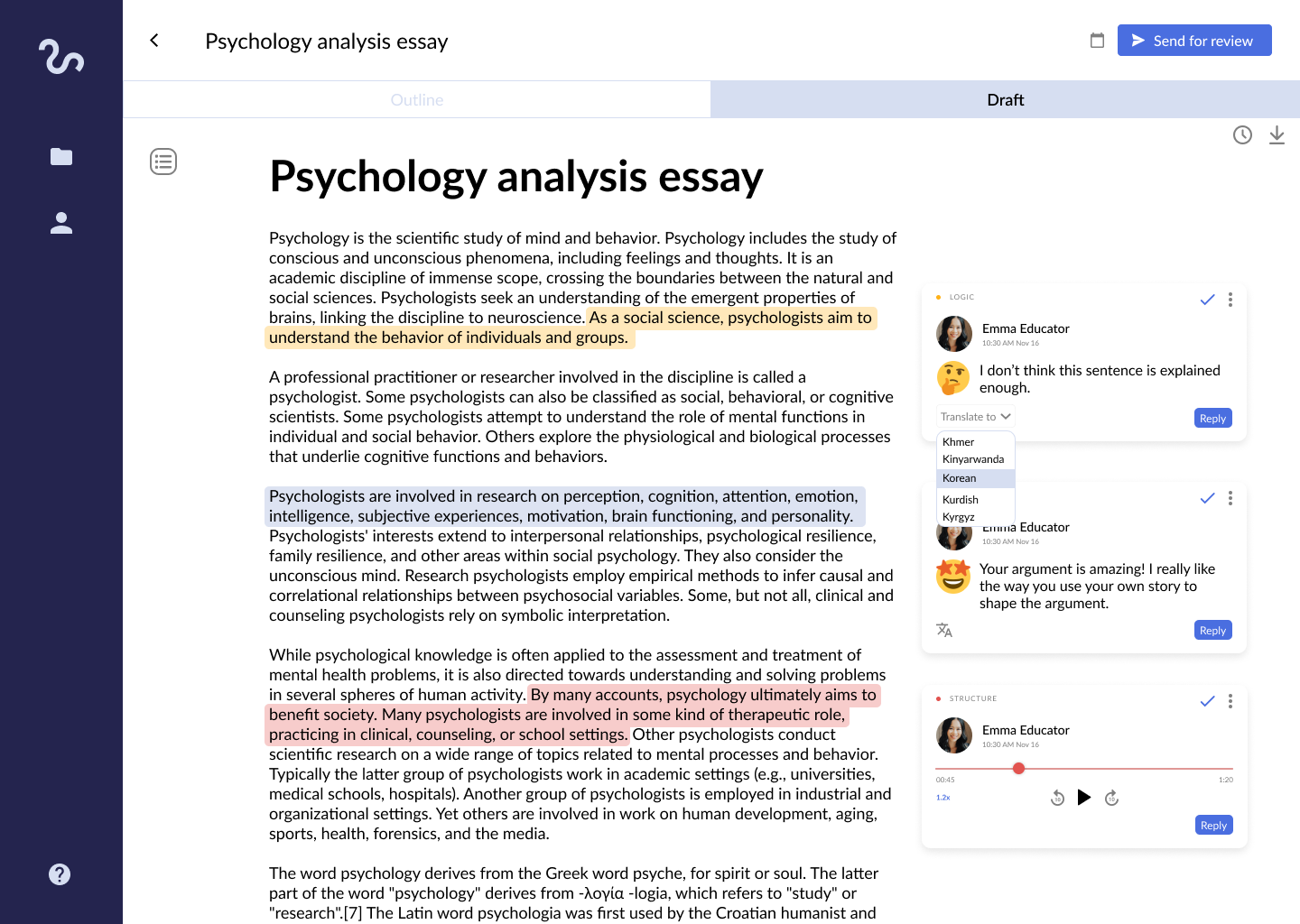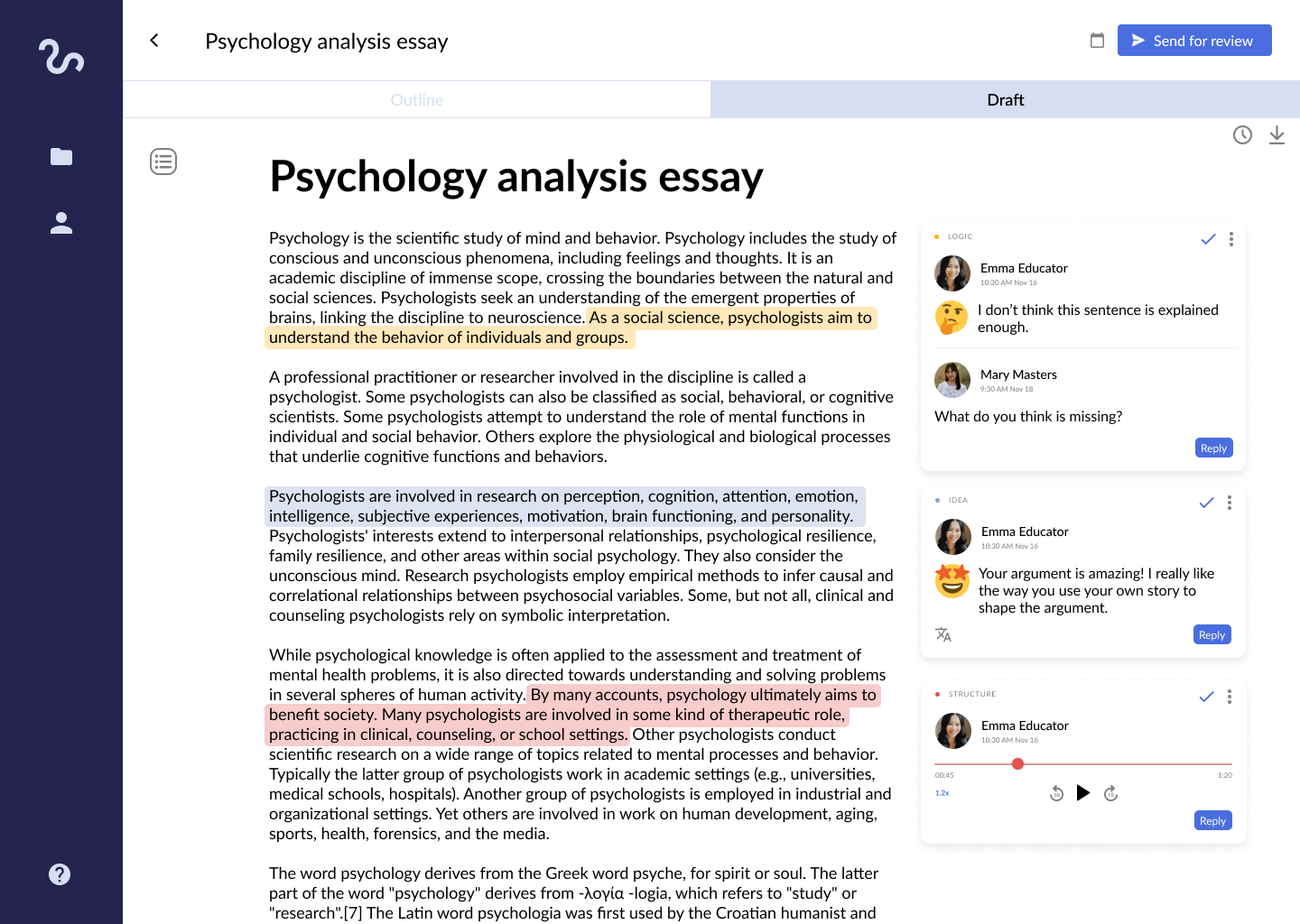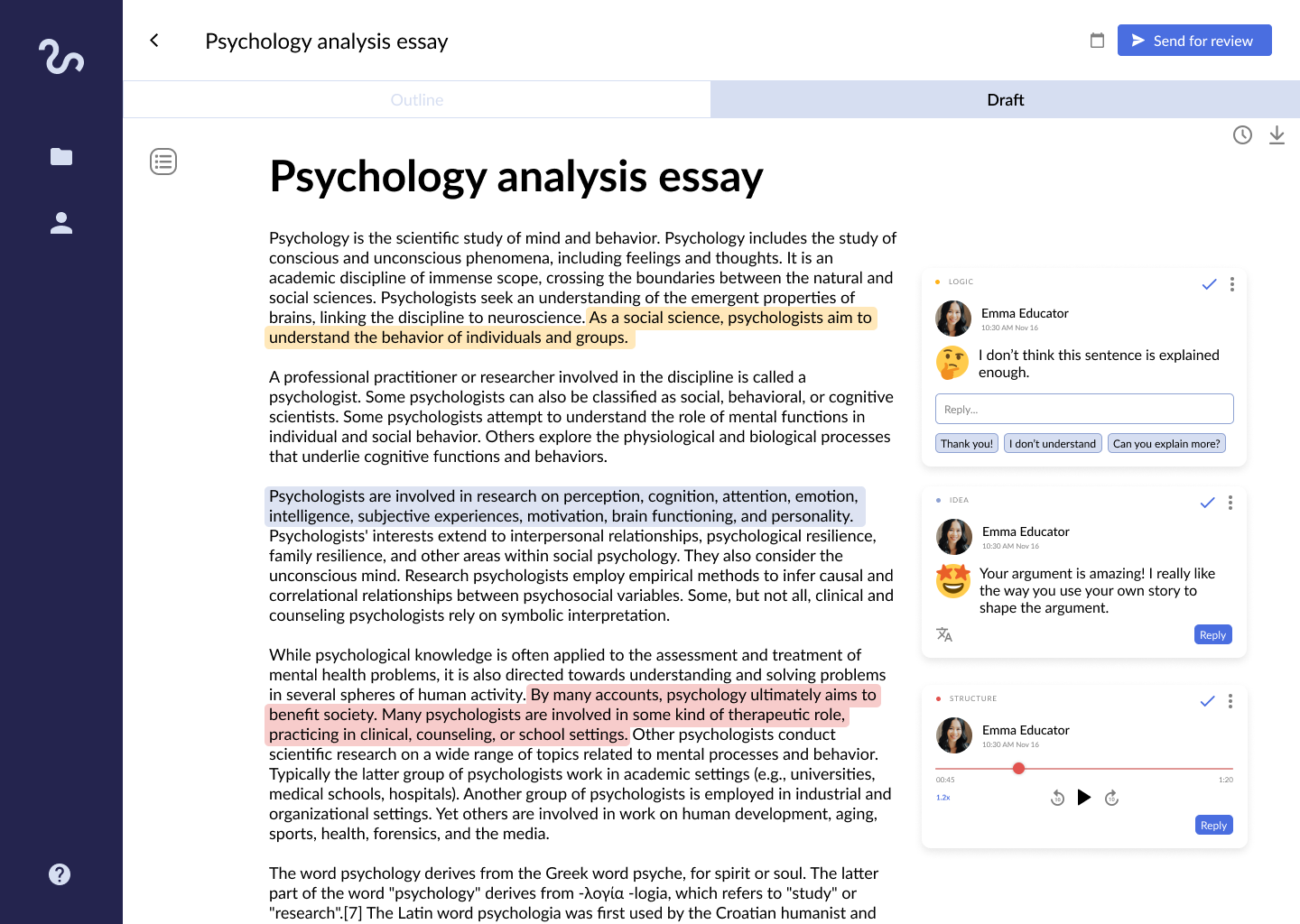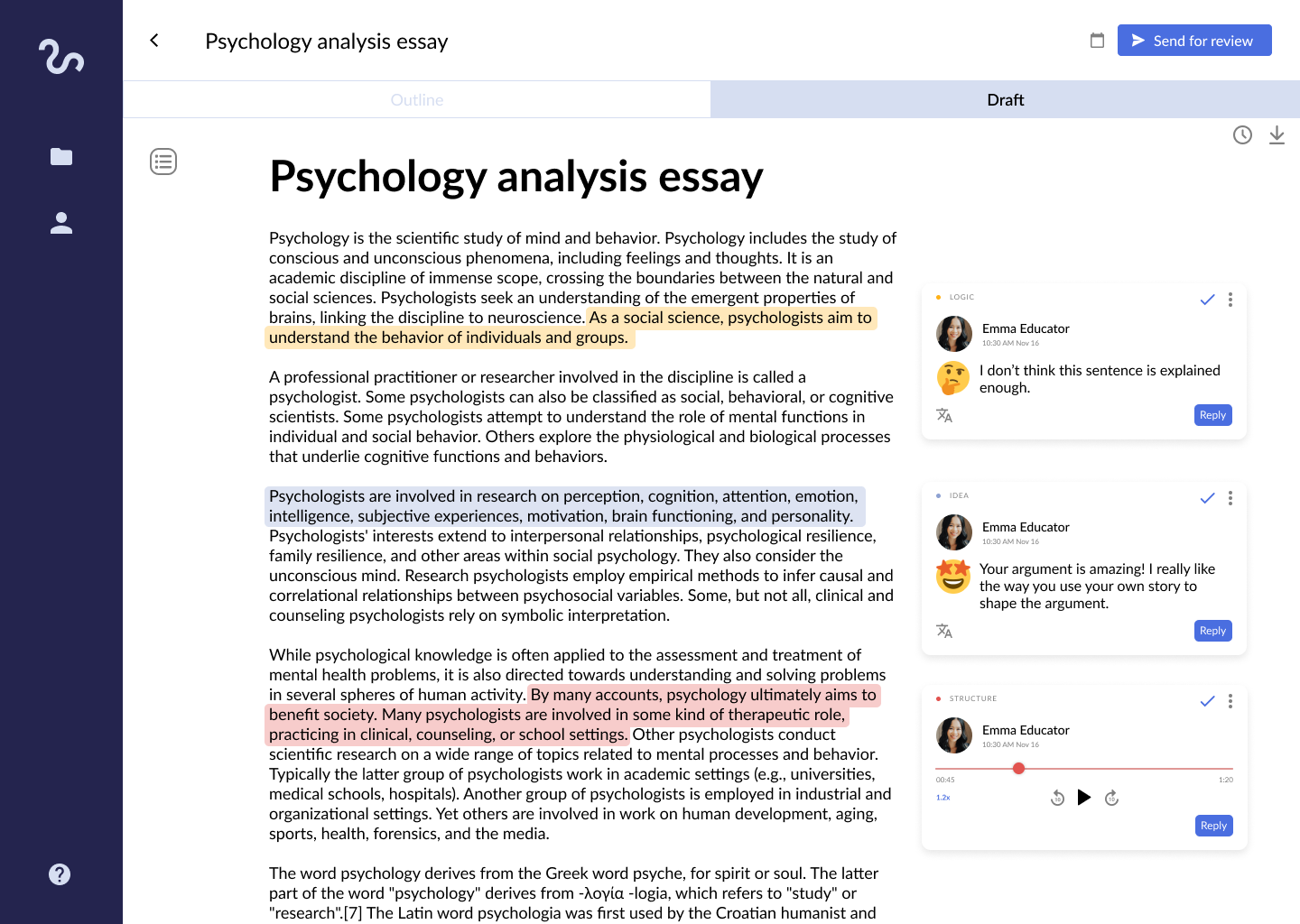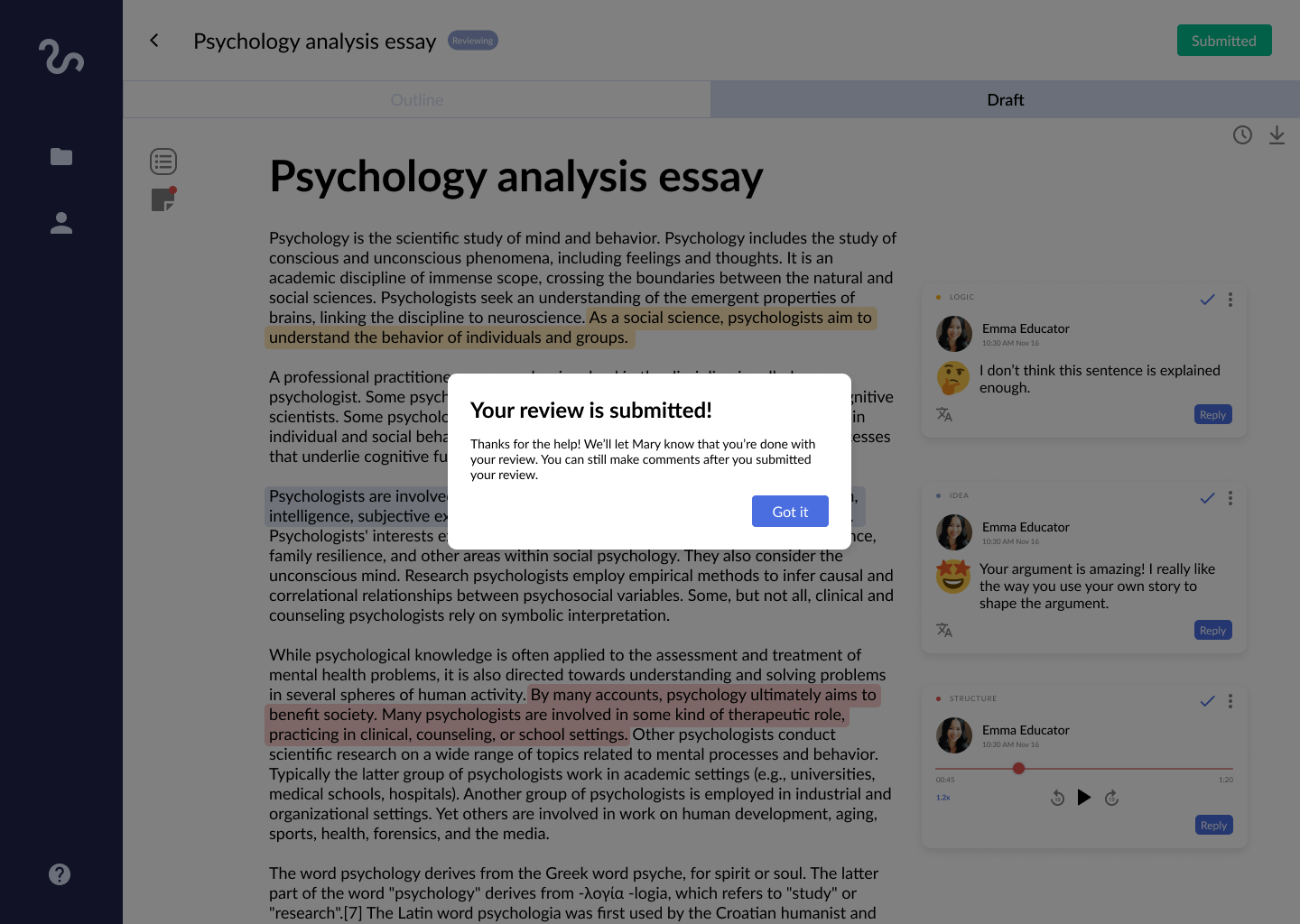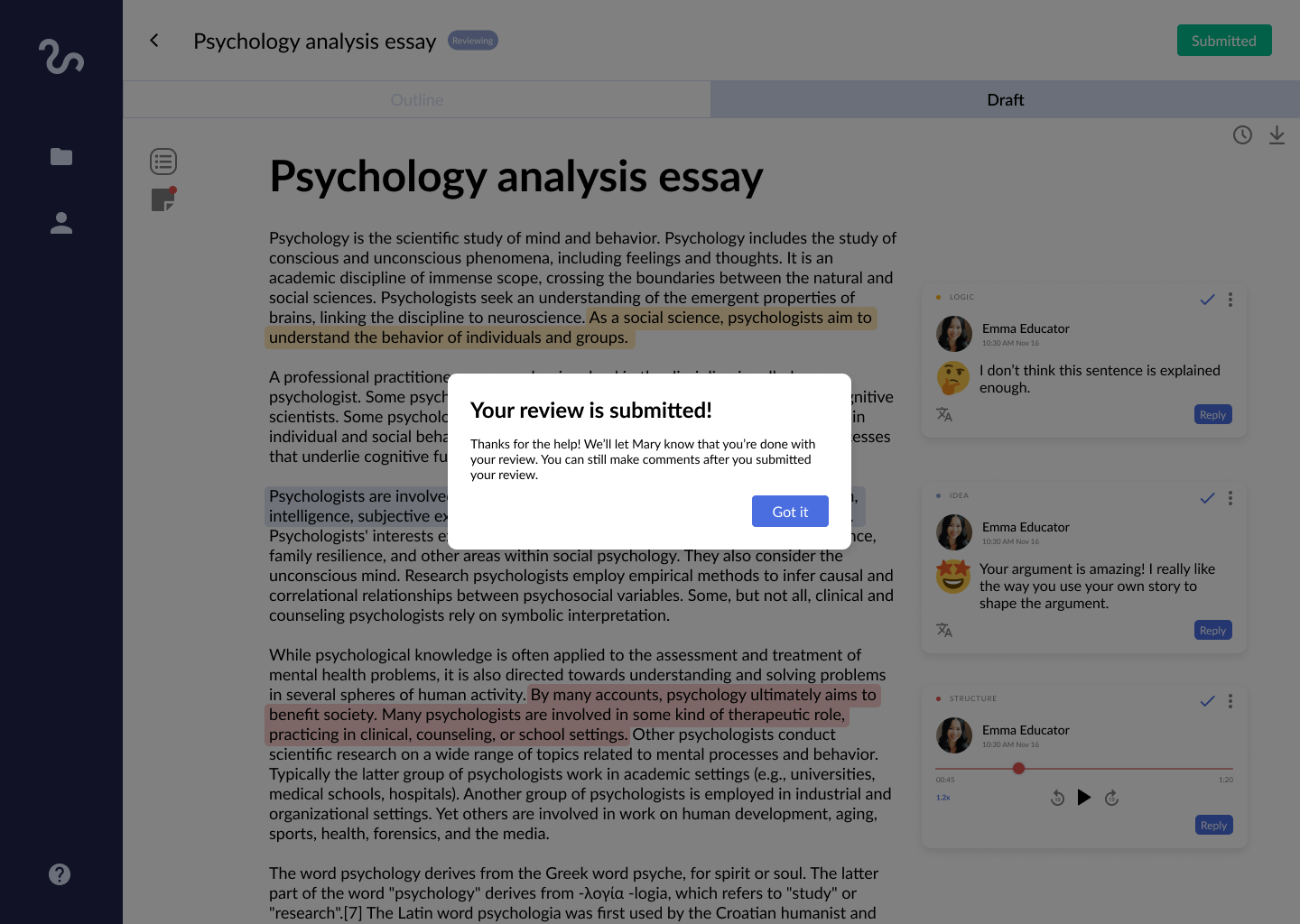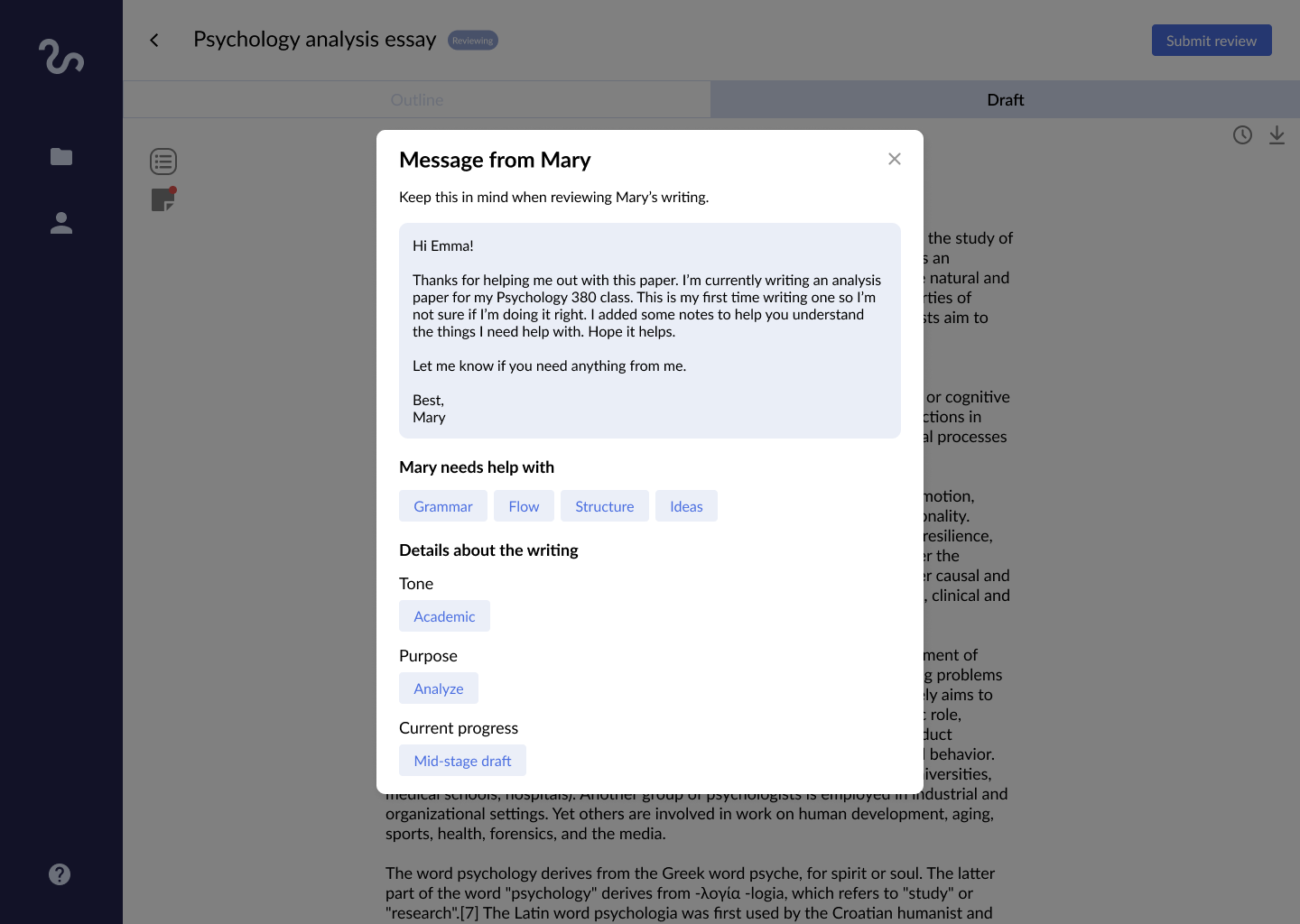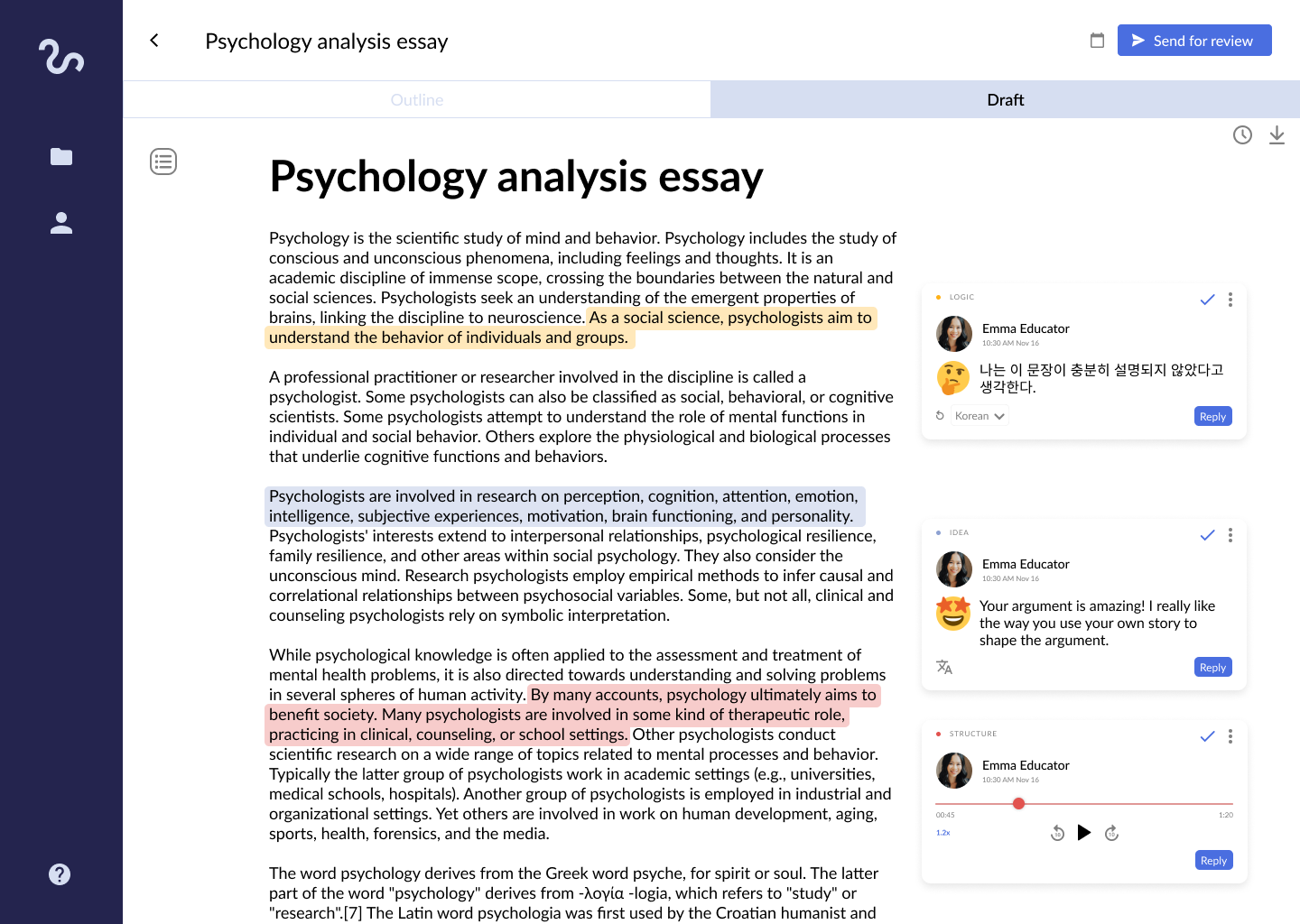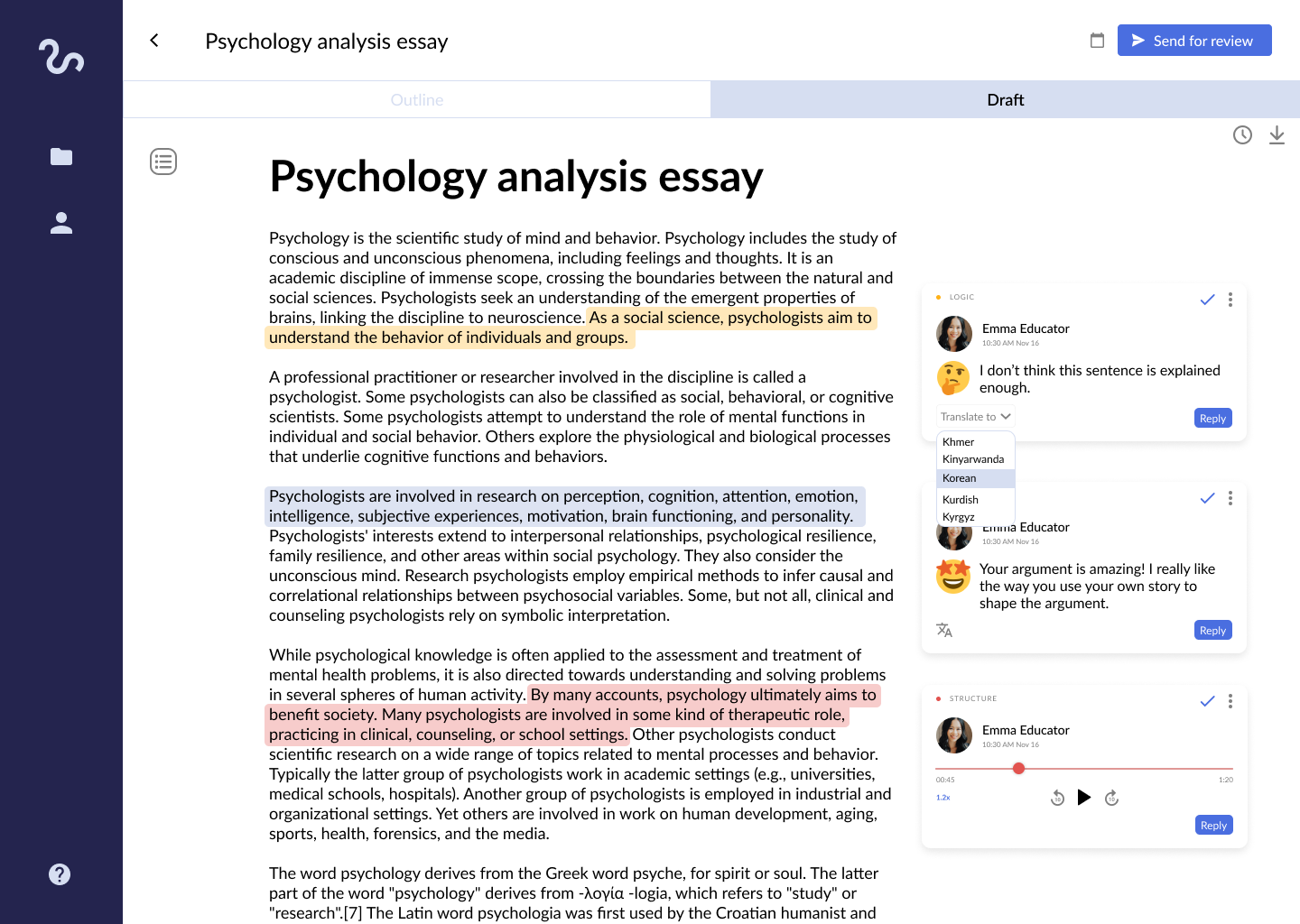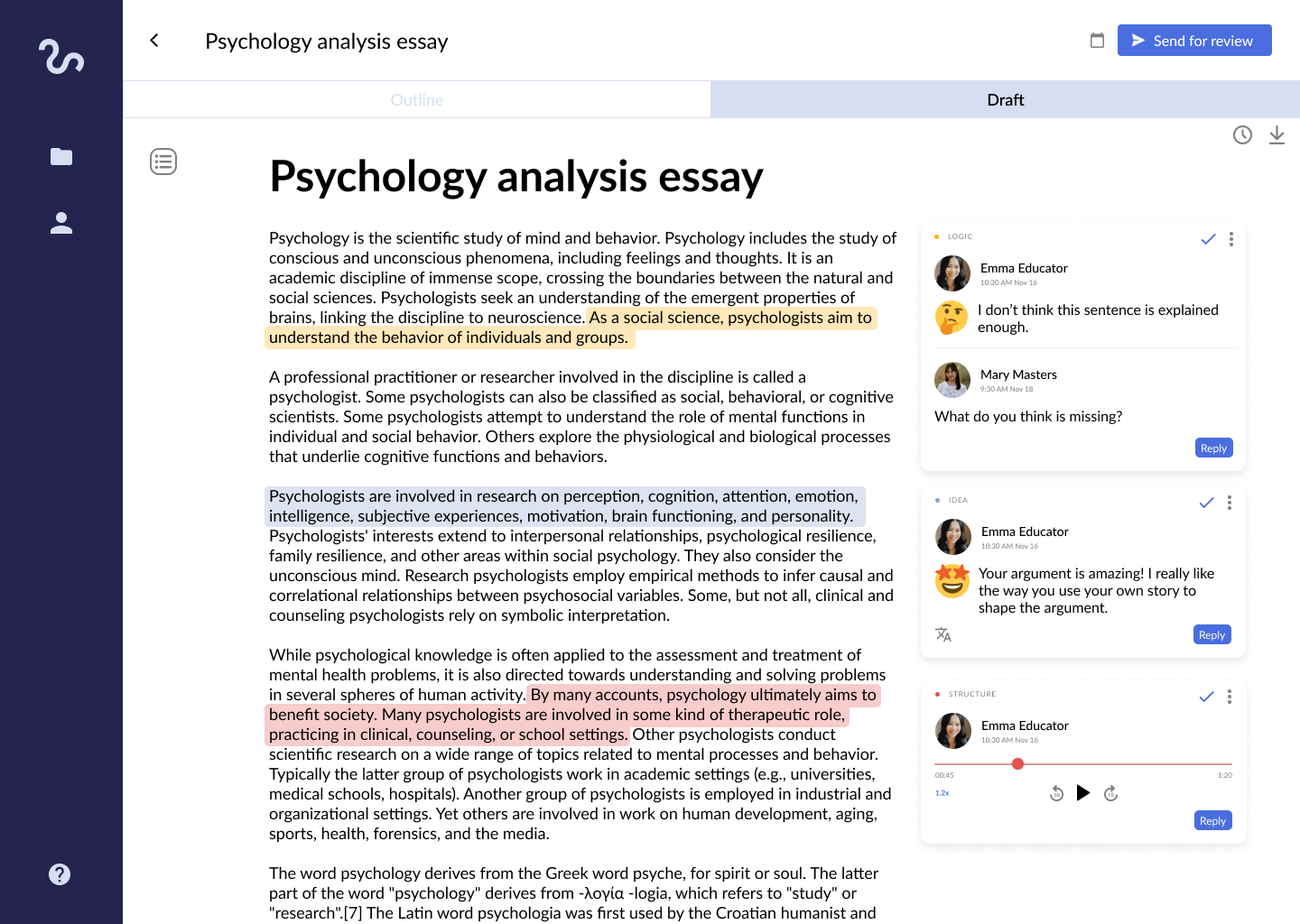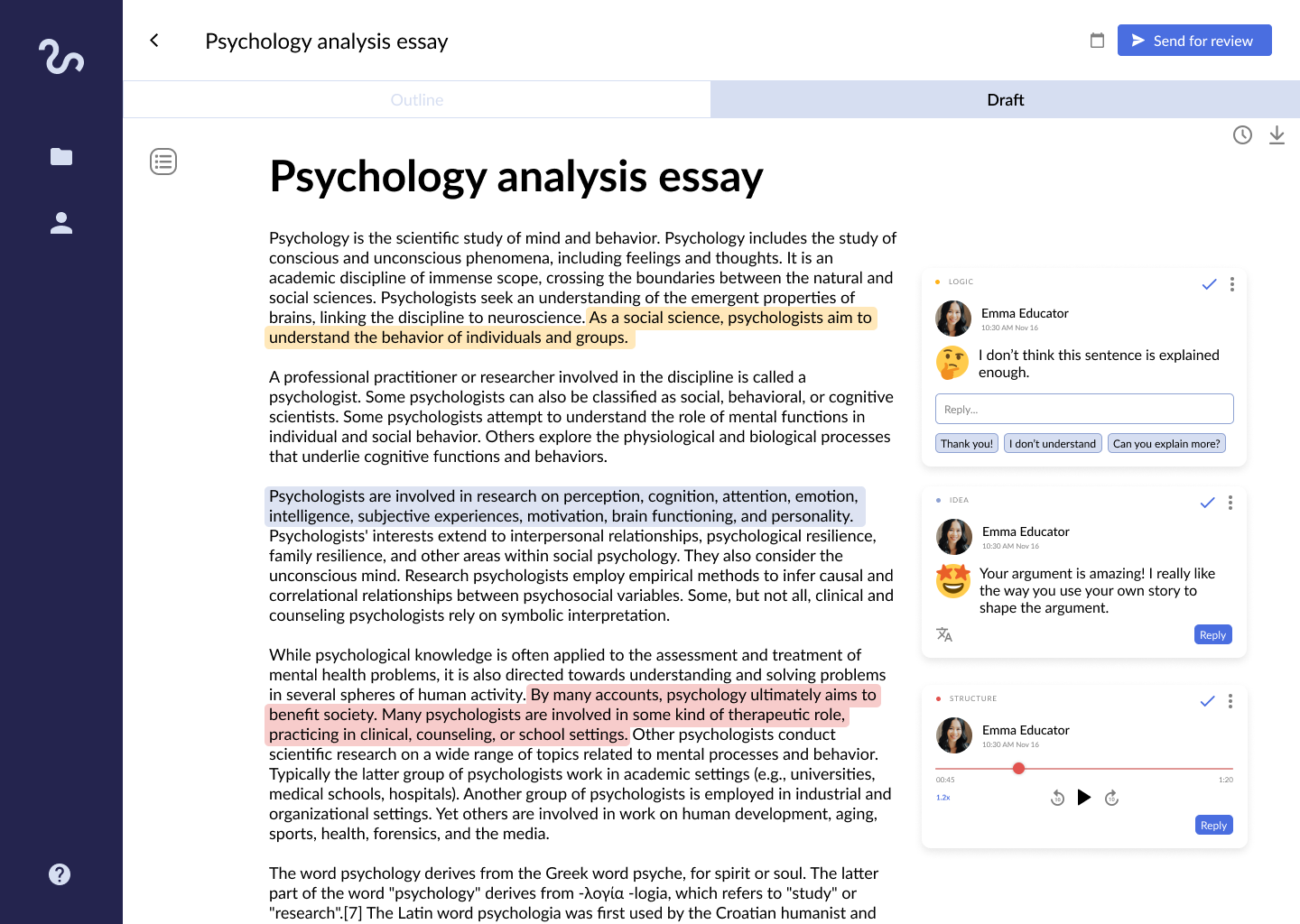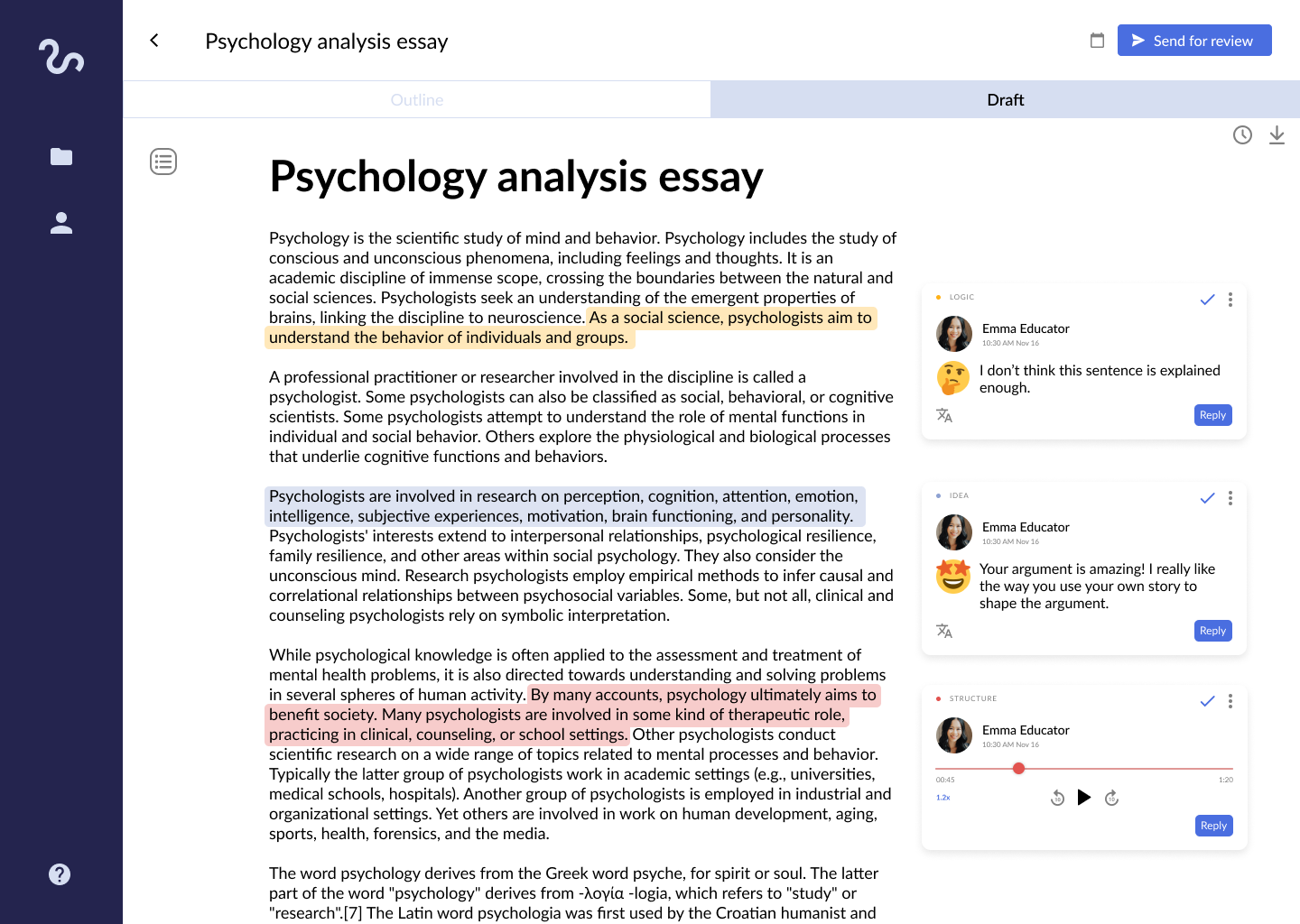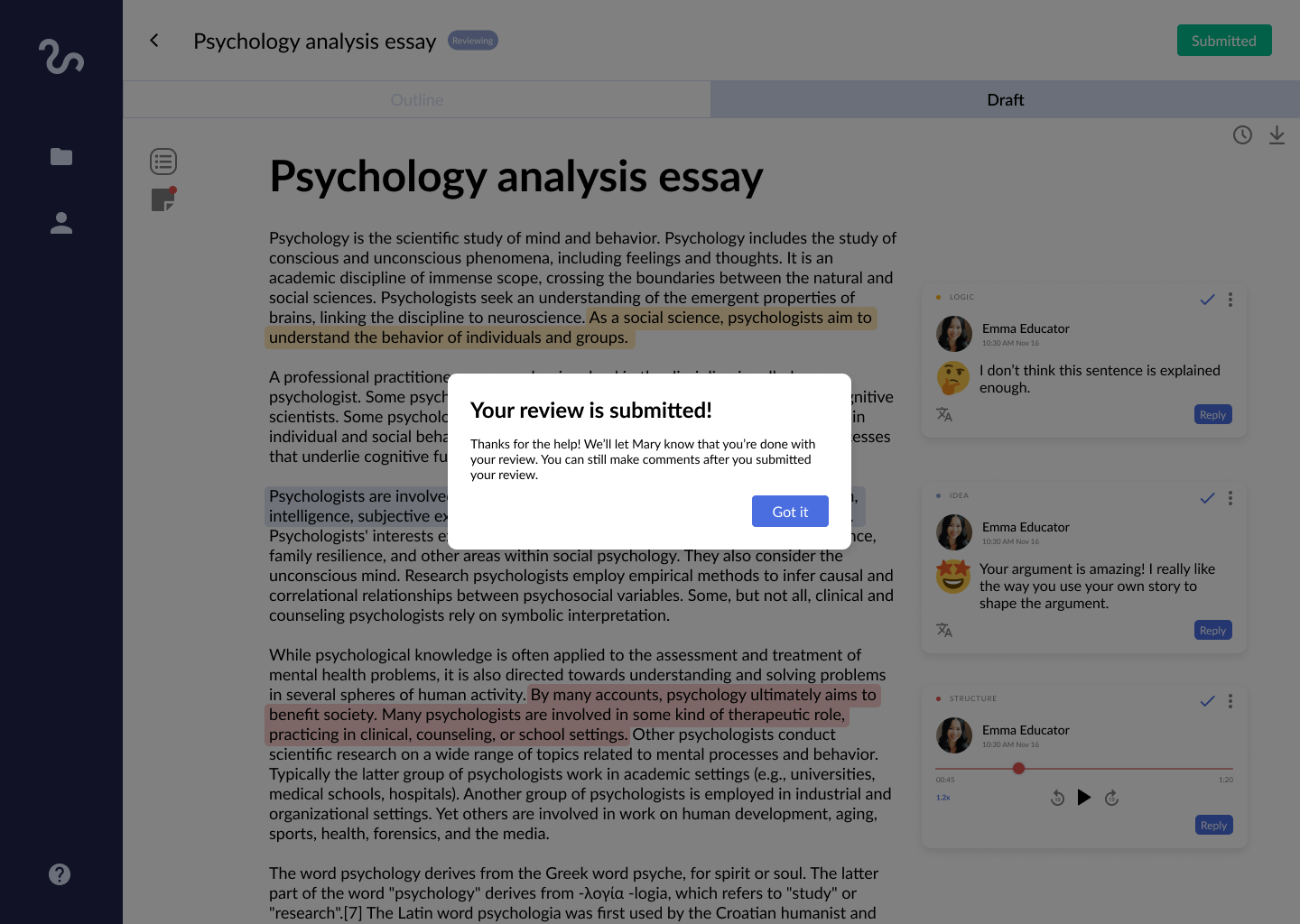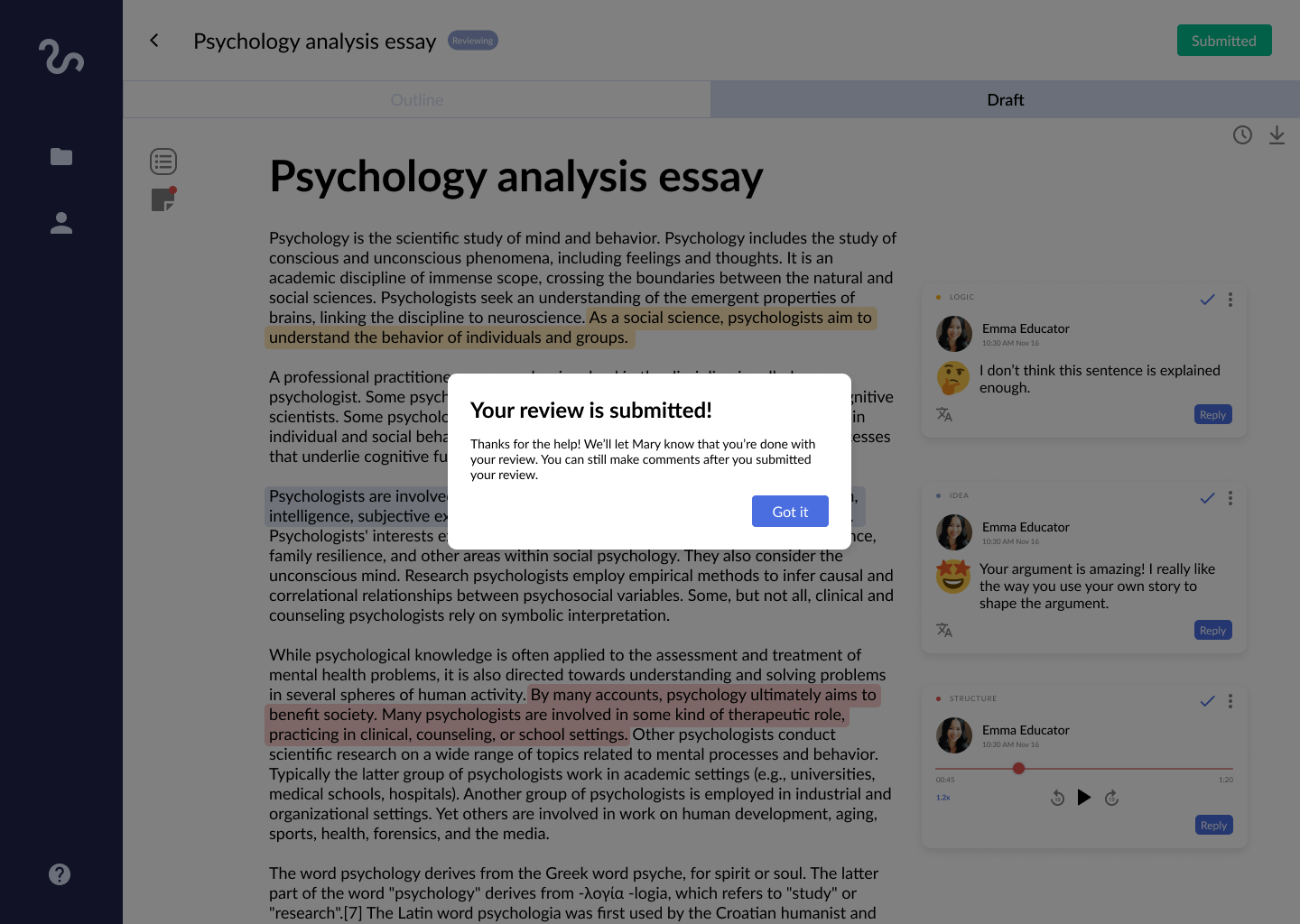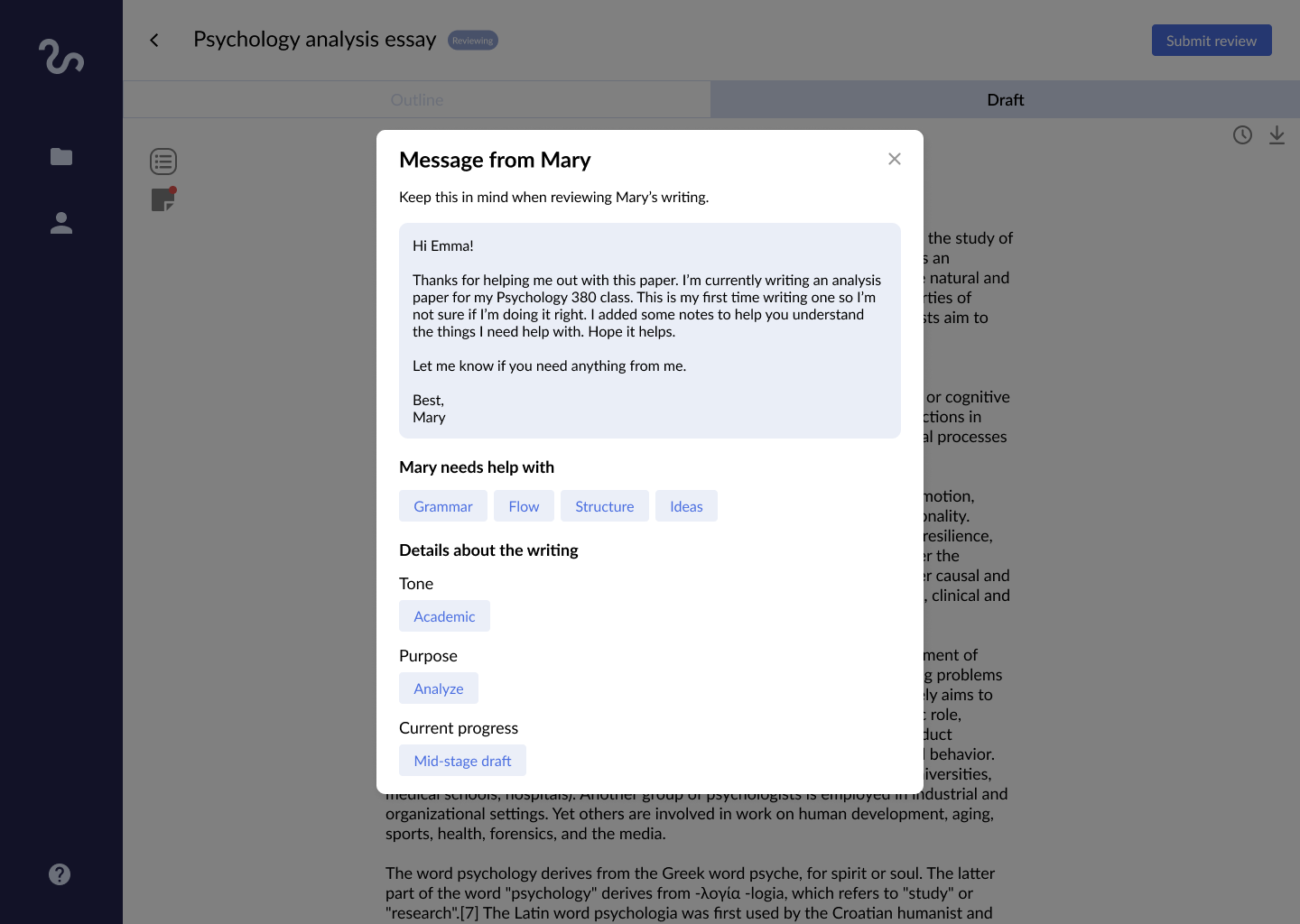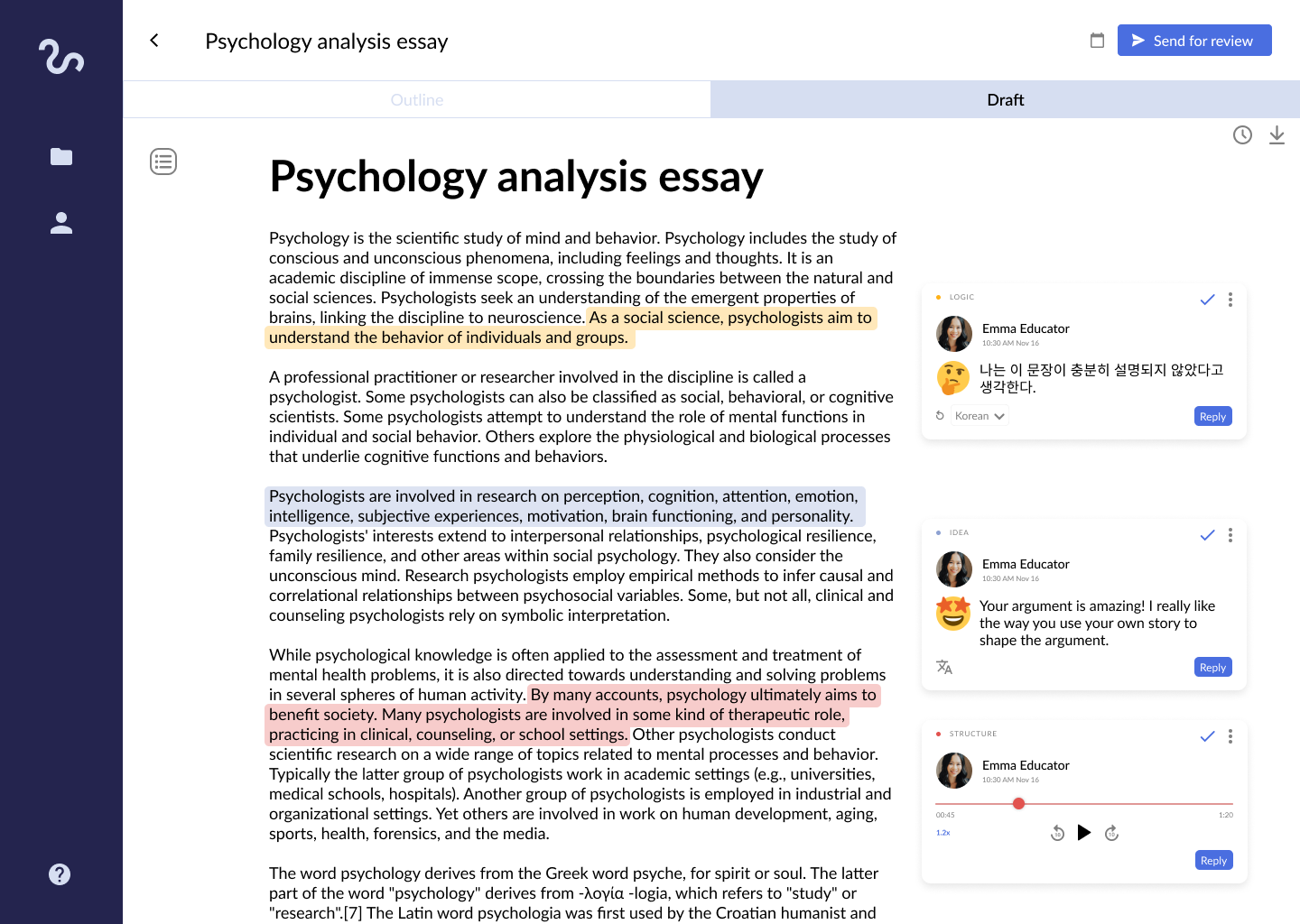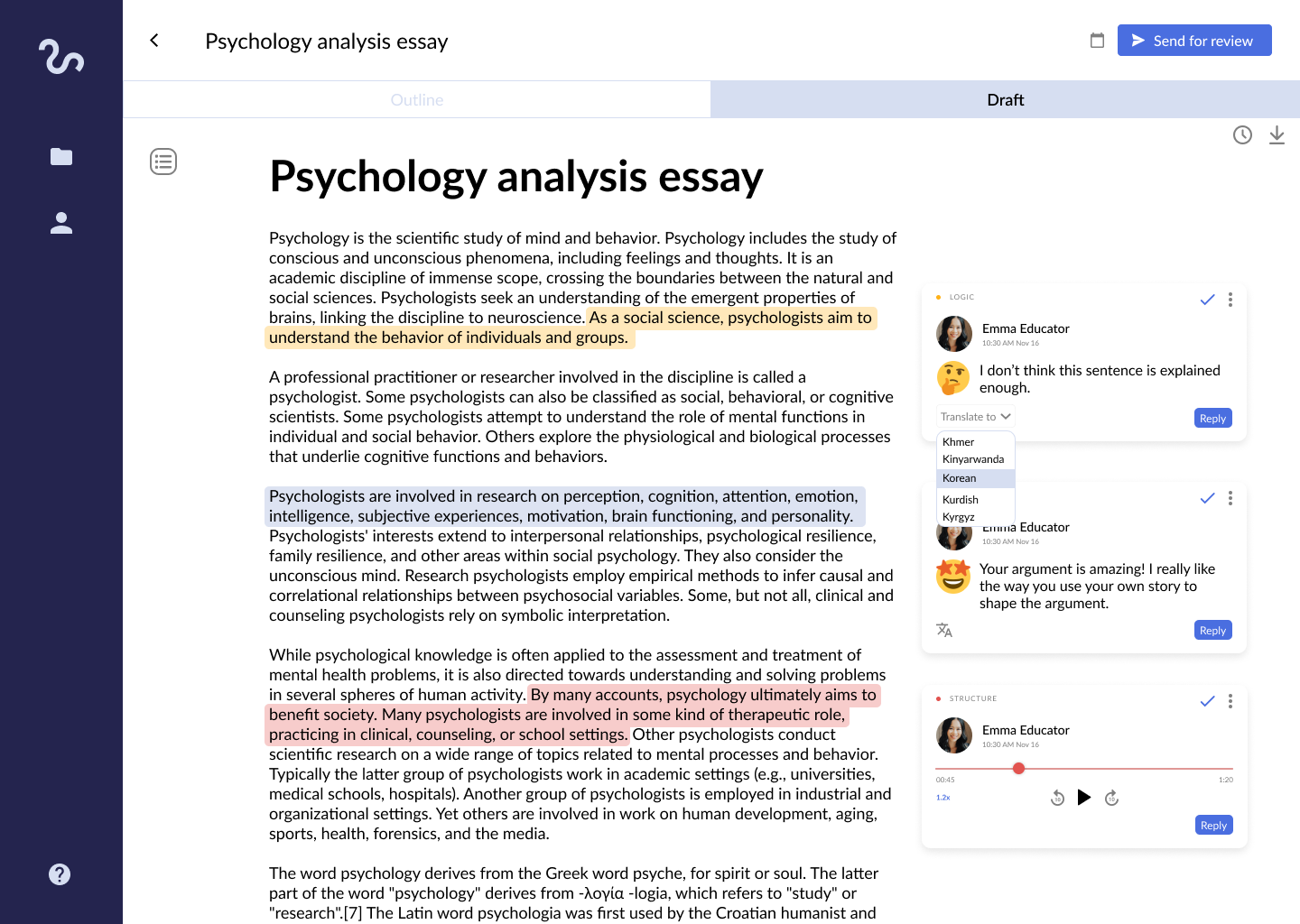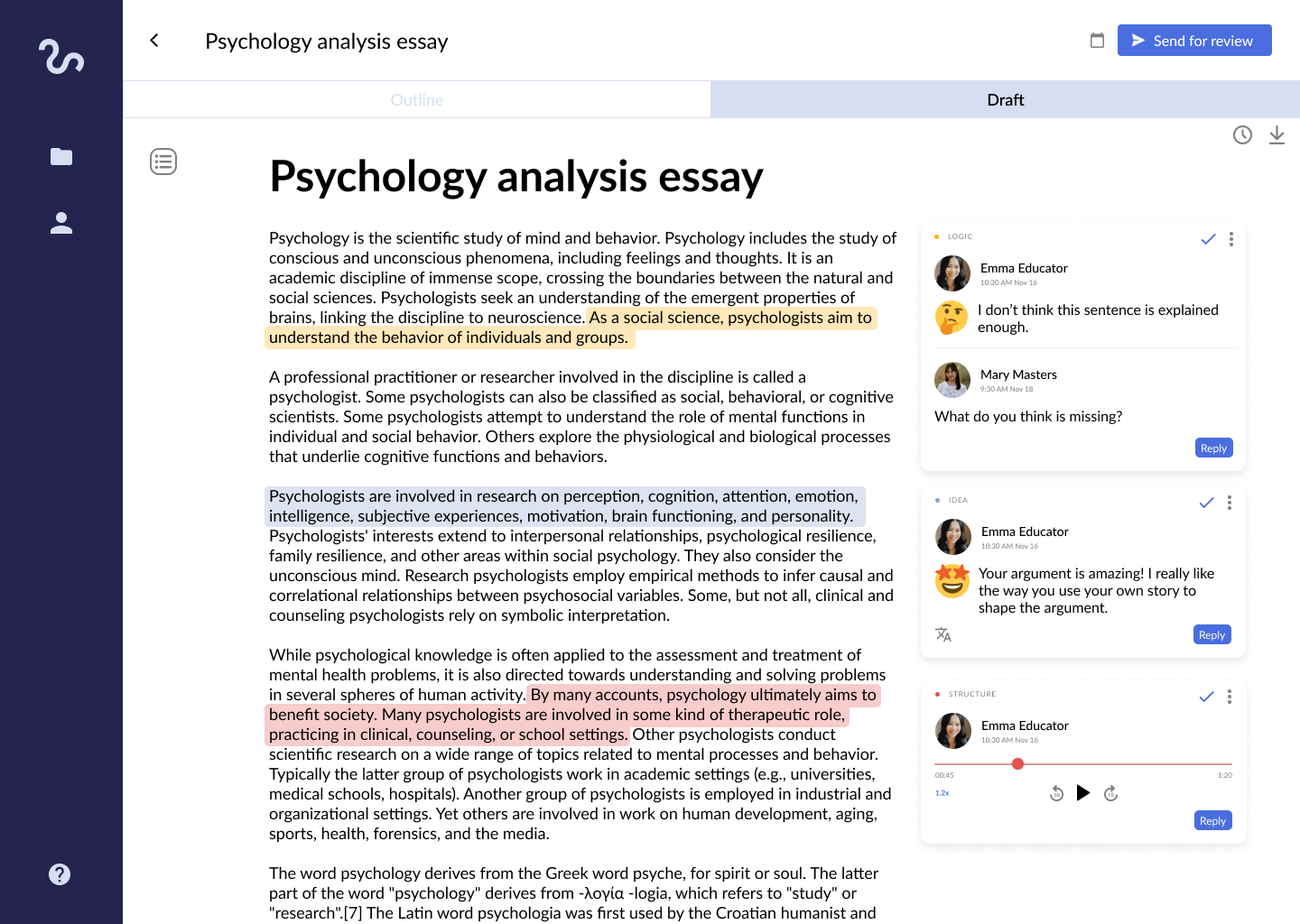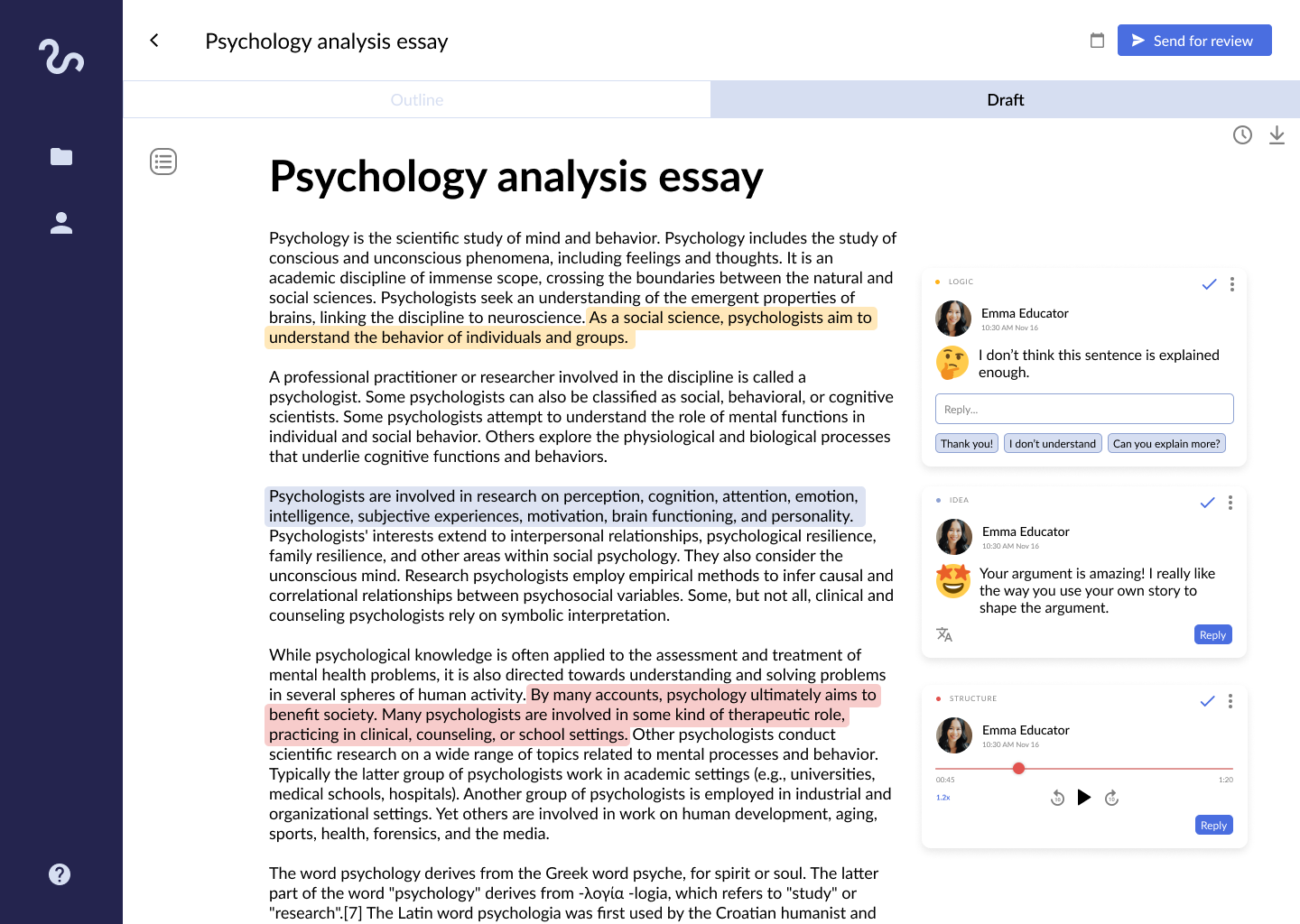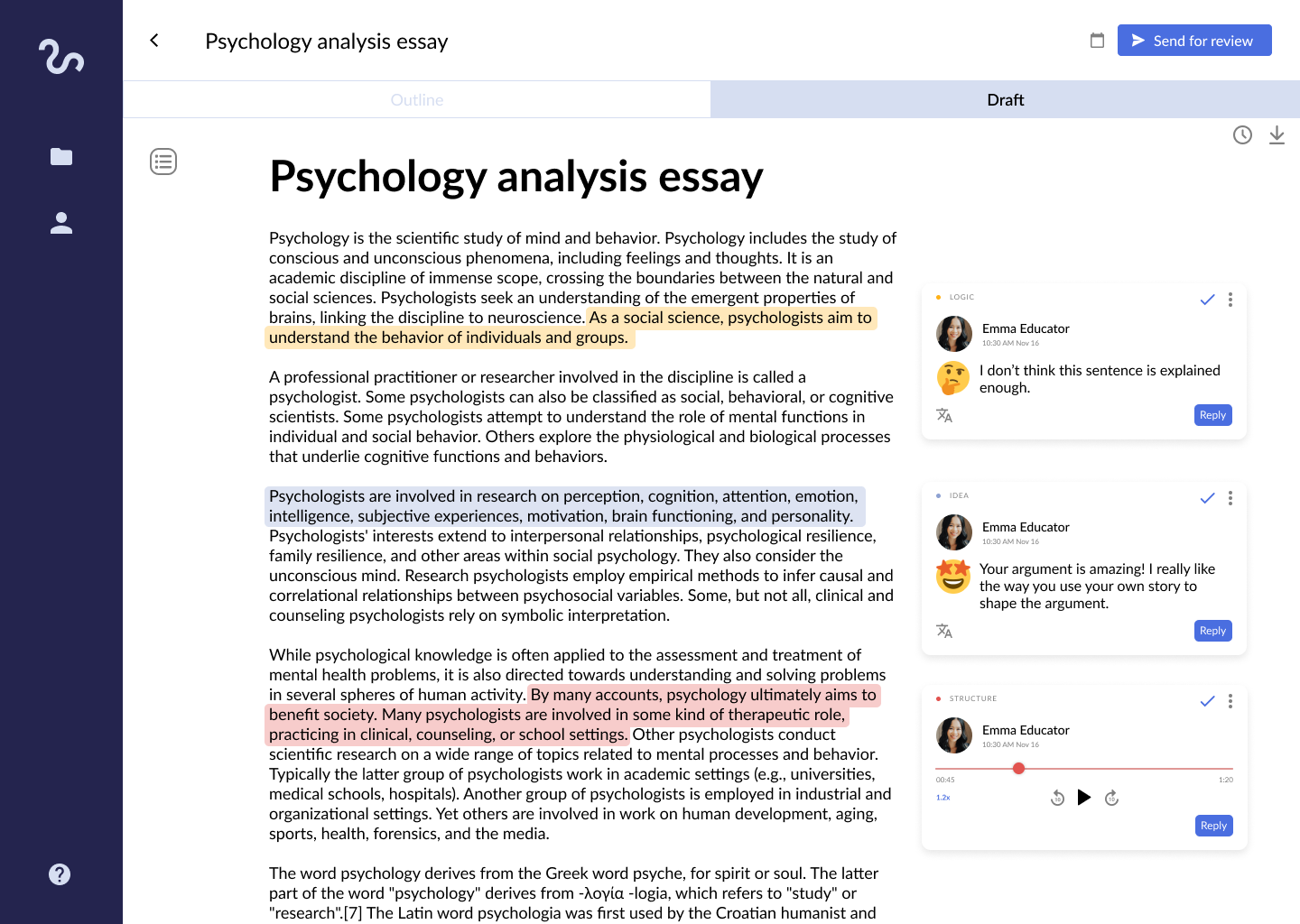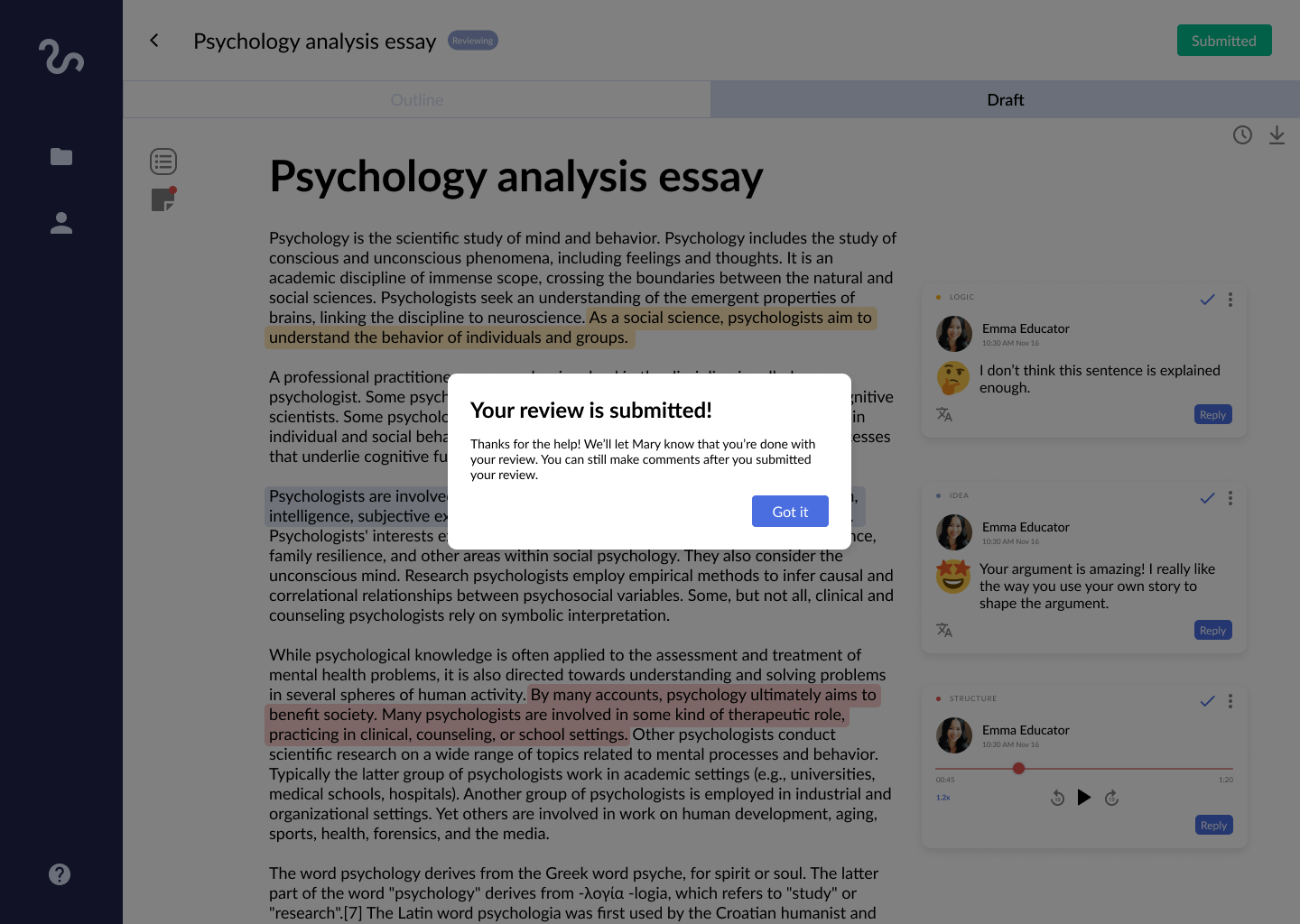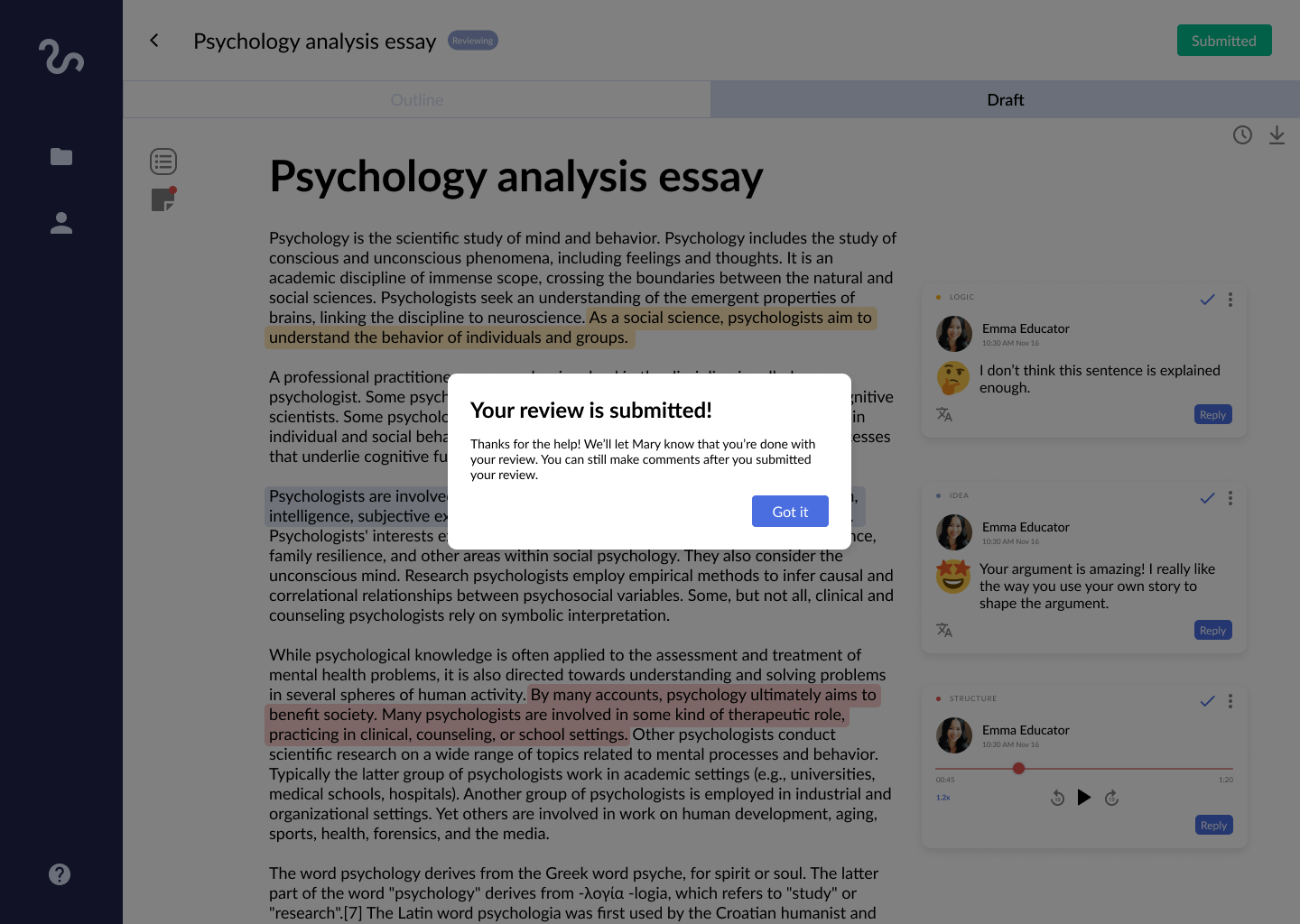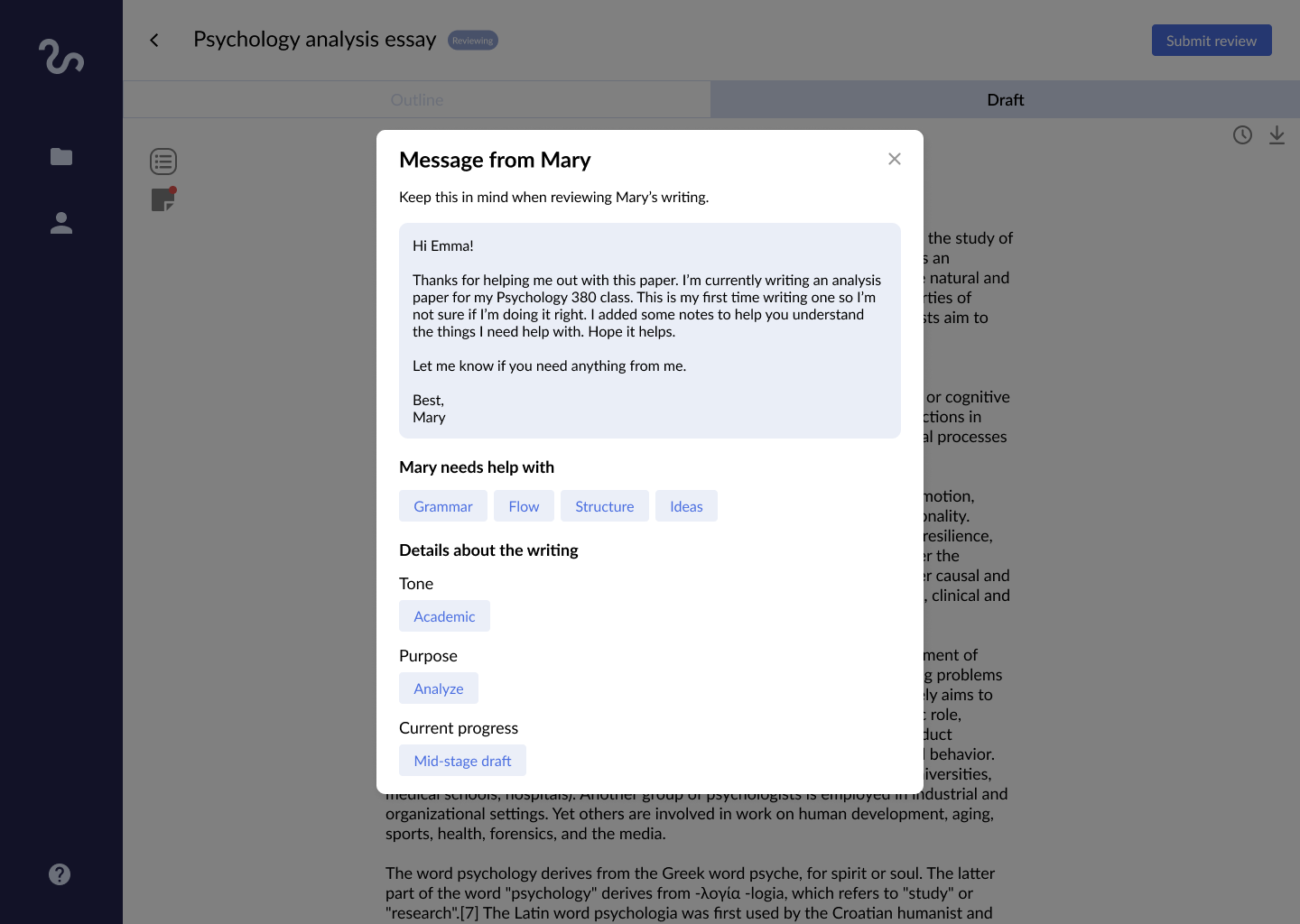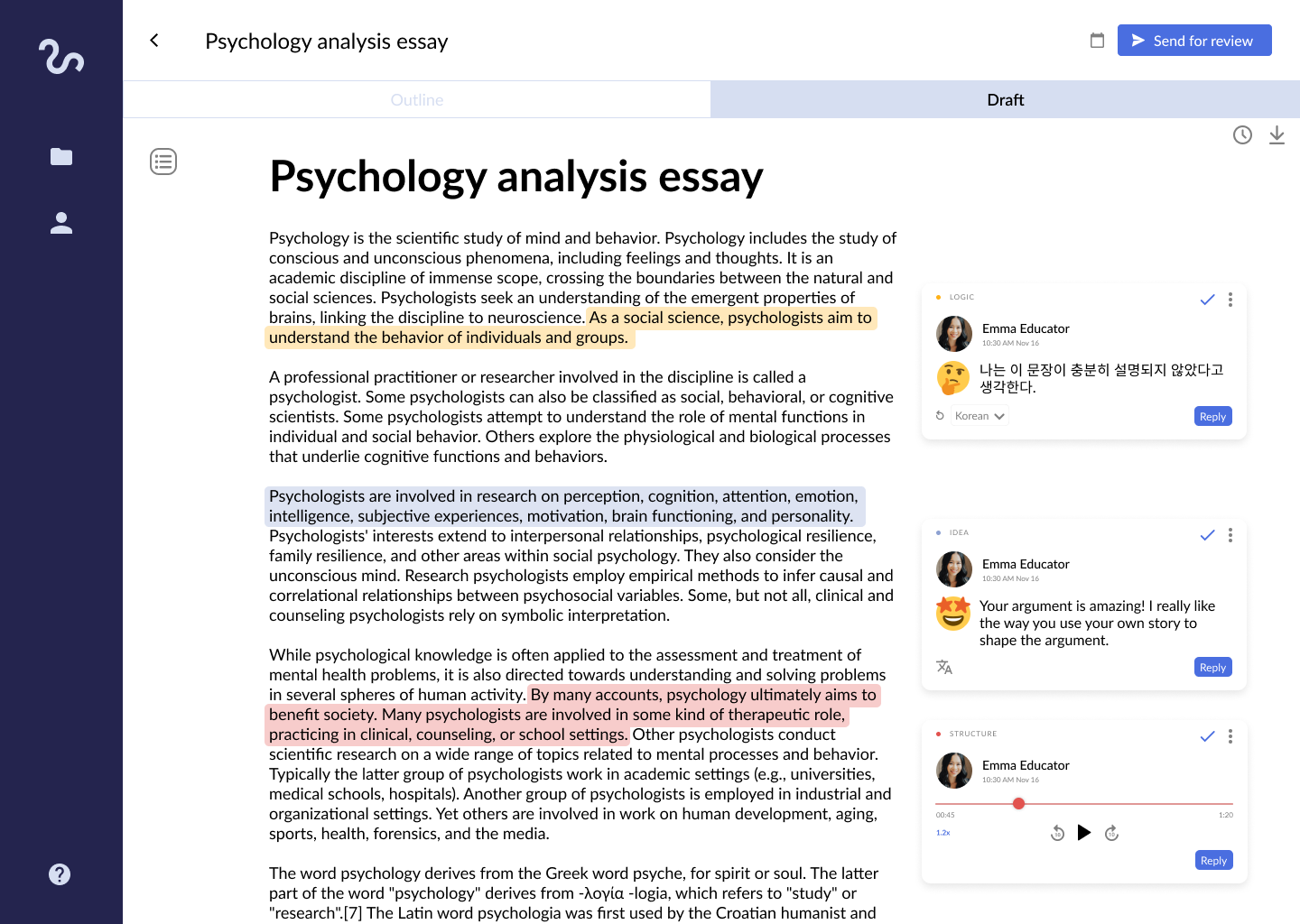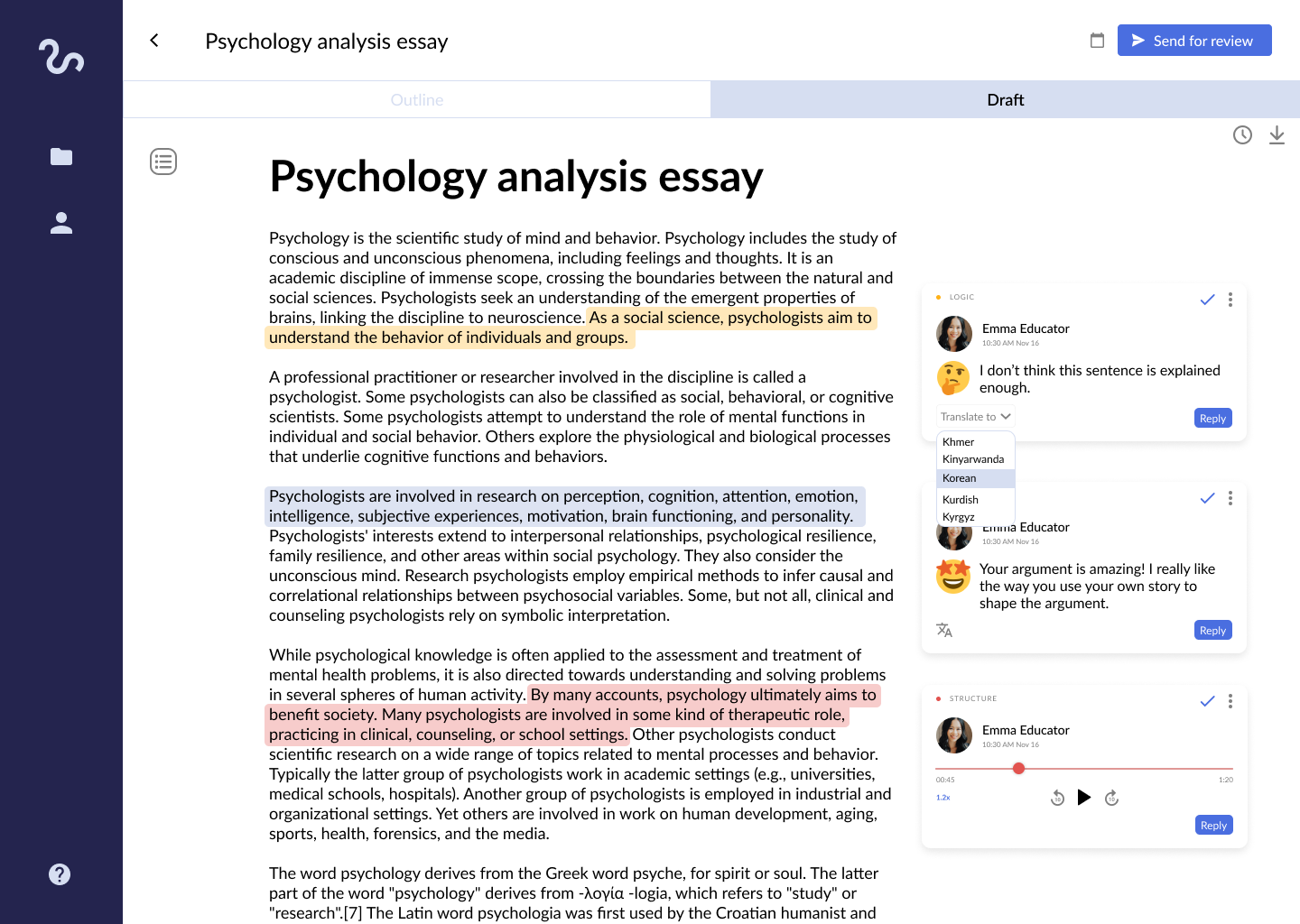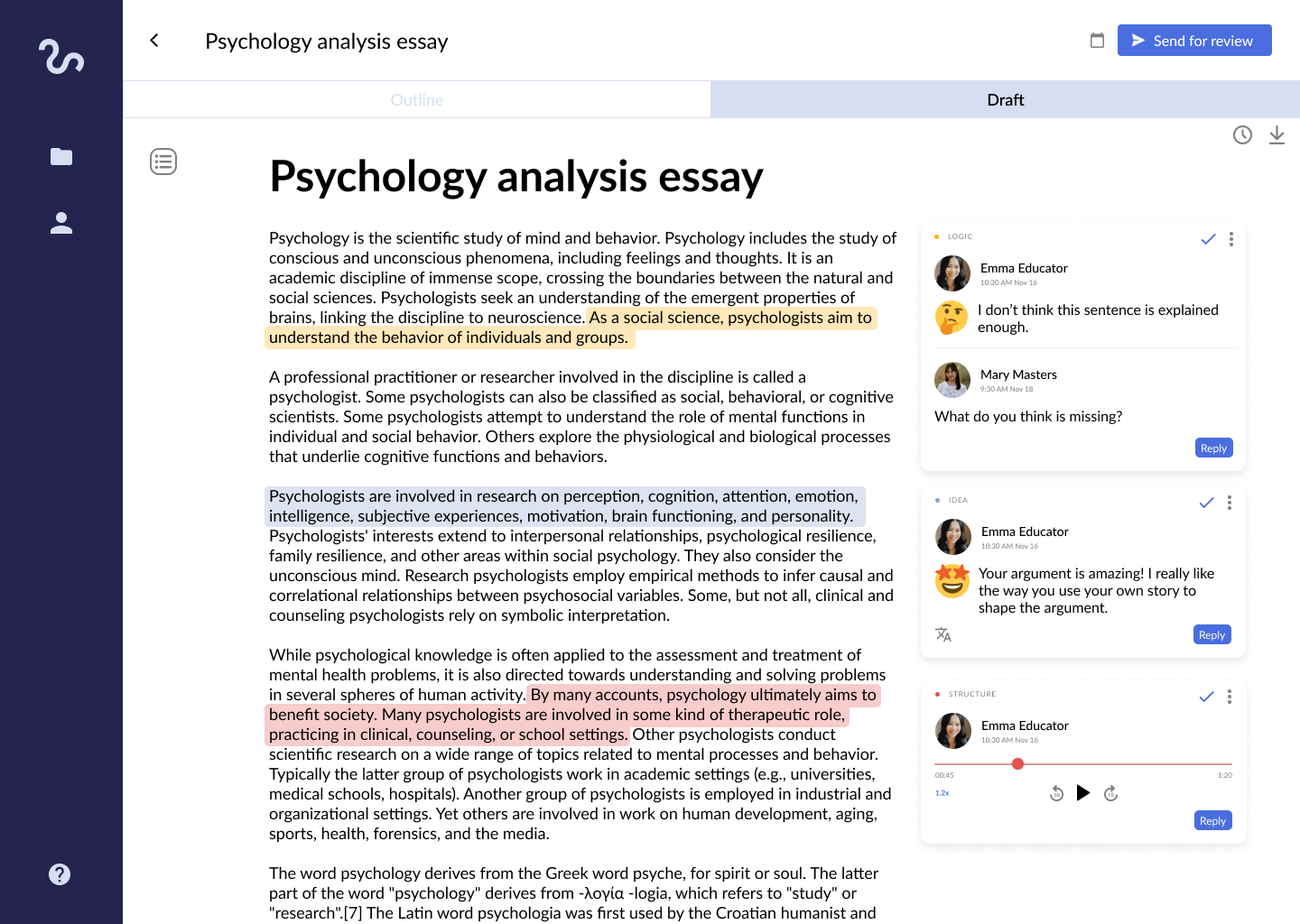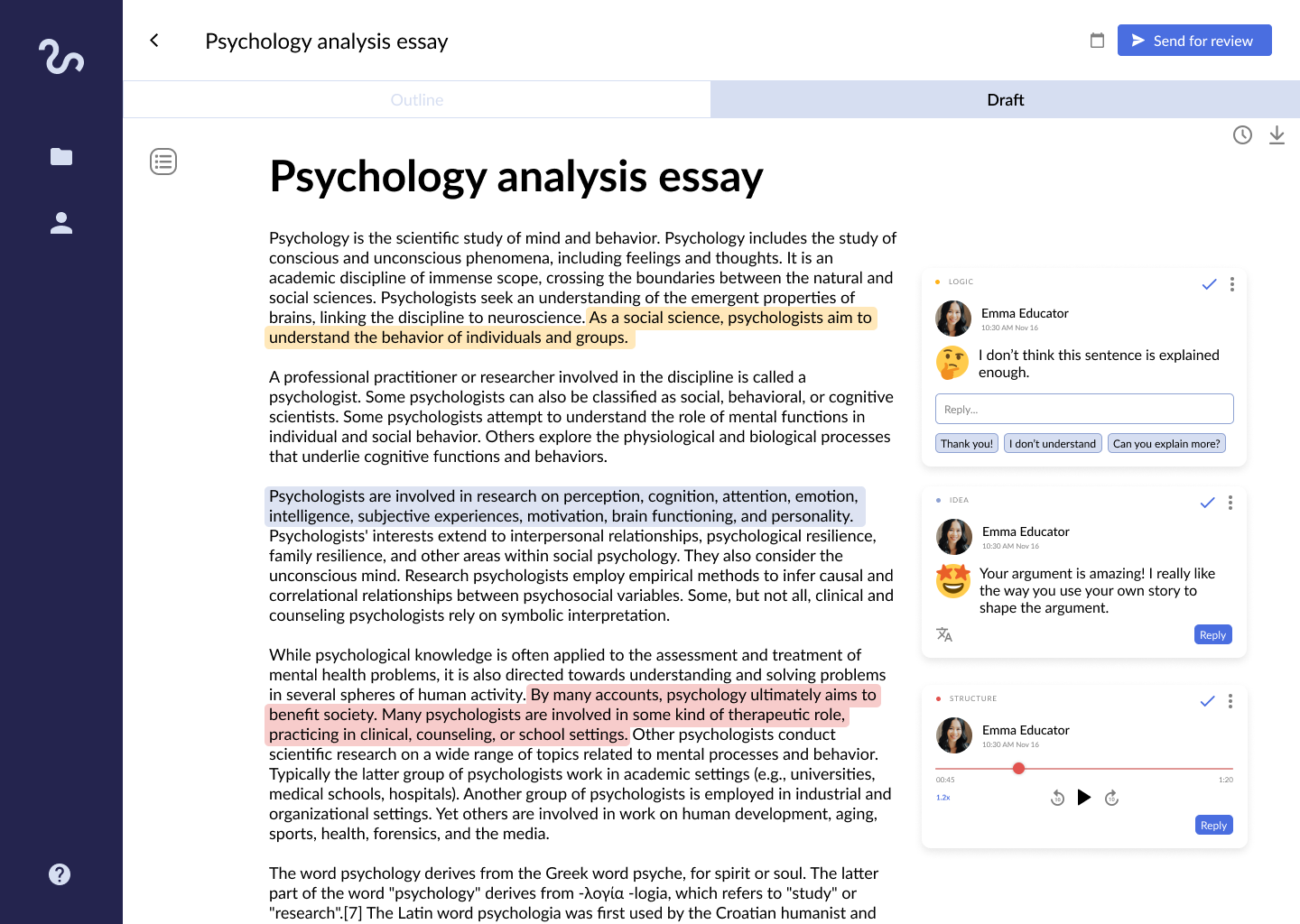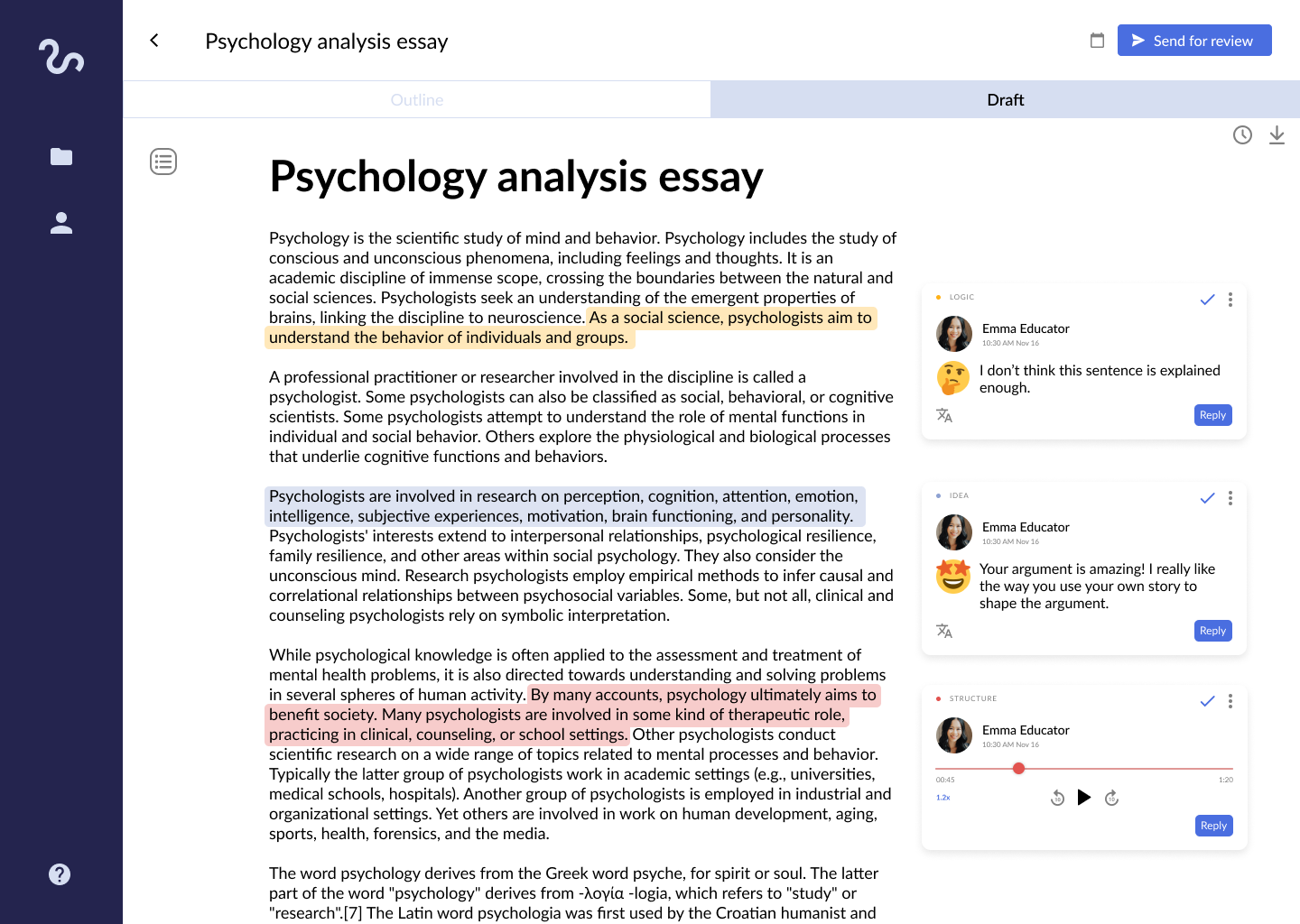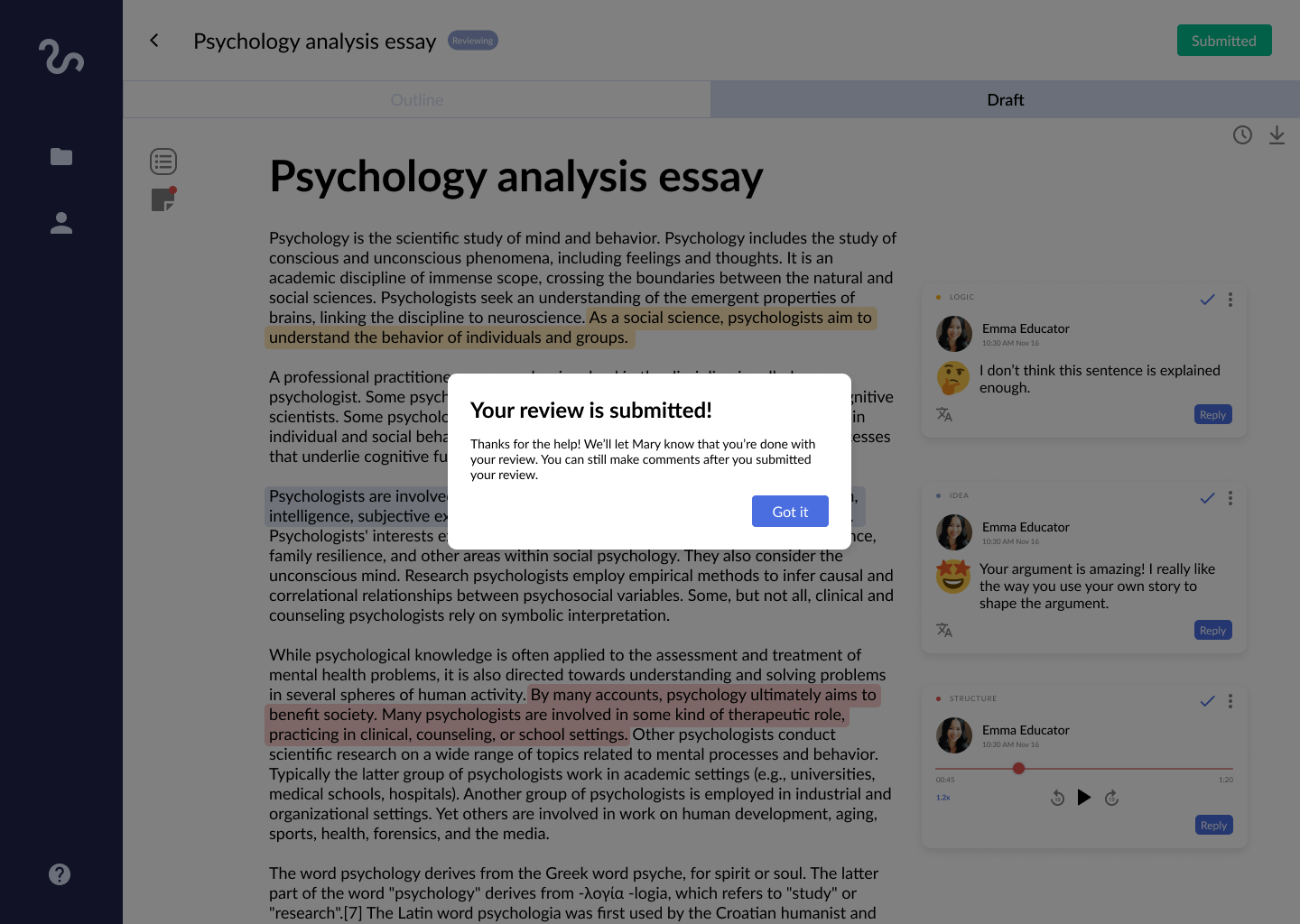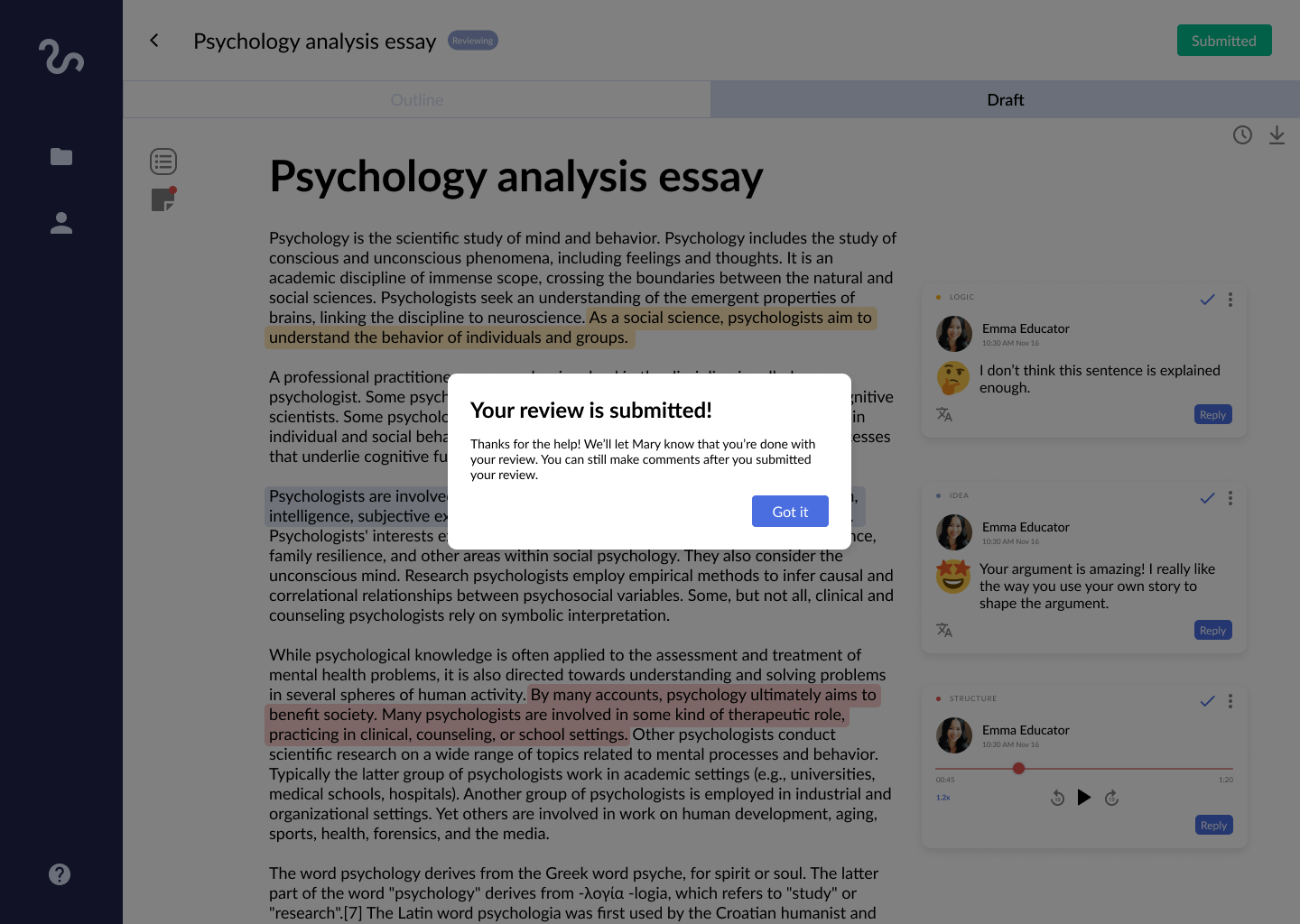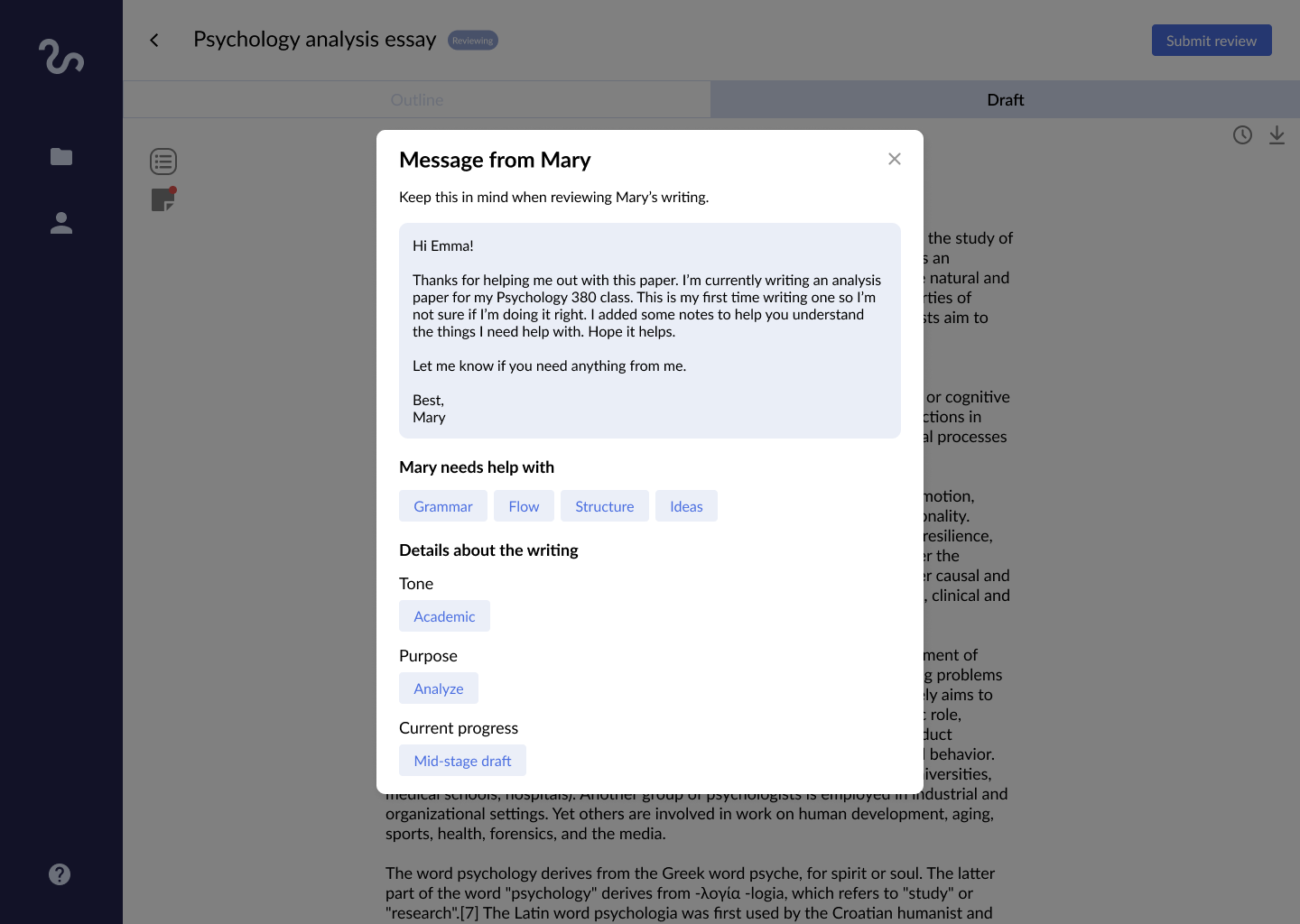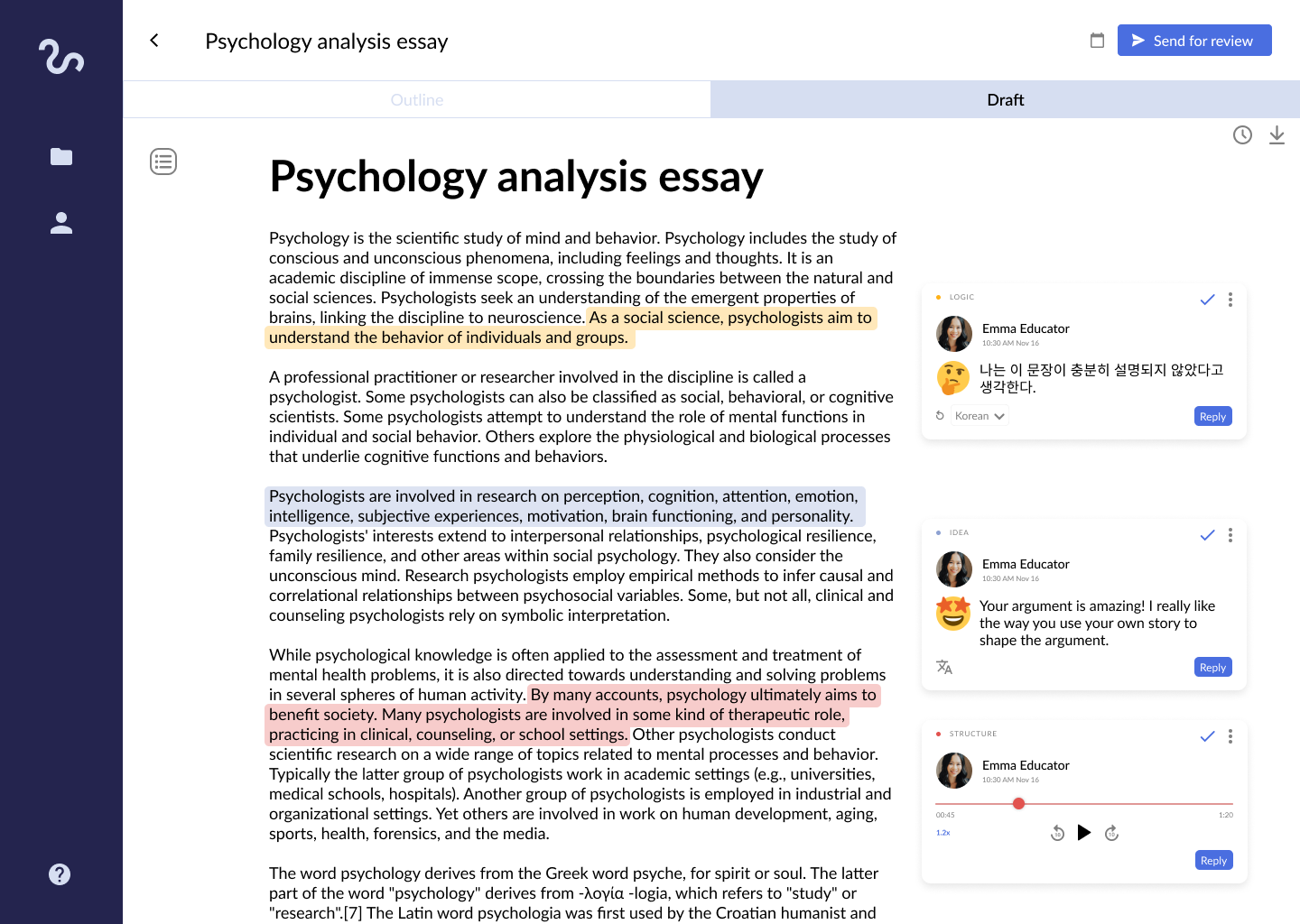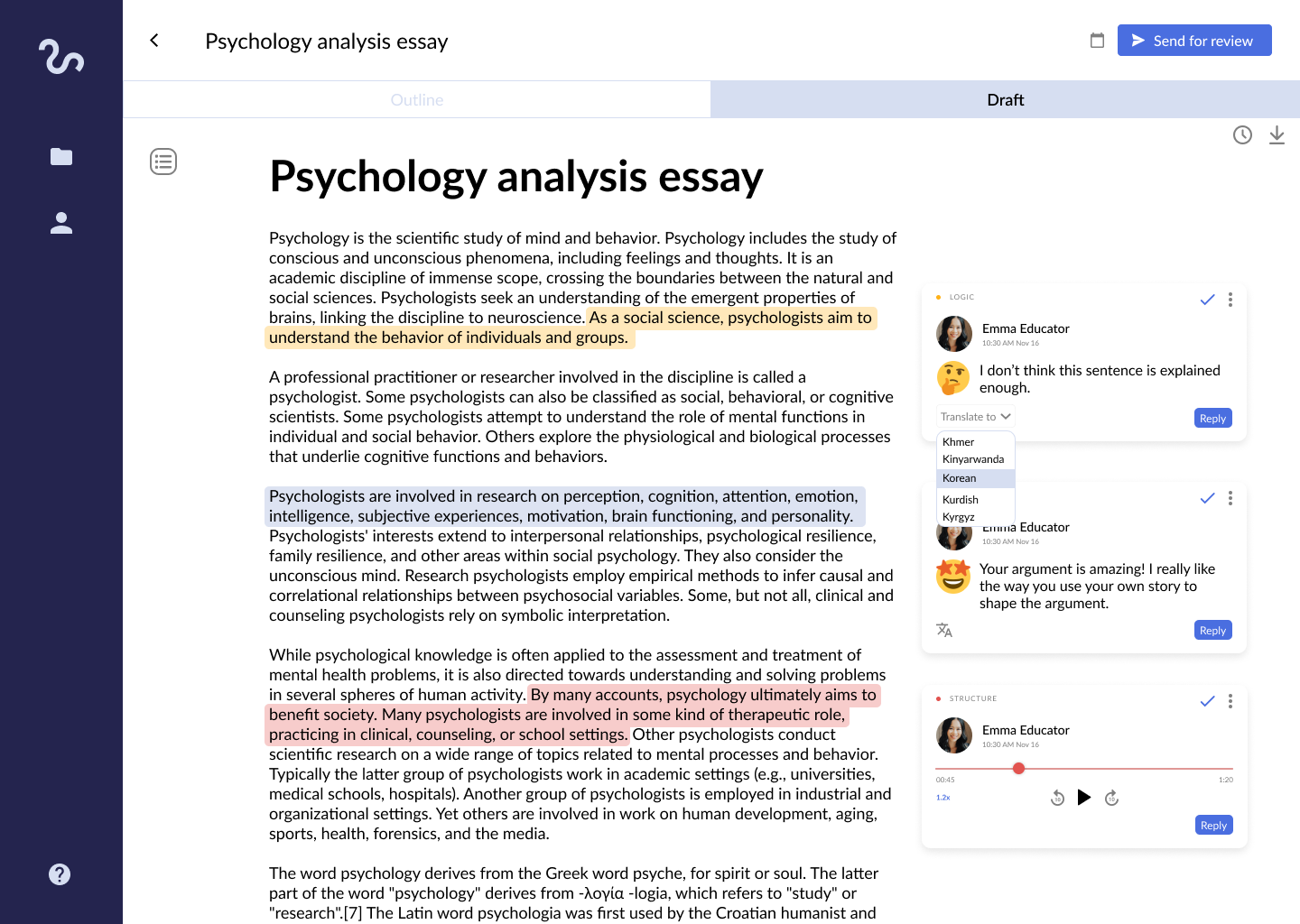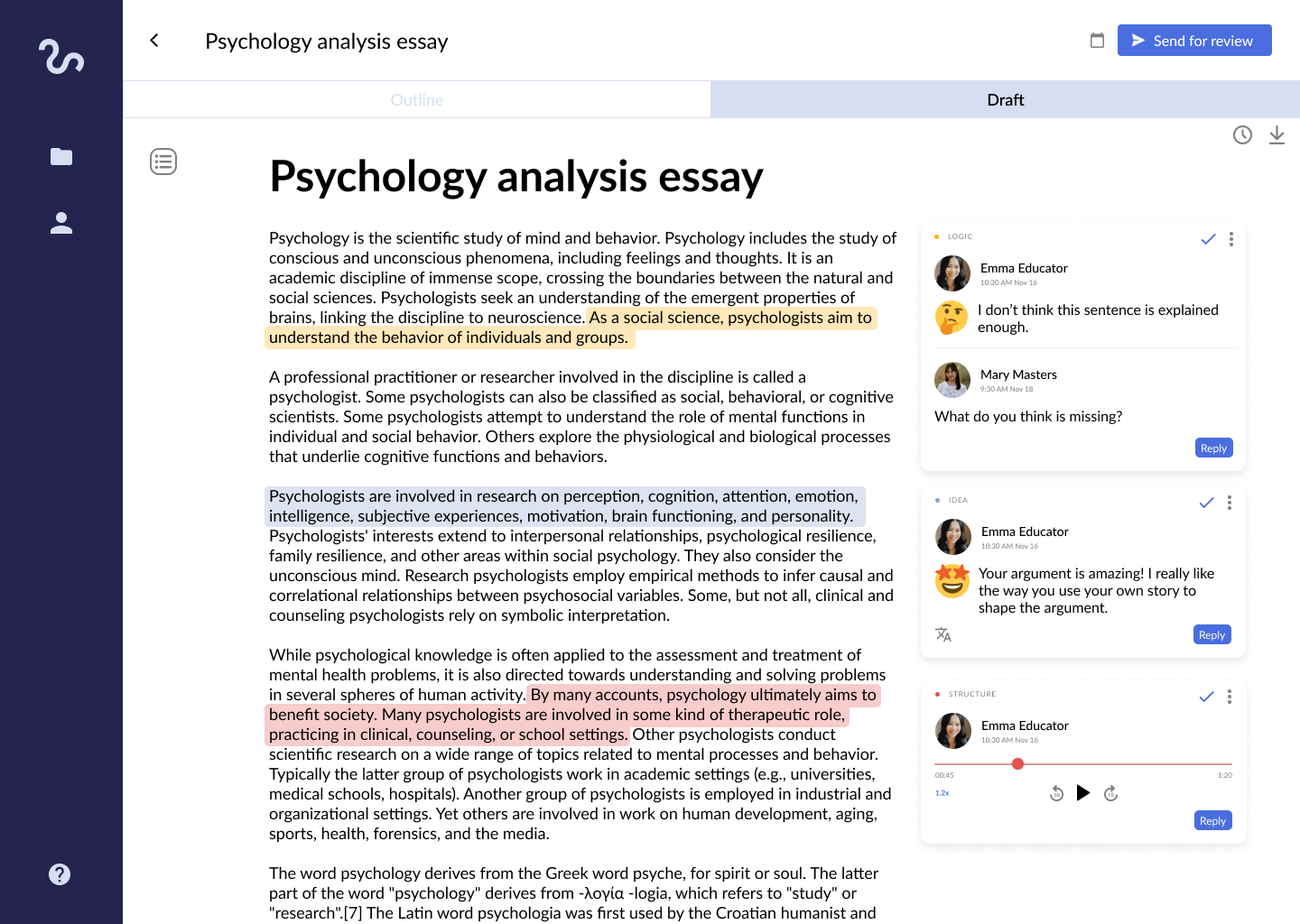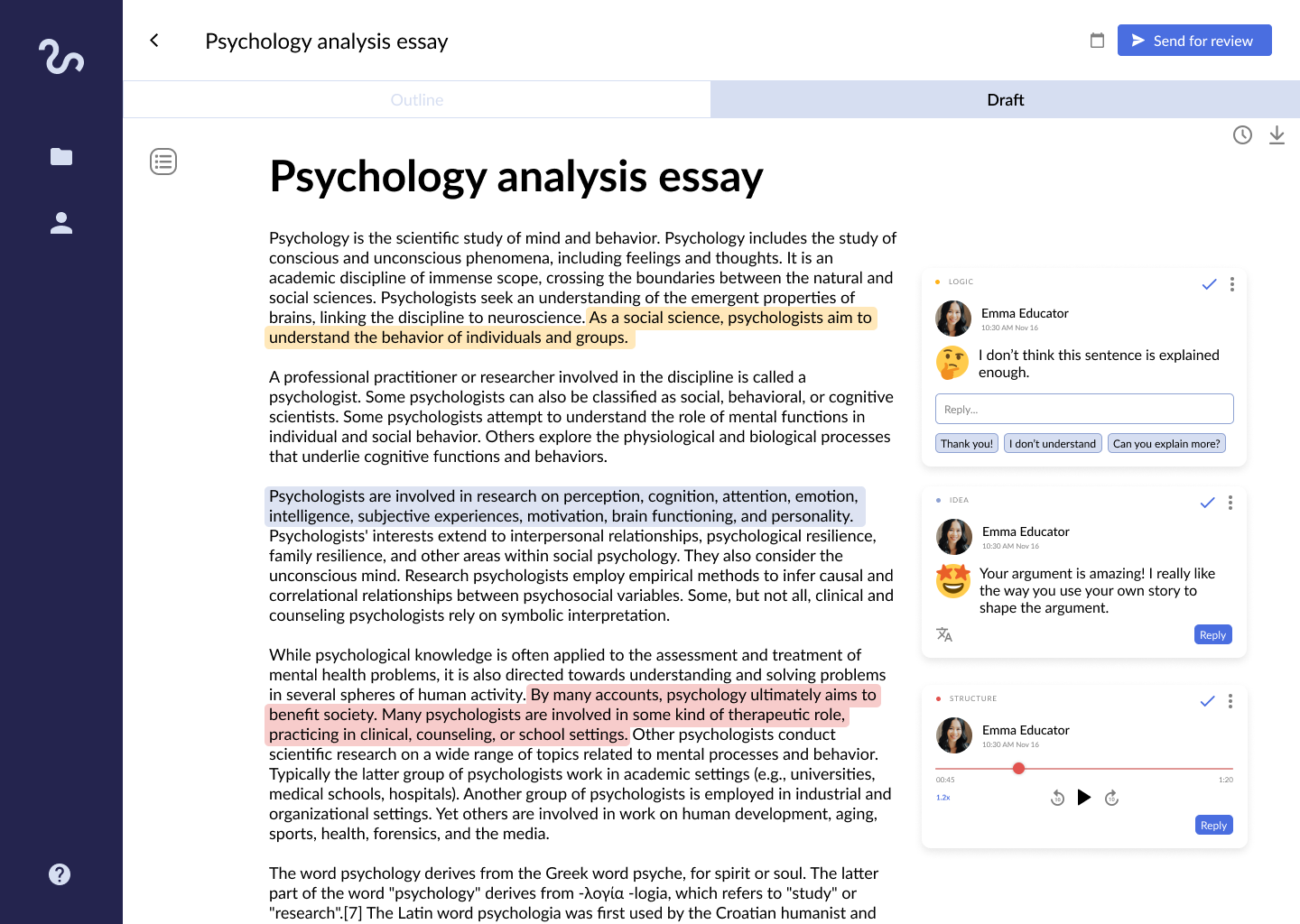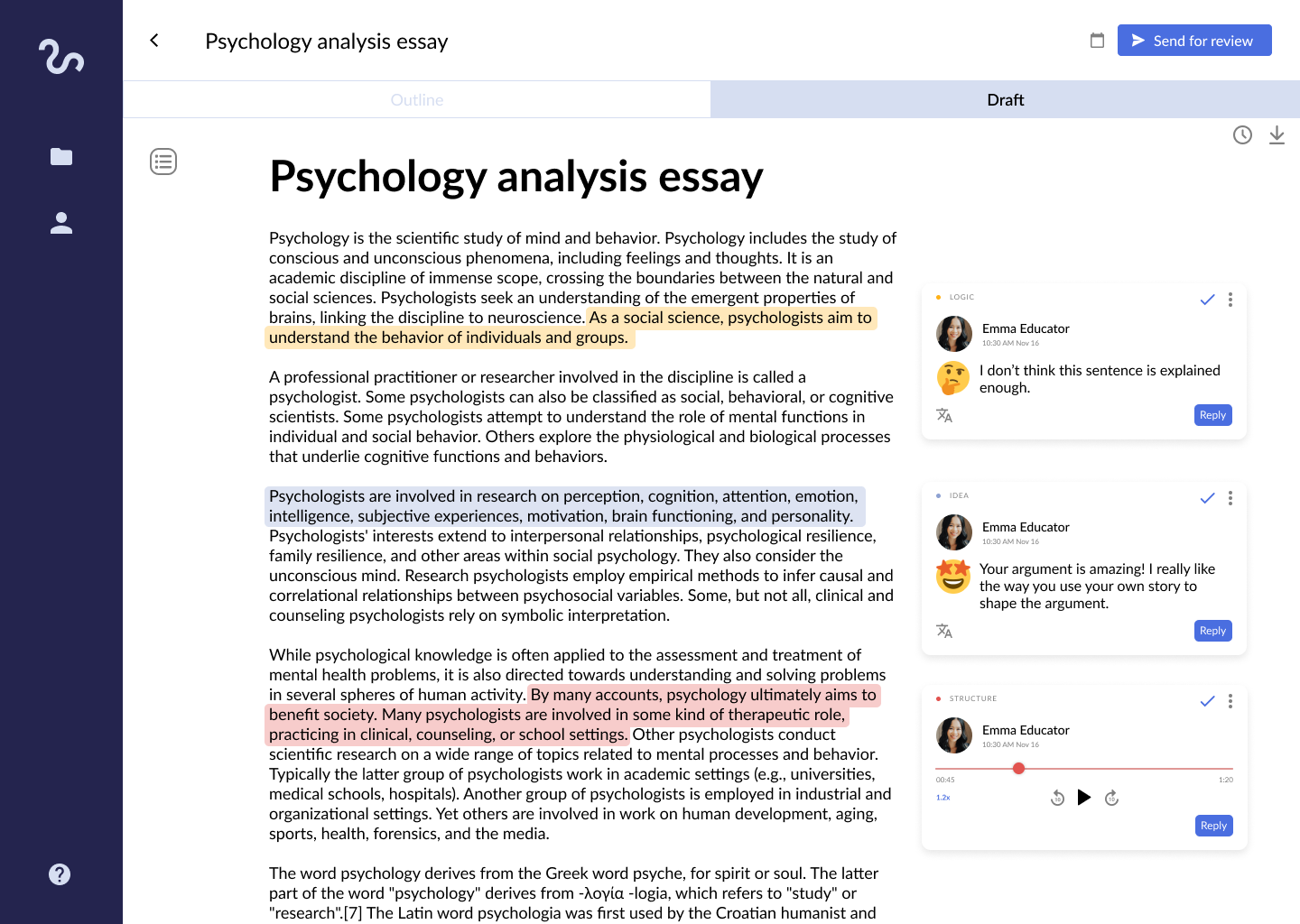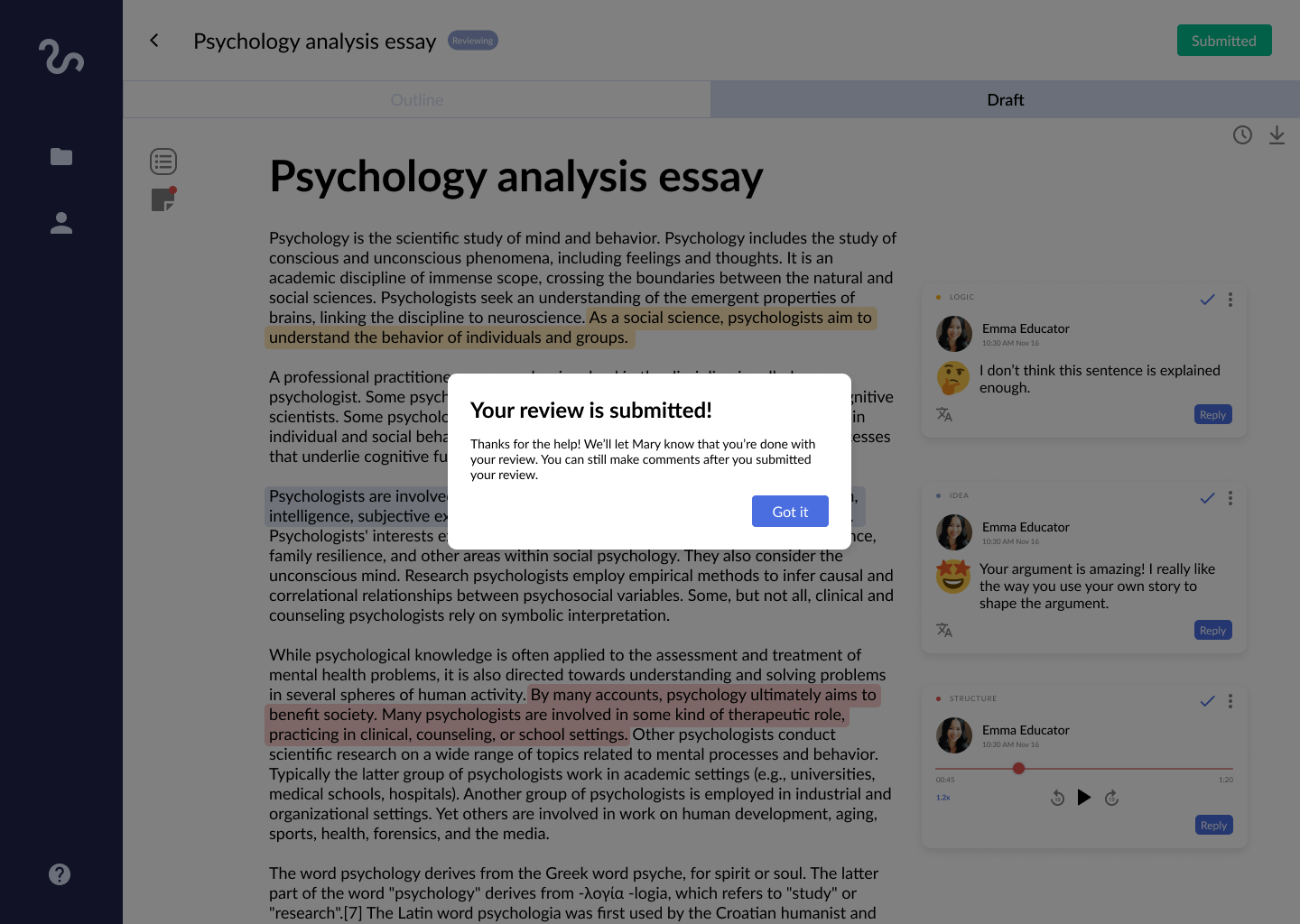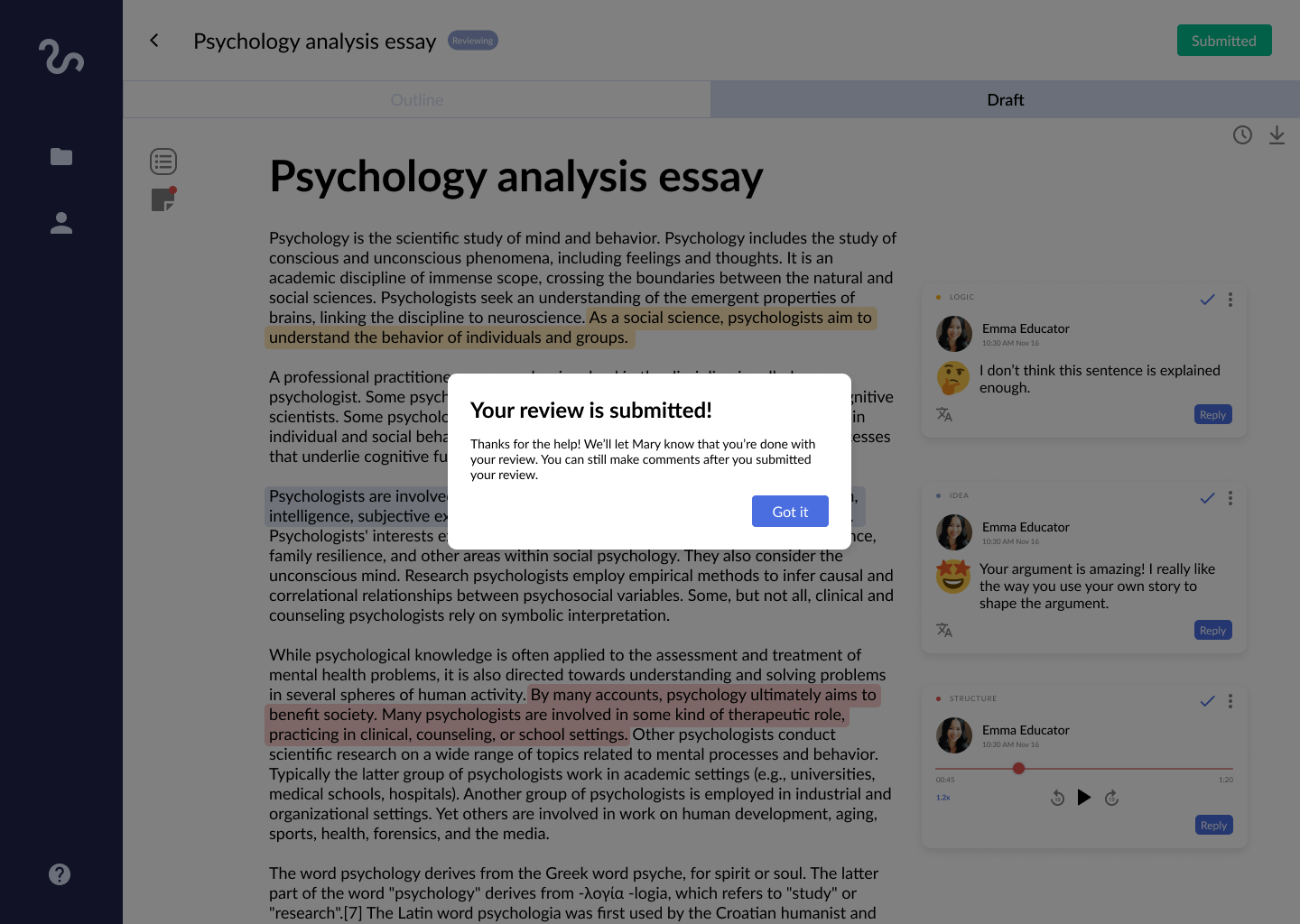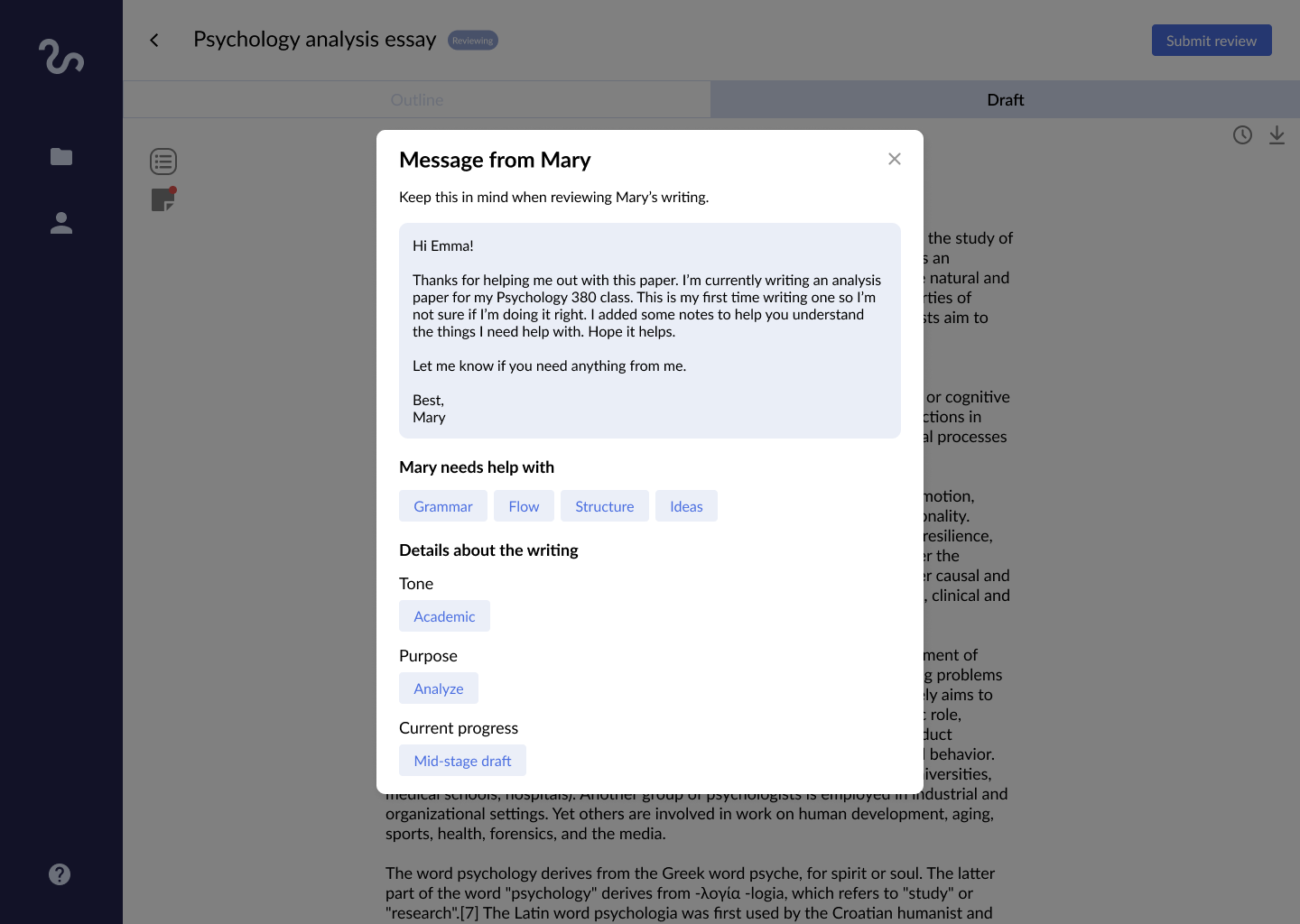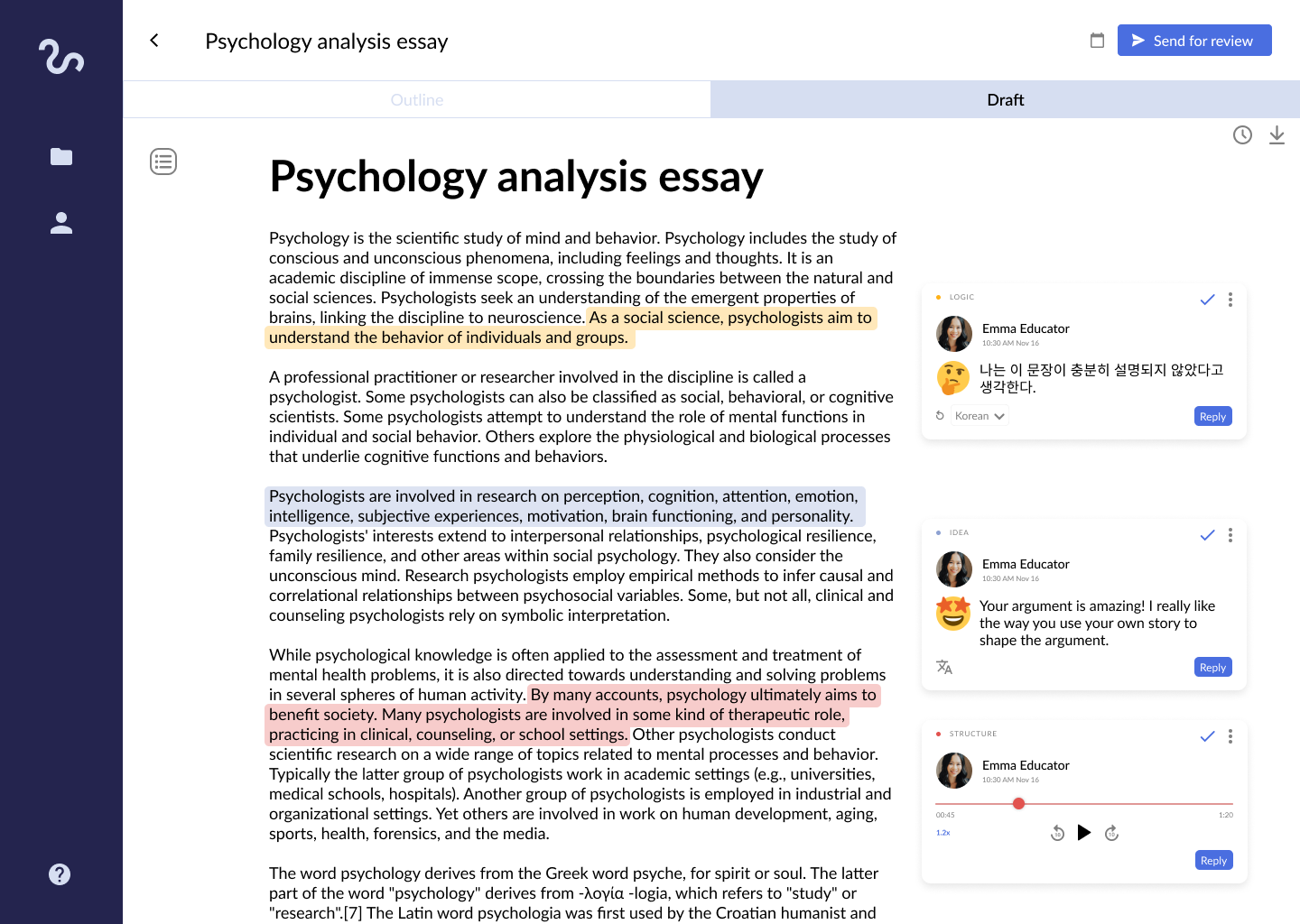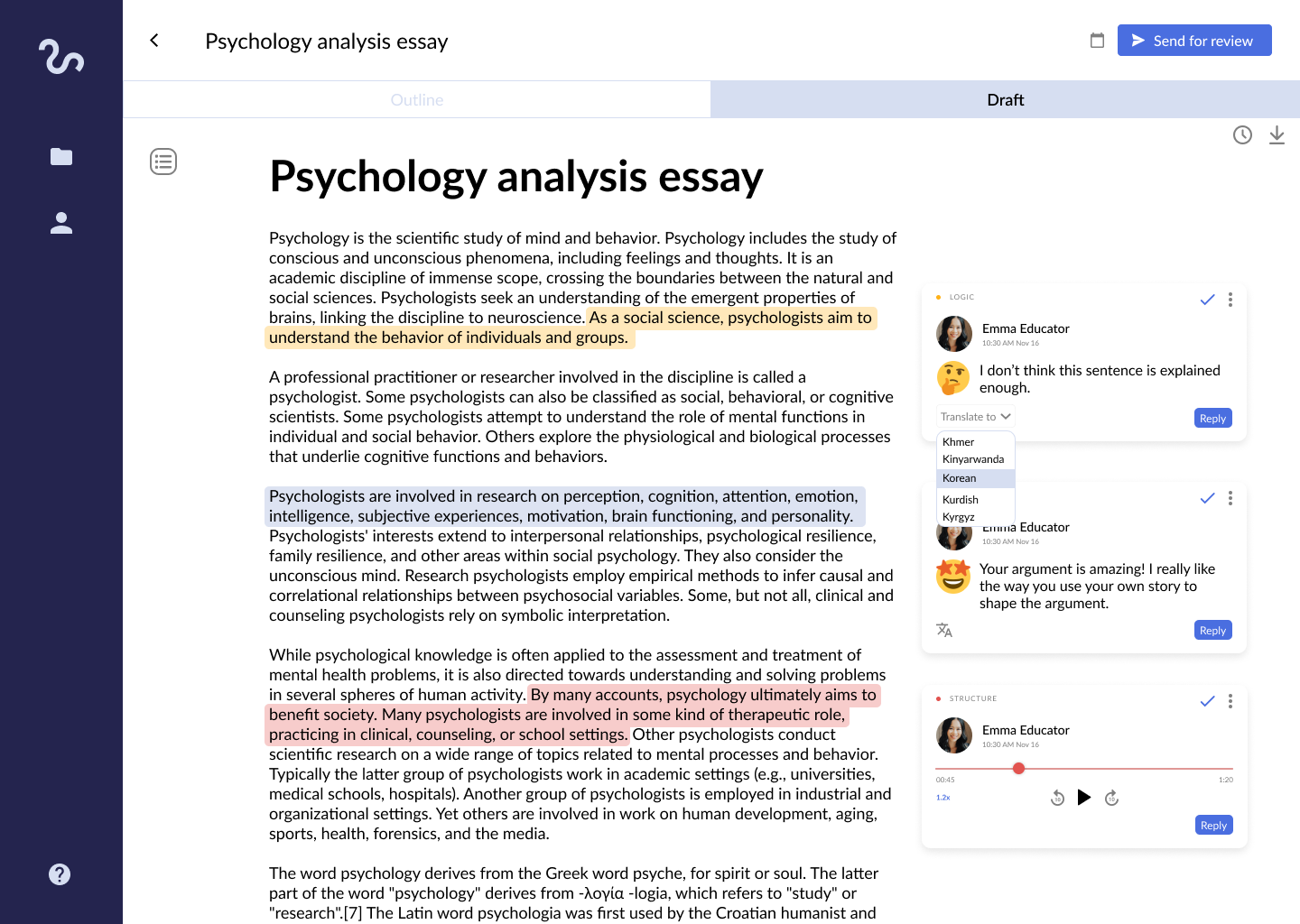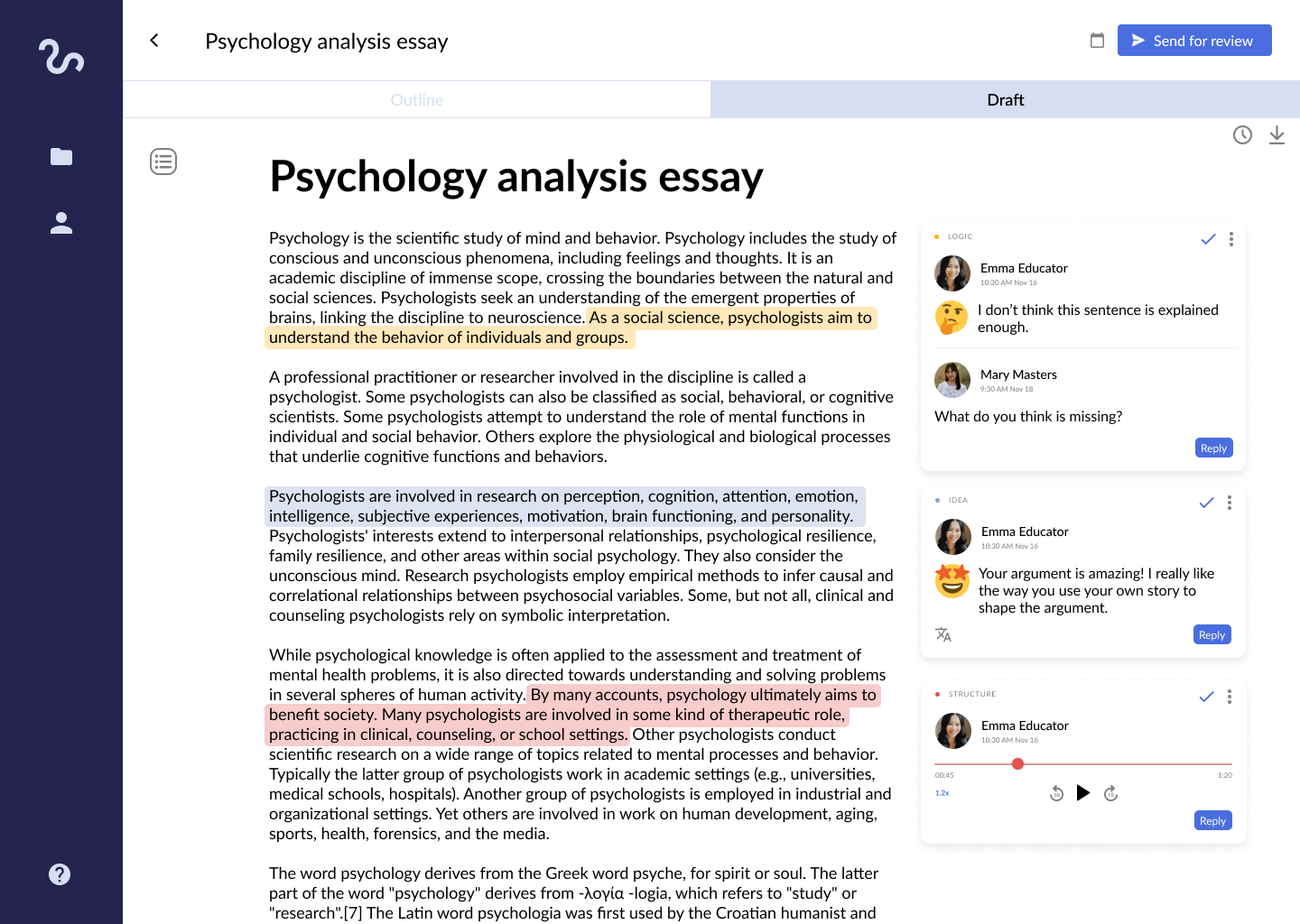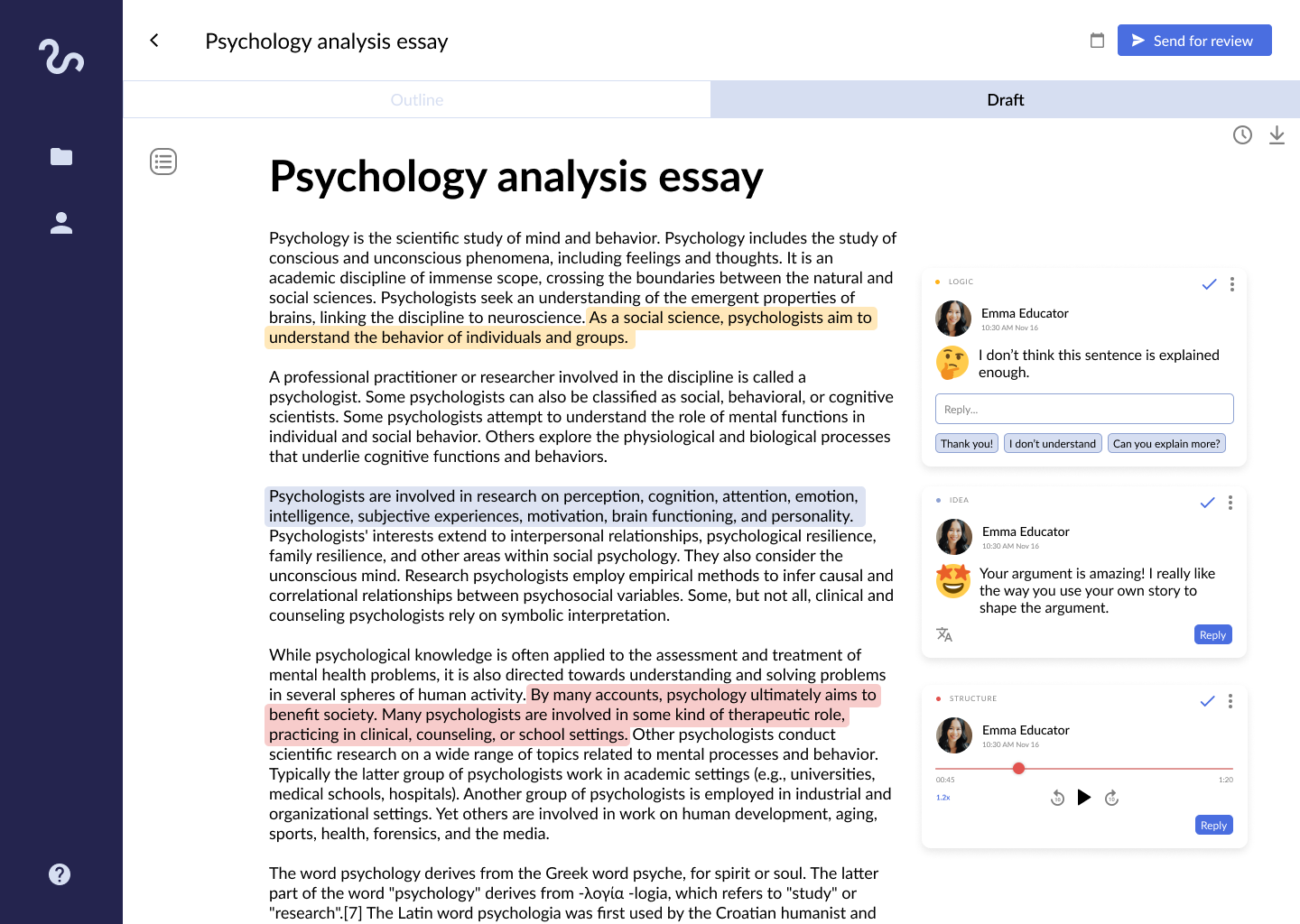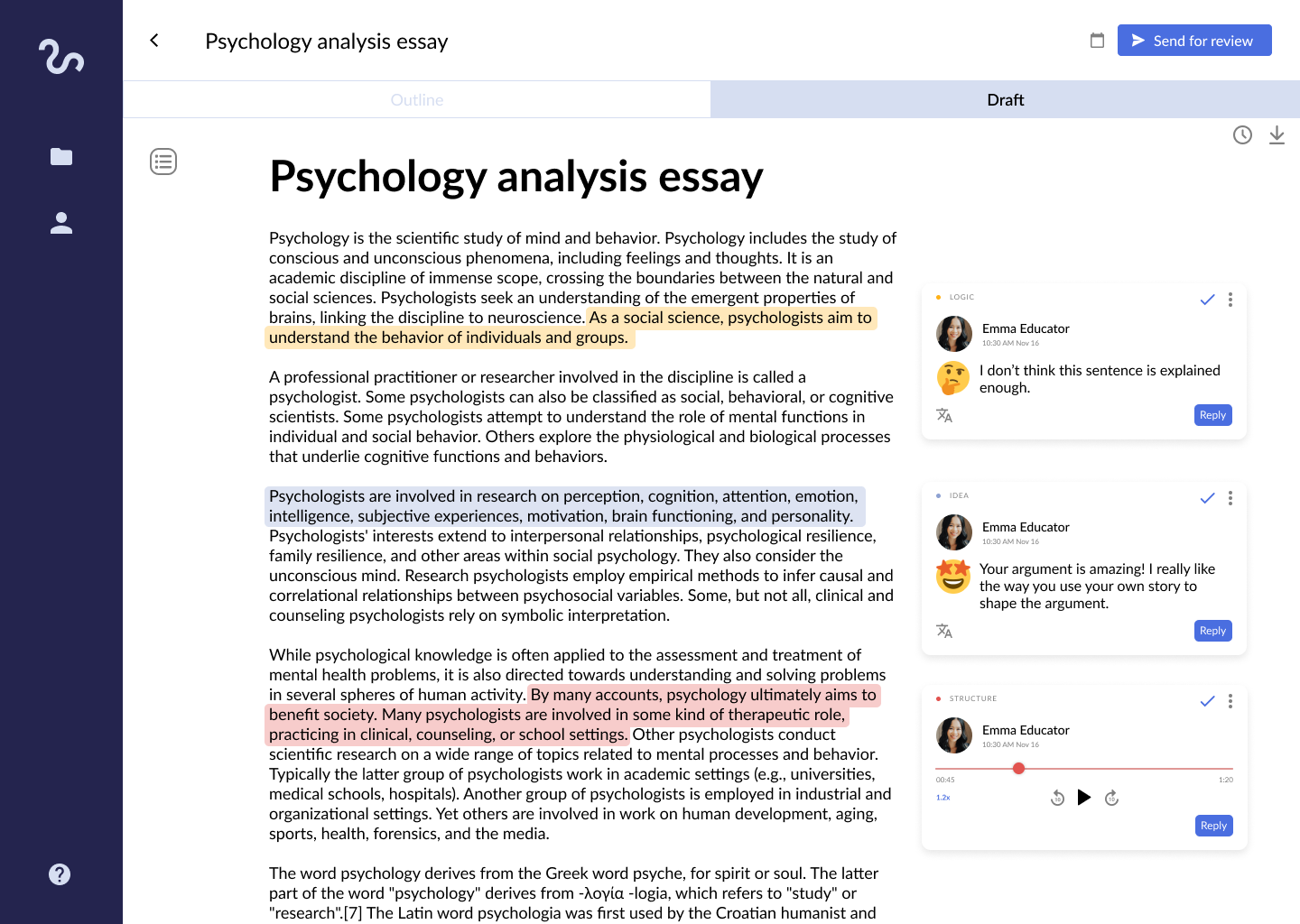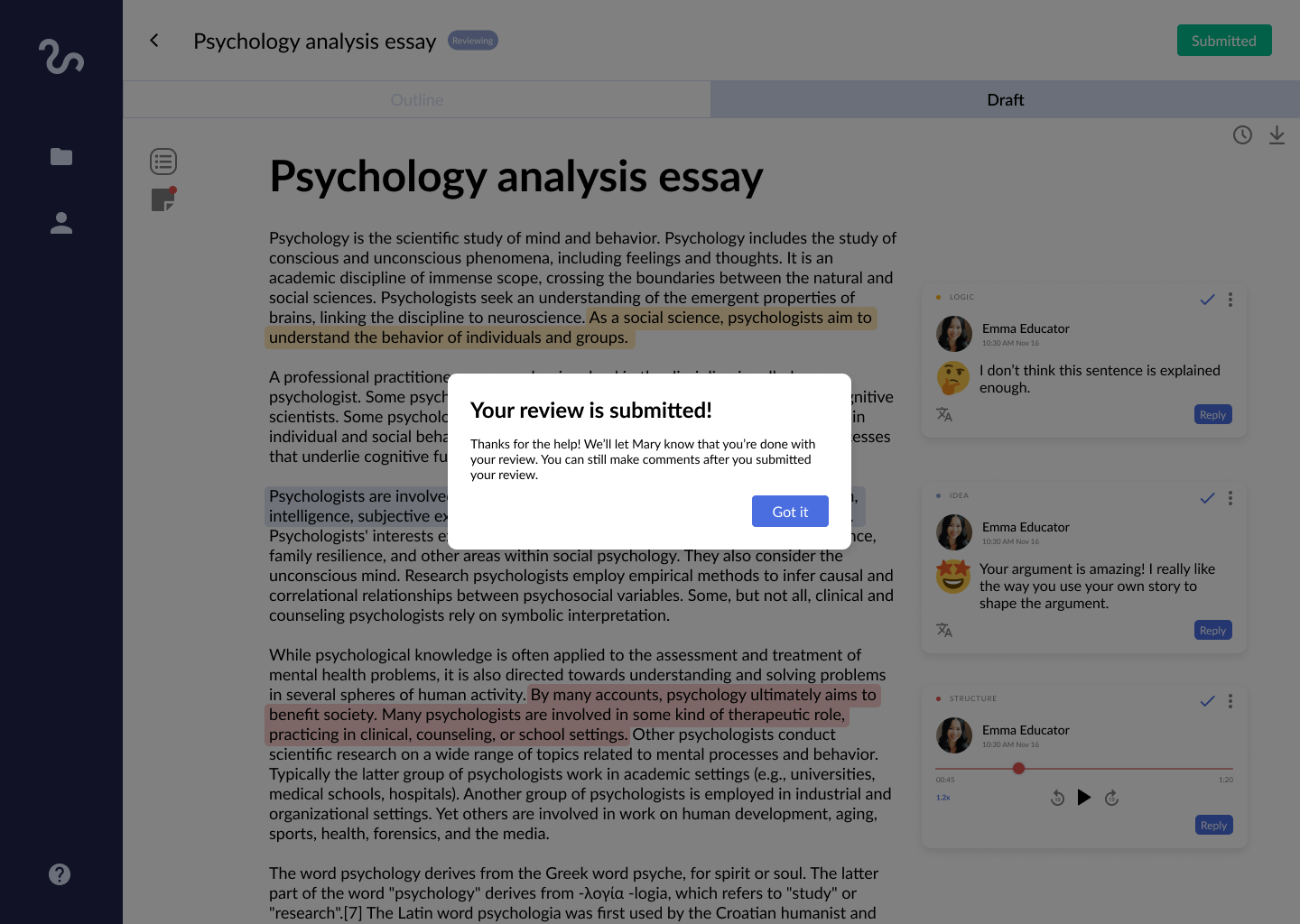 Conclusion
We showcased this project to 200 people. Many students and educators were extremely interested, expressing that they "want to see it launch in the future" and "it will be so helpful to so many ESL students".

However, there were some opportunities for improvements. For instance, we largely spoke to graduate school students with 10+ years of English learning experience during user research. It would be helpful to survey other demographics in future, especially students with lower English proficiency, and see if they have similar or different struggles.
What have I learned from this project?
Short-term project is all about scoping and refining. In order to help users adapt to this new platform, we initiated an MVP phase with relatively important actions.

Listening to users is essential. We started off trying to create a find-a-reviewer service for ESL writers, but user research showed that users' pain point was in fact finding an effective way of communicating with reviewers, so we shifted focus.